Outdoor summer fun means the return of concerts and movies under the stars, swimming and boating, hiking and biking, dining, drink, and getaways that take advantage of long days and warm nights. Our round-up of fun summer things to do in and near Northern Virginia will keep you busy all season long. Whatever your mood, we've found outdoor summer fun for you.
Outdoor Summer Fun in and On the Water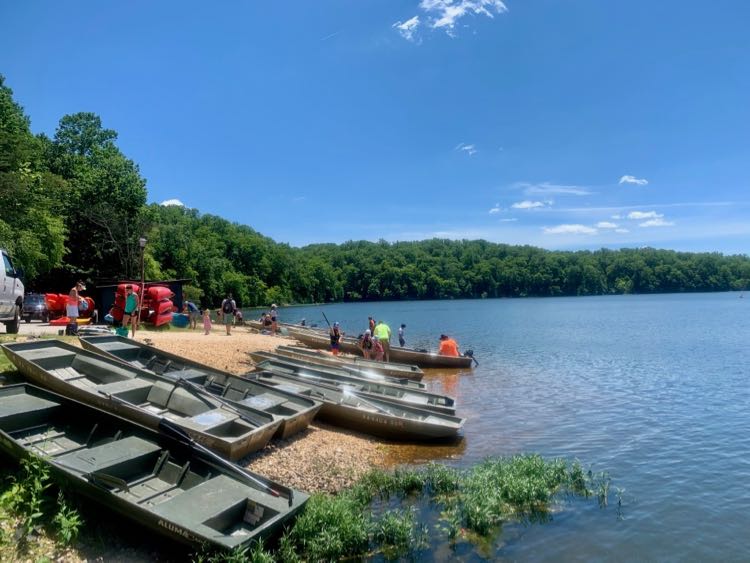 Boating in Northern Virginia
Residents and visitors to Northern Virginia can enjoy boating on a wonderful selection of lakes, rivers, and bays. Local parks offer outdoor summer fun whether you have your own boat or choose to rent. Paddle and explore in a quiet kayak or canoe. Try your luck fishing in a johnboat on stocked lakes or open rivers. Or relax with the family on a guided tour boat. Plan your fun on the water with our big guide to Northern Virginia boating.
Waterparks and Pools
Memorial Day weekend kicks off the opening of swim season, but Northern Virginia waterparks and pools really ramp up when school is out. Happily, there are a plethora of pools and nine waterparks in Northern Virginia. Check out our complete guide to public swimming in Northern Virginia and keep the kids entertained until the school bell rings again.
Disclosure: This article may contain affiliate links. We will make a small commission from these links if you order something, at no additional cost to you.
Hit the Trails for Outdoor Summer Fun
Favorite Northern Virginia Summer Hikes
Northern Virginia weather can be steamy! Fortunately, canopied forests and higher elevations can offer a break from the heat. Check our list of the best summer hikes in Northern Virginia for shady trails and water holes.
If you're willing to put in a little effort, these short hikes to gorgeous views guarantee a payoff at the end of the climb. Enjoy a reward after your effort with fun Hike and Beer or Hike and Winery day trips.
Explore a complete list of our hiking guides here.
NoVA Paved and Mountain Biking Trails
There are several excellent places to go mountain biking in Northern Virginia. There are plenty of paved trails on our list too, so you can choose the cycling experience you prefer.
We've also rounded up 8 epic trails to hike and bike, all within two hours of Washington DC. Long summer days guarantee plenty of hours to tackle one of Virginia's longer hike and bike trails. Challenge yourself with a hike on the Appalachian or Potomac Heritage Trail, or bike one of Virginia's excellent rails-to-trails conversions.
Dine and Drink Outdoors
Outdoor Dining, Wineries, and Breweries
A summer meal on the patio combines two of our favorite things—warm weather and tasty food. We've rounded up 25 restaurants with nice outdoor seating, so you can try new dining destinations all summer long.
If you'd prefer to drink Virginia wine, try one of these Northern Virginia wineries with gorgeous views. Beer lovers will find plenty of great places to cool down on Loudoun County's LoCo Ale Trail and other tasty Northern Virginia breweries.
Shop at Summer Farmers Markets
Everyone loves a summer picnic and the chance to grill at home. Stock up your kitchen with fresh, delicious produce, meats, and other goodies from local farms. There are markets nearly every day of the week, and you'll find them all on our big guide to more than 50 Northern Virginia Farmer's Markets.
Find Perfect Picnic Spots in Northern Virginia.
Create New Memories and Capture a Perfect Photo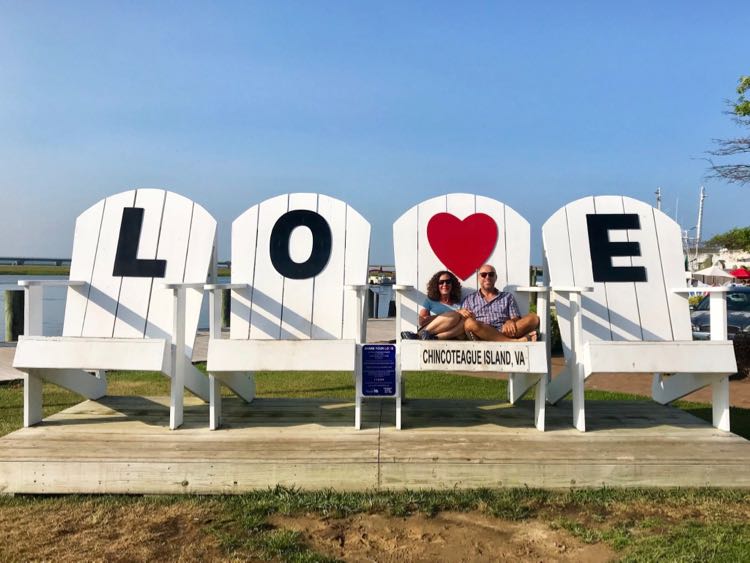 Relax Under Colorful Sunrise and Sunset Skies
Summer is a wonderful time to savor long, warm days, so we rounded up the Best Places to Watch Sunrise and Sunset in Northern Virginia. Frame the sky with sparkling water, mountain views, or rolling fields and create your own moment of zen.
Celebrate Your Love at Virginia LOVE Works
Capture Instagrammable photos with family, friends, and the ones you love at Virginia LOVE signs sprinkled throughout the state. There are over 250 Love signs to choose from, including the giant Adirondack chairs in scenic Chesapeake Virginia pictured above.
Take a Scenic Drive to Explore Virginia's Small Towns
For a perfect day trip, combine a scenic drive with visits to unique parks and small towns in Northern Virginia. Choose from our list of Beautiful Scenic Drives Near DC, or set your GPS to one of these 15 favorite small towns in Northern VA and start your adventure.
Enjoy Outdoor Concerts and Movies in Northern VA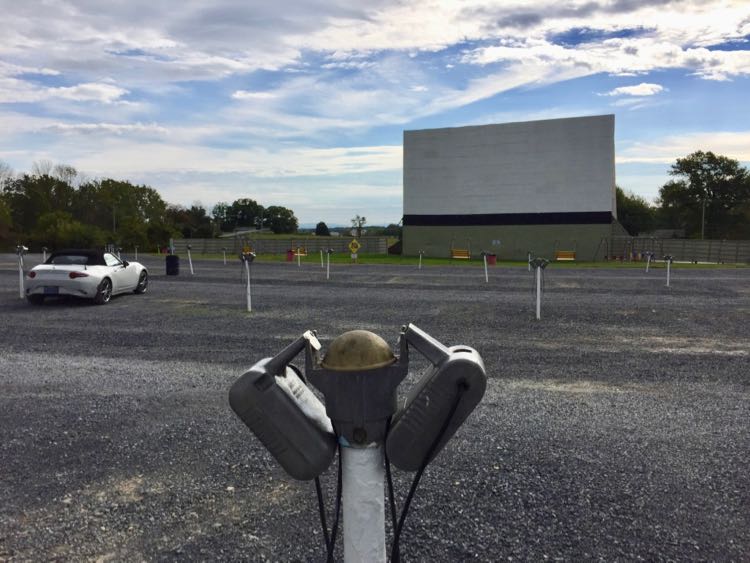 Outdoor Summer Movies in Northern VA
Dusk falls, fireflies emerge, and evening temps beckon us for outdoor summer fun in front of a big screen. Grab a blanket or chairs and choose from one of the many drive-ins or walk-in outdoor movies in Northern Virginia.
There are lots of movies for little kids, but some series have a more adult selection. Be sure to check for inclement weather closures when thunderstorms make an appearance.
Outdoor Summer Concerts in Northern VA
Annual Northern Virginia Outdoor Concerts offer mostly free and family-friendly entertainment sponsored by local towns, parks, and business areas. There are so many summer concert series each year that you can catch a free outdoor concert nearly every day of the week. Summer is a great time to revisit old favorites; but why not try a few new ones this year.
Outdoor Roller Skating
Have some classic fun on old-school roller skates at the outdoor rink at Mosaic Skateland. Bring your own skates or rent on-site and celebrate summer as you boogie on 4 wheels. Admission is $17/$15 adult/child and includes skate rentals.
Getaways and Road Trips
School's out, work is slow, and long days are calling. Plan your escape to one of these unique weekend getaways in and near Northern Virginia. If you prefer a home or apartment setting, check out our curated list of highly-rated Airbnb and vacation rentals in Northern VA.
If you have time for more than a night, why not explore a new area of Virginia? Plan your trip with these getaway guides to favorite Virginia regions:
There are plenty of wonderful places to visit beyond Virginia. Architecture and nature lovers can explore Frank Lloyd Wright's masterpieces in Laurel Highlands Pennsylvania. Foodies can indulge on a getaway trip to Pittsburgh PA. History fans should put a Gettysburg history getaway on their list. And for beachy fun, flat-water kayaking, and tasty seaside food, a Southern Delaware getaway is calling.
Further afield but worth the drive are the beautiful vineyards and waterways of the Southern Finger Lakes.
Whether your plans include road trips, staycation escapes, or everyday outings near home, we hope our suggestions lead to outdoor summer fun for you. Happy summer!
Follow us on Facebook, Twitter, Pinterest, and Instagram for more fun travel in and from Northern Virginia.