Visit these 15 unique and fun Northern Virginia small towns for local flavor, classic Main Streets, outdoor adventures, and interesting history. These walkable towns in Virginia all offer plenty of interesting things to do and see during your visit. Many of the best small towns in Virginia are right here in the DC area, perfect for a day trip or an easy getaway.
Below are tips on the parks, restaurants, wineries, breweries, historic sites, and more places to visit in each of the Northern Virginia small towns on our list. We also link to scenic drives you can follow to reach your destination. These towns offer year-round activities, so bookmark our list and visit them all.
Our favorite small towns in Northern Virginia are perfect for a day trip from Washington DC. Or plan a weekend getaway or longer road trip with our guides to Virginia regions from the Chesapeake Bay to Southwest Virginia.
Disclosure: This article may contain affiliate links. We will make a small commission from these links if you order something, at no additional cost to you.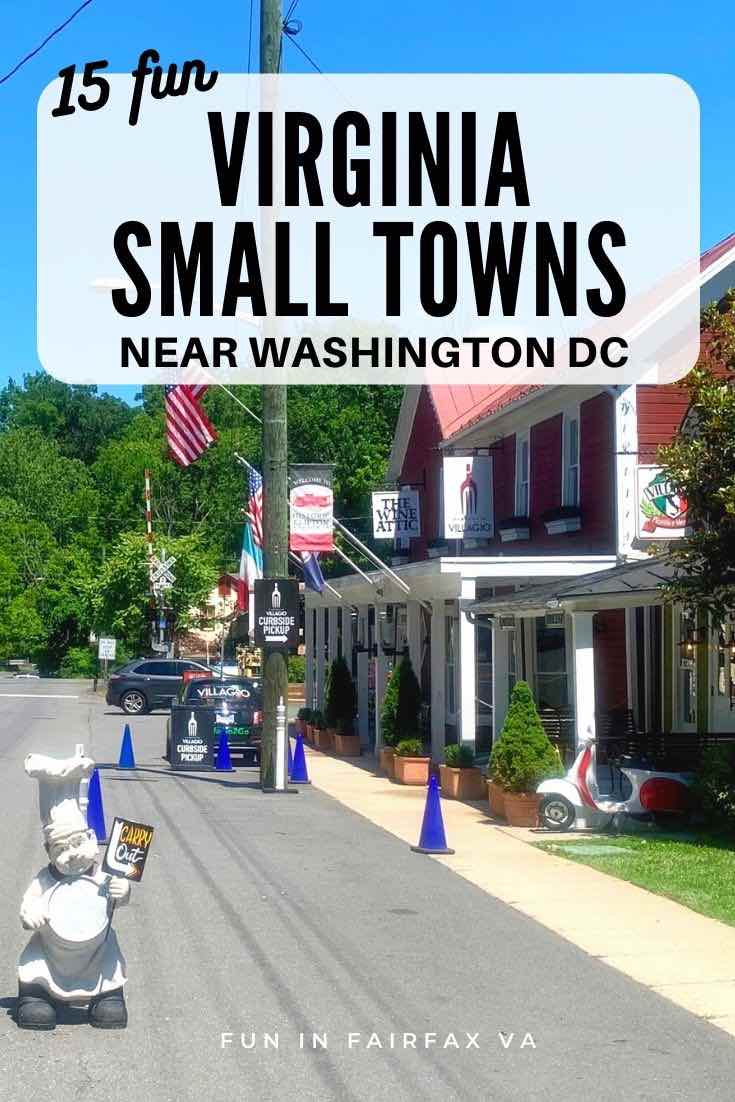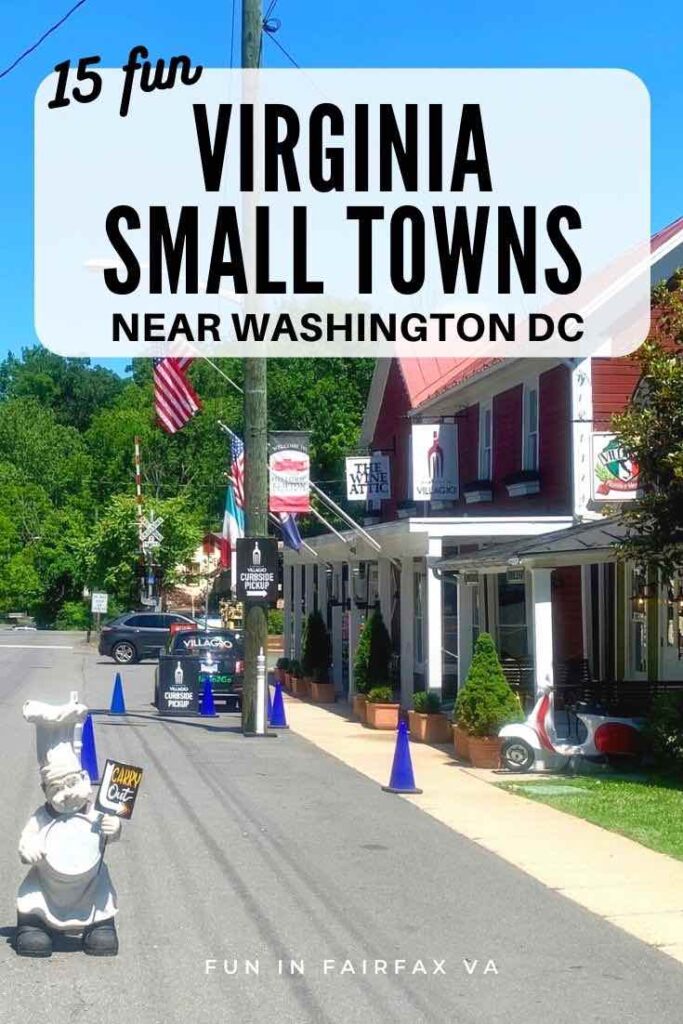 Favorite Northern Virginia Small Towns Near Washington DC
Below, in alphabetical order, are favorite Northern Virginia small towns near Washington DC. You'll find tips on what to do and places to go in each small town during your visit. Follow the links for more details to plan your outing. Then scroll down for driving tips and a map of these Northern Virginia small towns.
1. Bluemont
Plan your visit with our guide: 15 Fantastic Fun Things to Do in Bluemont Virginia.
The tiny town of Bluemont, at the western edge of Loudoun County, combines excellent hiking with a winery, cidery, and two craft breweries for a perfect day trip from Washington DC. Bluemont is home to Bears Den Overlook, one of the best family hikes in Northern VA and a beautiful spot to watch the sunset. Or tackle a more challenging stretch on the Appalachian Trail to the view from Raven Rocks.
After your hike, you can enjoy wine or brews with a stunning view at Bluemont Vineyards and Dirt Farm Brewing. Down the hill is Henway Hard Cider and the you-pick fields and play areas of Great Country Farms. Enjoy a treat or casual lunch at the Bluemont General Store, then take a scenic drive on the historic Snickersville Turnpike.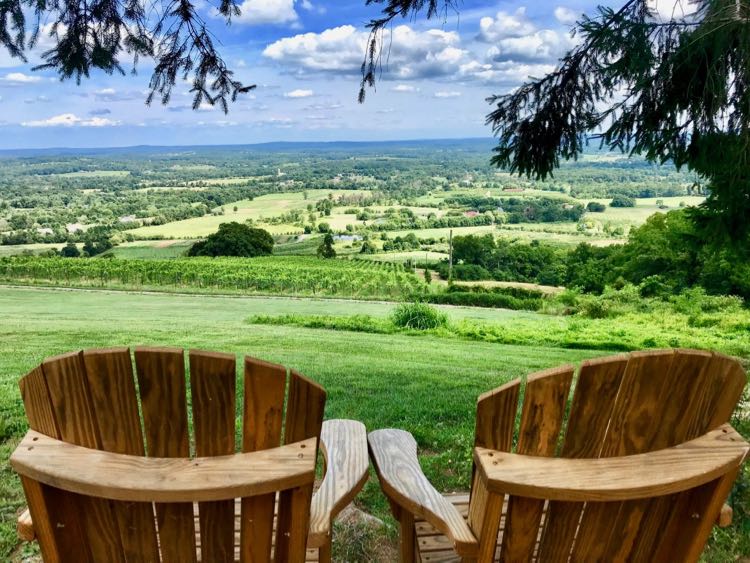 2. Clifton
Plan your visit with our guide: Clifton Virginia Day Trip: A Charming Small Town Near Washington DC.
If your goal is to visit cute small towns near DC, look no further. Clifton is definitely one of the most interesting and quaint Northern Virginia small towns. Here you can stroll a classic Main Street lined with local restaurants, shops, businesses, and historic homes.
Clifton's lovely walkable downtown is small and fun to explore. Signs mark historic buildings and share interesting tidbits about previous occupants (the screenplay for Sleepless in Seattle was written here). Browse at several local shops then have a meal at the Main Street Pub, Trummers, Villagio, or the Clifton Cafe.
A short drive from downtown Clifton is Paradise Springs, the closest winery to Washington DC. Work up a thirst with a hike on the Bull Run Occoquan Trail, just down the road.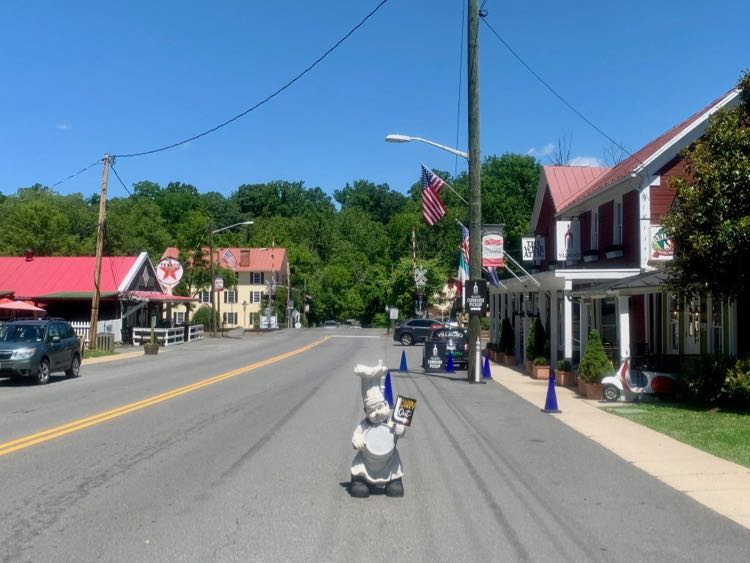 3. Culpeper
Plan your visit with our guide to more than 30 fantastic places to visit in Culpeper VA.
If you haven't visited the beautiful town of Culpeper lately (or ever) you're in for a nice surprise. Hip local restaurants and cool shops keep popping up in downtown Culpeper's Historic District, making it a fun destination for a day in the countryside. In fact, Culpeper makes a perfect day trip from Richmond and Charlottesville.
Stroll East Davis Street and pop into a few local shops, then enjoy lunch or dinner at Grass Rootes, It's About Thyme, and other tasty eateries. Pinto Thai hit the spot on one of our visits. Stop for a photo at the LOVEwork in front of the old railroad station, now the Culpeper History Museum.
There are several breweries in the downtown area and wineries are sprinkled throughout the region. On the eastern side of town is Old House, a combination winery, brewery, and distillery on a 75-acre farm. It's a lovely spot to relax and sip surrounded by farms and fields.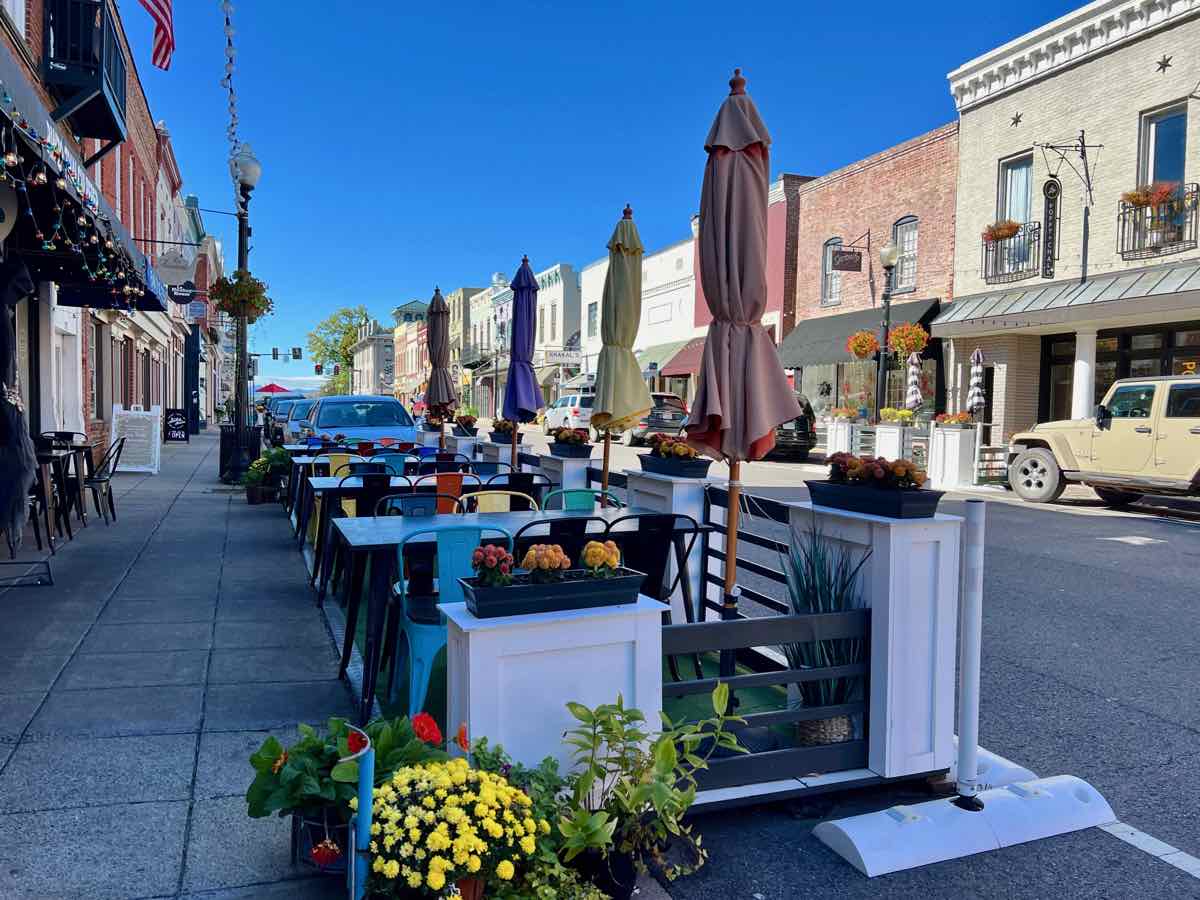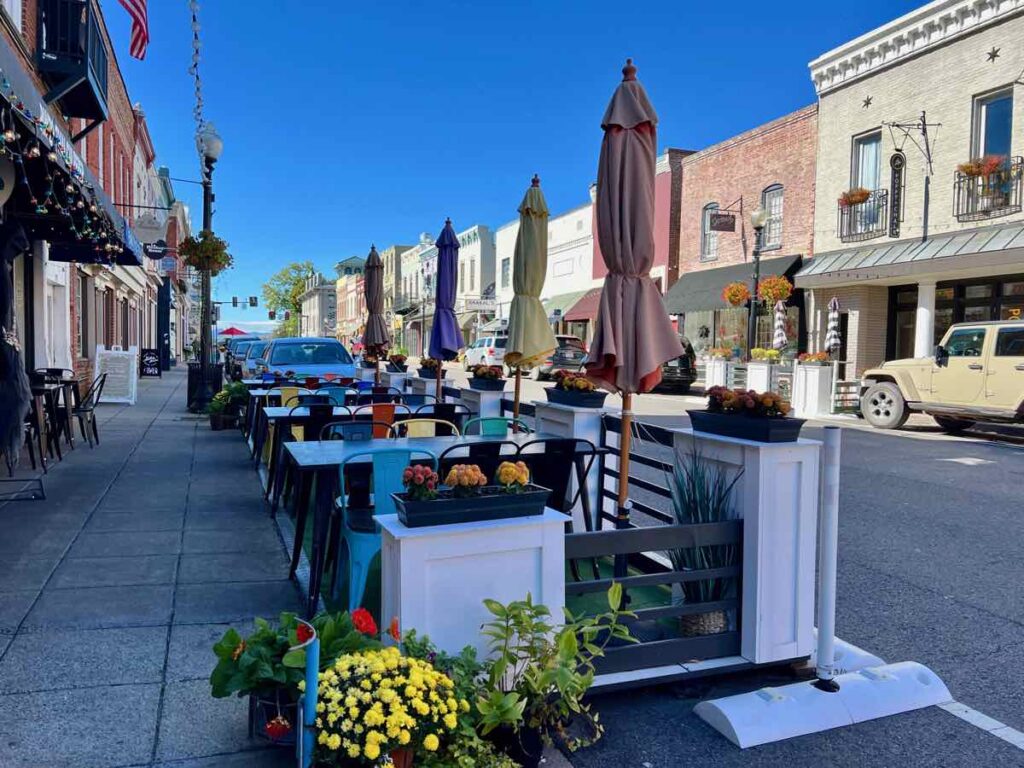 4. Great Falls
One of the most popular national parks in the DC region, Great Falls Park, sits just down the road from the town's small downtown. Take in dramatic waterfall views and hike along the cliffs of Mather Gorge at the park, then follow historic Georgetown Pike to downtown Great Falls for a meal and a drink. The outdoor patio at The Old Brogue is one of our favorite places for outdoor dining in Northern Virginia.
You'll find more excellent hiking along the Potomac at Riverbend Park where you can rent kayaks and paddle the river in season. The park has a nice deck lined with Adirondack chairs where you can relax with a view of the river. For an elegant meal, visit the award-winning L'Auberge Chez Francois, one of the most romantic restaurants in Northern VA.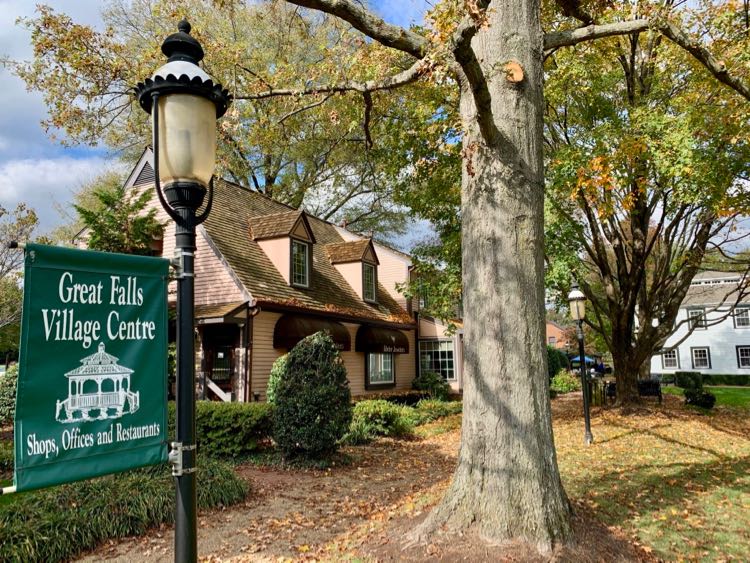 5. Leesburg
Plan your visit with our guide: Leesburg Getaway in Northern Virginia Wine Country.
Though it is one of the largest towns in Virginia, historic Leesburg has a lovely walkable downtown with a small-town feel. Begin your visit with antique shopping and lunch at one of the many excellent restaurants in downtown Leesburg. There are also several craft breweries to choose from and you can pick up a tasty treat at Mom's Apple Pie bakery.
There is also plenty to do beyond the downtown area. Hike and explore Civil War history at Balls Bluff Battlefield Park, or enjoy a short hike to a pretty view at Red Rock Wilderness Overlook. Nearby Morven Park offers more trails, tours of a historic mansion, and a unique equestrian museum.
Take a scenic drive north of Leesburg to visit local wineries, breweries, and more antique shops. Or explore farms and tiny towns on a beautiful scenic drive on the unpaved roads of Loudoun County.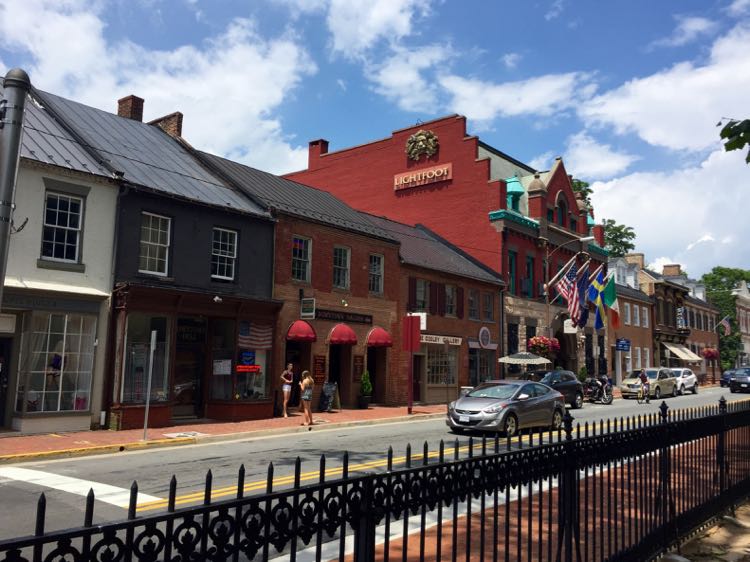 6. Marshall
Marshall is a small town but it boasts several delicious restaurants and cute local shops. Sadly, the unique Johnny Monarch's busteraunt has closed, but there are still great dining choices in town.
Red Truck Bakery creates tasty treats plus farm-inspired sandwiches and dishes. Across the street, Field and Main offers more upscale farm-to-table fine dining. Nearby, The Whole Ox is a great stop for tasty burgers and meaty sandwiches.
Search for treasures in Bella Villa Antiques, or head down the street to the eclectic Tri-County Feeds, Fashions, and Finds. Nearby Northern Fauquier Community Park is a lovely place to walk off your meal on a network of paved paths.
Visit Marshall, Middleburg, and The Plains on a Beautiful Hunt Country Scenic Drive in Northern Virginia.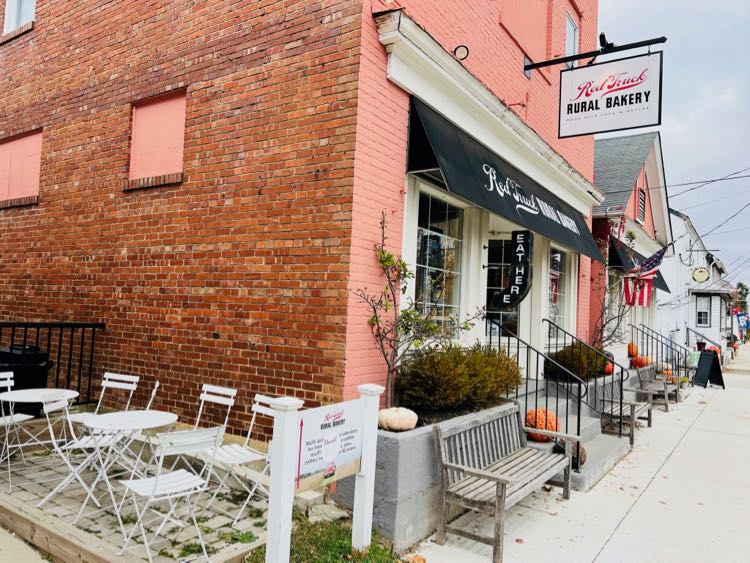 7. Middleburg
Virginia hunt country sets the vibe in tony Middleburg Virginia. Upscale shops line the streets of the compact downtown, mixed with local dining spots and historic architecture. In the village center, the Red Fox Inn offers dining and overnight accommodations in a historic tavern established in 1728. Nearby, the award-winning Salamander Resort and Spa offers luxurious rooms and a host of treatments. Special resort activities include a range of equestrian programs.
Enjoy a selection of casual and full-service dining on the main street through town. Head to King Street Oyster Bar for fresh oysters and crab cakes, followed by a slice of pie from The Upper Crust. Sample local craft drinks at the Mt Defiance Cidery and Distillery or the Wild Hare Cider Pub.
December is one of the most beautiful times to visit Middleburg, when festive decorations create a Hallmark Christmas vibe. Don't miss the annual Christmas in Middleburg celebration when the Hunt and Hounds Review parades down the main street.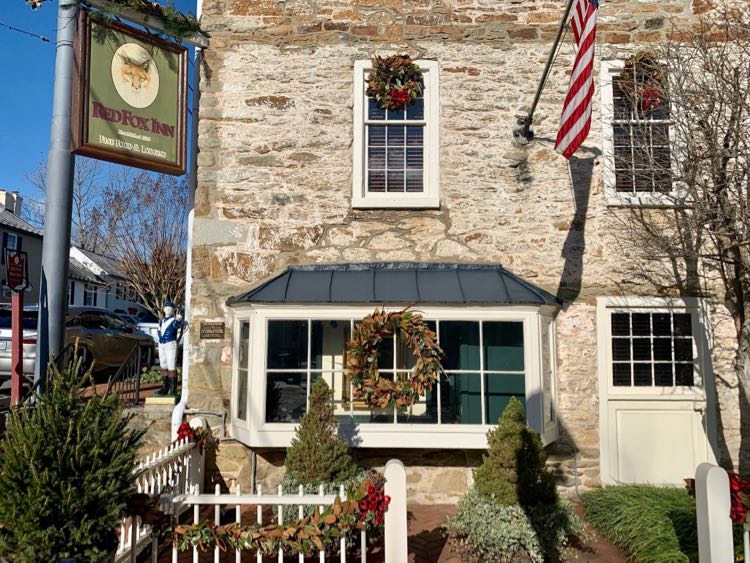 8. Occoquan
Plan your visit with our guide: 15+ Fantastic Things to Do in Historic Occoquan Virginia.
The little town of historic Occoquan occupies a few compact blocks on the banks of the Occoquan River. It is hard to imagine today, but this was once a bustling port with the largest mill in the region. Today, the streets are lined with shops, restaurants, and a few historic gems.
At the eastern end of town is a dock where you can watch the birds on the river or launch a kayak. Nearby, Madigan's Wharf is a popular waterfront dining spot with a patio overlooking the water. A block away, at Mom's Apple Pie, are some of the tastiest treats in Northern VA.
At the other end of Occoquan's Main Street are the River Mill Museum and a beautiful footbridge over the river. Further on is a small park where you can relax or snap a pic with a LOVE sign. In between, local shops welcome browsers with unique finds. There are several restaurants to choose from, including one of our favorites for patio dining, The Secret Garden Cafe.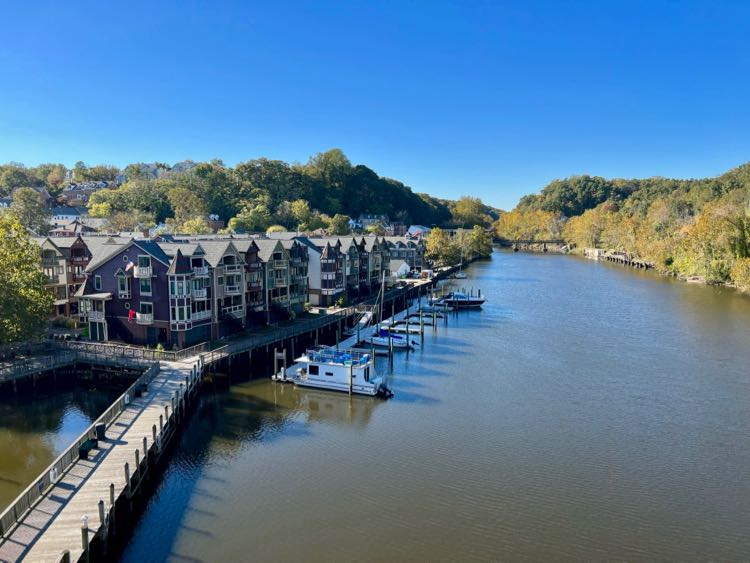 9. Purcellville
Plan your visit with our guide: 8 Great Things to do in Purcellville Virginia.
Another pretty small town in Loudoun County, Purcellville's downtown has several restaurants, breweries, and a popular distillery. There are also local shops to browse, including a classic hardware store. Sample craft cocktails at Catoctin Distillery, then enjoy lunch at Magnolia's at the Mill, Monk's BBQ, Market Burger, or one of the other local dining options. Be sure to check out the pretty mural outside Purcellville Family Restaurants, which features images of the area.
Purcellville is the western end of the Washington and Old Dominion bike trail, which winds 45 miles east to Arlington. The paved trail begins at the old Purcellville train station, constructed in 1891. The W&OD is a nice spot for a walk or bike ride after your meal. If you'd prefer a more challenging hike, head to Bluemont (see above) to tackle a section of the Appalachian Trail.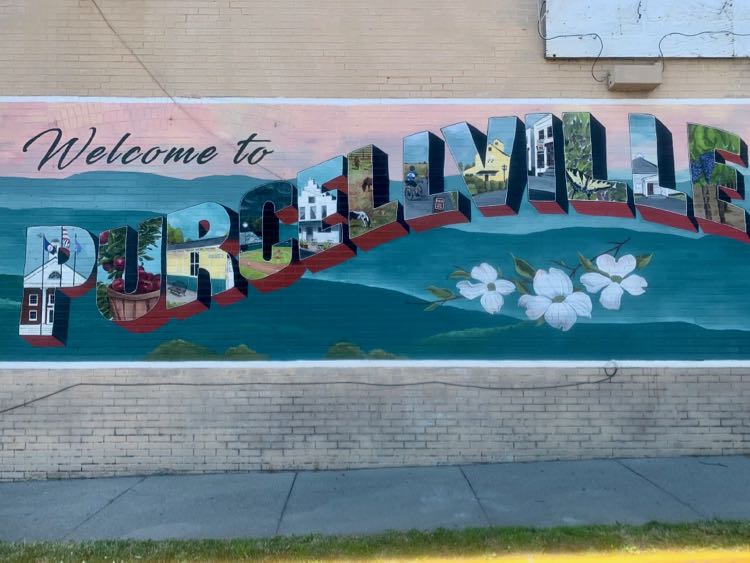 10. Reston
Plan your visit with our guide: Top 10 Things to Do in Reston Virginia: Advice from a Local.
One of the most unique historic towns in Virginia was created in the 1960s. Reston Virginia is one of the first planned communities in the United States. Town founder Robert E, Simon (the RES in Reston) wanted to create a place where residents could Live, Work, and Play. At Lake Anne, Reston's first village center, enjoy a meal by the lake, a craft brewery, and a wine bar. Take a short walk to the beautiful Van Gogh Bridge or a longer trip around the lake.
A short drive away, Reston Town Center is an outdoor mall lined with shops, restaurants, and public spaces. Head to Reston's South Lakes Village Center for pretty lakeside trails and dining. The Glade Stream Valley Trail, W&OD bike trail, Fairfax Cross County Trail, and Lake Fairfax are popular spots to hike and bike. Lake Fairfax also has a big waterpark and an excellent campground.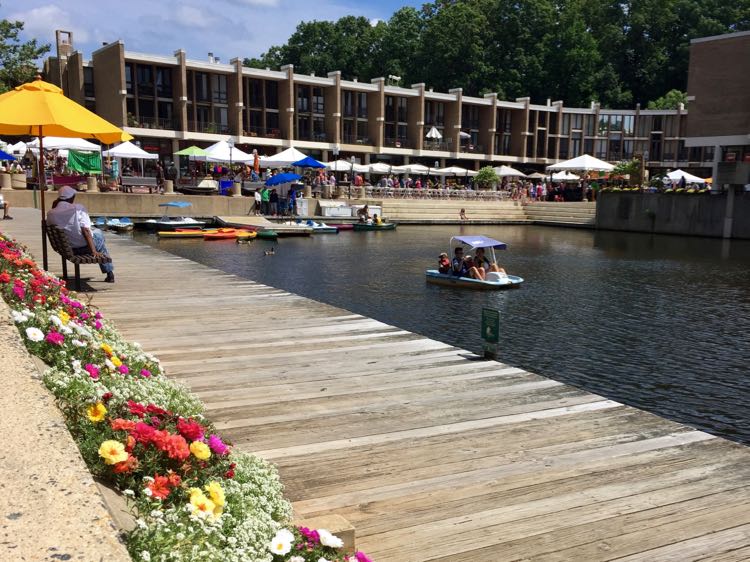 11. Sperryville
The town of Sperryville is tiny, and that's part of the fun. There are a few nice restaurants, a comfortable pub, and a shop or two in the downtown area. Sperryville's biggest claim to fame is its location at the edge of Shenandoah National Park. Stop in town for a meal or some takeout before you drive up winding Route 211 to Shenandoah's Thornton Gap Entrance.
Or spend the day in the Shenandoah National Park Central District, then stop in town for a meal. We suggest a burger and beer at Headmaster's Pub, pizza at Rappahannock Pizza Kitchen, or more upscale dining at Three Blacksmiths.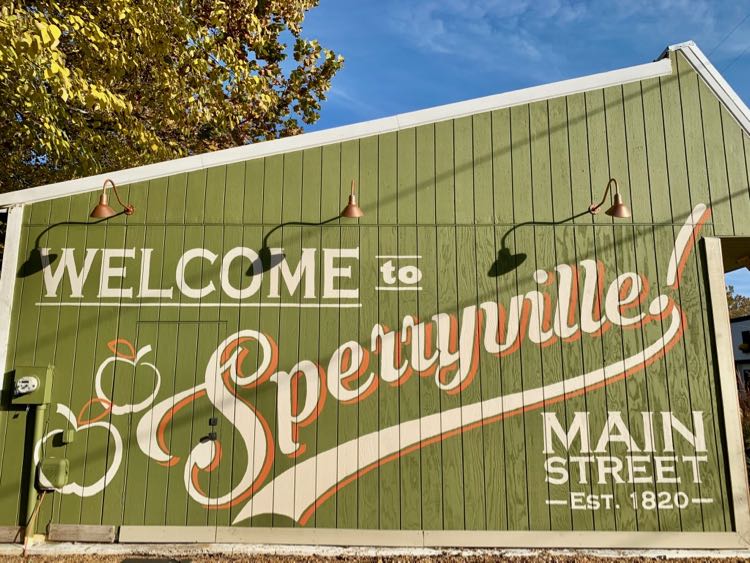 12. The Plains
One of the smallest towns in Virginia, with just over 200 residents, The Plains is a great destination for foodies who enjoy a country drive. Head to the tiny downtown for a meal at one of three excellent restaurants—The Front Porch, The Rail Stop, and Girasolle. There are a few shops to browse, but dining is the main draw. Keep an eye out for Robert Duvall, who lives in The Plains and is often seen around town. You can reach the town on a scenic drive past farms and fields.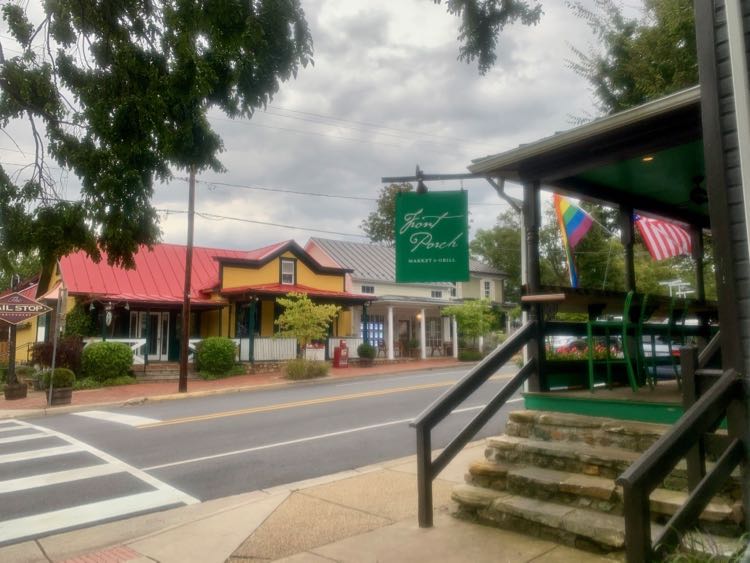 13. Vienna
Plan your visit with our guide: 8 Great Things to Do in Vienna Virginia: Advice from a Local.
The town of Vienna includes three of our favorite parks and a charming downtown packed with great restaurants. At Meadowlark Botanical Gardens you can stroll the gardens, relax by the pond, and explore the only Korean Bell Garden in the Eastern US. During the holiday season, the Winter Walk of Lights fills the gardens with sparkly fun.
Nearby, catch a show at Wolf Trap, the only National Park for the Performing Arts. You can also picnic and hike at Wolf Trap up to 2 hours before showtime. The Washington and Old Dominion Bike Trail, the skinniest park in the region, passes through the downtown on a beautiful, level paved trail. Be sure to check out the town mural near the W&OD.
When you're ready for a meal or a drink, there are plenty of local Vienna restaurants to choose from. Dining options range from casual favorites like Taco Bamba and the Pure Pasty Company to full-service dining at Caboose Brewing & Tavern, Maple Ave, Pazzo Pomodoro, and more.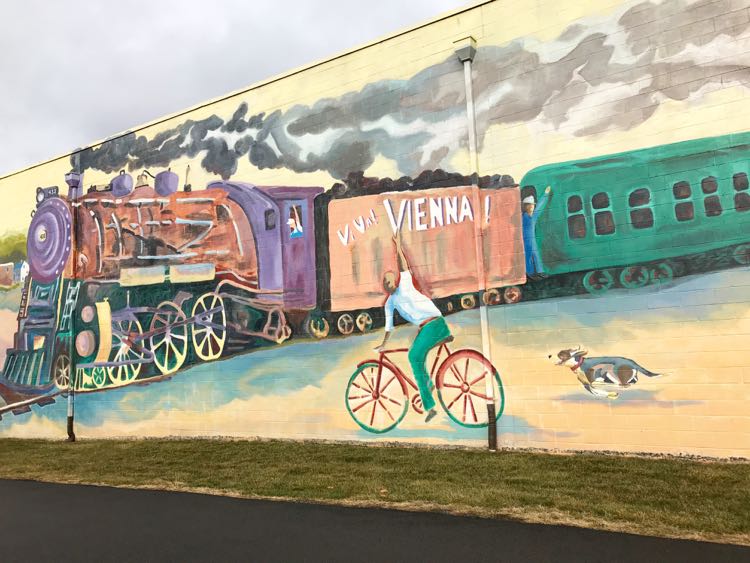 14. Waterford
Plan your visit with our guide: 5 Fantastic Things to Do in Historic Waterford Virginia.
The historic town of Waterford is packed with 18th and 19th-century buildings that beautifully preserve the past. The entire village is a National Historic Landmark. Stroll down Main Street from the Corner Store to the restored Waterford Mill to see some of the most interesting buildings. Behind the Mill, you can follow a trail along Catoctin Creek through the Phillips Farm.
Take a short drive from downtown Waterford to Wheatland Springs Farm and Brewery for a tasty line-up of farm-brewed craft beer. There are also several lovely Virginia wineries in town, including The Wine Reserve at Waterford, 8 Chains North Winery, Corcoran Vineyards and Cidery, and the Village Winery and Vineyards. One of the most popular festivals in Northern Virginia, the three-day Waterford Fair features artisans, period reenactors home tours, and more on the first weekend of October.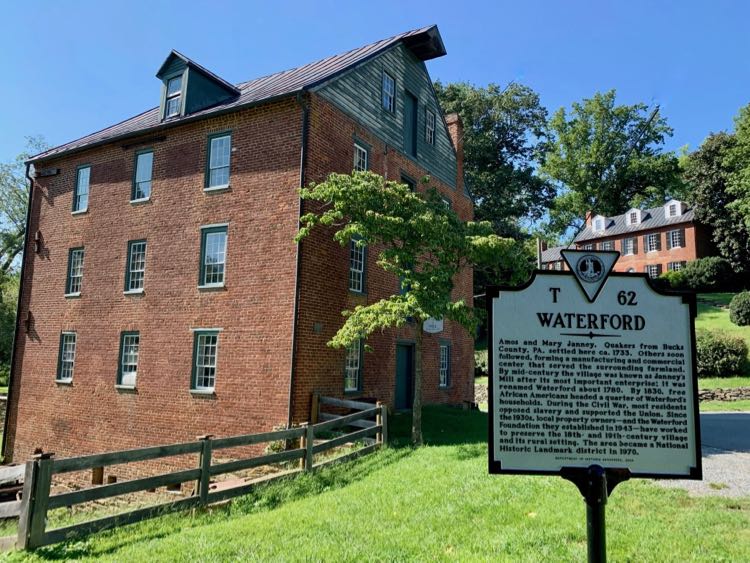 15. Winchester
Plan your visit with our guide: 15 Fun Things to Do on a Winchester Virginia Getaway or Day Trip.
Winchester is actually a city, but the beautiful, pedestrian-friendly downtown has a small-town feel that we love. Downtown Winchester is full of local restaurants, craft breweries, unique shops, and historic buildings all within walking distance.
If you have kids in your group, visit the Shenandoah Valley Discovery Museum to learn by doing with their fun, interactive displays. Architecture lovers should check out the Beaux-Arts beauty of the Hanley Library with its spiral staircase and stained glass rotunda. When you're hungry, Sweet Nola's has some of the best New Orleans-inspired food in Virginia.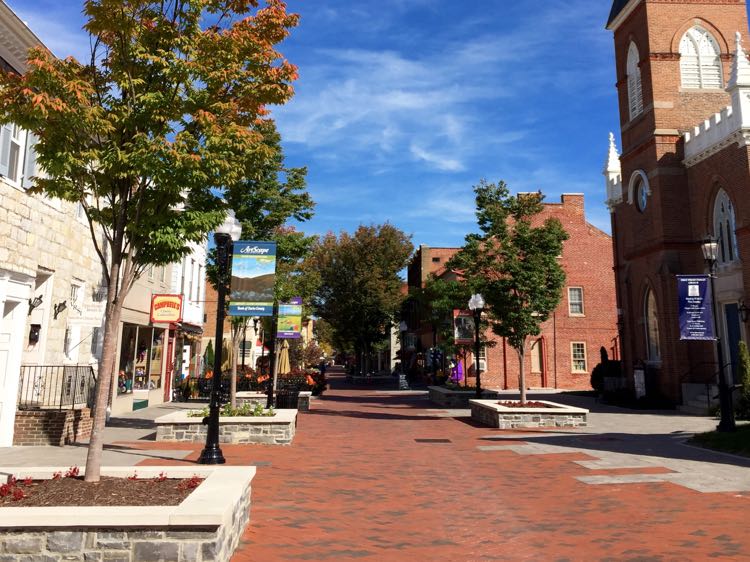 Driving Tips and Directions to Northern Virginia Small Towns
Avoid driving during rush hour. Even the smallest Northern Virginia towns are often part of crowded commuter routes.
Take your time and obey speed limits. Be especially cautious in places like Middleburg and Clifton where the main road goes through the town center.
You can easily combine a visit to several small towns with these Northern Virginia Scenic Drives.
Click this map to plan your Virginia small town visits.
Planning a getaway close to DC? Our curated list of 17 Fantastic Northern VA Wine Country Vacation Rentals and Airbnbs and 17 Amazing Northern Virginia Airbnb and Vacation Rentals are the perfect base for exploring Northern Virginia and the Washington DC area.
More Virginia Small Town Road Trips
When you are ready to explore beyond Northern Virginia, plan a scenic road trip to Virginia small towns in other regions of the state. Below are three of our favorite Virginia regions, with links to a complete road trip guide to each region. The guides are packed with tips on places to visit and things to do on your road trip to these pretty small towns in Virginia.
Shenandoah Valley Road Trip
Many travelers pass through the Shenandoah Valley on Route 81 and never leave the highway, but that's a shame. The Shenandoah Valley is full of lovely small towns, country roads, farms, wineries, breweries, and fun activities that call you to slow down and explore. Hip restaurants, local shops, and interesting museums welcome visitors to Winchester, Woodstock, Harrisonburg, Staunton, Waynesboro, Lexington, and other towns along historic Route 11.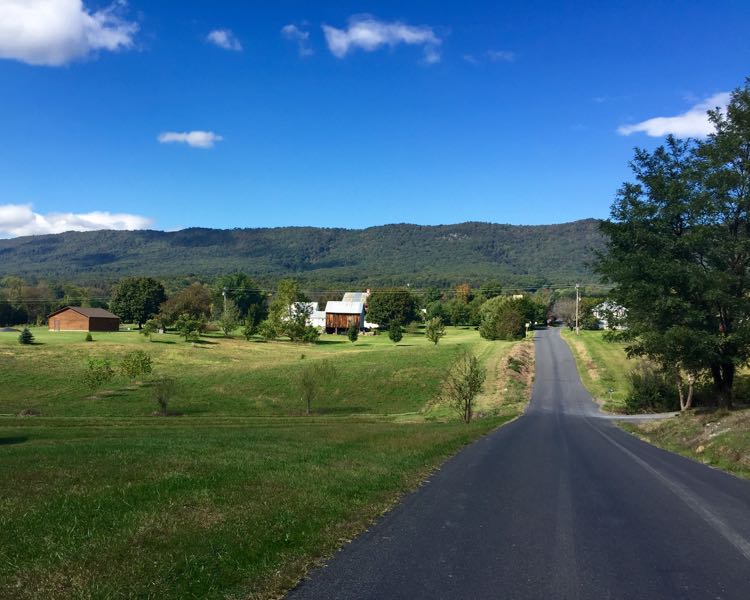 Near Lexington, marvel at the 215-foot high formation at Natural Bridge State Park then go underground for a tour of the Caverns at Natural Bridge. Take in spectacular mountain views on a hike to the Devil's Marbleyard, or enjoy the scenery from overlooks on the Blue Ridge Parkway.
Plan your trip with our guides:
Southwest Virginia Road Trip
The Southwest Virginia region combines gorgeous nature, American history, and unique music experiences on The Crooked Road. The quaint small towns of Southwest Virginia are fun to visit and make a great base for exploring the area. Here are three lovely small towns to put on your list:
They are also ideal places to eat and relax when you need a break from Highway 81. If you're ready for romance, book a night or two at the luxurious Primland Resort.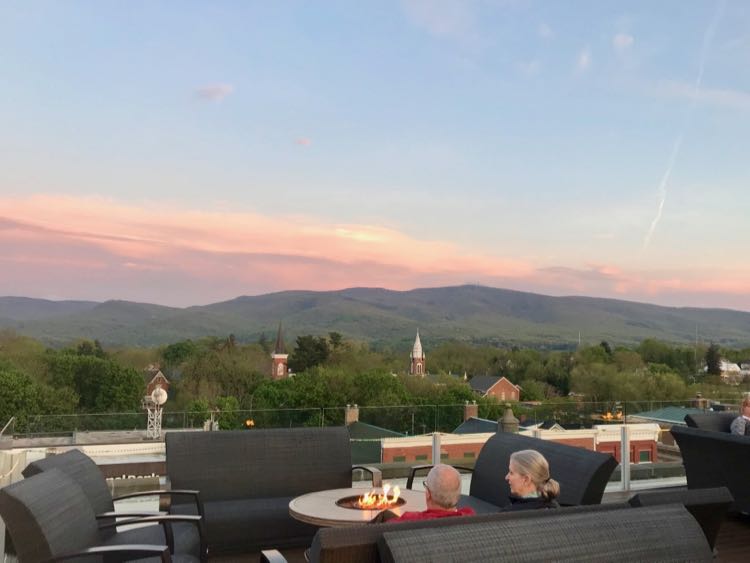 Plan your trip with our guides:
Virginia's Eastern Shore Road Trip
You'll find a unique blend of Chesapeake Bay towns and Atlantic coast beaches on the Eastern Shore of Virginia. At the northern end is Chincoteague, home to wild ponies, the Assateague National Seashore, and plenty of outdoor fun. Heading south are small towns like Onancock that combine historic charm with modern dining and shopping. At the southern end of the Eastern Shore, Cape Charles is a cool beach town whose main street is lined with tasty restaurants and unique local shops.
Plan your trip with our guide: Eastern Shore of Virginia Road Trip on a Chesapeake Bay Getaway
Virginia's Northern Neck Road Trip
Another peaceful collection of small towns and beautiful outdoor spaces fill Virginia's Northern Neck. The Potomac and Rappahannock Rivers border this lovely peninsula on the Chesapeake Bay, an area rich in seafaring towns, American history, and some of the best oysters in Virginia. Visit Colonial Beach to dine in town, play at the beach, and explore George Washington's Birthplace and the Lee family home, Stratford Hall. Further south, see the mansions on Millionaire's Row in Reedville, once the wealthiest town in America thanks to the menhaden industry.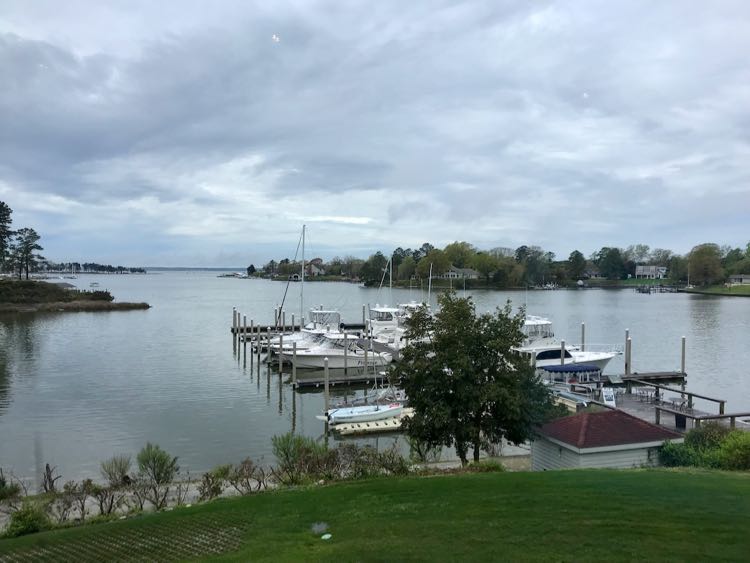 Near the southern end of the neck in Irvington is The Tides Inn, a beautiful retreat from the busy DC area. Take a guided cruise on one of the classic Duffy Boats, kayak or SUP on Carters Creek, dine on local seafood in two on-site restaurants, or just relax and take in stunning waterfront views.
Plan your trip with our guides:
Whether you focus on day trips, weekend getaways, or longer road trips we wish you a fun time exploring Virginia small towns. It's a wonderful time to travel locally and support the local businesses and farms that make Virginia such a special place.
Follow us on Facebook, Twitter, Pinterest, and Instagram for more fun travel in and from Northern Virginia.