Updated on July 27, 2023 by Julie McCool
Visit The National Botanic Garden in Virginia where unusual plant collections combine with fantastical sculptures to create a unique new destination near Washington DC. The sprawling garden is one of the most unique new destinations in the Washington DC area, now open to the public on select days.
Owners Peter and Beata Knop have been sculpting the land for decades. What was once flat farmland now features the highest "mountain" in the Piedmont, built with clean dirt and rock from construction projects. Other manmade spaces include a lake dotted with a maze of islands, a bamboo forest, and a unique cacti garden.
Disclosure: This article may contain affiliate links. We will make a small commission from these links if you order something, at no additional cost to you.
Interspersed with the natural spaces are a whimsical collection of one-of-a-kind sculptures and art. For example, Hobbit Town is a hill of undulating stone steps and tiny "homes" (with round wooden doors, of course).
Nearby, the turrets and walls of a medieval castle sit next to a stream. Huge art sculptures created by artist and co-owner Beata Knop are scattered throughout the garden.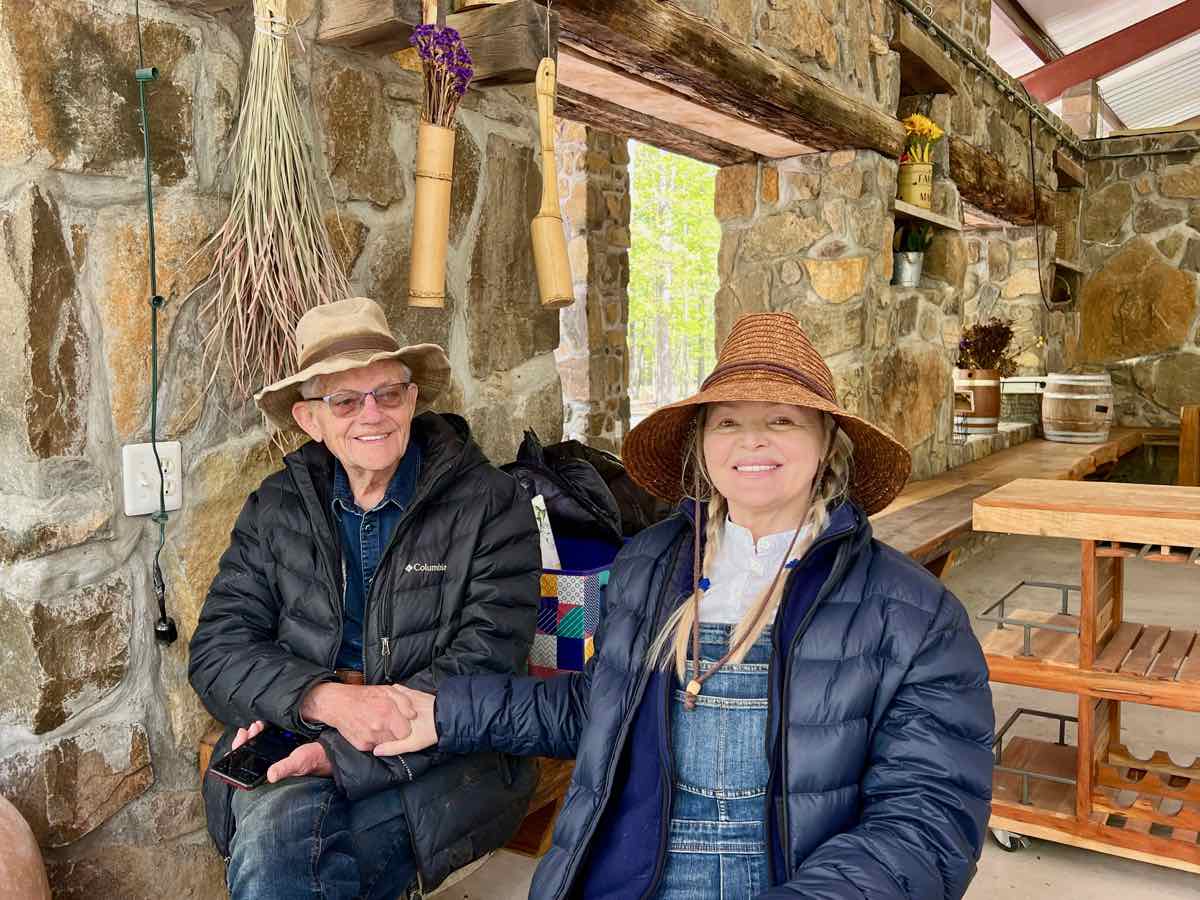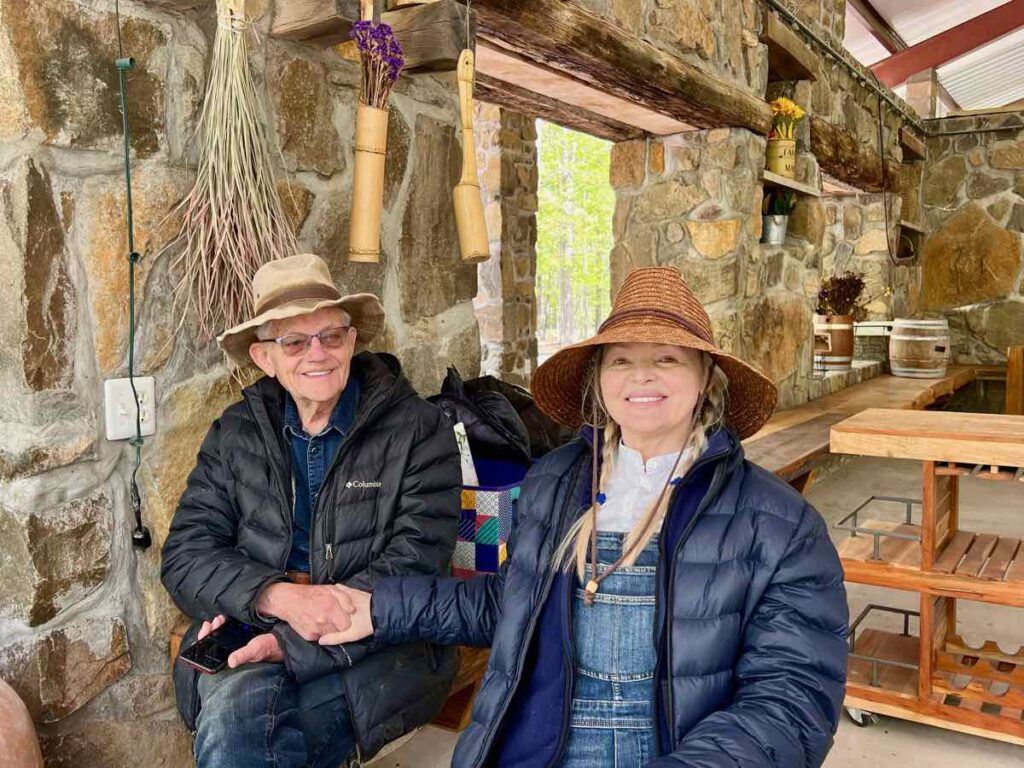 Perhaps most unusual of all, everything is built from recycled and upcycled materials. The Knops are fully committed to sustainability and they put items to use that would otherwise end up in landfills.
Unique Spaces at The National Botanic Garden
There are many beautiful botanical gardens in Virginia and DC, but none quite like this. Unique spaces and species at the National Botanic Garden replace the traditional flower beds seen in most gardens.
A network of dirt paths and a main road connect open areas in the garden (see a map here). There is no set direction to follow, so you can explore spaces in any order. Prepare to do a lot of walking to see them all—the property is large and features are spread out.
Here are some of the unusual areas to explore at the Botanic Garden in Chantilly. Some of these spaces are open now and some are still under construction, so check back for updates.
Hobbit Town
Climb the sweeping, curved stairs by the pergola to reach one of the most magical places at The National Botanic Garden. Hobbit Town is a whimsical nod to Tolkien's beloved neighborhood, The Shire. Here visitors can explore a warren of little "homes" hidden behind circular wooden doors.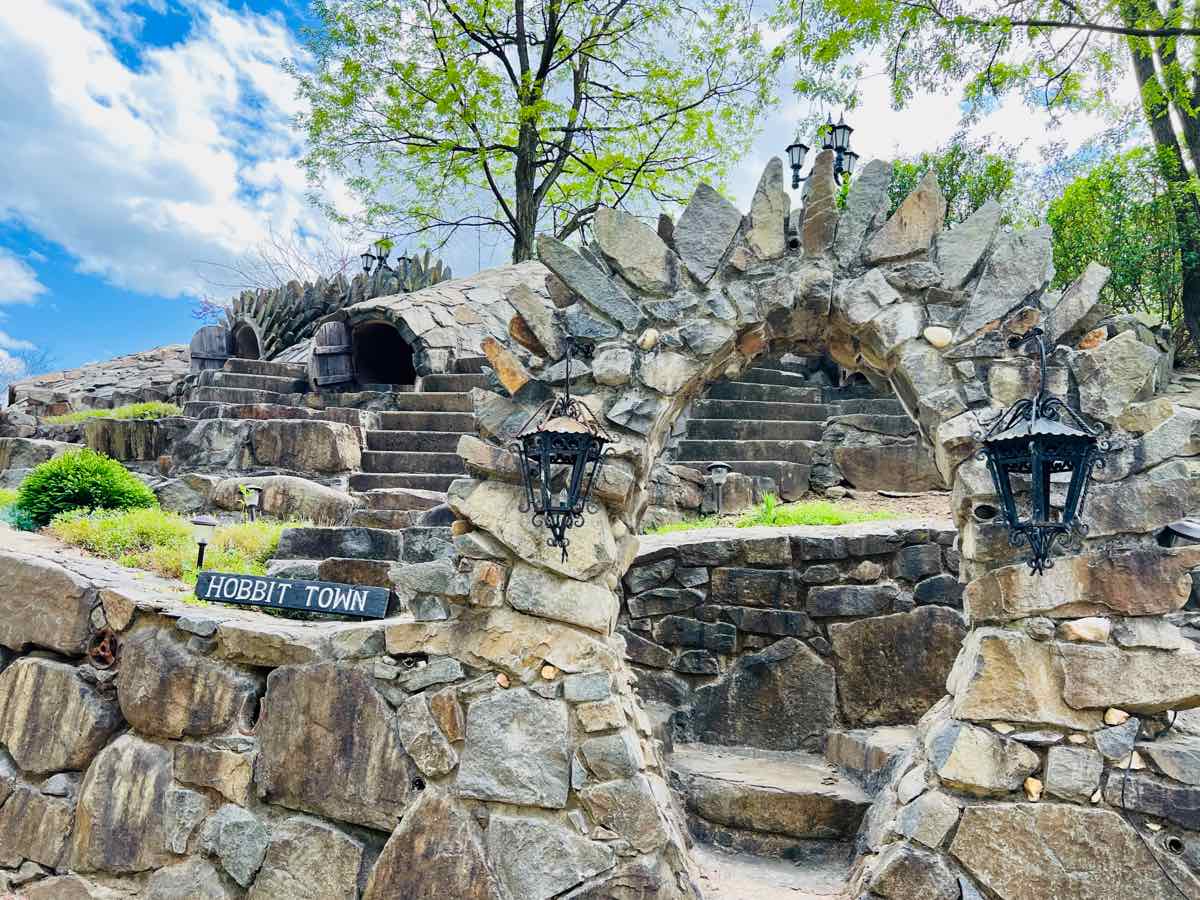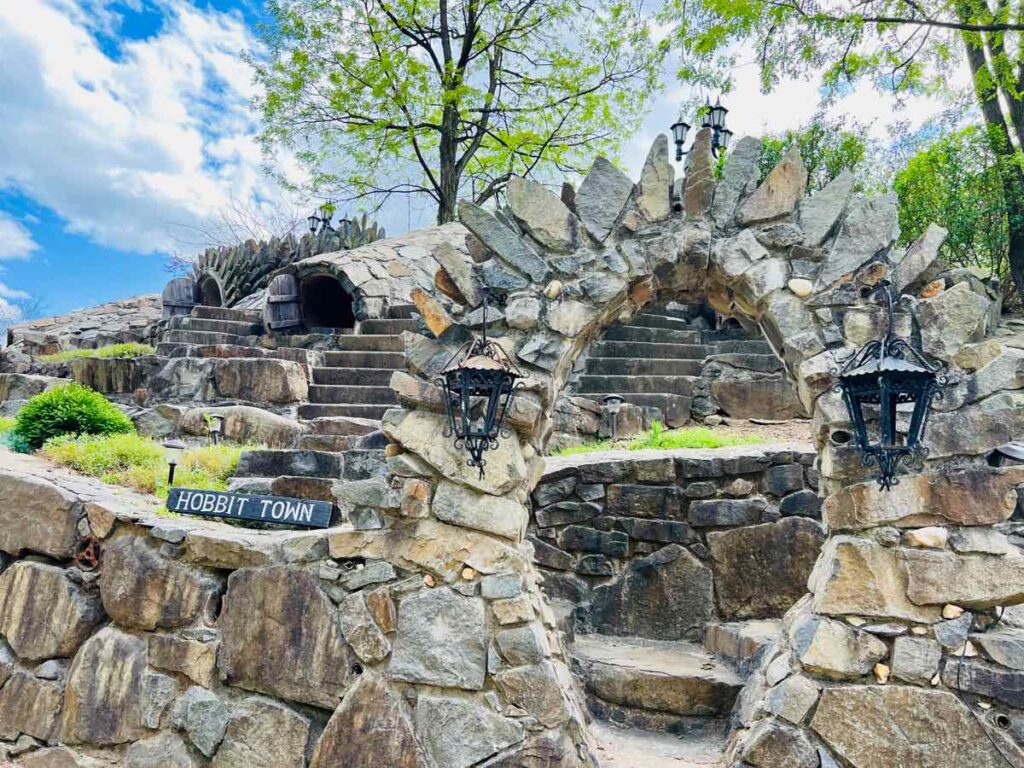 Narrow stone stairs wind between the hobbit holes that are built into the side of a small hill. A circular entry, spiky stones, hanging lanterns, and playful decorations (look for the lantern-holding gnome) add to the charm.
Hobbit Town is one of the best areas for kids at The National Botanic Garden, but they should explore with caution. The stairs are quite twisty and narrow in places.
Sculpture and Art Gardens
You'll get a sense of the garden's unusual features as soon as you pass through the main entrance and drive to the parking area. On the way, you'll pass a winding stone wall that evokes a dragon along with several large sculptures. Plan to return on foot for a closer look.
Beata's art pieces are installed throughout the property and some of our favorites are in the Sculpture Garden. Interstellar, for example, is a shining collection of spheres representing the stars and universes that surround us. Seasonal flowers add to the beauty.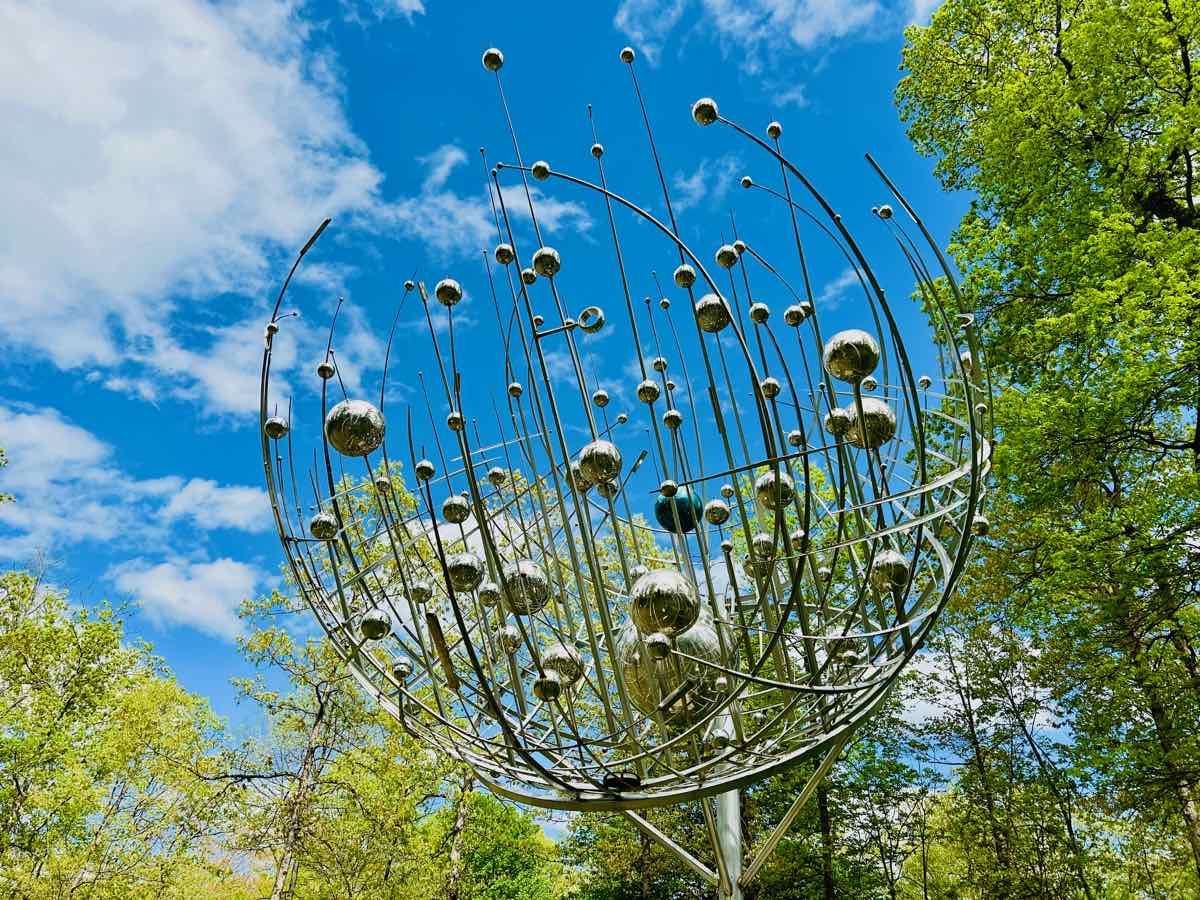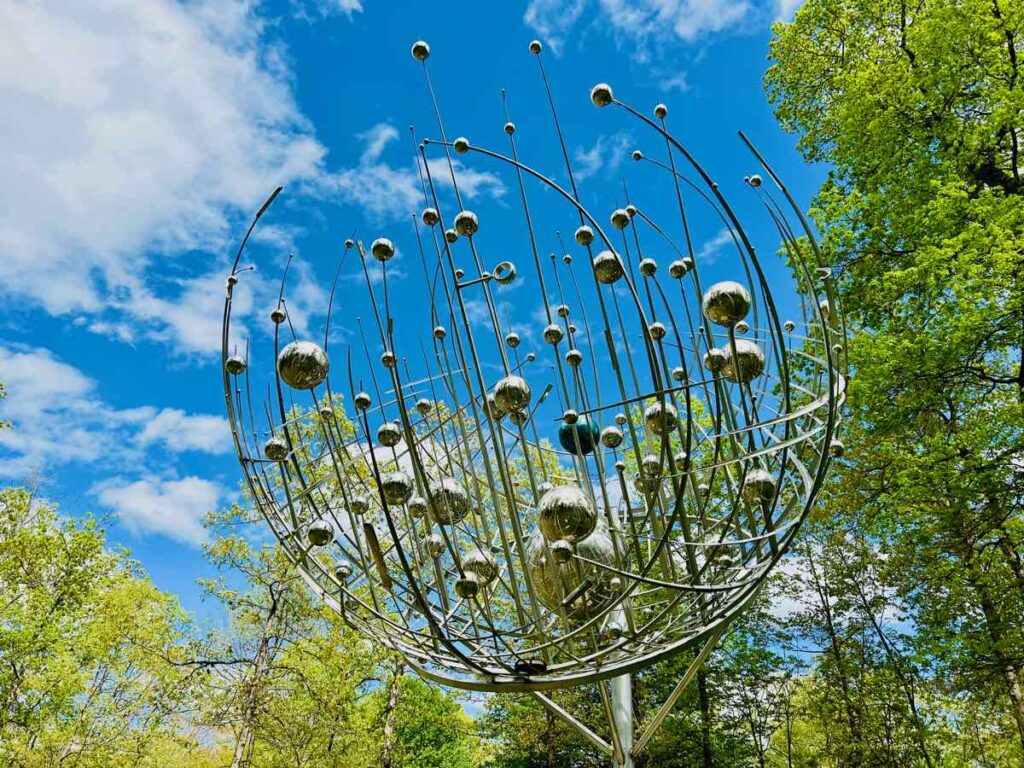 Additional sculptures in the woods and gardens invite contemplation. We love the way Beata's art mixes with natural elements to create interesting views. And the art continues to change as new sculptures take shape.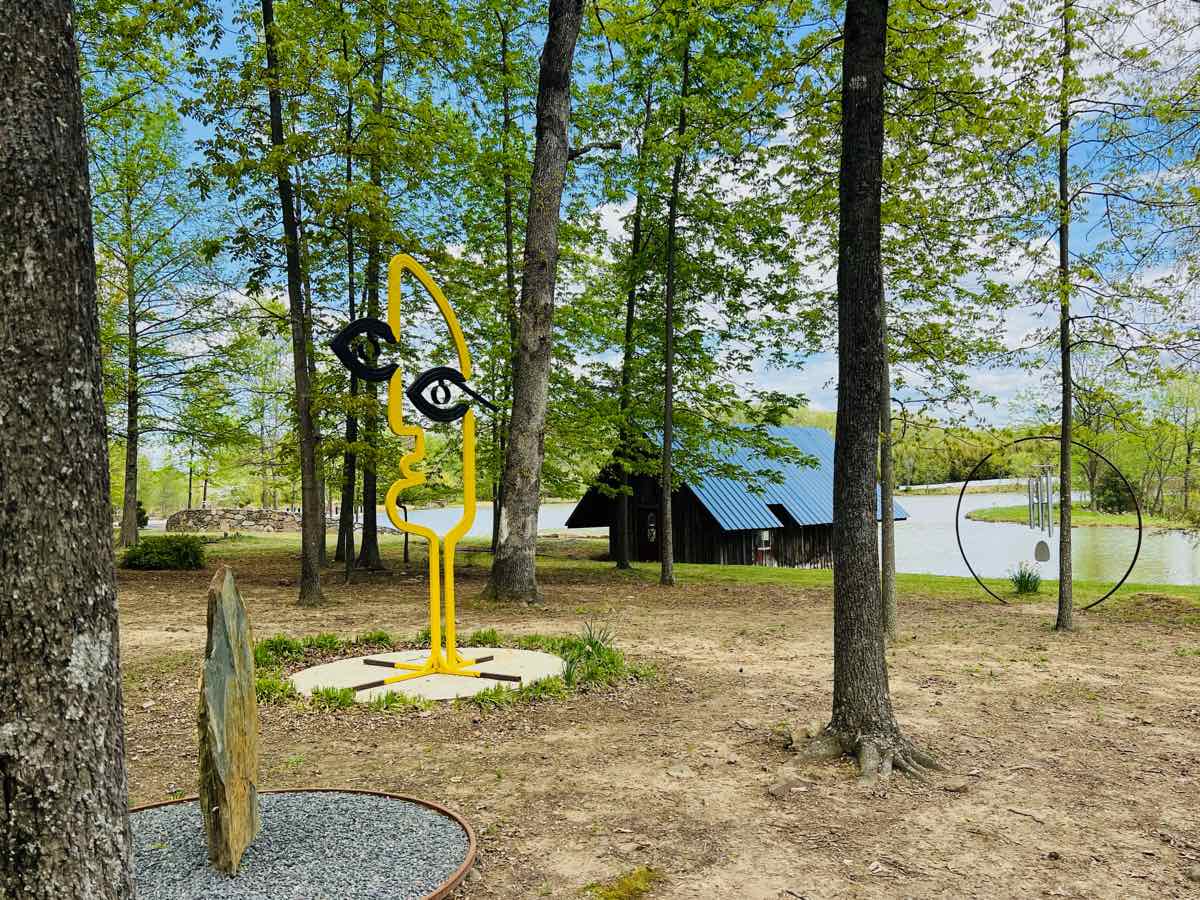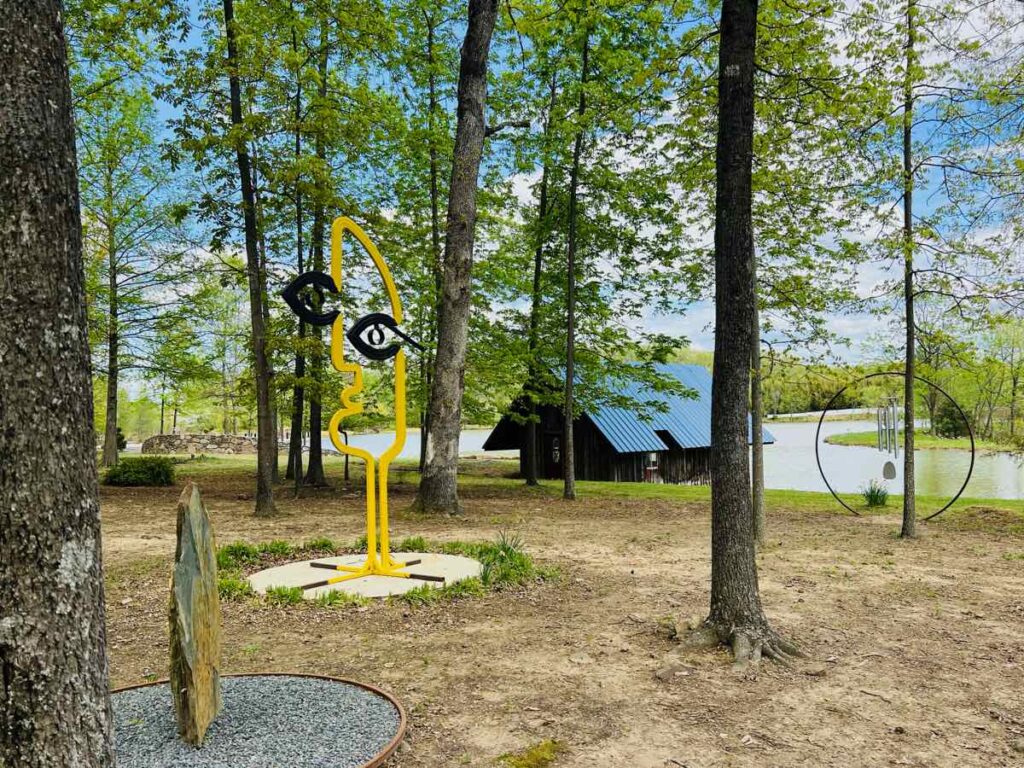 Unique Structures at The National Botanic Garden
Pretty and unique structures offer space for relaxation and special events. These venues can also be rented for photography sessions, weddings, corporate gatherings, and more (info below).
Near the lake, a cozy boat house (closed to visitors) and a bright red bridge are lovely photo spots. Cross the bridge and you'll find a large pergola surrounded by a pretty stone patio. Nearby, the Stone Barn offers an attractive indoor/outdoor space.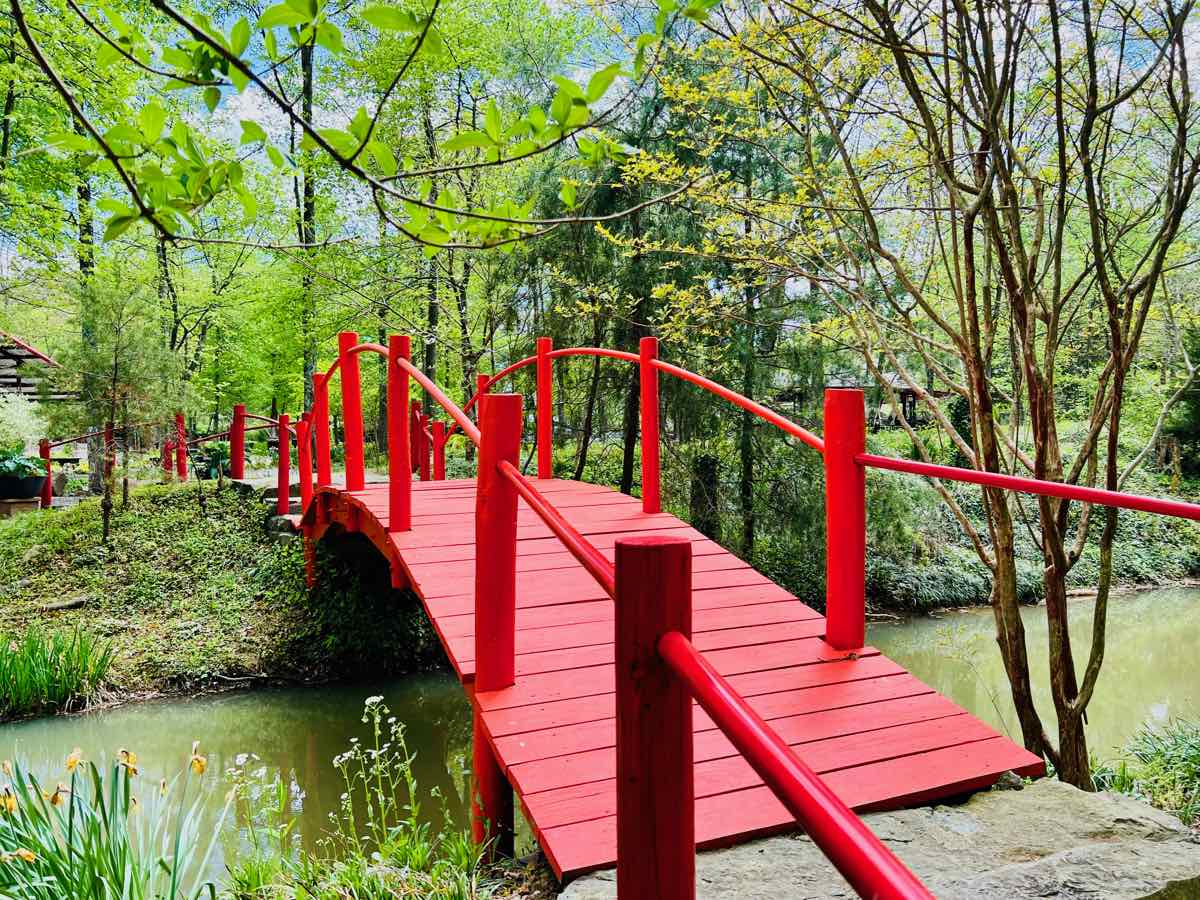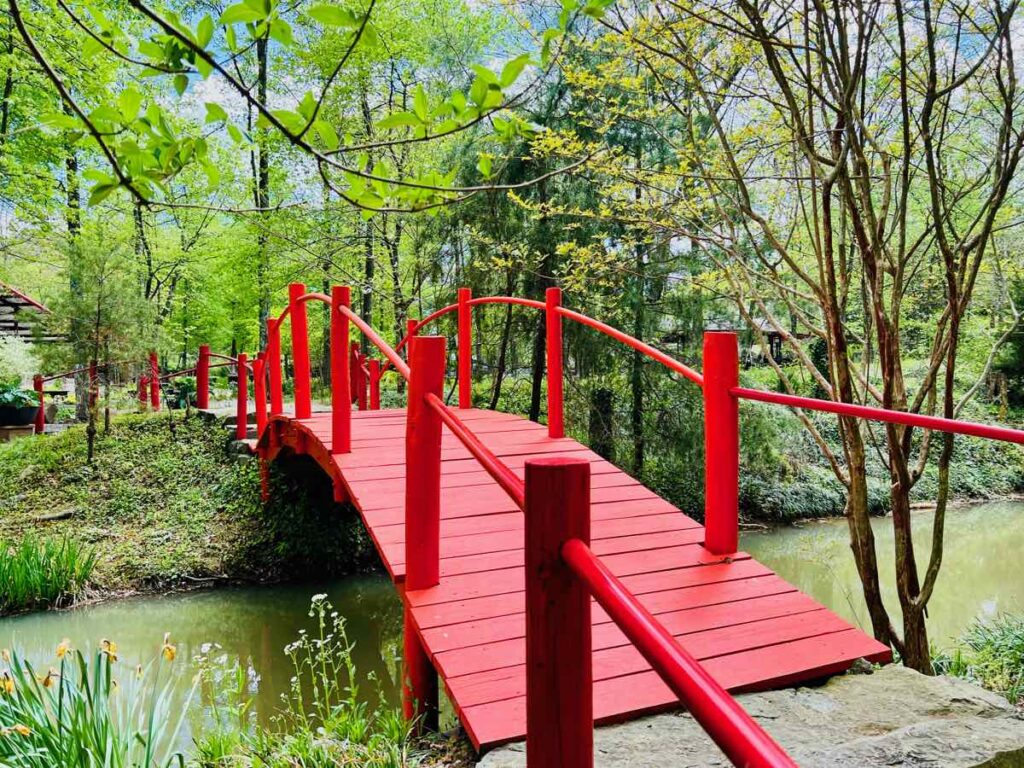 One of the most unusual structures at The National Botanic Garden is a medieval castle made of stone and brick. The castle is still under construction, but it will one day host special events and provide another unique rental venue.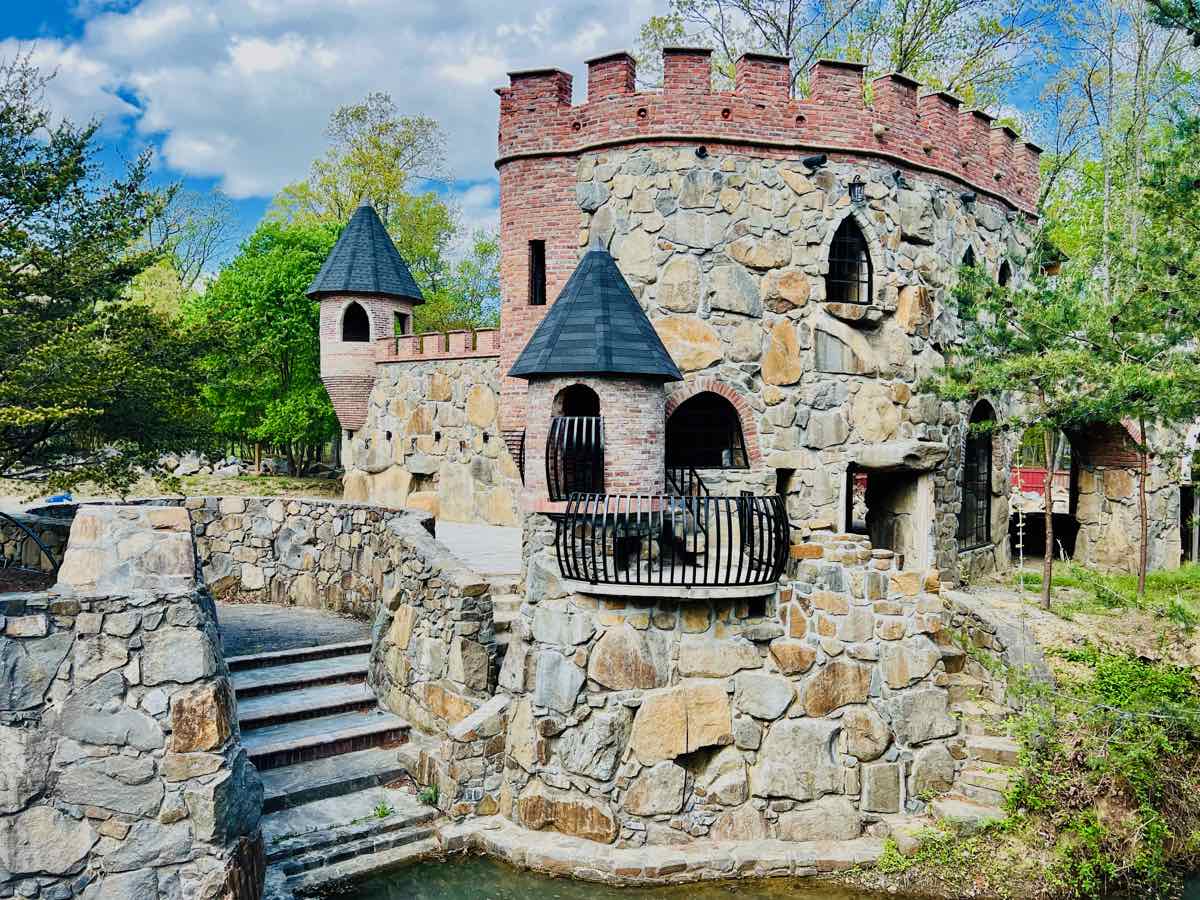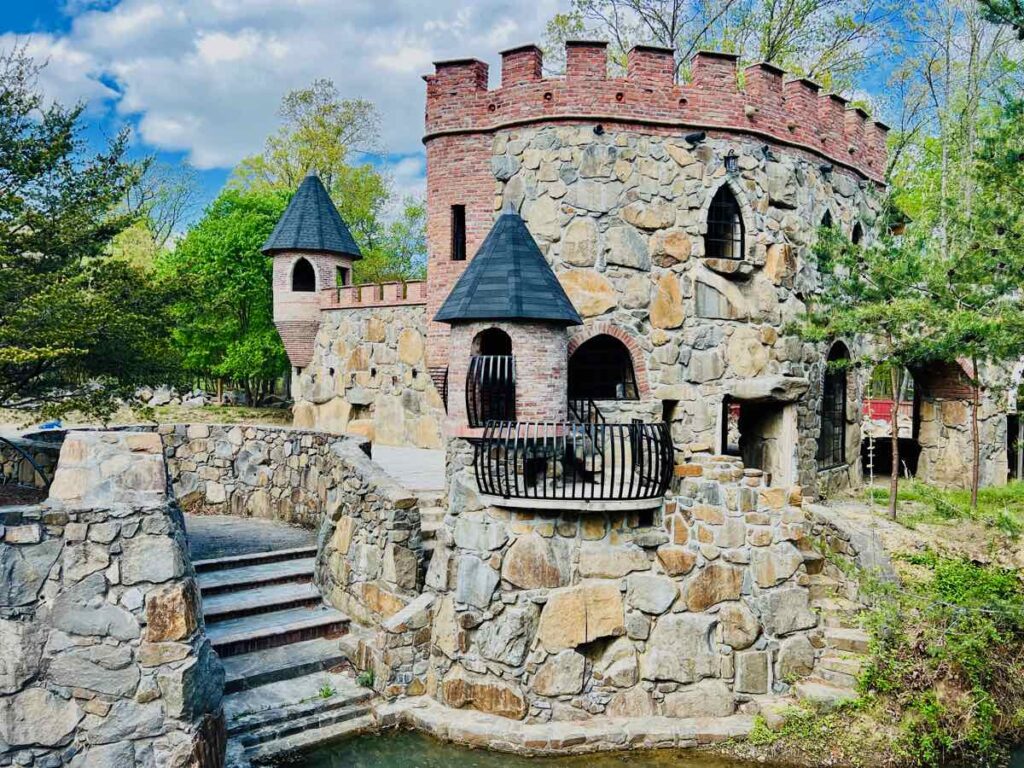 The Lake and Islands
A central lake is dotted with a maze of islands, most of them planted with bamboo. You can walk to two of the islands on bridges, but others are only accessible by boat. Large cypress trees and a bevy of cypress knees cover another lakeside area.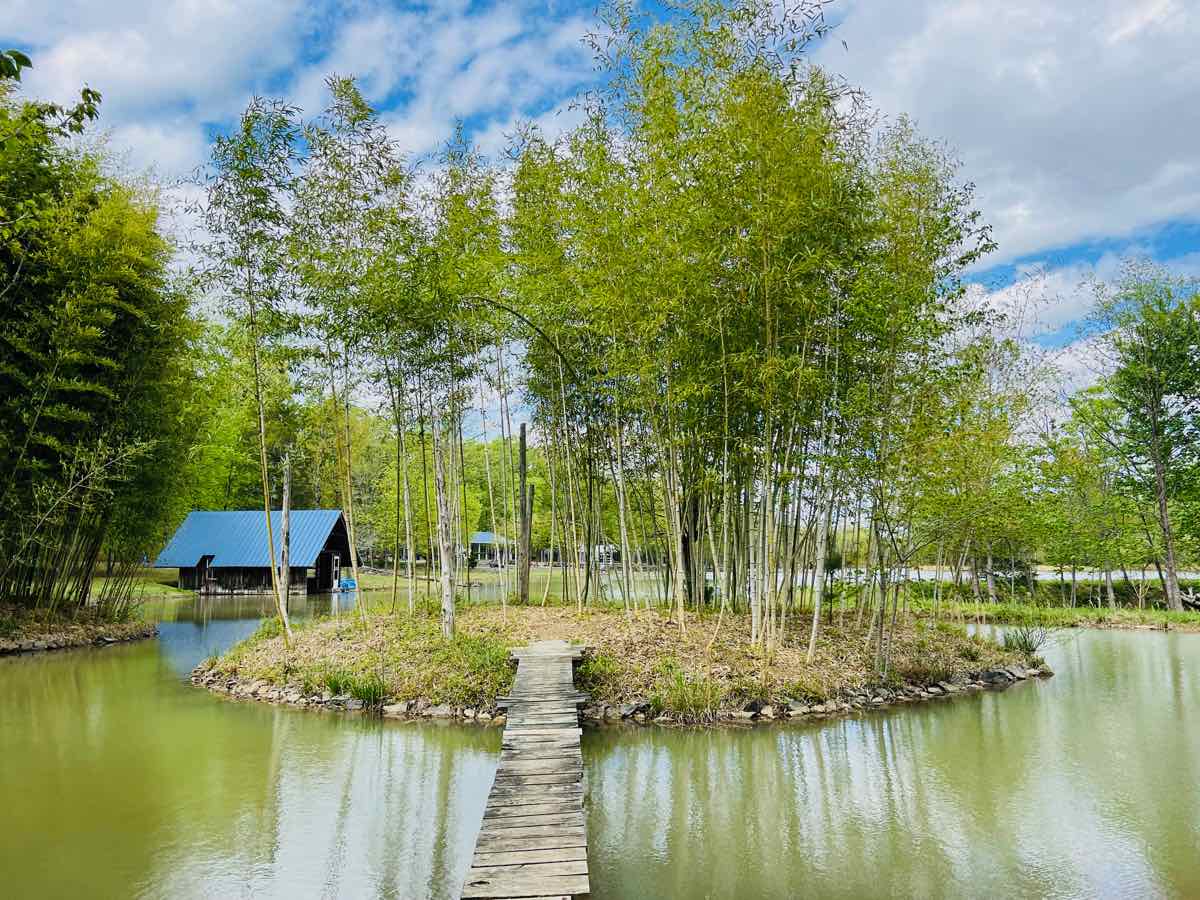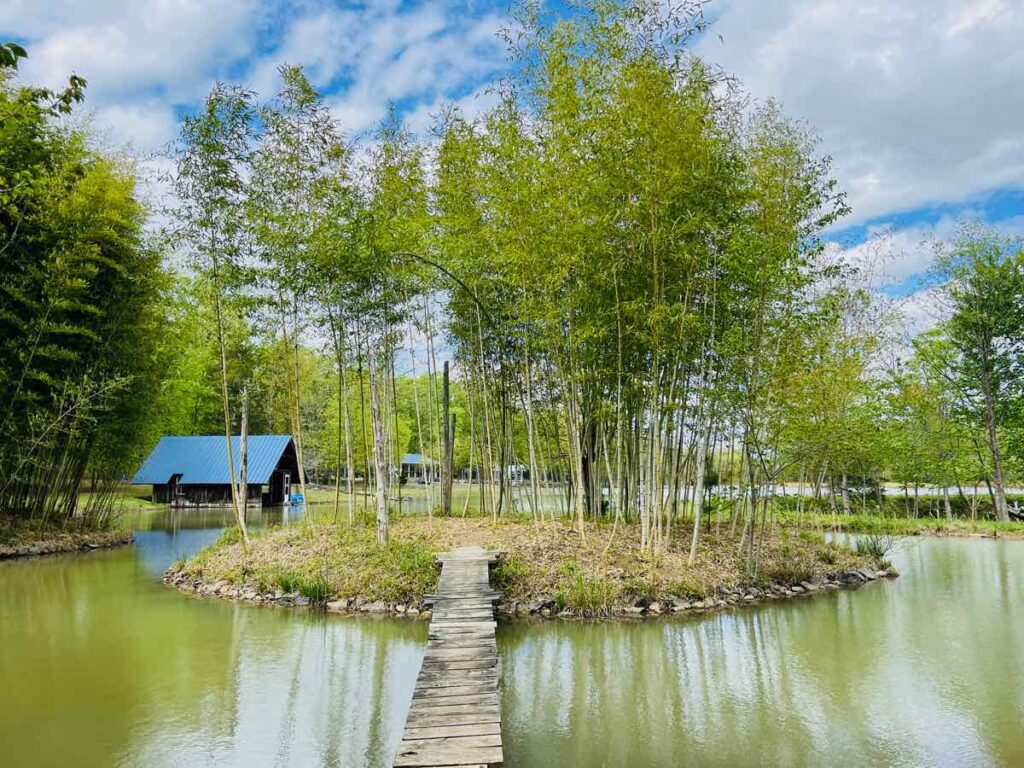 The lakefront offers another nice spot to read, enjoy a picnic, or host an event. Grab a spot on the stone island benches or at one of the picnic tables along the shore. There is no food offered in the garden except during special events, so bring your own picnic.
The Mountain
One of the most interesting spots in The National Botanic Garden is not open to the public yet. A manmade "mountain" rises 280 feet above the original ground level. The mountain took 40 years to build and it will open to garden visitors this year.
Once visitors can climb the mountain they'll enjoy a stunning view from the top. In fact, this will be the highest point between the Blue Ridge and the ocean, offering a view into neighboring states.
Virginia National Botanic Garden Plant Collections
There are two unique collections that every plant lover will want to explore. These areas also provide educational opportunities for visiting students. In addition, flowers, trees, and grasses fill open areas throughout the botanic garden
Kyoto Bamboo Garden
The National Botanic Garden is home to the largest bamboo garden in America. In fact, the garden's bamboo feeds the National Zoo's pandas and elephants.
To see the bamboo in a beautiful setting, take a short walk to the Kyoto garden. (Look for the gravel road to Kyoto near the castle.) Here you will find a peaceful oasis of bamboo and forest surrounding cascading waterfalls and sculptures.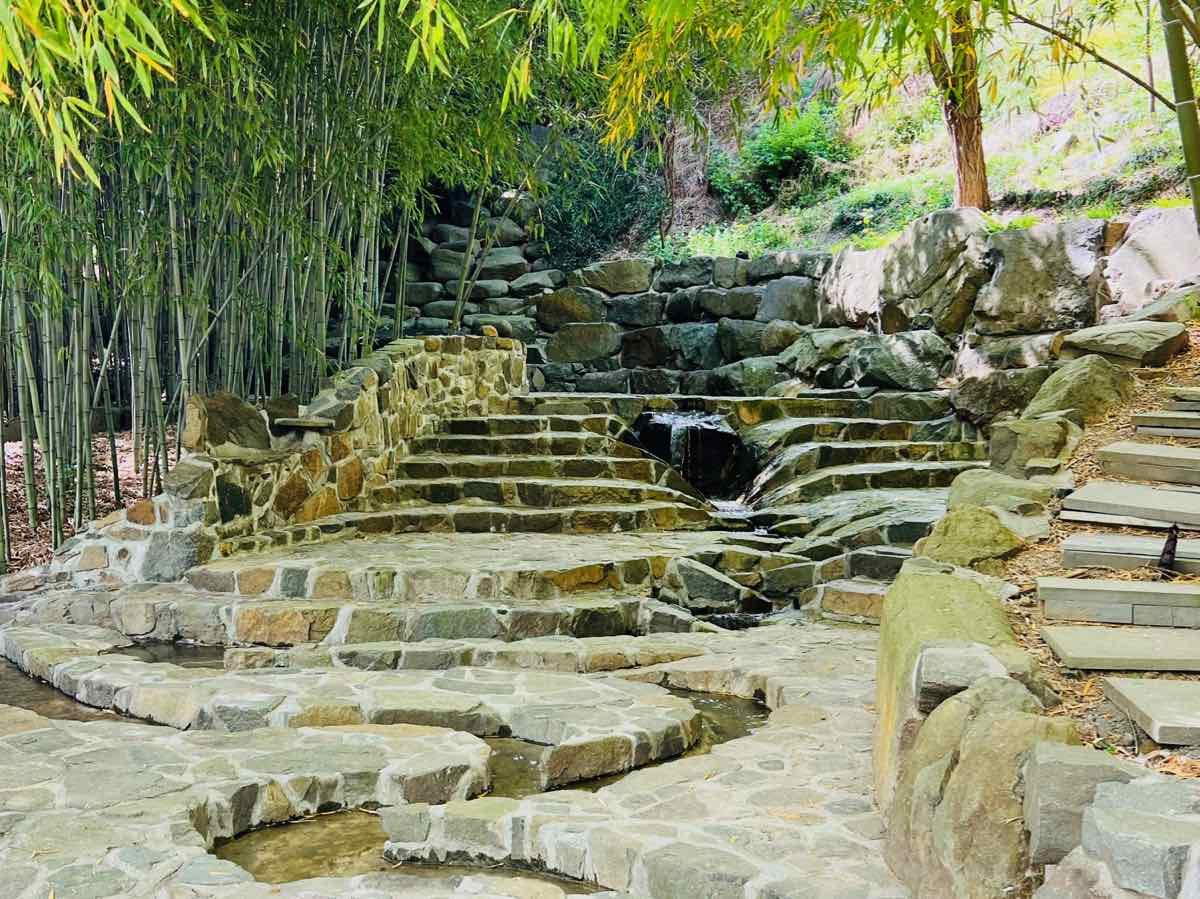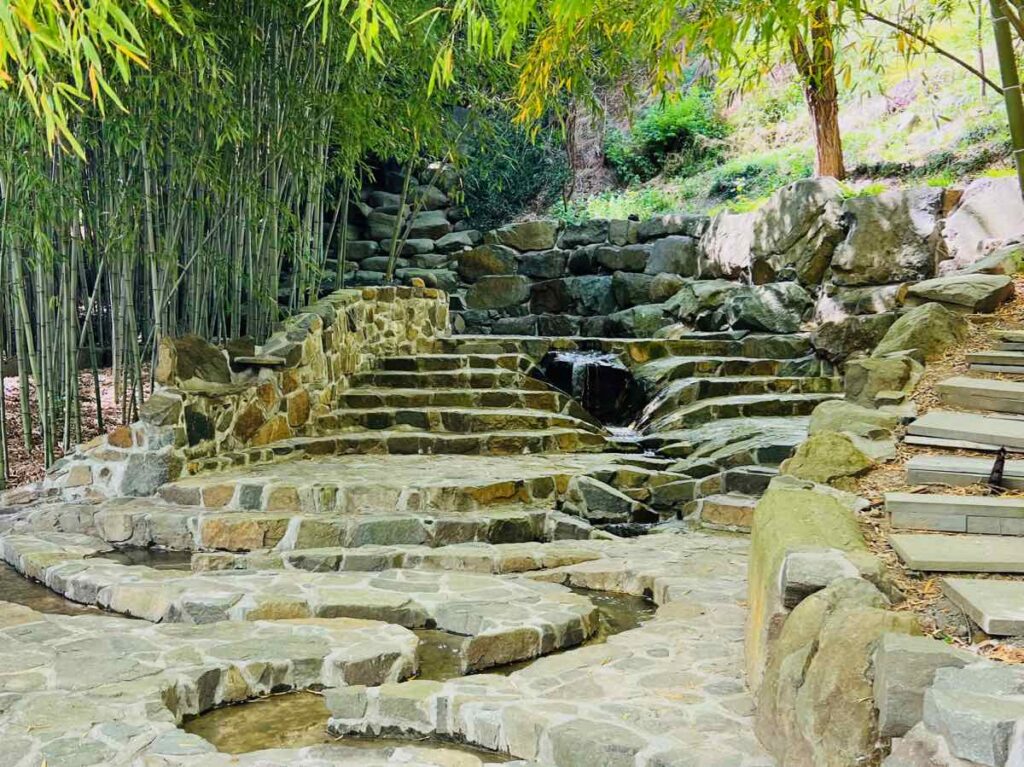 The manmade waterfalls are particularly beautiful. In one direction the water cascades straight down. In another, water follows a wandering route over stones and winding troughs. Watch for signs that explain some of the different bamboo species grown here.
Cacti Xeric Garden
Another unique plant collection sits on the other side of Hobbit Town hill. The Xeric Garden is designed and planted to require very little water. Cacti and desert plants bring color and texture to the rock-covered space.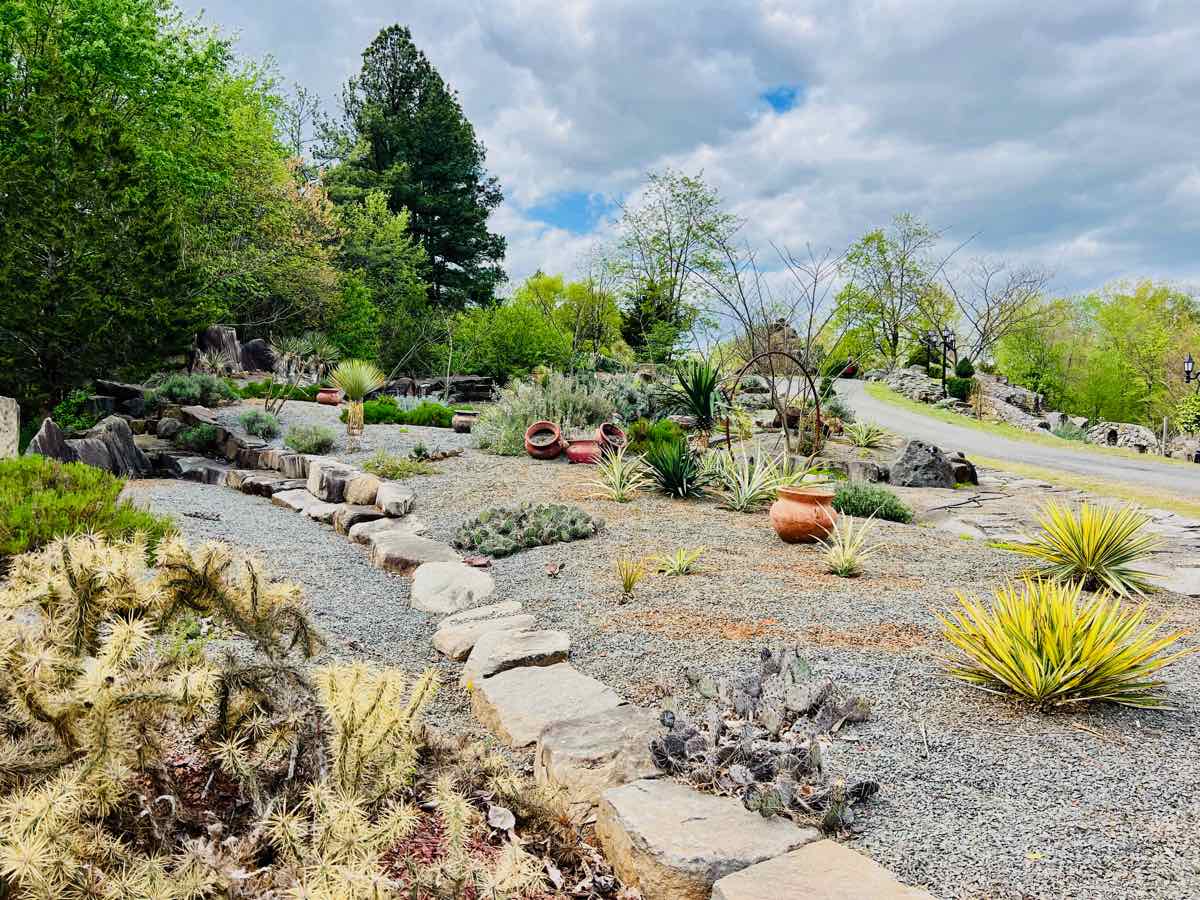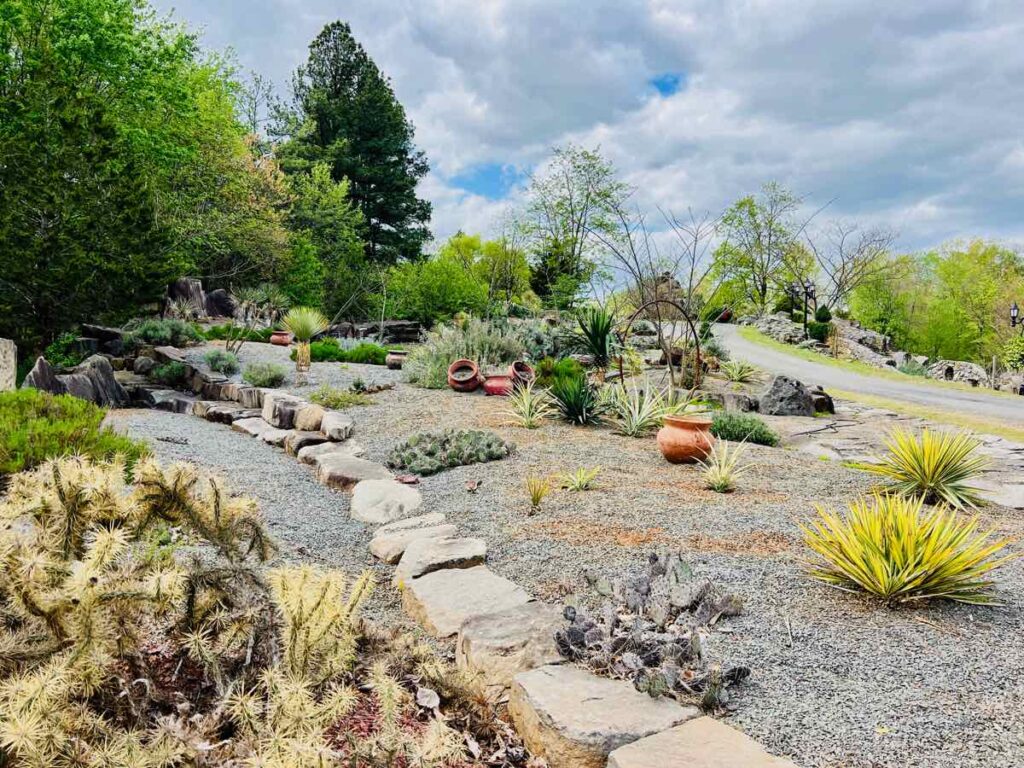 The cacti garden has been under development for over 15 years studying which low-water plants will thrive in the Mid-Atlantic climate. Today, the garden offers education, inspiration, and year-round beauty.
Special Events at The National Botanic Garden in Virginia
The National Botanic Garden opens for special events most months. (Opening days are currently limited by the county.) This means that scheduled opening days change monthly. For example, the garden opened for National Garden Week in April.
In May 2023, the garden hosts their 2nd annual Art in the Garden Festival. This two-day weekend event features local and regional artists displaying and selling their work in the Stone Barn. In addition, visitors can enjoy craft beverages and treats from local breweries, wineries, and chocolate shops.
Of course, events are also an excellent time to explore the gardens. In fact, the xeric garden should be full of blooming cacti during the May festival.
Rental Venues and Events
In addition to public events, The Botanic Garden offers a wide variety of rental spaces perfect for special occasions. The barn, pergola, Hobbit Town, and lakeside pavilion are all available for private weddings, parties, and corporate events. These areas can also be reserved for photography sessions along with scenic spots like Kyoto and the red bridge.
Finally, you may be able to visit the garden on a private tour or as a volunteer. Preference for both options is given to students and educators.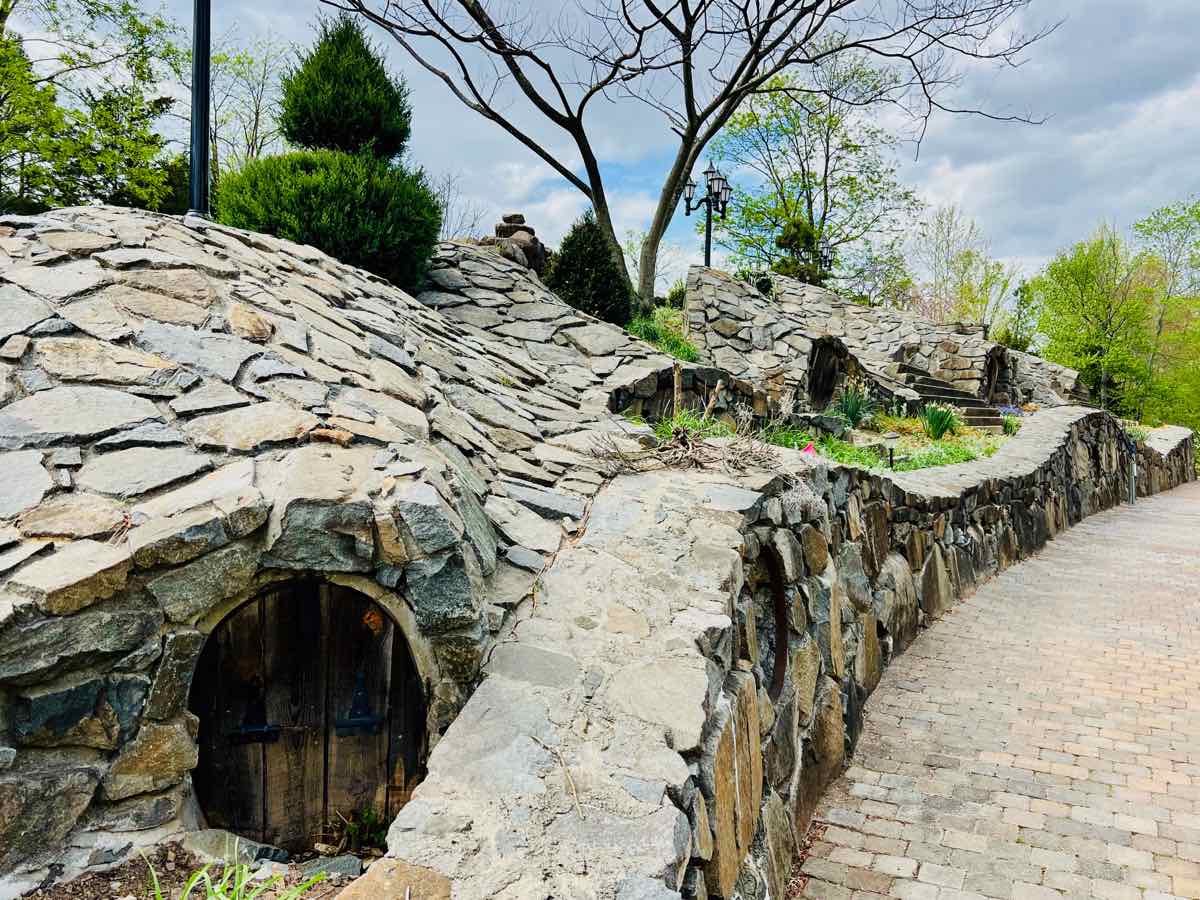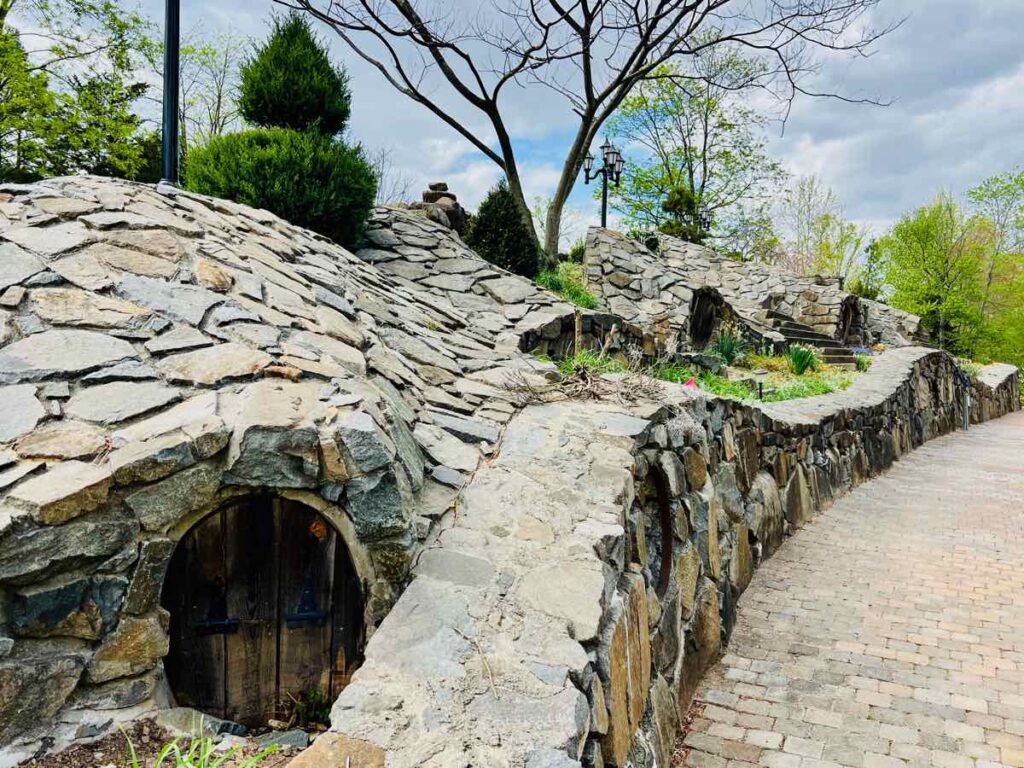 The National Botanic Garden in Virginia FAQ
The new National Botanic Garden in Chantilly Virginia is a unique and beautiful addition to the gorgeous gardens in Virginia and Washington DC. Here is essential information for your visit.
Where is The National Botanic Garden in Virginia?
What are Opening Hours for The National Botanic Garden VA?
Opening hours and days at the botanic garden vary. Check the garden's website for upcoming event dates and to purchase tickets.
How Much is Admission to The National Botanic Garden in Virginia?
Admission to The National Botanic Garden is usually $25/$30 per person for weekday/weekend visits. Other ticket options are available for some events. For example, in 2023 a $35 ticket to the Art in Nature Festival included admission plus 3 tastings of wine, beer, or chocolate.
Is food available at the Chantilly Botanic Garden?
No, there are no restaurants or food sales at The National Botanic Garden except as part of special events. Visitors are welcome to bring a picnic to enjoy at the garden.
Are there restroom facilities?
Yes, there is a trailer with restrooms located near the red bridge.
Are Dogs Allowed at The National Botanic Garden?
No, pets are not allowed at The National Botanic Garden due to regulations protecting the bamboo here that feeds the National Zoo pandas.
Is the garden Wheelchair Accessible?
Portions of The National Botanic Garden in Virginia are accessible. The main road and a path from the parking area to the Stone Barn are both ADA-compliant. In addition, sturdy wheelchairs could navigate additional paths, which are a mix of paved, gravel, and dirt surfaces.
Fun Things To Do Near The National Botanic Garden
Planning a day trip to include the garden? Here are more fun and interesting places to visit in Chantilly Virginia and nearby.
Smithsonian Air and Space Udvar-Hazy Center:
The stunning Uvar-Hazy Center is home to some of the most impressive items in the Smithsonian collection including a Space Shuttle, Concorde, and an SR7 Blackbird. One of the top attractions in Northern Virginia, the museum is just 9 miles from the garden.
Manassas National Battlefield Park
Visit the site of two major Civil War encounters at Manassas National Battlefield Park, 8 miles from the garden. A Visitor Center, hiking trails, and a driving route explain the Battles of First and Second Manassas that were fought here.
Ellanor C. Lawrence Park
Enjoy an easy woodland hike and learn about a 19th-century dairy farm at Ellanor C. Lawrence Park. Just 8 miles from the garden, the park also features a small pond with fish and turtles that is fun for kids.
Meadowlark Botanical Gardens
Garden lovers will find more beautiful plant collections plus a lovely children's garden at Meadowlark Botanical Gardens, about 20 miles east of Chantilly. In addition, Meadowlark is home to a fascinating and unique Korean Bell Garden.
The National Botanic Garden hosted our visit. As always, all text, photos, and opinions are our own.
Follow us on Facebook, Twitter, Pinterest, and Instagram for more fun travel in and from Northern Virginia.
Pin it for Later: