Discover the best places to watch a fabulous sunrise or sunset in Northern Virginia where mountain overlooks, Chesapeake waters, and open fields frame the beauty. Our guide to sunrise and sunset spots in Northern VA highlights parks and natural areas where you can capture the perfect photo or simply enjoy the beauty of nature.
Our list includes park hours, but be sure to re-check hours when you visit so you don't get locked in. Parks that are open to dusk, like Virginia State Parks, generally close their gates 30 minutes after sunset.
Some parks, like those managed by Fairfax County Park Authority, may close earlier so you may not be able to stay until sunset. If you are a professional photographer, be sure to check for fees and restrictions at the parks listed here.
Disclosure: This article may contain affiliate links. We will make a small commission from these links if you order something, at no additional cost to you.
Best Places to See Sunrise in Northern Virginia
The Potomac River, Blue Ridge Mountains, and rolling hills and fields create many opportunties to watch and photograph beautiful Northern Virginia sunrises. While some area sunrise spots require an entry fee, many others offer free access and plenty of space to spread out.
Alexandria Waterfront
The Alexandria waterfront is a lovely spot to capture sunrise photos over the Potomac River. Once businesses get moving you can enjoy breakfast and a walk around the historic Old Town.
Belle Haven Marina and Dyke Marsh
Northern Virginia photographer Chris Militzer first introduced us to the beauty of sunrise from Belle Haven in Alexandria. The rising sun is beautifully reflected by the Potomac River, and this spot is easy to access from the Mount Vernon Trail and Belle Haven Park. Take an early morning stroll to a boardwalk over wetlands at Dyke Marsh. Both the Mount Vernon Trail and Dyke Marsh are open year-round 6:00 am to 10:00 pm.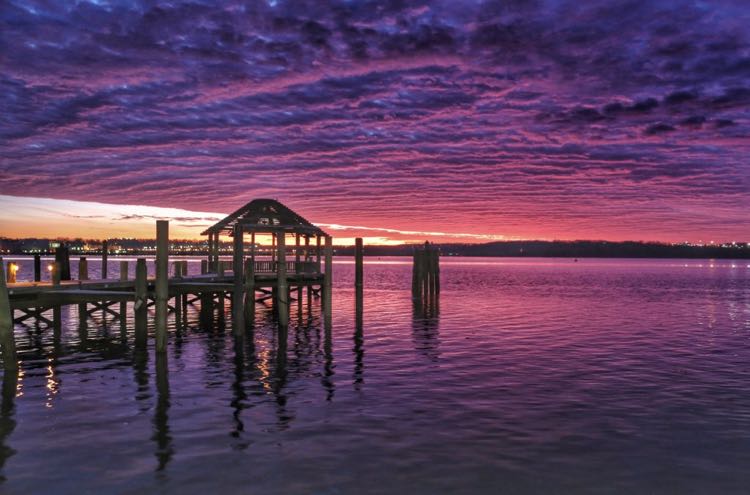 Iwo Jima Monument and Netherlands Carillon, Arlington
The US Marine Corps War Memorial (aka the Iwo Jima Monument) and the grounds of the Netherlands Carillon offer one of the prettiest views of Washington DC from the Virginia side of the Potomac. The grounds and parking are open 6:00 am to midnight daily so you'll have time to set up for sunrise for most of the year.
In spring, hundreds of tulips in front of the Netherlands Carillon add color to your foreground. Bring a good zoom lens to capture the Lincoln Memorial, Washington Monument, and Capitol Building in your sunrise photo like this beauty from DC photographer Brad Herson.
Jones Point and Woodrow Wilson Bridge, Alexandria
The small Jones Point Park in Alexandria has two unique structures that make for interesting sunrise photos. The Jones Point Lighthouse sits at the edge of the water and is the only lighthouse still standing in the Chesapeake Bay area. The park is also right under the Woodrow Wilson Bridge which adds a dramatic architectural element to sunrise photos from the water's edge. The park is open 6:00 am to 10:00 pm daily.
Leesylvania State Park
Capture a perfect sunrise over the pier at Leesylvania State Park in Prince William County. This is a popular spot for sunrise photographers, and the park conveniently opens at 6:00 am on weekdays, 5:00 am weekends. After you soak up the sunrise, explore more of the park with a hike through history to Freestone Point.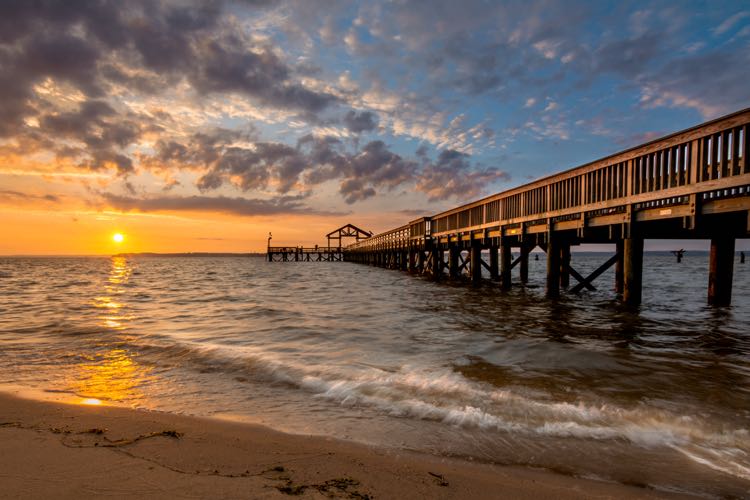 Shenandoah National Park
There are many eastward-facing overlooks that offer beautiful sunrise views from Skyline Drive in Shenandoah National Park, like this one from Virginia photographer Jen Johnson.
Catch some of our favorite eastern views from Range View, Hazel Mountain, Pinnacles, and Thorofare Mountain Overlooks. The open fields at Big Meadows are another nice choice for sunrise views. Plan your visit with our guide to Shenandoah's Central District.
If you're up for a pre-dawn hike, Old Rag is a challenging but beloved climb for an epic sunrise. If you prefer a shorter hike try Hawksbill or Blackrock summit. Hike to Mary's Rock from Meadow Spring for another great sunrise view. Bearfence is a short but challenging 1-mile rock scramble to an incredible view from the summit, and you can descend on an easier trail.
Shenandoah National Park is open 24 hours daily and charges a $30 entry fee per vehicle (or use your National Park Pass).
Best Places to See Sunset in Northern Virginia
Our list of the best spots to watch a sunset in Northern VA includes mountains, lakes, wetlands, and fields at parks throughout the region. Pay close attention to closing times since many parks close their gates shortly after sunset.
Bear's Den Overlook, Bluemont
Take a short hike to one of the prettiest westward-facing views in Northern Virginia at Bear's Den Overlook. The day-use parking area ($3 fee) is open daily 8:00 – 9:00, and the overlook is a short, easy hike from there. Add a little more distance and challenge when you park at the Snickers Gap lot on Route 7 and hike .5 miles up the AT to the overlook.
Plan an overnight getaway with our guide to 15 Fantastic Things to Do in Bluemont Virginia. One fun way to the town is on a scenic drive to Bluemont on the Snickersville Turnpike.
Twin Oaks Tavern Winery, Bluemont
Because it's located on a mountain ridge, Bluemont enjoys both sunrise and sunset views. another lovely spot to catch the sunset is from the tasting room at Twin Oaks Tavern Winery.
Giant windows and expansive decks offer plenty of indoor and outdoor seating to take in the gorgeous view over the vineyard. Wine Bar Captain Jaclyn Kuzmitsky shared this April sunset photo with us.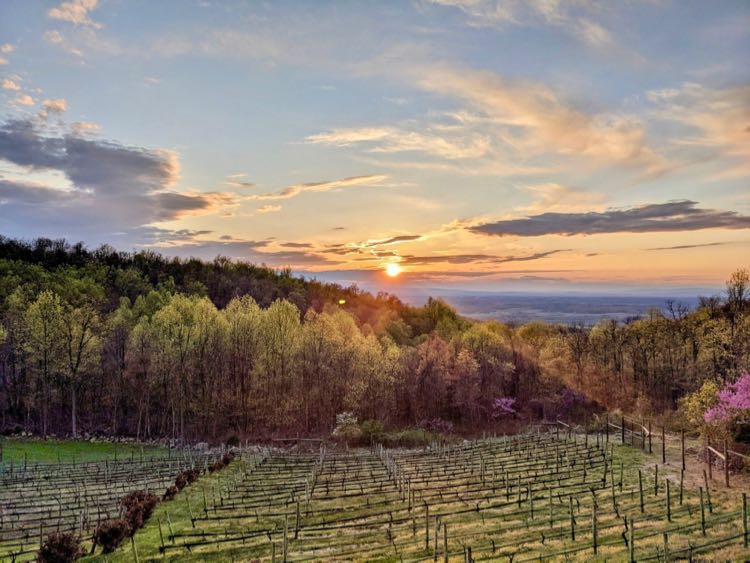 Burke Lake Park
This park makes our list because a 5-mile trail around Burke Lake offers a wealth of angles to capture sky and water. You won't see the sun sink into the water, but a colorful sky is mirrored in the expansive lake. Burke Lake Park is open sunrise to sunset (gates close around 8:30), but you can stay longer if you spend the night at one of the campsites.
Huntley Meadows
Head to Huntley Meadows for wetland sunset photos from one of the most beautiful boardwalks in Northern Virginia. The wheelchair-accessible boardwalk extends over the wetlands offering several angles for your photos. Arrive early to enjoy the trails and a nice view from the Observation Tower.
Plan your visit with our guide: Wonderful Wetlands at Huntley Meadows. The park is open dawn to dusk but is closed on Tuesday.
Lake Thoreau, Reston
It's easy to photograph sunset reflections from the waterfront path at Lake Thoreau in Reston. One of 4 manmade lakes in town, Thoreau offers the most reliable spot for a nice sunset in Northern Virginia that is close to the Dulles Toll Road.
Start your visit with a walk around Lake Thoreau, then follow the sunset with lunch on the patio at Red's Table or Cafesano in the South Lakes Village Center. Note that the sun dips below the trees 15 to 20 minutes before it reaches the horizon.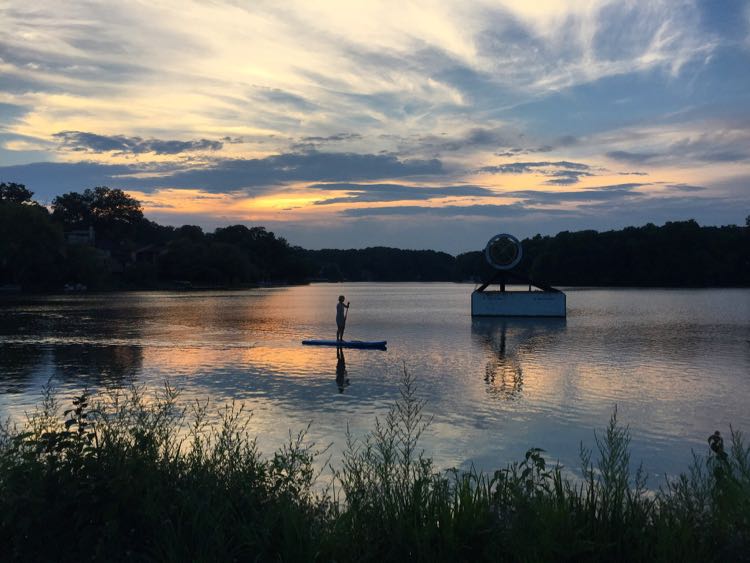 Manassas National Battlefield, Manassas
With open fields and rolling hills, Manassas National Battlefield is a reliable favorite for catching an epic sunset in Northern Virginia. Park near the Henry Hill Visitor Center and walk out on the trails for beautiful views of sunset skies.
Arrive early and you can tackle the 5-mile First Manassas Loop Hike before the sun puts on a show. Extend your visit with a meal or overnight stay in historic Manassas. The battlefield is open sunrise to sunset.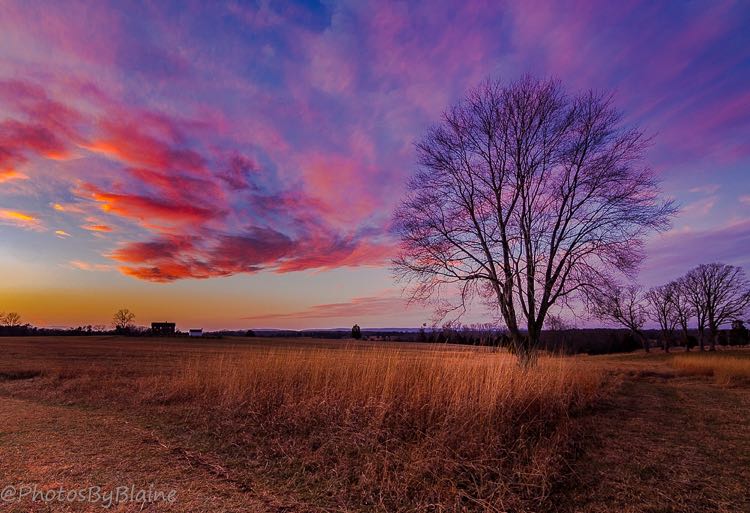 Mason Neck State Park, Lorton
Because of its location on a peninsula jutting into Belmont Bay, Mason Neck State Park offers beautiful sunsets over the water. Head to the small beach or the Bayview Trail for great water views.
Arrive early to hike some of the park trails, or to get out on the water in a rental kayak or canoe. Mason Neck State Park is open 8:00 to dusk (9:00 pm in summer).
Riverside Park and Mount Vernon Trail, Mount Vernon
As described above, the Potomac River offers many opportunities for sunrise views in Northern VA, but it's hard to watch sunset from the Virginia side of the river. Happily, the George Washington Memorial Parkway skirts a bend in the river at Riverside Park offering gorgeous sunset views over the water.
Catch the beauty after a fun day at George Washington's Mount Vernon.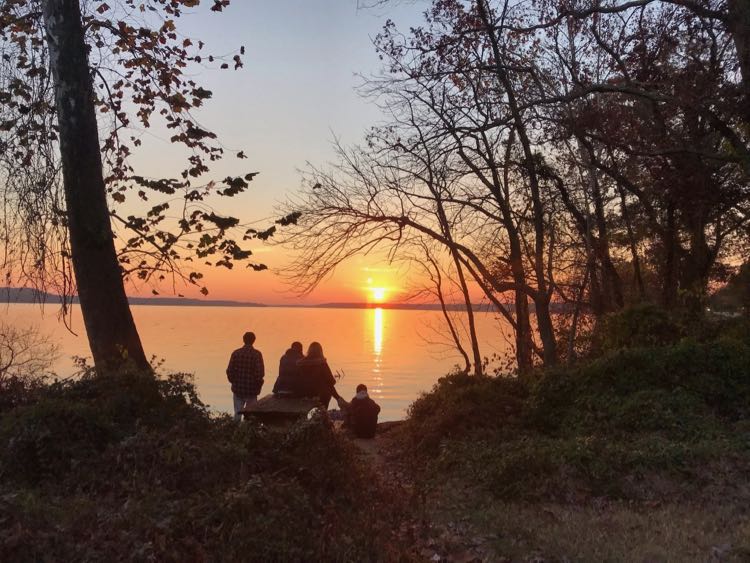 Shenandoah National Park
Many of the most beautiful places to see sunrise and sunset in Northern Virginia are sprinkled along Skyline Drive in Shenandoah National Park. Sunset is easy to enjoy for many westward-facing overlooks, though our favorites include Pass Mountain, Pinnacles, Stony Man, Crescent Rock, The Point, Hogback, and Rockytop Overlooks.
Note that not all of the westward outlooks have a great sunset view and the location of the sun shifts throughout the year. For example, in the fall Jewell Hollow Overlook catches beautiful golden hour color but the sun is blocked by the mountains.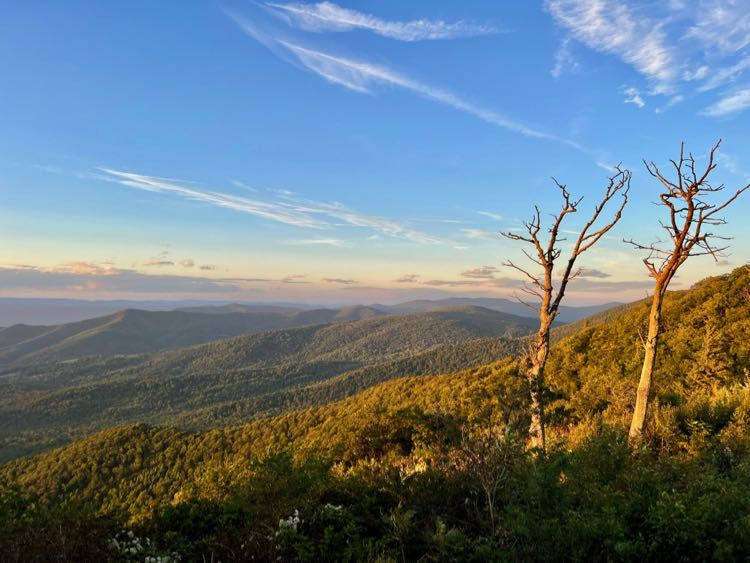 Stony Man Overlook, on the other hand, has an excellent fall view of the sun sinking behind the mountains.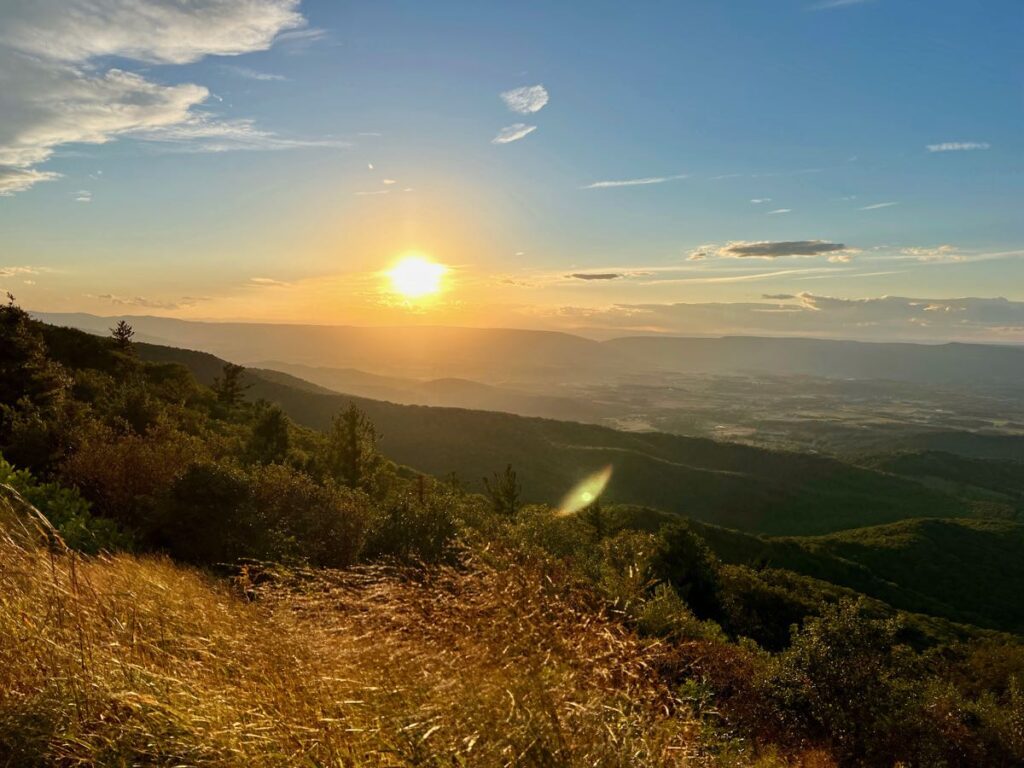 One of the best places to watch the sunset in Shenandoah National Park is from The Point Overlook. The overlook is very open so you'll have a panoramic view of the mountains. Even better, you can follow a short, steep trail down to a rocky outcropping with an even more open view. The trail starts at a break in the overlook's stone wall.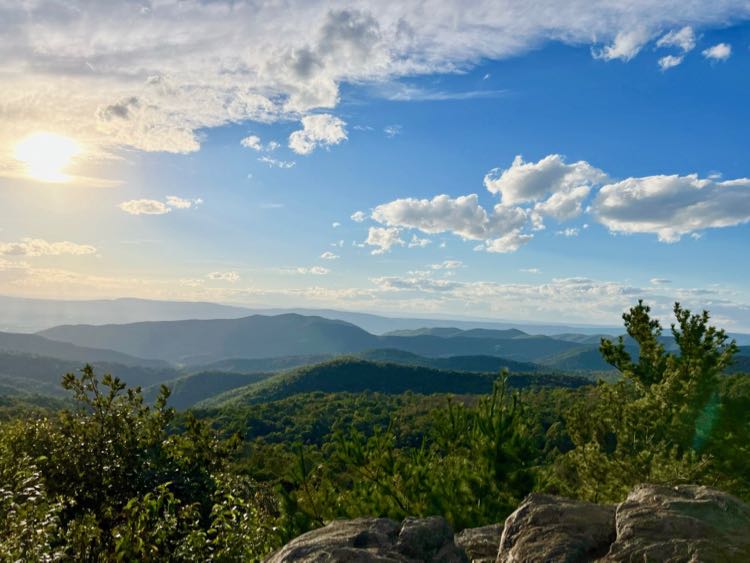 Of course, you can also reach an epic sunset view on a hike to one of Shenandoahs many rocky outcroppings. Use caution and bring a headlamp for the return trip.
Blackrock is just .4 miles roundtrip from Big Meadow Lodge.
Stony Man and Little Stony Man are 1 and 1.5-mile hikes to beautiful sunset views.
Humpback Rocks is a steep but popular destination for UVA students and Charlottesville residents.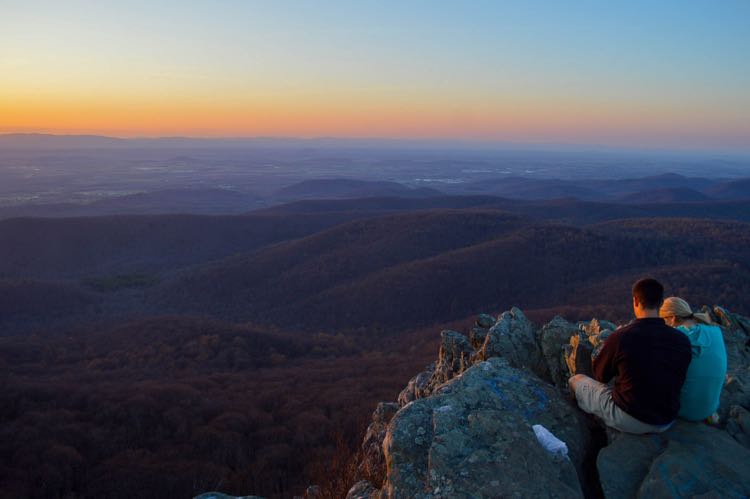 Shenandoah National Park is open 24 hours daily and charges a $30 entry fee per vehicle.
Whether your goal is to enjoy quiet sunrise contemplation, to capture the most Instagrammable sunset in Northern Virginia, or simply to explore a new park, we wish you good weather and colorful skies.
Follow us on Facebook, Twitter, Pinterest, and Instagram for more fun travel in and from Northern Virginia.