Updated on November 7, 2023 by Julie McCool
Visit Sky Meadows State Park in Northern Virginia for beautiful hiking, scenic views, history, star-gazing, fishing, and family-friendly events. The park is perfect for a day trip from Washington DC, just 90 minutes west of the nation's capital.
Sky Meadows State Park is located in Delaplane, at the northwestern edge of Fauquier County, Virginia. Early fall and spring are excellent times to visit the park when cooler evenings bring down the heat in the open fields. However, the park makes a nice destination throughout the year.
Disclosure: This article may contain affiliate links. We will make a small commission from these links if you order something, at no additional cost to you.
Read on to discover the best things to do at Sky Meadows State Park.
Hike, Ride, or Bike Sky Meadow Trails
Sky Meadows offers 24 miles of hiking trails, from easy to challenging, including access to three miles of the Appalachian Trail. Most of the hiking trails are accessed from the Mount Bleak Historic Area on the west side of route 17. Visitors can get oriented to nature in the park and enjoy an easy 1-mile loop on the interpretive Snowden Trail.
In addition, equestrians can enjoy 10.5 miles of bridle trails (bring your own horse), and bikes have access to 9 miles of paved roads and trails. Most of the horse and bike trails are on the east side of Route 17 in the Lost Mountain section of the park.
For a more challenging hike, we recommend a 4-mile loop circuit that leads to beautiful views from the Piedmont Overlook. The loop hike passes through woodlands, fields, and pastures on the hilly terrain of the eastern side of the Blue Ridge Mountains. To extend your hike further, add a segment of the Appalachian Trail, which passes through the western edge of the park.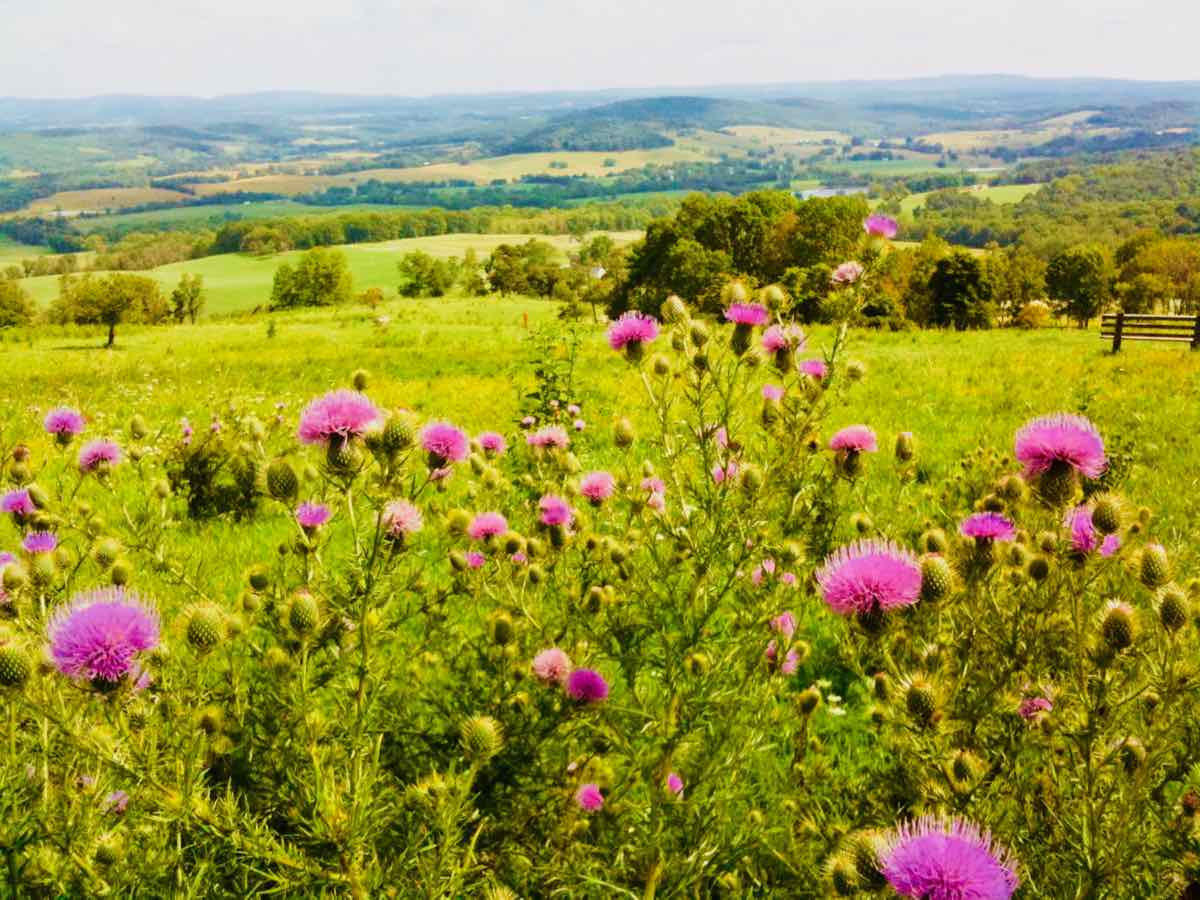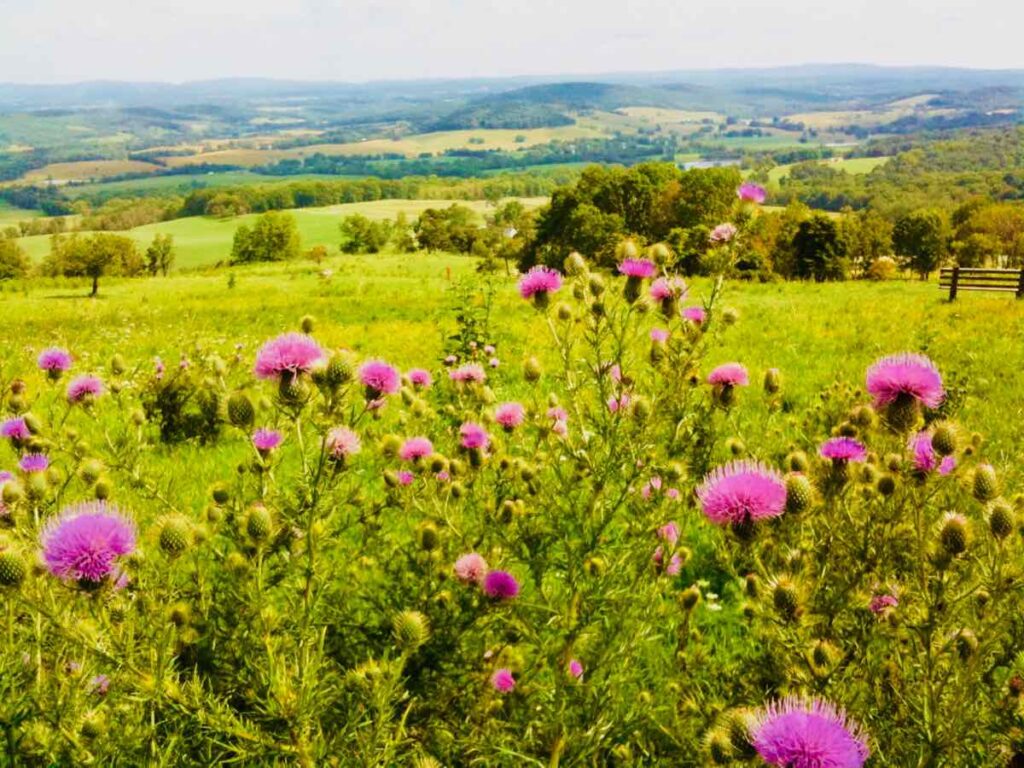 Attend a Sky Meadows State Park Event
There are interesting and family-friendly events at Sky Meadows State Park throughout the year. Special events feature park history, botany, trails, star-gazing, and more.
For example, there are annual Easter Egg Hunts, Kids to Parks Day hikes, and National Trail Day clean-ups. History programs include Revolutionary and Civil War Encampments and tours of Mount Bleak House.
On August 26, 2023, Sky Meadows celebrates their 40th anniversary as a Virginia State Park with a day of family fun (11:00 – 8:00). Admission is free and the event features live music, food, games, and more.
Special activities are generally included with the regular $10 park admission. A few annual events are highlighted below, and you can find more in the park event listings.
First Day Hikes
Kick off a new year of healthy activity with a First Day Hike at Sky Meadows State Park. Ranger-led and self-guided hikes explore the park's trails, and participants can enter an annual photo contest to win prizes.
Sky Meadows Dark Sky Events
One of five International Dark Sky Parks in Virginia, Sky Meadows State Park offers world-class stargazing. These parks are certified by the International Dark Sky Association and have "an exceptional or distinguished quality of starry nights and a nocturnal environment that is specifically protected for its scientific, natural, educational, cultural heritage, and/or public enjoyment."
Fortunately, Sky Meadows Park offers beautiful, family-friendly star-gazing activities throughout the year. At "Astronomy for Everyone" events, members of the Northern Virginia Astronomy Club give visitors a chance to view deep space objects through large telescopes. The events include a Junior Astronomer program and presentations by NASA JPL Ambassadors.
Moon and star-gazing events are weather-dependent, so be sure to check with the park before heading out. Visitors are encouraged to bring a chair or blanket and their own binoculars.
Fall Farm Days at Sky Meadows
In the Fall, the Sky Meadows Historic Area offers nature-themed programs, historic tours, blacksmith demonstrations, a children's play area, and more during Fall Farm Days. These special celebrations are held the first four weekends of October, with weekly themes like "The Nature of Sky Meadows."
Even on non-event days you can enjoy colorful fall foliage at the park.
Explore Sky Meadows History
Sky Meadows State Park opened in 1983 after the 1,132-acre farm was saved from planned development and donated to the state by philanthropist Paul Mellon. Later, Mellon donated an additional 462 acres of the Lost Mountain Bridle Trail tract to the park.
The history of the farm began much earlier, though, when James Ball purchased the land from Lord Fairfax in 1731. George Washington also purchased a parcel of land in the Lost Mountain Bridle Trail section from Lord Fairfax. The park's name comes from former owner Robert Hadow who named the property Skye Farm after the Isle of Skye in Scotland.
The property changed hands many times before owner Abner Settle built Bleak House to accommodate his growing family. Today you can tour Mount Bleak House and learn about life in a middle-class farmhouse during the 1850s.
Don't miss the beautiful views from the back of Bleak House. Nearby outbuildings include a rustic log cabin and an open barn with farm instruments on display. There is also a Visitor Center with a shop and restrooms.
Enjoy Shoreline Fishing at Turner Pond
Freshwater, shoreline fishing is available at the 3-acre Turner Pond. The pond is periodically stocked with a variety of fish including largemouth bass, catfish, crappie, sunfish, and bluegill. A valid Virginia State Fishing License is required and watercraft are not permitted.
The pond area is also a pretty picnic spot with picnic tables, restrooms, and a small parking area. You'll also find a picnic area near Bleak House and another near the equestrian and bike trails.
Spend the Night at a Primitive Campsite
Sky Meadows offers a unique, peaceful camping experience at their primitive hike-in tent camping sites. There are no cabins or drive-up spaces at the park. The year-round camping area is at the base of the Blue Ridge Mountains, a one-mile hike from the overnight parking area via the Hadow Trail.
You can also reach the campground by bike (fat tires recommended), but there is no vehicle access. There are 15 individual tent sites, plus group sites for 12, 24, and 36 campers. Sites include a tent pad, picnic table, bear box, and fire pit. Reservations are required.
Scenic Loop Drive: Fairfax to Sky Meadows Park
Sky Meadows is also part of our favorite Hunt Country scenic drive. This loop includes some of the prettiest small towns in Northern Virginia plus country roads, wineries, and more. Alternatively, follow the scenic route described below.
This fun loop drive includes stops where you can enjoy a meal or a drink if you have time. Make your way to Sky Meadows on the Little River Turnpike (formerly John S. Mosby Highway), aka Route 50 West.
Stop at the Aldie Mill for a little history or in Middleburg for shopping or a meal. Further west, in Upperville, is Hunter's Tavern, one of our favorite pubs in Northern Virginia.
Continue west on 50, then turn south on Route 17 just before the tiny town of Paris. Entrances to Sky Meadows will be on your right, just south of the turn.
When you finish your visit to Sky Meadows, go left on Route 50, then right on Blue Ridge Mountain Road. (You'll pass the super-secret Mount Weather Emergency Center. Put that camera down!)
When the road ends on Route 7, go right, then take the first right onto Snickersville Turnpike (Route 734). Snickersville is a nice, leisurely drive southeast, connecting back to 50 near Gilbert's Corner.
Stop to explore the lovely town of Bluemont at the start of the turnpike. Love craft beer? Head to Dirt Farm Brewing for tasty beer and a fantastic view of the Virginia Piedmont.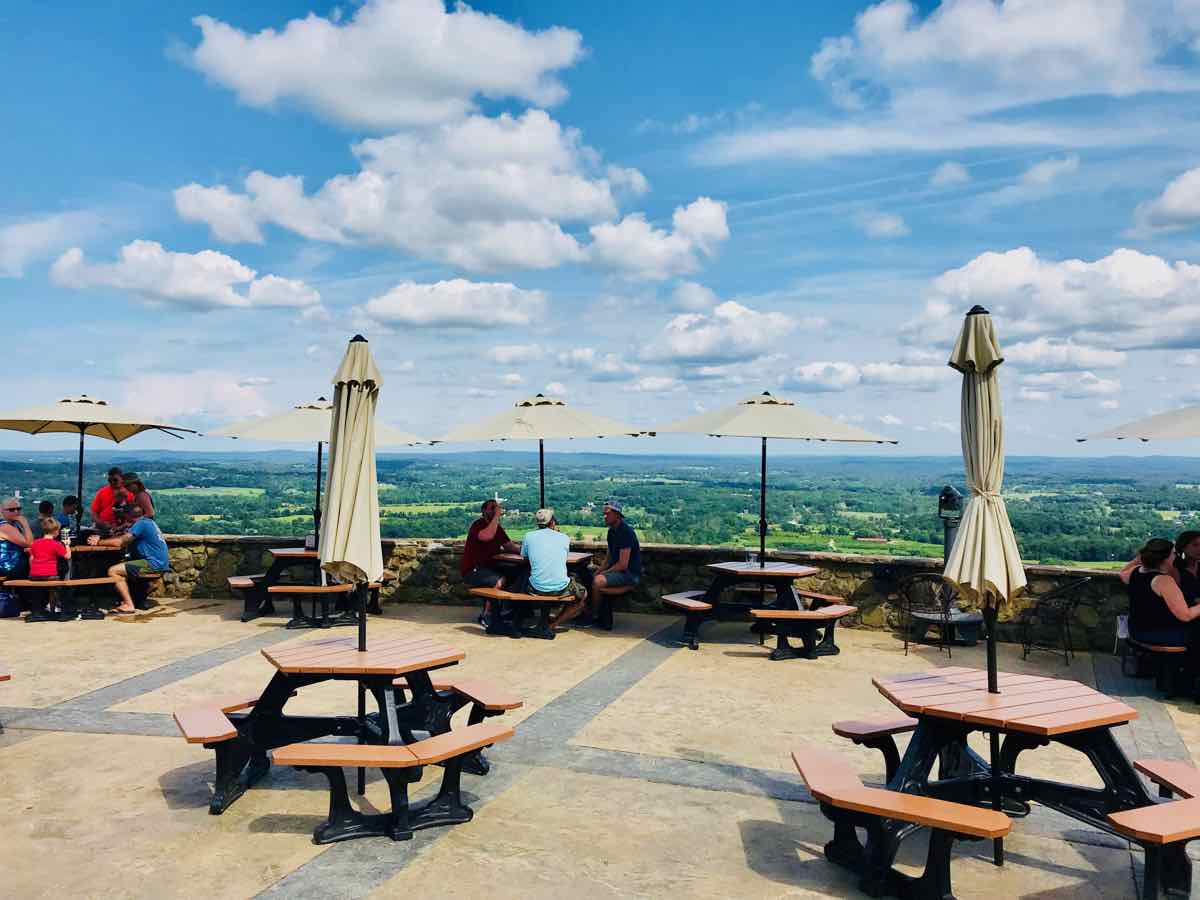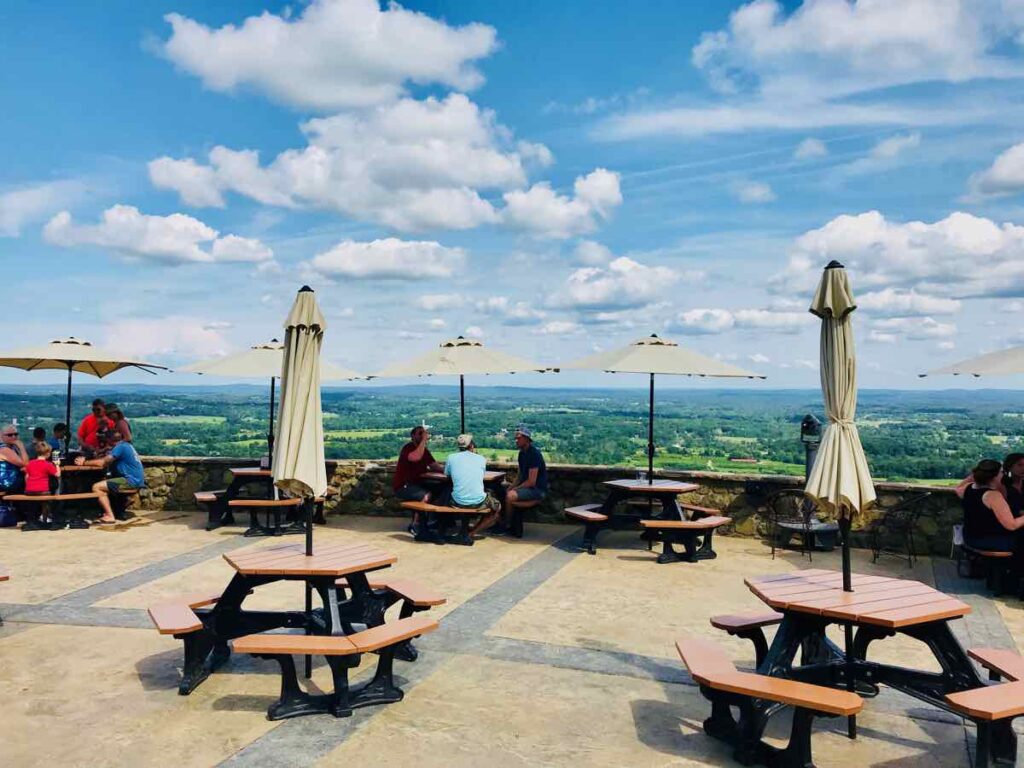 Prefer wine? Visit Bluemont Winery, right next door for one of the most beautiful views in Virginia wine country. We love "The Goat", Bluemont's Viognier.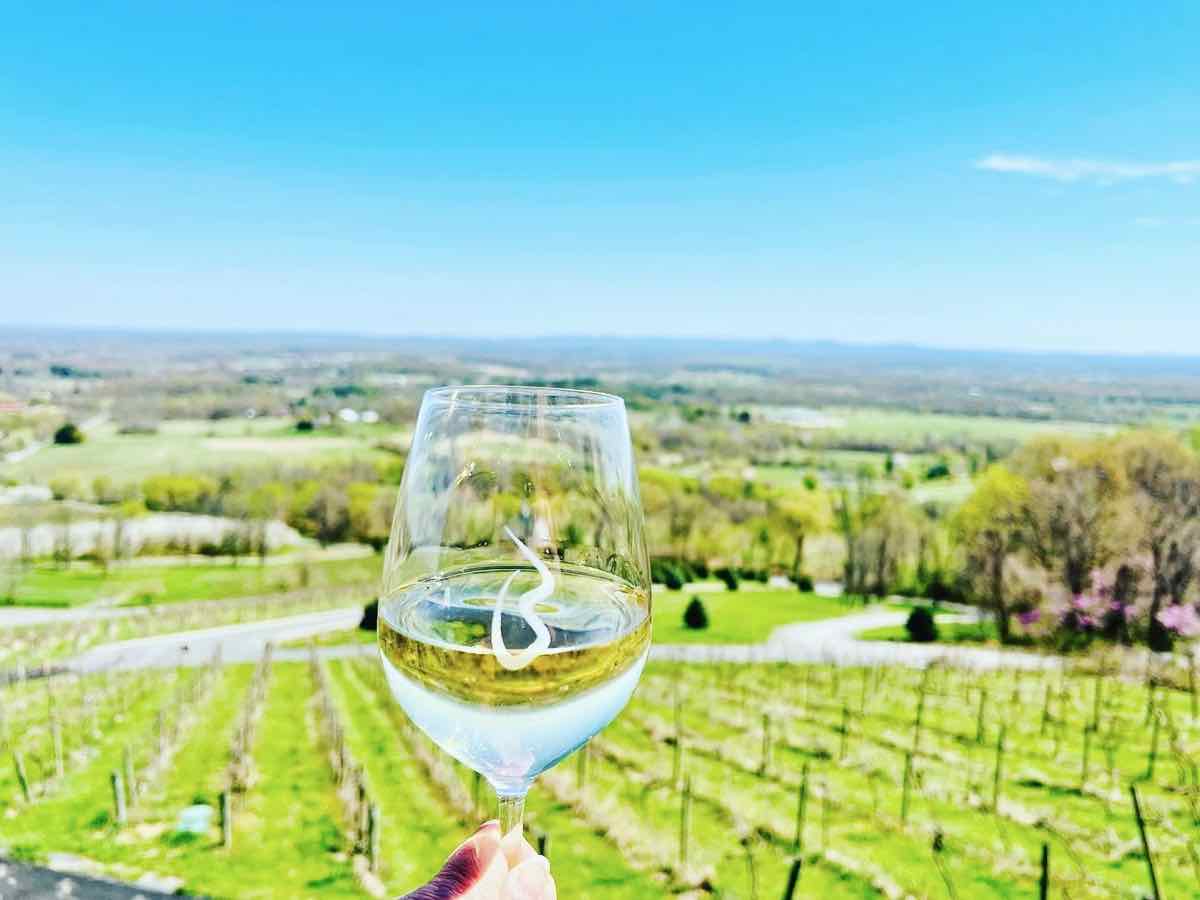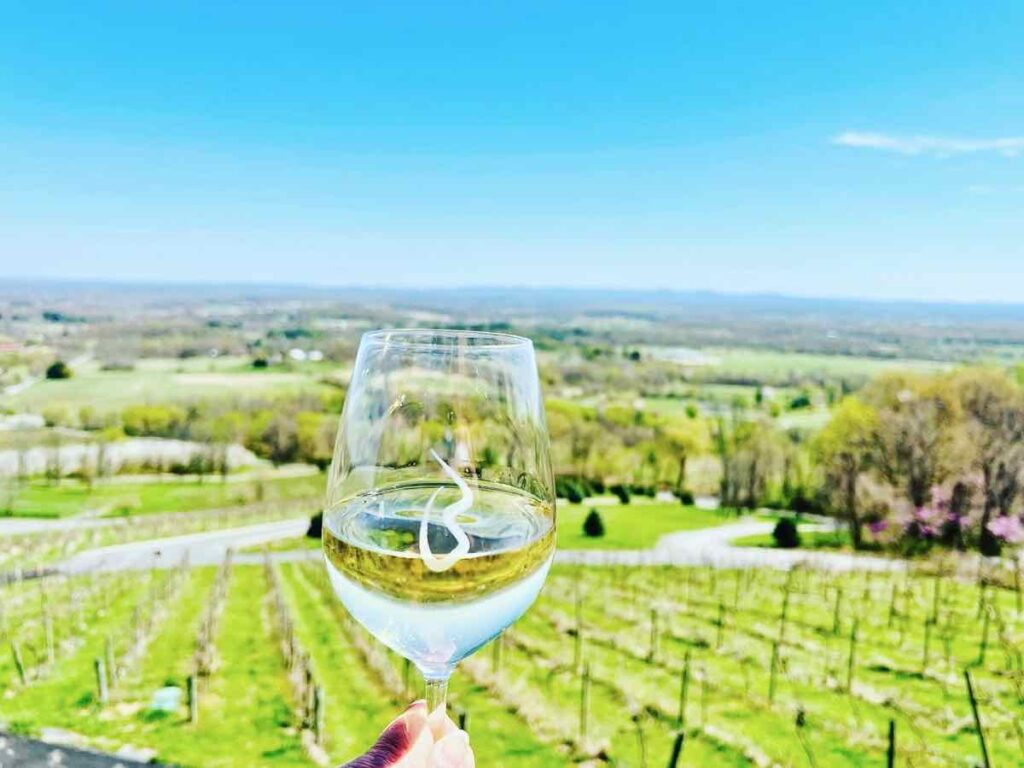 We always enjoy exploring Virginia State Parks. Sky Meadows is perfect for a Virginia day trip to enjoy a scenic drive, a fun hike, and beautiful views.
Sky Meadows State Park is at 11012 Edmunds Lane in Delaplane, VA. Visit the park website for the latest event schedule.
Follow us on Facebook, Twitter, Pinterest, and Instagram for more fun travel in and from Northern Virginia.