Updated on September 11, 2023 by Julie McCool
A Shenandoah National Park day trip makes a beautiful outing from Northern Virginia and Washington DC, whether you crave a leisurely scenic drive or an active hiking expedition. This planner highlights what to do and where to go in the heart of Shenandoah National Park for a perfect day in the mountains.
It is easy to visit a lot of great overlooks and trails in Shenandoah National Park in a day. Skyline Drive follows the crest of the Blue Ridge Mountains, offering easy access to the park's 75 overlooks, 2 lodges, 3 Visitor Centers, 7 picnic areas, and hundreds of miles of hiking trails.
Disclosure: This article may contain affiliate links. We will make a small commission from these links if you order something, at no additional cost to you.
There are convenient overlooks on both sides of Skyline Drive, so you enjoy a variety of views. Eastward views include the foothills and flats of the Virginia Piedmont. Overlooks on the west side of the drive have views of the Shenandoah Valley, Massanutten, and the Allegheny Mountains.
The biggest challenge of a day trip to Shenandoah National Park is narrowing in on the things you most want to do. It takes at least 3 hours to complete all of Skyline Drive and that's without stopping for hikes, meals, and other activities. Use our planner to find the best things to do in Shenandoah National Park for your time and interests.
This planner has several sections:
Want to spend even more time hiking in the park? Check out our guide to Inn-to-Inn Hiking in Shenandoah. You'll find essential tips and info for a 3-day hike on the Appalachian Trail, stayng at cabins and lodges each night.
Skyline Drive and Shenandoah National Park Central District
It's possible to drive all 105 miles of Skyline Drive in one day. Instead, we suggest fewer miles and more time for fun. Stick to a smaller area to enjoy a fun mix of hikes, viewpoints, visitor centers, shops, and lodges. If you only have one day in Shenandoah National Park, focus on the Central District.
Shenandoah's Central District begins at mile marker 31, at the Thornton Gap Entrance, and ends at mile 65, at the Swift Run Gap Entrance. 34 miles may seem like a small section to cover, but there is so much to do.
In fact, you should not try to squeeze every hike and stop on our list into a one-day trip. Keep in mind that the road is winding, the speed limit is 35 mph, and those views and trails will be calling you. Use the highlighted stops and sample itineraries to create your own perfect Shenandoah day trip.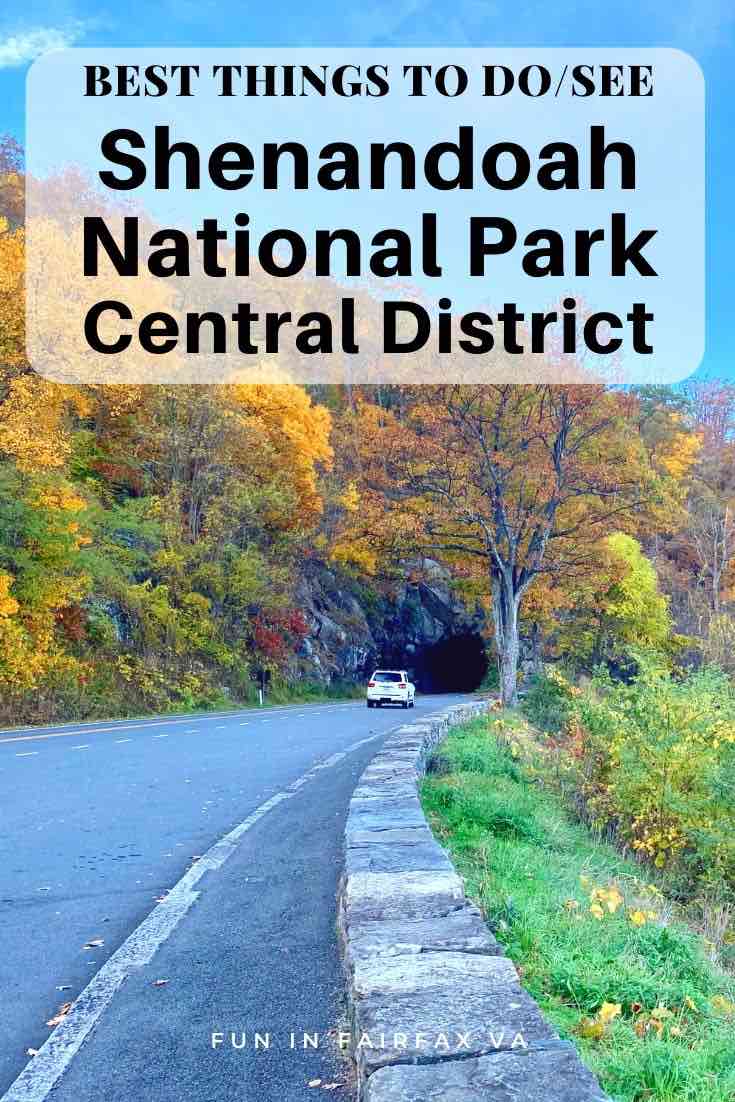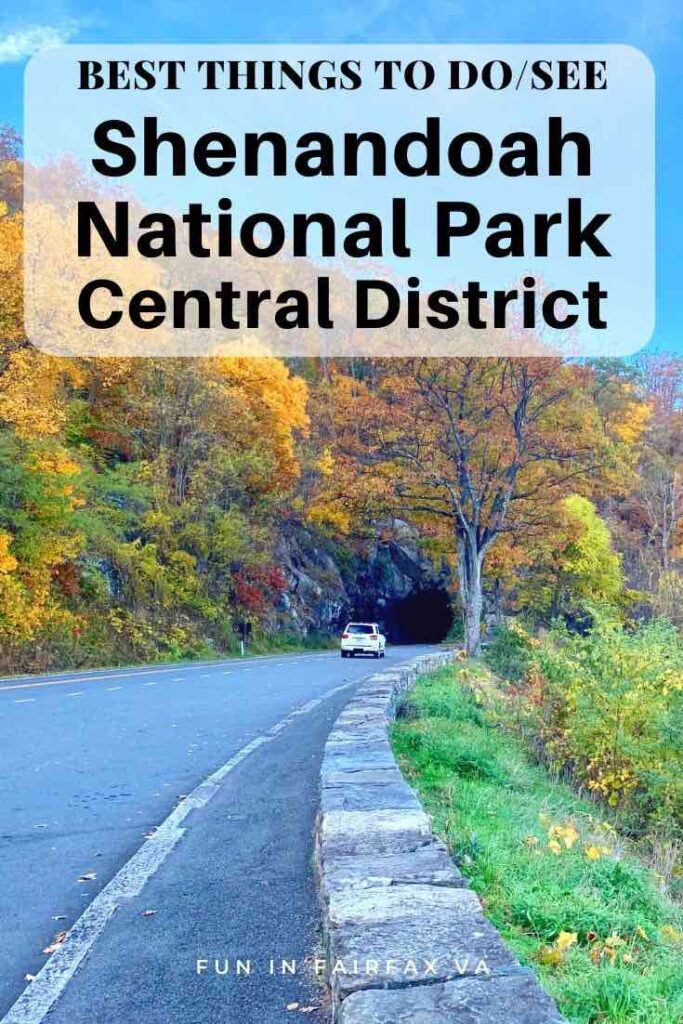 Shenandoah National Park Day Trip: Thornton Gap to Skyland
Enter Shenandoah National Park at the Thornton Gap Entrance Station, and head south toward Skyland and Big Meadows. While the Front Royal Entrance Station is a little closer to DC, this entrance leads to our favorite part of the park.
The Central District is home to some of the best views, hikes, and stops and is ideal for exploring Shenandoah National Park in a day. Below are our favorite stops heading north to south. Numbers indicate the mile marker for each stop.
If you need a restroom break when you arrive, there are bathrooms on the right at Panorama, just after you enter the park.
Mary's Rock Tunnel and Overlook 32: Your southern drive kicks off with Mary's Rock Tunnel, a cool tube cut through the rock. The tunnel height is 12'8″, so make sure you can fit through If you are traveling with trailers or in an RV.
Drive through the tunnel and pull into the overlook on your left. The view isn't the best on the drive, but most visitors like to get a picture of the tunnel. Be careful and watch for cars while you get your photo.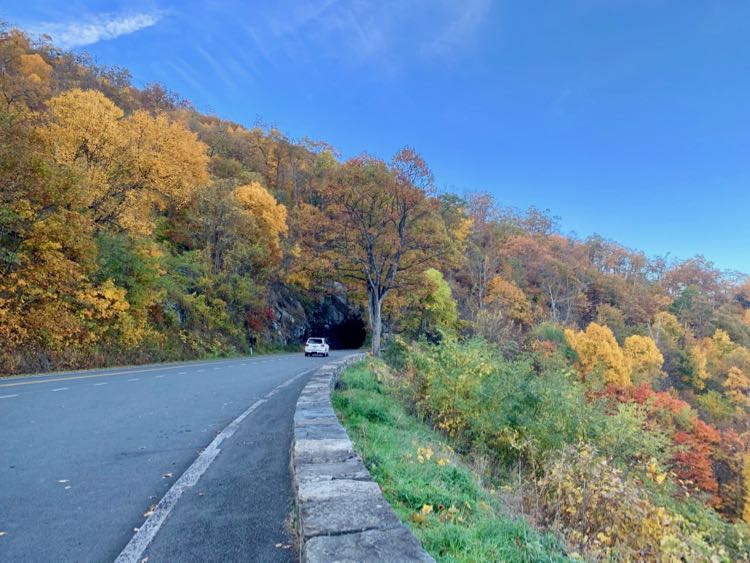 Hazel Mountain Overlook 32.5: Beautiful eastward views and cool rocks to climb on. A small maple tree in the parking area turns brilliant red in the fall.
Jewell Hollow Overlook 36.5: Head to the upper lot for excellent westward views of Shenandoah Valley and the long ridge of Massanutten Mountain.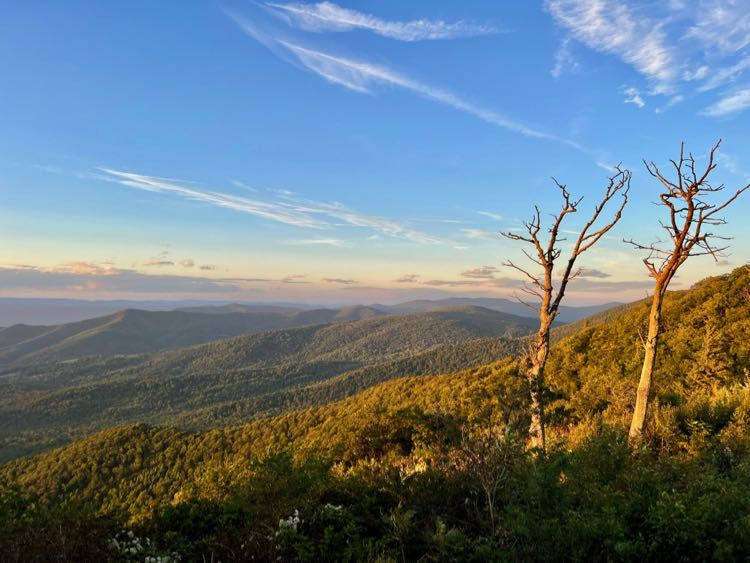 Hike to The Pinnacle and Mary's Rock 36.5
Hike from Jewell Hollow Overlook to Mary's Rock, a dramatic viewpoint, on a 6.5-mile out-and-back trip on the Appalachian Trail.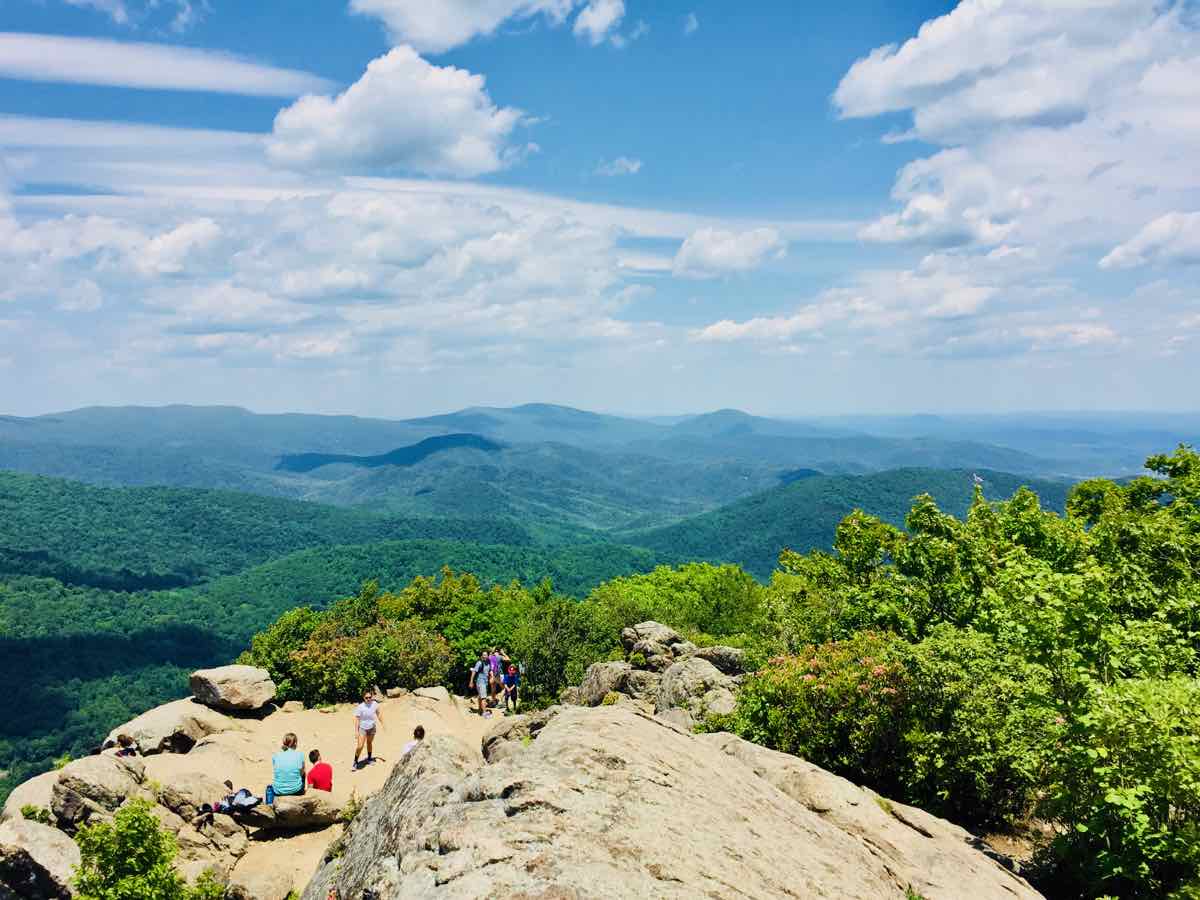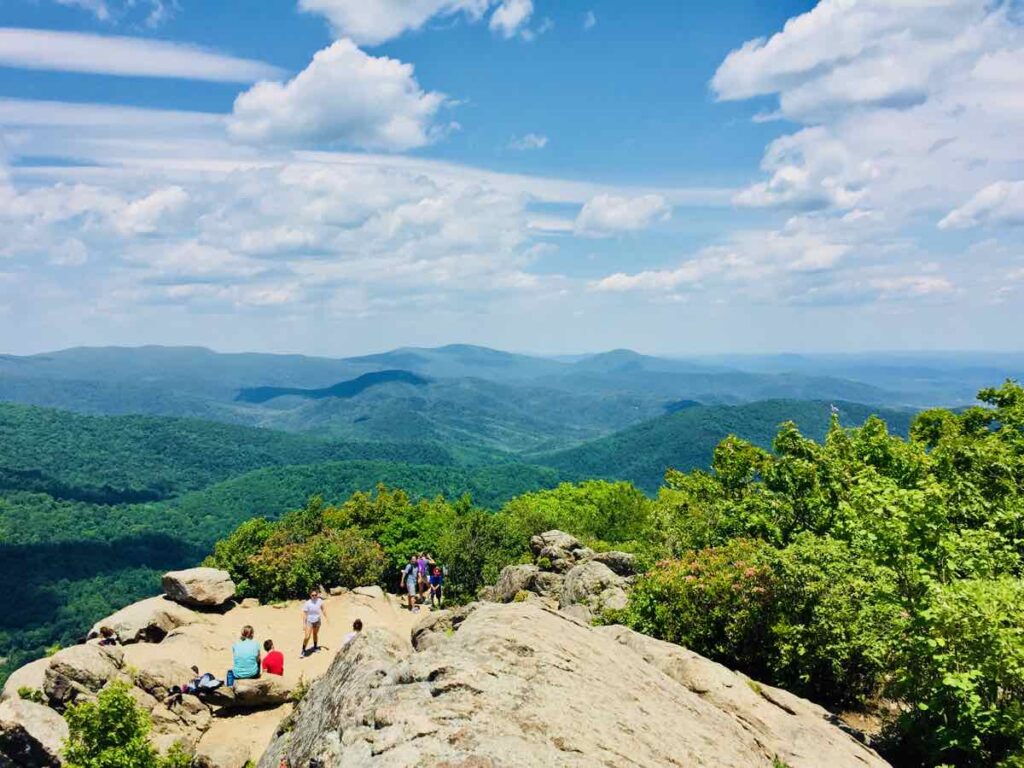 For a shorter hike, follow the trail about a mile until the first viewpoint, known as The Pinnacle. From here you'll have a beautiful view north along the ridge toward Mary's Rock. This hike is one of our favorite fall activities in Shenandoah Park.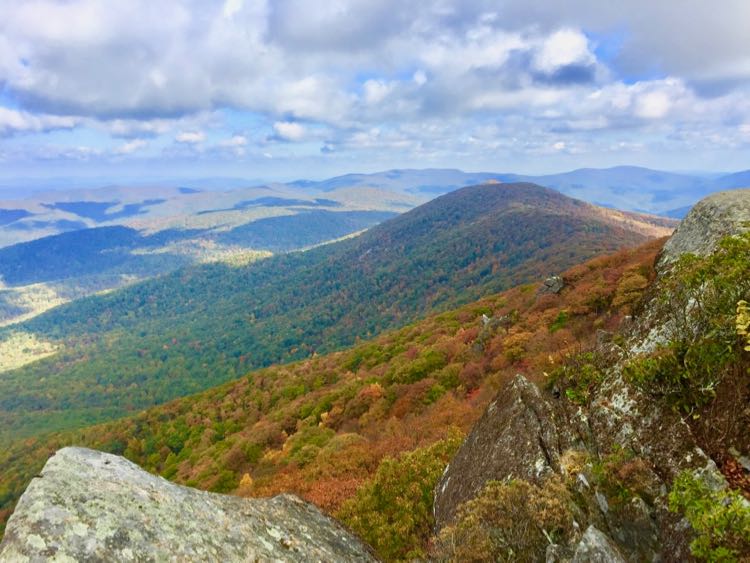 Pinnacles Picnic Area 36.7: If you prefer, stop for lunch without the hike at the Pinnacles Picnic Ground.
Stony Man Mountain Overlook 38.5: See if you can find the stony man's face from the overlook. This is also a great spot to watch the sunset.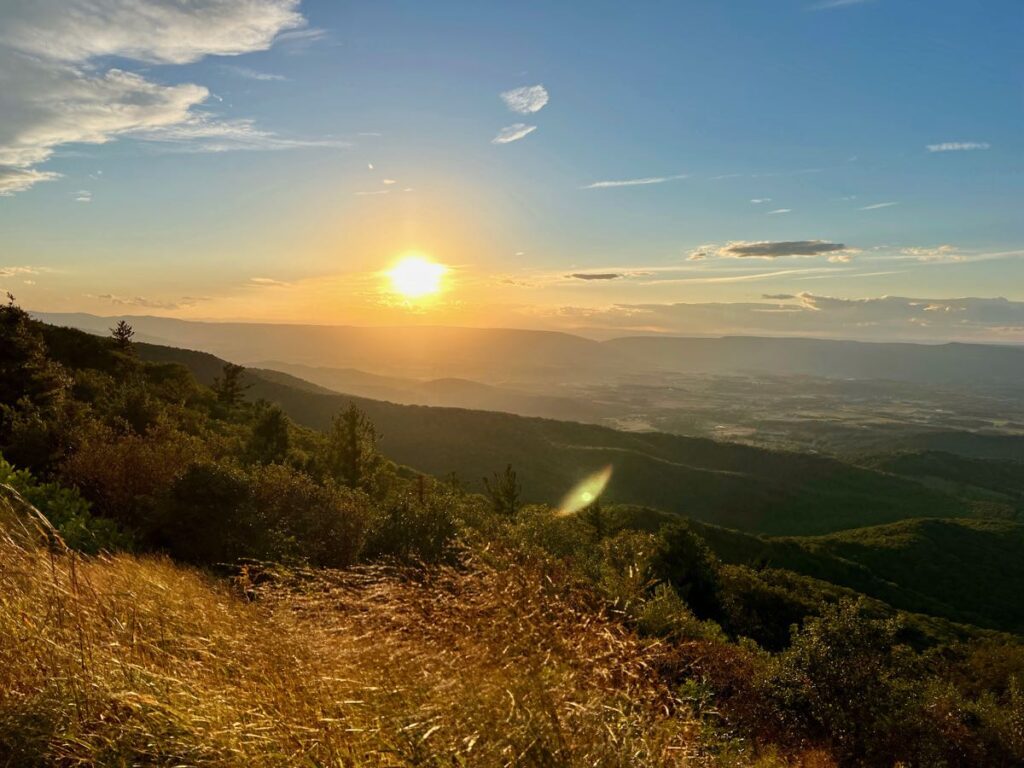 There are three great Stony Man hikes nearby. Look for hikers on the rocky outcropping known as Little Stony Man, and further up, people enjoying the Stony Man summit.
Choose from three great routes in our guide 3 Stony Man Trail Hikes to Beautiful Shenandoah Views
Little Stony Man Hike 39.1: A short, steep hike leads to a large rock ledge with spectacular views west and north. You'll get a peek at the winding road you just traveled. There are only about 8 parking spots at the Little Stony Man trailhead, but you can also hike to this overlook from the Stony Man Trail parking area.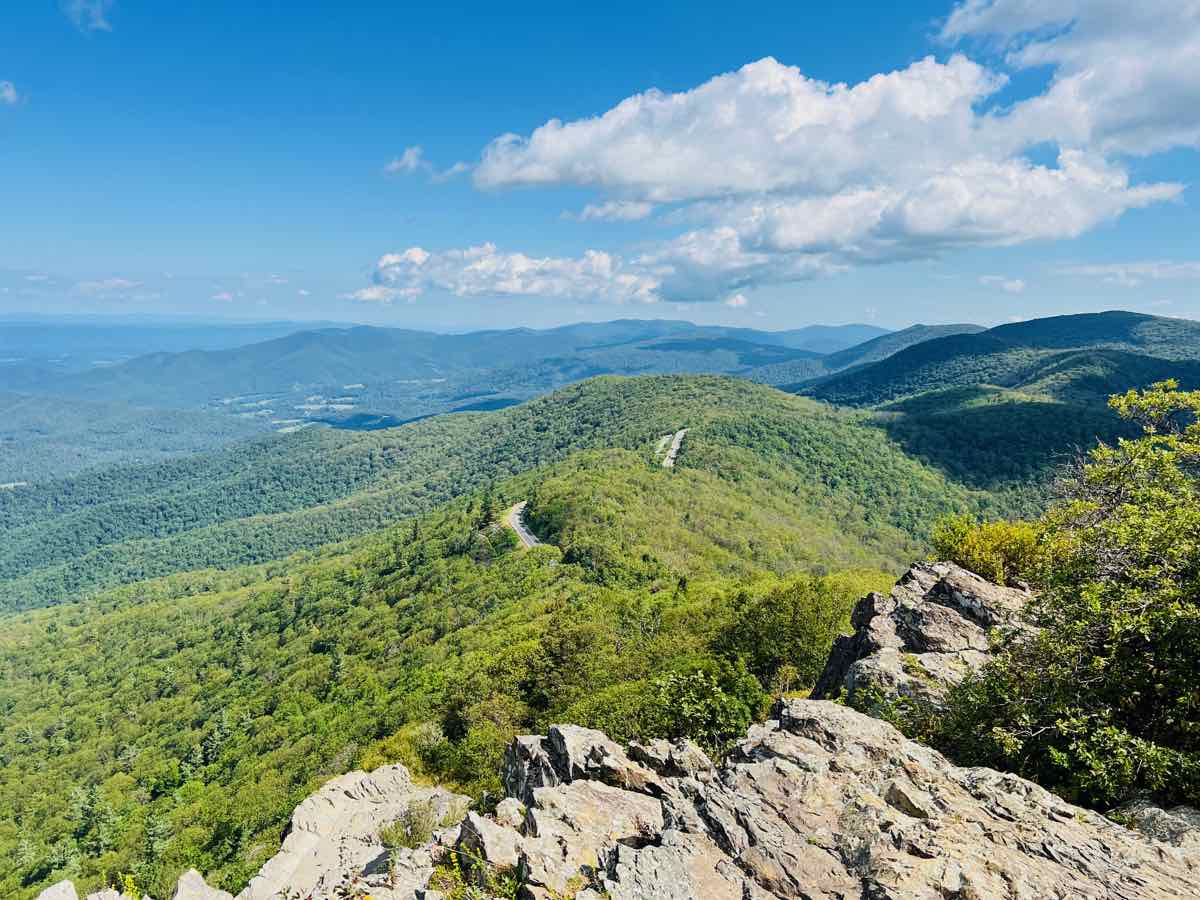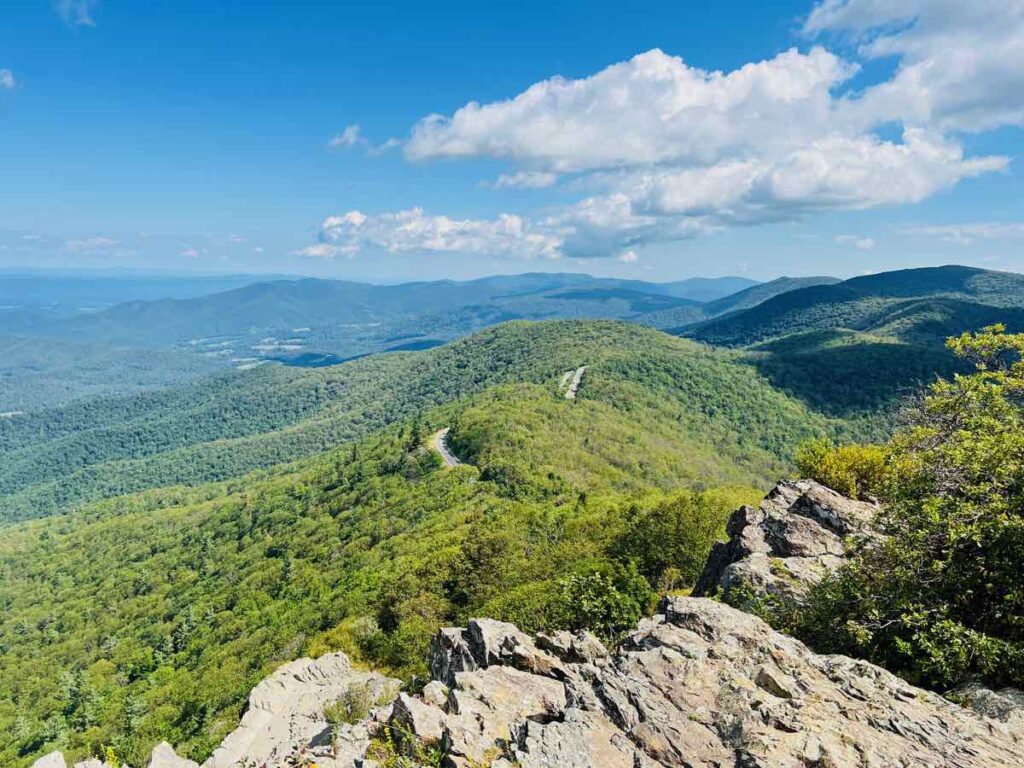 Thorofare Mountain Overlook 40.5: Between the two Stony Man trailheads, take in a beautiful eastward view from Thorofare Mountain Overlook. You can see the rocky spine and summit of Old Rag Mountain, one of the most popular and challenging hiking destinations in the park.
Skyland Resort 41.7
Turn right at Skyland to visit one of the park's original lodges. The turn also marks the highest point on Skyline Drive at 3,680 feet. On your right is the Stony Man parking area where you'll find the trailhead for hikes to Stony Man Summit, Little Stony Man, and the Stony Man loop (more info below).
Follow the signs to the left to reach Skyland's Lodge, restaurant, gift shop, and other facilities. Enjoy nice views and a classic lodge feel from Skyland's restaurant, the Pollock Dining Room. Breakfast, lunch, and dinner are served during set hours, just like when the park first opened.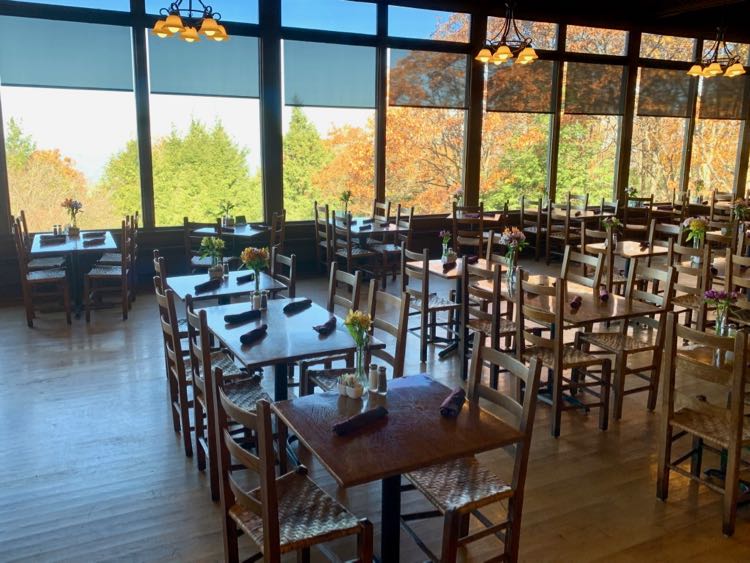 In 2023, Skyland updated and expanded their patio and you can now get table service outdoors with an excellent view.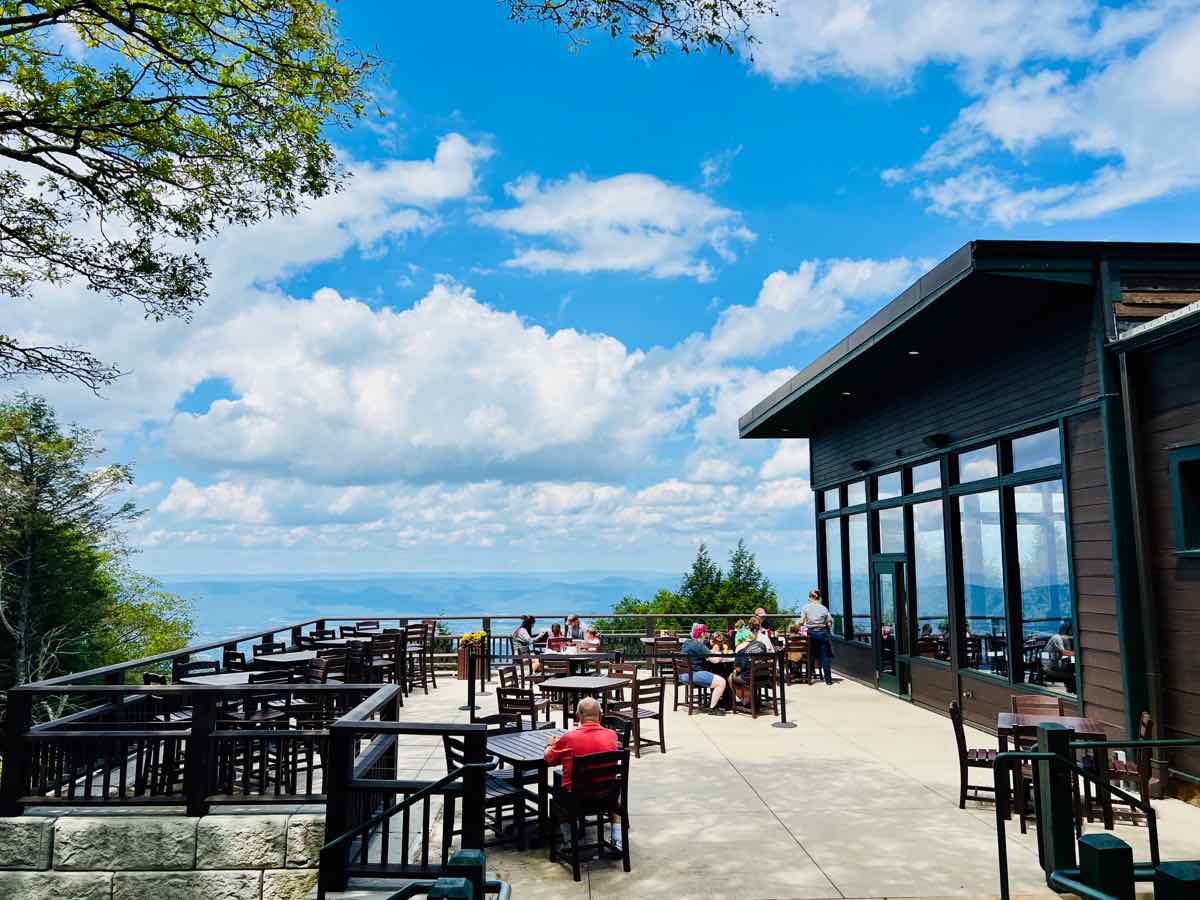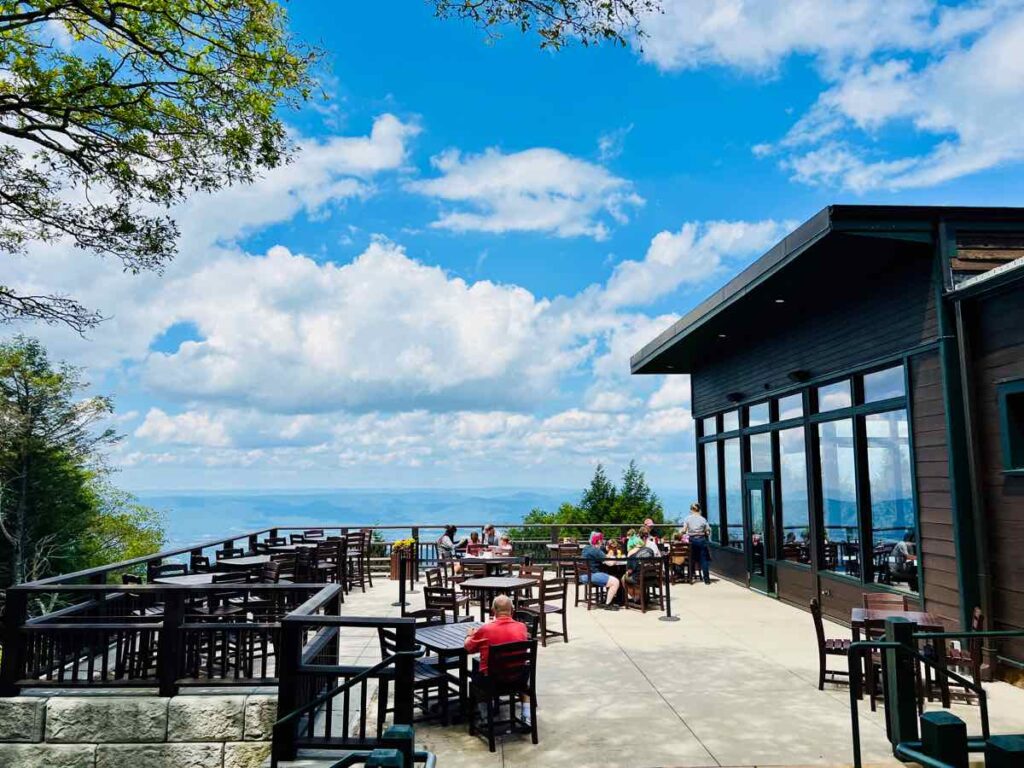 You can also grab a bite and a drink at the Mountain Taproom and stop in the gift shop for Shenandoah National Park books and souvenirs.
Stony Man Hike 41.7: An easy 1.6-mile trail to Stony Man summit leads to excellent westward views. Stony Man is the second highest peak in the park (4,011′) and the northernmost 4000-footer in the Blue Ridge Mountains.
This is a very popular hiking trail for all ages because the main Stony Man Trail is easy with just 360 feet of elevation gain. The Stony Man trailhead is just inside the northern entrance to Skyland. Note that dogs are not allowed on the Stony Man Summit Trail.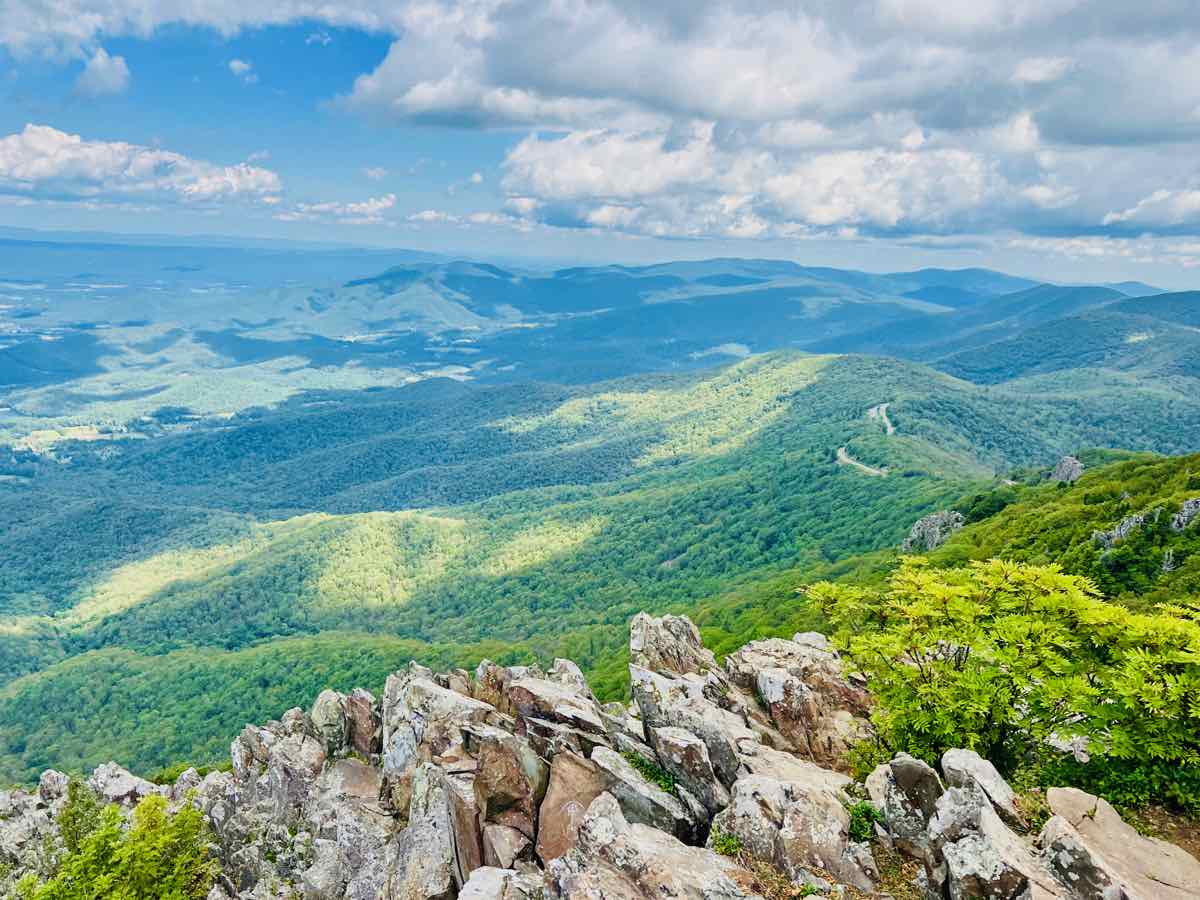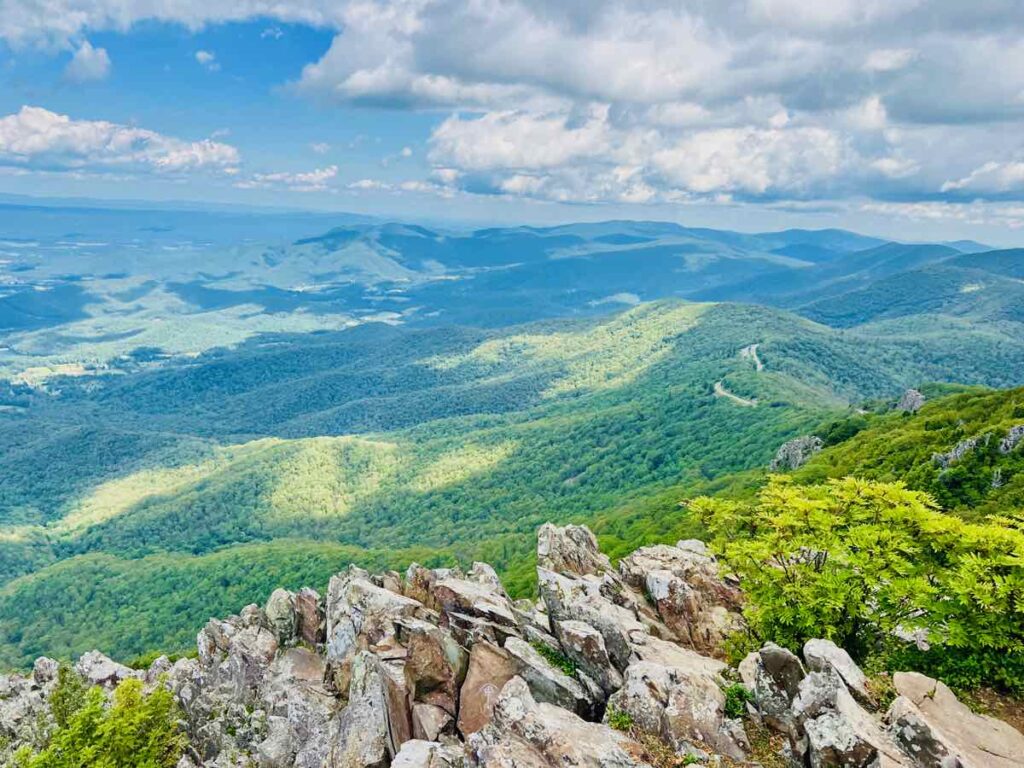 Favorite Shenandoah Viewpoints, Hikes, and Stops: Skyland to Big Meadows
Limberlost Trail 43: The only wheelchair-accessible trail in the park offers an easy loop walk through the woods. We were surprised to encounter black bears on this popular trail on one hike. A few loud claps and they scampered off.
This is also one of the most stunning nature trails in the park in June when Mountain Laurel surrounds the path.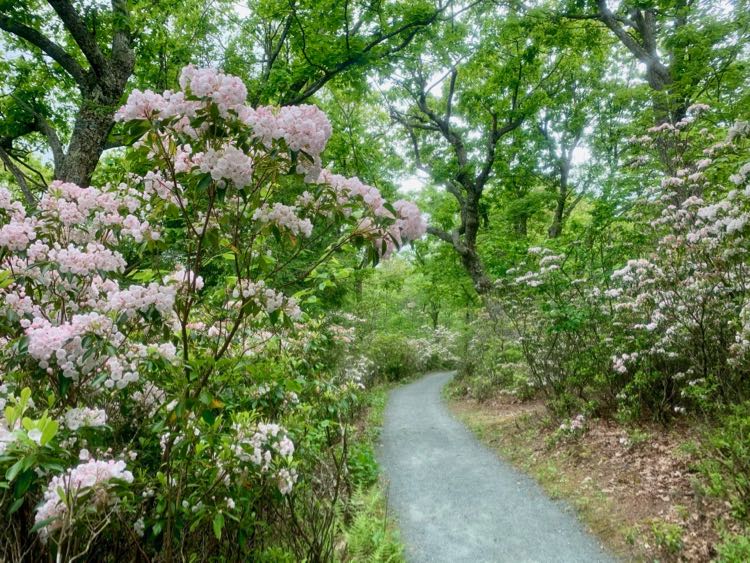 Hawksbill Hike: 46.7: Take a short but steep hike to an incredible viewpoint from the highest point in the park. Park in the Upper Hawksbill parking area for the 2-mile roundtrip hike.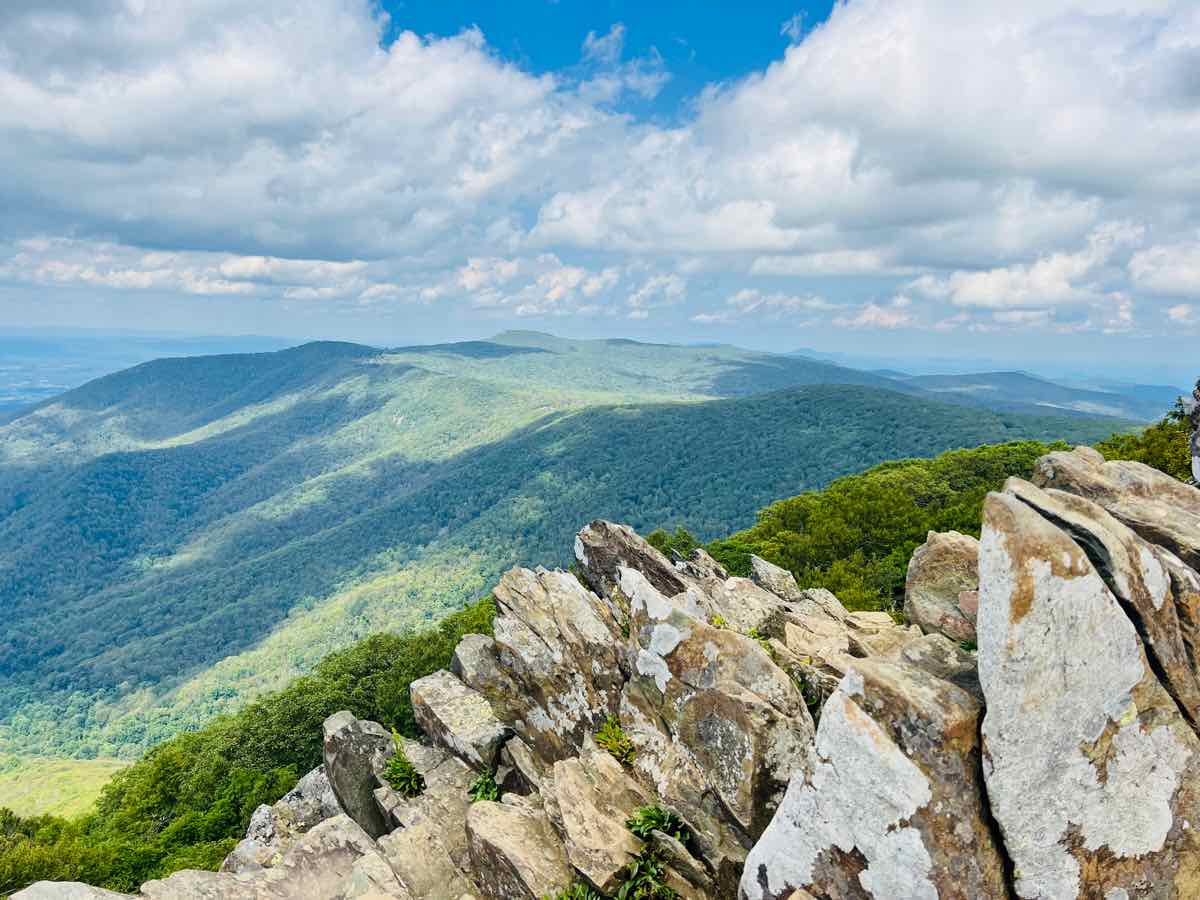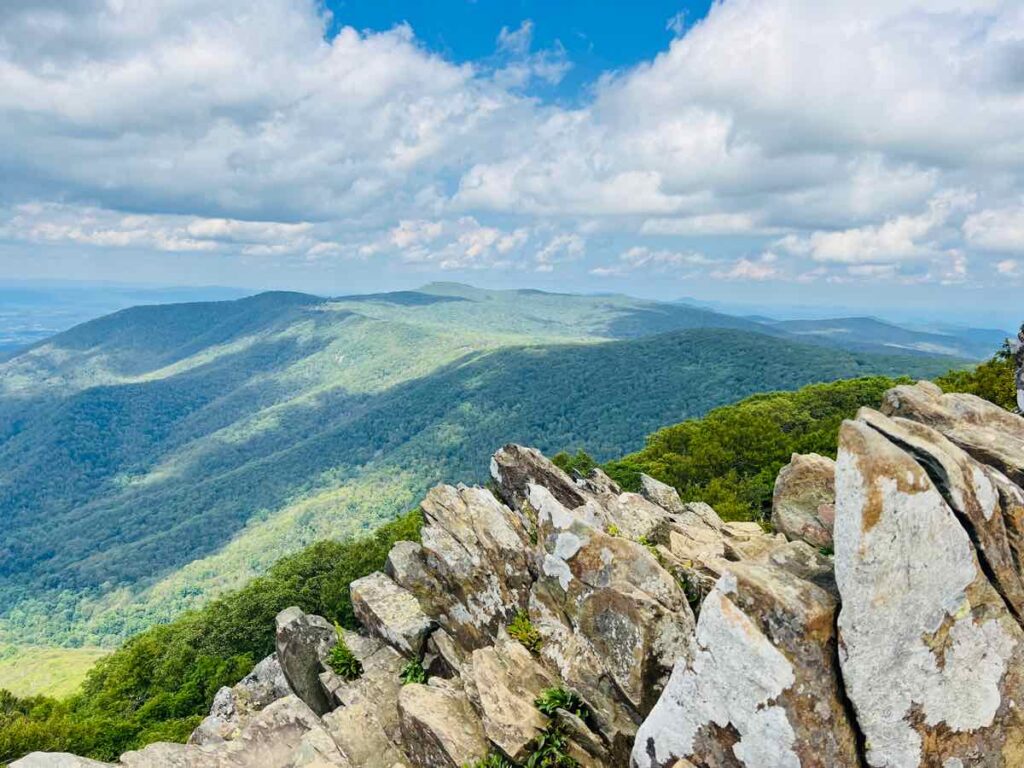 Find details on Hawksbill and more in our guide: Short Hikes to Gorgeous Virginia Views.
Rose River Loop Hike from Fishers Gap Overlook 49.4: This is one of the most scenic waterfall hikes in Shenandoah National Park. The Rose River loop follows falls and cascades for more than half of its 4-mile distance.
The moderately difficult trail descends from Skyline Drive, then parallels Rose River, offering constant water views and access. Take a quarter-mile side trip on the return to popular Dark Hollow Falls and more beautiful waterfall views.
Dark Hollow Falls 50.7: This popular waterfall hike parallels beautiful cascades and then reaches a nice view from the bottom of the falls. The 1.4 out-and-back hike is steep, so be prepared for the climb back up to your car.
Dark Hollow Falls is a very popular trail and can be very crowded on weekends. The Rose River Loop described above is a good alternative hike.
Big Meadows Area Visitor Center, Lodge, and Hikes
Harry Byrd Visitor Center 51: Interesting and informative displays explain the history of Shenandoah National Park and its inhabitants. Park Rangers host frequent talks and guided hikes in the Big Meadows area. You can also shop in the gift store and get a meal at the wayside.
There are easy trails through the meadow where you will often see deer. Another easy hike is the 1.8-mile Story of the Forest. Trail. The trail begins at the Visitor Center parking area and tells about the transition from meadow to forest.
Dark skies make the meadow one of the best places for stargazing near Washington DC. Here you can attend the annual Night Sky Festival, a favorite August weekend event.
Big Meadows Lodge and Restaurant: Enjoy a meal in the historic dining room, the casual taproom, or on the patio at Big Meadows Lodge. The lodge has a rustic feel and we love the westward views from the patio.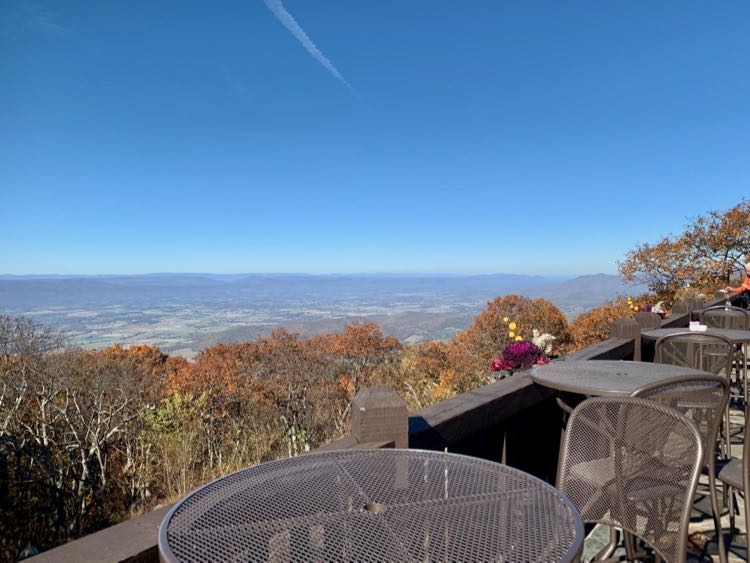 Short Hike to Blackrock Viewpoint: Near the lodge, take a short .4-mile out-and-back hike to the beautiful, rocky Blackrock Viewpoint. This is one of the easiest trails to a viewpoint in the park. For more challenge, continue on to the AT and a 3.2-mile loop hike to Lewis Spring Falls.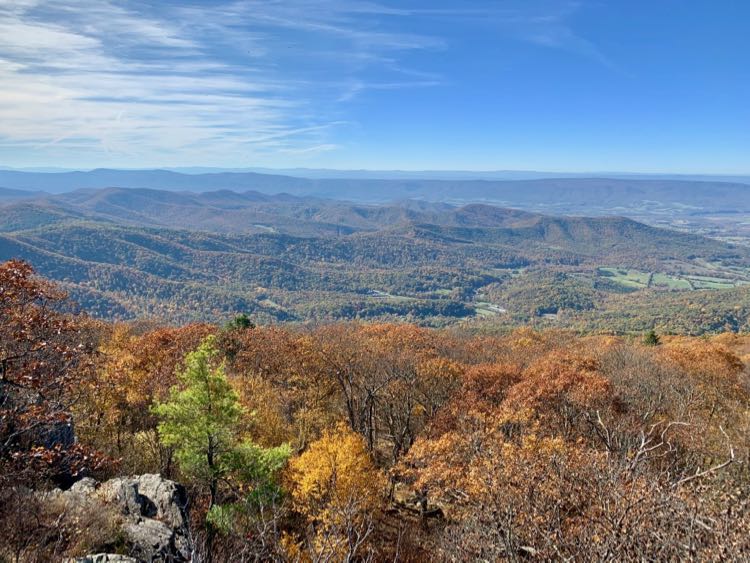 Big Meadows is a good turnaround point for a Shenandoah National Park day trip in the Central District. However, there are many more fantastic stops to the south. If you have time to complete your Central District drive, continue your journey south to the Swift Gap Entrance Station.
More Stops in Shenandoah's Central District
The Point Overlook 55.5: With its beautiful, sweeping westward view, The Point Overlook is a great place to watch the sunset in Shenandoah National Park.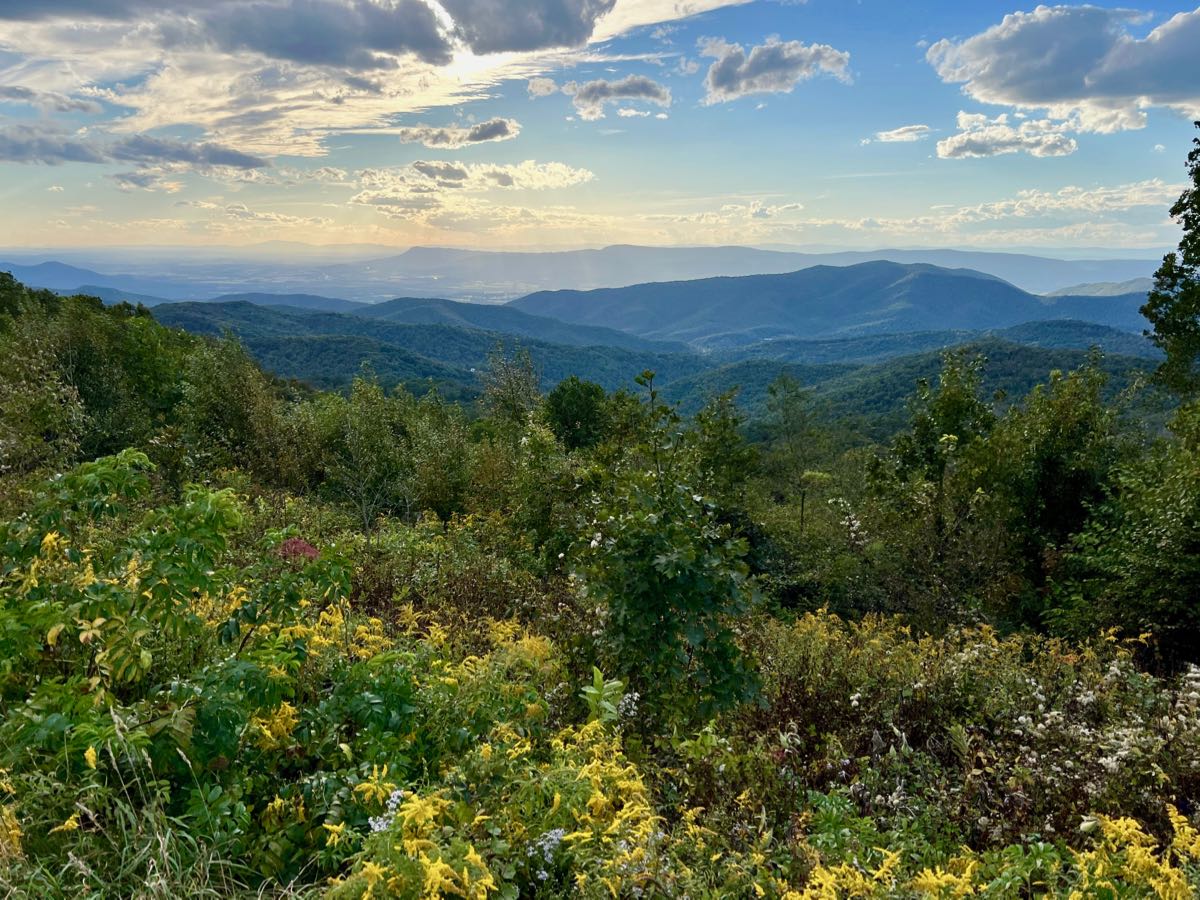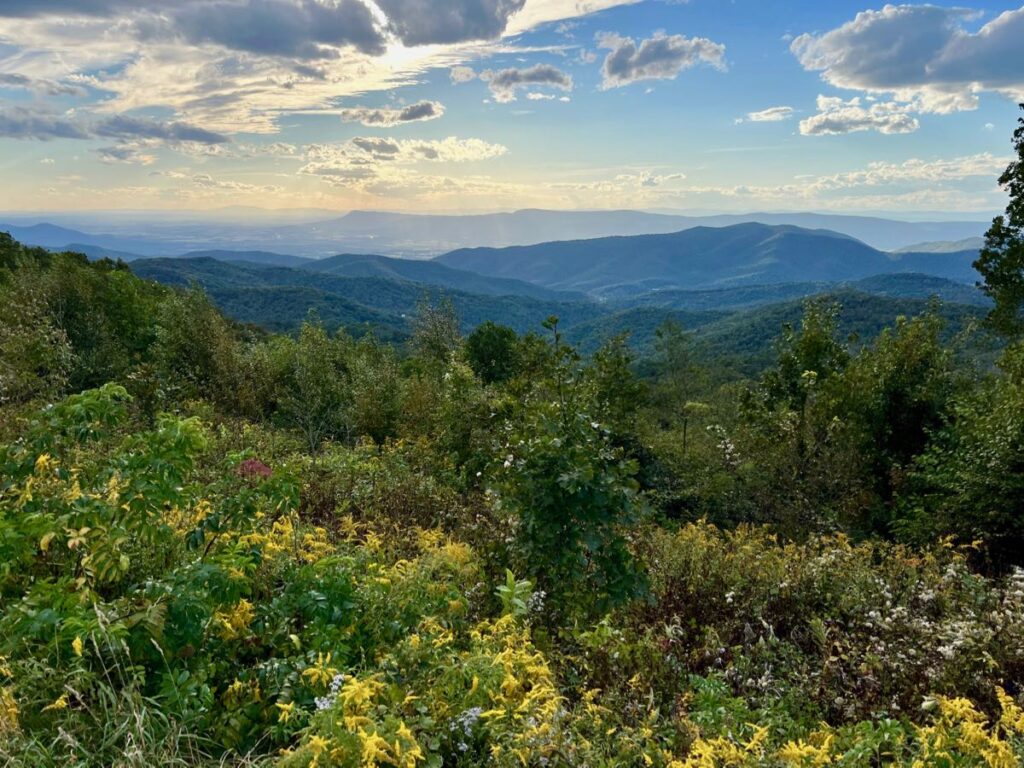 Hike Bearfence Mountain 56.4: One of the best short hikes in Shenandoah National Park offers incredible drama in a short distance. The hike to the summit of Bearfence is only 1.2 miles roundtrip, but the trail navigates a challenging rock scramble.
While not technically difficult, the rocks are very exposed to the cliffside. If you have a fear of heights, this is not the hike for you. But if you complete the rock scramble you are rewarded with gorgeous, nearly 360-degree views of the Bule Ridge Mountains. Alternatively, follow an easier trail to a nice westward viewpoint.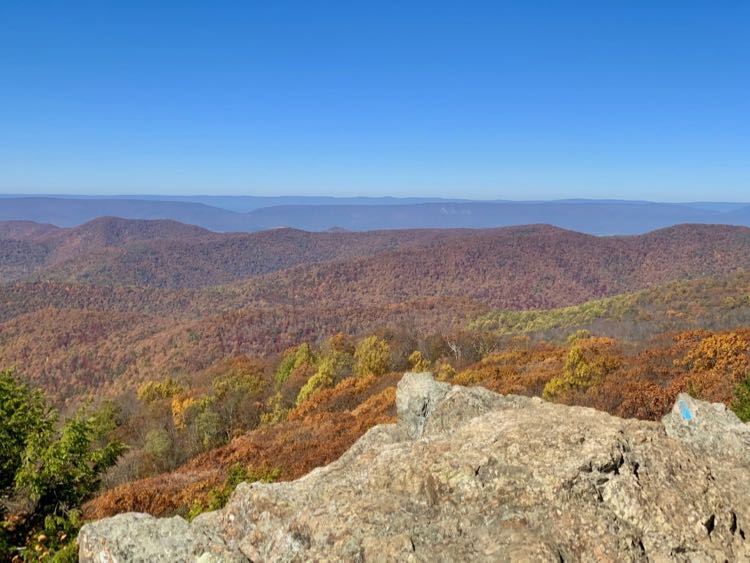 When you are ready to head home, you can exit at Swift Run Gap, backtrack to Thornton Gap, or drive all the way north to Front Royal. We generally return to Thornton Gap and enjoy one of the stops outside the park that are described below.
3 Shenandoah National Park Day Trip Itineraries
Here are three sample itineraries for a perfect Shenandoah National Park day trip in the heart of the park. Note that estimated times are just estimates. Your schedule will depend on traffic, hiking speed, how long you visit overlooks and more.
Our itineraries assume you are driving north to south, beginning at the Thornton Gap Entrance. Allow at least 45 minutes for the drive to Big Meadows, and another 30 minutes to continue south to Swift Run Gap. Allow extra time to stop at overlooks along the way.
Skyline Drive is slow and winding, and these drive times do not include stops or account for heavy traffic. Traffic will be much heavier and slower on nice weekends and during fall foliage season.
Shenandoah National Park 1 Day Itinerary for Hikers
This is an excellent Shenandoah day trip itinerary for hikers, especially if you are new to the park. It includes 3 fantastic hikes—two overlook hikes and one waterfall hike. Follow the links for more detail on each hike. Try to arrive early (before 9:00) so you have time to complete all three hikes, and bring lunch so you don't have to stop at the park restaurants.
Enter at Thornton Gap and head south.
Park at Jewell Hollow Overlook for the 6.5 mile out-and-back hike on the Appalachian Trail to Mary's Rock. You'll enjoy spectacular views from the Pinnacles and Mary's Rock. Plus, this section of the AT passes the Byrd's Nest #3 Hut. 6.5 miles roundtrip; allow 3-4 hours.
Park at Fishers Gap Overlook (49.4) for the 4-mile Rose River loop hike. This trail has nearly continuous views of pretty streams and small waterfalls. There are some nice swimming holes where you can cool off on a hot day. 4 miles roundtrip; allow 2-3 hours.
If you still have energy, drive south to mile 56.4 for the short climb to Bearfence Mountain summit. The trail includes a fun rock scramble that is short but a little challenging. From the summit, you'll have a nearly 360-degree view of the mountains. 1.2 miles roundtrip; allow 1-2 hours.
Backtrack on Skyline Drive to Big Meadows Lodge and reward yourself with a tasty slice of Blackberry Ice Cream Pie (BBICP).
Shenandoah National Park Day Trip with Kids
Enter at Thornton Gap and head south. Stop at Panorama if you need a restroom break.
Stop at Hazel Mountain Overlook and let big kids climb on the rocks while you enjoy the view.
Drive south to the Stony Man Parking lot just inside the Skyland area (41.7). Hike an easy but pretty .8-mile trail to Stony Man Summit and a beautiful western view. Optionally, extend the hike to include another great viewpoint and a loop trail (follow link for details). 1.6 miles roundtrip; allow 1-2 hours.
Head to the Skyland Lodge for lunch, restrooms, and to shop for souvenirs. There is a sit-down restaurant or you can pick up light bites and eat out on the patio.
If the kids have more energy, continue to the Dark Hollow Falls parking lot. Here you can hike a 1.4-mile out-and-back trail to a pretty waterfall. You'll have nice views of the cascading water as you hike this popular trail. Note that the trail is downhill in the beginning, so make sure kids have the energy for the climb back up to the parking lot. You can always turn back early. 1.4 miles roundtrip; allow 1.5-2 hours.
Drive to Big Meadows and visit the Harry Byrd Visitor Center to learn about the geology and history of the park.
Pick up a treat at the Big Meadows Wayside before making your return trip north.
Accessible Shenandoah National Park Day Trip Itinerary
Enter at Thornton Gap and head south. There are accessible bathrooms at Panorama if needed.
Stop at several of the overlooks on each side as you head south on Skyline Drive. Tunnel Parking, Pinnacles, and Thorofare Mountain all have great eastward views. Jewell Hollow, Stony Man, and The Point have wonderful westward views.
Visit Skyland Lodge for lunch and to shop for souvenirs. The Pollack Dining Room is wheelchair accessible and features a wall of windows that take in the view. You can also dine outdoors on the accessible patio.
Head just south of Skyland to the Limberlost Trail at mile 43. This is the only wheelchair-accessible trail in the park and it's a beauty. The one-mile loop winds through mountain laurel and an old Hemlock Grove on a crushed stone walkway. One section of the trail crosses a pretty boardwalk and passes an interesting example of columnar jointing. 1-mile loop; allow 1 hour.
Drive to Big Meadows and visit the Harry Byrd Visitor Center to learn about the natural and human history of the park. There is a nice view of the meadow, where you'll often see deer, on the Byrd VC porch.
Enjoy a snack or a meal from the Big Meadows Wayside before returning home.
Shenandoah National Park Essentials and Tips
Shenandoah National Park charges a $30 entrance fee per vehicle for a 7 consecutive day pass. The fee is $25 for motorcycles and $15 if you enter on foot or by bicycle. If you plan to make repeat visits, buy an annual National Park pass instead. With just a few visits, you'll recoup the $80 price.
Plus, you can use the pass at Northern Virginia area parks like Great Falls and Prince William National Forest.
Always check for Alerts on the Shenandoah National Park website before you head out. Important facility, road, and trail closures are listed at the top of the page. Follow the park's Facebook page for more helpful info.
Shenandoah National Park Lodging
Planning to visit for longer than a day trip? There are several great options for overnight lodging in Shenandoah National Park, including lodges, rustic cabins, and campgrounds. You can even hike lodge-to-lodge on the Appalachian Trail.
Tip: If your stay in the park includes a rainy day, that's a great time to visit Luray Caverns, just 11 miles west of the Thornton Gap Entrance.
Shenandoah National Park Entrances
There are four places to enter the park, each with its own ticket station. Entrance stations take admission fees, sell park passes, and hand out Shenandoah Park maps and a schedule of ranger talks and events.
The best entrance to Shenandoah National Park depends on where you are coming from:
Stay alert and respect park wildlife. Black bears are common in the park, but they are generally shy and will run away from humans. The park is also home to rattlesnakes and copperheads, so use extra caution in rocky areas, especially in summer. For most visitors, squirrels and deer are the primary wildlife sightings.
Drive slowly and obey speed limits to protect bears, deer, and other wildlife crossing park roads. The speed limit is 35 mph for good reason.
If you are visiting from Washington DC or Northern Virginia, plan for lower temps and changing weather. The Shenandoah Mountains can be 20 degrees cooler and stormy even on a warm sunny day in DC. Pack a jacket and other layers plus good hiking boots if you plan to hit the trails.
Purchase excellent trail maps of the park from the Potomac Appalachian Trail Club (PATC). The USGS online topoView site is another good resource for planning your hike.
Winter Shenandoah National Park Day Trip Tips
Even when the temperatures are mild near Washington DC, Shenandoah National Park is often hit with icy conditions. When the roads are icy, Skyline Drive is often fully or partially closed. If you plan to visit the park during the winter, check the hotline number first.
To check Skyline Drive status dial 1-540-999-3500; select 1, then 1 for park alerts. You can also check Shenandoah National Park on Twitter or Facebook, but the hotline number updates more quickly. Check the Weather.gov site for a recreation forecast above 2000 feet.
Shenandoah Visitor Centers, campgrounds, and lodges all close during the winter months. Campgrounds usually close in late November. Lodges and waysides close in November, and Visitor Centers close in late December. Check the park website for current facility closing and opening dates.
Rime ice and frozen waterfalls are two of the beautiful winter sights in Shenandoah. Rime ice occurs when water droplets in the air freeze onto surfaces, creating beautiful patterns and forms. Big Meadows is a wonderful place to view grasses and trees covered in rime ice.
Dark Hollow Falls is one of the easiest waterfalls to view during a freeze. Use extra caution on slippery, steep trails.
Scenic Drive: DC Area to Shenandoah National Park Central District
Pop Shenandoah National Park into your GPS from the Washington DC area and the map will offer a straightforward route—head west on Route 66 until you reach the Front Royal Entrance. It's an easy, one to two-hour drive, depending on your starting point and traffic, but it's a little dull.
We've got a better route! Enter at the Thornton Gap Entrance instead, and you are close to some of the best overlooks and hikes in the park's Central District. Best of all, the scenic route to Thornton Gap is both pretty and full of tasty stops.
Our favorite route for a Shenandoah National Park day trip from DC passes through the small towns of Flint Hill and Sperryville on the way to the park. Washington, home of the famous Inn at Little Washington, is an easy side trip. Here's a map of the route from Fairfax, Virginia; just adjust the starting point to your location:
Map: Scenic Route to Shenandoah National Park
You have a couple of options for your return route, depending on how much time you have. Return the way you came and stop in Sperryville or Flint Hill (suggestions below). Or, if time allows, you could complete Skyline Drive north, exiting in Front Royal.
Where to Stop Outside the Park on a Shenandoah National Park Day Trip
If you want to pick up a picnic to enjoy in the park, or you're looking for a tasty way to end the day, you'll find several great options outside the park.
Sperryville
Sadly, Creekside Bakery and Deli has closed. This was our favorite place to pick up sandwiches and treats before the drive up to the Thornton Gap park entrance. Next visit, we'll check out Before and After Cafe for a pre-hike sandwich.
Back on route 211, in the Sperryville Schoolhouse Building, Headmaster's Pub offers a cold brew and pub menu perfect for a post-hike meal. The beer list features craft beer from breweries in Virginia and throughout the east coast. We enjoyed a delicious Hardywood Gingerbread Stout with a burger during one December visit.
Flint Hill
Our favorite stop after a Shenandoah National Park day trip is the Dark Horse Irish Pub (formerly Griffin Tavern) in the center of Flint Hill. Flags flying from the wraparound porch first caught our attention and suggested a nice pint was in our future.
We've returned several times for a meal on the outside deck or a beer in the bar. While we haven't stayed for dinner, the dining rooms in the front of the house look lovely and the menu is tempting.
The town of Little Washington, famously know for the Inn at Little Washington, is close by and a fun stop if you want to poke around in the shops and galleries.
Front Royal
If you exit via the Front Royal entrance, you'll have many restaurants to choose from before you jump back on Route 66. Our favorite stop is The Apple House for a sweet fix in the form of apple cider donuts. These tasty little sweet bombs are a nice reward for a day of hiking. They also serve barbecue and other sandwiches, but frankly, we're all about those donuts.
While we love a Shenandoah National Park day trip from the DC area, there is much more to do both inside and outside the park. You could also combine your park visit with a road trip through the Shenandoah Valley.
The Central District is our favorite area to explore on a Shenandoah National Park day trip. There is so much to see and do along Skyline Drive that we return frequently to try new trails and enjoy the changing seasons.
Follow us on Facebook, Twitter, Pinterest, and Instagram for more fun travel in and from Northern Virginia.