A Shenandoah National Park day trip makes a beautiful outing from Northern Virginia and Washington DC, whether you crave a leisurely scenic drive or an active hiking expedition. We've rounded up tips on what to do both in the park's Central District and along the trip, perfect for an outing to Virginia's dramatic Blue Ridge Mountains.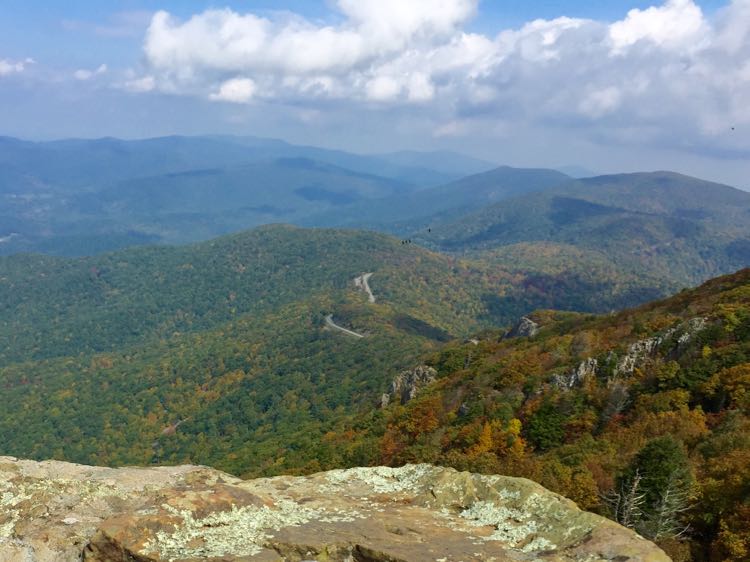 Shenandoah National Park charges a $25 entrance fee per car for a 7 consecutive day pass. If you plan to make repeat visits like us, buy an annual National Park pass. You'll recoup the $80 price in just a few visits and can use it at Northern Virginia area parks like Great Falls and Prince William National Forest.
A Scenic Route to a Shenandoah National Park Day Trip
Pop Shenandoah National Park into your GPS from the Washington DC area, and the map will offer a straightforward route—head west on Route 66 until you reach the Front Royal Entrance. It's an easy, one to two hour-drive, depending on your starting point and traffic, but it's a little dull.
We've got a better route! Enter at the Thornton Gap Entrance instead, and you are close to some of the best overlooks and hikes in the park's Central District. Best of all, the scenic route to Thornton Gap is both pretty and full of tasty stops.
Our favorite route for a Shenandoah National Park day trip passes through the small towns of Flint Hill and Sperryville on the way to the park. Washington, home of the famous Inn at Little Washington, is an easy side trip. Here's a map of the route from Fairfax, Virginia; just adjust the starting point to your location:
Map: Scenic Route to Shenandoah National Park
You'll find great food and drink stops in Flint Hill and Sperryville; see details below.
Shenandoah National Park Day Trip: Favorite Central District Viewpoints, Hikes, and Stops
Once you enter the park, head south toward Skyland and Big Meadows, both excellent stops on Skyline Drive. You'll have to make choices about how you will spend your time. A Shenandoah National Park day trip does not allow time to cover every mile and overlook of Skyline Drive. Keep in mind that the road is winding, the speed limit is 35, and those views and trails will be calling you.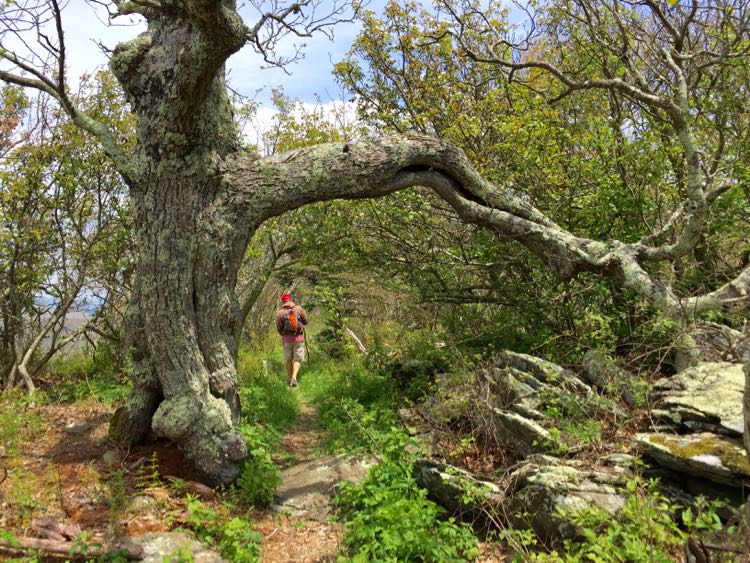 While it's possible to drive to the southern entrance in one day, we suggest fewer miles and more time for hiking, viewpoints, visitor centers, shops, and a scenic meal along the way. Here are some of the best things to do in Shenandoah National Park's Central District between mile marker 31 and 51.
Mary's Rock Tunnel Overlook 32: The view isn't the best on the drive, but most visitors like to get a picture of the tunnel. Be careful and don't stand in the roadway.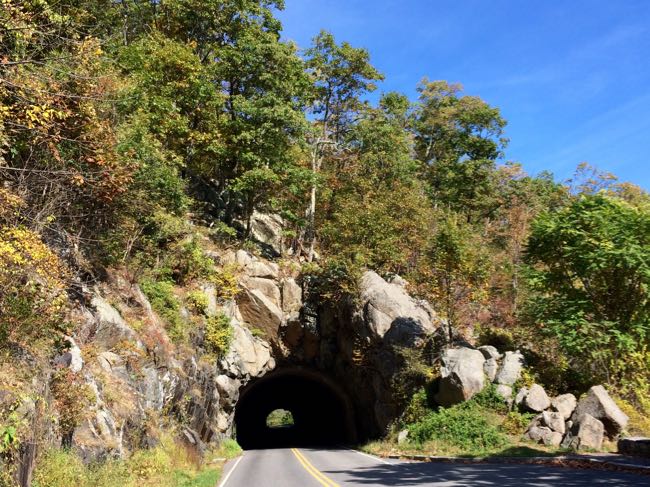 Hazel Mountain Overlook 32.5: Beautiful westward views and cool rocks to climb on. A small maple tree in the parking area turns brilliant red in fall.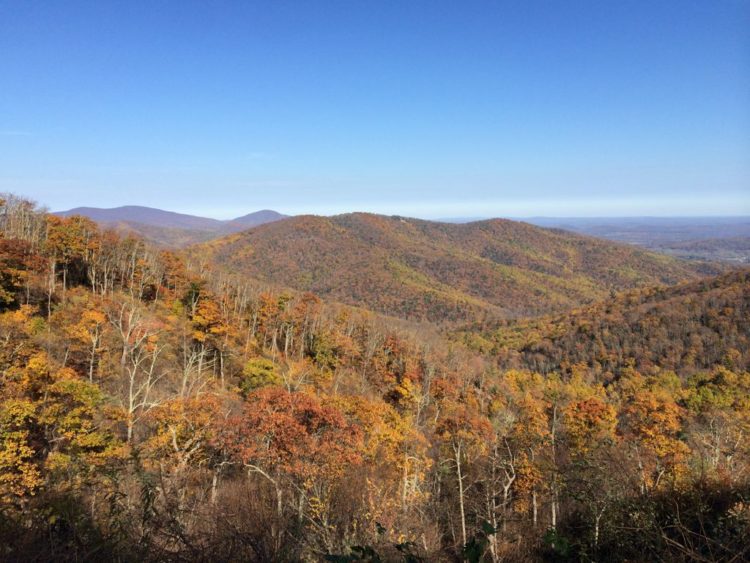 Jewell Hollow Overlook 36.5: Head to the upper lot for excellent westward views of Shenandoah Valley and the long ridge of Massanutten Mountain.
The Pinnacle and Mary's Rock Hike 36.5: From the Jewell Hollow Overlook, a 7 mile out-and-back hike on the Appalachian Trail leads to a dramatic, rocky viewpoint. For a shorter hike, follow the trail about a mile until the first viewpoint, known as The Pinnacle. From here you'll have a beautiful view north along the ridge toward Mary's Rock.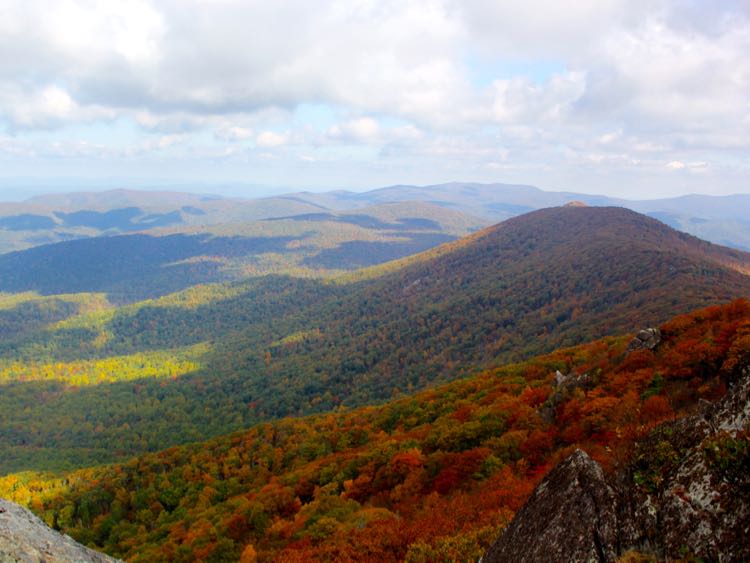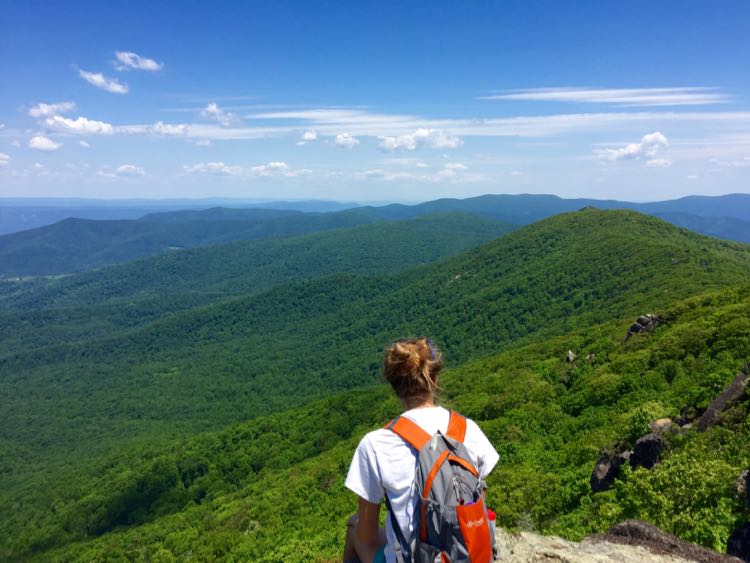 Stony Man Mountain Overlook 38.5: Inspiration for two fun short hikes; look for hikers on the rocky outcropping known as Little Stony Man, and further up, people enjoying Stony Man summit.
Little Stony Man Hike 39.1: A short, steep hike leads to a large rock ledge with spectacular views west and north. Get a peek at the winding road you just traveled.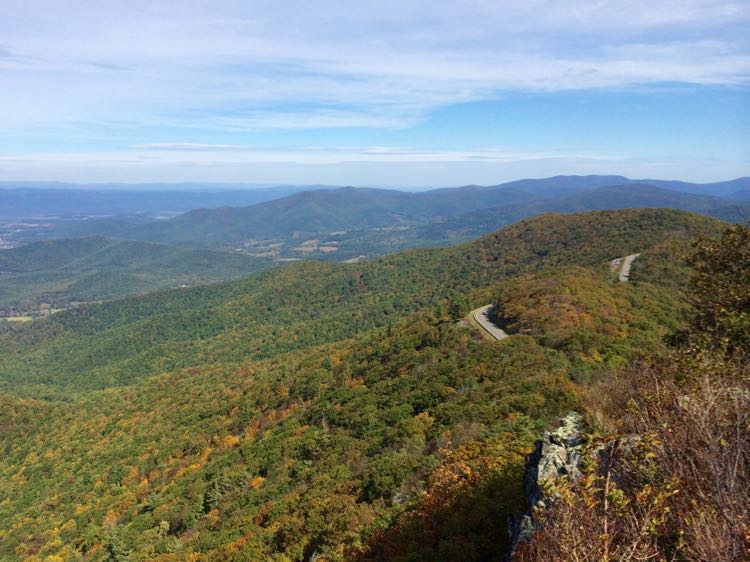 Thorofare Mountain Overlook 40.5: Enjoy a beautiful westward view of the rocky spine and summit of Old Rag Mountain, one of the most popular and challenging hiking destinations in the park.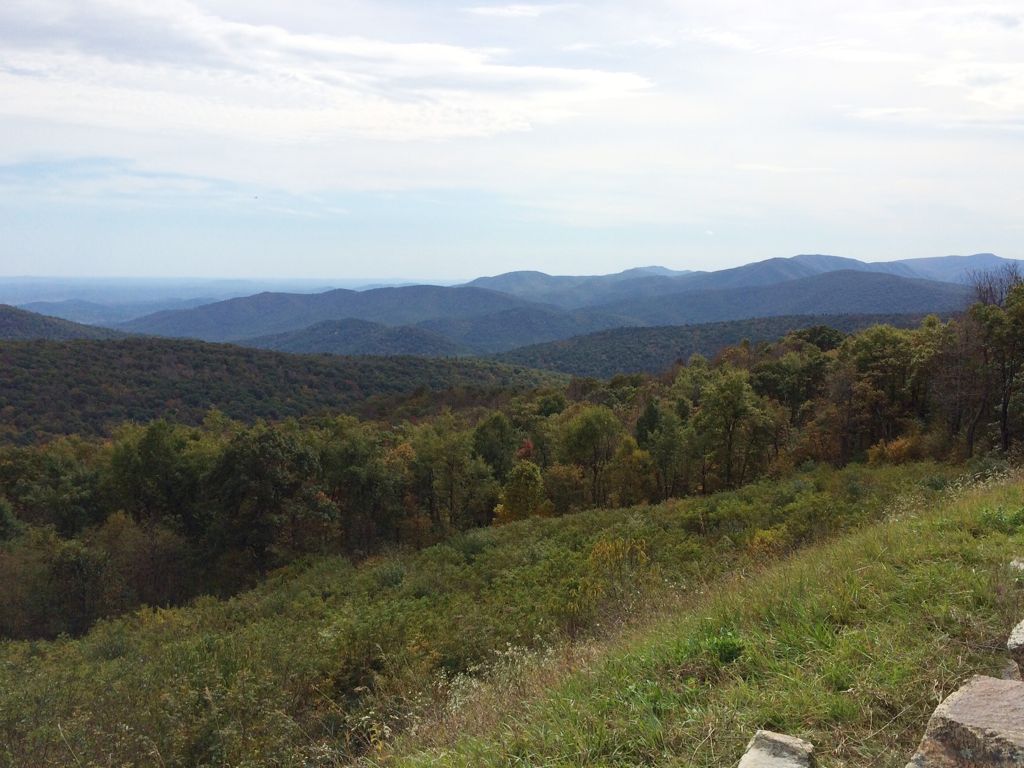 Stony Man Hike 41.7: An easier but longer 1.6 mile trail to Stony Man summit and similar views. The trailhead is just inside the northern entrance to Skyland.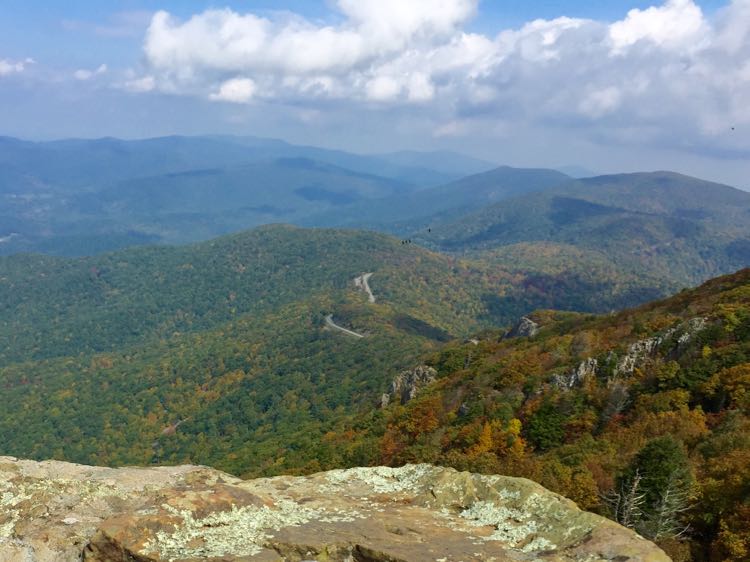 Skyland 41.7: Stop for a meal, a snack, and a souvenir. Enjoy nice views and a classic lodge feel from Skyland's restaurant. You can also grab a bite and a drink at the tavern, or pick up a snack and head to the patio. Stop in the gift shop for Shenandoah National Park books and souvenirs.
Limberlost Trail 43: The only wheelchair-accessible trail in the park offers an easy loop walk through the woods. We were surprised to encounter black bears on this popular trail on one hike. A few loud claps and they scampered off.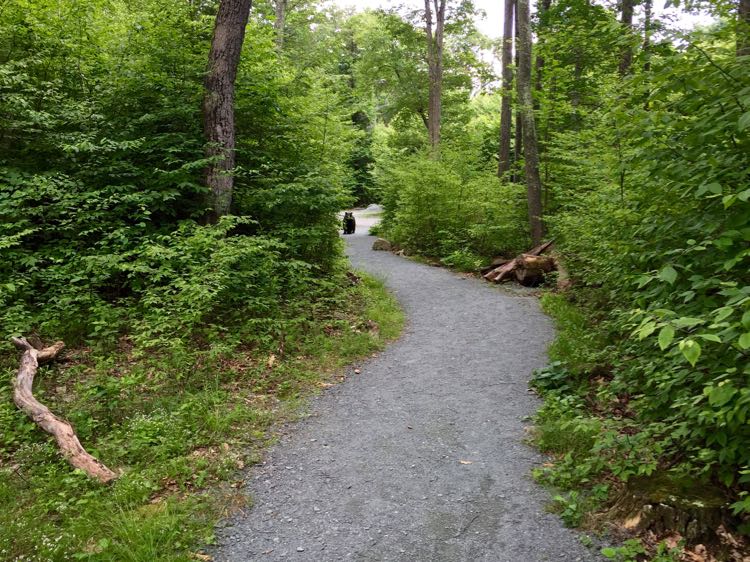 Hawksbill Hike: 46.7: A short but steep hike to an incredible viewpoint from the highest point in the park. Park in the Upper Hawksbill parking area for the 2 mile roundtrip hike.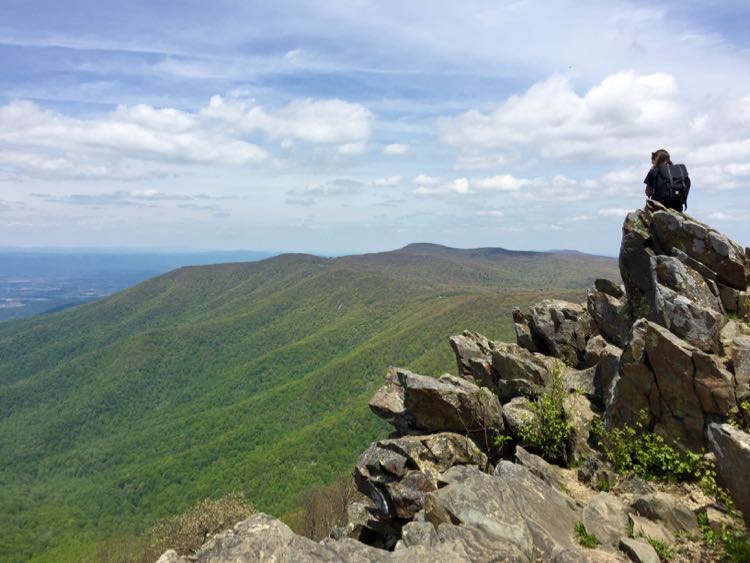 Big Meadows and the Harry Byrd Visitor Center 51: Interesting and informative displays explain the history of the park and its inhabitants. You can also enjoy an easy hike through the meadow trails, shop in the gift store, and get a meal at the wayside.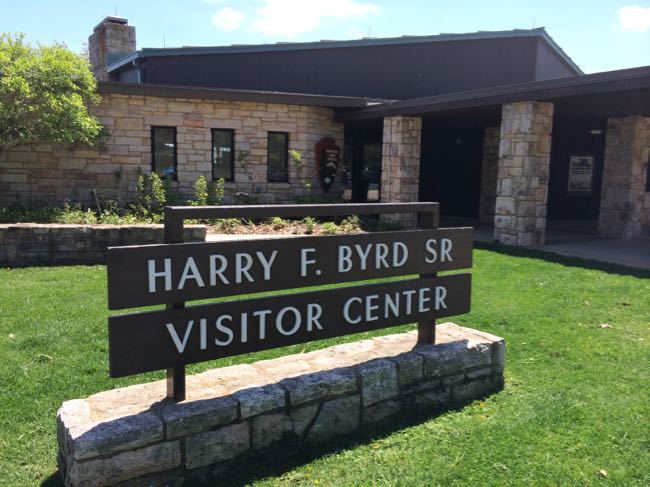 Big Meadows is a good turnaround point for a Shenandoah National Park day trip in the Central District. While there are many more fantastic hikes, overlooks, and stops to the south, you would need more than a day to do them justice.
You have a couple of options for your return route, depending on how much time you have. Return the way you came and stop in Sperryville or Flint Hill (suggestions below). If time allows, you could complete Skyline Drive north, exiting in Front Royal.
Where to Stop Outside the Park on a Shenandoah National Park Day Trip
If you want to pick up a picnic to enjoy in the park, or you're looking for a tasty way to end the day, you'll find several great options outside the park.
Sperryville
Sadly, Creekside Bakery and Deli has closed. This was our favorite place to pick up sandwiches and treats before the drive up to the Thornton Gap park entrance. Next visit we'll check out Before and After Cafe for a pre-hike sandwich.
Back on route 211, in the Sperryville Schoolhouse Building, Headmaster's Pub offers a cold brew and pub menu perfect for a post-hike meal. The beer list features craft beer from breweries in Virginia and throughout the east coast. We enjoyed a delicious Hardywood Gingerbread Stout with a burger during one December visit.
Flint Hill
Our favorite stop after a Shenandoah National Park day trip is Griffin Tavern in the center of Flint Hill. The British flag flying from the wraparound porch caught our attention and suggested a nice pint was in our future. We've returned several times for a meal on the outside deck or a beer in the bar. While we haven't stayed for dinner, the dining rooms in the front of the house look lovely and the menu is tempting.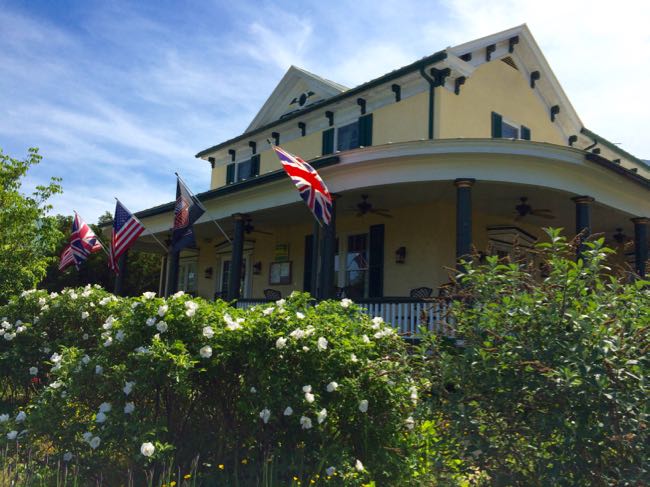 Just a few doors away, Flint Hill Public House offers refined dining in a former country schoolhouse. They also offer a full bar in a separate lounge area. Lunch and dinner are served daily except Tuesday and Wednesday when the restaurant is closed.
The town of Little Washington, famously know for the Inn at Little Washington, is close by and a fun stop if you want to poke around in the shops and galleries.
Front Royal
If you exit via the Front Royal entrance, you'll have many restaurants to choose from before you jump back on to route 66. Our favorite stop is The Apple House for a sweet fix in the form of apple cider donuts. These tasty little sweet bombs are a nice reward for a day of hiking. They also serve barbecue and other sandwiches, but frankly, we're all about those donuts.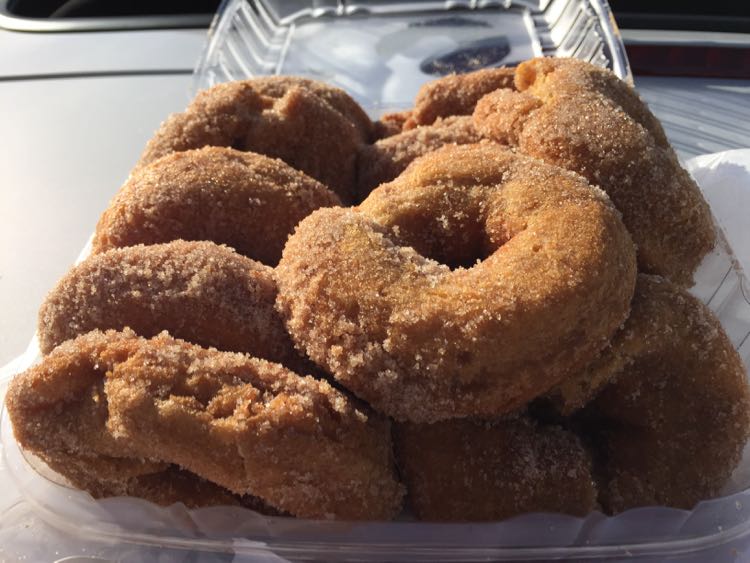 While we love a Shenandoah National Park day trip from the DC area, there is certainly much more to do both inside and outside the park. If you can, extend your trip and stay overnight. There are lodges and several campgrounds inside the park, and many more to the west in Shenandoah Valley. These articles will help in planning a longer trip:
The Central District is our favorite area to explore on a Shenandoah National Park day trip. There is so much to see and do along Skyline Drive that we return frequently to try new trails and enjoy the changing seasons.
Learn more and follow Shenandoah National Park: web | Facebook | Twitter | Instagram
Follow Fun in Fairfax VA on Facebook, Twitter, Pinterest, and Instagram for more great hikes, places to visit, and things to do in Virginia and the mid-Atlantic.