Here are 25 perfect picnic spots in Northern Virginia for large group gatherings, family fun, and romantic outings near Washington DC. Our big list includes everything from free picnic areas to special occasion rentals in Northern VA.
Gather friends and family at one of the most popular free parks in the region. Celebrate Mother's Day, Father's Day, or a birthday at a rental pavilion. Take your love for a short hike to a cozy and romantic picnic spot. Whatever your goal, you'll find a diverse selection of picnic spots and vibes below.
Northern Virginia picnic areas are listed below in no particular order. Follow the links for more park and destination details. You'll also find rules that are common to most of the parks on our list and links to rental facilities at county and regional parks.
Disclosure: This article may contain affiliate links. We will make a small commission from these links if you order something, at no additional cost to you.
Lake Fairfax Park, Reston
Lake Fairfax Park is one of the best picnic spots in Northern Virginia for large groups. The park boasts a large, shady picnic area with lots of tables spread among the trees. The main picnic area at Lake Fairfax is free, and there is no entrance fee to the park.
On weekends, the free picnic area fills with diverse groups of families, friends, and neighbors. Scouts arrive early to claim and decorate a group of tables. The picnic area is close to a playground and a small stream, and there is free parking nearby.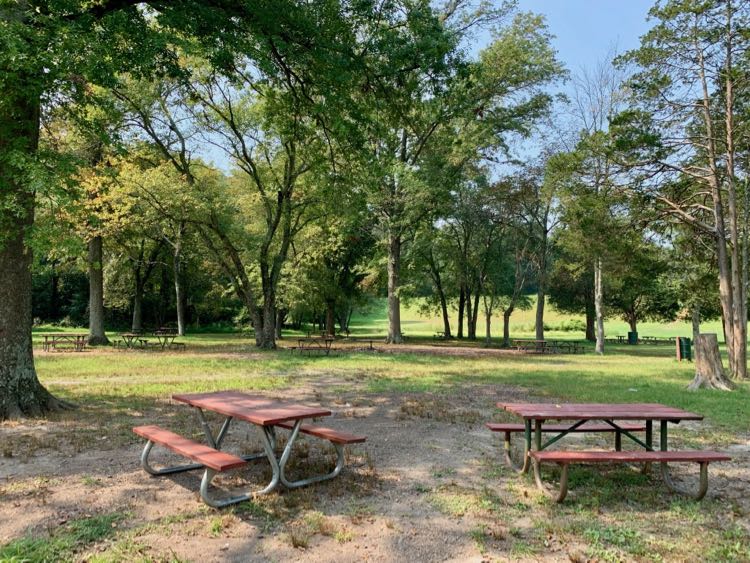 In addition to the free picnic area, Lake Fairfax offers a huge collection of rental pavilions and picnic areas for small, medium, and large groups. Some of the best pavilions overlook the lake and are close to the marina and the Watermine Waterpark. There are additional pavilions for groups near the park entrance and across from the free picnic area.
Planning a weekend adventure? Lake Fairfax also has one of the best campgrounds in Northern Virginia.
Great Falls Park, Great Falls
One of the more popular Northern Virginia picnic spots is Great Falls Park. Here, park visitors can claim a picnic table with a grill near the Visitor Center. Trees provide shade and restroom facilities are close by.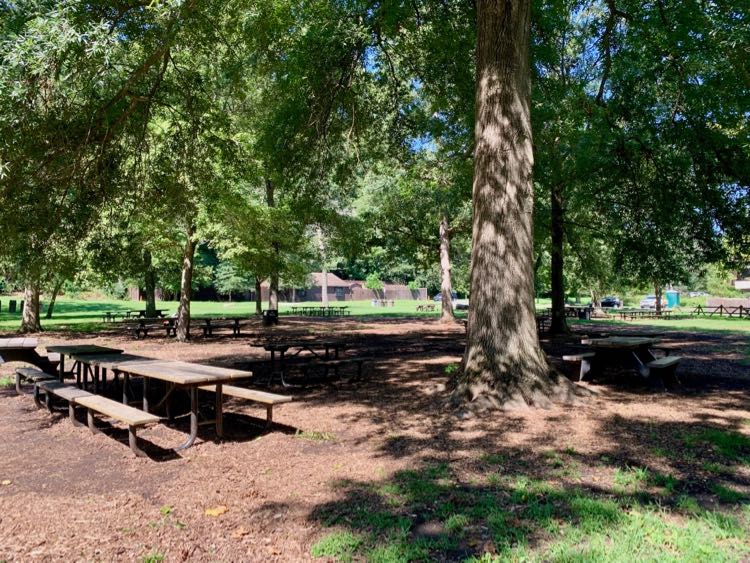 Additional picnic tables, minus the grill, are spread around the field near Overlook 3. Park at the lower parking area for closer access to this field (turn right just after the entrance). This is a good option if you have a cooler to carry and don't need a grill because parking is not far from the tables.
All picnic tables at Great Falls Park are first come first served and there are no covered pavilions. These picnic spots are inside the park boundaries so you will have to pay the entrance fee or show your National Park Pass.
Burke Lake Park, Fairfax Station
Burke Lake is another of the best parks for picnics in Northern VA. The park is a favorite destination for hiking, biking, fishing, and boating. Plus, there are lots of fun things to do with kids at Burke Lake, like a miniature train, carousel, and mini-golf.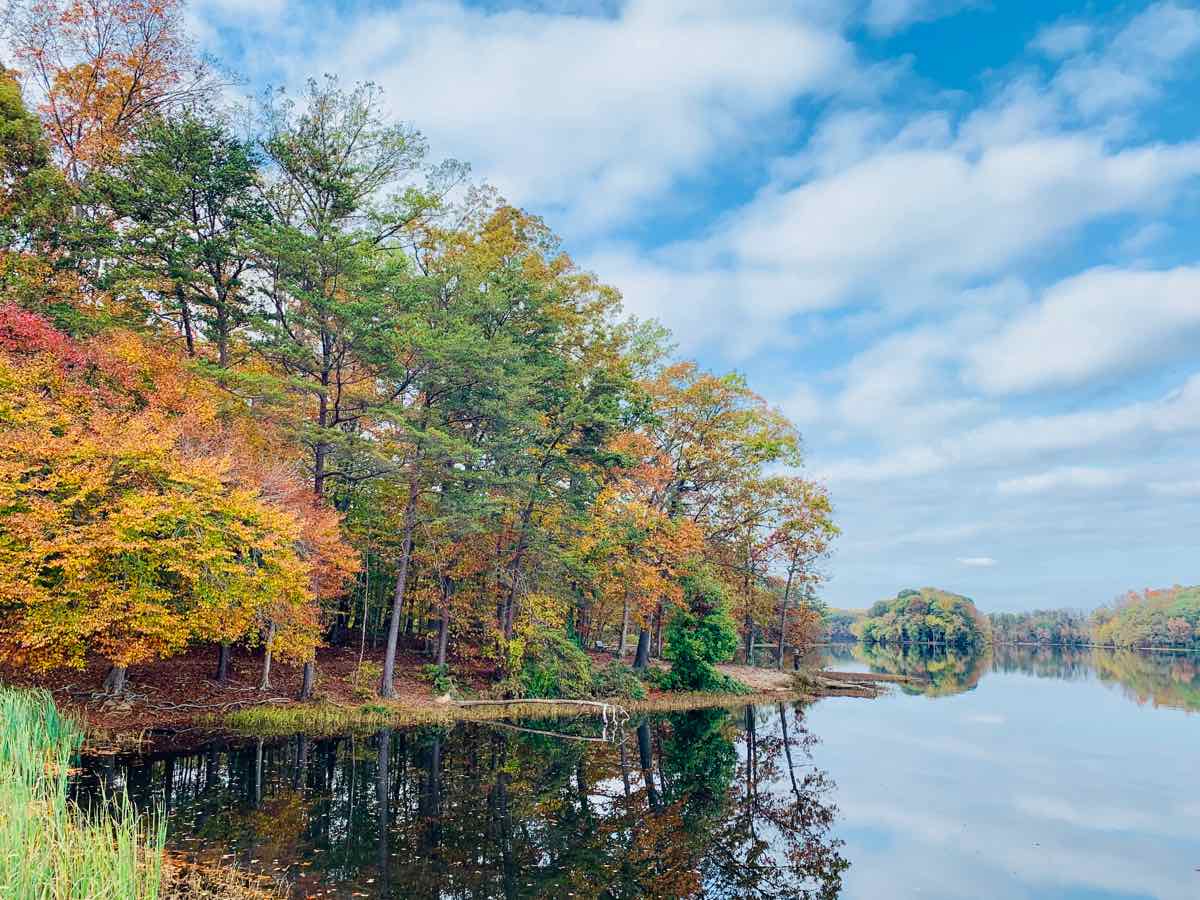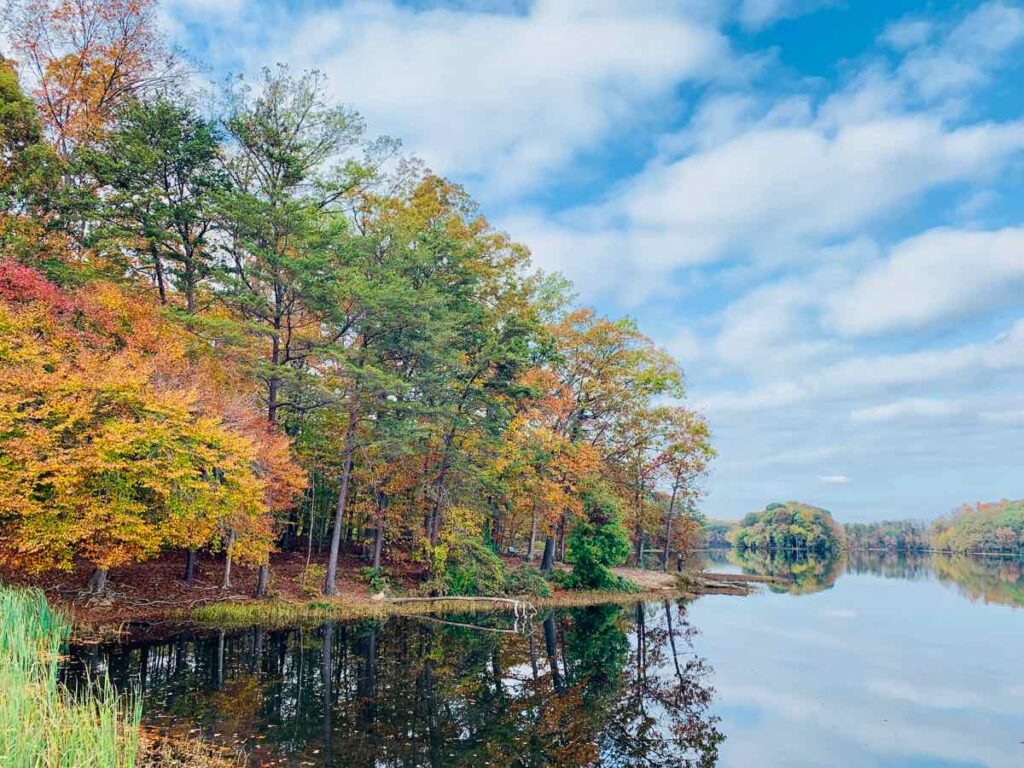 There are three picnic areas at Burke Lake and all have picnic tables with grills and parking close by. Most of the tables are spread under the trees, offering a nice shady spot on a summer day.
Burke Lake Picnic Areas 2 and 3 are closest to the marina and lake, while Area 1 is a little further back. In addition, there are several rental pavilions available, and picnic area 2 can be rented for up to 100 people.
To reach the Burke Lake Park picnic spots, head toward the marina, and turn right toward the sand volleyball courts. Burke Lake Park is free to Fairfax County residents. Non-residents pay a $10 per car entry fee on weekends (no fee on weekdays).
Lake Accotink Park, Springfield
Lake Accotink is another pretty Fairfax County lakefront park with trails, a marina, and other family-friendly amenities. An easy 3-mile trail around Lake Accotink is popular with hikers, dog walkers, and cyclists.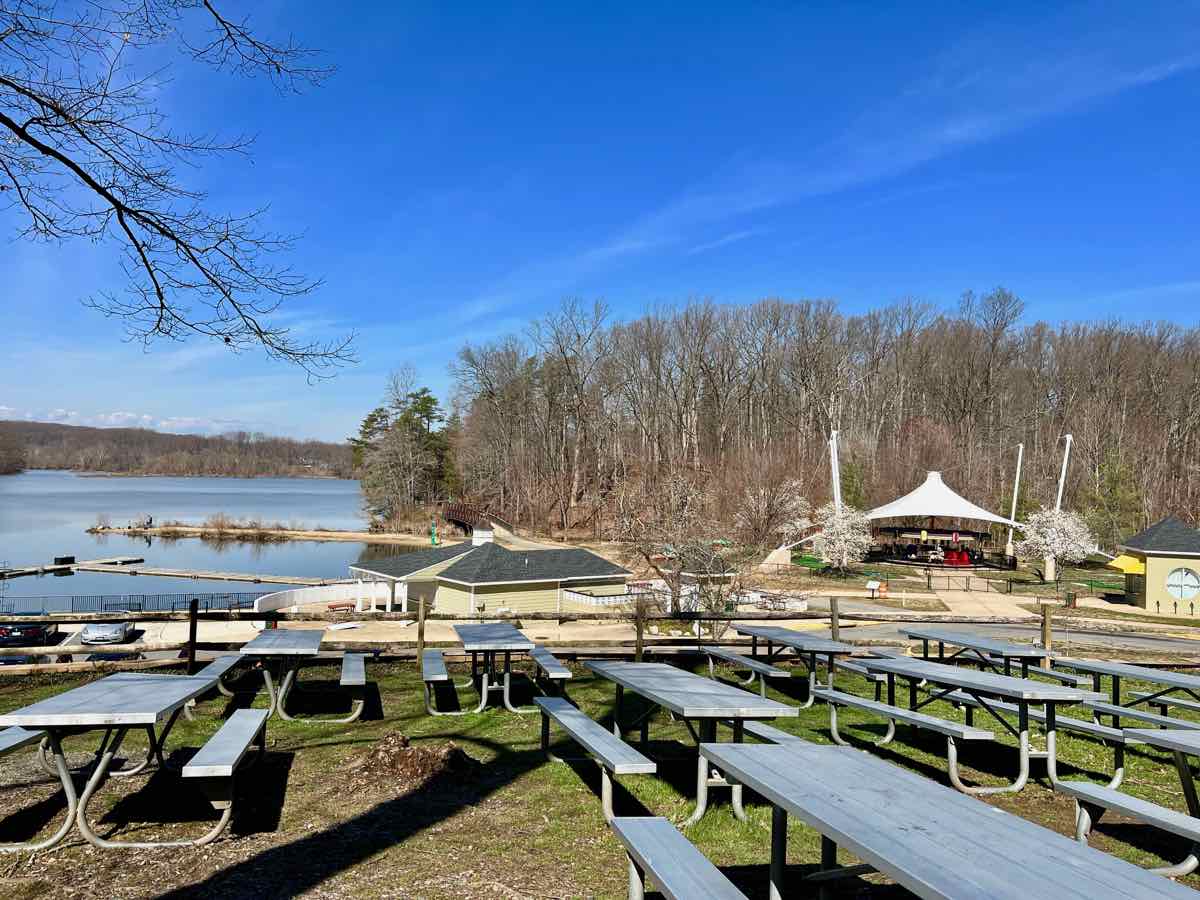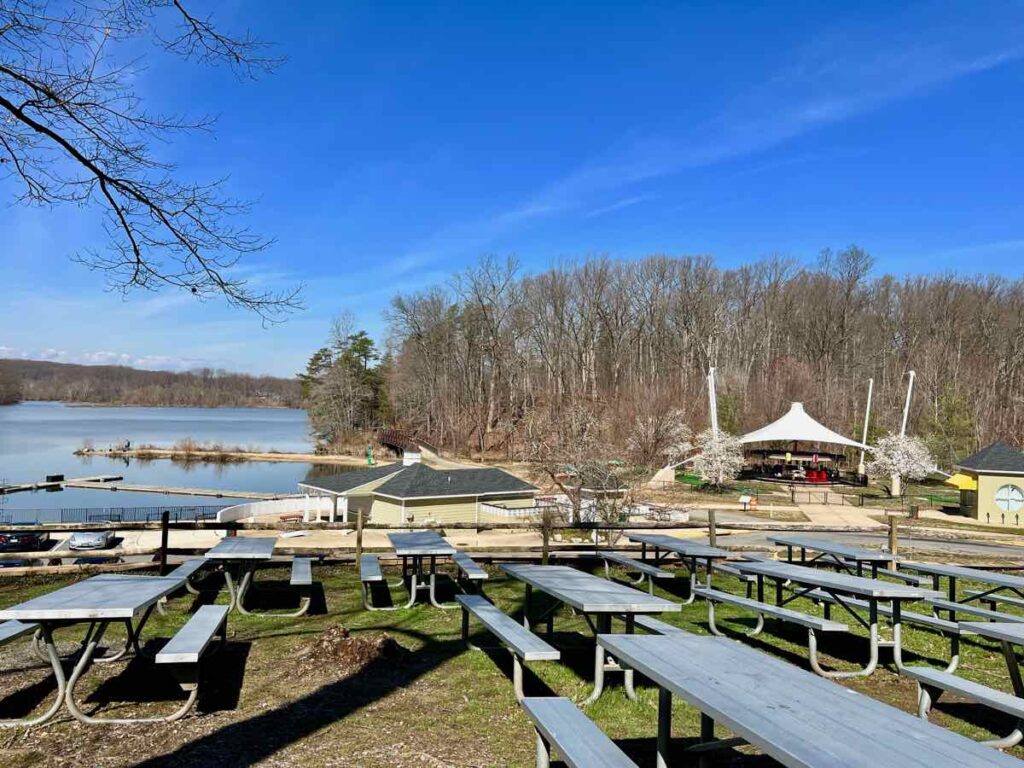 There is a large first come first served picnic area set uphill from the lake. In addition, Lake Accotink has 4 picnic areas and 3 covered shelters available for rent. Two of the shelters are at the top of a hill with pretty lake views, while the large McLaren Shelter is further from the lakefront.
Waterfront Parks, Old Town Alexandria
A string of parks on the waterfront offers several great picnic spots in Old Town Alexandria. There are a few picnic tables in Waterfront Park, but you'll want to spread a blanket or grab a bench in most of the parks. Here are a few spots to set up:
Founders Park has lots of open lawn surrounded by pretty gardens and plants.
Oronoco Bay Park has even more open green space plus a few benches.
Waterfront Park offers swinging or fixed benches, a few picnic tables, and a lawn.
Shipyard Park has a few benches and there is open space and a big playground across the street at Windmill Park.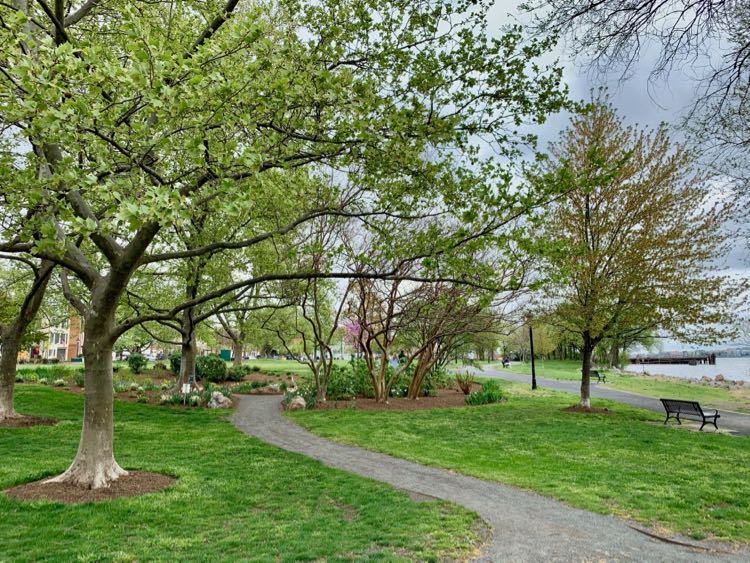 Parking can be tricky in Old Town so be prepared to carry your picnic from wherever you park. Better yet, travel light and pick up a takeout meal from one of the many Old Town restaurants.
Jones Point Park, Alexandria
Just a mile south of Old Town's Waterfront Park, picnicking is just one of many fun things to do in Jones Point Park. Choose a spot near the Potomac and you'll have impressive views of the river and the Woodrow Wilson Bridge. Or relax on the lawn near the historic lighthouse.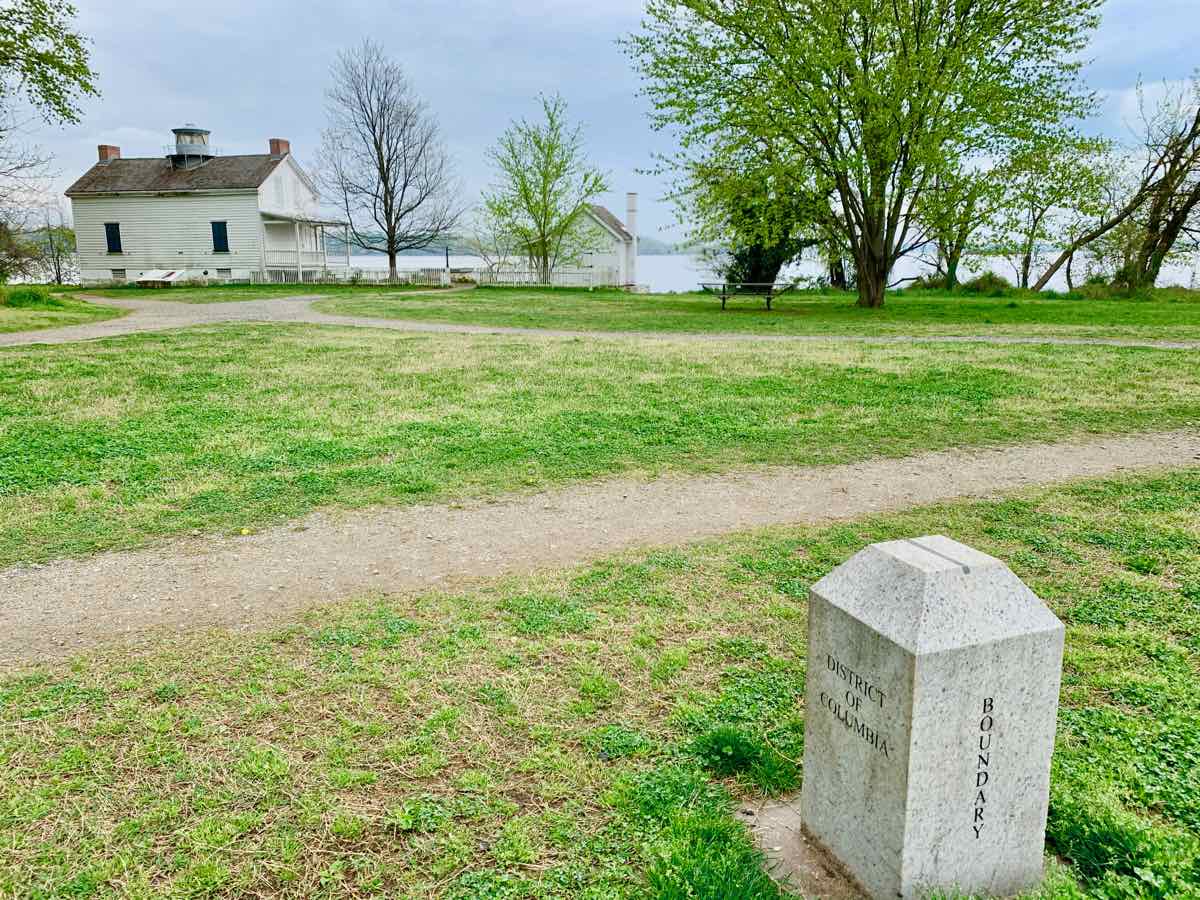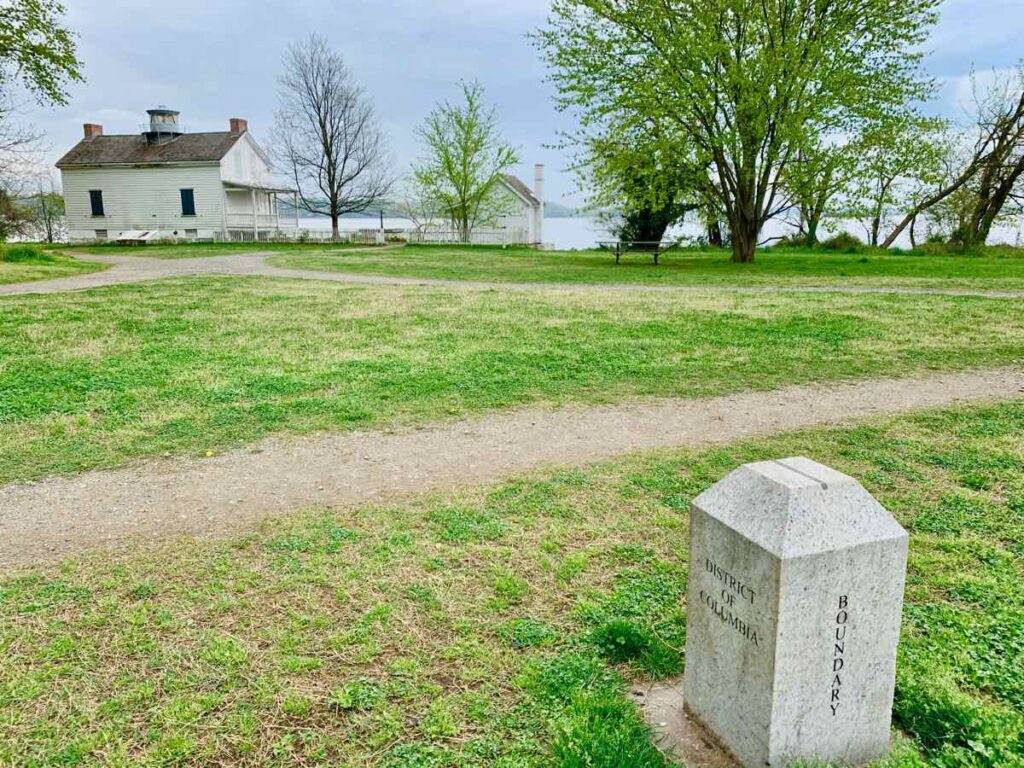 Jones Point Park has two nice playgrounds, a large paved area where young kids can practice their biking skills, and nice trails. The area has a fascinating history explained via signs and displays on an Interpretive Trail.
Riverbend Park, Great Falls
Picnic spots at Riverbend Park are small, but they are in a nice location close to the Potomac River and the Visitor Center. You have a few choices for picnicking at Riverbend:
There are several picnic tables near Riverbend's lower parking lot.
A few more tables are located between the Visitor Center and the river.
Adirondack chairs on the Visitor Center deck are a lovely spot to enjoy a snack with a view. The chairs are located on entrance stairs though, so they are not a good choice for families with young kids.
There are two rental picnic pavilions and a seasonal tented picnic area.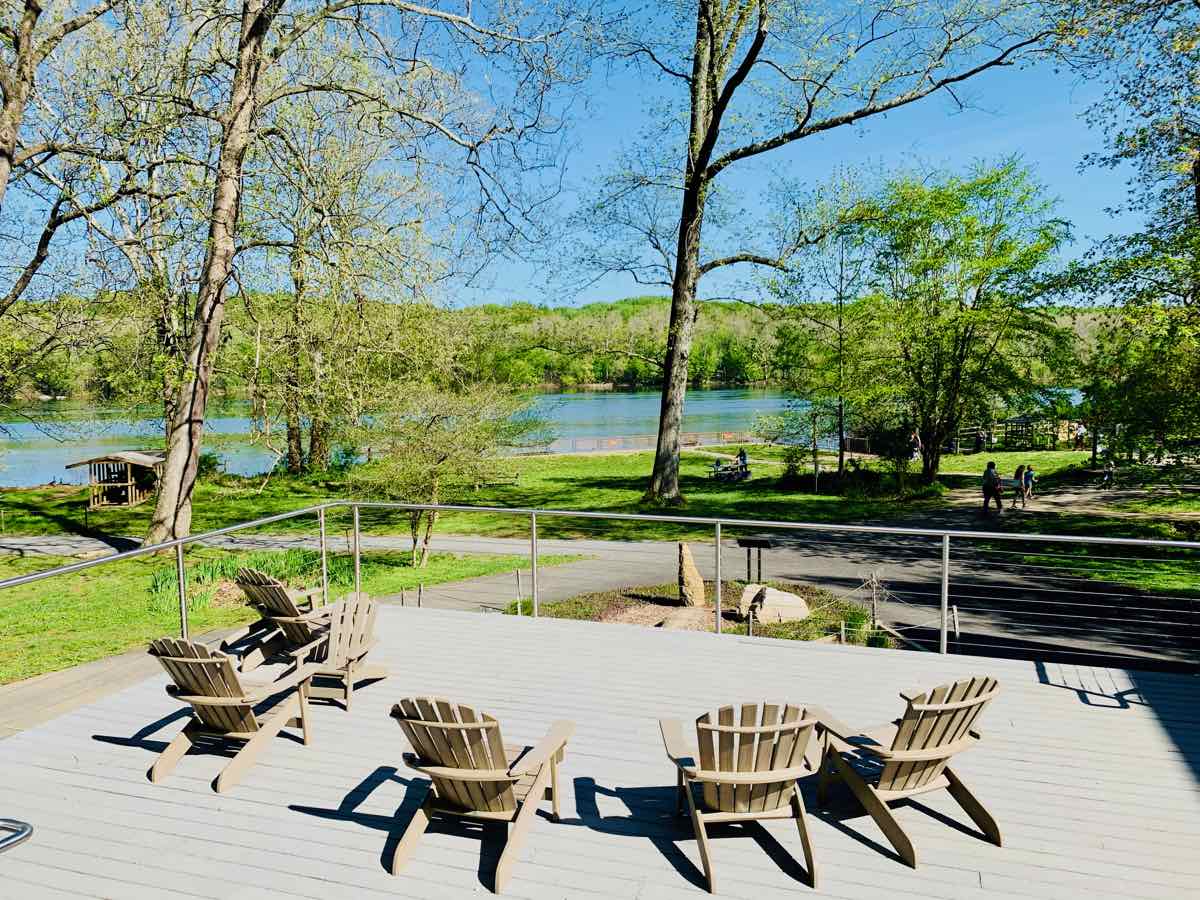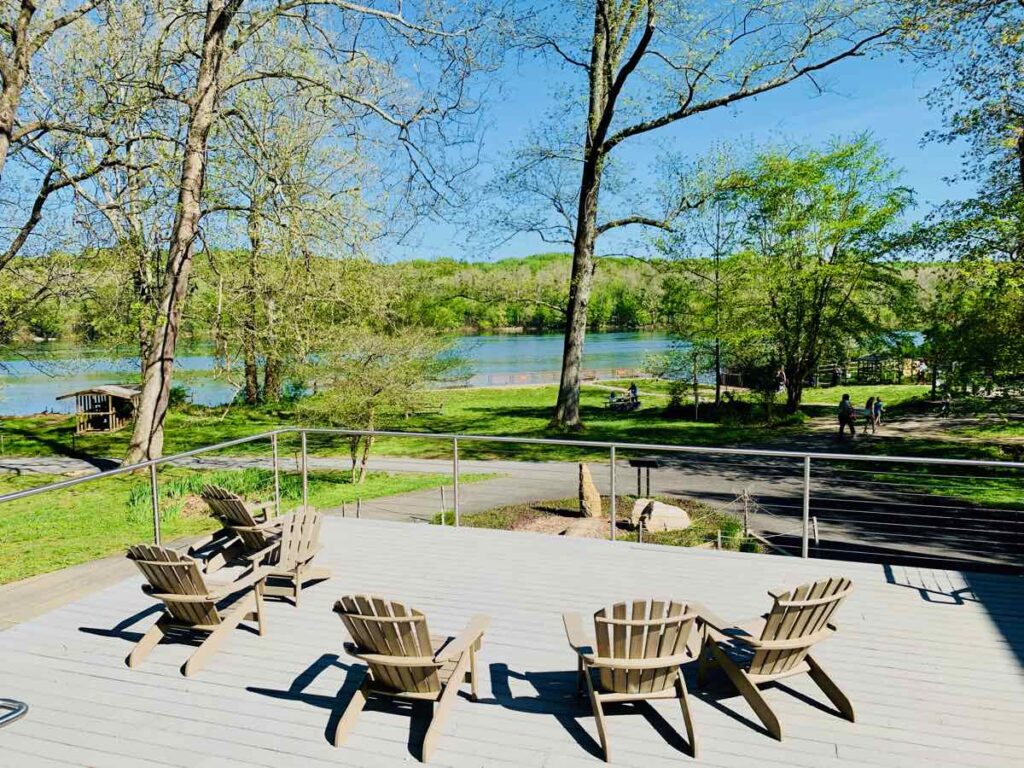 Riverbend Park is home to one of the prettiest nature trails in Northern Virginia, especially when bluebells and spring wildflowers are blooming in late March and early April.
Meadowlark Botanical Garden, Vienna
One of the most beautiful botanical gardens near Washington DC is also a pretty spot for a picnic. Note that picnicking is not allowed inside Meadowlark Botanical Gardens, so plan to eat before or after you enter the garden.
A few picnic tables and a grassy area near the Meadowlark parking lot offer visitors a spot to eat outside the garden grounds. There are also several benches on the fruit tree-lined path nearby. These benches are a nice spot to relax before you enter the gardens.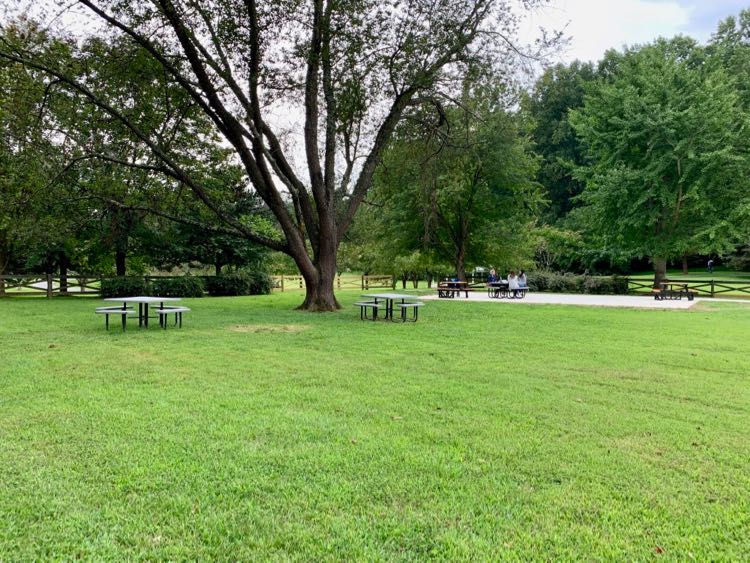 Want to combine a bike ride and a picnic? The Meadowlark Connector Trail links the botanical garden to the Washington and Old Dominion Bike Trail. The connector is a sometimes steep, 1.25-mile paved path that leads directly to the Meadowlark parking lot. The connector trail is also a pretty place to see late-blooming cherry blossoms in April.
Frying Pan Farm Park, Herndon
Frying Pan Park is one of the most family-friendly parks in Northern Virginia, and it's a wonderful place to picnic with kids. There are a few nice picnic spots at Frying Pan Park.
Picnic tables near the farm store are close to the carousel, restrooms, and parking lot.
There is a small group of picnic tables near the Kidwell Barn, close to an adorable play area with kid-sized tractors.
A larger and quieter picnic spot is behind the equestrian barns at the back of the parking area. Our kids loved playing on the rocks here and there is a huge tree that keeps this area shady on a summer day.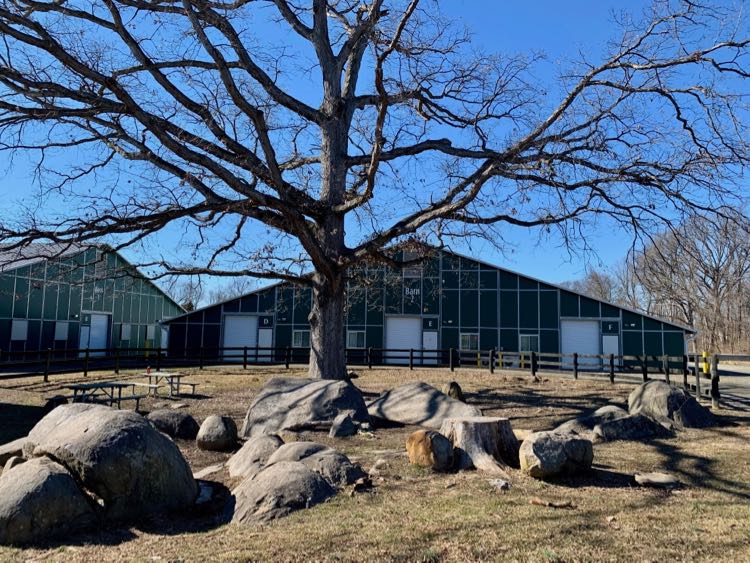 All of the Frying Pan Farm picnic spots are free, but consider putting some money in one of the donation boxes. Donations help volunteers take care of the farm's many animals.
Find more family-friendly Things to do in Herdon VA.
Lake Thoreau, Reston
There is a surprisingly cute place to picnic hidden at the edge of Lake Thoreau in Reston. Comfortable chairs and a few tables are tucked into a corner of the South Lakes Shopping Center, between Cafesano and Red's Table.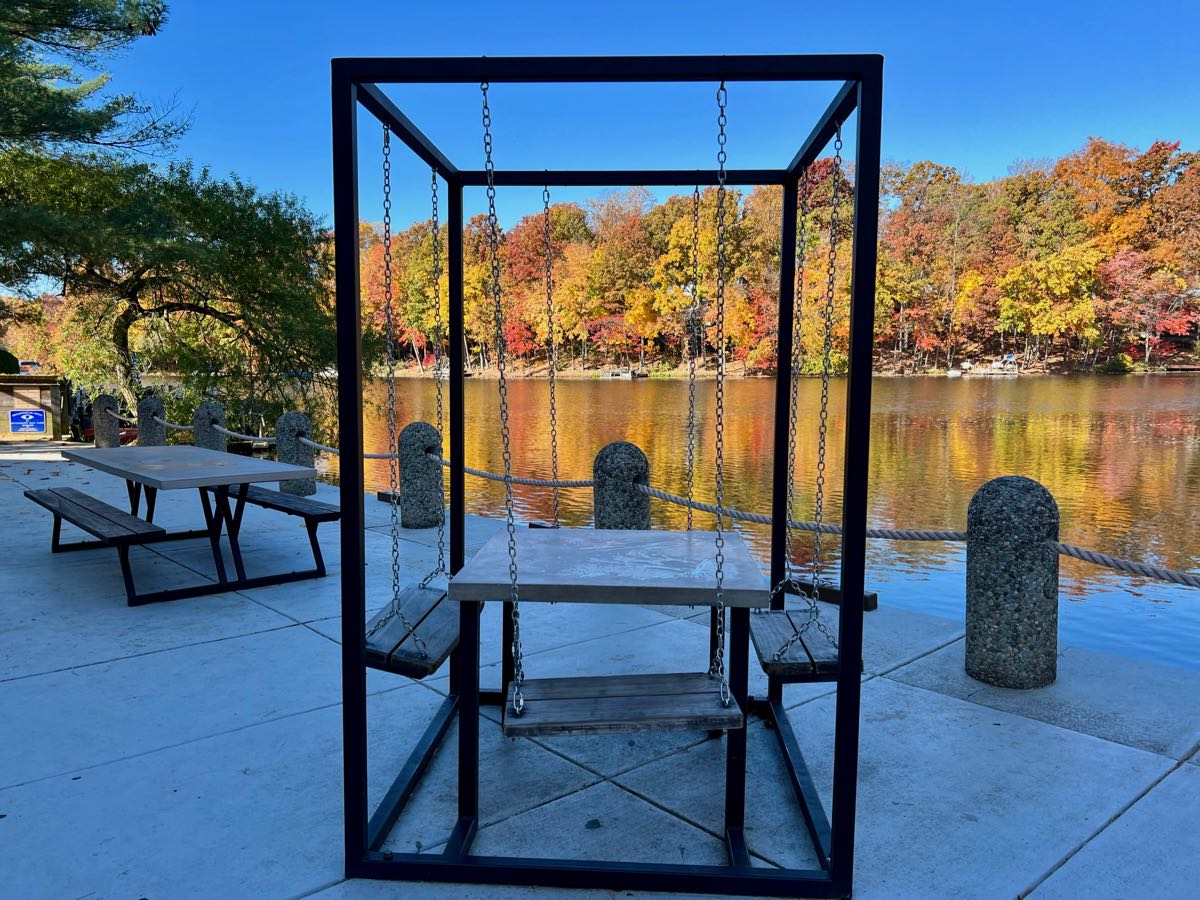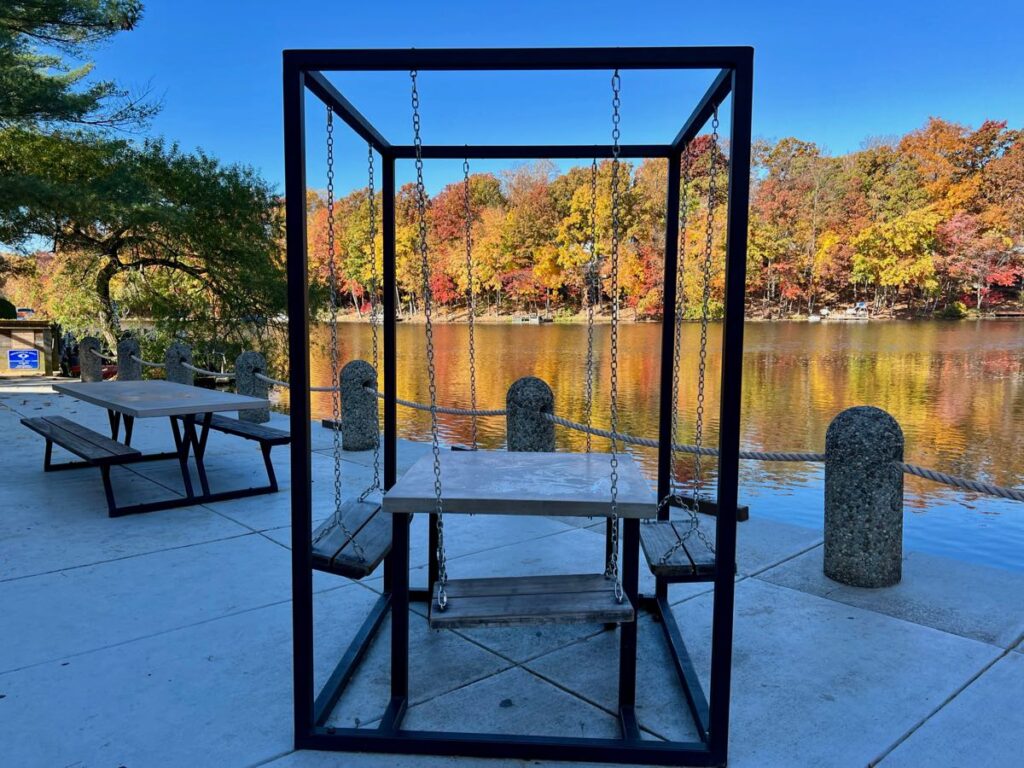 Pick up takeout from one of the South Lakes restaurants, then choose your spot on one of three, tiered sitting areas by the lake. Our favorite spot is a table with hanging chairs at the edge of the lake, but the upper levels chairs are very comfortable too.
Find more great Urban Plazas and Green Spaces in Northern Virginia.
Occoquan Regional Park, Lorton
Enjoy hiking, boating, fishing, athletic fields, and fascinating history when you picnic at Occoquan Regional Park. The park is stretched along the banks of the Occoquan River at the southern edge of Fairfax County and is free to enter.
Set up your picnic by the long dock with riverfront benches (near the boat ramp). Or spread a blanket in one of the open fields where kids will have lots of room to run around. There are also 3 picnic gazebos and a larger covered shelter available for rent at Occoquan Park.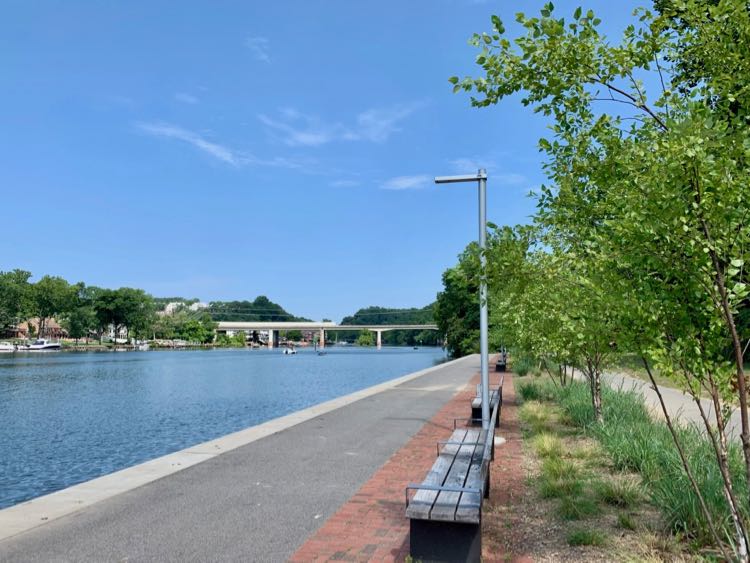 If you don't want to pack your own food, pick up a takeout meal from the Brickmaker's Cafe. Of course, you could also enjoy your meal on the cafe's pretty patio overlooking the river. Wherever you eat, allow time to visit the Women's Suffragist Memorial and learn about the long struggle for women's right to vote.
Wolf Trap National Park, Vienna
With over 150 picnic tables spread throughout the park, Wolf Trap National Park certainly has plenty of picnic spots to choose from. Fortunately, these picnic tables are open to the public, with free parking nearby, until 2 hours before showtime.
Despite the plethora of tables, this park is an often overlooked choice, except on concert days. In fact, in 25 years of looking for Northern Virginia picnic areas near me, I didn't consider Wolf Trap until recently.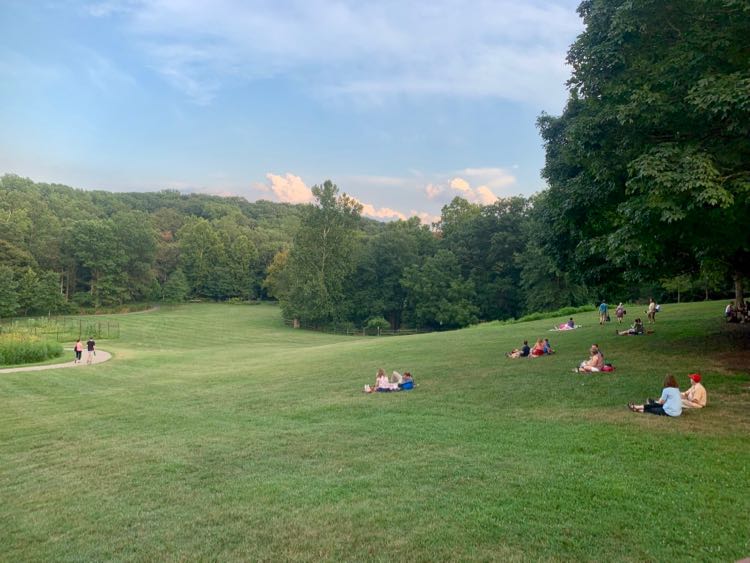 The largest group of picnic tables at Wolf Trap sit at the top of a sloping lawn—a lovely option if you prefer blankets to tables. Other tables are grouped at the edge of parking lots and there are a few near woodland trails.
Add a hike to your picnic: 2 Scenic Wolf Trap Trail Hikes in Vienna Virginia.
To reach the hilltop tables, head to the parking area near the Ovations Restaurant. This puts you close to the tables and there are restrooms nearby. If the Ovations area is closed due to an upcoming show you'll need to park at the bottom of the hill and walk up.
Note that there are no grills or fires allowed and groups of 25 or more are asked to contact the park (703-255-1827) for more information.
Algonkian Regional Park, Sterling
Another good choice for free picnic areas is Algonkian Regional Park in Sterling. Most of the picnic tables are located near the Potomac River, so you'll have a nice spot to hike and play.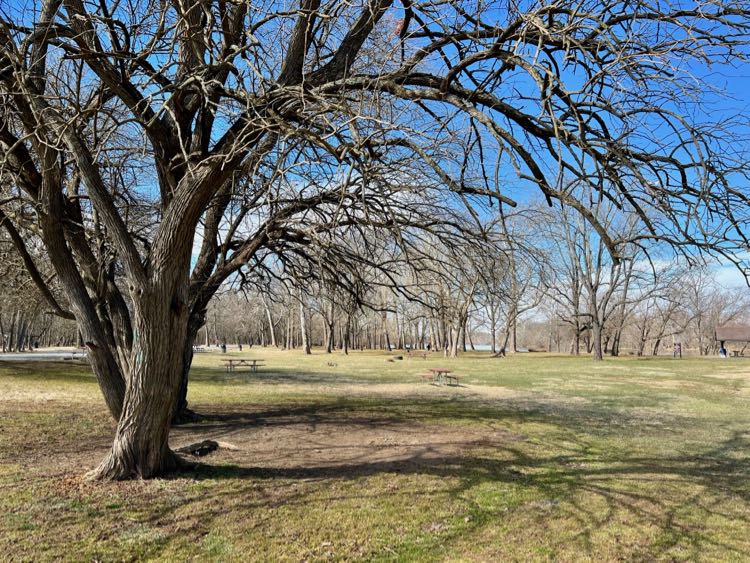 There are also a few picnic tables near the Volcano Island Waterpark. This is a good picnic area for families because it is next to a large playground and there are restroom facilities nearby. However, these tables are not close to the river and the area could be crowded if there is a group using the large pavilion.
In addition to the free tables, Algonkian Park offers several rental pavilions for small groups and one large pavilion for up to 200 people. There are more rental shelters inside the waterpark. Algonkian does not charge an entrance fee and parking is free.
Chapman de Mary Trail, Purcellville
Looking for more fun Loudoun County places to picnic with kids? You'll find a cluster or round picnic tables at the start of the Chapman de Mary Trail, one of the fun places to visit in Purcellville.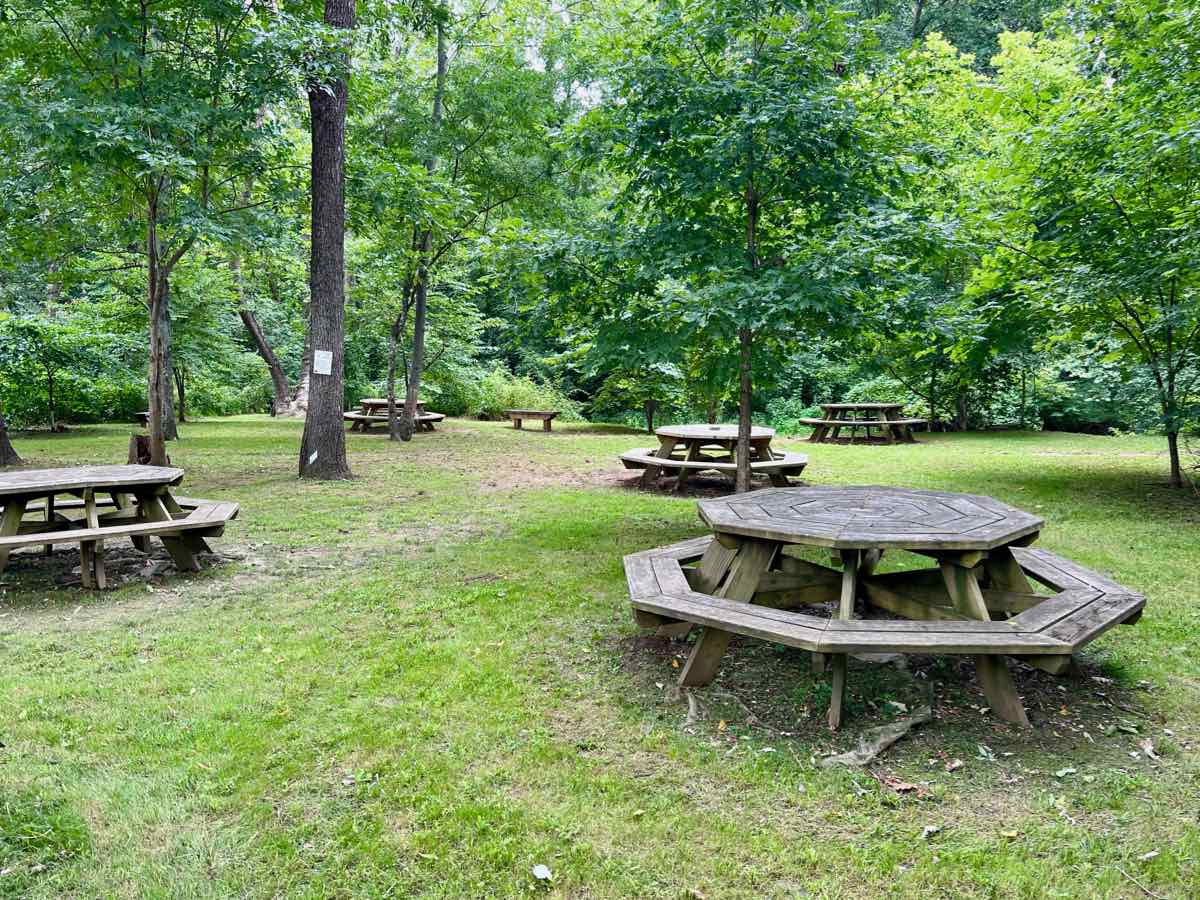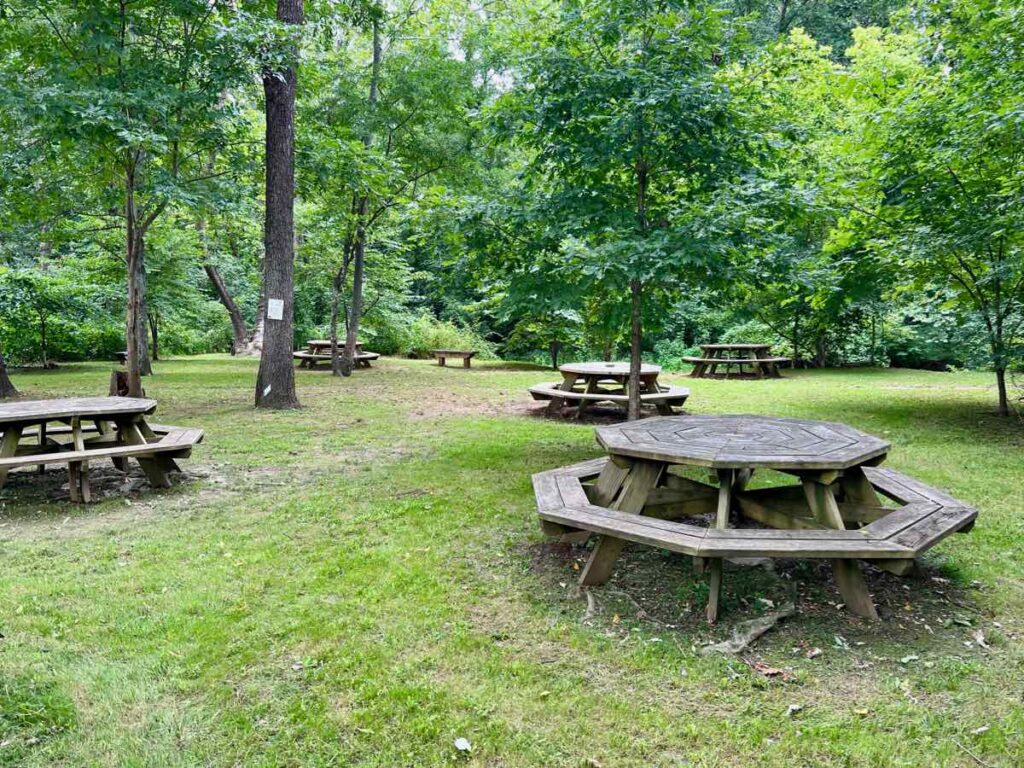 Combine your picnic with an easy walk on the trail. Here kids can learn about the nature in the park. Informative signs are geared to young naturalists and there is a pretty butterfly garden to explore.
On the other side of town, Franklin Park has several nice picnic tables near a small pond. In downtown Purcellville, there are picnic tables behind Fireman's Field, shaded by pld growth White Oaks.
River Mill Park and Public Dock, Occoquan
Historic Occoquan is one of the prettiest small towns in Northern Virginia, and it's a lovely place to dine and shop. Happily, you can create a delicious picnic with takeout from one of the town's many restaurants and shops.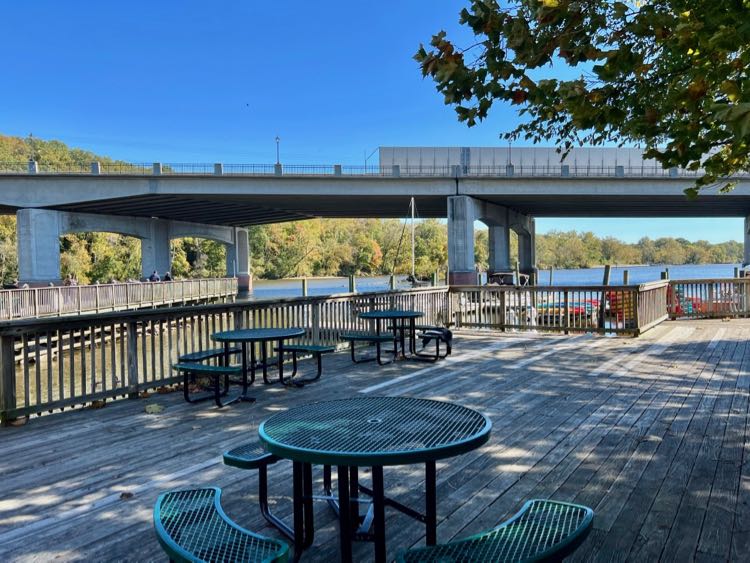 There are two nice picnic spots in Occoquan:
Three picnic tables are clustered on the dock behind the gazebo in Mamie Davis Park. Here you can picnic with a nice view of the Occoquan River.
Or bring a blanket and head to the spacious lawn at River Mill Park for more pretty river views.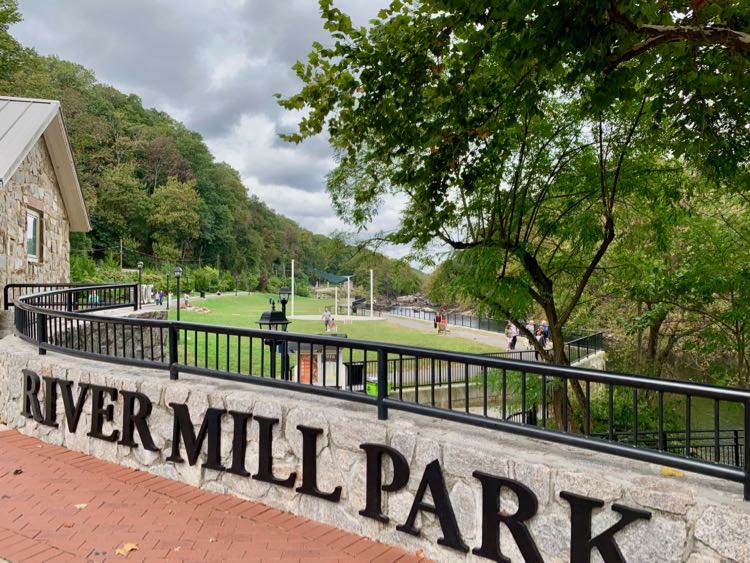 Conway Robinson State Forest, Gainesville
The Conway Robinson Forest is a pleasant spot to enjoy a pretty woodland hike and a picnic. There are several picnic tables near the entrance parking lot, some with grills. All of the park trails are open to mountain biking so this is a good spot for a picnic and ride.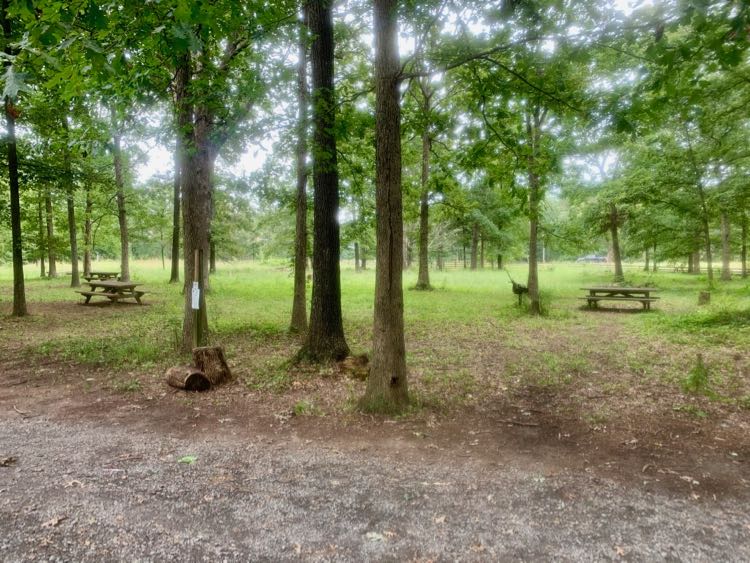 Note that there are no restrooms and no trash facilities at Conway Robinson. Be prepared to pack out all of your trash.
Prince William Forest Park, Triangle
One of the hidden gems in Northern Virginia, Prince William Forest is an excellent place to hike, bike, and of course, picnic. This is a great option for a picnic stop close to Route 95, especially if you have a National Park Pass.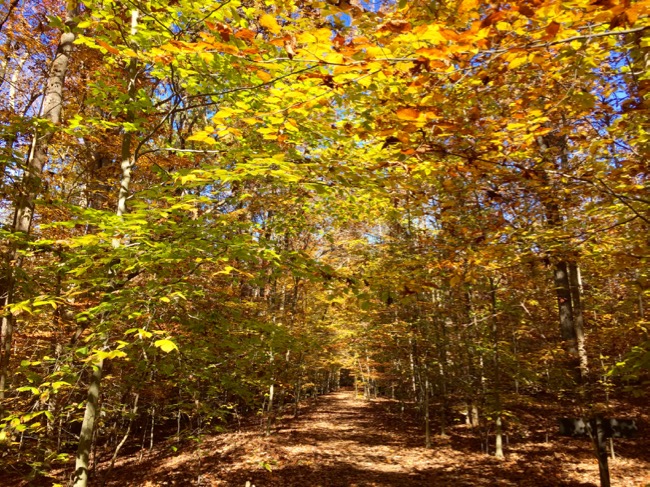 Pine Grove is a large first come first served picnic area with tables and grills close to the park visitor center. This area also puts you close to restrooms and a playground. Alternatively, there is a small group of picnic tables without grills next to parking lot E on the Scenic Drive.
Large groups can rent the Telegraph Picnic Pavilion, which has 12 tables including 6 that are wheelchair accessible. The pavilion is located a short drive from the Visitor Center and is also close to restroom facilities.
Turner Pond at Sky Meadows, Delaplane
Sky Meadows State Park is home to excellent hiking, interesting history, and a small, scenic picnic area. A few picnic tables next to Jordan Pond offer a quiet spot to eat after a hike or a little fishing. There are also picnic areas near the historic area and the Rolling Meadow Trail.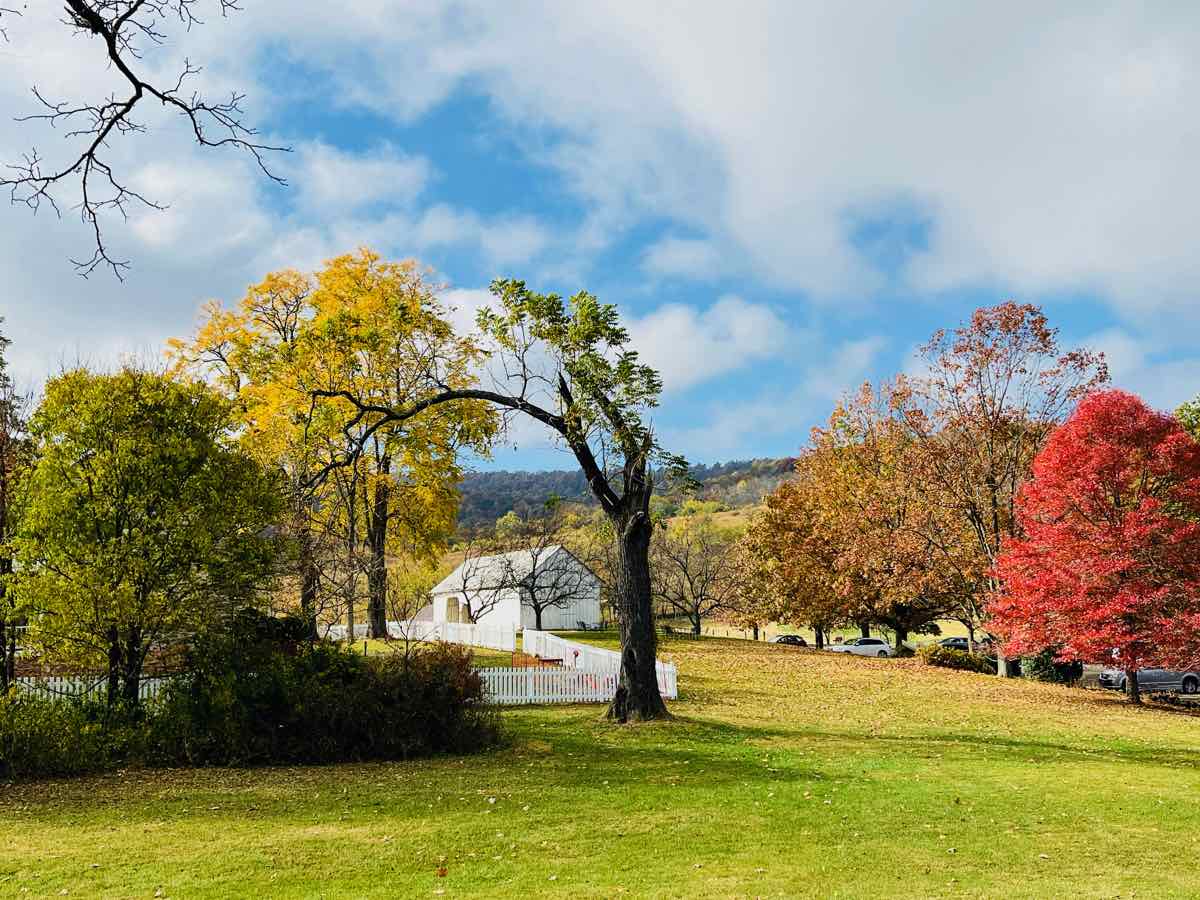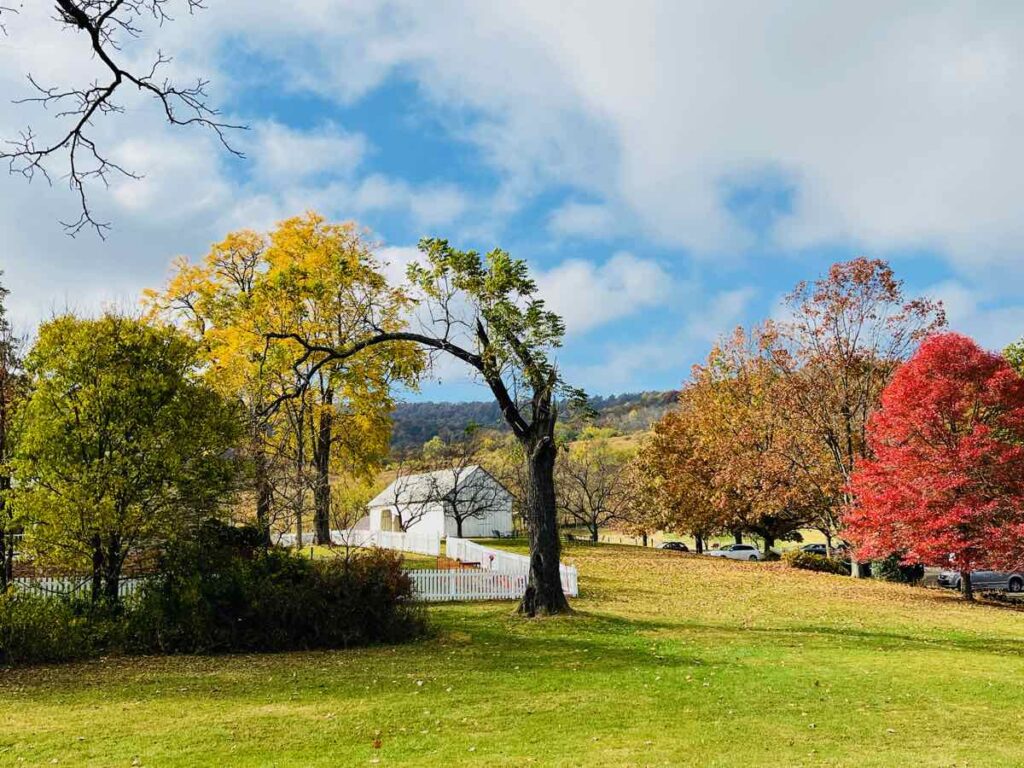 Sky Meadows Park also rents 1 parking shelter and 1 uncovered pad with 10 picnic tables (click for rental info). Visitors pay a $5 entry fee to reach all of the picnic areas.
Theodore Roosevelt Island, Arlington
There are no picnic tables on Theodore Roosevelt Island, but the plaza at the top of the island is a pretty picnic spot on a warm day. There are several benches at the plaza and on the Swamp Trail boardwalk where you can stop for a snack. Note that there are no open fields on the island, so it's not a good spot for blankets.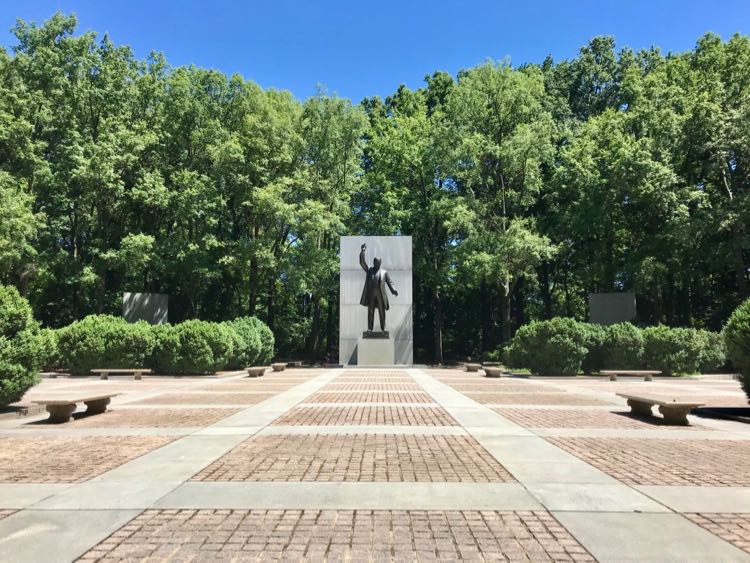 One of the most unique picnic spots in Northern Virginia sits next to the Potomac River just north of Reagan International Airport. At Gravelly Point, picnickers can feel the roar of planes right overhead as they take off and land at the airport. This is a picnic area for drama, not quiet.
Gravelly Point has a few picnic tables and plenty of lawn space to spread your blanket and for kids to run around. Enter Gravelly Point from the George Washington Memorial Parkway driving northbound, just above the airport.
More Romantic Picnic Spots in Northern Virginia
It can be hard to find romantic picnic spots at large and well-known parks and picnic areas. But with a short hike and a little effort, you can find a romantic place for a picnic away from the crowds.
Check our guide to Romantic Places in Northern Virginia to find these DC area picnic spots for couples: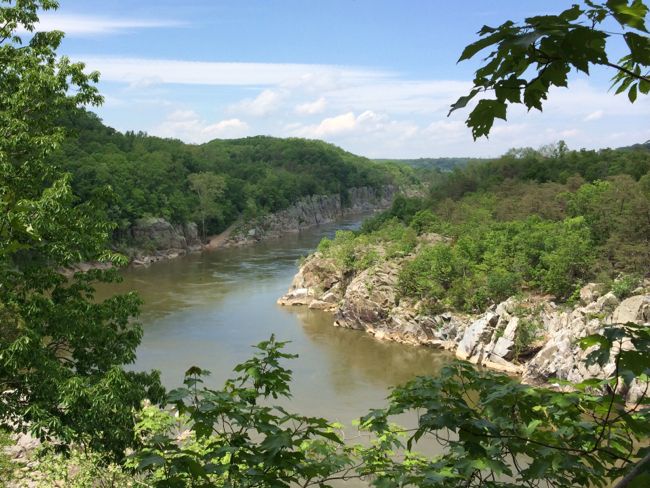 We can't guarantee you'll have the space to yourself, but these spots are generally less busy than the large park picnic areas. However, warm weekends bring out the crowds so visit on a weekday if you can.
Bonus: Sugarloaf Mountain, Maryland
While it is not located in Northern Virginia, we have to give a shoutout to the picnic areas at Sugarloaf Mountain in Maryland. The Sugarloaf picnic areas are accessible by car, about 2/3 of the way up the mountain, and the rocky summit is a favorite picnic spot.
Park in the East View lot and picnic tables are just a few steps away. This is a fantastic picnic area for people with limited mobility since parking is close and the view is fantastic.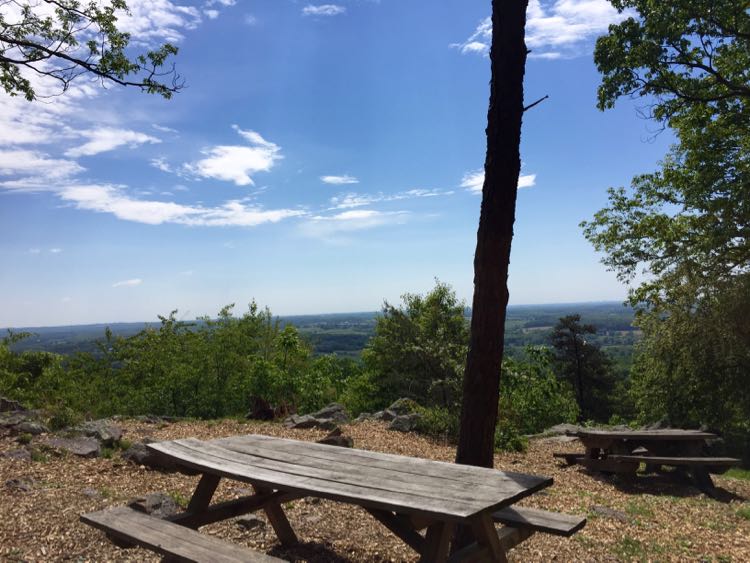 Tips and Resources for Northern Virginia Picnic Spots
Rules and regulations vary by park, but these rules generally apply:
Properly dispose of everything you bring to your picnic. Park trash cans can fill up quickly, so be prepared to pack out everything you bring. It's essential that we all pitch in to keep natural places and parks clean and beautiful.
Confetti, silly string, balloon releases, pinatas, and similar items are not allowed since they contribute to litter.
Alcohol is prohibited at all of the unreserved picnic areas on our list. Some parks offer alcohol permits at rental sites.
Leashed dogs are permitted at most parks and picnic spots.
Inflatables, tents and canopies, and organized events are generally prohibited.
Visit the Fairfax County rental website to search for and reserve picnic shelters and pavilions. Here you will find details on capacity, amenities, rules, and availability for Burke Lake, Lake Fairfax, Lake Accotink, Riverbend, and other county sites. Visit the Fairfax County Park Authority website for more information about county-managed parks.
Visit the NOVA Parks rental facilities website for details, rules, and reservation info on regional park facilities including Algonkian and Occoquan Regional Parks. Visit the NOVA Parks website for information on all Northern Virginia Regional Parks.
Whether you gather a group or choose a cozy bench for two, there are perfect picnic spots for every outing in Northern Virginia. Happy picnicking!
Follow us on Facebook, Twitter, Pinterest, and Instagram for more fun travel in and from Northern Virginia.
Pin it for later: