Memorial Day Weekend events in Northern Virginia honor the fallen with ceremonies and salutes. The long weekend also kicks off the summer with festivals and fireworks. Our guide to Memorial Day weekend events in Northern Virginia covers activities in and near Alexandria, Arlington, Fairfax, Loudoun, and Prince William Counties.
2020 Update: All of the annual Memorial Day activities listed below are canceled in 2020 due to health restrictions.
Events are listed in two sections. First are Memorial Day events in Northern Virginia that salute the brave men and women who paid the ultimate sacrifice in service to our country. The second section highlights events during the three-day weekend that mark the unofficial start of summer with pool openings and festivals. Follow the links for additional details about each event.
Memorial Day Weekends Events in Northern Virginia Honor the Fallen
Annual events at National Park sites and local towns honor our nation's fallen. Gather to remember and salute the brave heroes who gave all for their country at these Memorial Day weekend events in Northern Virginia.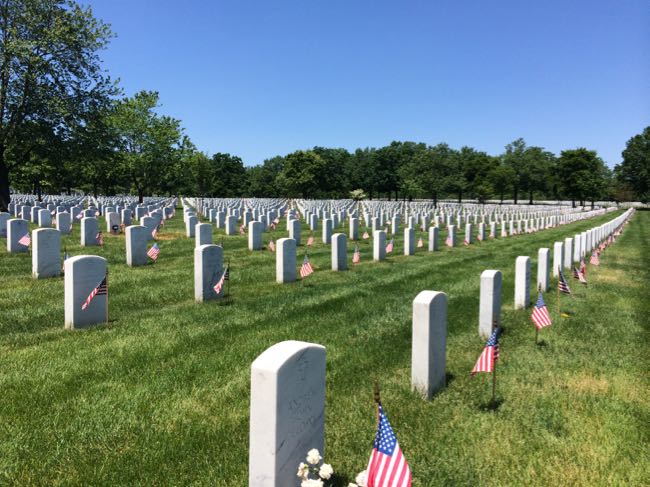 "Flags In", Arlington National Cemetery, May 23
For more than 60 years, the 3rd U.S. Infantry Regiment (The Old Guard) has honored America's fallen heroes by placing American flags at grave sites for service members buried at Arlington National Cemetery and the U.S. Soldiers' and Airmen's Home National Cemetery the Thursday before Memorial Day weekend. Within four hours, the soldiers place flags in front of more than 228,000 headstones and at the bottom of about 7,000 niche rows in the cemetery's Columbarium Courts and the Niche Wall. It's an incredibly moving sight, and a popular time to visit. This tradition begins at 2:00 pm. Visitors may watch, but do not participate in placing flags.
Wreath Laying Ceremonies, Arlington National Cemetery, May 27
Many military organizations conduct annual memorial services, wreath laying ceremonies, and observances at Arlington during the Memorial Day weekend. All ceremonies and special events are free and open to the public.
The National Memorial Day Observance to honor America's fallen military service members is scheduled for Monday, May 27 at Arlington National Cemetery. The observance includes wreath-laying at the Tomb of the Unknown Soldier, and an observance program in the Memorial Amphitheater.
The Women In Military Service For America Memorial, located at the gateway to Arlington National Cemetery, will hold a ceremony that includes formal military honors, a keynote address, wreath-laying, and scattering of rose petals in tribute to departed comrades. Members of the public are invited to join in the personal tribute segment of the program. 4:00.
See the full schedule of Memorial Day Observances on May 27 2019.
Plan Your Visit:  5 Ways to Explore Arlington National Cemetery
The 21st Annual Ride of the Patriots® is a four-day event that includes the largest police escorted motorcycle ride to Rolling Thunder®, the largest single-day motorcycle event in the world. The ride and all events originate at Patriot Harley-Davidson in the City of Fairfax. Weekend activities include a ride to the candlelight vigil at the Vietnam Veterans Memorial. Sunday is the police-escorted ride to the Pentagon. On Monday the Fairfax VA chapter will participate in the Falls Church Memorial Day Parade. Follow the link for full schedule details.
Join Reston Chorale for a free evening of patriotic music remembering those who made the ultimate sacrifice. You can also show your support for our troops by donating care package items for those deployed overseas. Visit www.restonchorale.org to see the list of needed items. Activities begin at 7:00; concert at 7:30.
This annual observance will commemorate those who have lost their lives in battle, serving the United States, as well as recognize the brave military men and women who serve our country. Held at the Loudoun County Court House, this ceremony is highlighted by the reverent laying of the wreaths at several war memorials. 10:00.
Join park staff at Groveton Confederate Cemetery in observance of Memorial Day for a musketry salute in memory of war dead. The free ceremony begins at noon.
Memorial Day Weekend Events in Northern VA Kick Off Summer Fun
The summer season kicks off with Memorial Day weekend events throughout Northern VA weekend. Multi-day annual festivals and single-day events give residents and visitors plenty of choices for fun things to do in the Northern Virginia area during the long Memorial Day weekend.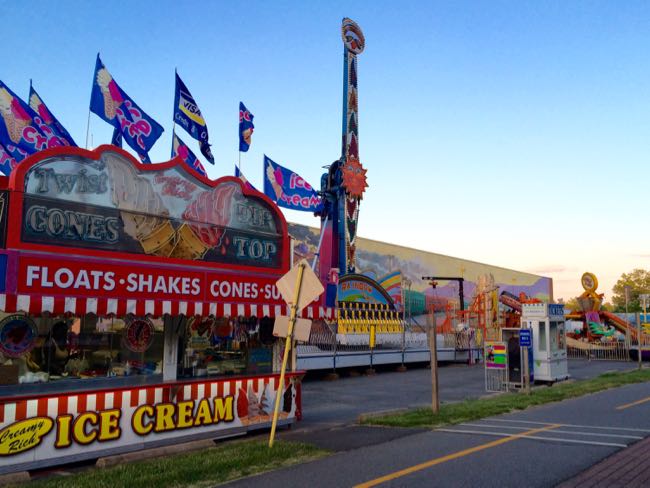 ViVa! Vienna! is a family and community oriented celebration of Memorial Day and the greater Vienna Community spirit with rides, food, crafts, vendors and entertainment. Vendors include handcraft artisans, retail vendors, and community and non-profit organizations. 100% of proceeds go to charitable, community and humanitarian organizations. Sat and Sun 10:00 – 10:00, Mon 10:00 – 6:00.
The annual family-friendly Delaplane Strawberry Festival returns to Sky Meadows State Park every May. Enjoy hayrides, old fashioned field games, dancing, music, magic, storytelling, crafts, a petting farm, an antique car show, a bake sale, hiking, face painting, cake-walking, a corn hole tournament, a monkey and more. Pack your own picnic or purchase pizza, wraps, hot dogs, funnel cakes, and, of course, strawberry shortcake and sundaes. Enjoy the day then take home a flat of delicious fresh strawberries. $25 per vehicle. 10:00 – 5:00.
Plan your visit: Explore Sky Meadows State Park in Northern Virginia
Tarara Winery 30th Anniversary, Leesburg, May 25 – 27
Celebrate the 30th anniversary of Tarara Winery with a weekend of fun. Enjoy live music from The Reflex, VIP vineyard tours and tastings, a sneak peek into the wine cave, farm-to-table dinner, a wine 5k and 10K, release of a 1987 Chardonnay and more. $15 general admission. Follow the link for schedule details.
Strawberry Jubilee, Great Country Farms, May 25 – 27, Jun 1 – 2
Head to Great Country Farms and join the longest-running strawberry festival in Loudoun County. The Jubilee is packed with live music, farm contests (including the daily Diaper Derby), and infamously yummy Donut Strawberry Shortcake. $10//12 child/adult (weekdays $8/$10). 9:00 – 6:00.
The all-women's baseball tournament features 7 teams and approximately 100 players from the U.S. and Canada. As the nation's longest running women's baseball tournament, the Diamond Classic has come to represent skill, dedication, sportsmanship, and fun. Games are played at Firemen's Field. Game times are 9:00, 12:30, 3:30 Saturday and Sunday with a championship game Monday at 10:00. All games are FREE and the public is welcome.
Catch & release giant carp, catfish and bass. Fishing rods and bait will be available, but bring your own rod if you have several family members, or you don't want to share. Not a fisherman? No worries, fishing attendants will show you the ropes. The largest catch of the day wins a prize.  11:00 – 3:00 daily.
Run, walk or jog and celebrate at this family-friendly race raising funds for Boulder Crest Retreat. The event features 5K and 10K races and a 1K fun run. Participants enjoy musical entertainment, special activities for young children and families, food at the finish line, exhibitors from a variety of businesses and services, and a host of prizes. 6:30 am; follow link for schedule details and to register.
"The President's Own" United States Marine Band launches Wolf Trap's summer season with a program of concert band favorites, followed by a fireworks display. The event is free but arrive early to guarantee a spot; the park will close at capacity. Gates open at 6:30 pm for Lawn seating. Fireworks viewing area opens following the performance, at approximately 9:30 pm. Fireworks begin at approximately 9:45 pm.
The 38th Annual Memorial Day Parade and Festival offers a day of family fun. A 3K Fun Run and the Memorial Day Ceremony and Parade highlight the event, plus enjoy amusement rides, arts and crafts, food, pony rides, and live entertainment. A Veterans Ceremony will be held at 11:00. Free admission; 9:00 – 5:00.
To say thank you for service to our country, the Fairfax County Park Authority is offering free admission to military members and their families at all Fairfax County RECenters and lakefront parks. Complimentary RECenter admission includes the use of pools, fitness rooms, drop-in fitness classes, gyms and mini-golf. Lakefront park amusements include carousel rides, boat rides, train rides, mini-golf and camping. This offer excludes the Water Mine, regulation golf and food vendors.
The 42nd Annual Memorial Day Jazz Festival features a variety of musicians and diverse styles of jazz throughout the day. Festival attendees are invited to bring lawn chairs and blankets. Food will be available for purchase or pack a picnic. Free, 1:00 – 6:00.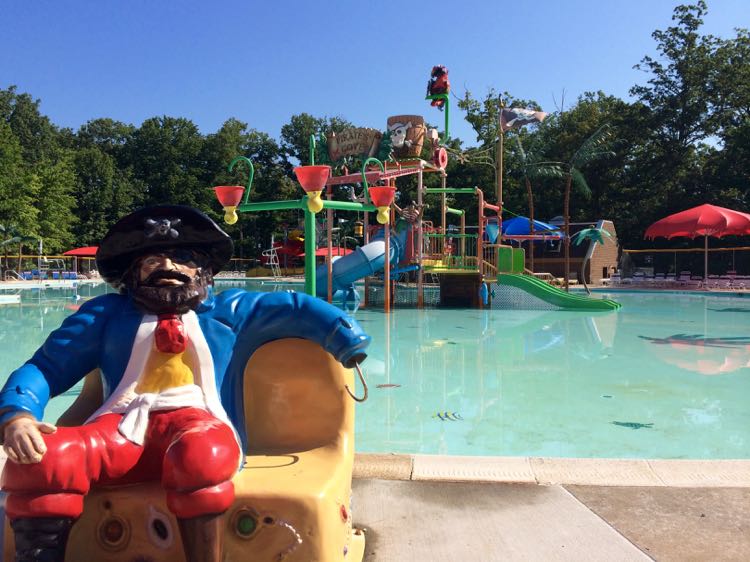 Memorial Day weekend events in Northern Virginia include the opening of waterparks throughout the region (cross your fingers for warm weather). The expanded Water Mine Family Swimmin' Hole in Reston, along with Signal Bay and Splashdown Waterparks in Manassas, open with limited hours on May 25th for the  2019 season.
Train Ride Reopens at Clemyjontri Park, McLean, May 28
Climb aboard the trackless train at Clemyjontri Park beginning Memorial Day weekend. Four passenger cars can seat up to four children each and a ramp allows easy access. The train will take children and adults on a ride around the park following the bike trail located near the playground area. $3 each; 9:30 – 4:00 weekends.
Whichever Memorial Day weekend events in Northern Virginia you choose to attend, we wish everyone a safe and rain-free weekend.
Follow Fun in Fairfax VA on Facebook, Twitter, Pinterest, and Instagram for more great hikes, places to visit, and things to do in Northern Virginia and surrounding areas.