Here are 5 fun things to do in Waterford Virginia, a beautifully preserved historic town that is also home to great breweries, wineries, and a pretty nature hike. Waterford was established in 1733, the first settlement in beautiful Loudoun County, by Pennsylvania Quaker John Amos. It remains one of the most picturesque small towns in Virginia.
Today, you can explore the historic architecture in Waterford's charming downtown and shop, dine, and drink at local country businesses. The combination of modern fun and local history makes the town an interesting and relaxing day trip from Washington DC.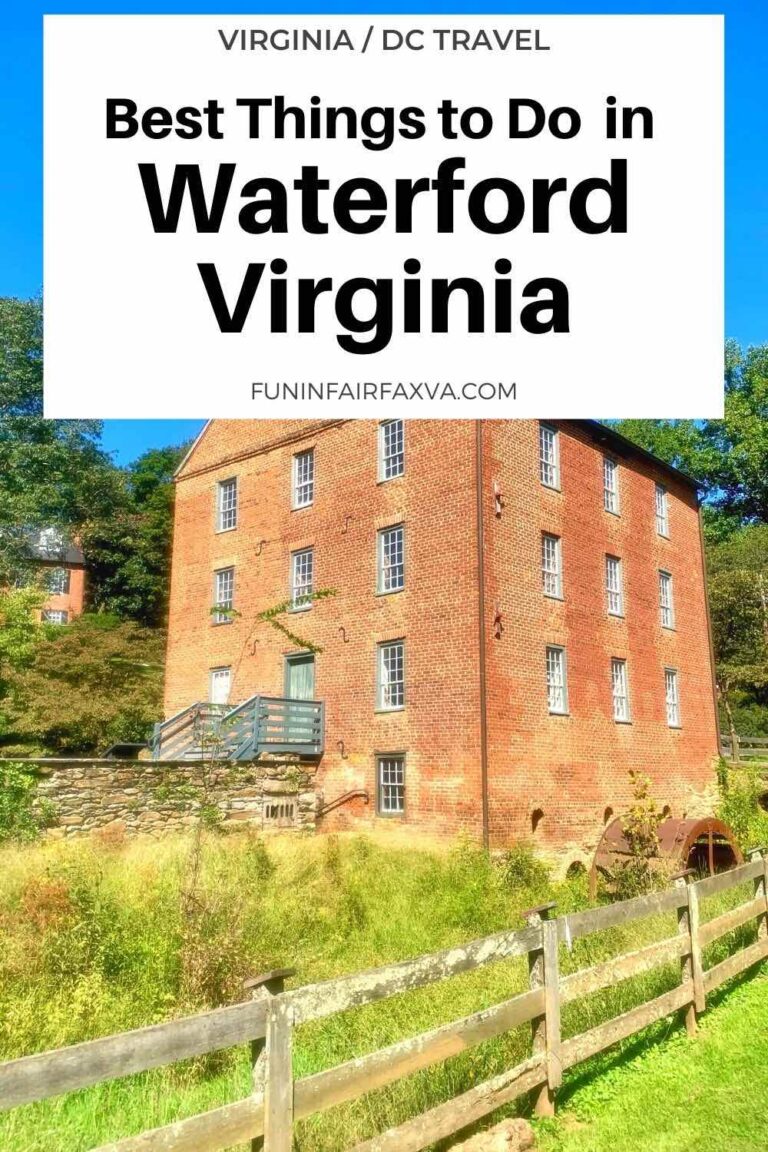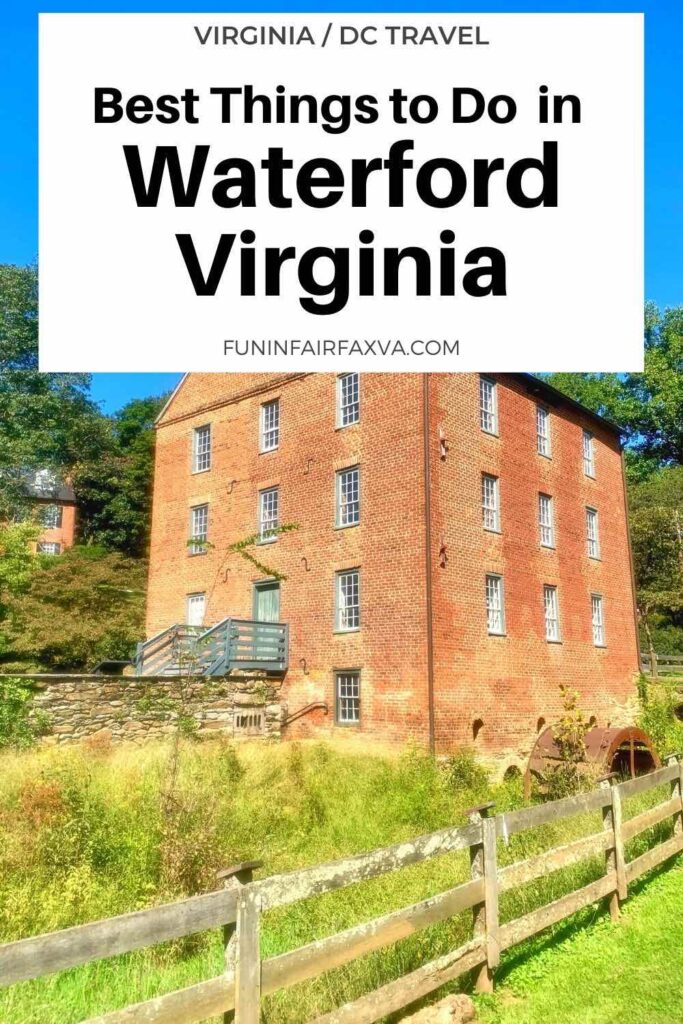 How historic is Waterford Virginia? In 1970 Waterford was designated a National Historic Landmark District. It is also on the National Register of Historic Places and the Virginia Historic Landmarks Register.
Disclosure: This article may contain affiliate links. We will make a small commission from these links if you order something, at no additional cost to you.
Other National Historic Landmarks in Northern Virginia include Balls Bluff Battlefield, Gunston Hall, Mount Vernon, Old Town Alexandria, and the Stabler-Leadbeater Apothecary.
1, Historic Walking Tour of Downtown Waterford Virginia
One of the best things to do in Waterford Virginia is to take a self-guided walking tour of the historic village. You'll see beautiful 18th and 19th-century buildings and learn about the role they played in the town's history.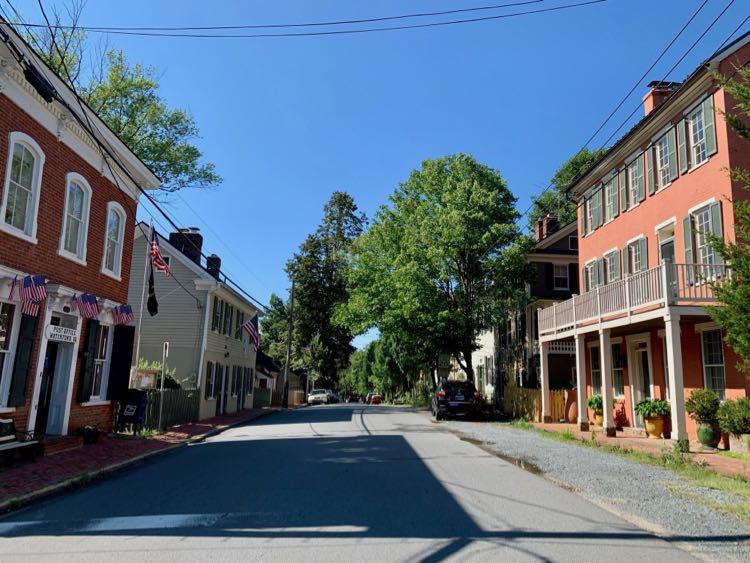 Fortunately, there is an excellent, self-guided Walking Tour of Lower Main Street to follow. In addition, the Waterford Foundation created a longer Walk With Us pamphlet that includes more history and homes on several other streets in town.
Be sure to note these historic buildings in the Village of Waterford on your walking tour:
The General Store, built in the 1900s, fits neatly on a triangular lot at the intersection of 2nd and Main Streets.
The Jail, just up the hill on the other side of Main Street, is a small stone building that was used until 1936 to house local miscreants.
Heading down Main Street, you'll see the brick Post Office, originally a store built in 1880.
Across the street is a three-story brick building known as the Pink House, which was built as a tavern between 1816 and 1825.
Next door are some of the prettiest homes in downtown Waterford, the Arch Row Houses. Once commercial properties, the homes feature brick and stone facades and date to the early 1800s.
As you walk down Main Street you'll see a green field that was once a tanning yard. Behind it is the John Wesley Church, built by Waterford's black Methodist Episcopal Church congregation in 1891.
Across the street is the beautiful brick Waterford Old Mill, which once gave the small community the name Janney's Mill. The miller lived in the large house on a hill across the street.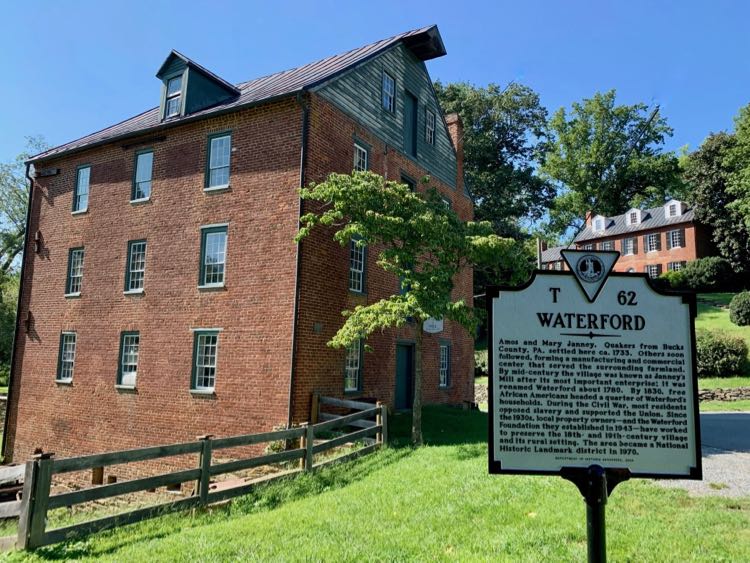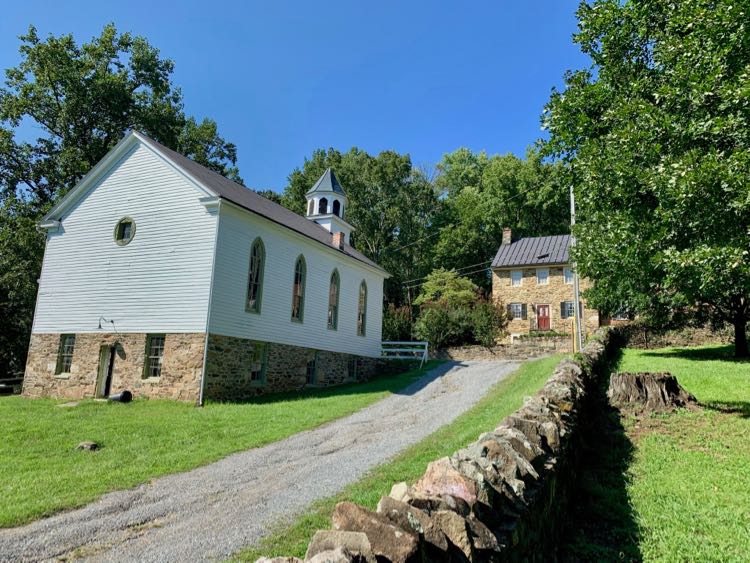 2, Nature Walk Along Catoctin Creek
Walk behind the Mill to enjoy a short, easy hike along Catoctin Creek. The 1.5-mile out-and-back Phillips Farm Trail follows the South Fork of Catoctin Creek at the edge of woods and fields. A pamphlet from the Waterford Foundation highlights historic sites along the trail including a huge oak tree that may have witnessed the town's founding in 1733. The trail is easy to follow but can be muddy in places.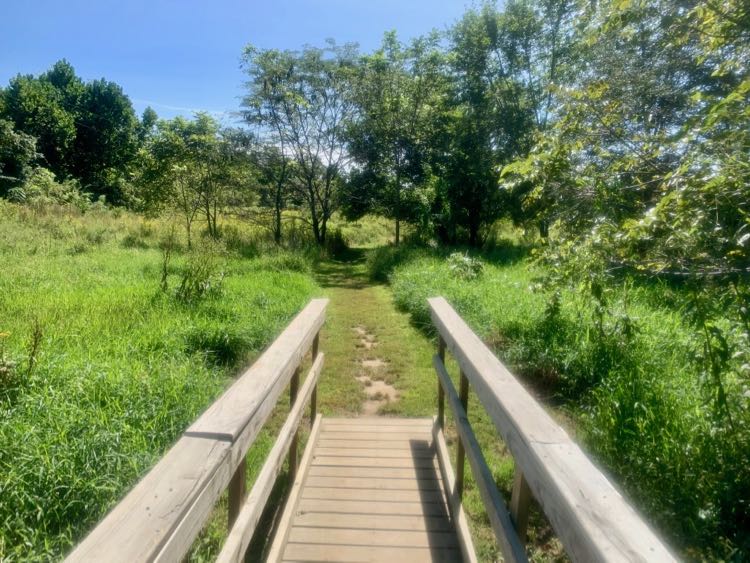 3, Shop Local in Downtown Waterford
When you're ready to relax, head to the Corner Store Waterford for coffee, tea, pastries, and bread from a local baker. The shop also stocks a lovely selection of handmade and vintage goods for the home and garden. Colorful cans from Swallowtail Tees, from Floyd Virginia, and pretty table linens caught our eye.
The Corner Store is at 40183 Main Street and they are open Thursday to Sunday, 10:00 – 5:00. They plan to open a second store in Leesburg in 2021.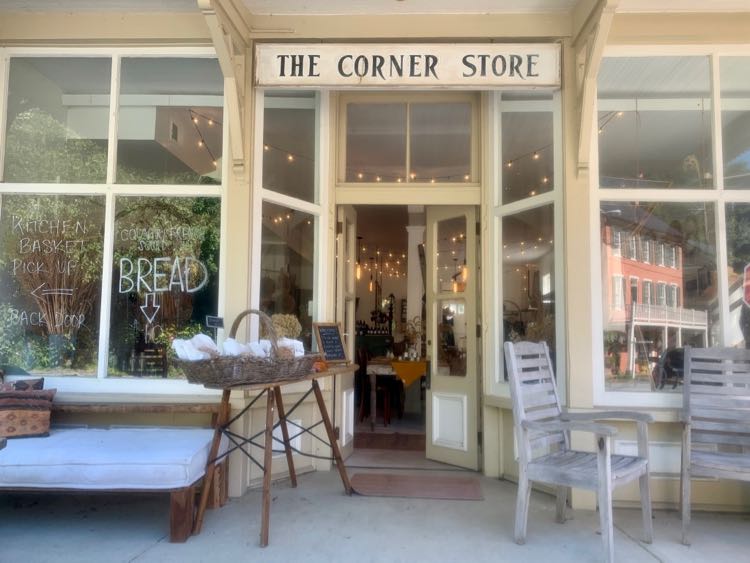 The nearby Waterford Market sells hand-made woolen products and lamb from the owner's Loudoun County farm plus local crafts and groceries. Stop in to check out the pot-bellied stove and shop local. The store is open daily except for Sunday from 10:00 – 6:00 and is located at 15487 Second Street.
4, Visit Craft Breweries and Wineries in Waterford VA
There is an excellent craft brewery and several wineries in and near downtown Waterford. You'll find more brewery and winery options in nearby Purcellville and other northern Loudoun County towns.
As the name says, Wheatland Spring Farm and Brewery is both brewery and farm, and you can enjoy pretty views of the fields while you sip. A changing line-up of tasty craft brews reflects the land and the harvest on the farm's 20 acres. Tip: Visit around Labor Day weekend and you'll be surrounded by a sea of sunflowers.
Wheatland Spring also offers a small food menu and sometimes hosts foot trucks. In winter, you can enjoy an outdoor pint in one of the brewery's cozy igloos. The brewery is at 38506 John Wolford Road and is open Wednesday through Sunday.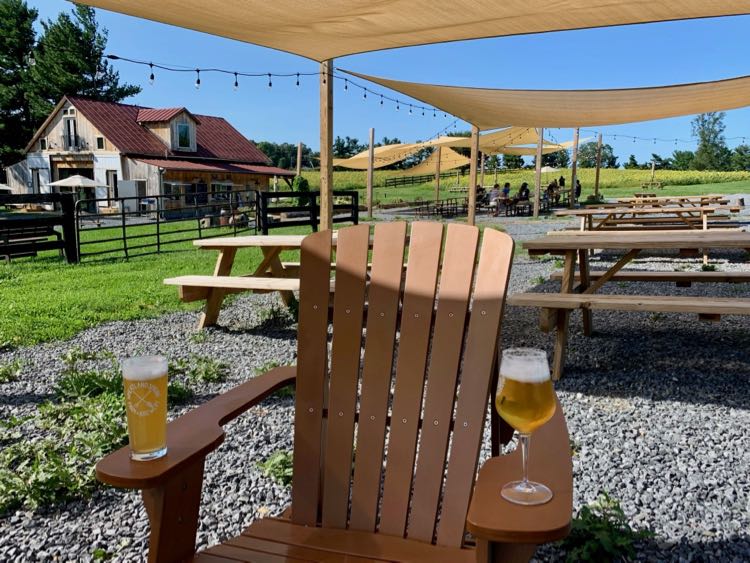 If wine is your preference, head to 8 Chains Winery for more lovely views of the rolling hills of the Virginia Piedmont. Enjoy a tasting, with or without chocolate pairing, to sample several wines. The winery welcomes children and dogs and even has a separate fenced dog yard where your furry friend can play. 8 Chains is at 38593 Daymont Lane and is open Thursday through Monday.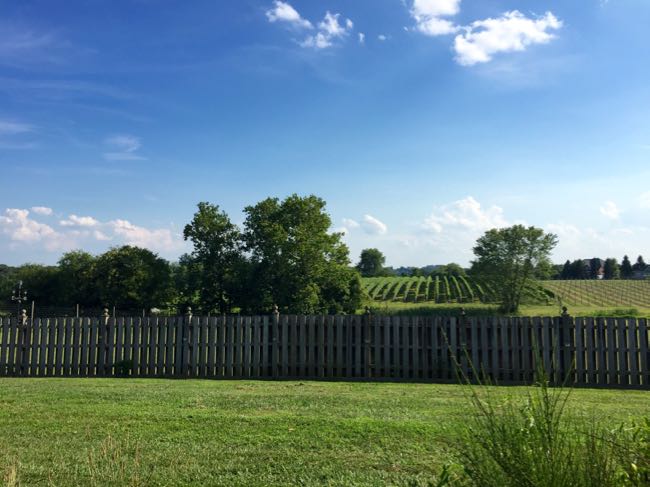 Carriage House Wineworks produces wines from their Waterford vineyard and nearby Loudoun County vineyards. The boutique winery opened in fall 2020 and recently reopened for tastings on Saturday and Sunday, noon – 5:30, at 40817 Browns Lane.
Another Waterford winery with weekend hours, Corcoran Vineyards and Cidery is a small family-owned winery/cidery that opened in 2004. There is plenty of outdoor space to relax and sip, including a new "cigarden." Corcoran is at 14635 Corkys Farm Lane and is open weekend afternoon.
Terra Nebulo Vineyards occupies a reproduction hay barn with beautiful views of the surrounding mountains and conservation land. The winery is adults only (21 and over) and does not allow pets or outside food or drinks. Open Saturday and Sunday, noon – 6:00 at 39892 Old Wheatland Road.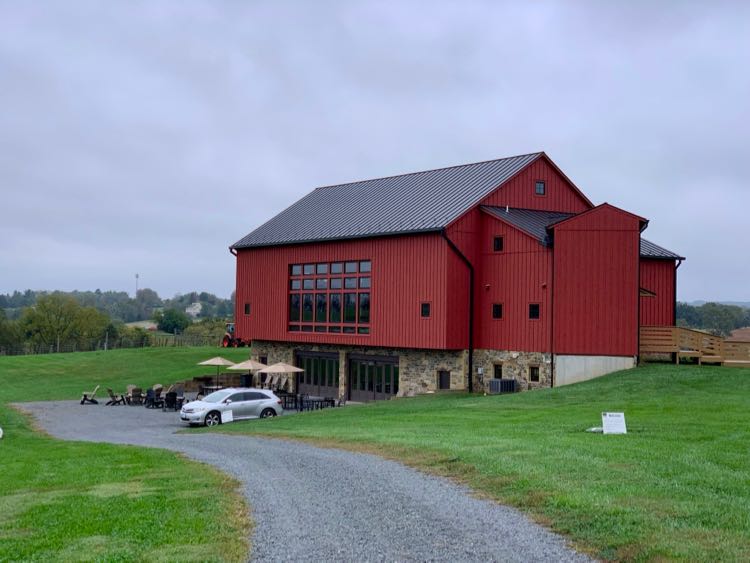 Close to the historic downtown, Village Winery and Orchards is a small farm winery with 10 acres of vineyards and apple orchards. Stop by on weekend afternoons to sample and shop their apple and elderberry-based products. at 40405 Browns Lane.
5. Explore the Waterford Area on a Scenic Drive
It is easy to include the Village of Waterford in a scenic drive through Loudoun County wine country. We have two scenic drive routes that include Waterford:
A Scenic Drive on the Snickerville Turnpike includes pretty roads and interesting stops in and between the towns of Aldie, Bluemont, Lovettsville, Waterford, and Leesburg.
Beautiful Loudoun County Unpaved Roads Near Leesburg Virginia reaches Waterford on the dirt and gravel Old Waterford Road, a historic Colonial path bordered by lovely farms. Old Waterford Road (VA 698) starts near the Rust Library in Leesburg Virginia, behind the Union Cemetery.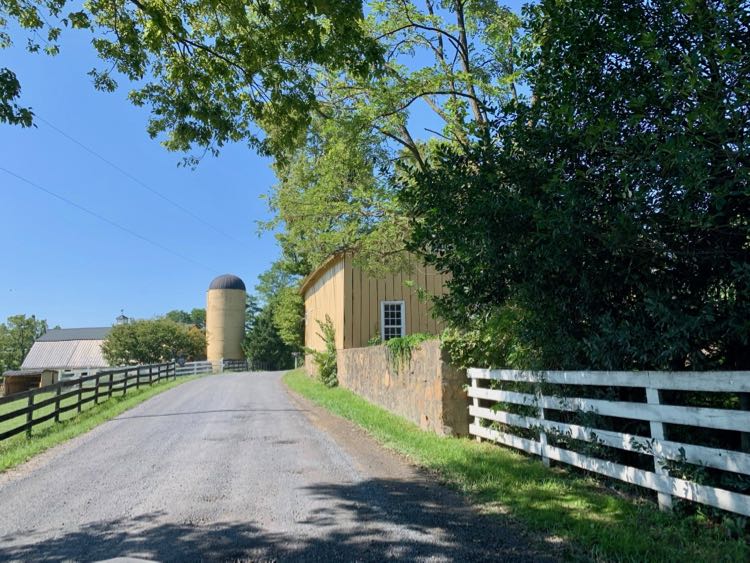 BONUS: Attend the Waterford Fair
The Waterford Fair, one of the most popular festivals in the area, is the oldest juried crafts fair in Virginia. Held on the first weekend in October, the popular fair features artisans and craftspeople demonstrating traditional craft methods in historic Waterford Virginia. Visitors can interact with the artisans and many of them host special activities for children.
The next Waterford Fair is October 6 – 8, 2023.
Where to Stay and Waterford Virginia Essentials
Waterford Virginia is a small and quiet town that will make you feel as if you've stepped back in time. Whether your focus is local shops, breweries, and vineyards; history and architecture; or countryside farms and roads you'll find plenty to enjoy in Waterford VA.
Located in Loudoun County, Waterford Virginia is about an hour northwest of Washington DC and is just 25 miles from Washington Dulles Airport. The town is easy to visit on a day trip and the area makes a lovely weekend getaway. Stay in nearby Leesburg, or at one of the unique homes in our curated list of wine country vacation rentals and Airbnbs.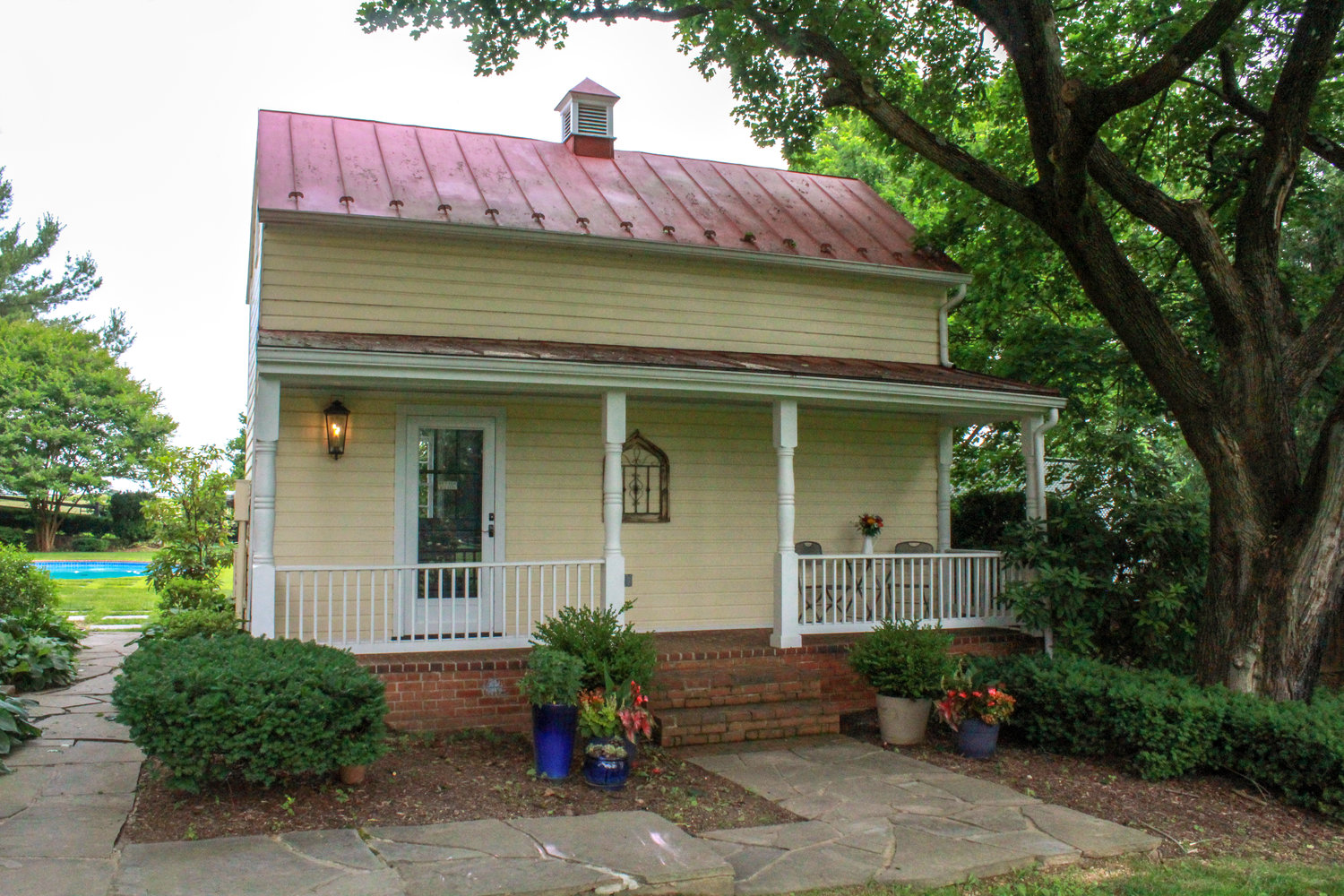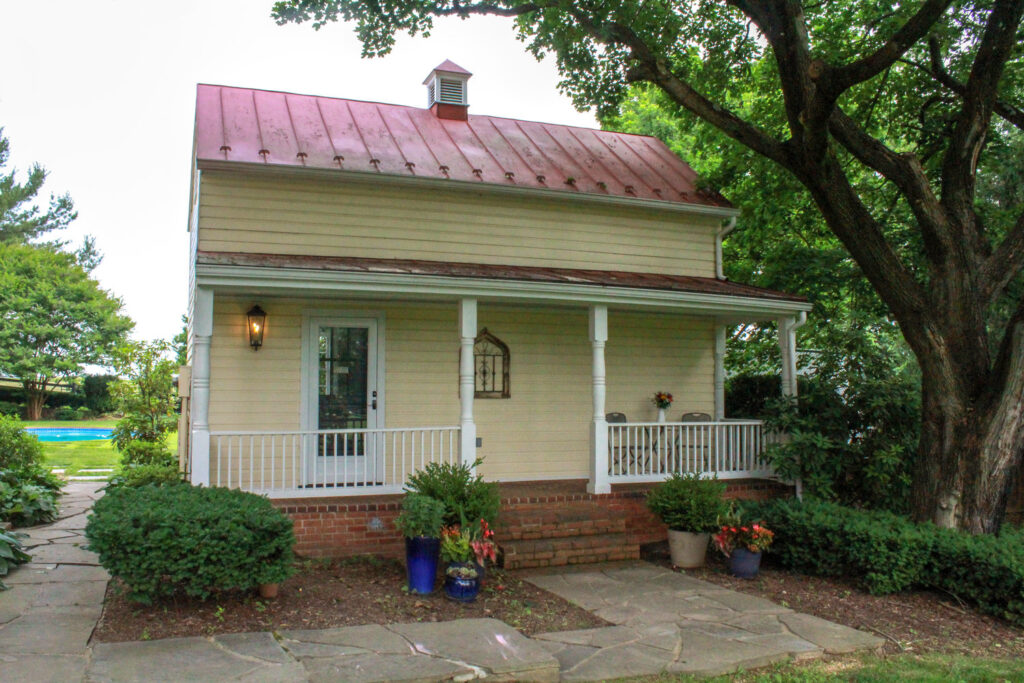 Whether you visit for a few hours or a few days you'll enjoy a relaxing dose of country living in Waterford VA.
Extend your trip with a visit to these nearby towns and destinations:
Follow us on Facebook, Twitter, Pinterest, and Instagram for more fun travel in and from Northern Virginia.