A Delaware getaway delivers an impressive mix of nature, history, dining, drink, and adventure in a small and easy-to-navigate state close to Washington DC. If you've never visited the First State, or you haven't explored beyond the beaches, you will be happily surprised at how much there is to do and see.
We've highlighted things to do and places to visit on a Delaware getaway at stops throughout the state, but you'll need more time in each location to fully explore. Follow our route on a 3 to 5-day road trip, or break your visits into multiple outings to allow more time in each area.
Wilmington, Delaware: Mansion Touring and a Krazy Dinner
Read our complete guide and plan a Wilmington Delaware Getaway.
Tour the Nemours Estate Mansion and Gardens
Love is a great motivator, and Alfred I. DuPont built the opulent mansion and gardens at Nemours Estate to secure his wife Alicia's lifelong affection. Sadly, he did not succeed as she later divorced him, but he did create a destination that continues to impress.
Built at the turn of the twentieth century, the mansion is filled with an incredible collection of art, antiques, and tapestries, and is surrounded by one of the finest French-style formal gardens in North America. With a day pass you can:
exploring the mansion on your own,
join a tour of the equipment rooms in the basement, 
admire the classics in the Chauffeur's Garage,
and slowly stroll the gardens and grounds. 
You can even grab a bench by the pool and pretend you're a DuPont.
A nice urban outdoor space for a walk or bike ride is the Brandywine Park in downtown Wilmington.
Fine Dining at Krazy Kats in Wilmington, Delaware
Our visit to Wilmington was brief, but we were fortunate to enjoy a delicious dinner at Krazy Kats at the Montachanin Inn. What could seem formal is made friendly with colorful decor featuring portraits of well-dressed cats and dogs. The Filet Mignon was perfection, and the bright salads, rich crab bisque, grilled fish special, and silky creme brûlée were uniformly wonderful.
A room at the Sheraton Suites Wilmington Downtown is a good casual base for exploring Wilmington. Stay at the HOTEL DU PONT if your goal is luxury and romance.
Housed in a building that was originally a movie theater, Painted Stave creates locally sourced spirits with some unique flavors. Their scrapple-flavored vodka, "Off the Hoof," is fermented using 10 pounds of scrapple per batch. We preferred the more subtle flavors of the Silver Screen Vodka and Candy Manor Gin, and the Honey Flavored Vodka was a favorite.
Dover, Delaware: Capital City of the First State
Dover is the capital city of Delaware, founded in 1683 by William Penn. Delaware is known as "the First State" because it was the first to ratify the U.S. Constitution in 1787. Its central location and historic significance make Dover an ideal stop on a Delaware getaway.
Experience American History in Dover, Delaware
American history comes alive at Dover's First State Heritage Park, a "park without boundaries" that features history, art, and a unique museum across several sites in a compact area of downtown. Begin your visit at the Welcome Center to pick up a map and plan your route. From the center it's a short walk to the Biggs Museum of American Art, The Old State House, the historic Town Green, the Johnson Victrola Museum, and other key sites.
We were treated to a fascinating living history presentation in the Old State House that highlighted the changing circumstances of free and enslaved members of one local family from the Revolutionary War through the Civil War. Costumed guides provide interesting details about the important moments that took place in Delaware.
Enjoy Lunch and a Brewery Tour in Dover, Delaware
In downtown Dover, and a short walk from First State Heritage Park is the Brunch n Lunch serving delicious burgers and hand-cut fries. Local art decorates the walls, and local food fills the plates at this friendly, casual spot.
A short drive east, Fordham & Dominion Brewing Company offers tours of the facility with 4 tastings of their tasty brews for only $5. The Double D is the most popular of the brews on offer, but seasonal specials like the Spiced Harvest are also a hit. Northern Virginians will recognize the Old Dominion brand, formerly located in Ashburn, which merged with Fordham (formerly of Annapolis) in 2007.
Explore Aviation at the Air Mobility Command Museum
The Air Mobility Command Museum, on the grounds of Dover Air Force Base, is a hidden gem that is a wonderful stop for a family outing. This unique museum houses over 30 aircraft, several of which you can board.
While the core collection focuses on airlift and air refueling, you'll also find Air Force 2, used by every Vice President from Rockefeller to Cheney. There are a variety of aircraft to explore both on the tarmac and inside the exhibit hanger. You can even climb up to the Control Tower and listen to live traffic.
At least two planes are open daily, and the knowledgeable guides may be able to open others if you ask. From March to November, the third Saturday of each month is Open Cockpit Day, when visitors have access to many of the aircraft.
Seaside Food and Fun in Rehoboth Beach and Lewes, Delaware
As Southern Delaware Tourism says, "the beaches are just the beginning," so why not begin your visit at the beach? Rehoboth Beach is a busy town with loads of shops, restaurants, and activities clustered along the mile-long classic boardwalk.
It's easy to enjoy all the fun from the Boardwalk Plaza Hotel in Rehoboth Beach. This Victorian, oceanfront hotel offers 84 home-like rooms and suites, many with sitting areas, balconies, and ocean views.
Leave your car in the lot and explore Rehoboth and Dewey Beach on the Jolly Trolley, which operates a friendly shuttle daily throughout the season ($3 one way). Families and groups can charter the Jolly Trolley for special routes and out-of-season travel.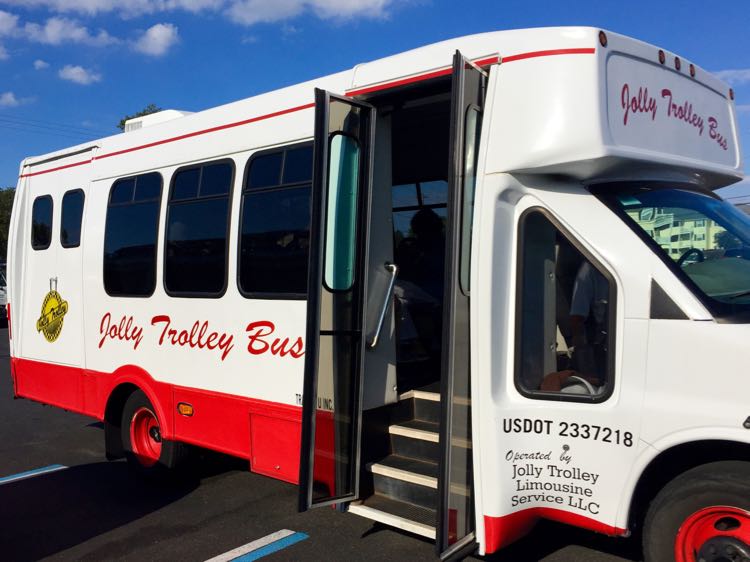 Foodie Fun in Rehoboth Beach, Delaware
Take a break from the beach to refuel and relax at one of the many dine and drink spots nearby. Near the boardwalk, Chesapeake & Maine serves fresh local fish and seafood delivered daily from Maine. The oysters and tasty crab cakes are a nice local choice, and the buttery lobster rolls overflowing with fresh Maine lobster are amazing. The restaurant is owned and operated by Dogfish Head Brewery, and their craft beer is a perfect pairing with your meal.
Back on the Coastal Highway, Jimmy's Grille is best known for its classic fried chicken, but they're also a terrific choice for breakfast or brunch. Omelets are fresh and filling, accompanied by crispy home fries and a choice of toast. Take a peek into the bakery as you come in and you may glimpse a baker mounding meringue onto freshly made pies.
Fans of craft beer should really make time for a visit and tour at Dogfish Head Brewery, in nearby Milton. The craft brewery grew from its modest beginnings as the state's first brewpub to a nationwide brewer with distribution in 25 states.
The sprawling brewery offers free hourly tours and tastings, brew-infused food from Bunyan's Lunchbox, and relaxing spaces indoors and out. The Steampunk Tree House out front is a Burning Man creation, acquired for it's artistic value and now used for small company meetings.
A Unique Museum, Foodie Finds, and a Hip Hotel in Lewes, Delaware
Lewes, Bethany Beach, and Fenwick Island offer a quieter beach experience on a Delaware getaway, further north along the same 30-mile stretch of oceanfront. The Zwaanendael Museum shares Delaware's maritime history in a unique building commemorating the state's first European colony. The Dutch colony of Zwaanendel was founded in 1631 but destroyed by native Indians within a year.
The museum's unique building is modeled after a town hall in the Netherlands. Inside, permanent and rotating exhibits showcase the area's maritime, military and social history. During our visit, the upstairs gallery displayed artifacts and the history of wine and spirits in the Lewes area.
Relax with more local brews and food at Crooked Hammock Brewery in Lewes. The beachy decor and indoor/outdoor space are perfect for lunch or dinner and a break from the sun. We enjoyed a yummy grilled fish sandwich and a flight of their brews for lunch. Don't miss the backyard, where casual seating welcomes adults while games entertain the kids.
For a taste of local spirits, visit the small, casual tasting room at Beach Time Distilling in Lewes. They brew vodka, gin, and a variety of flavored rums, and offer tastings and cocktails.
Extend that relaxed vibe with a stay at the hip Dogfish Inn, run by the fine folks who bring you Dogfish brews. The location is perfect for a bike ride to the beach, and at night you can kick back by the outdoor fire pit.
Explore Southern Delaware by Water and Sky in Western Sussex County
The beaches get the attention, but you'll be surprised at the adventures available in western Sussex County. Just an hour's scenic drive west of Rehoboth Beach is an impressive network of waterways through a beautiful natural habitat.
Trap Pond State Park offers camping, hiking, biking, pontoon tours, and paddling through the northernmost natural stand of bald cypress trees in the United States. Reserve one of the park's waterfront cabins or yurts for a peaceful night in nature and daytime fun by and on the pond. An easy 3-mile loop trail circles the pond, following dirt woodland trails and boardwalks.
Stop at the restored Bethesda Methodist Episcopal Church for a break and a look at the 1879 church which was once the central gathering place of a rural community.
Stop at the Visitor Center to learn more about the bald cypress and wildlife at Trap Pond, then head to the boathouse to get out on the water. Pontoon tours take visitors across the pond and through the edge of the bald cypress swamp. Rent a canoe or kayak to explore further into the swamp on marked water trails. There is something magical about boating through a forest.
We were lucky to enjoy a delicious fish fry, catered by My Turn to Cook, at Trap Pond's Cypress Point Pavillon. There we heard the infamous story of the Swamp Monster, told by the monster himself. A Selbyville legend who was said to haunt the swamp at night, the Swamp Monster gained fame in the 1960s with several sightings and coverage in the local press.
25 years later, resident Fred Stevens went public—he created a swamp monster costume and jumped out at folks in the swamp at night to help his friend drive newspaper sales.
Paddling the Nanticoke River in Southern Delaware
The Nanticoke River winds nearly 65 miles through Southern Delaware before emptying into the Chesapeake Bay. One of the healthiest rivers to drain into the Bay, the watershed is lined with extensive forests and wetlands which protect the river from agricultural run-off.
Paddlers can explore the serene river and its feeder creeks with kayaks, canoes, johnboats, and stand-up paddleboards provided by several local businesses.
We made two excursions with different providers, and we highly recommend both experiences. Delmarva Board Sports offers paddleboard and kayak rentals on Broad Creek in Laurel. The water is calm and shady with beautiful trees and occasional homes along the banks. Our guide did an excellent job training first-time paddleboarders in our group.
When you finish your paddle, stop in the Laurel Heritage Museum to learn about the bridge you passed under, site of a dramatic train crash. A second kayak excursion on Deep Creek and the Northern Nanticoke River explored a broader, but equally peaceful, waterway.
If the tranquility of paddling has you craving an adventure rush, Skydive Delmarva has an experience for you! Take a tandem jump with an expert instructor who will make the jump with you. Your instructor handles the critical
task of deploying your parachute, allowing you the freedom to fully enjoy your skydive experience. Owners Kathy and Brian Kunkowski and the entire instructor team clearly know their stuff, and their passion for the sport is infectious. Solo jumps are also available with additional training and cost and you can even have your jump videotaped (additional fee).
Dine and Drink in Southern Delaware
All that paddling and jumping works up an appetite. Fortunately, there is a terrific range of dining experiences to choose from on a Delaware getaway. If you want to eat outdoors but haven't booked a fish fry, consider a picnic at Phillips Landing on the Nanticoke River, in Laurel, Delaware. Captain John Smith explored the Nanticoke near here in 1605, and a park monument recounts the details.
Dine indoors or out on the porch at Abbott's on Broad Creek in Laurel.  The wide-ranging menu features delicious seafood, meat, sandwiches, and salads, much of it sourced from local farms. From the seasonal salad and creamy chowder; to Shrimp & Grits flavored with chorizo, fennel, lemon, and peppers; to a rich white chocolate bread pudding; every part of our meal was delicious. Raves from around the table let us know we weren't an exception. The atmosphere at Abbot's Grill is warm and friendly—dressy enough for a special dinner, and casual enough to arrive by kayak.
Another spot with indoor and outdoor dining options is the 55-and-over community of Heritage Shores in Bridgeville, Delaware. Dine at Passwater Restaurant or The Tavern in the clubhouse, or enjoy the casual vibe and gorgeous sunsets at the Sugar Beet Market. The Sugar Beet has a full bar and counter seating indoors, and if the weather is warm you can grab a table outside by the water.
The Comfort Suites Seaford, with spacious rooms and a central location, is a great base for exploring Western Sussex County. Check the Visit Southern Delaware website for more ideas on where to eat, drink, play, and stay in the region.
Whether you take the big leap, stay low on the water, stroll through history, or just relax by the beach, you'll find fun and unique experiences on a Delaware getaway. No matter which activities and towns you choose to explore, you'll find excellent dining and interesting drink nearby.
Follow Fun in Fairfax VA on Facebook, Twitter, Pinterest, and Instagram for more places to visit and things to do in Northern Virginia and surrounding areas.
Our trip to Delaware was hosted by the Greater Wilmington CVB, Delaware's Capital Region, and Southern Delaware Tourism.