Celebrate the bright days of summer at these sensational sunflower fields and u-pick farms in Northern Virginia. With acres of sunflower patches to choose from, you can capture perfect sunflower pics, create special family memories, and bring home beautiful blooms.
Sunflower fields in the Washington DC region offer a fun escape to the countryside without a long drive. Most of the sunflower patches on our list are at Northern Virginia u-pick farms, but we've also highlighted a great brewery surrounded by sunflowers.
Sunflower fields peak bloom in Virginia is from mid-July to August. However, the timing of the bloom is very dependent on when the fields are planted. Fortunately, some farms plant their sunflower patches early, while others start later. That means you can generally find Northern Virginia sunflowers blooming throughout the summer and into September.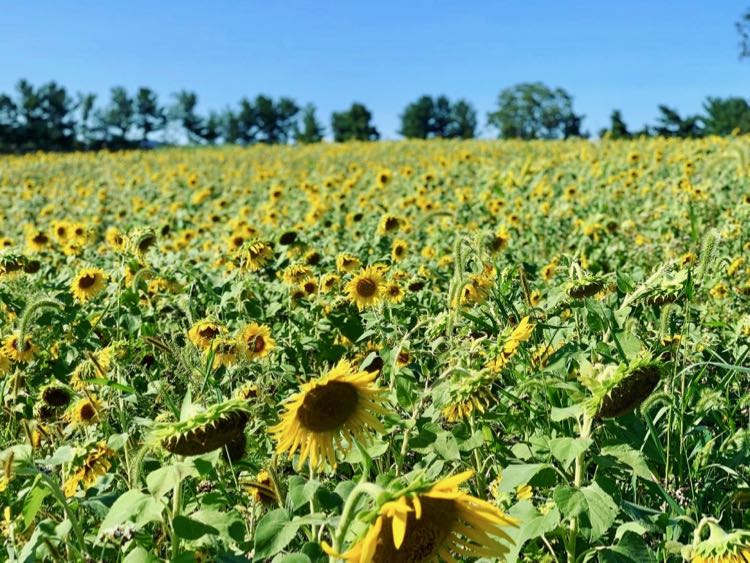 Tips for Visiting Sunflower Fields in Northern Virginia
Is this your first visit to a pick-your-own sunflower field? Here are some tips to make your sunflower picking a success.
Always pay for what you pick and only pick what you want to buy.
Some farms provide clippers for sunflower picking, but you may want to bring your own.
Wear comfortable shoes that can get dirty. Be prepared for uneven ground and muddy fields.
Dress for the heat and wear a hat. You won't have any shade in the flower fields, and it can get very hot on a sunny day.
Bring water and stay hydrated.
Bring bug spray, especially on muggy days, to ward off mosquitos.
Bees love sunflowers, but they're not the aggressive kind so just let them do their work. Bees and butterflies add interest and beauty to sunflower pics.
Some farms welcome leashed dogs in the sunflower fields, but rules vary.
Some people bring a small stool to get above the tallest sunflowers. Whether you use a stool or not, be careful not to trample the flowers.
Many of the sunflower farms on our list have space for picnicking and some sell food and drinks. Check each site for details.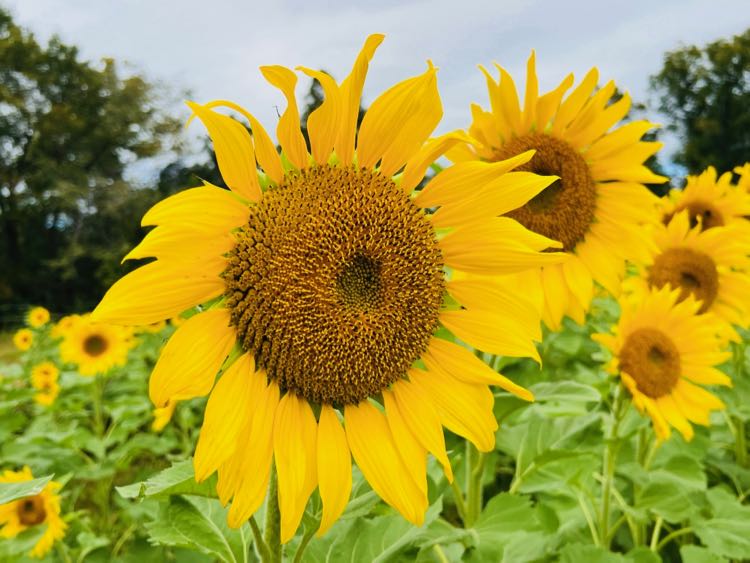 Burnside Farms, Nokesville
Burnside Farms in Nokesville is one of the most popular pick-your-own sunflower farms in Northern Virginia. This working farm hosts two beloved festivals every year—the Festival of Spring and the Summer of Sunflowers—and also sells Christmas trees in winter.
During the Summer of Sunflowers, Burnside opens over 50 acres of sunflowers for 6 weeks of picking. The patches feature more than 30 varieties of cutting flowers, planted in succession to ensure that new flowers bloom throughout the sunflower festival.
Bring the kids because Burnside also hosts one of the best sunflower mazes in the Washington DC area. Leashed dogs are also welcome, and the farm is a photographer's paradise, especially during special Sunflower Sunsets evenings.
The sunflower fields at Burnside Farms usually open in mid-to-late July. In 2022, the Sunflower Festival opens on July 29 and is open daily until August 28. Tickets are released in blocks depending on date and you can purchase tickets online. Admission prices are $17/$12 for adults/children for morning reservations. Prices increase to $21/$16 for evening and sunset hours.
Burnside Farms is at 11008 Kettle Run Road in Nokesville Virginia. Follow the farm's Facebook page for regular updates on field conditions and weather-related closures.
Great Country Farms, Bluemont
The lovely town of Bluemont is home to one of the most family-friendly farms in Northern Virginia. Visit the sunflower patch at Great Country Farms and kids can also enjoy a huge collection of play areas and fun activities.
In 2022, Great Country Farms is hosting a Cut Your Own Sunflower Festival with a photo contest from July 9 to 31. Enter your perfect sunflower pics in one of three categories and you may win a stay for up to 6 people at the farm's Blue Door Cottage.
Admission to the Great Country Farms Play Area and u-pick fields is $12/$10 per adult/child on weekdays. Admission is $14/$12 on weekends when visitors will also enjoy live music and extra activities. Pick-your-own sunflowers are $1 per stem or you can add a bucket with 20 cut stems for $19.99. Remeber to bring your own clippers!
After your farm visit, head up the hill for tasty craft beer with a gorgeous view at Dirt Farm Brewing. Or head next door to Bluemont Vineyards for a fabulous Virginia winery view. If you want to work up a thirst first, enjoy a family-friendly hike to Bears Den Overlook or a more challenging climb to Raven Rocks.
Great Country Farms is at 34345 Snickersville Turnpike in Bluemont Virginia. You can reach the farm on a scenic drive on the historic Snickersville Turnpike.
Wegmeyer Farms, Gilberts Corner
Wegmeyer Farms is one of the best places to pick strawberries and in 2022 they opened a new u-pick sunflower field. The new Gilbert's Corner sunflower field, at the intersection of Routes 15 and 50, is a pretty spot to pick-your-own sunflowers and also help the people of Ukraine. All sunflower proceeds will go directly to medical and food supplies for Ukraine.
The new Wegmeyer Farms sunflower fields opened on July 8 and are open daily until July 17, weather and conditions permitting. Admission to the sunflower field is $10 per person from 10:00 to 5:00, $12 during the golder hours from 5:00 to 8:00 and includes 1 stem. Optionally, add a bucket of 10 cut sunflowers to your order for $25. Reservations are required and children 2 and under are free.
Wegmeyer Farms sunflower field is on the John Mosby Highway in Aldie Virginia.
Wheatland Spring Farm Brewery, Waterford
Want the sunflower patch without the picking? One of our favorite breweries on the LoCo Ale Trail is also home to beautiful sunflower fields in historic Waterford VA. At Wheatland Spring Farm Brewery you can sip delicious craft beer with a gorgeous backdrop of sunflowers. No admission fees, no sunflower picking, just pretty flowers and great beer.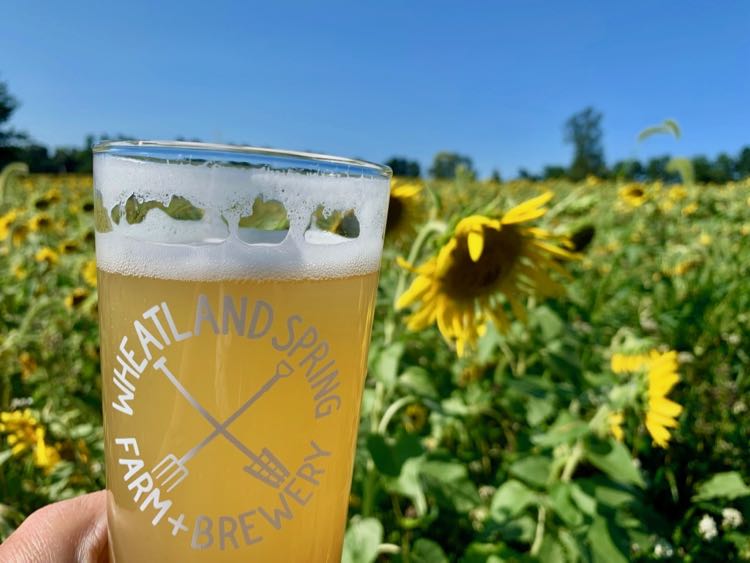 The tasting barn and outdoor tables at Wheatland Spring Brewery are surrounded by the fields of this rural farm. Pick up your beer of choice and you can sit and sip at a picnic table right next to the sunflower fields. It's a great spot for photos, as long as you stay on the perimeter of the field (no wandering among the flowers). In 2021, the sunflowers bloomed in August and early September.
Wheatland Spring is open Thursday through Sunday and reservations are allowed but not required. They host a Farmer's Market on Saturdays from 11:00 to 1:00, so that's a busy but fun time to visit. Leashed dogs are welcome at the farm, so this is a good spot for a pet-friendly sunflower photo.
When you visit, allow time to stop in and explore beautiful Waterford and take a scenic drive on the unpaved roads of Loudoun County.
Wheatland Spring Farm and Brewery is at 38506 John Wolford Road in Waterford Virginia.
Messick's Farm, Bealeton
Messick's Farm Market combines kid-friendly activities and beautiful pick-your-own fields for a fun family day out. The farm offers u-pick sunflowers plus other cut flowers and tasty tomatoes throughout the summer months.
Messick's had some issues with the sunflower field in 2022. Fortunately, they delayed a planned August Sunflower Festival and u-pick sunflowers are blooming during the fall festival instead. The good news for DC-area residents is an extended sunflower season and more weeks of picking.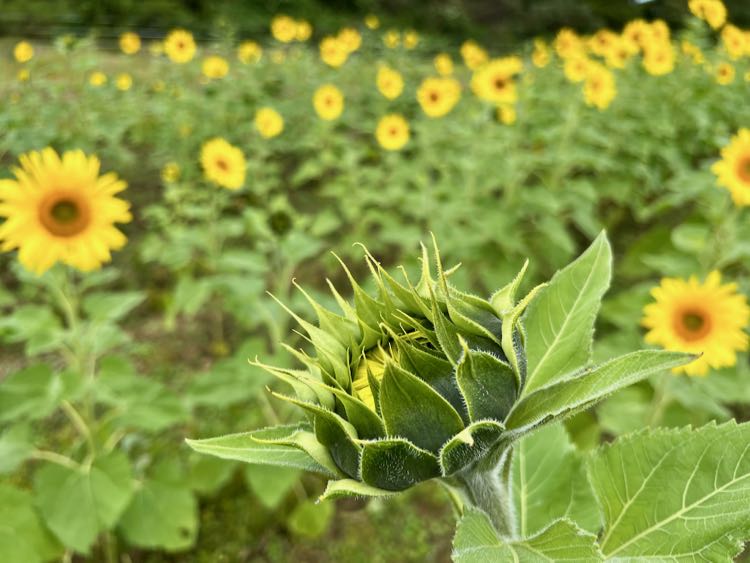 The farm is open daily and includes a market, deli and kitchen, kid's play areas, and more along with the u-pick fields. Kids can enjoy the petting zoo, jump pillow, climbing tower, and play areas then cool off with an ice cream treat.
Messick's Farm Market is at 6025 Catlett Road in Bealeton Virginia.
Auburn Farm Sunflower Patch, Brandy Station
The Auburn Farm Sunflower Patch holds its third annual Sunflower Festival on Labor Day Weekend and the 2nd weekend of September 2022. The Sunflower Festival includes u-pick sunflowers, a 4-acre corn maze, kids' activities, a pumpkin patch, food trucks, and more. All of the activities plus 10 sunflowers are included in the $10 admission price (children 5 and under free).
Auburn Farm Sunflower Patch is at 17736 Auburn Road in Brandy Station. Nearby, the pretty town of Culpeper is a great spot for lunch or a drink in the historic downtown.
If you visit Culpeper, consider a stop at the Seek Lavender Garden. This herb and garden farm has a small shop full of plant-based goods including soaps, lotions, and tinctures.
Temple Hall Fall Sunflower Fields, Leesburg
New in 2022, visit the u-pick sunflower fields at Temple Hall Farm. The sunflower field is open throughout October in combination with the farm's popular pumpkin patch. Visit the farm animals, play on the bounce pillows and slides, play in the corn box, enjoy outdoor games, and more family-friendly activities. Admission is $15 on weekends, $12 weekdays, and includes a pumpkin and sunflowers.
Temple Hall Farm is at 15789 Temple Hall Lane in Leesburg Virignia.
Hollin Farms, Delaplane
The u-pick fields at Hollin Farms are a wonderful spot to pick fresh blackberries and raspberries straight off the vine. Happily, they also offer cut-your-own sunflowers and zinnias. This fourth-generation farm has a gorgeous location at the foothills of the Blue Ridge Mountains. Stop in to do some picking and soak up the view.
Sky Meadow State Park is just 2 miles from Hollin Farms and it's a wonderful place to hike (here's a great Sky Meadow Park loop hike), learn a little local history, or enjoy a picnic. Or skip the hike and take in the views on a scenic countryside drive. There are some great wineries in the area too, including Three Fox Vineyards which is one of our favorite hike and winery day trips.
Hollin Farms is at 1524 Snowden Road in Delaplane Virginia.
Braehead Farm, Fredericksburg
Another farm that offers a wide selection of u-pick produce and flowers is located in historic Fredericksburg. Braehead Farm is open daily for pick-your-own and pre-picked goods. In July, the fields are a fun spot to pick blueberries, blackberries, tomatoes, green beans, greens, and more. Sunflowers are $1 per stem and there is no admission fee so you just pay for what you pick.
Bringing the kids along? At the Family Play-grounds ($5 admission) kids can visit the animals, and enjoy a variety of play areas and activities. There is also a market for seasonal produce, meats, pot pies, jams, and more.
Braehead Farm is at 1130 Tyler Street in Fredericksburg Virginia. Plan a day trip with our guide to more fun things to do in Fredericksburg.
More Flower Farms in Northern Virginia
Loudoun Fields of Flowers, Purcellville
Pick your own bouquet, in a variety of sizes, at Loudoun Fields of Flowers in Purcelville. While the farm does not grow sunflowers, they do grow a flower that with a similar blossom. This pick-your-own flower farm is open seasonally from mid-May to mid-October.
Flowers blooming in the gardens will change throughout the season, but you may be able to pick zinnias, marigolds, hydrangeas, peonies, phlox, and more. Leashed dogs are allowed and there is no admission fee. Instead, you pay based on the size of the container you choose and fill. There are small bouquet cups ($15), large bouquet cups ($20), and large pails ($40).
Loudoun Fields of Flowers is located at 37879 Allder Road in Purcellville Virginia. Plan a day trip with our guide to fun things to do in Purcellville.
Whether your goal is to bring home beautiful sunflowers, capture a fantastic photo, or experience a unique family adventure, you'll find fun sunflower fields and u-pick farms in Northern Virginia. Plan more farm experiences with these seasonal articles:
Follow us on Facebook, Twitter, Pinterest, and Instagram for more fun travel in and from Northern Virginia.