Discover the best places to go apple picking in Virginia at 15 beautiful orchards plus fun apple festivals, perfect for a day trip from Washington DC. Our guide to the best apple picking in Virginia includes fantastic pick-your-own apple orchards in Northern Virginia, Shenandoah Valley, and the Charlottesville area (with a map).
In addition, we list fruit markets and apple festivals where you can enjoy apple season fun with or without the picking. At the end of our list are tips and a handy map of the best places to go apple picking in Virginia.
Apple picking in VA is a family-friendly activity that puts kids in touch with nature and the food they eat. Of course, apple picking can also be a romantic date idea for outdoor-loving couples.
Disclosure: This article may contain affiliate links. We will make a small commission from these links if you order something, at no additional cost to you.
You-pick apple orchards in Virginia are listed below in order of distance from Washington DC. Admission to most orchards is free, and we've included admission fees for any farms that charge them.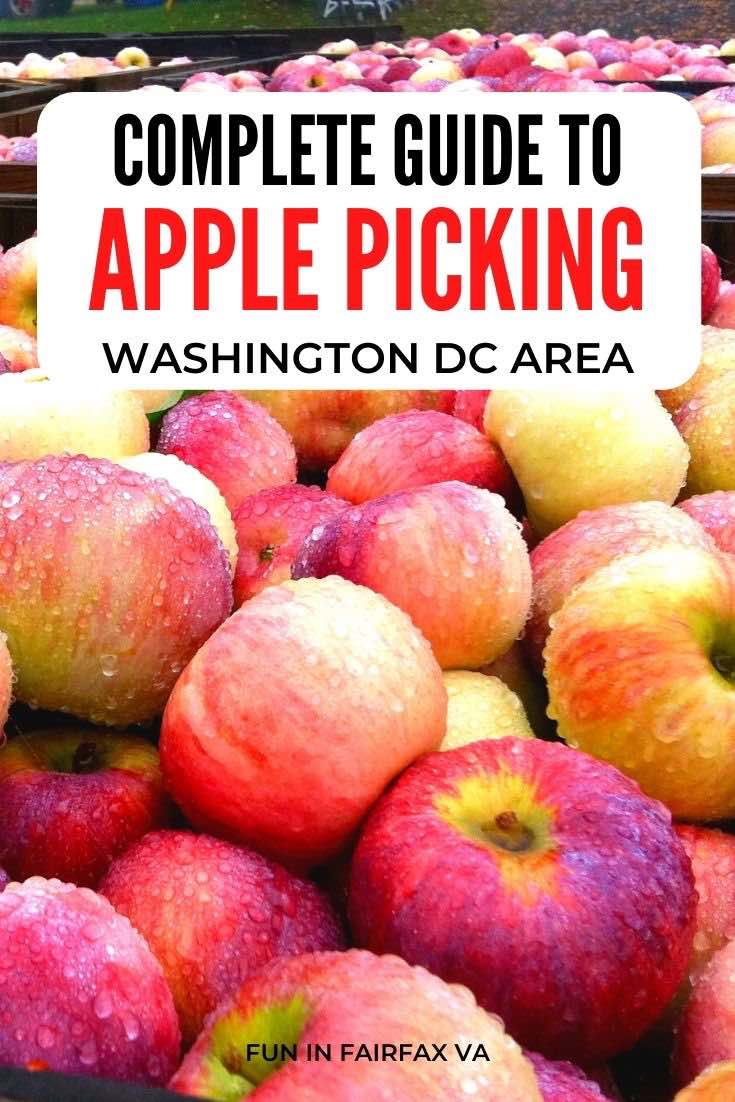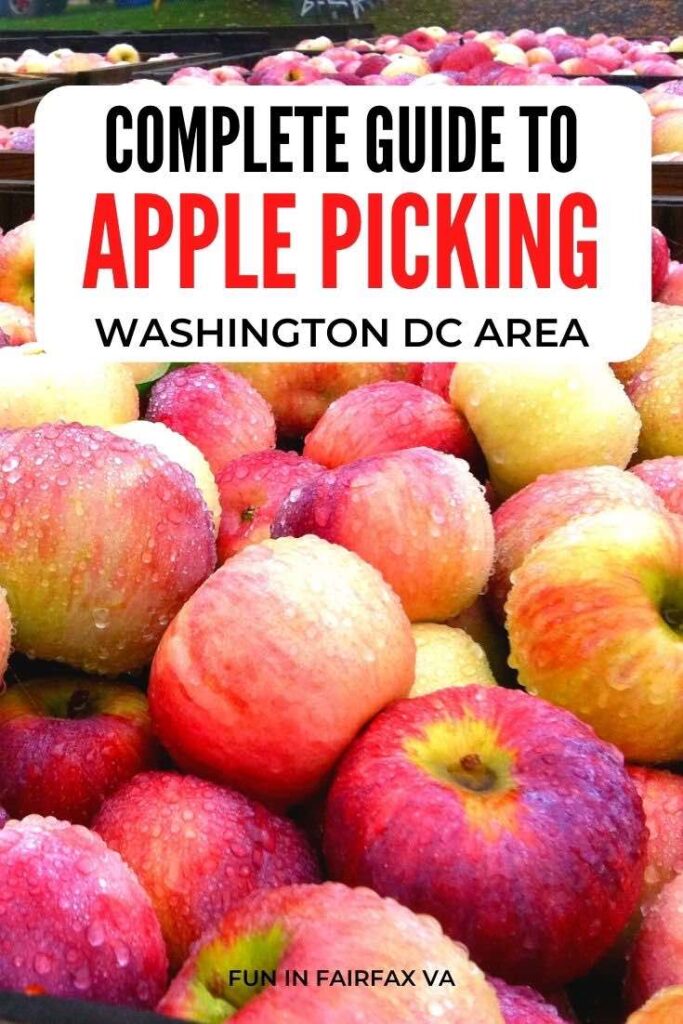 When is the best time for apple picking in Virginia?
Apple picking season in Virginia starts in August and continues until October or November. Some of the orchards on our list grow many different varieties of apples (over 20 in some cases!), so picking options change from week to week.
Summer apple varieties like Honeycrisp, Lodi, and Rambo ripen by mid-August, followed by McIntosh, Gala, and other late summer fruit. Popular September apples grown in Virginia include Honey Crisp, Red Delicious, Golden Delicious, and Smokehouse. October and November apple varieties include Granny Smith, Fuji, York, Crispin, and Rome.
People often think of apple picking as a fall activity but don't wait too long or you'll miss some of the best u-pick varieties. Even if you don't plan to pick until October, it is a good idea to start checking orchard updates and plan your visit earlier.
Weather and crowds can change what is available in the orchard from day to day. Follow the links to find out what is available for picking at the orchard you plan to visit.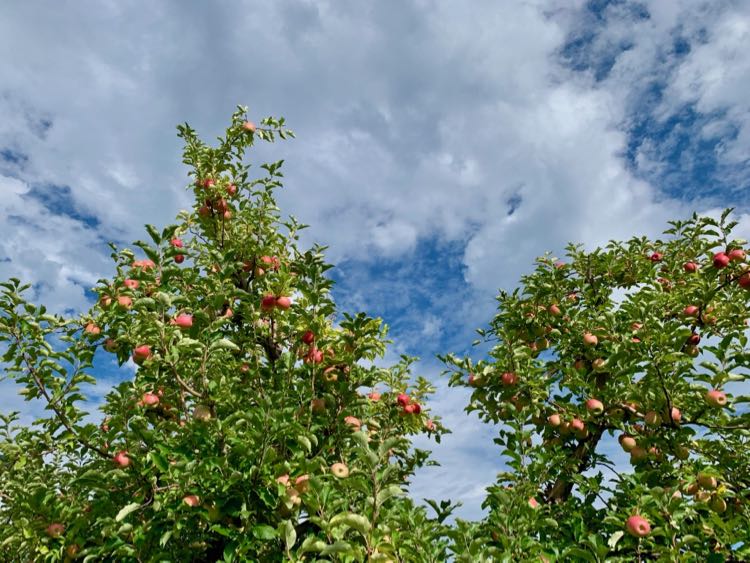 Where to Go Apple Picking in Virginia
The best orchard to go apple picking in Virginia depends on your time and mood. Are you looking for u-pick apple orchards with extra activities for kids or a quiet farm that's all about the picking? If you're planning a day trip, then a scenic drive and great views might be your priority.
Whatever your goal, follow the links to check the u-pick orchard's website or Facebook page before you head out. Apple-picking hours, availability, and rules vary.
Crooked Run Orchard, Purcelville VA
Crooked Run Orchard is a small, family farm that has been in the Brown family for over 250 years. Borrow a bucket and walk across the creek to the orchard (you can also bring your own apple picking bucket). Crooked Run also sells apple cider and other produce and hosts blackberry and peach picking in July and early August.
The orchard is closed Monday and Tuesday, and pick-your-own hours vary. Follow the link to check the latest updates before you head out. Pets are allowed, and there are portable restrooms and picnic tables available.
Find nearby activities and restaurants with our guide to the Best Things to Do in Purcellville Virginia.
Great Country Farms, Bluemont VA
Also in Loudoun County, Great Country Farms is a popular family play space with seasonal apple picking in laet August and September. The farm's annual Apple Harvest and Corn Maze runs through September (earlier when Labor Day weekend is in August).
During the apple harvest, visitors enjoy wagon rides to the u-pick apple orchard, cider pressing demonstrations, and a giant play space for kids. Allow time for lunch and a drink by the pond at Henway Hard Cider. Weekends feature more activities and live music.
Admission is $12/$14 for children/adults on weekdays and $14/$16 on September weekends. Leashed dogs are welcome. Apples are not included in the admission fee. Open 9:00 – 5:00 weekdays, to 6:00 weekends.
This is one of the best places to combine apple picking in Northern Virginia with a fun day in the countryside. Just across the street from the farm, visit Dirt Farm Brewing or Bluemont Vineyards for craft beer and wine with an awesome view. Or take a short hike to Bear's Den Overlook or tackle the more challenging Raven Rocks hike. Plan a day trip or weekend getaway with our guide to 15 Fantastic Fun Things to Do in Bluemont Virginia.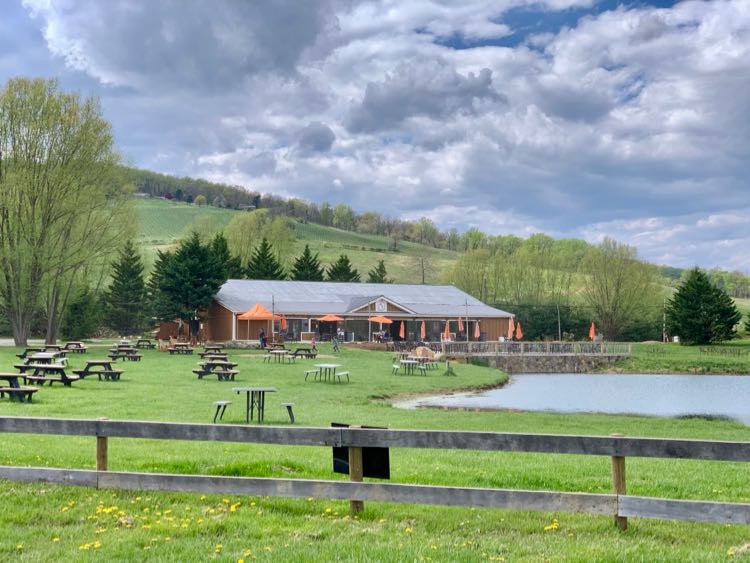 Hartland Orchard, Markham VA
Enjoy more beautiful views at Hartland Orchard in Markham, one of our favorite small towns in Northern Virginia. The orchard offers lots of u-pick options throughout the season. Fruit picking includes apples, cherries, peaches, and blueberries, and in late summer you can pick sunflowers and tomatoes. There is also a nice pick-your-own pumpkin patch in Autumn.
Apple picking at Hartland generally begins in August, but you can call ahead to check availability (540-364-2316) before you head out. In mid-September, the farm usually hosts a fall festival with play spaces and a corn maze. The farm stand also sells pre-picked fruit, produce, and cider.
Hartland is open 9:00 – 2:00 (check for days) and there is no admission fee. Leashed dogs are welcome in the orchard and it's a great spot for a picnic with a stunning view.
Visit Hartland on a scenic drive through Virginia Hunt Country.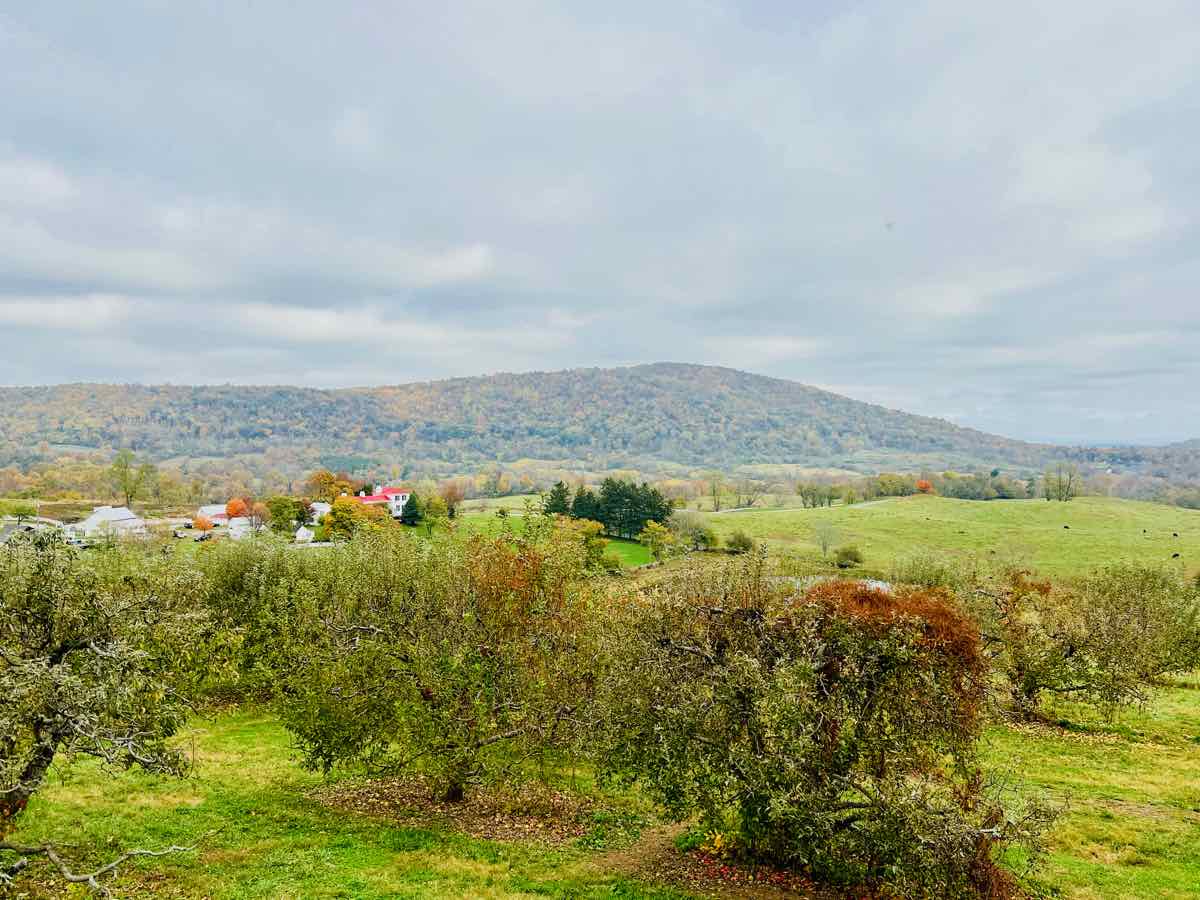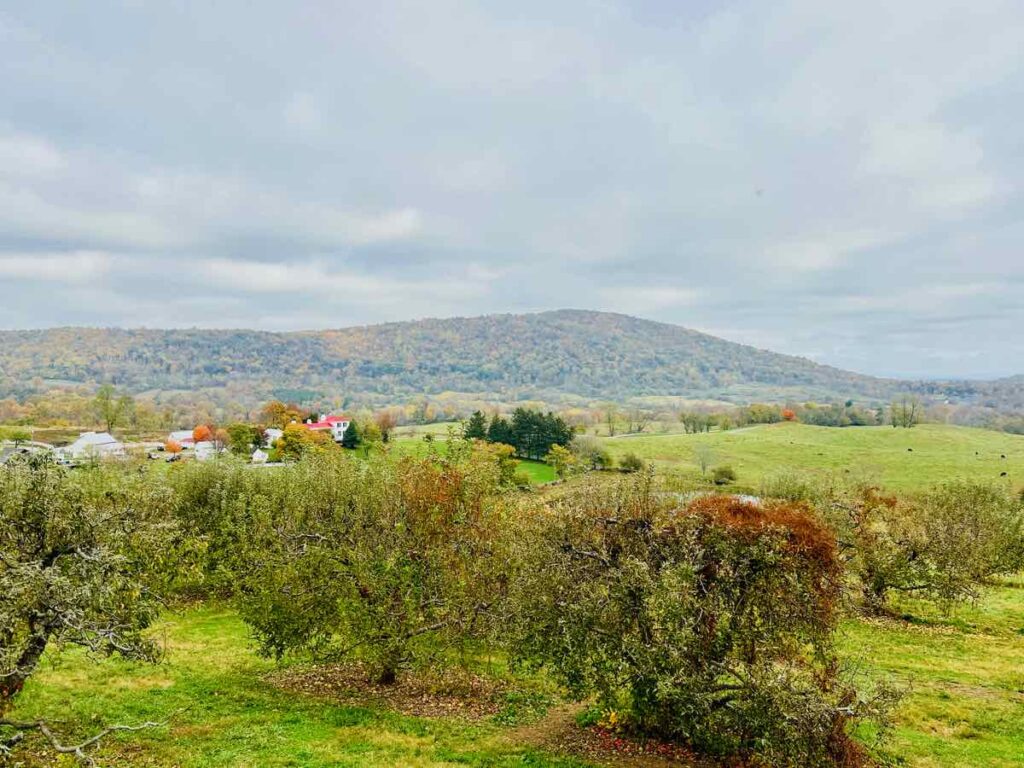 Stribling Orchard, Markham VA
Stribling Orchards boasts 2500 apple trees and 800 peach trees in a beautiful hillside setting. The first apple trees were planted way back in 1765, and Dr. Stribling purchased the 93 acre farm and orchard in 1812.
Stribling has always been one of our favorite places to go apple picking with our kids. Stop at the Harvest House to get a picking pole, then drive or walk up to the orchard. You can pick several apple varieties, beginning in mid-August, so take your time and wander.
Stribling is open during apple picking season from Wednesday through Sunday, 9:00 – 5:00 (last entry at 4:30). Dogs are not allowed at the farm, but you can visit other 4-legged friends including donkeys and Milano the horse. The farm store sells jams, jellies, honey, hot sauces, local eggs, beef, and more.
Hollin Farms, Delaplane VA
Hollin Farms is a fourth-generation family farm on the eastern slopes of the Blue Ridge Mountains in Fauquier County. In addition to apples, the farm offers several pick-your-own fruits and vegetables including pears, nectarines, plums, raspberries, and sweet corn. Stop by in summer for the beautiful flower fields including u-pick sunflowers. The farm also specializes in all-natural, pastured free-range beef.
Pick-your-own hours vary depending on fruit availability and weather. Follow the link to see what is available and when the farm will be open this week. Make it a day trip with a visit to nearby Sky Meadows State Park.
Valley View Farm, Delaplane VA
Head to Valley View Farm in September and October for apple picking in scenic Fauquier County. The fifth-generation farm offers a fun combination of winery, cidery, farm market, and u-pick orchard.
Stop at the tasting room to sample wine, cider, and mead and shop for local farm products in the historic Red Barn. The Locavore Farm Market offers a nice collection of local goods including honey, dressings, syrups, peanuts, fudge, cheeses, and more.
Follow the link for the latest opening hours, which change seasonally. The farm is usually open Thursday and Friday 12:00 – 5:00 and Saturday and Sunday 10:00 – 5:00. Leashed dogs are welcome. In fact, Valley View Farm has been named one of the top dog-friendly wineries in Virginia.
Mackintosh Fruit Farm, Berryville VA
Mackintosh Fruit Farm is located in Berryville, near Winchester Virginia. The farm offers u-pick apples and many other fruits and vegetables. They also have a farm stand and a restaurant that features produce and fruits grown on the farm. The Macintosh bakery sells tasty treats including apple cider donuts.
The farm is open for u-pick Thursday to Saturday, 8:00 to 6:00 (picking closes at 5:00) and Sunday 10:00 – 6:00. There is a $2 per person picking fee to enter the orchard (children under 5 are free). Leashed dogs are welcome except when picking ground crops (e.g. strawberries). Picnics are not allowed in the orchard but there is outdoor, covered seating at the restaurant.
Find more things to do in and near Berryville in our guide 15 Fun Things to Do on a Winchester Virginia Getaway or Day Trip.
Marker-Miller Orchards, Winchester VA
One of the best places for Virginia apple picking with kids is Marker-Miller Orchards in Winchester. In addition to apple picking, kids can enjoy a huge play area and corn maze. There are tables for picnics and rocking chairs where you can relax and enjoy the countryside views.
A fun apple statue is perfect for capturing cute apple season family photos. And everyone will enjoy fresh-made pies and apple cider donuts from the farm store. Enjoy even more food and fun at the annual Apple Harvest Festival (October 7-8, 2023).
Purchase pick-your-own containers when you check-in at the market. Open Monday to Friday 9:00 – 6:00 (to 5:00 on Saturday). Open Sunday 12:00 – 5:00 in September and October. Leashed dogs are allowed on the property but not in the store.
Extend your visit: 15 Fun Things to Do on a Winchester Virginia Getaway or Day Trip.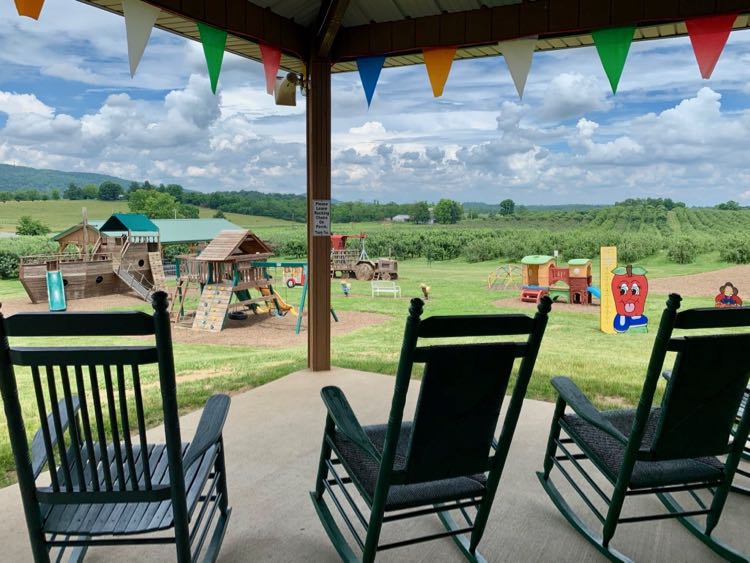 Rinker Orchards, Stephens City VA
Rinker Orchards is a third-generation family farm in Frederick County Virginia. They grow 10 varieties of apples and produce 100% natural apple cider that you can buy at the farm store.
Apple-picking season at Rinkers usually runs from early September through Columbus Day, with fresh cider available through the holiday season. In 2022, the pick-your-own apple season opened on September 10. This Virginia apple orchard is open Saturdays and Sundays only, from 10:00 – 5:00.
Carter Mountain Orchard, Charlottesville VA
Apple picking season is a great time to explore more of the state. One of the most popular spots for apple picking in Virginia is Carter Mountain Orchard, near Thomas Jefferson's Monticello home in Charlottesville. We love the incredible views, apple cider donuts, and cider tasting at the Country Store.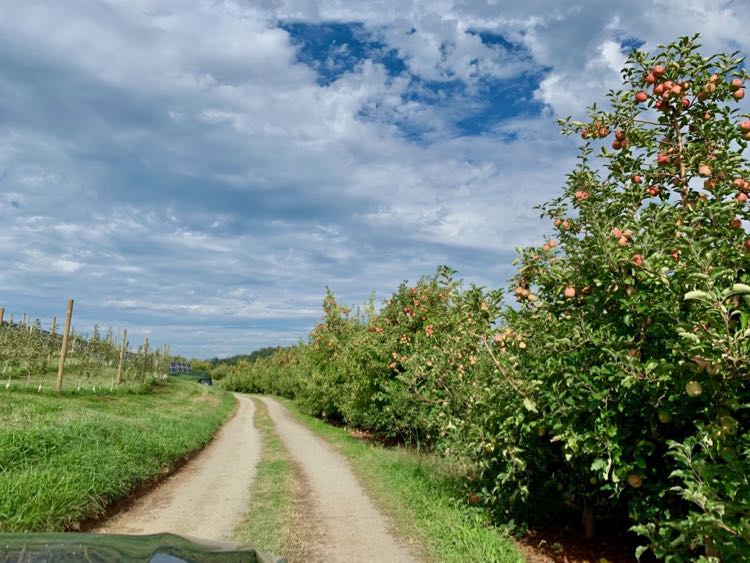 Apple picking at Carter Mountain runs from mid-August through November. There are more than 20 apple varieties in the orchard, from early Lodi to late ripening Albemarle Pippin.
This is a very popular orchard that gets crowded on weekends so visit on a weekday if you can. On peak apple picking weekends, you must have a ticket to enter the Country Store area. Tickets are $8 (under 12 free) and you can reserve your 3-hour timed-entry slot in advance. Apples are an additional charge.
Or skip the apple picking and take advantage of the FREE scenic drive. The scenic drive follows a dirt road hugging the side of the mountain. You'll have pretty views of the orchards and can purchase apples, cider donuts, cider, and other treats from your car. To take the scenic drive, watch for the turn-off as you near the top of the mountain.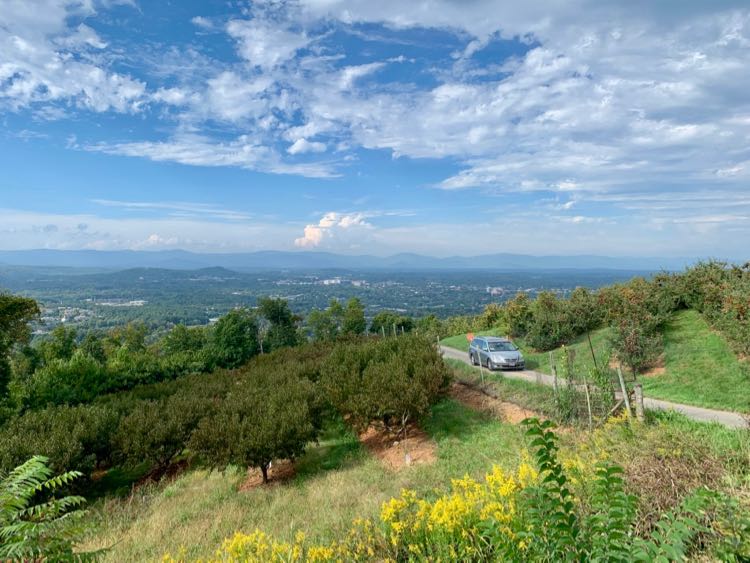 Leashed dogs are not permitted in the orchard so leave your furry friend at home. Carter Mountain Orchard is open daily and hours vary by day (follow the link for details).
Plan your trip with our guides: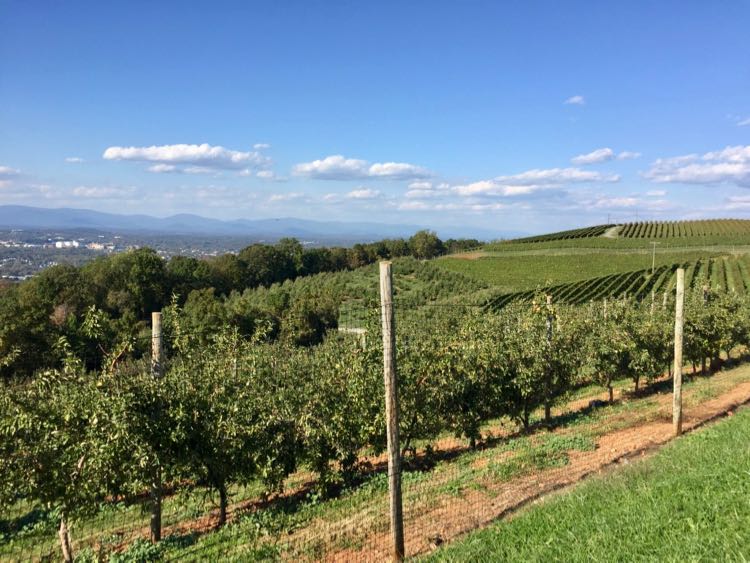 Fruit Hill Orchard, Palmyra
Drive southeast from Charlottesville on the Thomas Jefferson Parkway to reach Fruit Hill Orchard, a five-generation family farm with over 2,000 fruit trees and expansive vegetable beds. Pick-your-own apple orchards open in early August with varieties that are perfect for those back-to-school lunches.
The orchard is open Monday through Saturday, 10:00 – 6:00. Allow time to have a picnic, play a game of cornhole, or just sit and enjoy the view. Be sure to stop in the Apple Museum to learn a little more about this 100-year-old orchard.
Richard's Fruit Market, Middleton
There is no u-pick apple option, but Richard's Fruit Market is a nice, family-friendly stop in the Winchester area. If you're lucky, you can watch the vintage apple sorter do its job and create a bouquet of u-pick flowers. Richard's Market is open daily from 9:00 – 5:00 in season, 10:00 – 4:00 on Sundays.
Silver Creek & Seaman's Orchard, Tyro
The Shenandoah Valley is one of the best areas for apple picking in Virginia. Silver Creek & Seamans' Orchard opens their pick-your-own apples for select days in September and October. They also press their own apple cider and host an annual Apple Butter Festival on the 1st and 3rd Saturdays in October (Oct 7 + 21, 2023).
Take a hike at nearby Crabtree Falls, one of the most beautiful fall hikes in Virginia.
Dickie Brothers Orchard, Roseland
At Dickie Brothers Orchard, apple picking in Virginia kicks off in mid-August. This family farm goes all the way back to the 1700s when King George sold the land to James Dickie. Today, they harvest 70,000 bushels of apples a year. Follow the link for guidance on when the 20 varieties of apples will be ready for picking. The season ends with u-pick Pink Lady apples in early November.
The orchard is open Thursday through Saturday from 10:00 – 5:00 and Sunday 10:00 – 4:00. Pets are not allowed in the orchard so leave your furry friend at home.
Drumheller's Orchard, Lovingston
Families head to Drumheller's Orchard in Lovingston to pick peaches, apples, blueberries, and blackberries. Teachers alert—Drumheller's welcomes school tours from late September through October. Call ahead to book your visit and give kids a hands-on lesson about apple picking in Virginia.
The orchard and market are open daily, Tuesday through Saturday from 9:00 – 5:00, noon – 5:00 Sunday. They also host a weekend-long September Harvest Festival (details below).
Morris Orchard, Monroe
Continue south toward Lynchburg and the foot of High Peak Mountain for fun apple picking at Morris Orchard. The family farm offers a variety of fruit and vegetables including pick-your-own blackberries and apples. Even if you don't want to pick, stop in for their famous apple cider, pressed on site.
Shop for early apple varieties like Gala and Ginger Gold in early August, and check the schedule to see what's ripe each week. You can even pick heirloom varieties like Arkansas Black and Winesap. The market is open Monday through Saturday, 9:00 – 4:00.
More Apple Festivals Near Northern Virginia
Celebrate the season and all things apple at these fun, family-friendly annual apple harvest festivals.
Drumheller's Orchard Apple Harvest Festival, Lovingston VA
Everyone gets two chances to enjoy Drumheller's annual Apple Harvest Festival in 2023. Celebrate with tasty treats, hayrides, and alpaca petting, plus live music, food vendors, and more family fun. Admission is free and the orchard is open 9:00 – 5:00. This year, the September Apple Harvest Festival is Sep 30 – Oct 1, 2023 and the October festival is Oct 21-22.
Graves Mountain Farm Apple Harvest Festival, Syria VA
Tucked at the base of the Shenandoahs, Graves Mountain Lodge hosts an Apple Harvest Festival on the first three weekends of October. Enjoy a day of family-friendly apple season fun featuring food, bluegrass music and cloggers, and over 70 arts and crafts vendors. Kids will love the hayrides, hay mountain, hay maze, moon bounces, and pony rides.
The 2023 Apple Harvest Festival dates are Oct 6-7, 13-14, 20-21. The harvest festival is open 11:00 – 4:00 Saturdays and Sundays and tickets are $5 for ages 16 and up.
National Apple Harvest Festival, Hollabaugh Brothers, Biglerville PA
The National Apple Harvest Festival has celebrated apple season for over 50 years. The festival near Gettysburg runs the first two weekends of October. Enjoy hundreds of arts and crafts dealers, demonstrations, contests, food stands, and entertainment in the heart of Pennsylvania Apple Country.
Dates for the 2023 National Apple Festival are Oct 7-8, 14-15. Admission to the festival is $10 for ages 12 and up, under 12 free. Seniors and military ID holders are $9 and a 2-day pass is $17. Hours are 8:00 – 6:00 Saturdays, to 5:00 Sundays.
Plan your visit with our guide A Gettysburg Foodie Getaway to Pennsylvania Apple Country.
Tips for Apple Picking in Virginia
As noted above, Virginia apple picking season runs from early August through October. Mid-September to mid-October is prime time for some of the best-eating apples. Most orchards grow several apple varieties, including Gala, Red and Yellow Delicious, and Fuji.
Always follow these simple apple-picking rules:
Do not climb the apple trees. Do not let your kids climb the trees or sit on apple branches. Apple branches are beautiful and tempting but fragile.
Don't waste fruit. If you pick it, pay for it.
Many farms do not allow dogs in orchards or farm stores. Check policies if you plan to bring your furry friend.
Congratulations to two of these Virginia apple orchards—Marker-Miller and Carter Mountain—for making the USA Today 10Best list for Best Apple Orchards in the U.S.
Map to Apple Picking in Northern Virginia and Apple Season Fun
Apple picking in Virginia is a great way to celebrate the transition from summer to fall. Best of all, you come away with a tasty reward for your efforts. Whichever apple orchard or festival you choose (or try them all!) we wish you plenty of fun and happy apple picking in Virginia.
Follow us on Facebook, Twitter, Pinterest, and Instagram for more fun travel in and from Northern Virginia.