Sip, relax, and soak in beautiful Northern Virginia winery views at these vineyards close to Washington DC. Enjoy views of a historic battlefield, rolling hills, distant mountains, peaceful ponds, stunning sunsets, and leafy vineyards along with delicious Virginia wines.
These spectacular views change with the seasons, offering beautiful Northern Virginia winery views all year long. In spring, wildflowers dot the fields and low humidity means clearer skies. Summer brings green fields and leafy vines into view. Indoor tasting rooms and covered patios provide a place to escape the heat on steamy days. Fall foliage colors the vineyards and surrounding hills in Autumn. And snow-covered vineyards offer a romantic backdrop in winter.
While these wineries make a great day trip, we suggest a longer getaway to relax and explore the countryside. Find a unique and beautiful place to stay with our getaway guides:
Favorite Northern Virginia Winery Views Near DC
Some of the best wineries in Virginia are only an hour's drive from Washington DC. Most Northern Virginia wineries are located in Loudoun County, but one of the wineries on our list is in Fairfax County. Follow the direction links in each listing for a map to the Northern Virginia wineries listed here.
Bluemont Vineyard, Bluemont
Plan your visit with our guide to 15 Fantastic Things to Do in Bluemont Virginia.
Featuring one of the most sensational views in Virginia wine country, Bluemont Vineyard sits high in the foothills of Blue Ridge Mountain. Two levels of patio seating offer sweeping views east across the Virginia Piedmont. A lawn area with picnic tables provides additional room to spread out. There is plenty of seating inside and out, though the best views are from the upstairs porch. The winery is open daily. Bluemont Vineyards is about 60 miles from DC.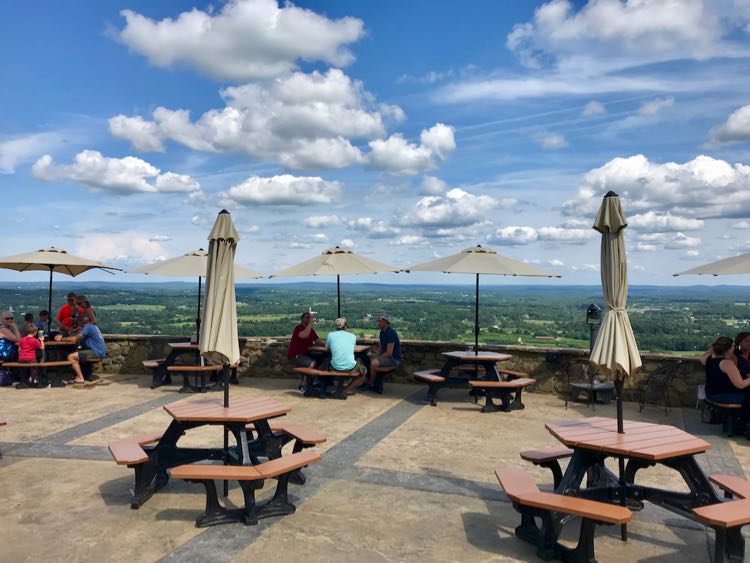 Twin Oaks Tavern Winery, Bluemont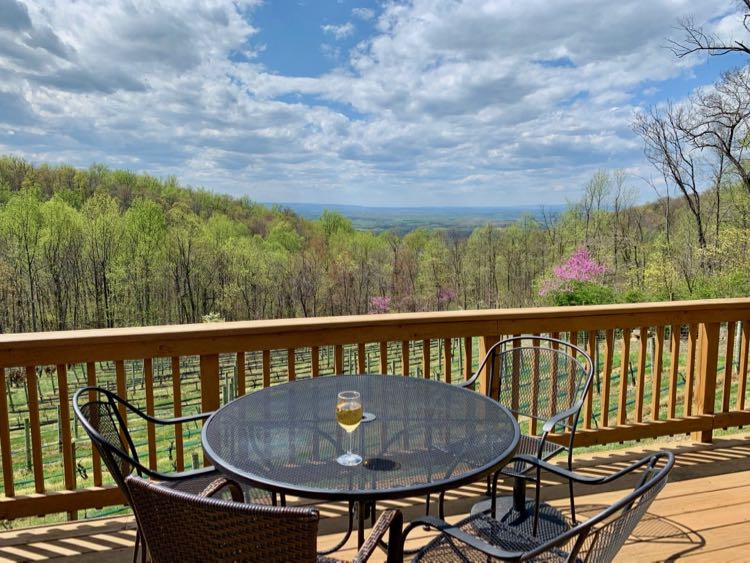 Also in Bluemont, Twin Oaks Tavern Winery catches the westward view from the other side of the ridge. The historic site was once a tavern, welcoming DC residents who headed to Bluemont to enjoy the fresh country air. The Twin Oaks tasting room commands a stunning view of the vineyard and mountains with lots of room to spread out.
Arrive late in the day to enjoy one of the best sunset views in Northern Virginia. Or take a Bear's Den Overlook hike to enjoy a similar westward view and sunset.
Fox Meadow Winery, Linden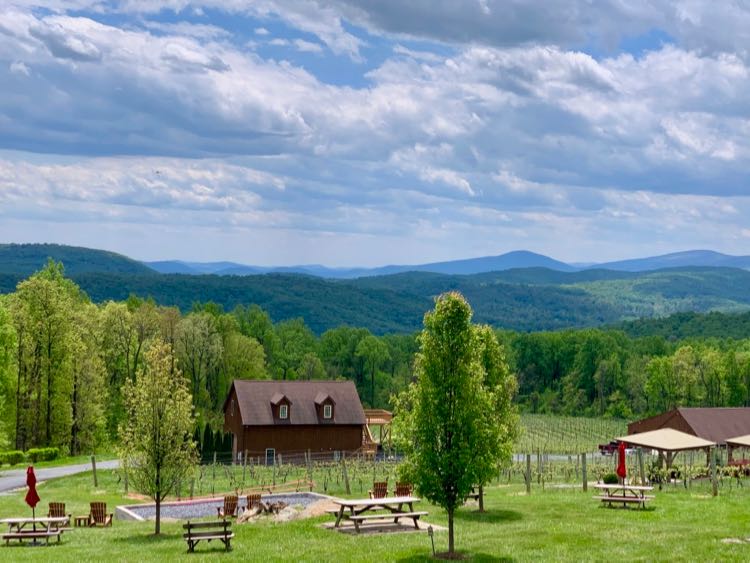 Fox Meadow Winery also offers a gorgeous mountain view toward Manassas Gap to the south. Their tasting room is a great option on chilly days because you can enjoy the same view from inside, or out on the porch. Visit in late April or early May and to see a stunning wildflower display on the Trillium Trail nearby.
While you relax with your wine, contemplate what the area was like during the Civil War. Manassas Gap was a strategic connector between the Piedmont and the Shenandoah Valley, and the site of multiple skirmishes. The winery is open daily, and is about 65 miles from Washington DC.
Stone Tower Winery, Leesburg
Located on Hogback Mountain, the scenic drive to Stone Tower Winery is part of the fun. Once you arrive, you'll love the view of rolling hills and vineyards from the expansive patio. The tasting barn is perfect on chilly (or hot) days, with lots of comfy seating. Views from the upstairs Tower View Tasting Room (restricted to visitors 21 and over) are also stunning. Stone Tower Winery is open Thursday through Monday. Stone Tower Winery is 45 miles from Washington DC.
Extend your fun and visit several wineries in Loudoun County with a Leesburg weekend getaway. Lansdowne Resort and Spa is the perfect base for visiting wineries close to DC. There are some excellent Leesburg restaurants, historic sites, and antique shops when you're ready for a wine break.
Check availability and rates at Lansdowne Resort now.
Hillsborough Winery, Hillsboro
Hillsborough Winery is located in Loudoun County, on land once owned by George William Fairfax, a close friend of George Washington. In 2018, Hillsborough added a brewery, so now you can sample tasty brews and wine at this lovely location.
The winery has a pleasant tasting room in a historic 1840s stone barn. But the best views are outside. Fortunately, two patios and a long pergola offer plenty of outdoor seating. Fun fact: the town of Hillsboro is the birthplace of Susan Koerner Wright, whose sons Wilbur and Orville invented the airplane. Open daily. Hillsborough Vineyard is just over 50 miles from Washington DC.
Willowcroft Farm Vineyards, Leesburg
The oldest winery in Loudoun County, Willowcroft Winery sits atop Mt. Gilead with pretty views of the distant Blue Ridge Mountains. The first acre of vineyards was planted in 1981 when Virginia wine production was just beginning.
The beautiful view is only available from the outdoor seating area, so Willowcroft is a great warm weather destination. When it's too cold outside, you can enjoy your wine in a historic red barn which predates the Civil War. Willowcroft is abut 45 miles from DC and they suggest you follow their directions rather than rely on your GPS (which may steer you down a bumpy dirt road). Open Friday to Monday, year-round.
Doukenie Winery, Purcellville
Doukenie Winery sits at the foothills of the Blue Ridge, so your view is up into the hills rather than down into the valley. This makes the view from the patio and yard especially gorgeous when fall colors take over the hills.
When the weather is nice, opt for a seat out by the pond or near the gazebo. There is plenty of open lawn to spread out and find a private space, or have room for active kids. Open daily. Doukenie Winery is about 50 miles from DC in the town of Purcellville.
8 Chains North, Waterford
The patio at 8 Chains North offers serene views of the vineyard set in the rolling hills of the Piedmont. The large tasting room has lots of seating and large windows, so it's a good alternative on cold weather days. And when the weather is good, allow time to explore the small historic town of Waterford.
8 Chains is very family and dog friendly. They have a dedicated dog park where pets can be off leash, and leashed pets are welcome throughout the property. 8 Chains is open Thursday through Monday, and is about 55 miles from DC, near route 9 in Leesburg.
Aspen Dale Winery at the Barn, Delaplane
The view at Aspen Dale Winery is not high on drama. But the lovely barn at this horse farm offers an idyllic view of Virginia country life. You'll have to sit outside to get the view, but we enjoyed a sunny table even with snow on the ground. When it's too cold outside, aim for a comfy chair by the fireplace, one of our picks for warm winter outings close to home.
In warm weather, take a stroll around the grounds to visit the miniature horses and their full-sized friends. Open daily in summer; check for winter hours. Aspen Dale Winery is about 55 miles from DC near route 66.
The Winery at Bull Run, Manassas
The Winery at Bull Run offers a nice view with an interesting history. The Winery property includes the remains of buildings from the 1800s, including a stone patio that was present during the Battle of First Manassas. This is the closest Northern Virginia winery view to Washington DC on our list.
The Battle of First Manassas, the first major conflict of the Civil War, started right next to the vineyard property. Picnickers from as far away as DC sat on the hillside to watch the battle. Some spectators got too close and were caught up in the chaotic Union retreat. At least one picnicker, New York Rep Alfred Ely, was taken prisoner by the Confederates.
There are lots of options for relaxing with your wine. Rockers line the patio, and there are two large outdoor areas with picnic tables—one for adults and one for families with children. There is also a large tasting barn with indoor seating and some interesting displays of artifacts found on the property. Open daily and only 35 miles west on route 66.
Wineries in Charlottesville Virginia
We love the spectacular Northern Virginia winery views on our list, but there are many more Virginia wineries worth a visit. The vineyards and wineries near Charlottesville are stunning. Watch a polo match as you sip at King Family Vineyards in Crozet. Jefferson Vineyards is a perfect stop for wine tasting and scenic views of Mt Alto, after a visit to Thomas Jefferson's Monticello.
Tips for Visiting Northern Virginia Wineries
Virginia wine country is full of wonderful wineries and so many amazing views.
Follow us on Facebook, Twitter, Pinterest, and Instagram for more fun travel in and from Northern Virginia.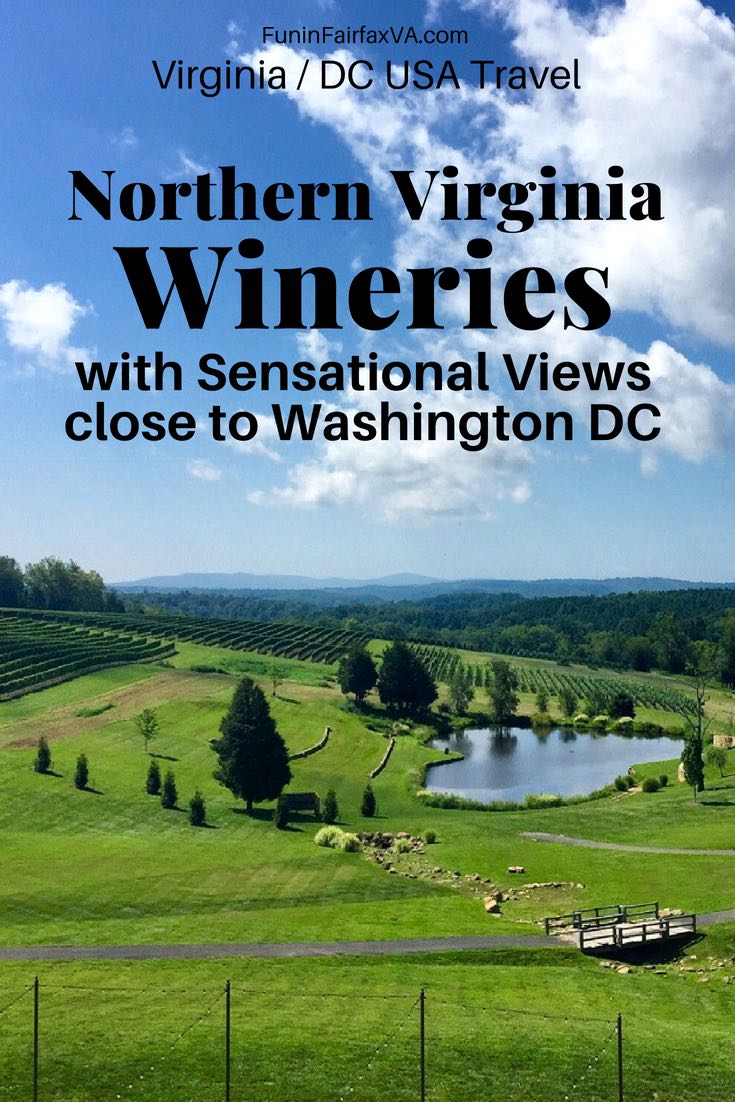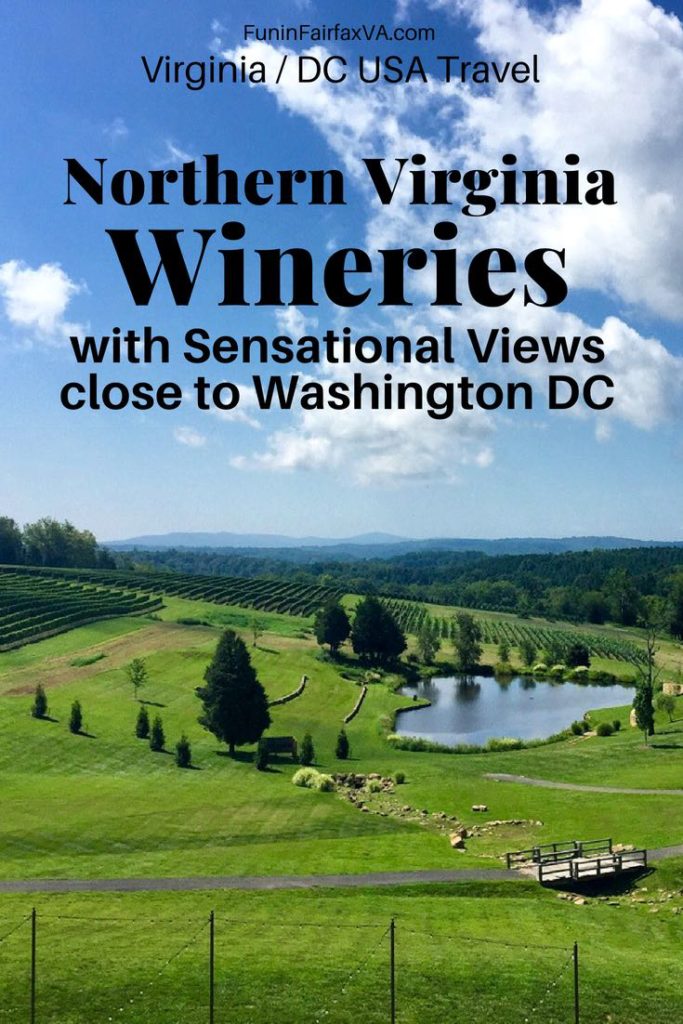 Published in 2018, last updated in 2021.