Plan a fun getaway with our guide to fantastic things to do in Norfolk VA, a cool city with interesting neighborhoods, dining, drink, art, and more. This unique city makes the best of 144 miles of shoreline and you'll find great Norfolk attractions both on and near the water.
Beyond the waterfront, explore walkable Norfolk neighborhoods packed with history, art, food, and drink. Virginia Beach gets more of the attention, but Norfolk has a fun and diverse collection of activities for every age and interest. It's a popular destination for families, but also makes an excellent friend or couples getaway.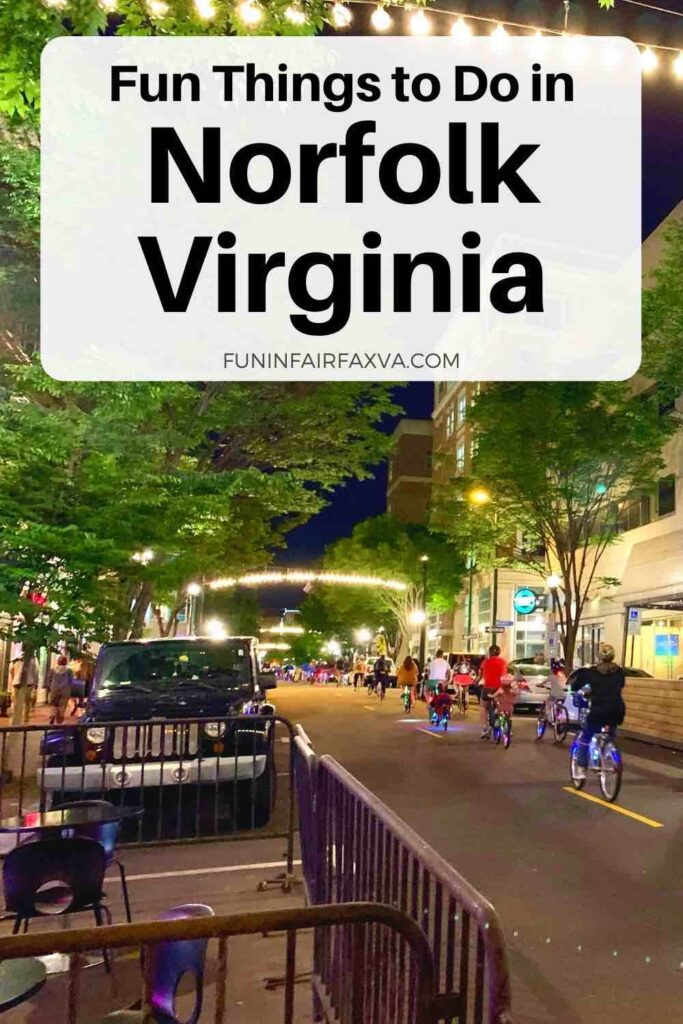 Fun and Fantastic Things to Do in Norfolk Virginia
Visitors will find an excellent range of things to do in Norfolk Va including free activities, popular tourist attractions, kid-friendly spots, and more. Even on a short visit, the compact downtown makes it easy to pack a lot into a 2 or 3-day Norfolk getaway.
Disclosure: This article may contain affiliate links. We will make a small commission from these links if you order something, at no additional cost to you.
Enjoy a Sunset Sail with American Rover
Sail into the sunset on the beautiful three-masted schooner, American Rover. This sailing tour is a fun combination of classic seamanship, interesting naval history, and casual time on board. As the Rover sets off, the ship's mates hoist and set the five red tanbark sails.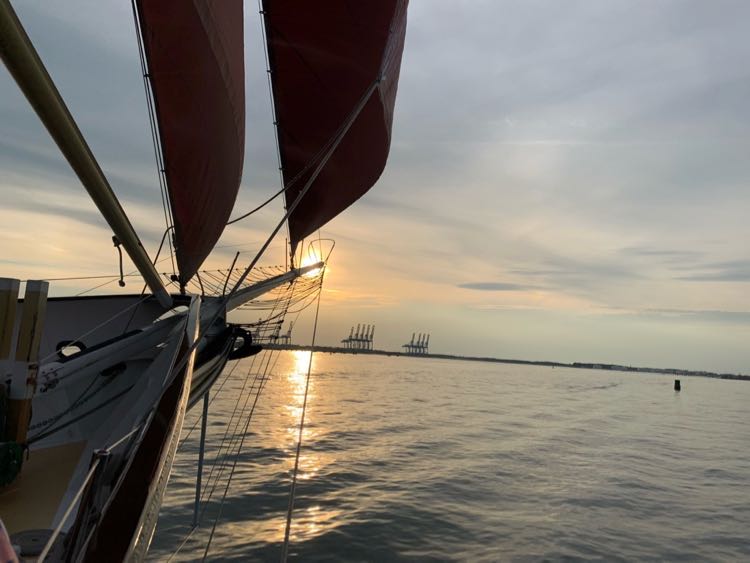 During your tour of Norfolk Harbor, the Captain explains the facilities and ships you'll see in this busy seaport. Drinks and snacks are available and there is live entertainment. A two-hour daytime tour is a fun option for families.
Kayak the Lafayette River
Norfolk Kayak Rentals is one of Norfolk's hidden gems, offering a unique and fun way to explore the city's riverfront neighborhoods. Kayaks launch from a quiet section of Knitting Mill Creek then can head east or west on the Lafayette River. From the water, kayakers have a unique view of riverside homes and marshes.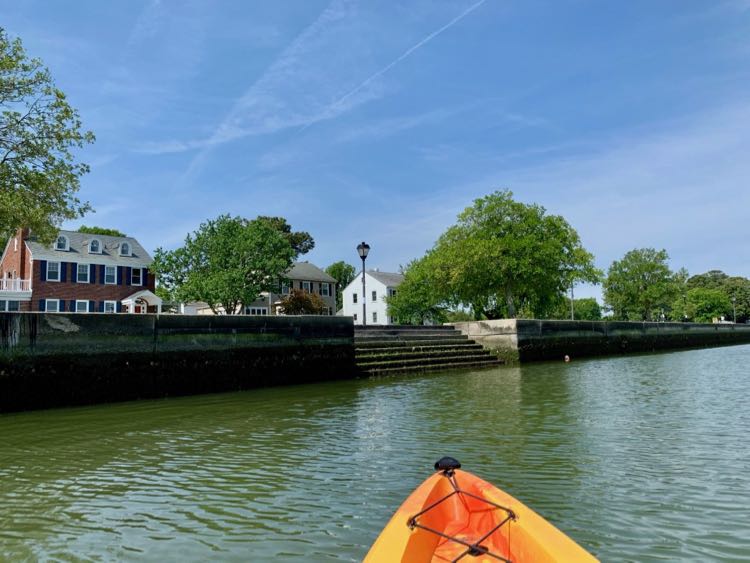 Urban kayaking is one of the unusual things to do in Norfolk that takes you away from the tourist hot spots. Reserve one-hour, two-hour, or full-day rentals in single or tandem kayaks.
Tour NEON District Street Art
Tour the NEON District, an up-and-coming neighborhood with a creative vibe, and enjoy one of the most Instagrammable things to do in Norfolk VA. Here you can see a vibrant collection of public artworks, from an alley lined with sanctioned graffiti, to quirky sculptures, to huge works created by top mural artists. Checking out public art is one of the best free things to do in Norfolk.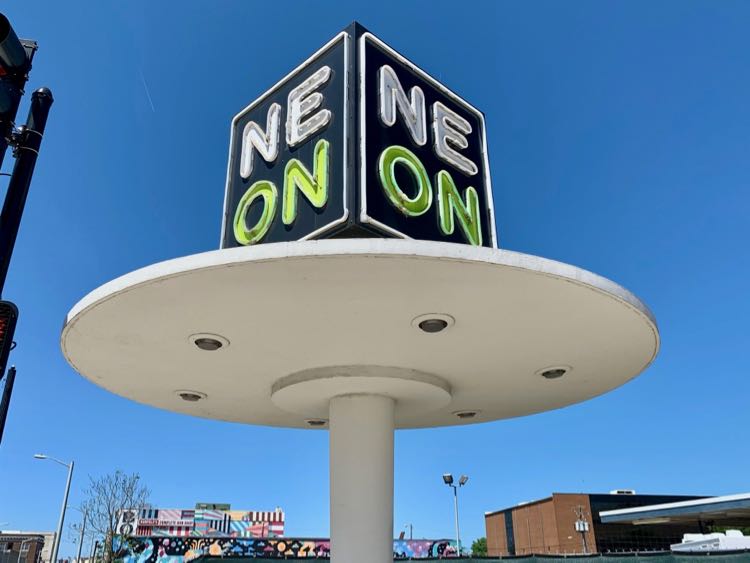 The city's first official art district's name is an acronym for New Energy of Norfolk. Since 2013, the city has transformed the area just north of Brambleton Ave into a thriving arts scene with glass studios, outdoor gathering spaces, tasty restaurants, and so many incredible murals.
One of the best ways to explore the NEON District is on a free guided tour with Norfolk Tour Company. There are free tours once a month but you can also book a private tour of NEON and other areas of the city.
Walk or Bike the Elizabeth River Trail
It's always great to visit a city with an accessible, interesting, and beautiful waterfront. The Elizabeth River Trail in downtown Norfolk is ideal for a leisurely stroll or bike ride by the water. The full trail is 10.5 miles long, but the 2-mile section of the Waterside District and Freemason neighborhood includes many of the highlights.
Dine, Drink, and Play at The Market. This riverfront food hall includes national and local restaurants and breweries along with multiple spaces for live entertainment inside and out.
Explore the harbor on the American Rover (details above), City Cruises by Hornblower, Victory Rover, or catch the Elizabeth River Ferry to Portsmouth.
Learn about American wars from the perspective of those who fought at the Armed Forces Memorial. This unique sculpture includes 20 bronze letters written to loved ones by Armed Forces members in every American war.
Enjoy an outdoor concert or festival at Town Point Park.
Explore the power of the sea at Nauticus, a science and technology center that is also home to the Battleship Wisconsin. Nauticus and Battleship tours are one of the most popular things to do with kids in Norfolk. During the holidays, the ship hosts a fantastic light show. If you don't have time to visit, you can still get an excellent view of the ship from the Elizabeth River Trail.
Experience a little serenity at the Pagoda and Oriental Garden, a gift from Taiwan.
Throughout the trail, informational signs explain the history of the river and it's role as a major naval port.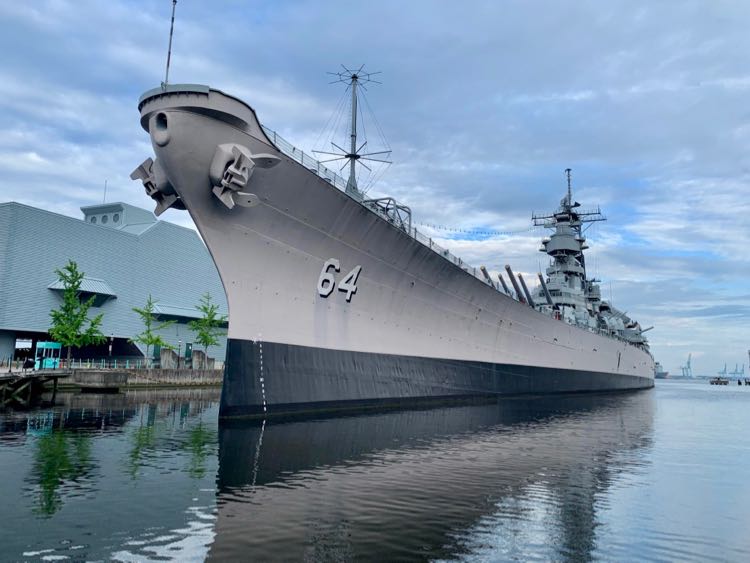 Hunt for Norfolk Mermaids
Mermaid statues have been in Norfolk for 20 years and you won't have to look very hard as there are new mermaids popping up all over. These pretty statues make great photo spots, and you'll see many different themes and color palettes.
Step into History on the Cannonball Trail
History-lovers can take a self-guided tour on the Cannonball Trail. The trail includes some of the sites on the Elizabeth River Trail, along with historically important buildings throughout the city. Over 40 sites interpret 400 years of American history in Norfolk.
Architecture and Cobblestones in Freemason
Even if you don't have time to walk the whole Cannonball Trail, you can walk a beautiful cobblestone street in the Freemason neighborhood. Stroll West Freemason Street, between Duke Street and the water. Here, you'll see the cobblestone streets, granite curbs, brick sidewalks, cast iron fences, and stately homes of Norfolk's oldest neighborhood.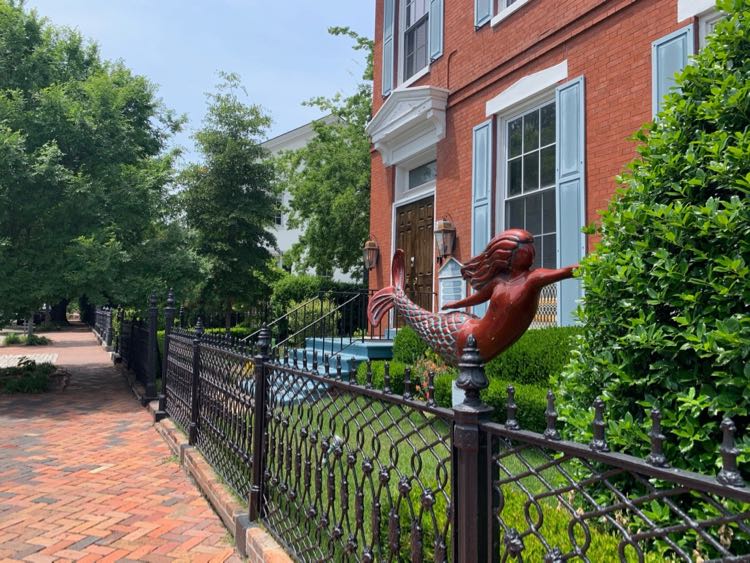 Catch a Show
Bank Street Stage is a new tented, outdoor space in Downtown Norfolk. It's a relaxed place to watch a performance during the Virginia Arts Festival. Back at the waterfront, Town Point Park is another fun spot to enjoy annual festivals and live entertainment.
Dine, Drink, and People Watch on Granby Street
Granby Street is the heart of downtown Norfolk, especially in the evening. Known as Historic Restaurant Row, the restaurant and club-lined street comes alive at night. Arched lights sparkle over the road and diners fill tables outdoors and in.
Saltine
The Hilton Norfolk, at the corner of Main and Granby, houses a delicious seafood restaurant and a cool rooftop beer garden. On the main floor, Saltine is a hot spot for fresh seafood and delicious cocktails. Sit outside on the raised deck, inside, or in the vibrant bar area. Our generous mussels appetizer was big enough for a meal and the quality was excellent. Shrimp and Grits is another winner. This is a great location for dinner before a sunset cruise (see above) because it's just a block from the waterfront.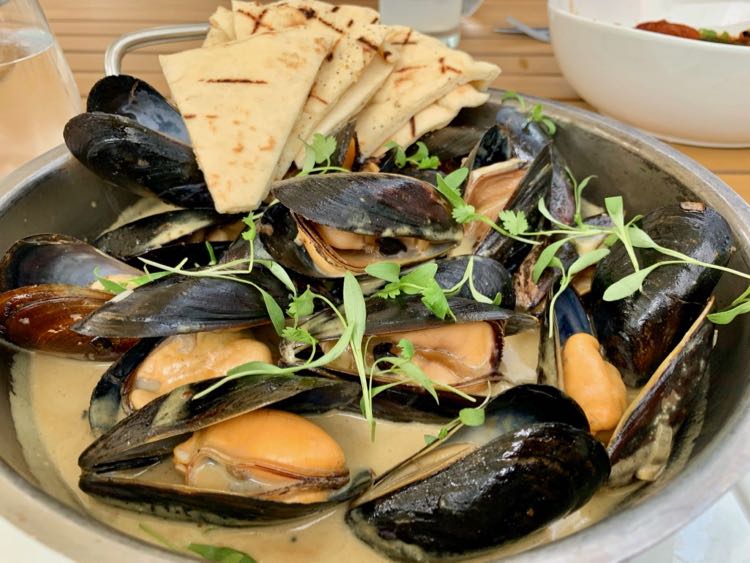 Luce
Luce, a few blocks north on Granby, is a fantastic place for late-night wine, cocktails, or a meal. Sit at the bar of this intimate Italian restaurant and you can watch the mixologist in action. We stuck to cocktails, but the plates of food we saw made us vow to return for a meal.
While we sipped cocktails at Luce when a long parade of colorfully lit bikes headed up the street. Scooters are another popular way to get around, so stay alert when you cross streets.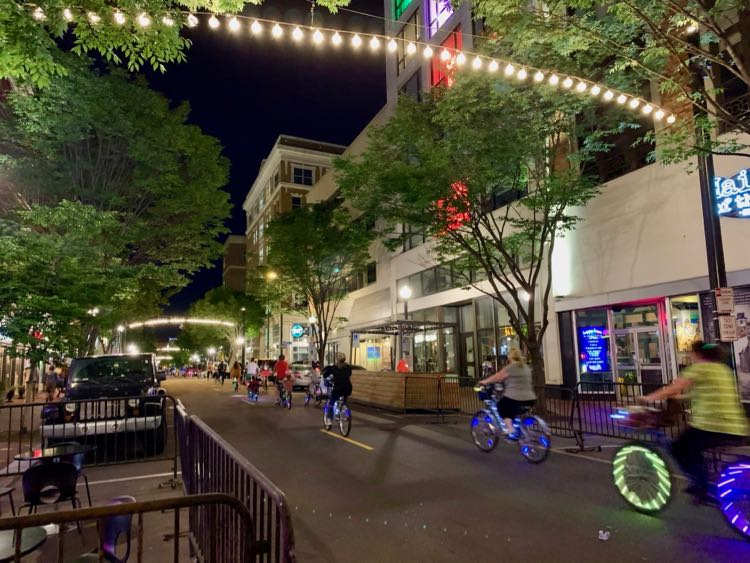 Swim and Sun at Ocean View Beach
One of the many fun things to do with kids in Norfolk is to spend a fun day at Ocean View Beach. Since the beach faces the Chesapeake Bay, waves are small and just right for little kids. Check the calendar and you may be able to catch a show at Ocean View Beach Park. Or head to the longest free-standing pier in America for lunch or dinner with a spectacular view.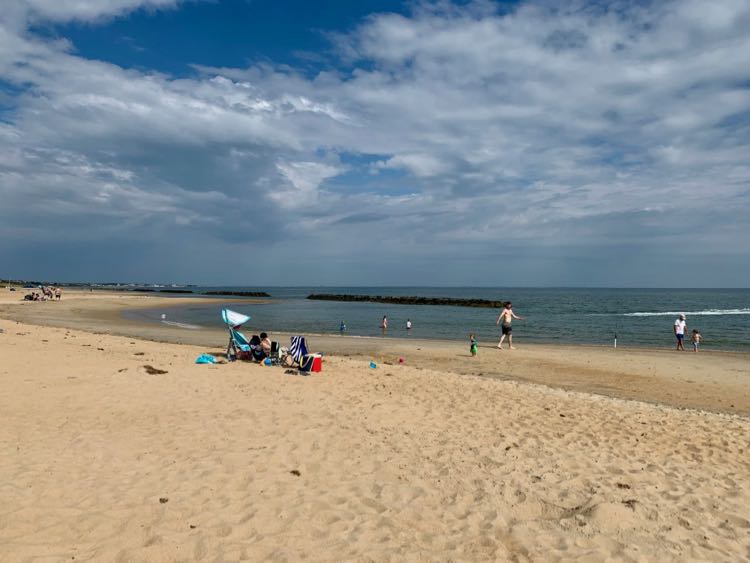 See What's in Bloom at Norfolk Botanical Garden
Enjoy a peaceful walk through 60 themed gardens at Norfolk Botanical Garden. The sprawling site has something for everyone, from quiet gardens for contemplation to the popular splash pads in the Children's WOW Garden. Stroll the 14 miles of paved and dirt trails, or see the garden without all that walking on a canal or tram tour.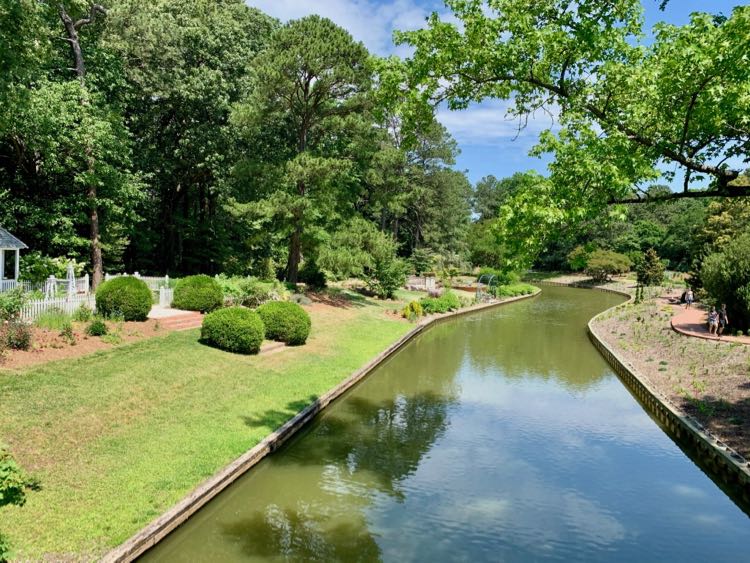 More Tasty Norfolk Restaurants and Breweries
Granby Street is not the only place for local Norfolk dining and drink. Several Norfolk neighborhoods are hot spots for great food, and they offer more cool place to explore the city.
Starving Artist Cafe
For breakfast, you can fuel up in the peaceful NOCO North Colley District at Starving Artist Cafe. Enjoy an outdoor table on a pleasant morning along Colley Avenue. If you like a little heat, try the excellent breakfast burrito with house-made hot sauce. After your meal, head out for a paddle from the kayak launch around the corner (details above).
Stony's Dockside Bar and Grill
If a garden or beach visit is on your itinerary, enjoy a meal at Stony's Dockside. The casual restaurant is right next to Little Creek, with a pretty water and marina view. Thumbs up for the generous Shrimp and Grits and the Crab Omelette.
AW Shucks Raw Bar & Grill
Keep the casual seafood-centric vibe going at AW Shucks Bar & Grill. Located in the cool Ghent neighborhood, the restaurant is part of a great collection of local restaurants, craft breweries, unique shops, and galleries. Check the big board at AW Shucks for the day's fresh fish and shellfish. We chose the blackened grouper and some of the best fried oysters we've ever had. Have a sweet tooth? The rich bread pudding is made with a Krispy Kreme donut base.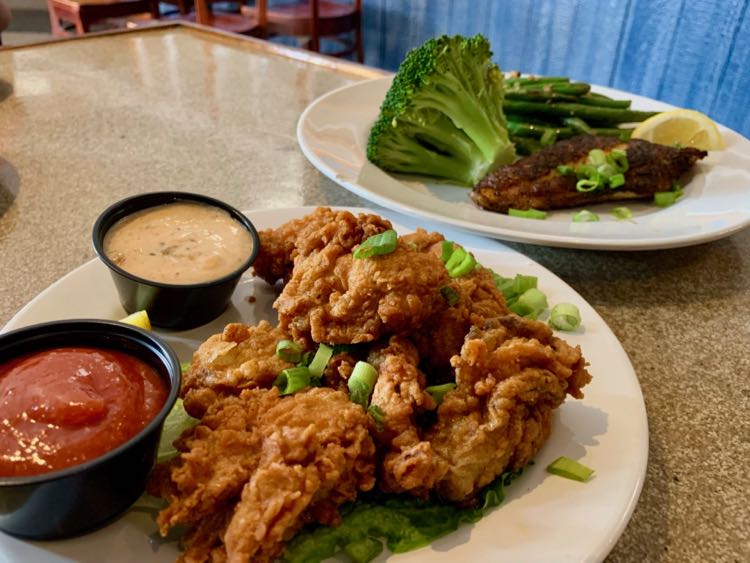 AW Shucks has a strong beer list, but we headed to nearby O'Connor Brewing to sample one of nearby several craft breweries. One of Virginia's first craft breweries, O'Connor has an extensive list of flagship, seasonal, and specialty brews. Wine lovers can head across the street to Mermaid Winery to sample their own Virginia wines and others from around the world.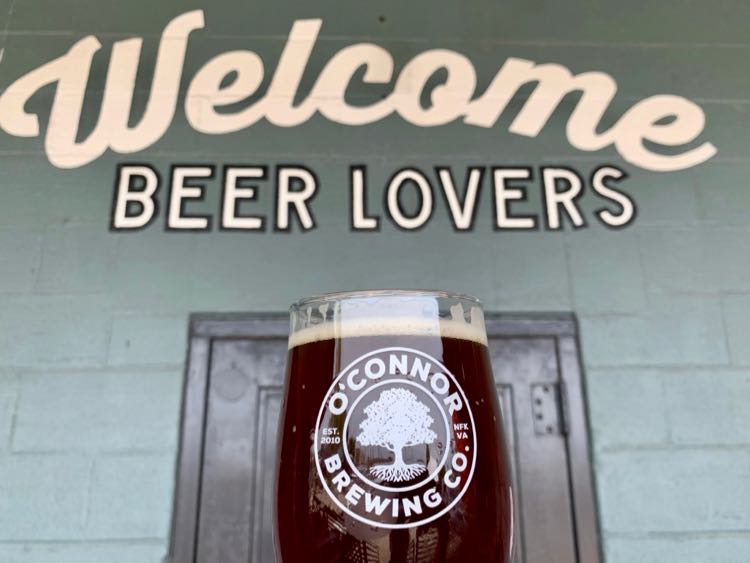 Freemason Abbey
Combine a more traditional menu with a historic location and you have Freemason Abbey. The popular restaurant is located in a 146-year-old renovated church in the historic Freemason District. The menu features meats and seafood dishes plus some vegetarian and vegan options so it's a good choice for a family group. Their rich She Crab soup has won diner's choice awards.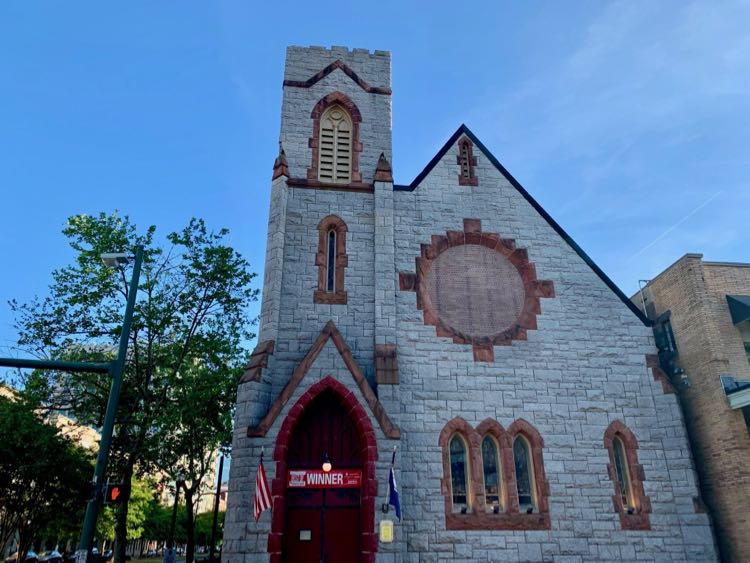 More Popular Places to Visit in Norfolk VA
There are many more interesting things to do in Norfolk VA and these popular destinations attract many visitors.
Selden Market
What looks like a typical downtown mall is actually a launchpad for local shops and pop-ups. Selden Market features a changing line-up of retail and food spots where you can shop and eat local, and sample a cool collection of Norfolk's small businesses.
Chrysler Museum of Art
The Chrysler Museum of Art is one of the best free things to do in Norfolk, and should be part of any art-lovers itinerary. The museum features 50 galleries including an extensive collection of glass objects along with a unique glass studio. Happily, both parking and admission are free.
The MacArthur Memorial
A combination museum and research center, the MacArthur Memorial tells the story of General Douglas MacArthur. Museum exhibits interpret American history during MacArthur's lifetime, with a special focus on World War I, World War II, and the Korean War. The museum is open Tuesday to Saturday and admission is free.
Where to Stay in Norfolk Virginia
There are plenty of excellent hotels to choose from when you stay in Norfolk VA, with several clustered near the downtown waterfront or Norfolk airport.
Glass Light Hotel in Norfolk VA
Located in a beautifully preserved 1912 historic building, the Glass Light Hotel is a perfect base for a Norfolk weekend getaway. The boutique hotel is right on Granby Street, close to all of the waterfront and downtown activities. In keeping with its name, the Glass Light features gorgeous and quirky works from the Perry Glass Art Collection. Where else can you see a giant pink glass bunny lounging atop the bar?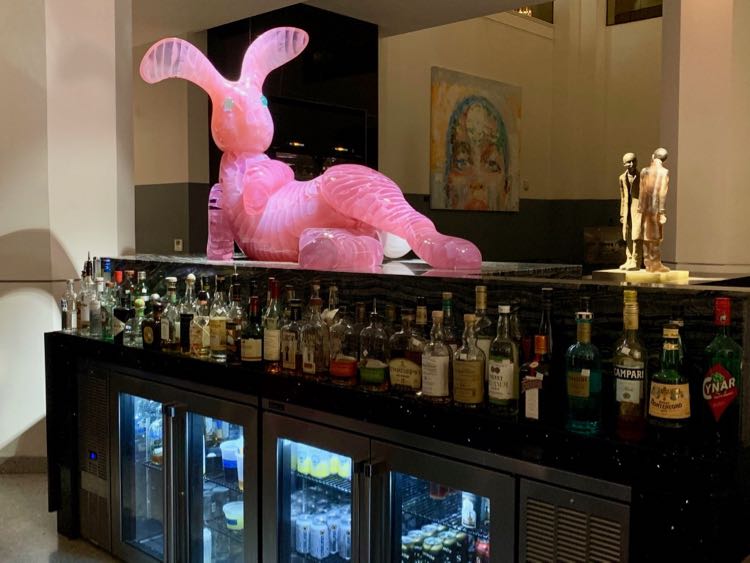 Upstairs, luxe rooms gain personality from unique glass elements and decor like a throwback Frigidaire mini-fridge. We loved the comfort and convenience of rocker chairs and dining table, window-front couch, sleek tiled bath, and an oh-so-comfortable king bed. Giant windows fill the rooms with light and offer expansive views of the city.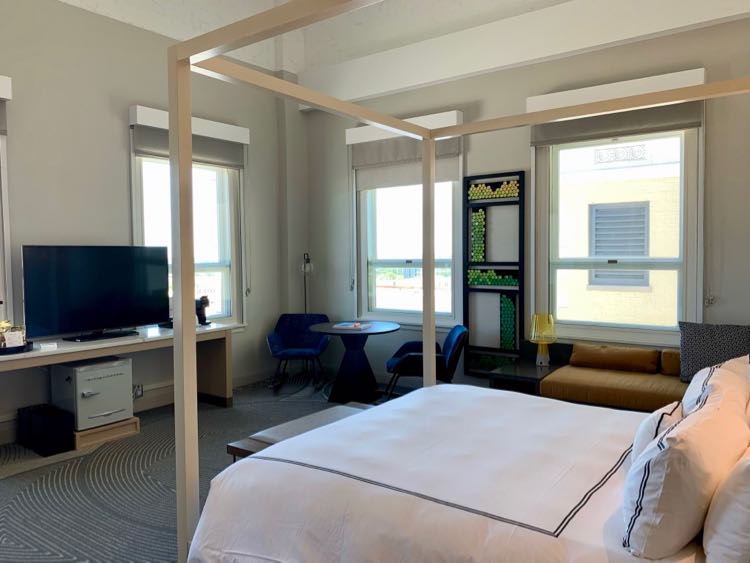 Check customer reviews of the Glass Light Hotel or check rates and availability now.
More Places to Stay in Norfolk
Other popular hotels in downtown Norfolk include the nearby Hilton Norfolk The Main, which features excellent restaurants and a rooftop bar. Further north on Brambleton, the Residence Inn Downtown offers studio to 2-bedroom suites with full kitchens.
Explore more Norfolk area hotels now. If you prefer to stay near the beach, you'll find some great apartment and cottage rentals in Norfolk on the Chesapeake Bay.
Norfolk Virginia Essentials
Find more information about local events and places to see on the Visit Norfolk website.
How to Reach Norfolk
Norfolk Virginia is located in the southeastern corner of Virginia, Norfolk is one of nine cities in the Hampton Roads area. The city is just 18 miles west of Virginia Beach, and 23 miles from the North Carolina border. The city of Norfolk is easy to reach by car, plane, or train, though traffic can be heavy so it's best to avoid rush hour if possible.
By car:
Norfolk is about 3.5 hours from Northern Virginia and DC via Routes 95 and 64. From Alexandria, 301 to 95 may be a better route.
Another option is to drive east to Maryland and down Virginia's Eastern Shore to the Chesapeake Bay Bridge and Tunnel. The drive will be longer but you can add a few overnight stops in pretty towns like Annapolis, Chesapeake, and Cape Charles.
Norfolk is just 2 hours from Richmond and 3 from Charlottesville, perfect for a weekend getaway.
Amtrak runs daily service to Norfolk from Washington DC and Richmond on the Northeast Regional. The Norfolk station has a convenient downtown location.
Norfolk International Airport serves the Southeast Virginia area, with many major airlines offering flights daily.
Visit Norfolk hosted our Norfolk trip so we could share our honest findings. All opinions, text, and photos are our own.
Follow us on Facebook, Twitter, Pinterest, and Instagram for more fun travel in and from Northern Virginia.