Here are 10 awesome urban plazas and green spaces in Northern Virginia where you can picnic, relax, and play. From waterfront parks to town centers, these urban plazas are convenient to local restaurants, shops, and more fun things to do.
Perfect weather for a picnic but no time to prepare a meal? No worries! These convenient urban plazas make it easy to enjoy an impromptu picnic with takeout from nearby restaurants.
Several of the urban plazas on our list are great date night destinations. Most also include kid-friendly spaces where little ones can play and parents can relax.
Disclosure: This article may contain affiliate links. We will make a small commission from these links if you order something, at no additional cost to you.
See also 25 Perfect Picnic Spots in Northern Virginia for Couples to Groups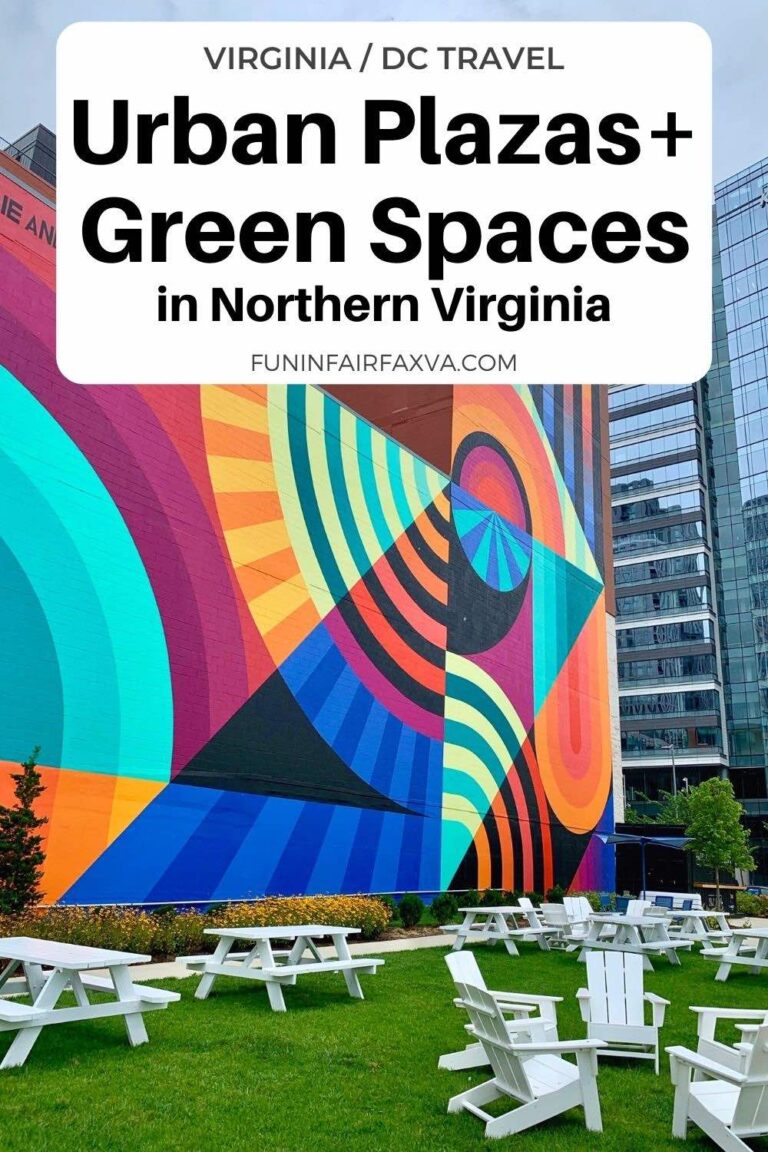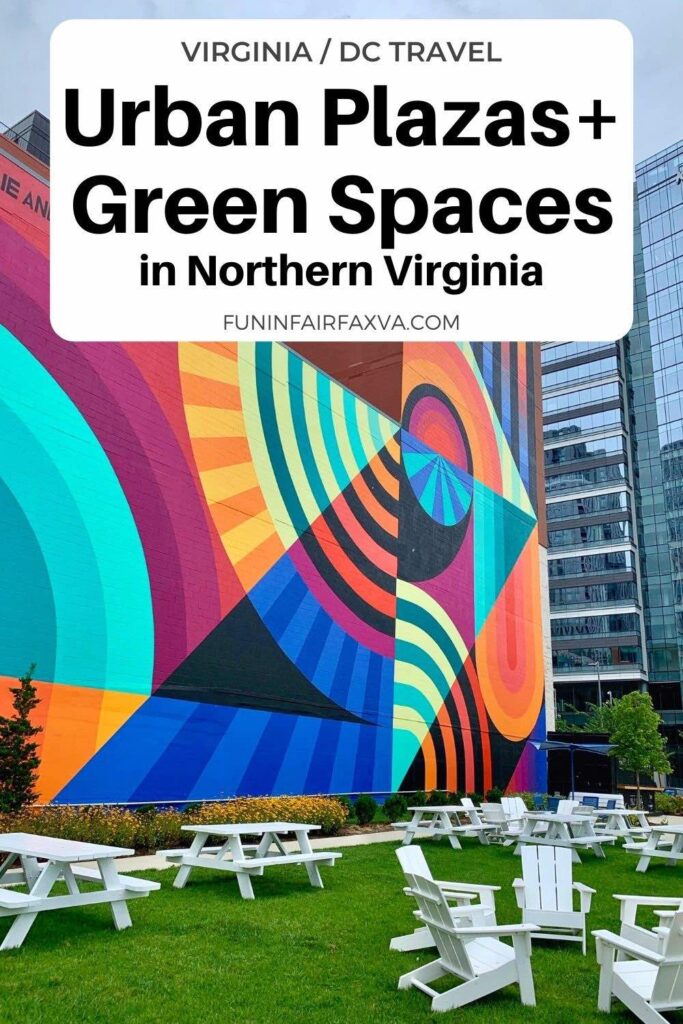 Waterfront Park, Alexandria
There are several lovely parks by the river in Old Town Alexandria, and Waterfront Park is the most central to popular King Street restaurants. The park has several benches and swings where you can relax and enjoy a picnic with a pretty water view. There is also green space where kids can run around. An exhibit area displays interesting temporary art installations.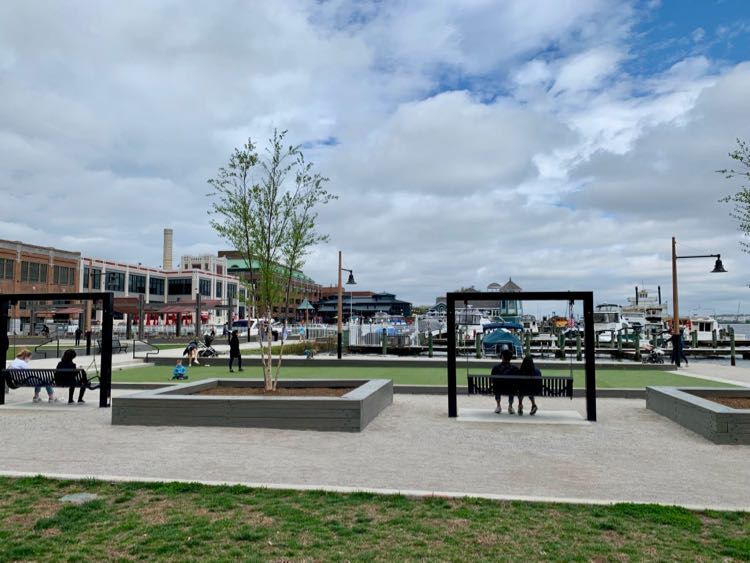 Old Town Alexandria is one of our favorite overnight getaways near DC and the area is very walkable. Follow the paved path to visit other Alexandria green spaces by the river including Founder's Park, Shipyard Park, and Jones Point Park.
If you want to picnic there are plenty of tasty restaurants on and around King Street where you can pick up takeout. These riverfront parks host fun Old Town festivals, parades, and fireworks celebrating President's Day, Independence Day, December holidays, and more.
Waterfront Park is at the end of Prince Street in Alexandria and there are paid parking garages nearby.
Read more: 25 Fun Unique Things to Do in Alexandria VA
The Perch, Capital One Center, Tysons
One of the newest urban plazas in Northern Virginia is located on the 10th floor of the Capital One Center in Tysons. The Perch opened in September 2021 with a weekend-long celebration called PerchFest.
The new plaza features the Starr Hill Biergarten, an outdoor concert space, and plenty of areas to relax and play. Starr Hill is one of our favorite breweries in Charlottesville so we're happy to see a new outlet here in Tysons. The Biergarten offers a nice selection of craft brews and a limited food menu.
Unique spaces at The Perch include a walk-through garden, three bocce courts, giant lawn games, and a green space operated by Fairfax County. Dog-lovers will appreciate the fenced Sky Bark Dog Park and the Starr Hill patio where leashed dogs are welcome.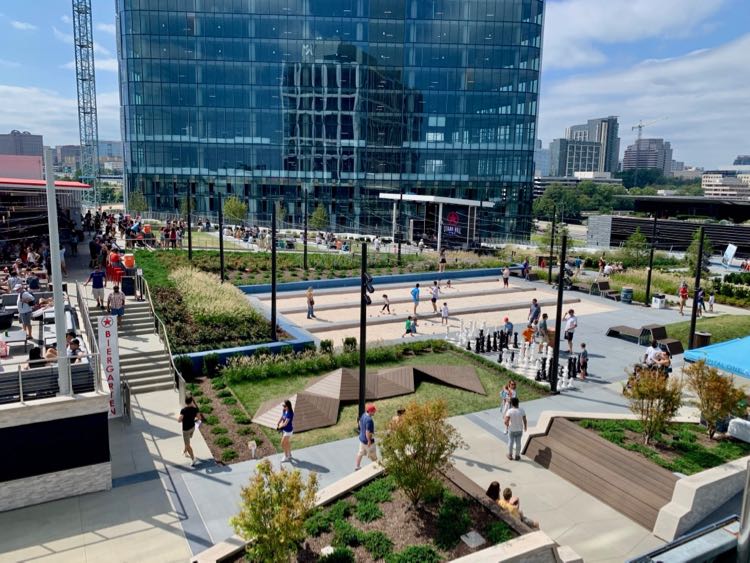 Spend the night: An impressive new all-suite Watermark Hotel (also opening September 2021) stands at one side of The Perch. The hotel's restaurant, Wren, offers an Asian-fusion menu in the elegant lobby space. Check Watermark Hotel rates and availability here.
Food options are limited at The Perch for now, and you can not bring in outside food. In Spring 2022, a new food truck space will add more outdoor dining options.
Paid parking (first hour free) is available in 2 garages and a surface lot. If you prefer to go car-free, the Silver Line metro McLean station is just a block away. The Perch is at 1600 Capital One Drive North in Tysons.
Mosaic District, Fairfax
One of the most vibrant urban plazas in Northern Virginia is at the Mosaic District in Fairfax. At Strawberry Park, kids can run off some energy, and there are plenty of spots for adults to chill too. The large green space has a few benches and Adirondack chairs, but you might want to bring your picnic blanket.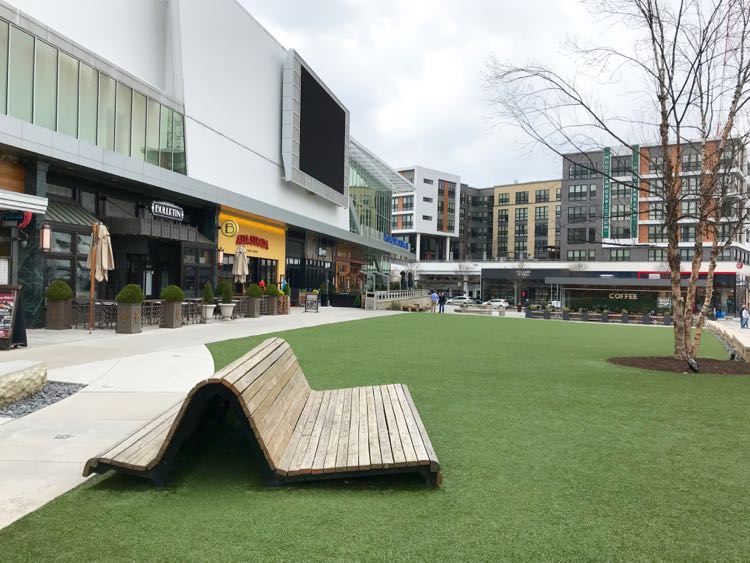 More than 30 excellent local and national restaurants surround the park, so you'll have plenty of takeout options to choose from. In summer, Mosaic's urban park hosts fun outdoor movies, a weekly Farmers Market, and weekly classes. Popular annual activities include Easter Egg Hunts, a Fall Festival, and fun holiday decorations.
Mosaic District is at 2905 District Avenue in Fairfax and there are several free parking lots available.
The Boro Tysons
One of the newer urban plazas in Northern Virginia, The Boro Tysons continues to liven up its public spaces. A giant, colorful mural is the latest addition, and it backs a pretty picnic area. Picnic tables, shaded metal tables, and Adirondack chairs offer a nice place to enjoy your takeout meal.
Across the street, a stage, open space, and wide colorful steps create a fun event space in Boro Park, including free Outdoor Summer Concerts. At the top of the steps is a nice area for families to hang out on a summer day. The small kid-friendly park features a splashpad surrounded by tables and benches.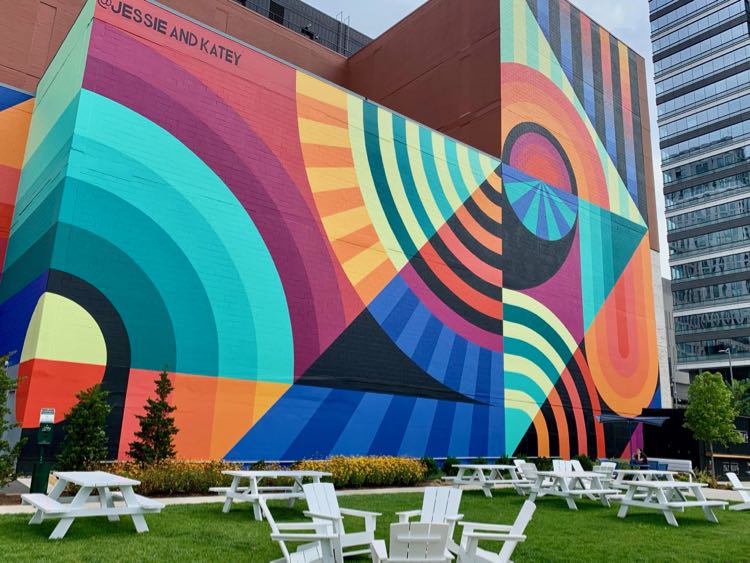 Pick up a meal from one of several restaurants or the Whole Foods Market. We're fans of Fish Taco and Flower Power and we look forward to trying others. When you need an indoor break, catch a movie at the luxury Icon Theater.
Spend the night: the Ritz-Carlton Tysons Corner is just 5 minutes away. See our full review here and check Ritz-Carlton Tysons rates and availability here.
The Boro is on Broad Street in Tysons and there are several paid parking lots.
The Plaza at Tysons Corner, Tysons
Since it opened in 2014, The Plaza at Tysons Corner has been a welcome addition to the popular mall. This classic urban plaza has open space with seating surrounded by restaurants with indoor-outdoor dining spaces.
A Shake Shack and a ship-themed playground are tucked into a kid-friendly corner of The Plaza. In the center are round seating areas and a collection of picnic tables. At the far end are a small green space and the walkway to the Silver Line Metro stop.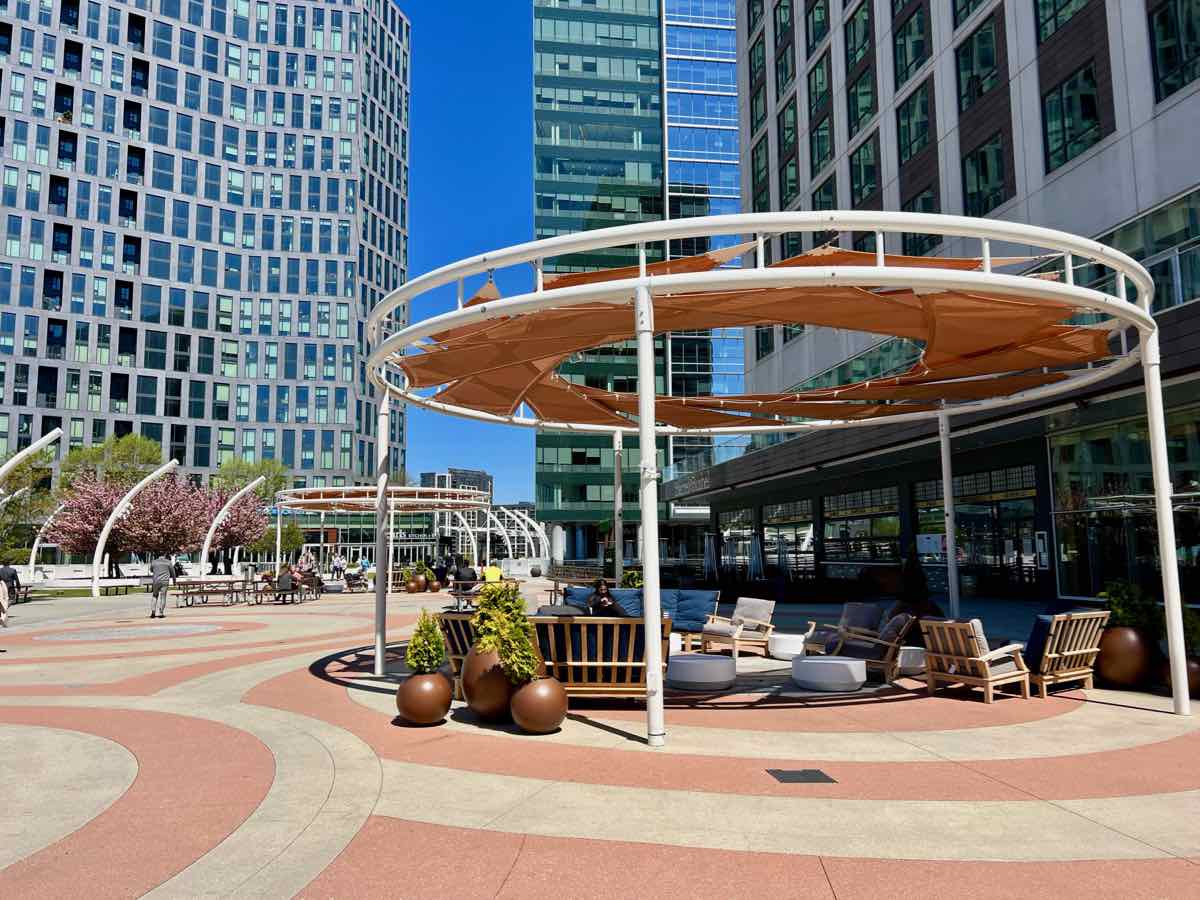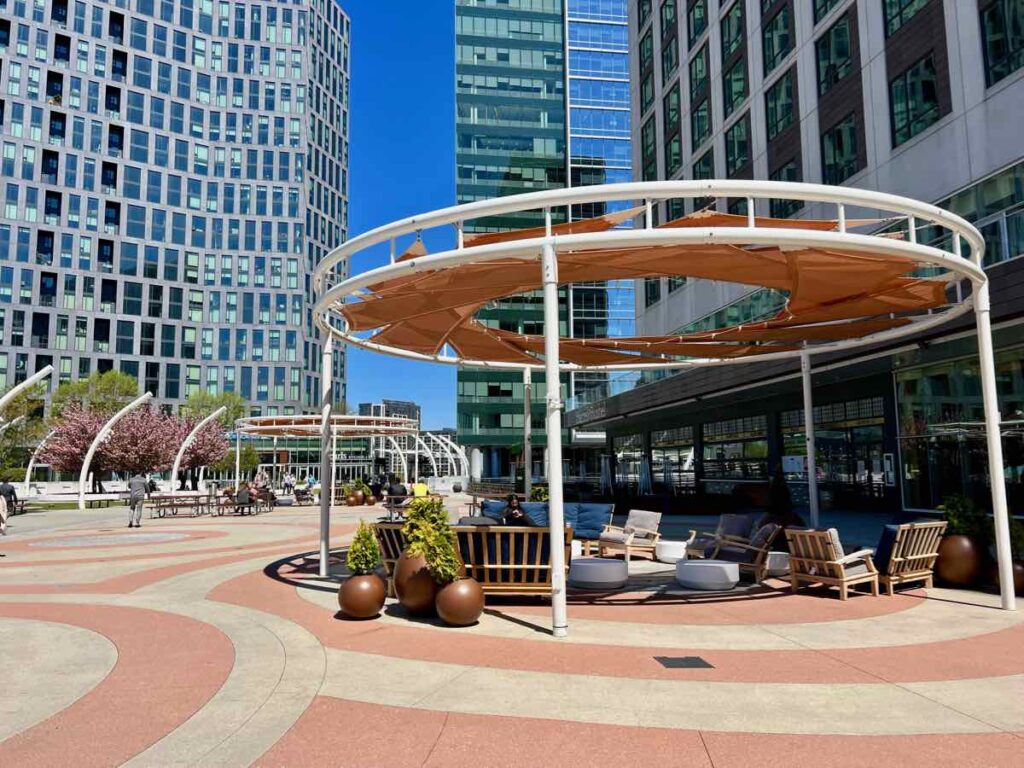 The Plaza is a pretty space at night too, with festive lighting and fire tables during cold weather. Takeout is available from the food court and other restaurants inside the mall. Or pop into Barrel and Bushel for a sit-down meal or a drink. They have a great selection of craft beer and discounted Happy Hour drinks from 2:00 70 7:00 daily.
Spend the night: The Hyatt Tysons Corner is one of our favorite staycation spots in Northern Virginia. It's right on The Plaza and steps from the metro. Check Hyatt Tysons rates and availability here.
The Plaza is at Tysons One Place, Tysons Corner Mall and there is plentiful free parking.
Old Town Square, Fairfax
Old Town Square opened in 2014, a welcome addition to the city of Fairfax. The small urban plaza creates a nice space in Old Town Fairfax for seasonal events and everyday fun. Old Town Square is a very kid-friendly space, with a seasonal splash pad and a colorful fountain. A few tables and open lawn space surround the splash area.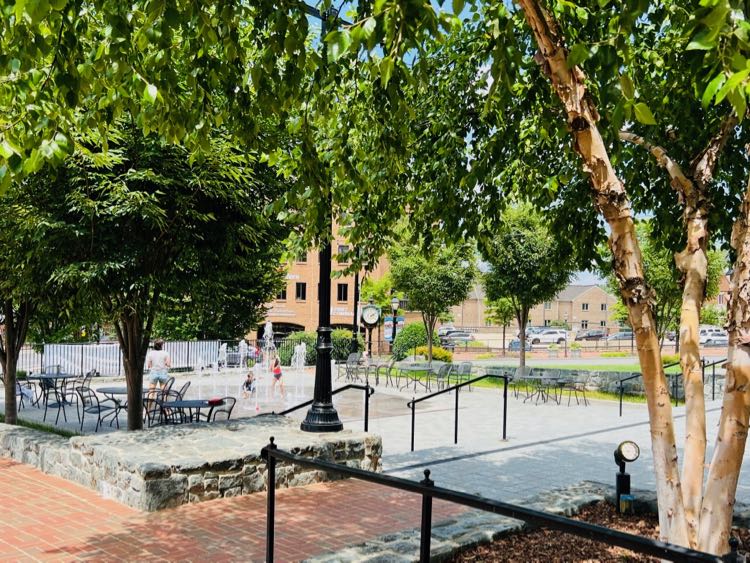 Takeout is available from several nice Old Town Fairfax restaurants like Sisters Thai Living Room, Bollywood Bistro, and The Auld Shebeen. In summer, there are free outdoor concerts most weekends. And in December, Old Town Square hosts a weekend holiday market with a changing slate of local artisans and crafters.
Old Town Square is on the corner of North Street and University Drive in Fairfax, Virginia. There are several free parking lots nearby.
One Loudoun Plaza, Ashburn
The expanding outdoor mall at One Loudoun includes a central Downtown Plaza where visitors can take a break. The plaza at One Loudoun is dotted with couches and tables for picnicking and includes a splash pad.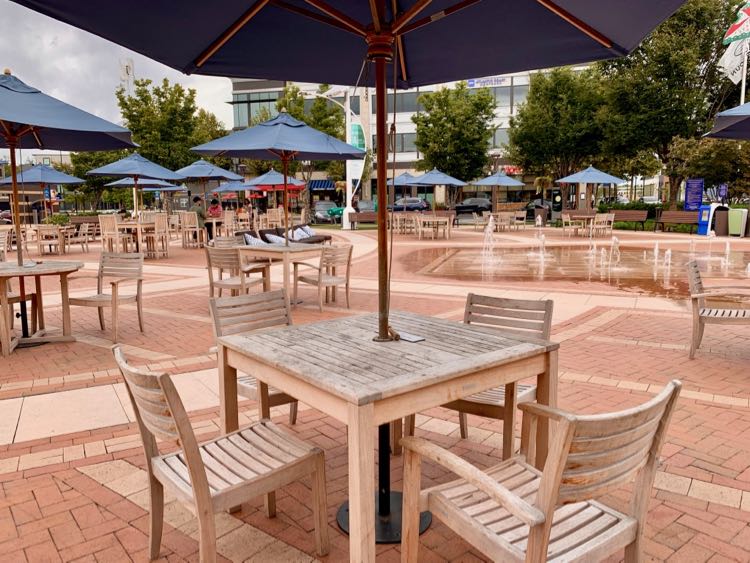 To enjoy nearby green space, walk to Central Park at One Loudoun, located behind Alamo Drafthouse and a row of townhouses. Here you'll find play spaces, a few picnic tables, and pretty walking paths.
The One Loudoun plaza hosts special events and performances throughout the year. For example, the annual ice-carving display is a favorite holiday festival.
One Loudoun is at Easthampton Plaza in Ashburn and there are two free parking garages nearby.
Fairfax Corner Plaza, Fairfax
Fairfax Corner Plaza continues to add new amenities to its shared space. The central gathering place now includes a summer splash pad for kids, picnic tables, and Adirondack chairs surrounding green space.
Nearby murals are perfect for a family photo or selfie. There are several nearby restaurants where you can pick up a takeout picnic.
The Fairfax Corner shopping area is at 4100 Monument Drive in Fairfax and there is plenty of free parking.
River Mill Park, Occoquan
Historic Occoquan is one of the pretty small towns in Virginia with a great collection of local shops and restaurants. When you're ready for a break, walk up Main Street to River Mill Park.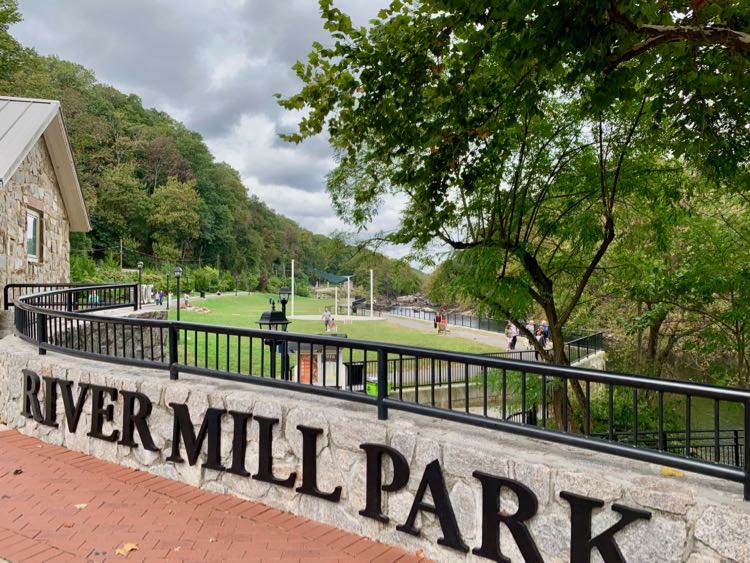 The quiet green space at River Mill Park has benches, open grass space, and nice views of the river. At one side of the park, a fun LOVE sign makes a nice photo backdrop.
Plan your visit: 15+ Fantastic Things to Do in Historic Occoquan Virginia.
River Mill Park is at 314 Mill Street in Occoquan. There is free parking on several of the downtown streets plus a lot at the other end of Main Street.
Lake Anne Plaza, Reston
The Lake Anne Plaza anchors Reston's first village center and is one of the most fun and interesting places to visit in Reston. A small collection of local stores and several restaurants surround the plaza and pretty Lake Anne. The plaza is also home to Lake Anne Brew House, a chocolate shop, an art gallery, and a community center.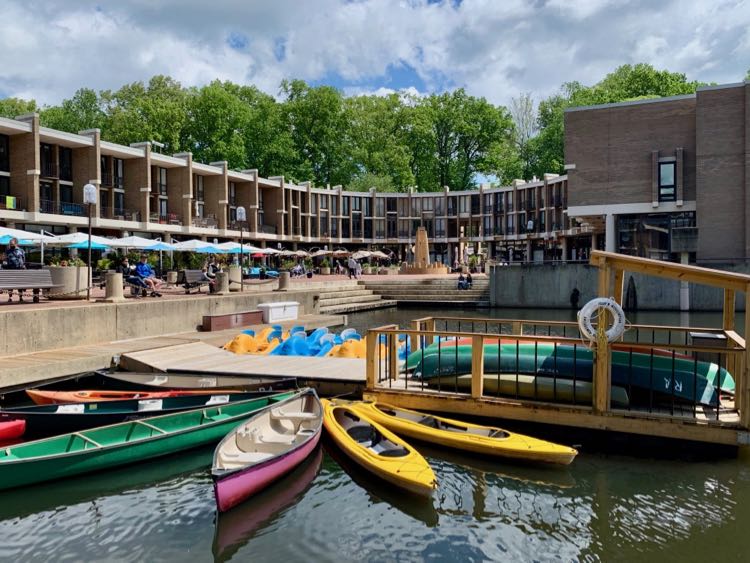 Interesting art is built into the plaza at Lake Anne, so allow time to walk around and explore. One of the best photo spots is the Van Gogh Bridge, especially when the cherry blossoms are blooming. In warmer months, the plaza hosts a fantastic Saturday Farmer's and Craft Market and kids can play in the fountain.
Plan your visit: 15 Fantastic Things to Do at Lake Anne Reston
Baldwin Park, Manassas
Baldwin Park is a small green space In the heart of historic Manassas. The park sits in front of the Manassas Museum and features green space, picnic tables, and a playground geared to young kids. There are short, easy nature trails through a small wooded area next to the park.
Old Town Manassas has a nice selection of local restaurants where you can pick up a takeout meal for your picnic. There is also a nice bookstore and other local shops to check out. Stop by the historic train station for a photo at the huge LOVE sign.
Plan your visit: Historic Manassas Day Trip or Overnight
Reston Town Center, Reston
One of the largest outdoor malls in Northern Virginia, Reston Town Center has several common areas where adults can relax and kids can play. The Pavillion is a popular spot for kids to run off some steam. In warm months, the Pavilion hosts live entertainment and in winter, it is transformed into an ice skating rink.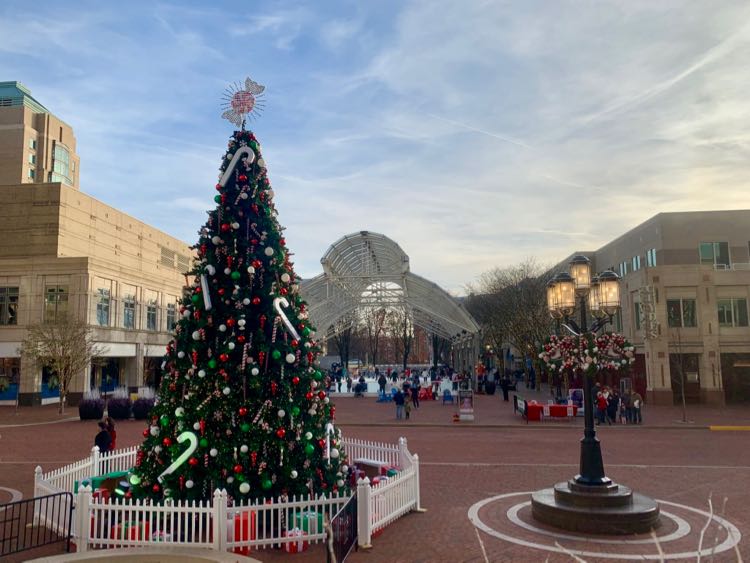 Across the street, there are several tables and benches surrounding a large fountain. The newer Reston Town Center Park sits at the corner of Market and Explorer Streets. This urban plaza includes tiers of green space and tables for picnicking along with a seasonal splash pad.
There are fees for parking on weekdays (first hour free) when you register with the parking app. Visit after 5:00 or on weekends to park free.
New urban plazas keep opening up, offering fun green spaces and common areas where families, couples, and friends can relax and play. We expect this list of urban plazas in Northern Virginia will continue to grow. Watch our holiday and monthly event round-ups for festivals and fun at the urban parks above.
Find more fun places to explore in and near Northern Virginia:
Follow us on Facebook, Twitter, Pinterest, and Instagram for more fun travel in and from Northern Virginia.