Updated on September 11, 2023 by Julie McCool
Northern Virginia waterparks, pools, and splash pads offer a big dose of summer fun and beat the heat with facilities and events for the whole family. Bookmark our complete guide to Northern Virginia waterparks, indoor and outdoor pools, and free splash pads and fountains for fun all year long.
Find a pool near you to beat the heat or escape the cold. Or plan a summer-long exploration of all the best pools and waterparks in Northern VA.
Disclosure: This article may contain affiliate links. We will make a small commission from these links if you order something, at no additional cost to you.
Our guide includes waterparks and pools in Alexandria, Arlington, Fairfax, Loudoun, and Prince William counties. In addition, you'll find info on public water-play facilities throughout Northern VA. We also suggest a fantastic indoor-outdoor waterpark that makes a great day trip.
Northern Virginia Waterparks
Use the links below to check the latest opening hours at each facility. In general:
Most waterparks and outdoor pools open for the 2023 summer season during the Memorial Day weekend and close after Labor Day weekend.
Day fees vary by age and time of entry, and group or season passes are available with discounted rates.
Outdoor facilities may close due to weather, maintenance, or special events so always check hours before you head out.
NOVA Parks Waterparks
Every NOVA Parks waterpark has themed equipment that appeals to different age groups. Special facilities range from a pirate-themed kid's pool at Pirates Cover to a large wave pool and speed slides at Great Waves.
In 2023, all of the Northern Virginia waterparks managed by NOVA Parks are open from Memorial Day weekend until Labor Day. Opening days and hours vary by park and sometimes are open only on weekends, so follow the links for schedules.
Thrillseekers love the speed slides and waterslides, while little ones enjoy an interactive splash pad and wading pool. Great Waves has a 17,500 square foot wave pool, the only one in Northern Virginia. Kids can have fun at the Paradise Play area when they need a break from the water.
Find more fun things to do in Alexandria VA.
Ocean Dunes includes a 500-gallon dumping bucket, water slides, waterfalls, and squirters. A pair of waterslides includes a 230-foot open slide and a 170-foot ride in complete darkness on a closed slide. A large main pool offers splashing and swimming space for everyone.
Atlantis' two waterslides include 230 feet of fun on the open slide and a 170-foot ride in complete darkness on the closed slide. A large main pool offers splashing and swimming space for everyone – and includes a play island with smaller slides.
The centerpiece of the waterpark is the awesome dumping bucket and play feature, with covered slides, open slides, water cannons, sprayers, and more, all under the current of the giant dumping bucket. There's also a baby pool and a sand play area.
Extend your fun with a hike on the Northern Bull Run Occoquan Trail.
Kids can play on Buccaneer Beach or frolic in the water jets and in the pirate-themed play area. Adrenaline fiends can enjoy the two waterslides or cool down beneath the 500-gallon dumping bucket.
The large main pool offers splashing and swimming space plus an awesome tree stump slide – a fast, quick ride that delivers guests into four feet of cool water. The centerpiece of Volcano Island is a huge play feature that has tube slides, open slides, fountains, squirters, platforms and of course, a giant 500-gallon dumping bucket.
The shallow area at Volcano Island also features a small kiddie slide and the splash pad offers water cannons, showers, sprinklers, buckets and more.
More Great Northern Virginia Waterparks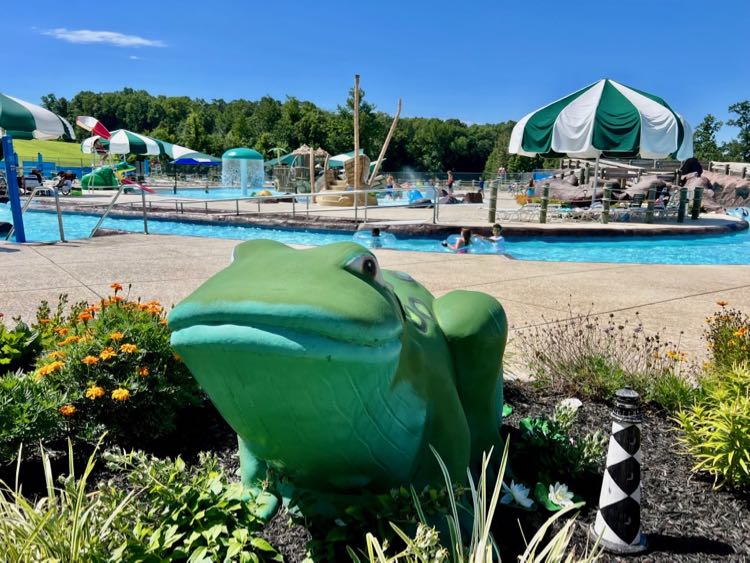 These fun Northern Virginia waterparks are operated by Fairfax County and Prince William County Parks and Recreation. Keep in mind, you are not the only one looking for a break from the heat and fun in the pool.
Capacity is limited at waterparks and summer waiting lines can be loooong. Get there early or late in the day to improve your chances of a quick entrance.
The popular Water Mine waterpark at Lake Fairfax opens Memorial Day weekend. The waterpark offers multiple slides, sprays, interactive play areas, a log walk, a lazy river, and more.
Plan a day trip to the Water Mine and more fun places to visit in Reston VA.
The largest waterpark in Northern Virginia, SplashDown is a sprawling complex featuring a Pipeline Tower with two 4-story waterslides, two Cannon Ball Slides, Tropical Twister, Lilly Pad and Log Walk; a children's play area with colored pipes and rain-shower features, a 3-foot deep activity pool, and a 770-foot lazy river.
This 27,000 sq. ft. aquatic facility features a zero-depth entry leisure pool with water cannons and slides. A popular lazy river circles the waterpark.
Get a workout before your swim on the scenic trails at Blooms Park nearby.
Head to Ida Lee Park for a day of fun at the AV Symington Aquatics Center. The Leesburg waterpark includes a lazy river, 3-story twisting slide, dramatic drop slide, lily pad obstacles, and more. There's a separate whale cove toddler area and a concession stand.
Waterworks offers several slides including a circular open slide and an enclosed speed slide, water obstacles like the jungle walk, and zero-entry wading pools.
An Outdoor and Indoor Waterpark Combination
The Massanutten Resort Waterpark makes a fun day trip (or longer getaway) from the DC and Northern Virginia area. The popular resort has a combined outdoor and indoor waterpark along with a big arcade so you're guaranteed a good time even when the weather doesn't cooperate.
Both waterpark sections include giant slides, kid-friendly zones, and more family-friendly fun. For example, the outdoor section has a giant wave pool and the indoor park has a lazy river. Splurge on a cabana rental and your group enjoys a shady private area with lounge chairs and wait service from the Chill Grill.
More Pools and Spray Grounds in Northern Virginia
Several towns and counties in the area maintain outdoor pools during the summer months. When summer ends and Northern Virginia waterparks close, you can still enjoy swimming and water play at a variety of indoor pools at community centers throughout the area.
Pools, spray grounds, and splash pads are listed below by county and town. Follow links for opening hours and regulations.
Arlington County Pools and Spray Grounds
NOVA Parks manages the outdoor Ocean Dunes Waterpark at Upton Hill Park described above. There are thee indoor Arlington County Pools with open swim hours. These pools also offer dedicated classes for new swimmers and experts, along with adults-only swim times.
Wakefield Pool, 1325 S. Dinwiddie Rd
Washington-Liberty Swimming Pool, 1301 N Stafford St
Yorktown Swimming Pool, 5200 Yorktown Blvd
In addition to the pools listed above, there are several Arlington County spray grounds for free water fun. Spray grounds are not open every day and hours vary, so click the link for details.
Drew Park, 3314 22nd St S
Hayes Park, 1516 N. Lincoln St
Lyon Village Park, 1800 N Highland St
Virginia Highlands Park, 1600 S Hayes St
Mosaic Park, 544 N Pollard St
Penrose Sq, 2597 Columbia Pike
Alexandria Pools and Splash Zones
There are three outdoor City of Alexandria pools plus the Rixse indoor pool at Chinquapin Recreation Center and an interactive fountain at Potomac Yard.
Rixse Indoor Pool, Chinquapin Park Rec Center, 3210 King St
Memorial Pool, Charles Houston Rec Center, 901 Wythe St
Old Town Pool, 1609 Cameron St
Warwick Pool, 3301 Landover St
Potomac Yard Interactive Fountain, 2501 Potomac Ave
Find nearby fun with our guide to Unique Things to Do in Alexandria.
Fairfax County Pools and Spray Grounds
All nine Fairfax County Rec Centers include indoor pools, and two of them—Cub Run and Franconia Family Rec Area—offer additional water play facilities.
Our Special Harbor Spray Ground in Franconia Family Recreation Area Park includes a fully accessible sprinkler-filled playground with a Chesapeake Bay theme. Cool down with a spraying osprey nest, Chessie the sea serpent, misting sunflowers, and a lighthouse. The beach area has interactive water tables and softer bubblers. There's also an accessible trail, treehouse, and playground at the park.
Reston Association Pools include fifteen outdoor pools, two of which offer special play features. Glade Pool has a 20-foot slide and 1-meter diving board, and Upland Pool has a zero-depth entry area with interactive fountain features and a beach area.
In the city of Fairfax, kids can cool off in the Splash Pad at Old Town Square from 8:00 – 10:00 daily, Monday through Saturday. This small urban park in Old Town is a great spot for a picnic and to enjoy local events.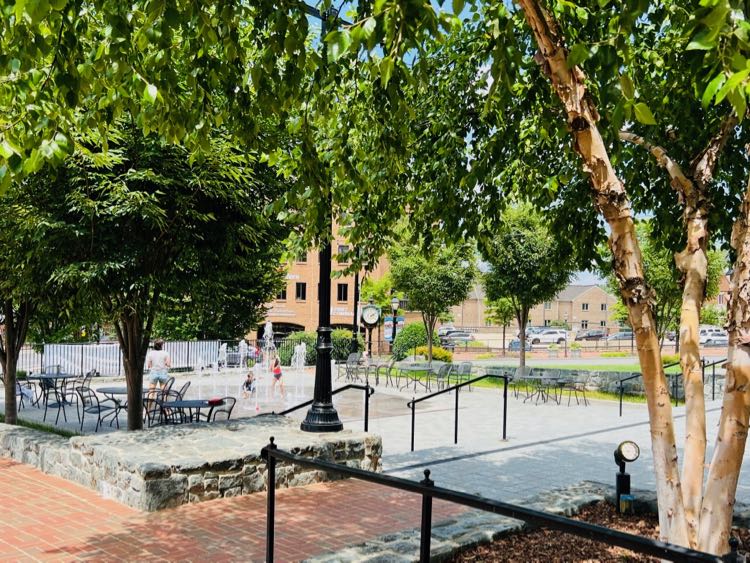 Loudoun County Pools
There are five Loudoun County Pools including three year-round and two summertime facilities. Both Claude Moore and Dulles South have Competition Pools and Leisure Pools with slides, children's play area, vortex, and lazy river. Franklin Park Pool also has a children's pool with play features.
In addition, the town of Leesburg manages two indoor pools at Ida Lee Park Recreation Center.
Prince William County Pools
Prince William County Pools include four outdoor pools, most with special play features. For example, Veterans Park Pool features a twisting waterslide and fun splash features. There are also two indoor pools at Prince William County Rec Centers. The county's two waterparks are described in the waterpark section above.
Birchdale Pool, 14730 Birchdale Ave, Dale City
Graham Park Pool, 3511 Graham Park Rd, Triangle
Hamill Mill Pool, 1721 Carter Ln, Woodbridge
Veterans Park Pool and Waterslide, 14300 Veterans Dr, Woodbridge
Chinn Aquatics Center, 13025 Chinn Park Dr, Prince William
Sharron Baucom Dale City Rec Center, 1430 Minnieville Rd, Dale City
Also in Prince William is the Manassas Park Community Center Indoor Pool.
Dog Day at Waterparks and Pools
When the season ends, and the parks close to humans, it's time for the annual Dog Day at the Waterpark. Most years, all five NOVA Parks-managed waterparks and Signal Bay welcome furry friends to the pool at the end of the human swimming season. Ida Lee Park's Aquatic Center in Leesburg and the Lovettsville Community Pool also hold season-ending Dog Day swims in September.
Follow us on Facebook, Twitter, Pinterest, and Instagram for more fun travel in and from Northern Virginia.
Pin it for later: