See cherry blossoms in Washington DC, Maryland, and Virginia with our list of popular and hidden bloom destinations, plus tips and websites to help you determine the best time to visit.
The Washington DC Tidal Basin is the most popular spot to see cherry blossoms, but it's not the only option for enjoying the return of spring beauty to the area. There are several other delightful spots to see cherry blossoms when you want to escape the crowds in DC or plan a longer visit.
The National Park Service predicts the peak cherry blossom bloom time every year, but it's a tricky business that is highly affected by changing weather. If you are visiting the DC area specifically to visit cherry blossoms, check our list of tips and websites below to help with your planning.
Washington DC Tidal Basin
Perhaps nowhere is more romantic than the Tidal Basin on a spring day when the cherry blossoms are in bloom. The air is soft and warm; the blossoms crowd the shore and fill every view; and the water gently mirrors the beauty. The price of all that loveliness is crowds—locals and visitors from around the world make a pilgrimage to see cherry blossoms here and to attend the Cherry Blossom Festival.
Still, the crowds are there for good reason, and it is worth extra effort to see cherry blossoms at the Tidal Basin at least once. Your best bet is to arrive early or late in the day and take a slow stroll around the basin to see the trees from every angle. You'll be vying for views with photographers and tourists, but you'll still have the chance to capture cherry blossom and monument views.
Another advantage to a morning arrival it the opportunity rent a paddle boat. These little boats are a fun way to escape the crowds and view the trees from the water.
Your little boat will give you a pretty view from the water, as you paddle under the trees along the busy shore or head away from the edge for excellent views of the Washington Monument and other memorials surrounding the Tidal Basin.
Here's a look at 2014's Tidal Basin blooms on McCoolTravel.com.
You can also arrive at the Tidal Basin by water taxi, and see some of the blooms from the water. Pick up the water taxi in Old Town Alexandria or National Harbor.
More Places to Visit Cherry Blossoms in Washington DC
Dumbarton Oaks: Cherry blossoms, magnolia trees, and spring flowers line the pathways of this beautiful garden in Georgetown. You can also enjoy the blossoms from the adjacent Montrose Park, which has a children's play area.
East Potomac Park: If you can't face the mob at the Tidal Basin, take a drive just south through East Potomac Park. Cherry trees line the shore on both sides of this peninsula at the confluence of the Potomac and Anacostia Rivers, and the crowds will be much smaller.
Kenilworth Park & Aquatic Gardens: Cherry trees surround the parking area and Visitor Center at Kenilworth Park where you can also enjoy birding along the boardwalk.
National Arboretum: The cherry trees are more spread out, but you'll appreciate the peace at this less frequented garden in northeast DC.
Stanton Park: One of the larger sites in the Capitol Hill Parks collection maintained by the National Park Service, Stanton Park has a nice collection of cherry trees surrounding the statue of Revolutionary War hero, General Nathanael Greene.
A Cherry Blossom Filled Neighborhood in Maryland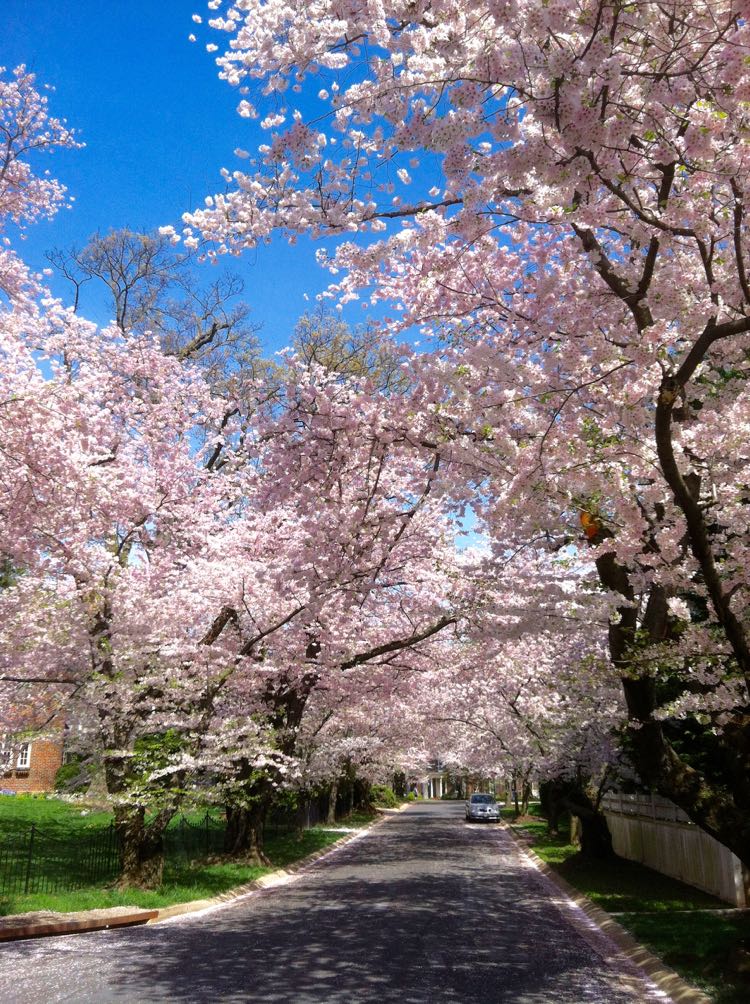 The most spectacular place to see cherry blossoms outside of Washington DC is on the tree-lined streets of the Kenwood neighborhood in Bethesda, Maryland. 1200 cherry trees line the streets and blooms are thick throughout the neighborhood. It's actually become a popular destination for Japanese tour vans so drive slowly and park carefully. Visit McCool Travel for more details and pictures of this wonderful cherry blossom alternative to Washington DC.
More Places to See Cherry Blossoms in Maryland
Brookside Gardens: Head to Wheaton Maryland for a stroll through the 30 cherry trees and other spring blooms at this lovely garden.
Centennial Park: A 2.6 mile paved pathway around the lake offers the chance to visit cherry blossoms, fish, picnic, and relax.
Where to See Cherry Blossoms in Virginia
These are our favorite spots to take cherry tree pictures in Northern Virginia. From formal gardens to office parking lots, they all offer good picture spots as long as your focus is on the blossoms.
Meadowlark is a beautiful destination year-round and you'll find scenic cherry blossom viewing near the entrance, along the lake, and on the perimeter trail just outside the park. There is a small admission fee, but it's well worth it to explore the beautiful gardens and photograph cherry trees around the pond.
There is also a beautiful mix of cherry and magnolia trees near the front entrance, with comfortable rocking chairs to enjoy the view. This would be an ideal spot to visit cherry blossoms with someone who has limited mobility.
If you want to add a hike or biking to your visit, you can arrive on the W&OD Connector Trail, which passes under a row of cherry trees close to the park entrance.
Meadowlark's cherry trees generally bloom 3 to 4 days later than the Tidal Basin, depending on weather. By mid-April the trees are usually at or past peak bloom, both near the entrance and by the lake.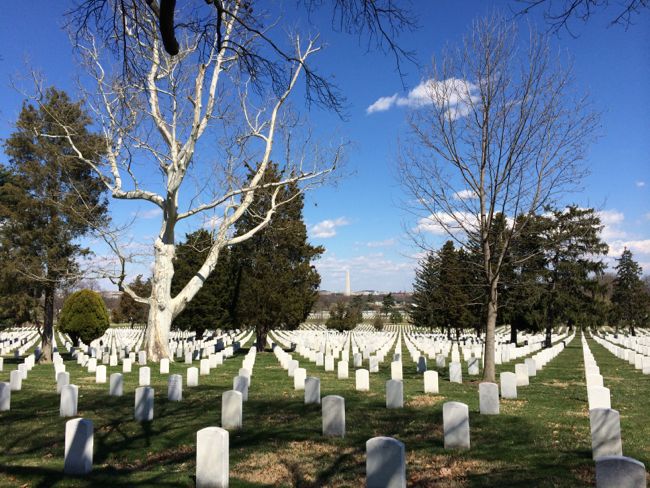 Arlington National Cemetery is a beautiful, solemn, and moving place to visit any time of year to explore US history and honor our fallen. The cemetery is full of stately memorial trees, including many cherry trees, whose blooms add even more beauty to this site. Many tours make a quick visit to the Tomb of the Unknown and the Kennedy gravesite before moving on, and you will see cherry blossoms from these sites. We prefer to slowly explore the cemetery to fully take in the scale, beauty, and power of Arlington.
Cherry trees line Alexander Bell Drive along an office park in Reston. Ignore the office buildings, as you look up into the blooms and admire the different varieties of cherry tree. We used to visit on windy, post-peak weekends so our kids could play in the falling petals (at the corner of the lot, not on the street).
These trees are easy to reach from the W&OD bike trail; look for the lot on the Northeast side of Sunrise Valley Drive. At the bottom of the drive you'll find a few beautiful pink trees, further up the road, the trees are are a mix of pink and white blossoms.
Our focus at Lake Anne is just a few trees, but the location is so picturesque it's one of our favorite places to see cherry blossoms in Northern Virginia.
Head to Lake Anne Plaza in Reston, and walk along the lake until you reach the Van Gogh bridge. The weeping cherry trees by the bridge are a perfect photo spot. If you crosse the bridge and look back you can admire the bridge, the beautiful trees, and the high-rise behind where Reston founder Robert E. Simon lived. During your visit, check out the hidden art of Reston installed at Lake Anne. Ah, suburban living.
More Places to See Cherry Blossoms in Virginia
Green Spring Gardens: Green Spring has several cherry trees along with other spring flowers, a children's garden, and an indoor shop and library.
Lewis Ginter Botanical Garden: This large garden just north of Richmond Virginia is a wonderful day trip destination from the DC area with two restaurants, acres of gardens, and a fun children's play area.
River Farm: Once part of George Washington's vast property, River Farm has a nice orchard with cherry and other blooming fruit trees, along with peaceful spots along the Potomac River and a fun children's garden and play area.
Snow Meadow Lane: This small, dead-end street in McLean is lined with late blooming cherry trees.
Tips, Websites, and Annual Events to Help Plan Your Visit
Washington DC's famous Cherry Blossom Festival runs from mid-March to mid-April, with parties, performances, parades, and other events celebrating the bloom. Crowds will amass daily in hopes that the blossoms will emerge on time, but they do not always open as planned.
The National Park Service forecasts timing of the peak blooms, when 70% of the Yoshino cherry tree blossoms are open, then adjusts if needed due to weather patterns. In our experience it's better to arrive toward the end of March or early April if your focus is to visit cherry blossoms at the Tidal Basin.
A warmer winter generally leads to an earlier bloom. A late frost can do real damage to the early blooming trees, as it did in 2017. We still enjoyed some nice blooms at the Tidal Basin, but they were not as thick as in previous years.
Other helpful websites for tracking progress of the blossoms include
In addition to the Cherry Blossom Festival events in Washington DC, many parks, historic sites, and businesses offer cherry blossom related specials and activities. Two tasty options are drinks at the Cherry Blossom Pop-up bar in Washington DC, and a scoop of Cherry Blossom Gelato at Dolci Gelati in Old Town Alexandria.
Virginia parks and historic sites offer cherry-centric fun at Sully Historic Site, Green Spring Gardens, Workhouse Arts Center, River Farm and of course Meadowlark Garden. Follow us here at Fun in Fairfax VA, and check the Visit Fairfax site for regular updates on spring events. Northern Virginia makes an excellent home base for visitors coming to town to visit cherry blossoms.
What is your favorite spot to see cherry blossoms in the DC, Maryland, and Virginia? Please leave your suggestions in the comments below. Enjoy nature all season long, and shift your focus from cherries to bluebells, with these Fabulous Ways to Celebrate Spring in Northern Virginia.
Follow @FuninFairfax on Facebook, Twitter, Pinterest, and Instagram for more great things to do and places to visit in Northern Virginia and surrounding areas.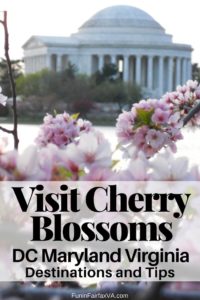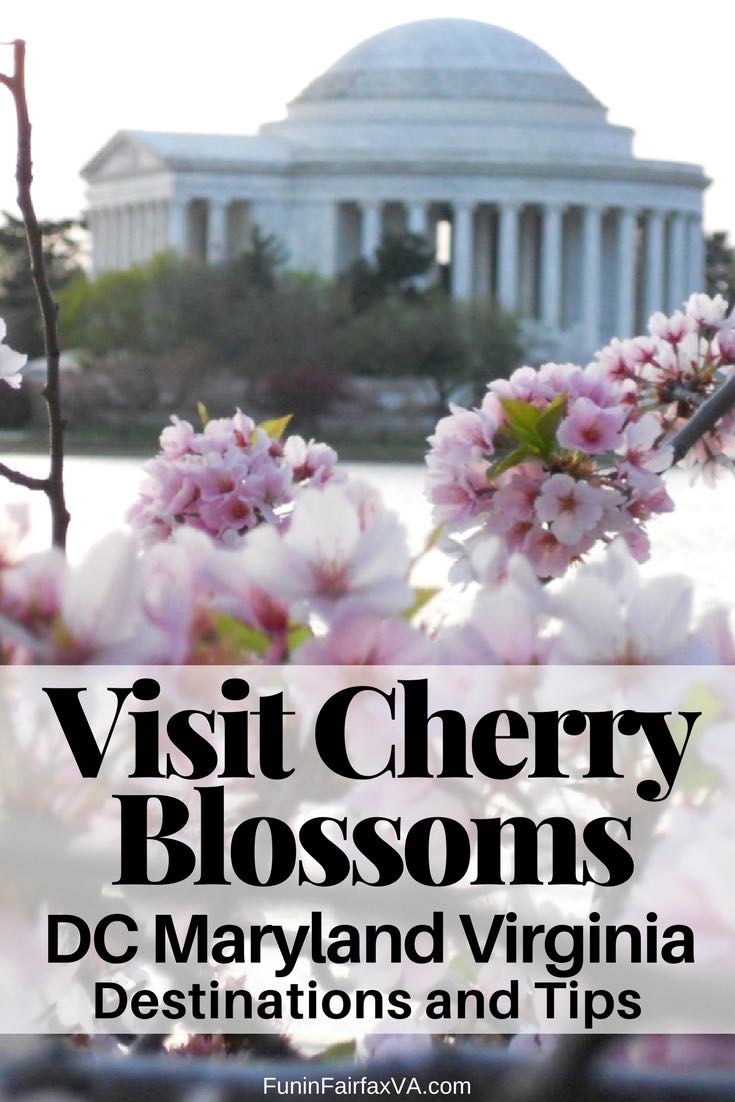 This article was published in 2017 and updated in 2018.