Updated on November 7, 2023 by Julie McCool
Find the best things to do on the Eastern Shore of Virginia, 70 miles of beautiful islands, estuaries, quaint towns, and pristine waterways. Virginia's Eastern Shore is full of fun things to do, delicious places to eat and drink, and a wealth of lodging options from romantic B & Bs to family-friendly resorts.
Eastern Shore VA towns range from small fishing villages to bustling seaside towns. Our road trip itinerary includes three Eastern Shore towns—Chincoteague, Onancock, and Cape Charles. They give you a nice mix of popular spots and quieter places to visit. We also highlight fun places to stop between towns.
Disclosure: This article may contain affiliate links. We will make a small commission from these links if you order something, at no additional cost to you.
Where is Virginia's Eastern Shore?
If you've ever looked at a map of Virginia, you have probably noticed a strip of land hanging off the eastern side of the state. This strip, tucked between the Chesapeake Bay and the Atlantic Ocean, is the Eastern Shore of Virginia.
This is also the southernmost section of the Delmarva Peninsula. Delmarva is a 170-mile long area that stretches from Wilmington Delaware to Cape Charles Virginia and includes portions of Delaware, Maryland, and Virginia.
Chincoteague Island and Assateague National Park
If you ever read the story of the wild ponies of the Eastern Shore you have heard of Chincoteague, Virginia. The beloved story Misty of Chincoteague, and the other books in the series by Marguerite Henry, sparked many a child's love of horses.
Happily, you can still see the ponies living wild on the islands. Of course, there is much more to see and do in Chincoteague, along with great places to eat and drink local, and spend the night.
Explore Chincoteague National Wildlife Refuge
Search for wild ponies, birds, and other nature at Chincoteague National Wildlife Refuge. The refuge is home to the famous wild Chincoteague Ponies, and it's a major stop for migrating birds on the Atlantic Flyway. The refuge offers visitors several beautiful areas to explore:
Start at the Visitor Center to learn about the refuge and get oriented.
Drive or bike the road through the marsh to the public beach. This road provides access to several trails, Assateague Lighthouse, and, if you're lucky, pony views.
The paved Wildlife Loop road is open to bicycles and hikers for much of the day, then opens to cars at 3:00 pm.
Climb the Assateague Lighthouse and admire the view, or snap a pic from ground level.
Relax, swim, or fish on the beach at Assateague National Seashore, a long stretch of sandy beach on the Atlantic Ocean. Stop at the Toms Cove Visitor Center for more information.
Admission to Chincoteague NWR, which includes the Assateague beach, is $20 per vehicle for a 7-day pass, or free with your National Park Pass. Pedestrians and Cyclists get free admission, and you can easily bike here from town.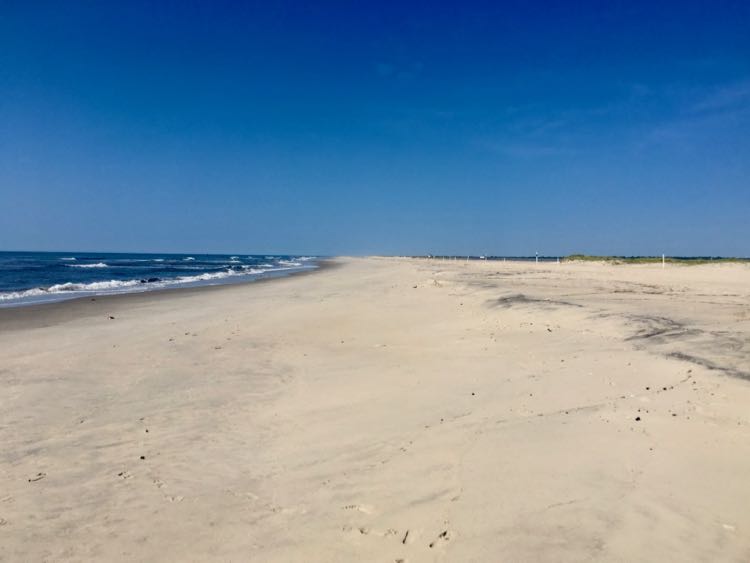 More Fun Things to Do in Chincoteague VA
Explore ecology and history with Captain Dan's Around the Island Tours. An Around-the-Island Sunset Tour lasts about 2.5 hours and explores a relaxed route around Chincoteague Island. Watch for ponies, eagles, ospreys, and dolphins as you learn about the Eastern Shore of Virginia. Or take the Afternoon Pony Tour, which focuses on the best pony viewing areas.
Paddlers and boaters can also explore the barrier islands that line the Eastern Shore on the Virginia Seaside Water Trail. This 100-mile long trail system is accessible from 20 public access points.
Snap fun photos at the Chincoteague LOVEwork at Robert Read Waterfront Park. LOVE is spelled out, complete with a heart standing in for the V, on giant Adirondack chairs. The giant chairs are fantastic for family and group pictures because there is plenty of room. The bright white chairs are also a pretty backdrop for more romantic couples' photos. Stop by at sunset for a stunning backdrop to your LOVE pic.
The LOVE chairs are not the only artistic photo opportunity in Chincoteague. There is an adorable bronze Misty of Chincoteague statue at the edge of Robert Reed Park. A block away is a large mural created by the town's children. Another mural on The Ropewalk restaurant captures the town's fishing and pony traditions.
Take a leisurely stroll through historic downtown Chincoteague on Main Street. You'll find shops and galleries selling books, jewelry, t-shirts, art, and souvenirs. Restaurants and coffee shops are located along Main Street and Maddox Boulevard, the road to the refuge and beach.
Where to Eat on Chincoteague Island
Start your day with a sweet treat from Sandy Pony Donuts. Or stop at Main Street Shop & Coffeehouse to browse the merchandise and relax with a fresh-brewed coffee.
For lunch or dinner, relax with your toes in the sand and your eyes on the water at Ropewalk Chincoteague. The popular restaurant has outdoor seating with a beachy vibe and a diverse menu that offers something for everyone. There is more seating inside with the same great view. A travel writer friend highly recommended Pico Tacqueria, but we didn't have time to try it on this visit.
Wherever you eat, be sure to leave room for ice cream. Expect a line out the door when you visit Island Creamery for creamy homemade ice cream in lots of flavors. Be warned that the servings are huge. We shared a two-scoop dish and couldn't quite finish it all. Nearby Mr Whippy is popular for soft serve lovers.
Craft beer lovers can get their fix at Black Narrows Brewing. Sit indoors or on the patio, and bring your own food if you choose. The Cockle Creek Scottish Ale is excellent!
Where to Stay in Chincoteague
The Fairfield Inn & Suites Chincoteague Island Waterfront is right in the historic downtown on Main Street. Our spacious suite included a balcony with beautiful views of Black Narrows and the bay. Watch this short video of a waterfront suite at Fairfield Inn Chincoteague.
The Fairfield Inn location is perfect for exploring the downtown, there is ample free parking, and it is just steps from the Ropewalk restaurant described above. The inn has a small outdoor pool and a pretty patio area overlooking the water. Breakfast and free wifi are included in the room rate.
If the Fairfield is booked, there are many other hotel options in Chincoteague. You'll also find lots of excellent Chincoteague vacation rentals on the island. We love the looks of these colorful Key West Cottages and this pretty creekside house for up to 6 guests.
More Things to Do in Accomack County
Our next Eastern Shore road trip stop is Onancock Virginia, about 30 miles south on the bay side. Here are two suggested stops to break up the drive:
The NASA Wallops Flight Facility Visitor Center is just over the causeway on Chincoteague Road. Here you will learn about the role Wallops Island, one of the oldest launch ranges in the country, plays in NASA's space research. Walk out to the viewing stand and look across to where modern-day launches to the International Space Station and other missions take place.
Twenty miles further south, stop and tour the Eastern Shore Railroad Museum in the small town of Parksley. Guided tours take visitors through vintage cars from the days of rail travel, along with a train station and other buildings. A dining car retains its all-metal kitchen, and a sleeper car is lined with berths made for solo travelers. The museum is open Wednesday through Saturday and admission is by donation.
Historic Onancock Virginia
The quaint town of Onancock was founded in 1680 and still retains its historic charm. The compact downtown and waterfront on the Onancock Creek are perfect for a leisurely stroll, shopping, and sunset over the water. The town is home to several restaurants, from casual to refined, so it's an ideal stop for foodies and romantics.
Fun Things to Do in Onancock VA
Explore Onancock's many downtown shops and galleries. Pick up wine and other picnic provisions at North Street Market, and shop for local art and jewelry at the adjacent gallery. Cross the street to see the colorful folk art of Danny Doughty, then browse more art and antiques at several nearby shops. Down the block, kitchen goods welcome you to Dawn, then a bright selection of women's clothing keeps you shopping.
Enjoy a guided eco-tour around Tobacco Island in Chesconessex Creek, with Bay Country Kayaking​. Owner Shannon Alexander is a certified Virginia Ecotour Guide, and an expert on the coastal ecosystem and wildlife we encountered. Shannon made our trip fun and informative, as we spied terrapin turtles, crabs, osprey, and other birds on our liquid road trip.
Where to Eat in Onancock on a Getaway to Virginia's Eastern Shore
The small historic town of Onancock is a slice of foodie heaven. Kick off your day with a fresh and decadent donut at the Corner Bakery.
Head to Mallard's at the Wharf for lunch, dinner, or drinks with a view. Mallard's sits on the banks of Onancock Creek, a perfect spot to catch the sunset over the water. Downtown, dinner at The Charlotte Hotel and Restaurant features refined dishes that highlight local products. The intimate dining space is ideal for a romantic dinner. Another popular downtown spot, Bizzottos Gallery Cafe, also serves happy hour drinks at an outdoor patio around the corner.
Where to Stay in Onancock Virginia
The Charlotte Hotel and Restaurant delivers romance, luxury, and charm in eight lovely guest rooms. Our room was beautifully decorated and included a pretty stained glass window between the bed and bathroom. Downstairs are a full bar and elegant restaurant, along with a casual dining room where you can enjoy your included breakfast. The downtown location is perfect for exploring Onancock.
Cape Charles Virginia and Northampton County
It's time to head south to our final Eastern Shore destination—Cape Charles, Virginia. Cape Charles is a little over 35 miles south of Onancock. We suggest two stops to break up the drive through Northampton County:
You have probably seen goods from the Blue Crab Bay Company while shopping on the Eastern Shore. This local company has been producing Chesapeake-inspired spices and snacks since 1985. Visit the company store on the drive south and pick up a can of spiced peanuts to enjoy at the beach. (Don't worry, you can order more Blue Crab Bay treats on Amazon when you run out.) The store also carries Blue Crab Stoneware and other local brands.
The Barrier Islands Center is a fascinating look at the history of the islands that protect Virginia's Eastern Shore from the Atlantic Ocean. These islands, uninhabited today, were once home to thriving hotels and fishing communities. The Barrier Islands Center recreates this period in a restored Almshouse ("poor house") from the early 1800s. Arrive when the crepe myrtle is in bloom and gorgeous colors will line your entry to the property.
Fun Things to Do in Cape Charles VA
One of the most family-friendly Eastern Shore beaches sits right at the edge of downtown Cape Charles. When the tide is in, the bayside beach has gentle waters and a sandy, shallow bottom. When the tide is out you can explore sand flats that seem to go on forever.
Snap fun photos at Cape Charles beach-side LOVEwork, next to the fishing pier. The LOVE sign echoes the town's beachside vibe with seashells and sea glass, kayaks, and crab traps. There are two hidden seats in the O, and a bench-sized L, so it's easy to create lots of fun poses with this great sign.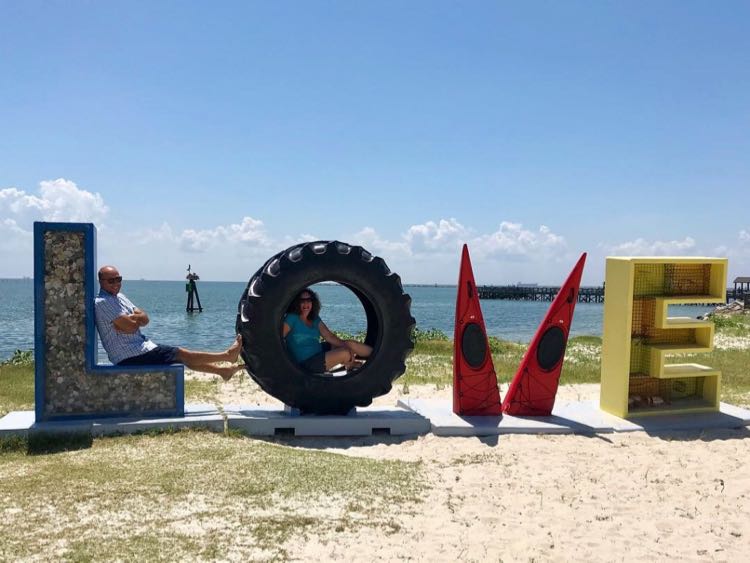 Take more LOVE pics at two downtown murals. The Summer of Love mural on Mason Ave. provides a colorful background to groovy Love pics. Contrast that color with a black-and-white LOVE mural that was unveiled at the annual Film Fest.
Rent a golf cart at C. C. Ryder Rentals. Downtown Cape Charles is a golf cart-friendly community, and it's a popular and fun way to get around town. During our visit, the Cape Charles community decked out their carts and themselves for a fun Summer of Love parade through town.
South of Cape Charles, visit the Eastern Shore National Wildlife Refuge to learn about the area's ecology and wildlife. The new Southern Tip Bike & Hike Trail, a 5-mile paved trail, connects the refuge and Kiptopeke State Park.
Allow plenty of time to stroll and shop in Cape Charles lovely downtown. Mason Ave is lined with local shops and restaurants, perfect for a leisurely break from the sun.
Cape Charles Restaurants and Local Drink Spots
Cape Charles Brewing Company, the second craft brewery on the Eastern Shore of Virginia, highlights local oysters and fish, juicy burgers, and other house-made specials on their full menu. An excellent beer line-up offers a lot of flavors to explore.
The Smith Island Imperial Oyster Stout and Honeysuckle  Wheat, both flavored with local ingredients, were two of our favorites. The brewery has beautiful and expanding indoor and outdoor spaces. There's even a special trail from town so you can arrive by golf cart.
Hook @ Harvey serves elevated dinners incorporating local ingredients, with harbor views of fishing boats and luxury yachts. A generous helping of fresh seafood atop house-made pasta hit the spot on our visit. They also have a full bar and make excellent cocktails. The small restaurant is very popular so make a reservation.
Nearby on the harbor, The Shanty is a more casual choice for fresh seafood and drinks with a sunset view. Back on Mason Ave, foodies will find authentic flavors of Italy at Ambrogia Caffe & Enoteca. Down the street, Deadrise Pies is the favorite for tasty, fresh pizza.
A day at the beach is not complete without ice cream. Fortunately, the homemade deliciousness of Brown Dog Ice Cream is in the heart of downtown. Be forewarned, the servings are huge!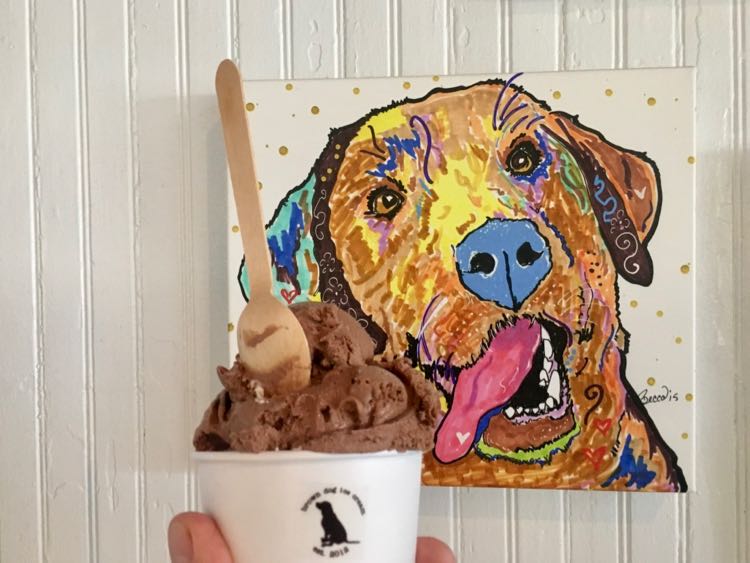 Where to Stay in Cape Charles Virginia
The beautiful Bay Haven Inn is an ideal home base for your stay in Cape Charles. The inn features four elegantly decorated rooms, spacious common areas, a lovely porch complete with a swing, and delicious homemade breakfasts. Co-owner Tammy Holloway is the unofficial tourism expert for Cape Charles, and she is a wealth of information about what to do and see during your stay.
If the Bay Haven Inn is booked, there are several other bed & breakfasts in Cape Charles. The Cape Charles Hotel is recently renovated and is located just across from the waterfront in the downtown area. Explore other lodging options in Cape Charles.
Resources for Planning an Eastern Shore of Virginia Road Trip
Map of Places to Visit on Virginia's Eastern Shore
Driving to Virginia's Eastern Shore is part of the fun, as long as you avoid the busiest traffic. There are two routes from the Washington DC region, and each crosses an impressive bridge over the Chesapeake Bay.
From the north, visitors cross the Bay Bridge in Maryland, then connect to route 13. From the south, visitors cross an engineering marvel, the 17.6-mile Chesapeake Bay Bridge and Tunnel. Our Eastern Shore road trip itinerary arrives through Maryland and exits via the Bridge and Tunnel so you experience the length of the island.
Eastern Shore VA Helpful Web Sites
Visit the following websites to plan your visit and learn about special events on Virginia's Eastern Shore:
More About Virginia's 50 Years of Love Celebration
For more information about the 50th anniversary and Virginia LOVEworks please see the links below:
Virginia Tourism Corporation and Eastern Shore of Virginia Tourism hosted our visit. As always, all opinions are our own.
Follow Fun in Fairfax VA on Facebook, Twitter, Pinterest, and Instagram for more great getaways, places to visit, and things to do in Virginia and the mid-Atlantic USA.
Pin it for later: