Updated on November 7, 2023 by Julie McCool
Visit beautiful Burke Lake Park in Northern Virginia to hike, bike, paddle, fish, ride the train, and enjoy family fun at Fairfax County's largest lake. This Northern Virginia gem is a fun year-round destination with loads of great outdoor activities for all ages.
Visitors will find something fun for every age group and activity level from the 5-mile fitness trail to quiet spots to relax or enjoy a picnic. Family, group, and wilderness campsites are available and you can reserve your site online.
Disclosure: This article may contain affiliate links. We will make a small commission from these links if you order something, at no additional cost to you.
The trail around Burke Lake is a popular hiking and biking destination year-round. In warmer months, the park draws anglers and paddlers from around the DC region for fishing and scenic boating on Burke Lake. In addition, there are places to play mini and disc golf, ride a scenic miniature train, take a spin on the carousel, and more.
You can even combine your visit to Burke Lake with a scenic drive in Fairfax County.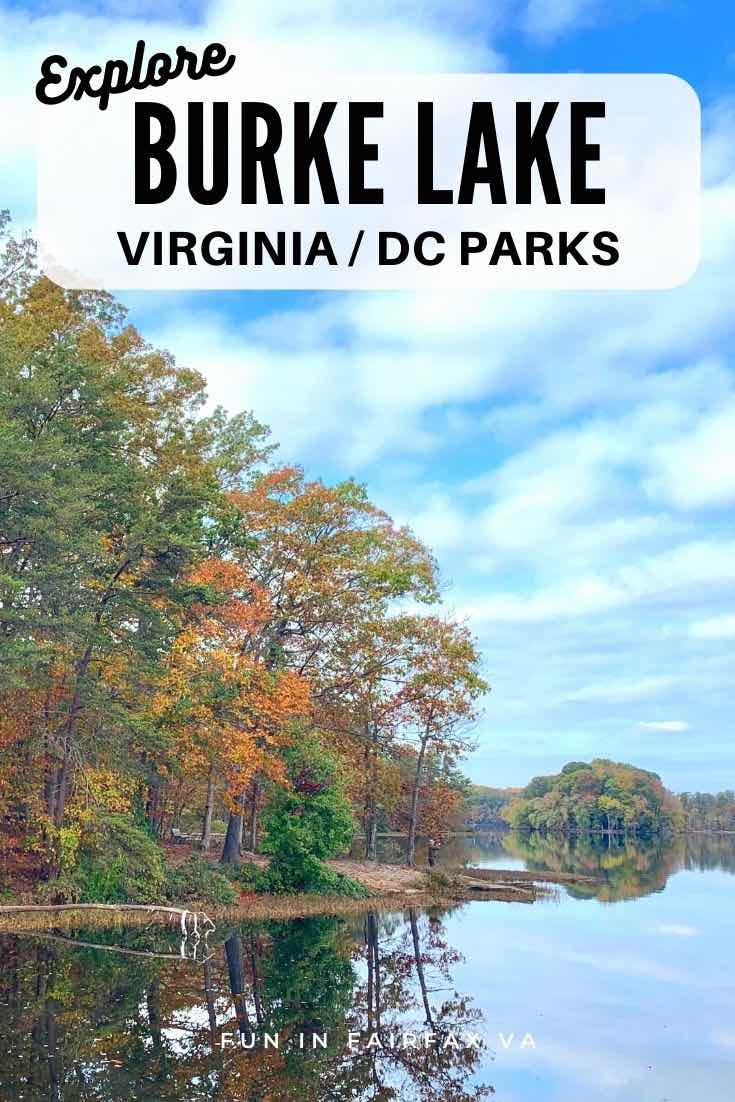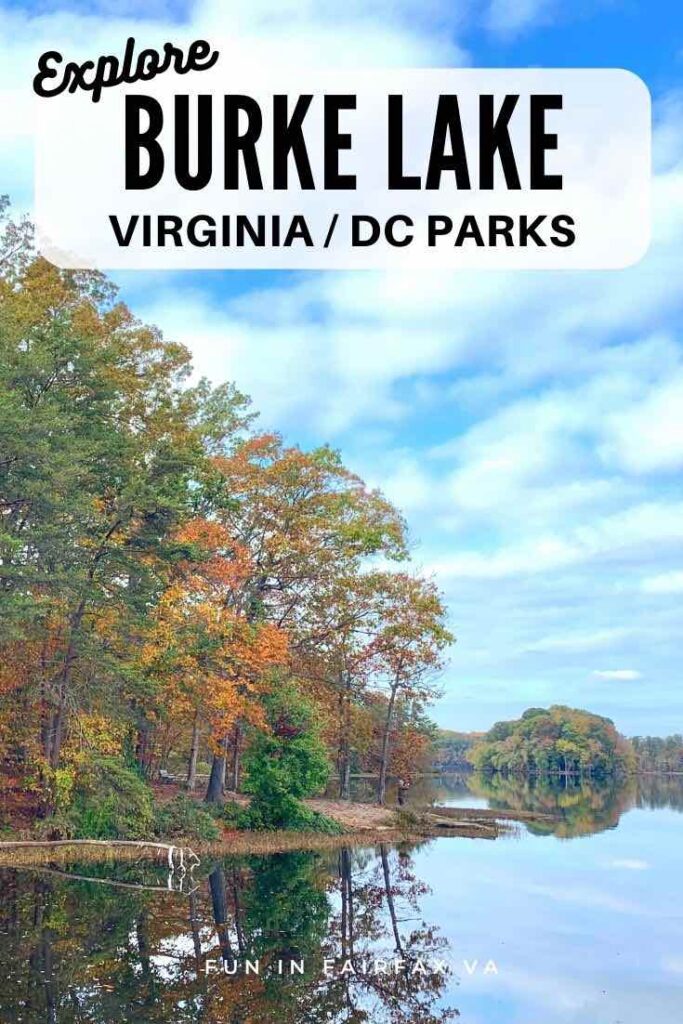 Things to Do at Burke Lake Park
The best things to do at Burke Lake Park focus on outdoor activities that take advantage of the scenic lake and Fairfax County Park facilities. The park is open daily, from dawn to dusk, year-round but is especially popular in the summer.
Read on for details and tips on the fun things to do at Burke Lake Park:
Hike or bike the Burke Lake Trail, a 4.6-mile loop around the lake.
Fish from shore or on the water. There are wheelchair-accessible docks and plenty of walk-in access points around the lake.
Paddle and fish on the lake.
Enjoy family-friendly activities like a miniature train and a small carousel for younger children.
Spend the night at the Burke Lake campground
Have a picnic or host a gathering
Below you will also find essential information for your visit.
Hike or Bike the Burke Lake Park Trail
One of the best things to do at Burke Lake Park is to hike, jog, or bike the 4.6-mile fitness trail that circles the lake. The loop trail is a popular spot for hikers, runners, dog-walkers, and cyclists.
The wide dirt and crushed stone trail is well maintained and mostly level with some gentle small hills. Most of the trail is shady—a welcome break from summer heat and a beautiful backdrop during fall foliage season.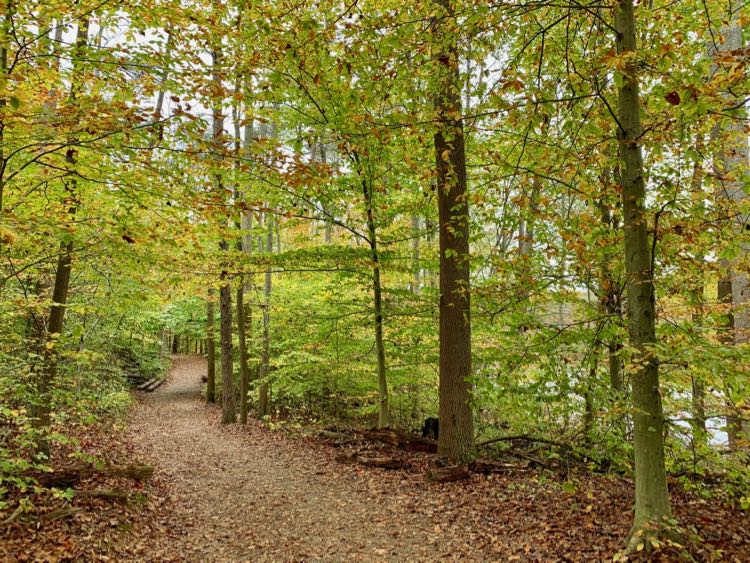 The Burke Lake trail is also used as a fitness course, and there are exercise stations along the path. Portions of the trail are also used for special events like high school cross-country races.
The trail around Burke Lake is also a great option for family biking. Most of the dirt path around the lake is doubletrack, but use caution on curves and narrow sections. Cyclists share the popular trail with hikers and it can get crowded on nice weekends, especially during summer.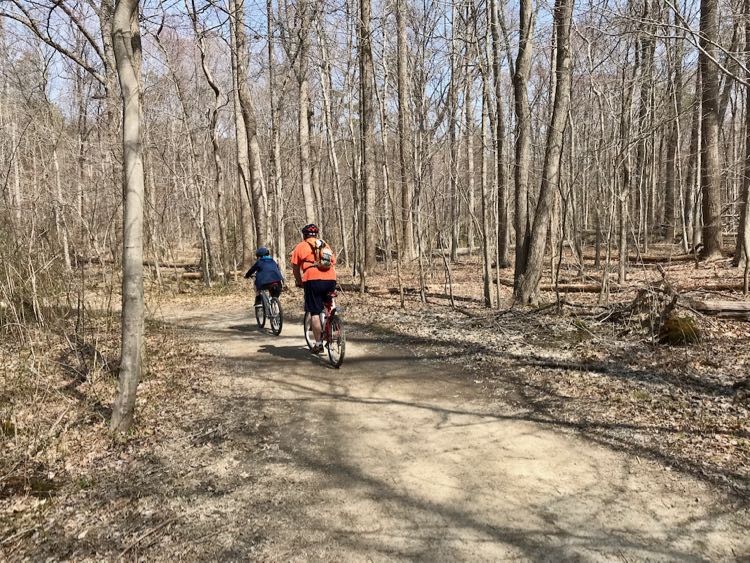 Portions of the trail around Burke Lake are wheelchair-accessible, so it's a great destination for people with limited mobility or families with strollers. In fact, sturdy strollers should be able to handle the entire trail around the lake.
Explore more Wheelchair Accessible and Stroller Friendly Trails in Northern Virginia.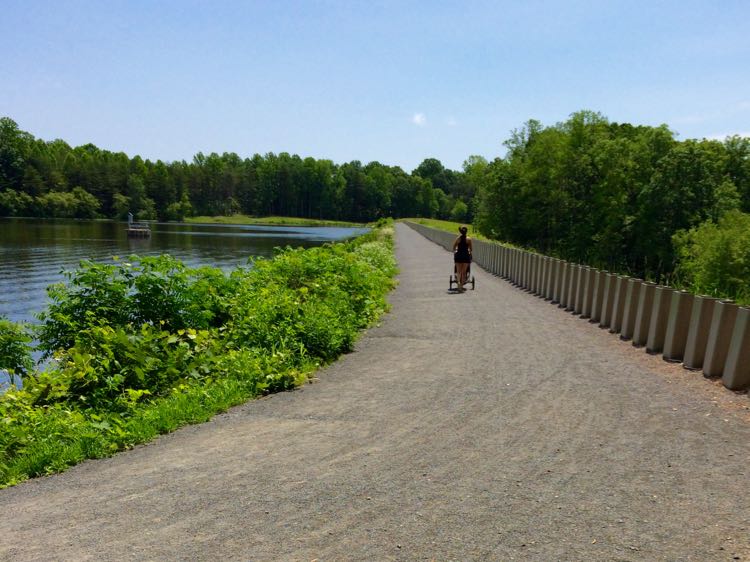 Watch for wildlife along the trail. On one visit we spied balancing turtles, swimming ducks, grazing deer, and one hunchbacked raccoon ambling across the path in front of us.
The shady Burke Lake Park trail hugs the shoreline, breaking into the sun as it passes over a dam. There are plenty of picnic tables and benches along the way to stop and enjoy views of the lake. Marked fitness stations, an orienteering section, and a nature trail add extra fun to your hike.
After winter snow, visitors can navigate their way around Burke Lake on cross-country skis, boots, and snowshoes. A small hill near the golf course offers a short sledding run with parking close by.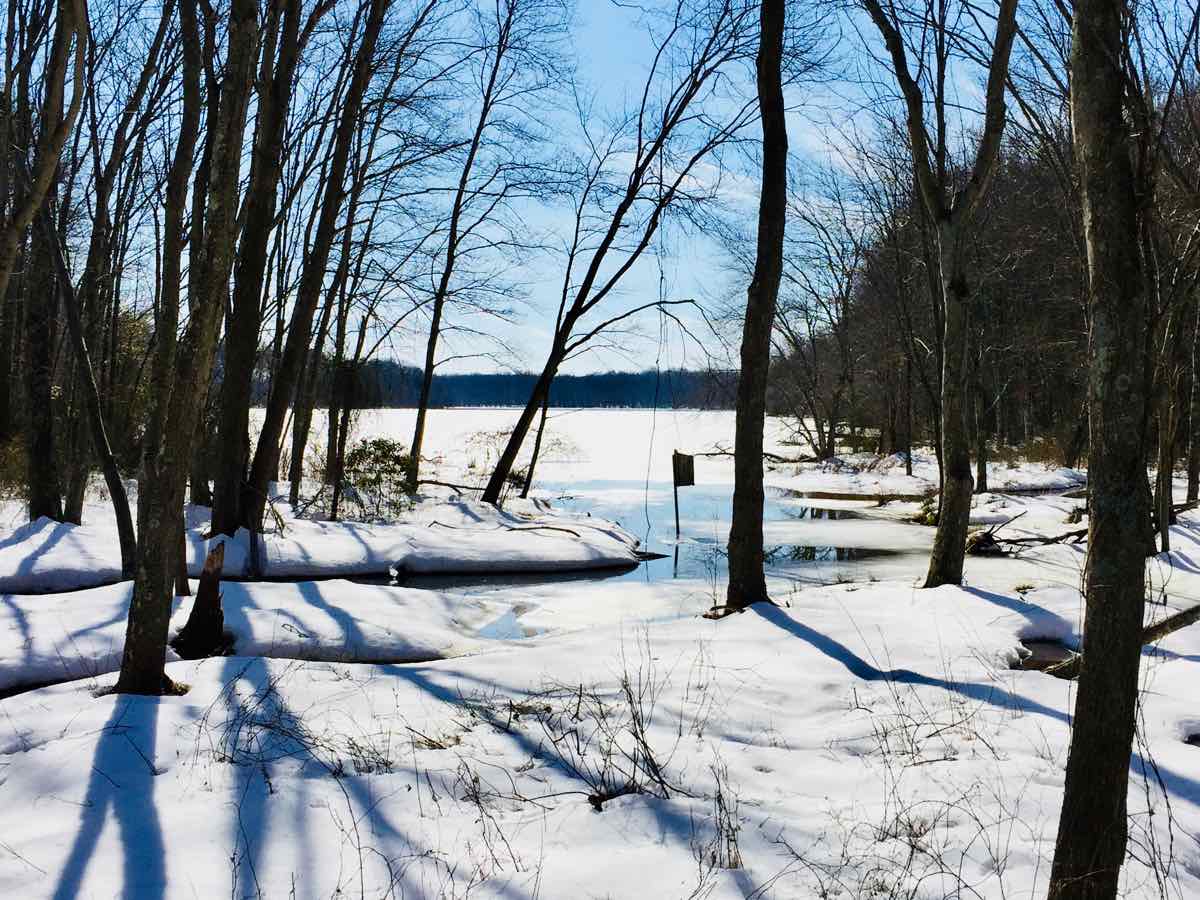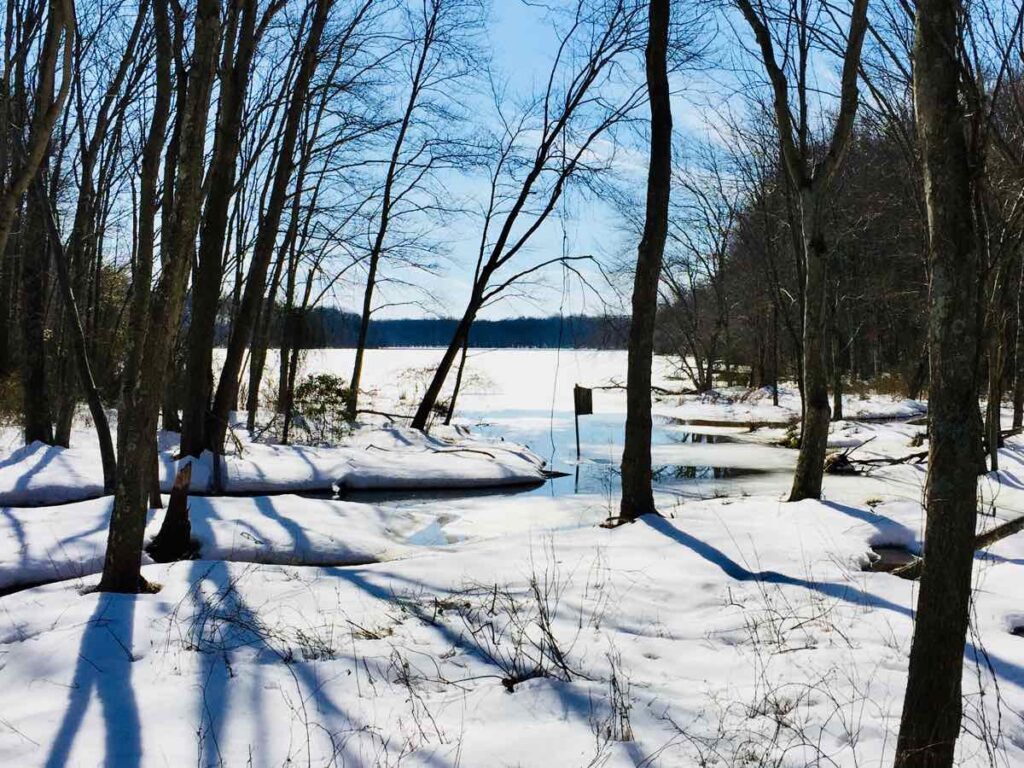 Paddle and Fish at Fairfax County's Largest Lake
Burke Lake Park is the largest of the Fairfax County Park Authority lakefront parks, with 5.25 acres of shoreline. The lake itself is managed by the Virginia Department of Wildlife Resources as a Public Fishing Lake, so swimming, SUPs, and pleasure kayaks are not allowed.
The park's seasonal marina rents boats and sells a variety of bait. Visitors can rent canoes, fishing kayaks, and rowboats with or without an electric motor from the marina. Or you can bring your own and use the boat launch.
The 218-acre Burke Lake has some of the best Largemouth Bass fishing in the region and also features Walleye, Muskie, Channel Catfish, Bluegill, Black Crappie, Yellow and White Perch, and more. Anglers 16 and older must have a fishing license and follow Virginia fishing regulations.
2023 UPDATE: The Burke Lake Marina area will undergo maintenance, including a 2-foot drawdown of the lake level beginning in November 2022. The level should return to normal and the marina will reopen in April 2023, contingent on weather.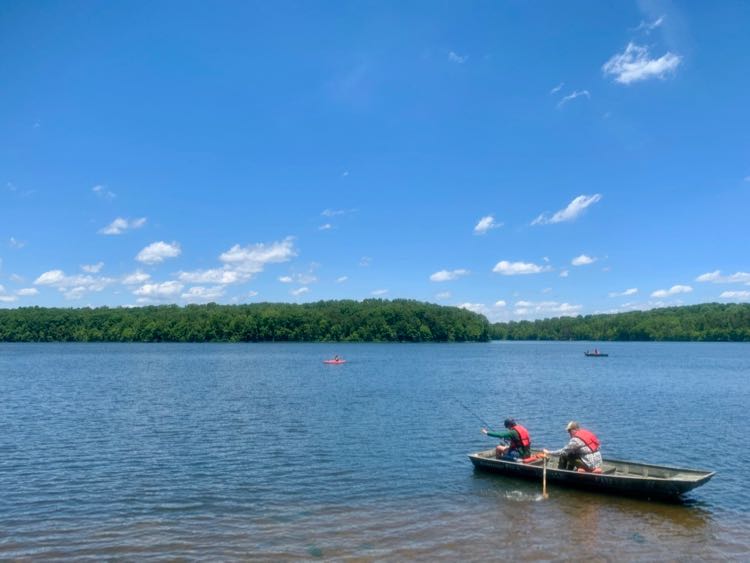 You can also fish from shore or a fishing pier near the marina. In addition, there are several wheelchair-accessible fishing piers, and the main pier near the marina is also ADA compliant.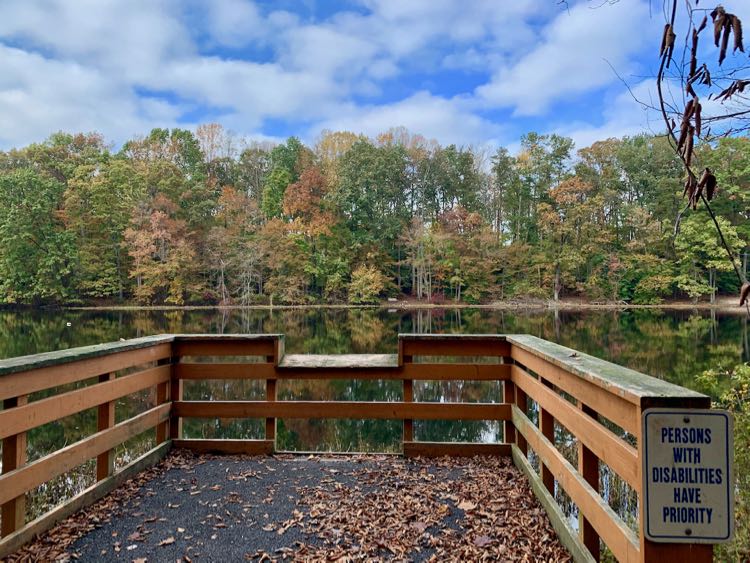 Explore more places for Northern Virginia Boating and Fun on the Water.
Family Fun at Burke Lake Park
If you have little ones along for a summer visit, you should definitely make time for a train ride. The miniature Central Pacific Huntington steam engine travels 1.75 miles on a trail through the woods. A ride is only $4.00 on weekdays, $5.00 on the weekend, and free for ages 2 and under.
A small carousel, seasonal snack bar with an ice cream parlor, 4 playgrounds, and a fun mini-golf course provide more kid-friendly fun. Most of the activities for kids are close to the mini-golf parking lot. Older kids and teens could try their skills on the disc golf course or sand volleyball court.
Special events throughout the year include Campfire Nights, a non-scary Halloween Ghost Train, and the Celebration Station holiday light display in December. In addition, the park service hosts kid-friendly performances like musical acts and magicians in the amphitheater.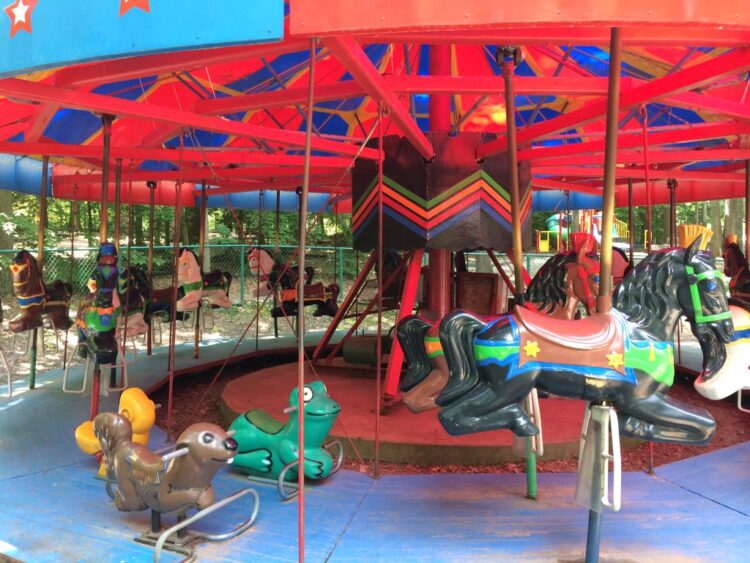 One of the only summer activities you can't do around Burke Lake is swim. If the weather is hot, plan to visit in the morning before it gets too steamy. Better yet, rent a campsite and you can enjoy sunrise or sunset over the lake.
Spend the Night at the Burke Lake Park Campground
One of the best campgrounds in the DC area is also one of the only lakefront camping areas. The park offers 100 tent sites but there are no electric or water hookups (small RVs are allowed). The Burke Lake campground is open April through October and online reservations are strongly recommended.
Rent a camping spot and you can enjoy the peace of a morning sunrise or evening sunset over the lake.
Enjoy a Picnic or Host a Gathering
Lakefront parks are some of the best places to picnic in Northern VA, and Burke Lake has three picnic grounds to choose from. All three areas feature picnic tables with grills and convenient free parking nearby.
If you're hosting a group picnic or party, the park offers several rental pavilions. In addition, Picnic Area 2 can be rented and accommodates up to 100 people.
Can you swim at Burke Lake Park?
Unfortunately, no, swimming is not allowed at Burke Lake Park. In fact, swimming is also prohibited at Lake Fairfax and Lake Accotink, the other Fairfax County lakefront parks.
There are several reasons for the ban on swimming in county lakes. For one thing, the bottom of the lake is not maintained or groomed. As a fishing lake, the bottom is littered with fish hooks and other dangerous debris. In addition, silt and mud build-up means that you might end up "waist-deep in mud."
In addition, the water quality at Burke Lake is not safe for swimming. Geese and other wildlife plus urban run-off contribute to poor water quality. Finally, the lake is managed as a fishing resource, so there are no designated swimming areas.
Are SUPs allowed at Burke Lake Park?
No, stand-up paddleboards are not allowed at Burke Lake or any Fairfax County lakefront park for the same reasons that swimming is prohibited. All boating and water activities at the park are geared toward fishing.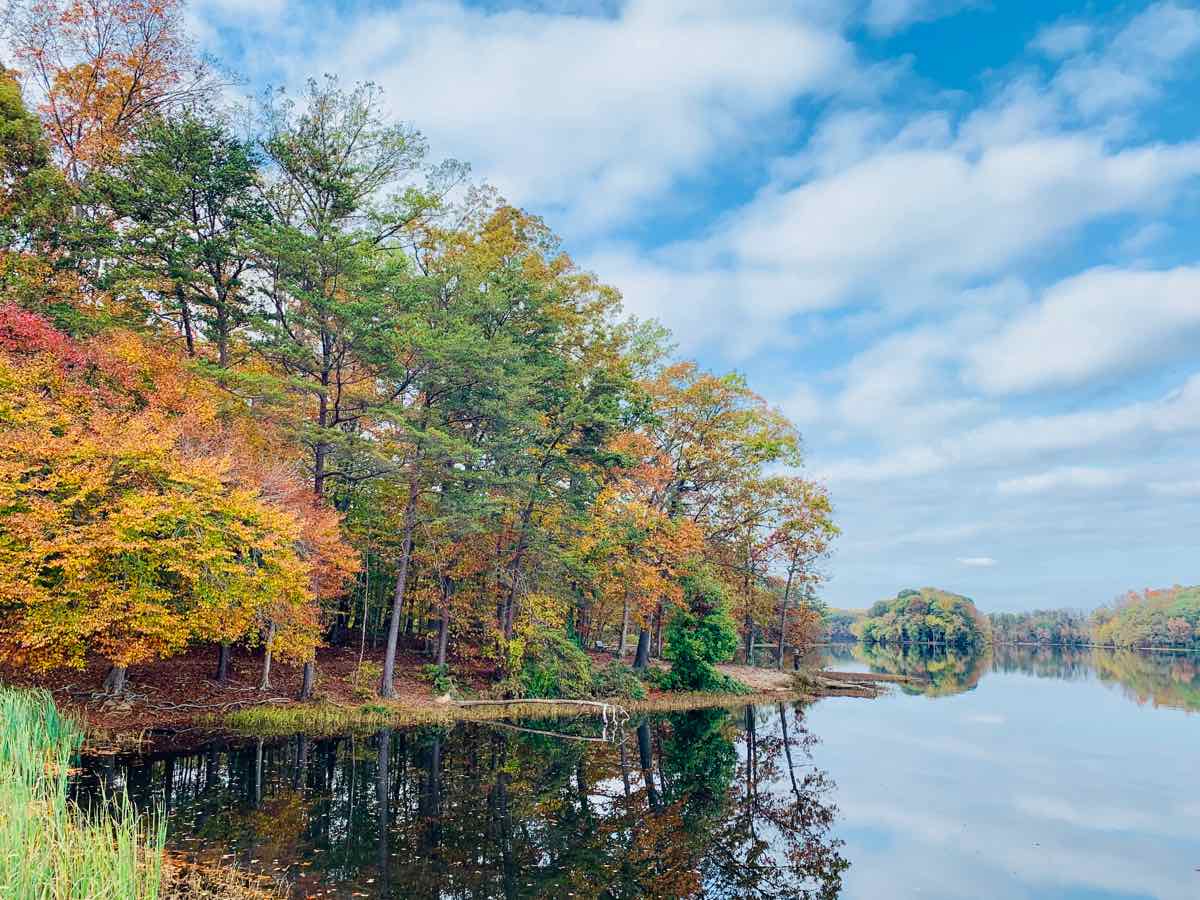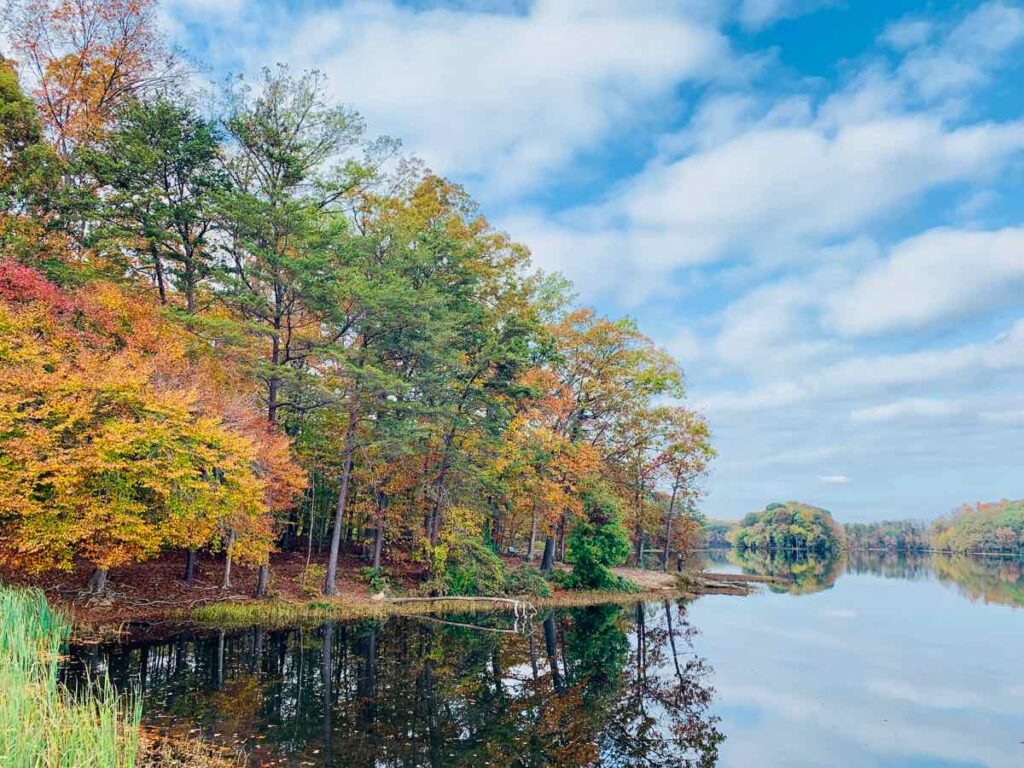 Burke Lake Park Essential Information
Burke Lake Park is located at 7315 Ox Road in Fairfax Station Virginia. The park is open daily, from dawn to dusk.
Admission to Burke Lake is always free for Fairfax County residents. On weekends the park charges a $10 non-resident entrance fee but is free to all on weekdays.
Check the park website for the latest alerts and upcoming events. You can also stop at the Information Station near the park entrance to pick up maps for the trail, picnic areas, campgrounds, orienteering course, and lake depth (open 11:00 – 4:00).
Whether you visit for a few hours or a longer campground stay, Burke Lake Park is the perfect place to enjoy outdoor activities and family fun.
Follow us on Facebook, Twitter, Pinterest, and Instagram for more fun travel in and from Northern Virginia.