Updated on May 9, 2023 by Julie McCool
Lake Fairfax Park packs a lot of options for outdoor fun—hikes, biking, swimming, boating, picnics, sports, and excellent camping—into its 476 acres. The popular park can be very busy on the weekends, but with so many diverse activities to choose from, everyone can find a happy spot.
Managed by the Fairfax County Park Authority, Lake Fairfax is one of the three largest lakes in Northern Virginia. The park's excellent amenities make Lake Fairfax a popular destination for Northern Virginia residents and visitors to the DC region. In fact, Lake Fairfax is one of the best campgrounds near Washington DC for RV and tent camping.
Disclosure: This article may contain affiliate links. We will make a small commission from these links if you order something, at no additional cost to you.
Below are some of the fun Lake Fairfax Park outdoor activities you can enjoy, along with answers to frequently asked questions.
Ride a Bike or Take a Hike
Lake Fairfax Park has an extensive trail network, mostly through wooded areas of the park. The shared trails are popular for hiking, biking, and horseback riding, and trails are frequently being added and improved.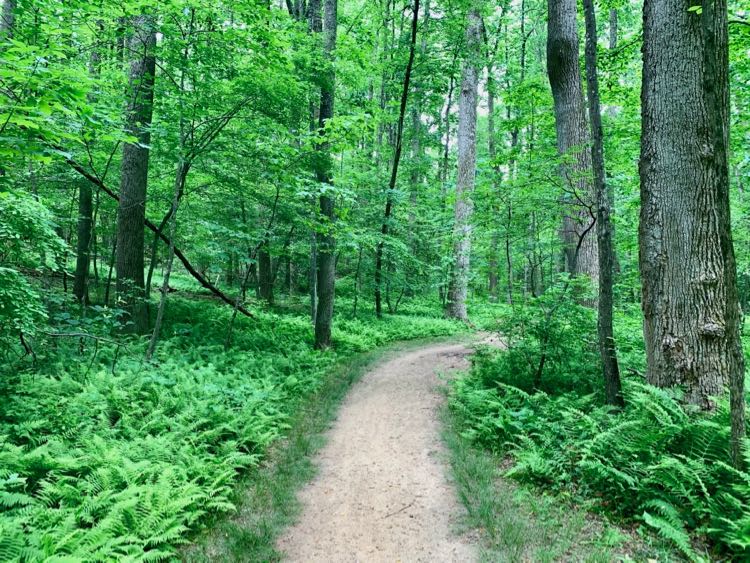 The park's trail system is easy to reach from the W&OD bike trail, so it's a nice destination if you want to add single or wide-track biking to your outing. To enter the park from the W&OD, turn on Michael Faraday Court, heading toward the SkateQuest building. In the back corner of the lot, you'll find the trail entering the park.
The Rails to River Trail follows about 2.5 miles of wide track through the park, connecting to the Colvin Run Stream Valley, and then the Cross County Trail. There are several junctions where you can turn onto single-track trails if you want to mix it up.
The trail system offers a mostly shady, wooded ride with some steep sections and tight curves. Watch for signs warning of particularly steep and tricky sections, especially if you have young riders along.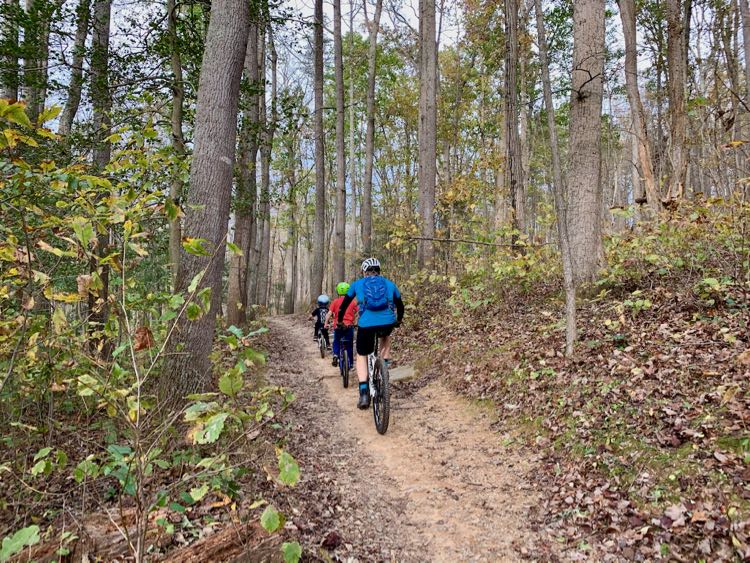 The same trails that are popular with bikers are great for hiking too. You can hike a loop trail around the lake, though it is overgrown and eroded in places. Another loop trail around the campground connects to a network of other trails.
If you're looking for a short, level hike appropriate for strollers, walk across the dam and turn right along the lake. This level gravel trail was once a miniature railroad track. (We miss that train!)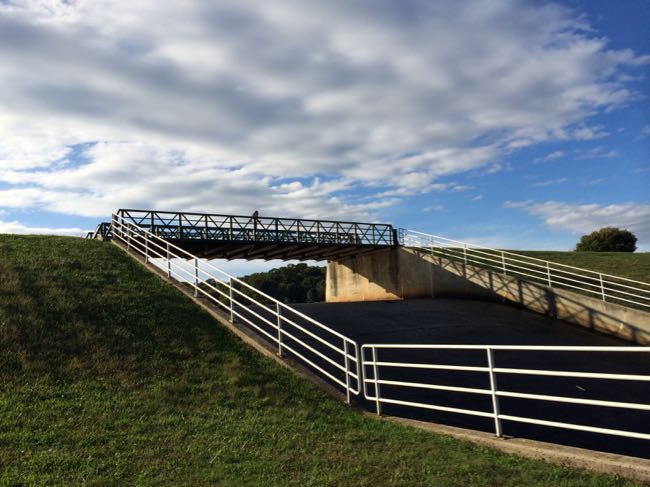 If you are hiking, stay alert and listen for approaching bikes, especially on the steep portions of the Rails to River Trail. If you are biking, pull to the side and let horses pass, and please give hikers a warning as you approach. We can all share the trails with a little effort.
Take a Dip or Float at the Water Mine Waterpark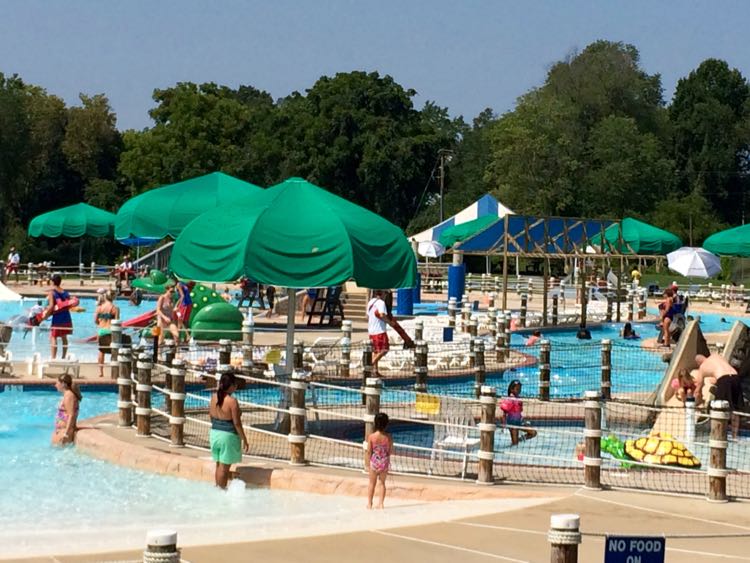 What better way to follow a summer hike than a cooling swim? Lake Fairfax Park has its own waterpark—the Water Mine Family Swimmin' Hole.
This very popular waterpark features an acre of slides, flumes, sprays, showers, floatables and interactive play features. One of our favorite parts is Rattlesnake River, which circles the park with a 2.5 mile per hour current that gently nudges tubes along.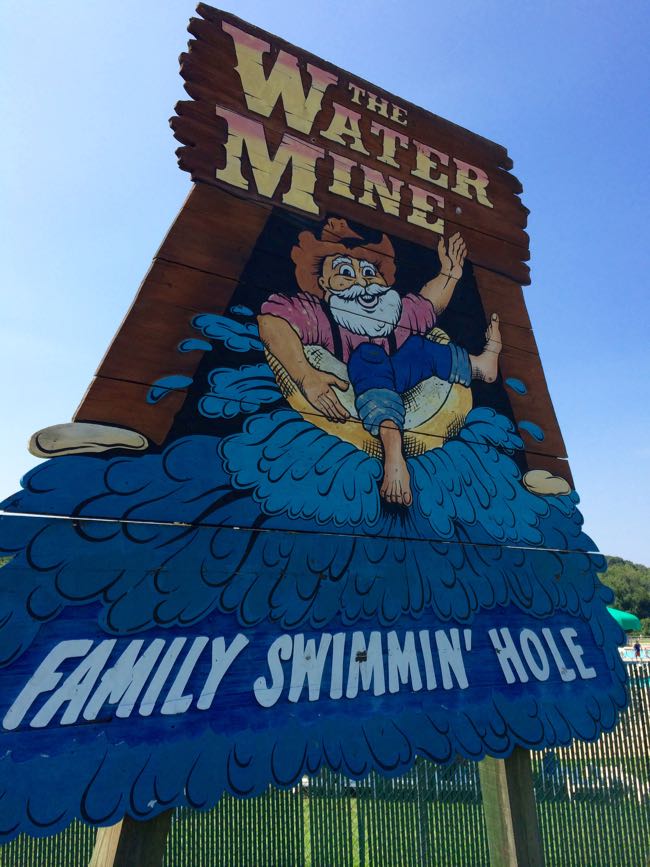 In 2014, Fairfax County Park Authority expanded the popular Water Mine waterpark with three flume tube slides, more tot spray park features, and new facilities.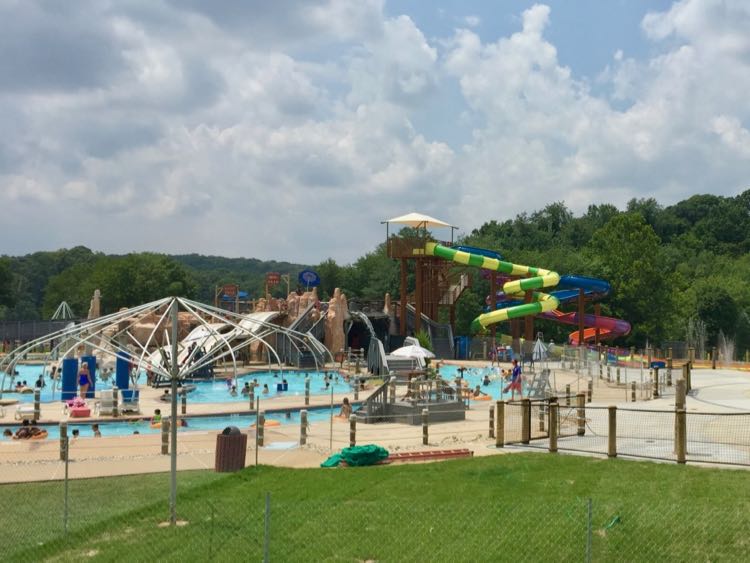 Season Passes are usually on sale early in the season. For frequent visitors, the pass provides discounted, quicker entry plus unlimited rides on the carousel and tour boat.
The Water Mine is a very popular spot and lines can get extremely long on a hot summer day. Arrive early or late for the best chance of a speedy entry.
Go Boating on Lake Fairfax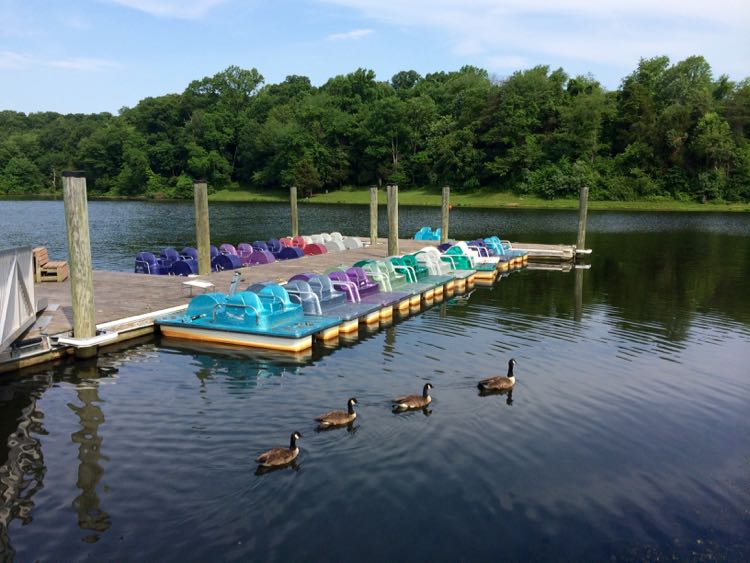 Line too long for the water park? Families can enjoy the lake from the Lake Fairfax Park marina on either a pedal boat or kayak rental. The lake is small—only 20 acres and even smaller with low water levels—but it's a fun way to spend a little time.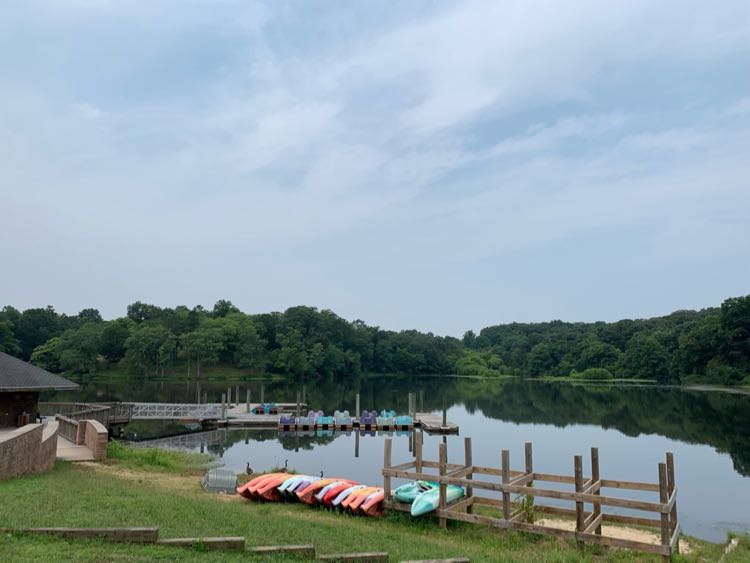 Kayak rentals are $13.00/$18.00 single/double per hour, and you can rent a sparkly paddleboat for $15/$26 2-person/4-person per hour.
If it's too hot on the lake, kids can take a ride on the restored, antique carousel. Rides are $4, free for 2 and under.
Burke Lake Park is much larger, with better boating and fishing, but Lake Fairfax is also popular for shoreline fishing. The lake is stocked with rainbow trout between February and April every year. Spring is the best time to fish at Lake Fairfax, but it's a nice way to relax during summer too.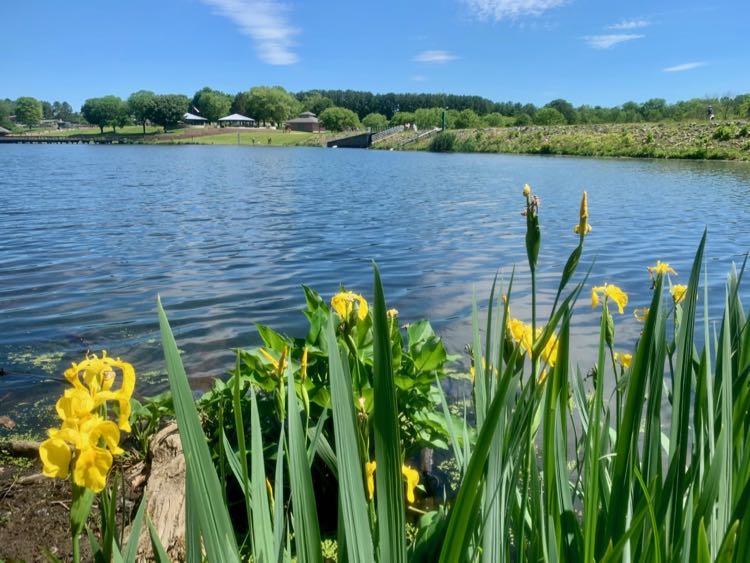 Host a Picnic
Weekends bring lots of groups and families to Lake Fairfax Park's picnic areas. When the weekend weather is good, groups send an early arrival to stake out a collection of picnic tables under the trees.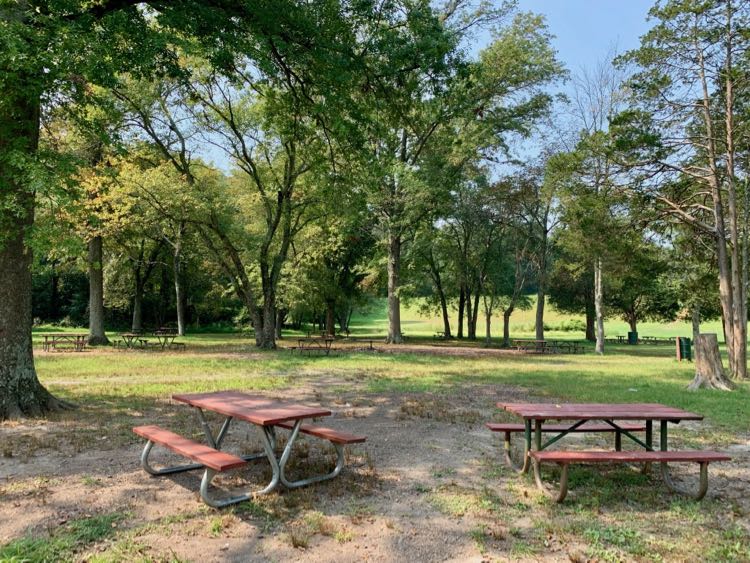 Grills are available for cookouts, and you'll see hammocks slung in the trees, and kids playing in the stream.
Pavilions with picnic tables are available closer to the lake and there are several group picnic areas. Reserve these picnic areas in advance to guarantee your group a spot. You don't want to get set up only to find someone else has reserved the space.
See also 25 Perfect Picnic Spots in Northern Virginia for Couples to Groups.
Play Your Sport or Cheer on a Team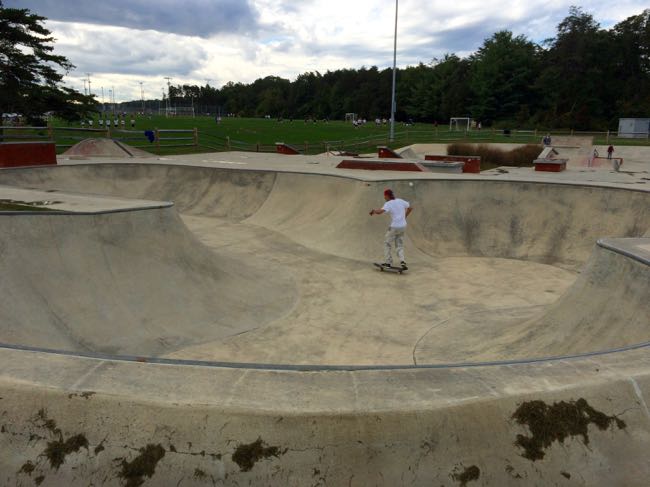 Lake Fairfax Park has extensive athletic facilities including a Skate Park, baseball field, natural surface and turf soccer pitches, and a large cricket field.
The athletic fields are generally booked for youth and adult teams, but the public is allowed to use empty fields (at least until the next team arrives).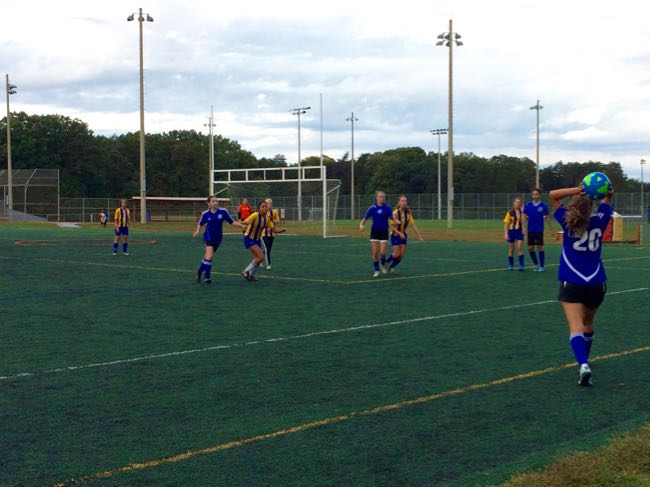 The Skate Park is a popular spot, and automatic lights keep it illuminated until 8:15 nightly. Located next to the campground, it's a fun spot to stop and watch the action when you're at the park.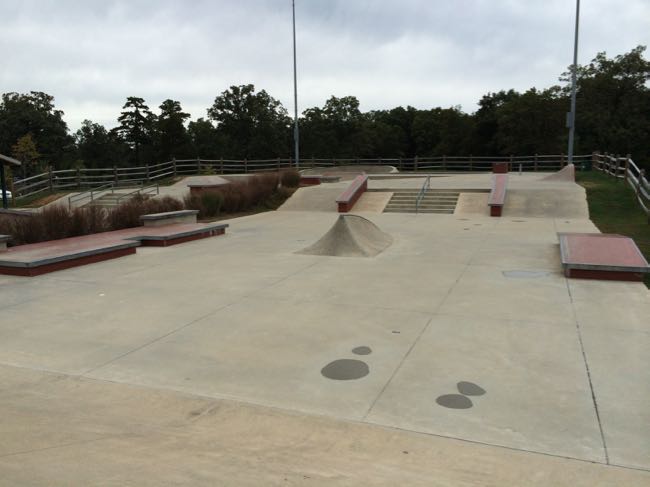 We also like to stop by the cricket field on Sundays to watch the men in white.
Spend the Night
The campground at Lake Fairfax Park gets a 4-star rating on TripAdvisor for good reason. While it's relatively small, the area is clean, safe, and has a nice selection of open and tree-covered sites.
There are tent and RV sites, plus many options for group camp-outs. The trails, skate park, athletic fields, and the Water Mine are all easy to access from the campground. If you live nearby, Lake Fairfax is a nice spot for a staycation family camping weekend.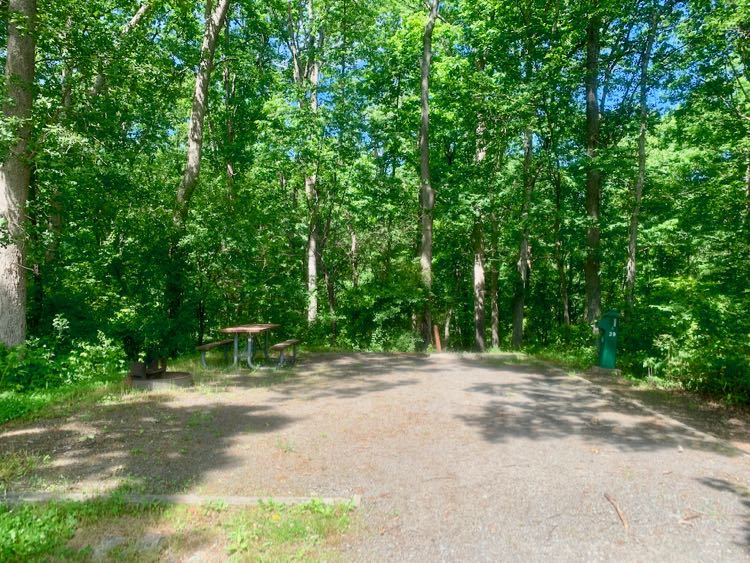 With easy access to the nearby Weihle-Reston East Silverline metro station, it's also a convenient campground for visitors to DC. You can even hike or bike from the campground to the metro station and to local restaurants and Bike Lane Brewing.
Lake Fairfax is an ideal base for visiting Great Falls Park, Mount Vernon, and all of the other unique places that make Northern Virginia so much fun.
Lake Fairfax Park Frequently Asked Questions
Does Lake Fairfax Park charge an entrance fee?
No, there is no entrance fee at Lake Fairfax Park.
Can you swim in Lake Fairfax?
No, swimming is not allowed in Lake Fairfax. Visitors can swim at the Water Mine Waterpark (fees apply).
Can you go boating at Lake Fairfax?
Yes, a small marina rents paddle boats and kayaks at Lake Fairfax seasonally. There is no public boat launch.
Are dogs allowed at Lake Fairfax Park?
Yes, leashed dogs are allowed at the park and campground. Pets are not allowed in the waterpark.
Does Lake Fairfax host special events?
Yes, Lake Fairfax hosts popular events including a July 4th fireworks show plus small group activities. Visit the park website for details.
Can you walk around Lake Fairfax?
Yes, there is a trail around Lake Fairfax though it is narrow and eroded in places. The park has an excellent network of trails for hiking and biking.
We've been visiting Lake Fairfax Park since we moved to Northern Virginia over 25 years ago. It was a great place for hiking with our children when they were small, and to watch many soccer games and cross country meets as they grew. Now empty nesters, we still return frequently to hike, bike, picnic, and enjoy a relaxing day in Northern VA.
With so much to offer, the popular park has something for everyone. Visit the Lake Fairfax Park website for the latest events and updates.
Follow Fun in Fairfax VA on Facebook, Twitter, Pinterest, and Instagram.