Discover unique, fun, and cool things to do in Richmond VA, plus great places to eat, drink, and stay with our getaway guide to Virginia's cool capital city. Whether you're planning a family day trip or a romantic weekend getaway, you'll find fun Richmond attractions and activities on our list.
Virginia's mid-sized capital city offers a beautiful combination of natural adventure and urban fun spread across unique neighborhoods that call for exploration. From urban hikes; to food and brews; to history, museums, art, and shopping, you'll find it in Richmond. In fact, the New York Times included Richmond on its global list of 52 Places to Go in 2020.
The only challenge you'll encounter on a Richmond VA getaway is fitting all the tempting sites, food, and fun into a few days. Fear not. Since Richmond is only two hours (or less) from the Northern Virginia, Washington DC area, you can happily return for many more day trips.
Unique and Fun Things to Do In Richmond VA
We've rounded up more than 25 of the best places to visit in Richmond Virginia. Destinations and activities are grouped based on interest, so you can explore them all or focus on your favorite. Our list includes outdoor fun, historic sites, art museums, cool neighborhoods, places to eat and drink, and great places to stay in downtown Richmond.
James River Park System and Hiking Trails in Richmond VA
The Jamer River Park System is a collection of riverfront trails, rapids, meadows, and forests along the James River. The system includes fun walking paths that are accessible on foot from downtown Richmond. Parks also offer a chance to get on or in the water, and to bike, climb, or just kick back at an outdoor event.
Richmond is blessed with a revitalized riverfront offering some of the best urban hiking in the mid-Atlantic. The beautiful James River, a historic canal, and an abundance of bridges provide a sweet, gritty backdrop to outdoor adventures. Riverfront walks are our favorite things to do with kids in Richmond because they keep everyone active and engaged.
Belle Isle is the second-largest island in the James River. It's a wonderful spot to hike or just laze on the flat rocks overlooking the Hollywood Rapids. Walk the 1,040-foot long footbridge suspended under the Lee Bridge, and getting there is part of the fun.
Once on Belle Isle, take the 1-mile trail around the island and check out the remains of a power plant and a Confederate gun emplacement. The island was the site of a notorious Civil War prison camp where over 1,000 Union soldiers died under horrific conditions. Today, the island offers hiking, mountain biking trails, and rock climbing, and it's a very popular destination on a warm sunny day. It's fun to watch kayaks and rafts shoot the rapids, but the current is not safe for swimming.
The one-third-mile long T Tyler Potterfield Bridge (aka T Pott) is fun during the day and evening. On a summer day, the bridge offers a great view of people swimming, kayaking, and rafting in the James River. On the south side of the river, you can watch climbers practicing their skills on the Manchester Wall. You're sure to see joggers and cyclists as you make your way across the T Pott.
The bridge begins with a history lesson. The installation "Three Days in April" tells of the fall of Richmond during the Civil War. In the evening, clusters of light tubes add a slightly alien look to the scene. The bridge is always open, and it's one of the best things to do in Richmond VA at night. It's also a perfect spot to watch a beautiful sunrise or sunset over the river.
On the north side of the river, cross the bridge over the Haxall Canal to Brown's Island. The island is a popular spot for special events and concerts in Richmond. It is also the start of the T Pott bridge and the Canal Walk.
Canal Walk
The 1.25-mile Canal Walk is marked with interesting medallions, statues, and exhibits that highlight the area's role through four centuries of Richmond's history. When you reach the Power Plant near 11th Street, you'll see fantastic murals that were created during the first RVA Street Art Fest.
The Canal Walk continues on the city side of the floodwall, following the James River and Kanawha Canal through the Shockoe Slip neighborhood. You'll pass below the railroad lines at Triple Crossing. Richmond is the only city in the world with a triple main-line railroad crossing still in operation. Be sure to stop at the monument to Henry "Box" Brown, a slave who made a desperate and dangerous journey to freedom after his wife and three children were sold away.
The Canal Walk ends at the floodwall, but if you continue through the door you'll reach the Virginia Capital Trail. This 52-mile dedicated, paved bike trail runs from Richmond to Jamestown along the Route 5 corridor. Richmond is Virginia's current capital, and Jamestown was its first, so the trail is well named. Rent a bike from Richmond Bike Share, which has 20 stations around town.
Boating and Swimming in Downtown Richmond
Riverside Outfitters runs an outpost near Brown's Island that rents kayaks and SUPs in the summer. You can also swim in the river from Tredegar Beach, at the edge of Brown's Island. This is a nice calm area for kids to splash around as long as you don't venture out into the main flow. Also note that swimming is prohibited if the water level reaches 9 feet, and life jackets are required at 5 feet and up. Also, avoid swimming after heavy rains as run-off can mean unsafe bacteria levels.
Explore a Richmond Neighborhood
Richmond is full of unique neighborhoods, many of them connected by driving and walking trails that highlight history. The Richmond Slave Trail follows the port and slave markets that made Richmond the largest source of enslaved Africans on the east coast of America from 1830 to 1860. The 6.2-mile Richmond Liberty Trail connects many historic sites and is marked with a blue logo painted on the sidewalk.
Shockoe Slip is one of the city's oldest neighborhoods, where restaurants, bars, and shops line the cobblestone streets. Drive or walk through the Fan District to see beautiful 19th and 20th-century architecture on quiet residential streets. At the western edge of the Fan, Carytown is a fun street lined with quirky shops and tasty food.
Jackson Ward, a National Landmark Historic District, was one of the most important black neighborhoods in the 19th and early 20th centuries. Stop at Broad and Brook Streets to learn about Maggie L. Walker, a leader in the African-American community and the first female bank president (of any race) in the US.
The Virginia State Capital building was designed by Thomas Jefferson in the Monumental Classical style. A 2007 renovation added an underground Visitors Center on the south side of the square where you enter the building. Visitors can explore on their own or join a scheduled tour. Don't miss the life-size marble statue of George Washington surrounded by busts of 7 other Virginia-born presidents and Lafayette under the beautiful rotunda.
One of the more unusual places to visit in historic Richmond VA is the Poe Museum. The museum honors the life of Richmond-native and beloved author Edgar Allen Poe. Displays include the largest collection of Poe manuscripts, personal belongings, and memorabilia in the world. Upstairs in the Exhibit House, you can take a selfie "under the floorboards" of The Tell-Tale Heart or behind the bricks of The Black Cat. The Poe Museum hosts monthly "Unhappy Hours" and other special events, and the shop has some great Poe inspired gifts.
One of the most important historical sites in Richmond VA is St. John's Church. This is the site of Patrick Henry's famous "Give me liberty or give me death" speech to delegates at the Second Virginia Convention including George Washington and Thomas Jefferson. Guided tours of St John's Church, led by costumed interpreters, explain the ideas and Virginia events that led to the American Revolution. You can also tour the graveyard on a self-guided tour or with a guide. From Memorial Day to Labor Day, re-enactors bring the famous speech to life every Sunday afternoon.
Two historic Richmond sites are located near Brown's Island and the start of the Canal Walk. The Tredegar Iron Works preserves the site of one of the largest and best-equipped foundries in the nation. The adjacent American Civil War Museum presents the events and ideas that drove the Civil War before, during, and after the conflict.
18,000 Confederate dead are buried at Hollywood Cemetery. The city served as the Confederate Capital during the Civil War and many of the dead were reinterred here after a hasty burial at Gettysburg. A 90-foot stone pyramid surrounded by rows of headstones honors the fallen. Hollywood is also the burial place of two US presidents—James Monroe and John Tyler—and Confederate General Jefferson Davis. There's a wonderful view of the James River and Richmond skyline from the western side of the cemetery.
The VMFA opened in 1936, defying the difficult times of the Depression with a commitment to the value of public art. Years of careful acquisition and expansions have created a 13.5-acre campus with impressive collections of Art Deco and Art Nouveau, American, European, Asian, and African-American art. The glass-walled Best Cafe, with a view out to the Sculpture Garden and it's cascading fountain, is a nice spot to relax.
You'll find an edgier collection at the ICA Richmond, which opened in early 2018 to great acclaim. Rotating exhibitions occupy two floors and encourage contemplation and discussion. During our visit, a giant mural in the lobby displayed quotes collected from barbershops around the city. A powerful display by artist Paul Rucker, who was on-site discussing his work, explored the impact and ideology of the KKK. Exhibits change so follow the link for details on what you'll see during your visit.
USA Today readers voted the Lewis Ginter Botanical Garden one of the top four gardens in North America, and it's a beautiful place to visit in Richmond VA. 50 acres of gardens house an array of themed areas that offer beauty and fun to visitors of every age.
Lewis Ginter is also home to one of the best holiday light shows in Virginia when the Gardenfest of Lights sparkles with more than one million lights. For more details and photos, read our full review of the Lewis Winter Botanical Garden.
This Victorian country estate is a beautifully preserved example of Gilded Age luxury. Visitors can explore the estate's beautiful parkland and gardens and tour the opulent Mansion. Before your tour, learn about the life of the servants and their work "belowstairs".
You'll also find a small, interesting garden at Agecroft Hall. The 15th-century manor house was moved to Richmond from Lancashire, England, by businessman T.C. Williams Jr. Join a house tour, then visit the lovely Elizabethan gardens that surround the house.
Richmond Murals: a Street Art Lovers Dream
You could spend days exploring the vibrant murals that decorate buildings throughout the city of Richmond. From the huge to the hidden, in every mood and style, murals seem to pop up on every block. The Richmond Mural Project is your best guide to finding particular murals, or you can just wander the neighborhoods and streets and see what you discover.
Shopping in Richmond VA
Walk and shop the trendy stores on Broad Street in downtown Richmond. Stop in at Charm School for a tasty ice cream treat when you need a break. Or head to neighborhoods like Carytown for more eclectic local shops. You can hunt for hidden treasure at Class and Trash in Scotts Addition.
Eat Local in Richmond VA
Richmond has a thriving restaurant scene, with tasty options for every budget and palette. National Geographic named the city one of the top six places for food travelers in 2016. Here is a selection of casual and find dining Richmond restaurants we have enjoyed.
Casual Restaurants in Richmond
Finer Dining in Richmond VA
Richmond Rooftop Bars
If you're looking for fun things to do in Richmond VA for couples, head to one of the rooftop bars. You can relax with a cocktail and enjoy the city lights sparkling at night. In fact, Rooftop cocktails are one of our favorite things to do in Richmond VA at night for any adult group.
Sample the Craft Brew Scene in Richmond VA
The Richmond Beer Trail includes more than 30 Virginia craft breweries in the Richmond area. The Scott's Addition neighborhood is home to Ardent, Vasen, The Veilhyt, Blue Bee Cider, and Hardywood Park.
If you're in town on a Thursday night in the warmer months, combine a visit to Hardywood Park Craft Brewery with dinner at the food truck park. It's a fun, family-friendly scene and the line-up of beers is delicious.
The downtown Capital Ale House offers a big line-up of Virginia brews and a good pub menu so it's another good pick for a food and brews outing.
Triple Crossing Brewing on Foushee Street has a small deck that's a nice spot on a warm evening,. Their newer location in Fulton has a much larger tasting room and a huge patio.
Where to Stay in Downtown Richmond VA
Like any city, there are many hotels in Richmond VA to choose from. We recommend the downtown Richmond hotels if you plan to explore the riverfront. The area between Broad Street and the river is very walkable, though you will be walking uphill from the river. Here are two great options for lodging in Richmond.
The Jefferson Hotel, Richmond, Virginia
The Jefferson is the top choice for a romantic weekend getaway in Richmond VA. The beautifully renovated Gilded Age masterpiece offers sumptuous rooms in an excellent location. On-site dining and bars, an indoor pool, and beautiful areas like the Palm Court and Rotunda Lobby are perfect places to escape from cold or rainy weather.
Read our full review of The Jefferson Hotel. And find more luxury lodging in our guide to Historic Hotels in Virginia and the mid-Atlantic.
Book an elegant Grand Premier Guest Room and you'll have room to relax with a comfortable king bed, separate sitting area, and spacious marble bath. The Jefferson is one of the most beautiful historic hotels in Virginia and a fabulous base for a Richmond VA getaway.
Check reviews and availability at The Jefferson now.
Hampton Inn & Suites Downtown Richmond
The Hampton Inn & Suites Downtown is a more casual, and still centrally-located base for a Richmond stay. The hotel opened in 2016 in a former office tower that also houses a new Homewood Suites. Our corner room was spacious, bright, and very comfortable with a king-size bed, large desk, couch, and expansive windows offering excellent views of the city.
The lobby area includes plenty of seating and a breakfast area, and you can reach the Belle restaurant without even going outside. Be sure to enjoy a cocktail and impressive city and river views at the rooftop bar.
The two hotel lobbies are only a floor apart so make sure you know which one holds your reservation. The Hampton Inn & Suites location was perfect for all of our exploring, and the comfy quiet room let us recharge for the next day's wanderings.
Linden Row Inn
Another of our favorite romantic hotels in Virginia is the historic Linden Row Inn. Choose from 70 elegant rooms and suites that feature plush beds and period details. For maximum romance, book one of the huge Parlor Suites with soaring 12-foot ceilings and spacious living rooms.
Find more Richmond VA attractions and activities at the Visit Richmond website and follow them on Facebook for the latest Richmond events and news. For another take on places to visit in Richmond, read 8 Great Things to Do in Richmond Virginia on McCool Travel.
We first stayed in Richmond in the mid-1990s, and the city was dramatically different when we returned in 2017 and 2018. There are so many fun and unique things to do in Richmond VA with new venues opening all the time. If you love food, beer, history, art, shopping, and urban outdoor adventures, Virginia's beautiful capital city should be on your travel calendar.
Follow us on Facebook, Twitter, Pinterest, and Instagram for more fun travel in and from Northern Virginia.
Visit Richmond and The Jefferson Hotel hosted portions of our visit to Richmond, Virginia, including lodging, museum entry, and some meals. As always, all opinions, text, and photos are our own.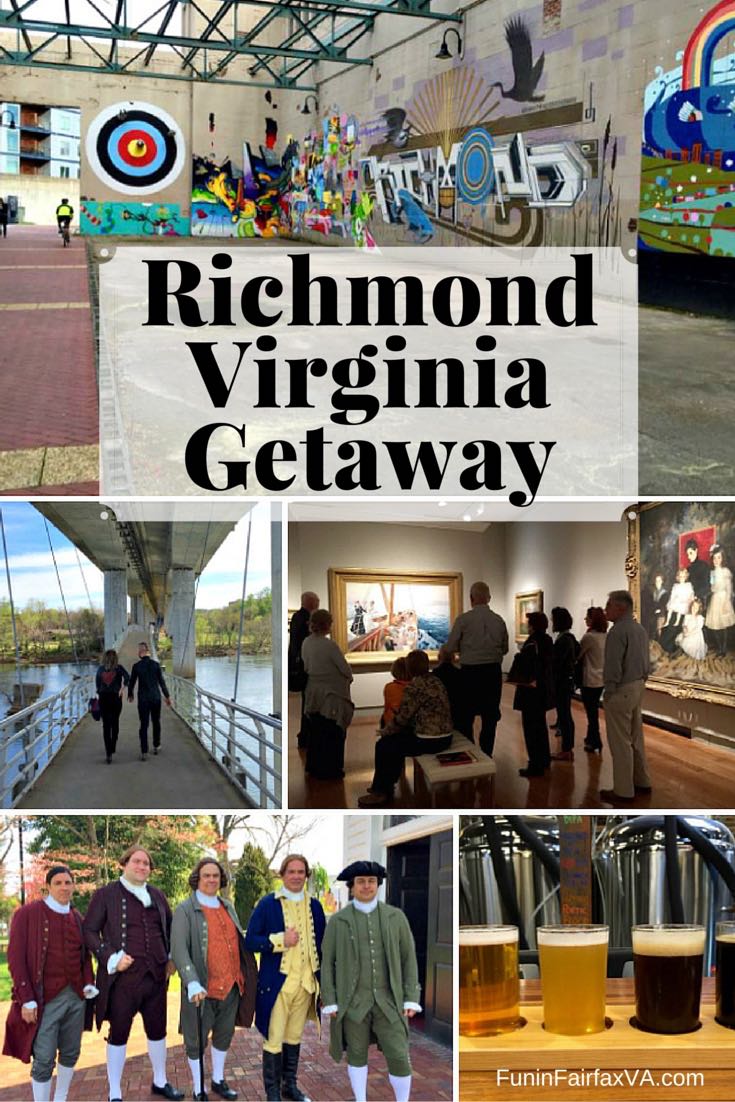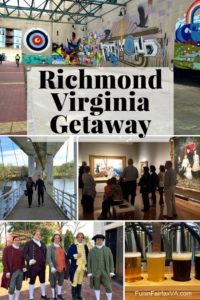 This article was published in 2016 and updated in 2018, 2019, and 2020.