Updated on November 1, 2023 by Julie McCool
The Bears Den Overlook hike delivers a gorgeous payoff for a small effort and can be modified to suit different fitness levels and available time. This is an excellent destination for family and multi-generation groups because the Bears Den Overlook hike has plenty of parking, easy access, and fun stops nearby.
Read on for alternate routes that range from very easy to fairly challenging, along with helpful tips for your visit. Explore more in our complete guide to fun things to do in Bluemont Virginia.
Disclosure: This article may contain affiliate links. We will make a small commission from these links if you order something, at no additional cost to you.
Bluemont also makes an excellent weekend, close to Washington DC but surrounded by beautiful mountains and nature. Plan your trip with our guide to 17 Fantastic Northern Virginia Wine Country Vacation Rentals, several of which are close to the Bears Den Overlook hike.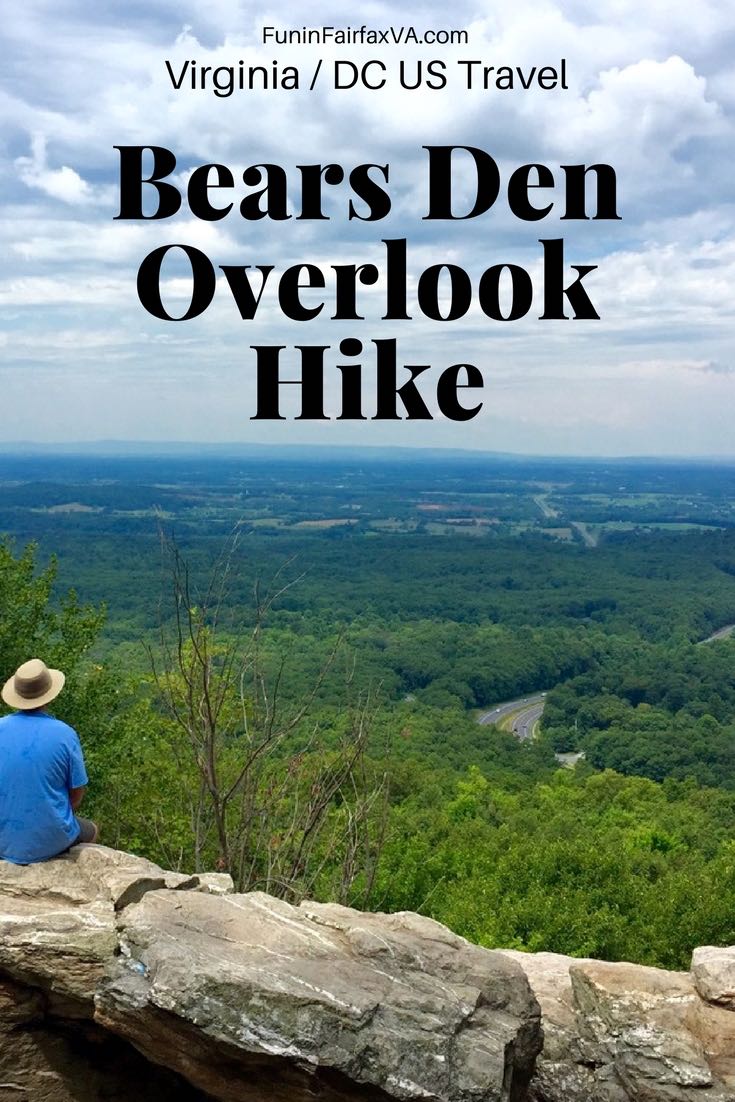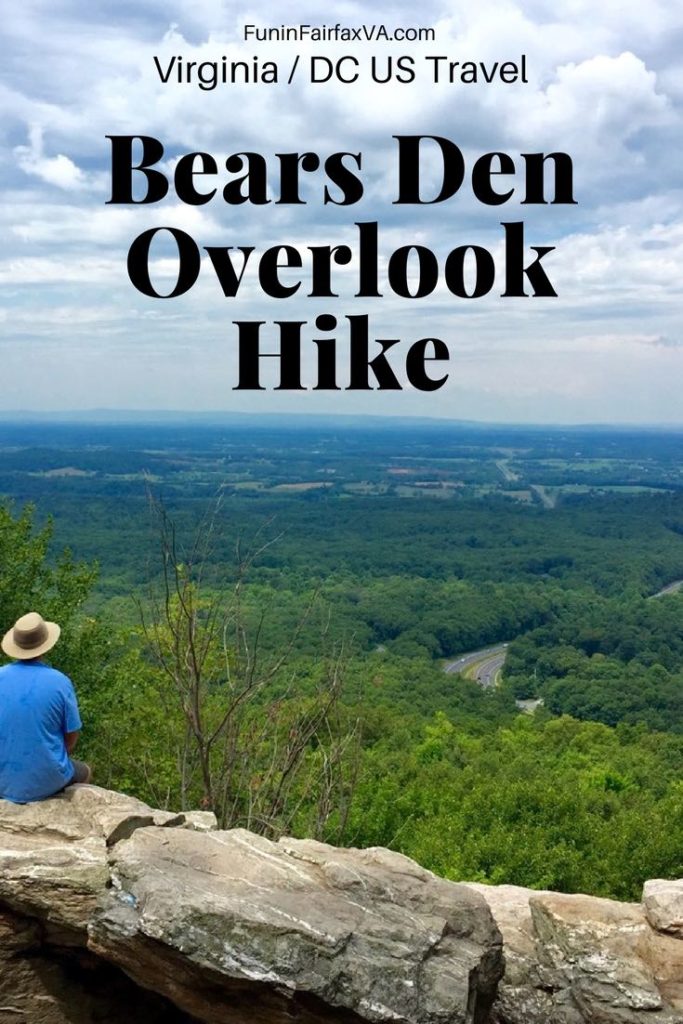 About the Bears Den Overlook Hike
Bears Den Overlook is a rocky outcropping on the Appalachian Trail in Bluemont, Virginia. The open ledge scattered with large boulders offers beautiful panoramic views of the Shenandoah Valley to the west. In the distance, the Blue Ridge Mountains stretch across the horizon. The beautiful setting and easy access make Bear's Den one of the best places to enjoy a short hike on the Appalachian Trail near DC.
Discover more Top 10 Must-Visit Northern Virginia Attractions Near DC
There are two parallel stretches of rock, with a dirt area between them. The views are spectacular from any of the rocks, and the dirt area is fun for kids to explore.
Bears Den is a wonderful spot for a picnic with an awesome view. It's also a great place to watch a sunset. On a nice weekend day, you'll find the overlook busy with families, couples, and solo hikers.
The rocky terrain in the overlook area is really fun for kids to climb around, but keep in mind that there is a sheer drop-off from the cliffs. People who don't like standing at the edge of cliffs can still enjoy the view from rocks set back from the edge.
Here's a short video of the winter view from Bear's Den.
About 150 feet from the overlook is Bears Den Center. The Bears Den Trail Center lodge is popular with Appalachian Trail segment and thru-hikers, and it occupies a lovely historic stone mansion from the 1930s.
We've outlined four different routes for the Bears Den Overlook hike:
A short walk from the Bears Den Day Use parking area.
A fairly easy half-mile hike from the large Snickers Gap parking area on Route 7. The short trail has a few steep and rocky sections.
A longer and more challenging hike past the viewpoint on the Appalachian Trail's "roller coaster" section.
A route combining Bears Den with a hike north to Ravens Rock.
Descriptions and pictures of each hike follow. Choose your route based on your group's abilities and time. You'll find tips on other fun things to do in the Bluemont area below.
Find more NoVA fun in our guide 20 Must See Northern Virginia Hidden Gems Rich in Nature and History
Four Routes for the Bears Den Overlook Hike
It's easy to reach Bears Den from two separate parking areas. Hikers can increase the challenge by extending the hike south on the Appalachian Trail or combining it with a northern hike to Raven Rocks. Here are four possible routes for hiking Bears Den, each with differing levels of challenge and distance.
Bears Den Center Parking Area to the Overlook
This is the shortest and easiest way to reach the beautiful overlook. The parking area is only a few hundred feet from the viewpoint, on mostly level ground. Set your GPS to Bears Den Hostel. You'll follow Route 7 to Blue Ridge Mountain Road and the gravel road to the Bears Den Day Use Parking Area. The drive is steep and rutted, but manageable.
Pay $3 for parking and check out the cool bears carved into one of the trees before beginning your Bears Den Overlook hike.
The quickest route to the viewpoint is up the driveway, turning left on the Blue Blaze Trail before you reach the hostel. A slightly longer but pretty approach follows the Nature Trail through more of the woods before connecting with the Blue Blaze.
Snickers Gap Parking Area to Bears Den Overlook
This is the most popular route for families, and it's one of the first hikes we did with our kids when they were little. This short easy hike in part of the Appalachian Trail includes some steep, and rocky sections. Since it's only .5 miles to the viewpoint, kids get a quick reward for their efforts.
Begin at the Snickers Gap trailhead, near the midpoint of the large parking lot. Follow the blue blazes until the short connector trail joins with the AT. There's a nice sign with a map just after you start the hike, and another sign when you connect to the AT. Follow the white blaze trail to the overlook, and return the way you came when done.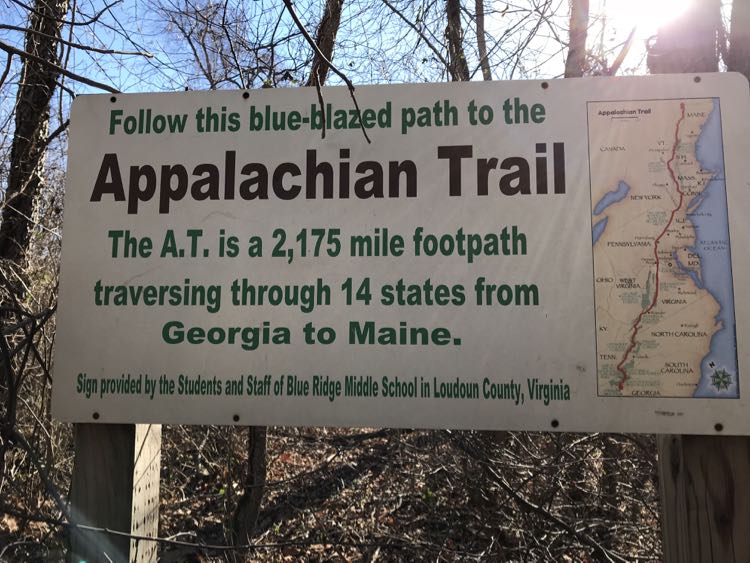 Bears Den and an Appalachian Trail Roller Coaster South
This route extends your hike on a section of the Appalachian Trail known as the roller coaster because it traverses a series of steep hills. There is no ideal turn-around point, so just go as far as you like and then return the way you came.
Begin the hike at Snickers Gap, stopping to enjoy the Bears Den Overlook hike viewpoint. When ready, continue south on the Appalachian Trail, following the white blazes steeply downhill. In winter, you'll have some peeks of the westward view, but nothing dramatic. We encountered an icy spot at a stream crossing, but the trail was mostly well-packed dirt with a few rocky spots.
We turned back after 2 miles (just before the trail started another descent). Another option is to hike 3 miles to the Sam Moore Shelter and use that as your turn-around point. Either way, you'll get a good workout as you climb the hills on your return to Bears Den and the parking area.
Bears Den Overlook Hike and Raven Rocks Hike
Our final route combines two viewpoints and more of the roller coaster, on a 6.5-mile out-and-back hike. Begin at either parking area and visit Bears Den Overlook. When ready, head north on the AT, carefully crossing busy Route 7 then continuing on the trail to Raven Rocks.
Alternatively, you can park in the lot on Pine Grove Road and focus on just the Raven Rocks portion of the hike. This is a small lot so it fills up quickly on nice weekends.
The Raven Rocks hike includes three steep ascents and descents on the way to a dramatic rocky cliff. The northward view is not as pretty as the one at Bears Den, but it's still nice and much less crowded. As casual day hikers, we found the trail to Raven Rocks tiring but fun.
Read the full Raven Rocks hike description now.
You can add even more distance and challenge by continuing past Raven Rocks and connecting to the Ridge to River Trail. The trail descends to the Shenandoah River and Cool Spring Battlefield. Some hikers use Cool Spring as an alternate, and generally less crowded, approach to Raven Rocks. Bears Den to Cool Spring is a 12.5-mile out-and-back with some challenging climbs.
Things to Do After Your Bears Den Overlook Hike
Visit Bluemont Virginia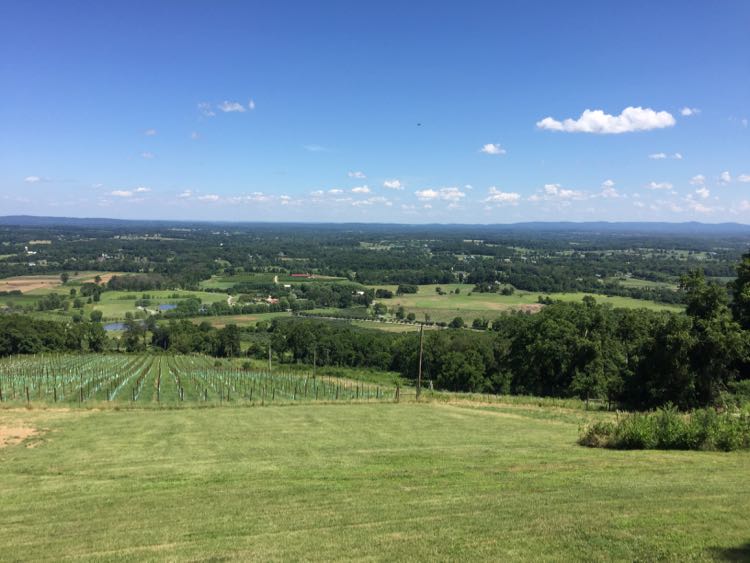 Bluemont is a quaint Virginia town with some of the best winery and brewery views in Virginia. After your hike, head east on Route 7 and take the first turn onto Snickersville Turnpike. You'll make a fun hairpin turn before descending a hill into town. Here are a few of our favorite things to do in Bluemont:
Check our listings for the latest monthly events in Northern Virginia.
Visit Purcellville Virginia
The town of Purcellville is another fun destination to combine with your Bears Den Overlook hike. There are several craft breweries and an excellent distillery in town, along with a variety of tasty restaurants. The walkable downtown has some nice shops to poke around in. Purcellville is also the start of the Washington and Old Dominion Bike Trail.
Read 8 Great Things to Do in Purcelville now.
Take a Scenic Drive on the Snickersville Turnpike
One of our favorite scenic drives in Northern Virginia stretches from Bluemont to Aldie in Loudoun County. The historic Snickersville Turnpike was the first operating turnpike in America, traveled by George Washington and praised by Thomas Jefferson. The two-lane road offers scenic views of Piedmont farmland, three quaint general stores (in Airmont, Philmont, and Bluemont), and some interesting historic stops.
If time allows, follow your Bears Den Overlook hike with a drive through history on the Snickersville Turnpike.
Read A Scenic Drive in Loudoun County Virginia for details on Snickersville Turnpike.
The Bears Den Overlook hike is a nice option whether you want a quick and easy outing, a longer challenging hike, or a scenic day trip. With two easy access points, gorgeous views, and a challenging segment of the Appalachian Trail for longer hikes, there's a route for every fitness level.
Follow us on Facebook, Twitter, Pinterest, and Instagram for more fun travel in and from Northern Virginia.