These 8 great summer hikes in Northern Virginia have shady trails, cooling water, and relaxing stops nearby, and they are all a short drive from Washington DC. Summer in the DC region can mean steamy weather and tick-laden fields. But you can still enjoy nice summer hikes if you know where to go.
Our picks for summer hikes in Northern Virginia feature mostly shady trails and pretty views. We don't have any swimmable lakes in the area, but some of these hikes are near streams and waterparks. At the end of the list is a handy map to help you plan your visit.
Looking for more great trails in Northern VA? Our complete guide to the best hikes in Northern Virginia has trails for every level. And when you're ready, you'll find more fun things to do in our big guide to the best outdoor activities in Northern VA.
Disclosure: This article may contain affiliate links. We will make a small commission from these links if you order something, at no additional cost to you.
8 Great Summer Hikes in Northern Virginia
These summer hikes vary in distance and are easy to moderately challenging. And many of these Northern Virginia trails are easy, short walks that are ideal for a family outing.
This moderately challenging 3-mile partial loop takes hikers through a less-visited section of Great Falls Park. The hike begins at the Difficult Run parking area on historic Georgetown Pike and follows a shady section beside Difficult Run.
From there, a steep climb leads to the Ridge Trail in Great Falls Park. Next, a steep section of the River Trail offers stunning views of the Potomac River and Mather Gorge.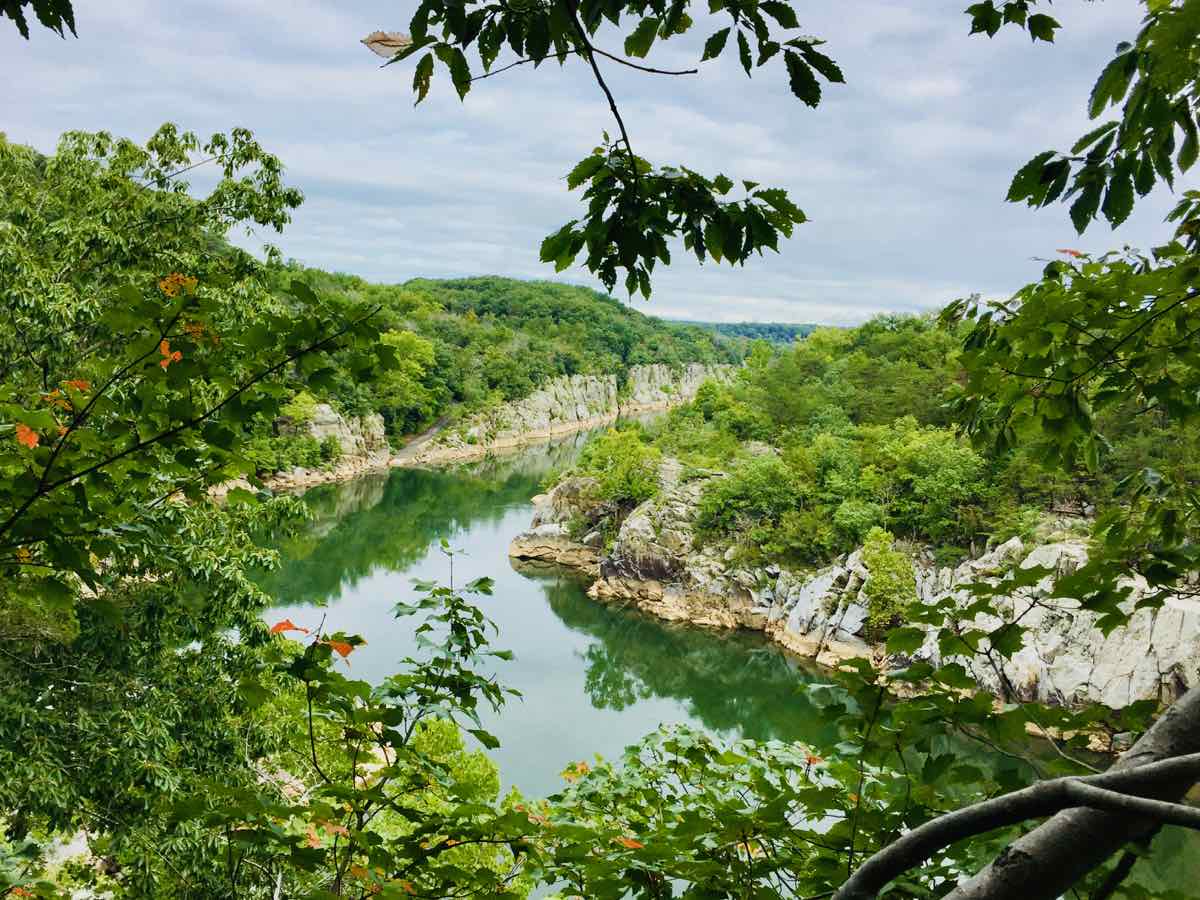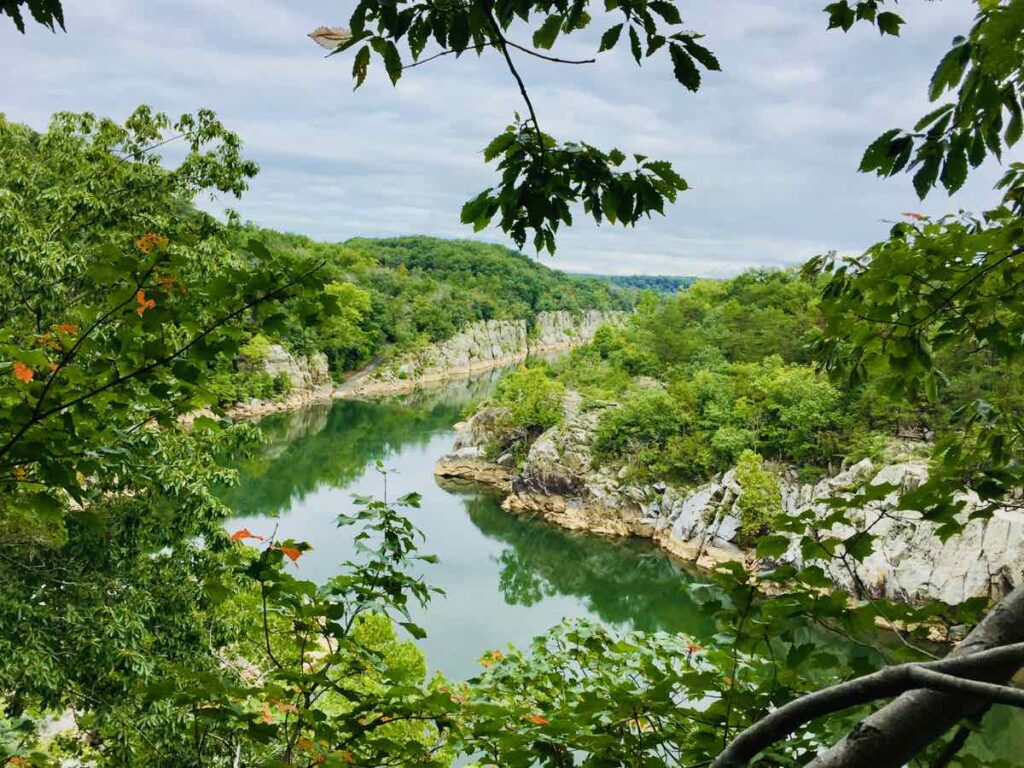 Cool your feet in Difficult Run on your return trip, but be careful of the fast-moving current. The stream access is difficult and not great for young children.
Plan your hike: Difficult Run and Great Falls Loop Hike to Beautiful River Views.
The 17-mile Bull Run – Occoquan Trail follows the stream from Bull Run Regional Park in the north to Fountainhead Regional Park in the south. Our favorite section of the trail begins at the end of Yates Ford Road in the small town of Clifton. Follow the access trail until you reach the river, then head north or south on the mostly level but sometimes rocky trail.
The trail is shady and you can stop to cool your feet in the river. At the end of your hike, enjoy a relaxing glass of wine at Paradise Springs Winery, just across the street from your starting point. Both the trail and outdoor spaces at the winery are kid-friendly and leashed dogs are welcome.
There are many wonderful segments of the Potomac Heritage National Scenic Trail, and several are good for a summer hike close to Washington DC. We especially enjoy the woodland and riverside trails in the Seneca Regional Park area of Great Falls.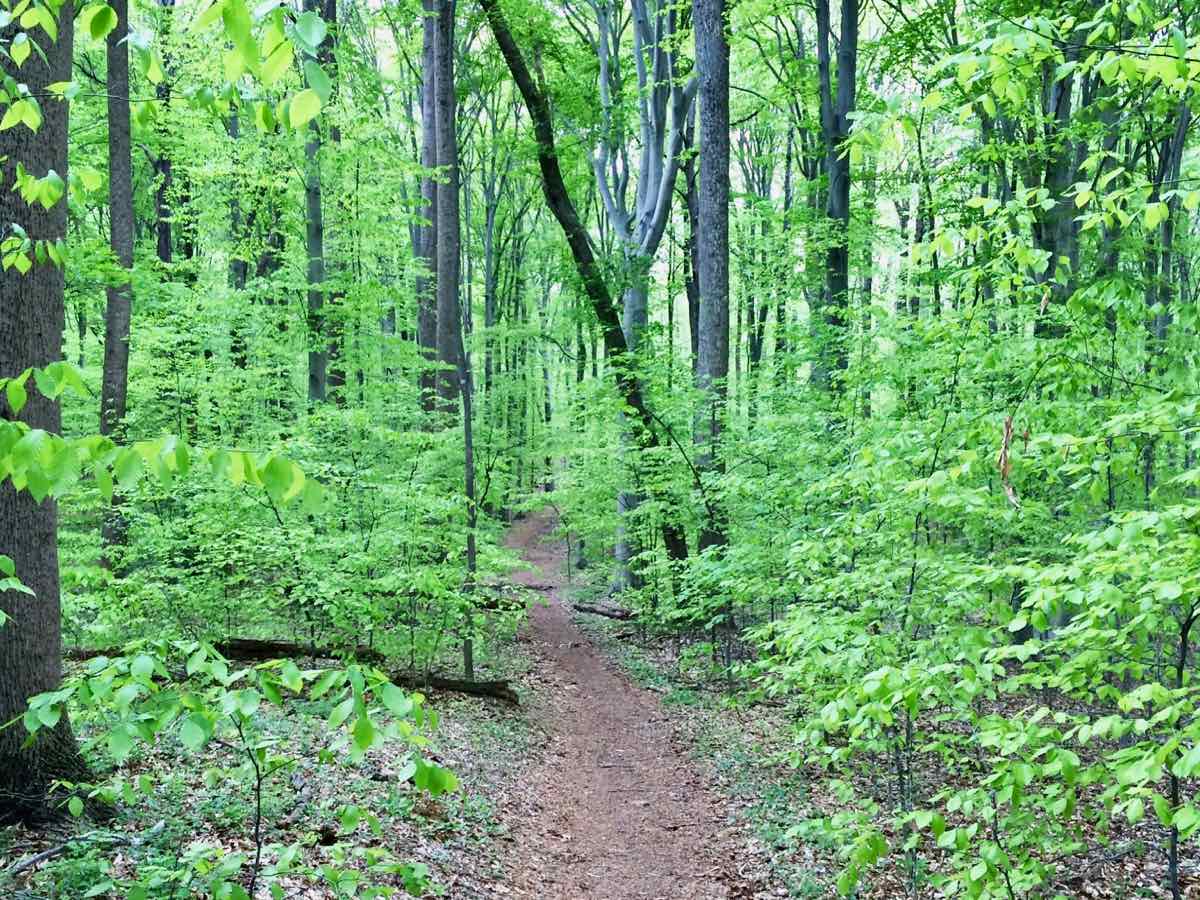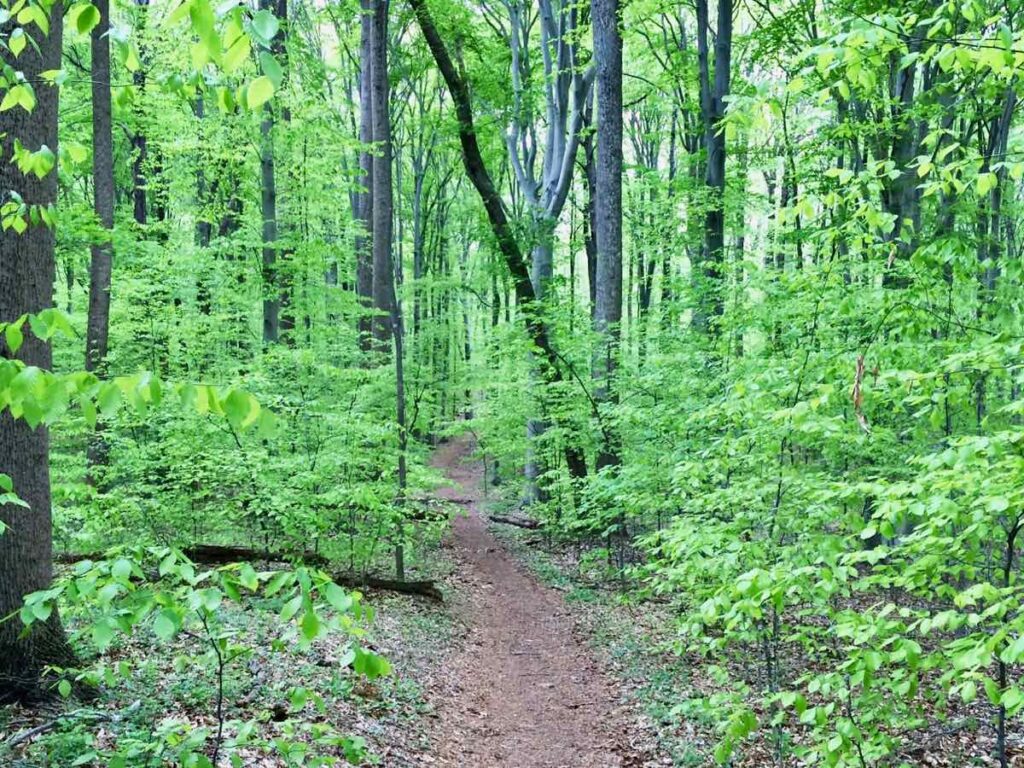 From the parking lot at the end of Seneca Road, you can follow several different trails through the woods, toward the Potomac River. Our favorite route to the river is on the orange-blazed Seneca Connector Trail. The shady .8-mile trail borders and crosses over a small stream.
Once you reach the Potomac River, follow the Potomac Heritage Trail west or east. At the western end of the park, you'll find benches for relaxing and a stone wall of the Patowmack Canal. The canal was created by George Washington to help connect a new nation through trade and commerce.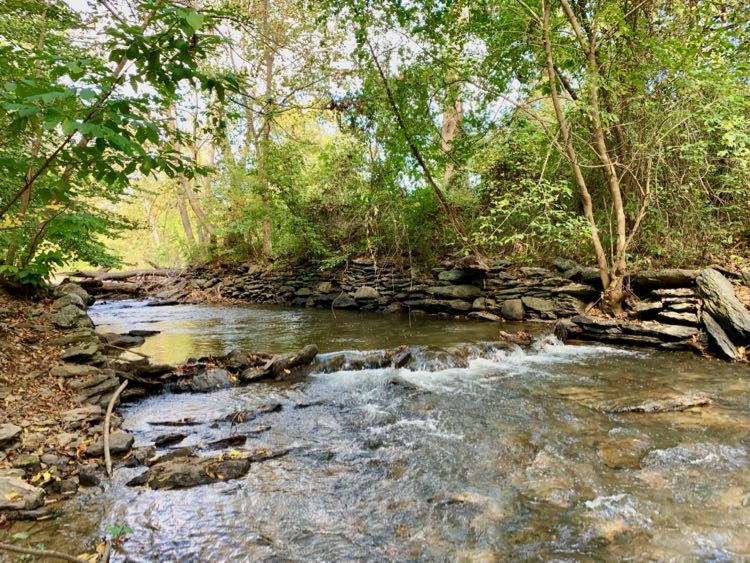 Nearby is a hidden trail and a rope swing over a quiet section of the river. Make a day of it and take a scenic drive through Great Falls. If you're hungry, stop in Great Falls Center for lunch at The Old Brogue and a treat from Great Falls Creamery, one of the best ice cream shops in Northern VA.
Visit two parks in Leesburg, to enjoy nature while exploring local history. Balls Bluff was the site of the first Civil War engagement to take place in Loudoun County. The park has an excellent interpretive trail that explains how the battle unfolded.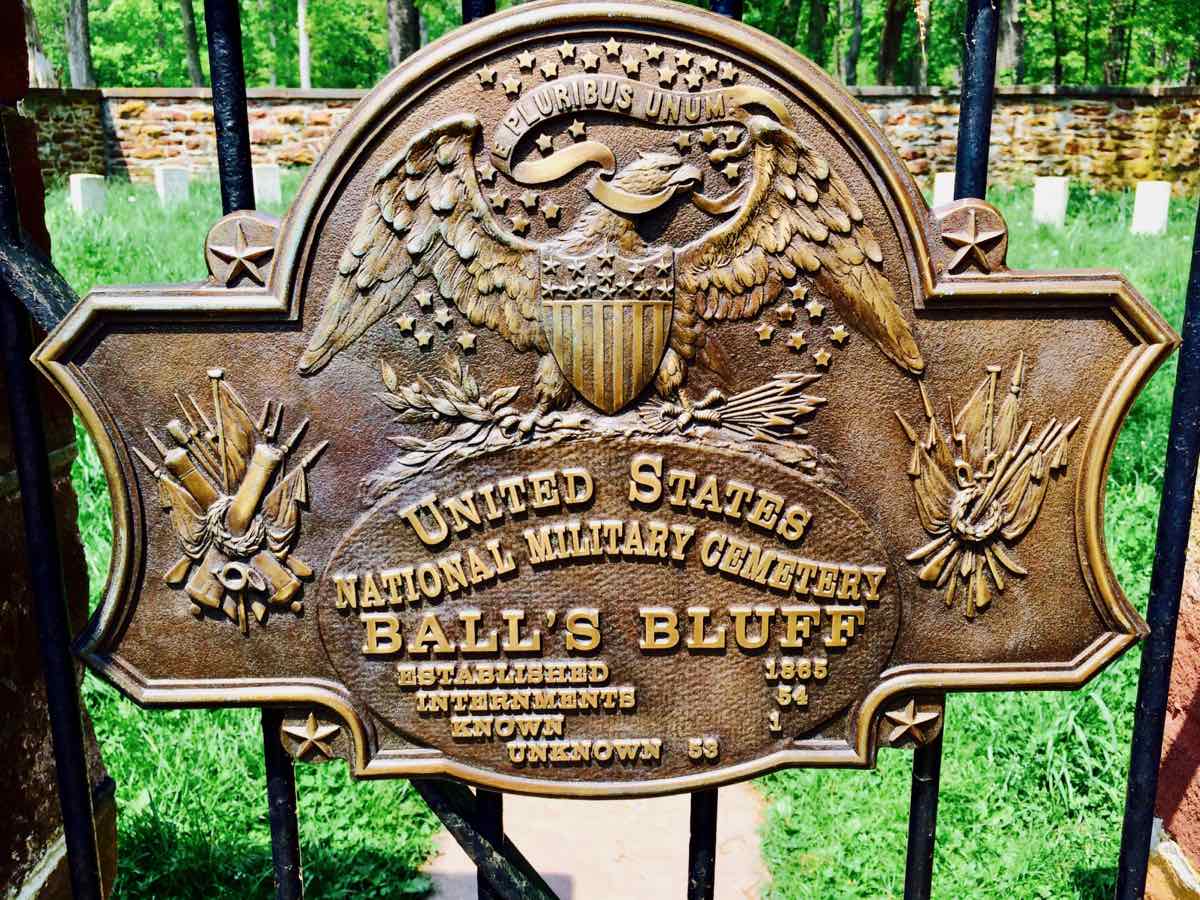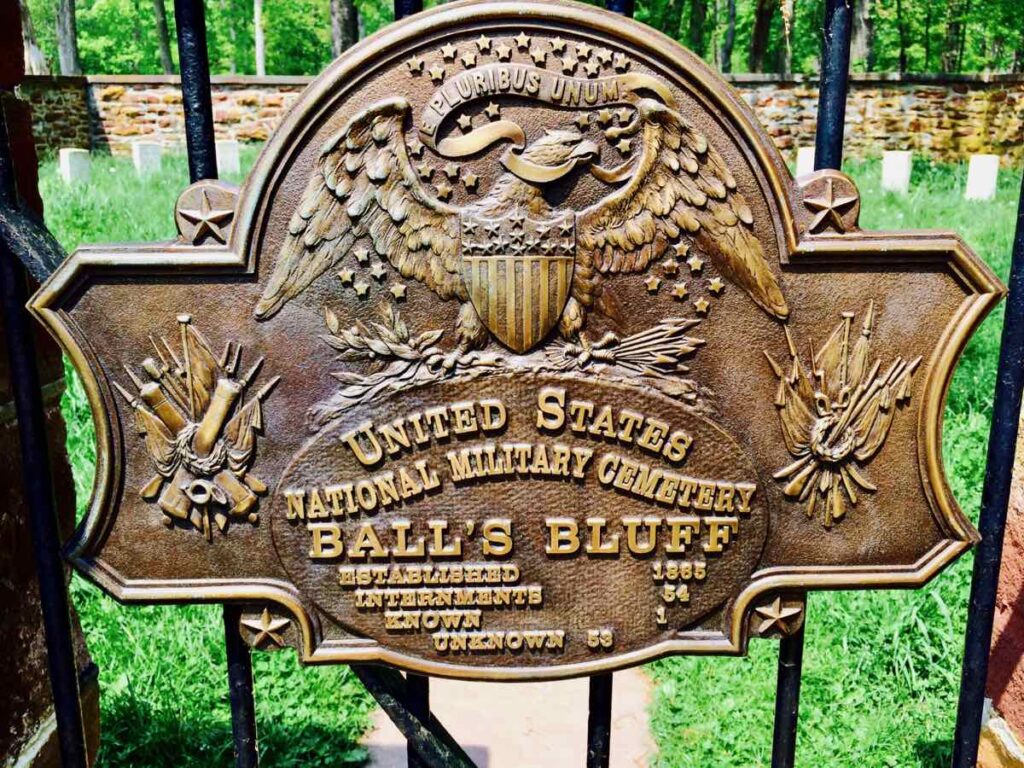 Other Balls Bluff trails include sometimes steep, wooded hikes to the Potomac River and a segment of the Potomac Heritage Trail. The hike around the battlefield is great for kids.
Nearby, Red Rock Wilderness Overlook also offers wooded hiking along a bluff over the Potomac River. At the parking area, you'll find the ruins of the Paxton Farm, with interpretive signs explaining the history of each building.
After your hike, head into historic Leesburg Virginia to explore and shop, or stop in town for lunch at one of several tasty Leesburg restaurants. If you want to explore more of the area, the nearby Lansdowne Resort is a great base with its own trails by the river.
You'll find a variety of trails at Lake Fairfax. Take a short easy hike on the level dirt trail over the dam and beside the lake. Or follow steep trails through the woods that are popular for off-road biking.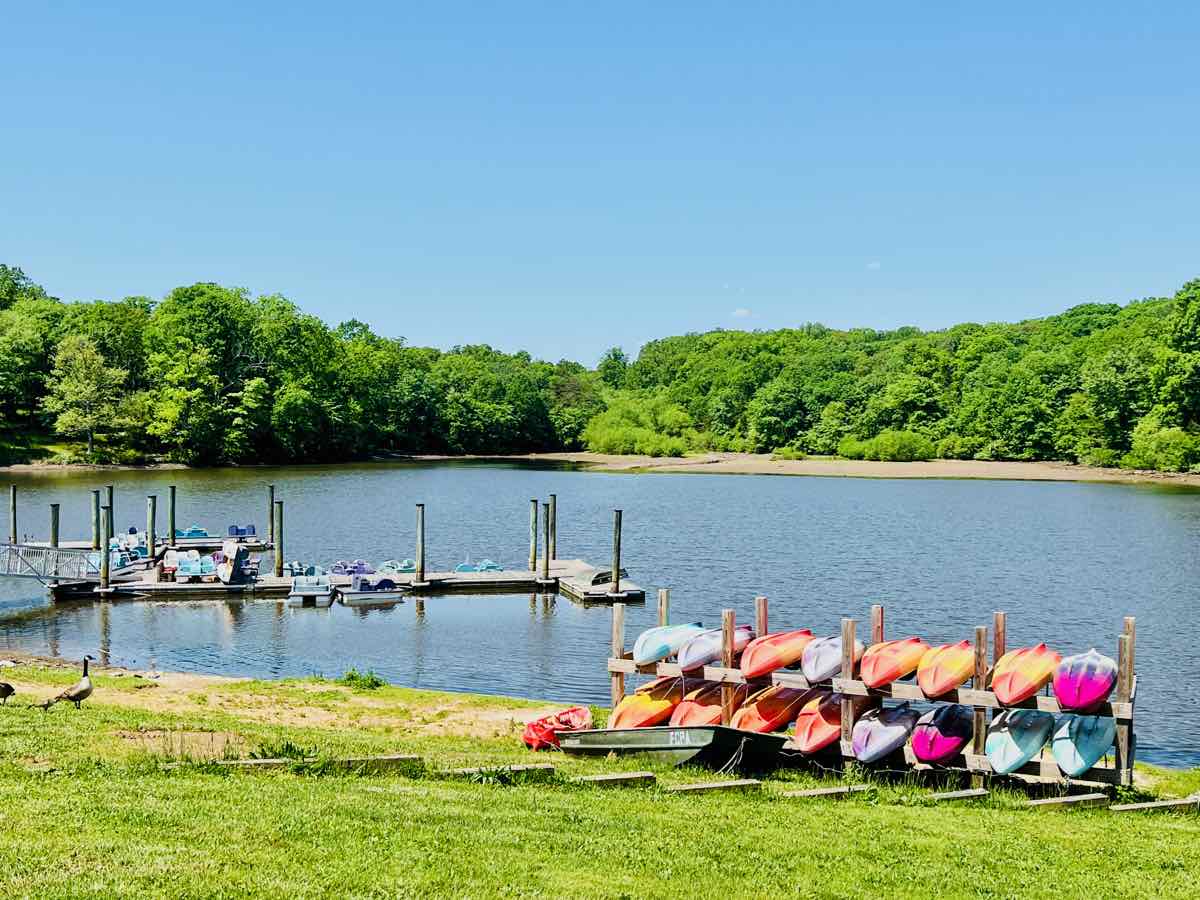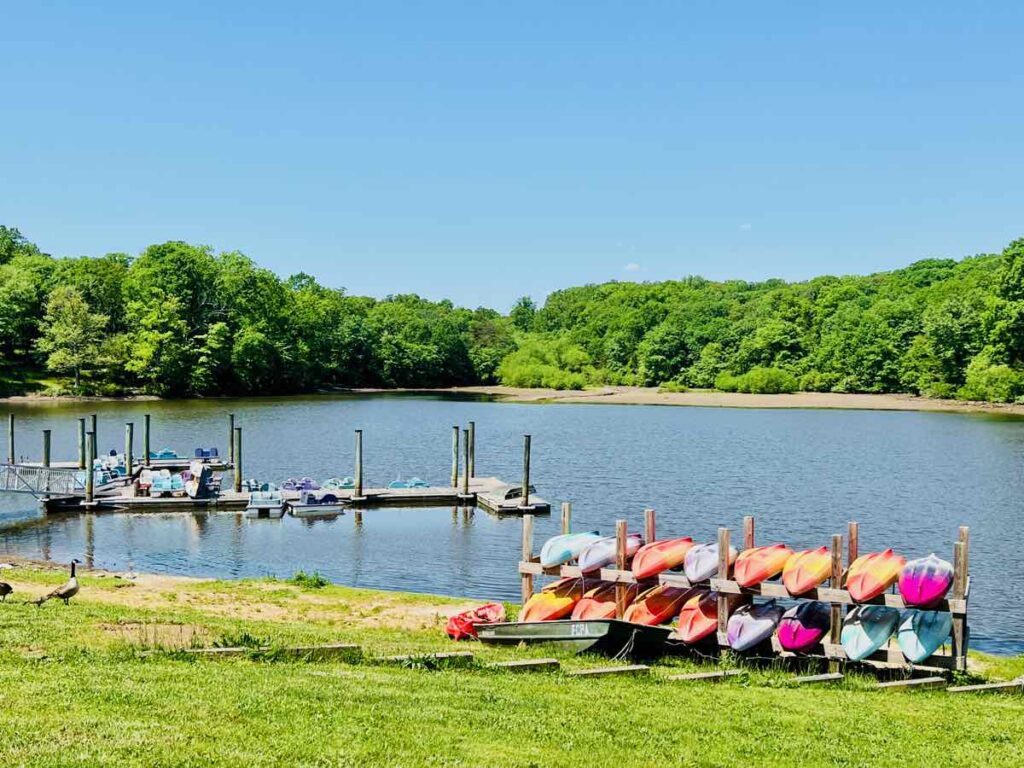 After your hike, reward yourself with a cooling visit to the Water Mine Family Swimmin' Hole. The popular water park features slides, floats, sprays, and a lazy river. There is also a carousel, playground, picnic area, and other fun for families to enjoy.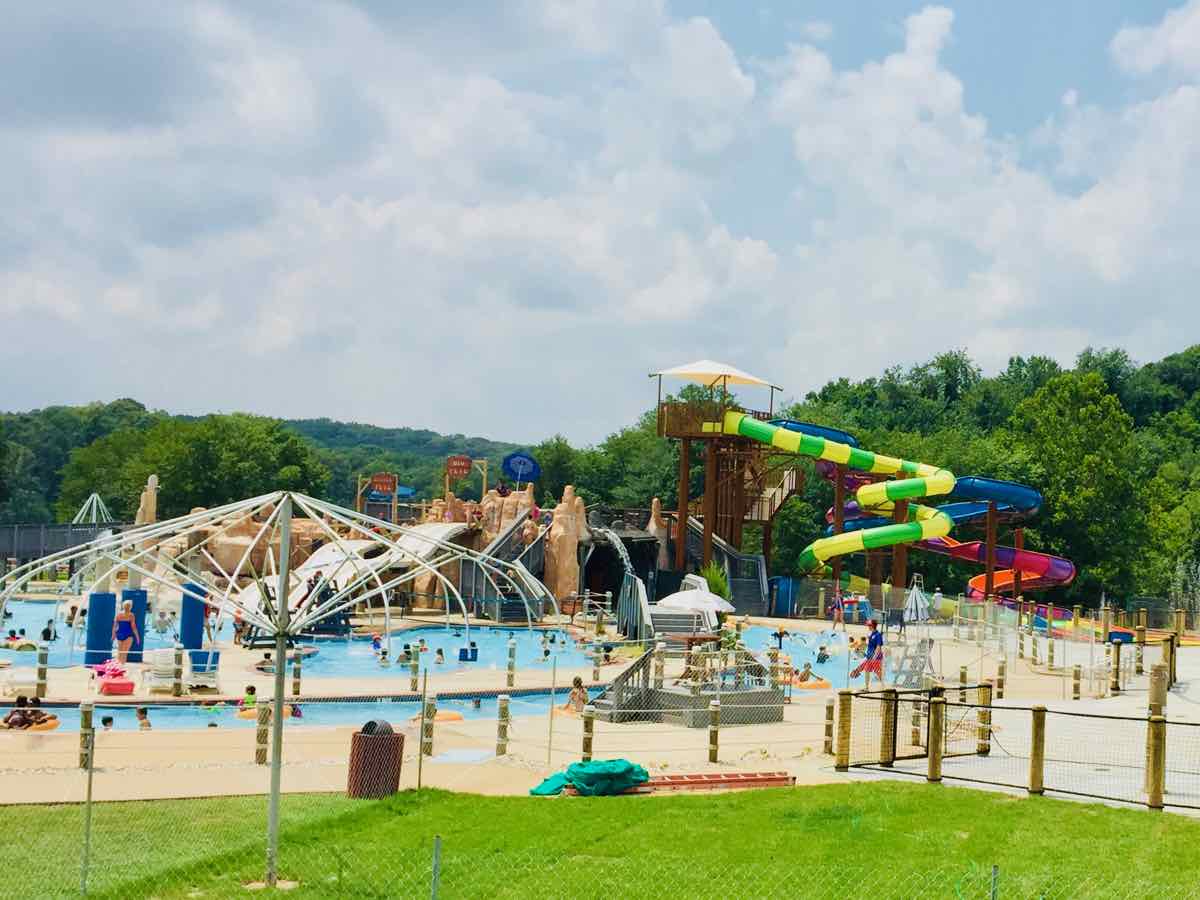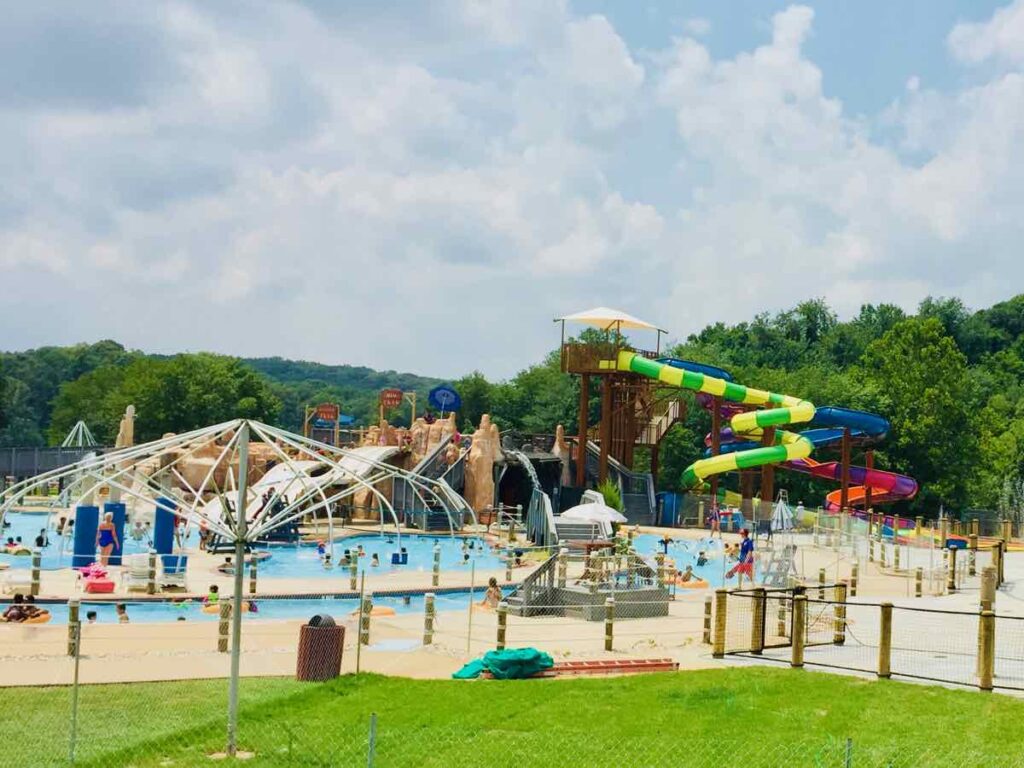 Lake Fairfax also has some of the best camping in Northern Virginia, perfect for a summer getaway close to home.
One of the prettiest waterfalls close to Washington DC is the payoff for a short, but sometimes steep, hike at Scott's Run Nature Preserve. The waterfall cascades over a jumble of rocks and into the Potomac River at the end of this Fairfax County hike.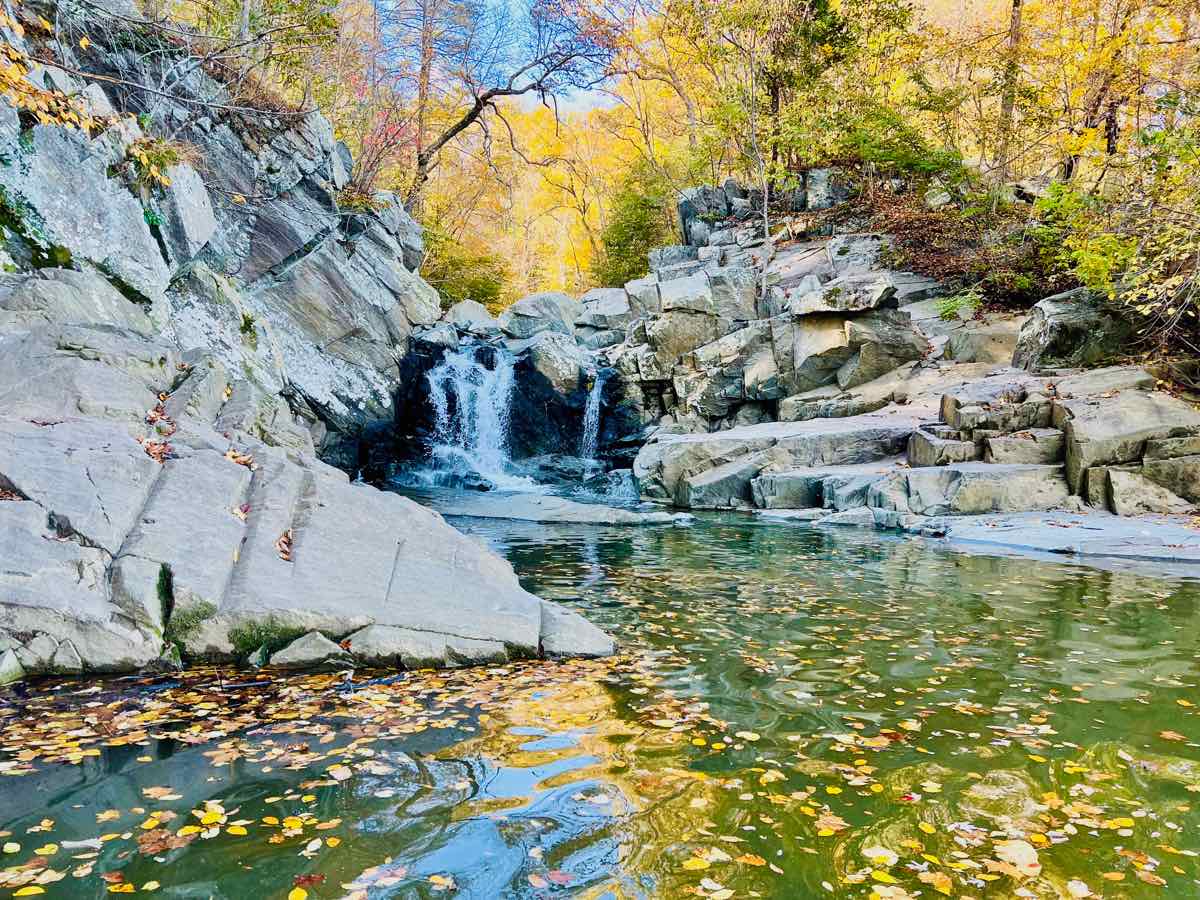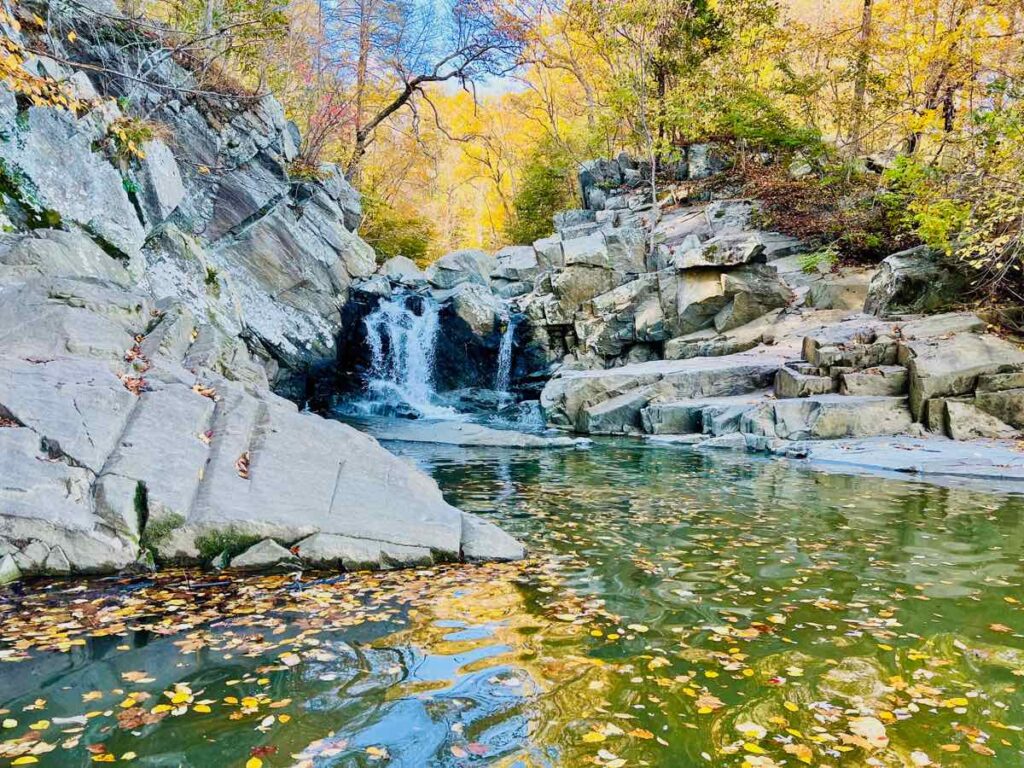 The most direct trail to the waterfall crosses two streams on concrete pillars before descending a steep hill to the river. Take a longer loop hike on the Potomac Heritage Trail to enjoy shady woods and a beautiful view.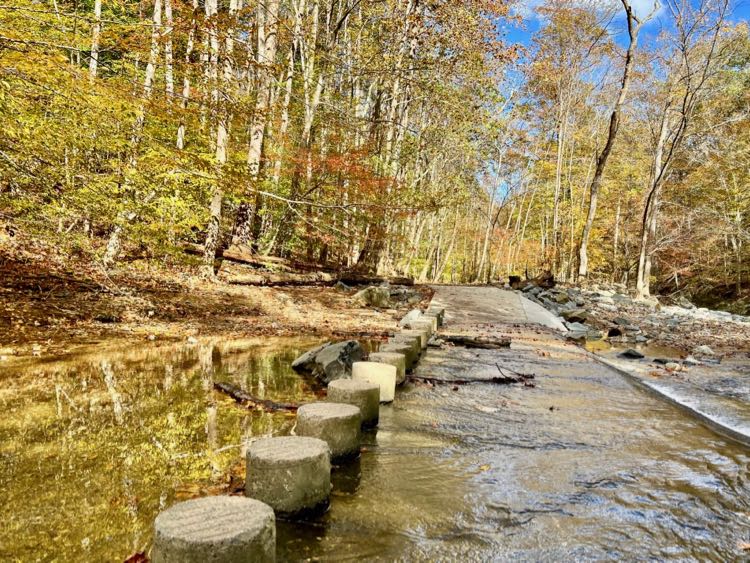 Two free parking lots on Georgetown Pike provide access to the park. Keep in mind that the water is beautiful to see but not to touch. Scott's Run suffers from pollution (including sewage and urban runoff) and wading is not allowed in the Potomac River.
The Scotts Run waterfall is incredibly popular on summer weekends and is sometimes overrun with people. In fact, the park suffers from off-trail hiking and littering, so the park service patrols and hands out citations regularly. Try to visit early in the day or on weekdays for a more peaceful setting. This is also one of the prettiest fall hikes in Northern VA.
You'll find a wonderful variety of mostly-level trails at Mason Neck State Park perfect for summer hikes. Each trail offers a chance to spy bald eagles and other birds in Belmont Bay and the surrounding marshes.
From the quarter-mile Marsh View Trail to the 4-mile out-and-back hike to Kane's Creek, hikers enjoy shady, well-marked trails at Mason Neck. The Visitor Center rents canoes and kayaks so you can also explore Belmont Bay and Kane's Creek from the water.
After your hike, head to nearby Pohick Bay Park and take the kids for a swim at Pirate's Cove, one of the largest, outdoor freeform pools on the east coast. Pohick Bay Regional Park also offers boat rentals, mini-golf, and hiking trails.
The 4.5-mile trail around Burke Lake makes our great hikes list every season. During the summer, the wide, easy trail is mostly shady, except for an open stretch along the dam. Sturdy strollers and bikes can navigate the trail, which is popular with families and runners.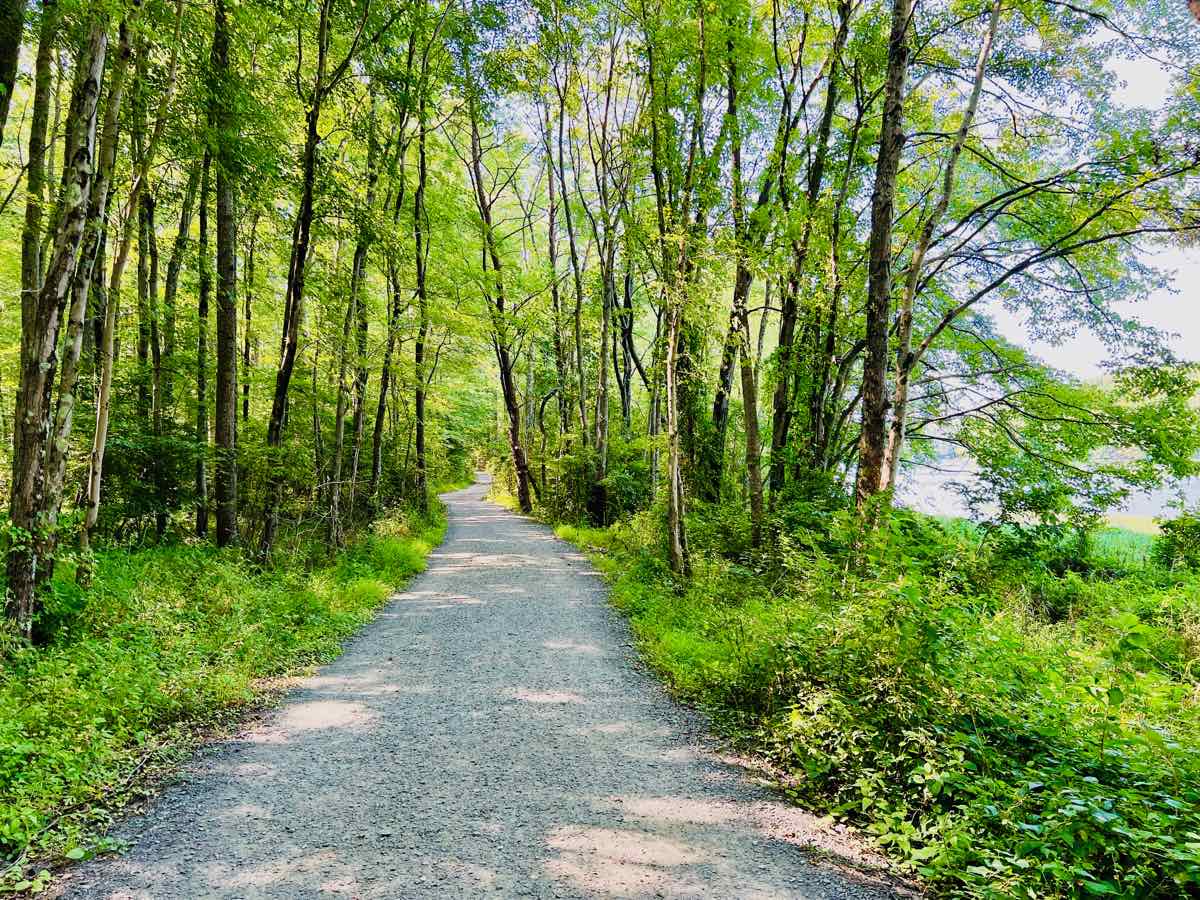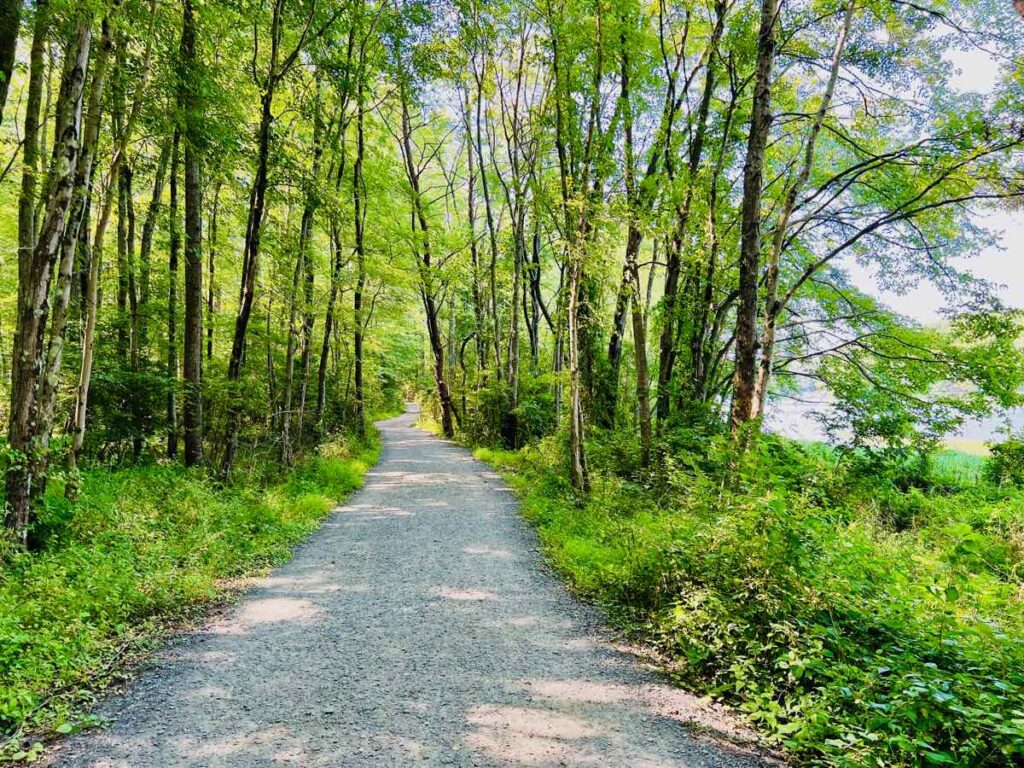 There are lots of birds and other nature to enjoy, so take your time. In summer, the park operates a miniature train that is a lot of fun if you're traveling with young children.
The park marina rents boats, the fishing is great, and a carousel, mini-golf, disc golf, and other activities are available too.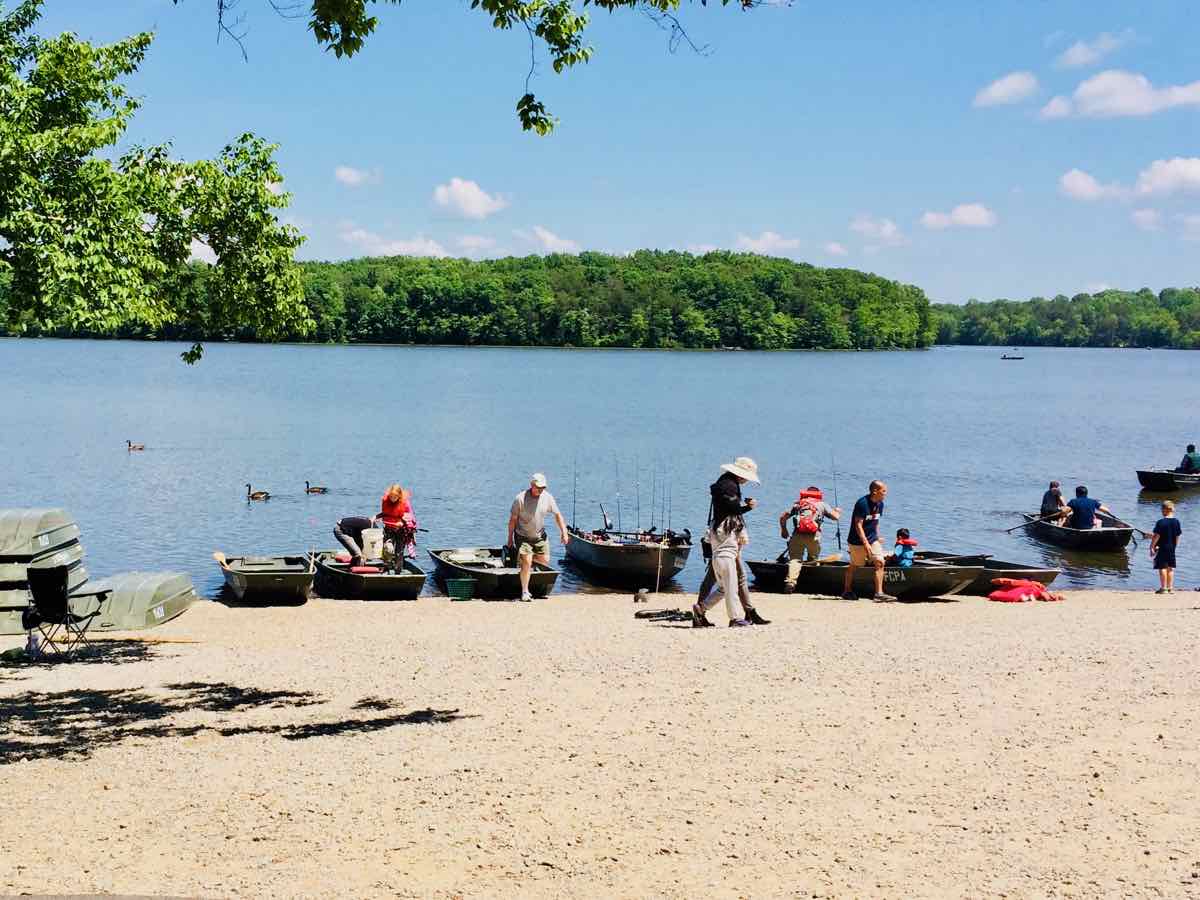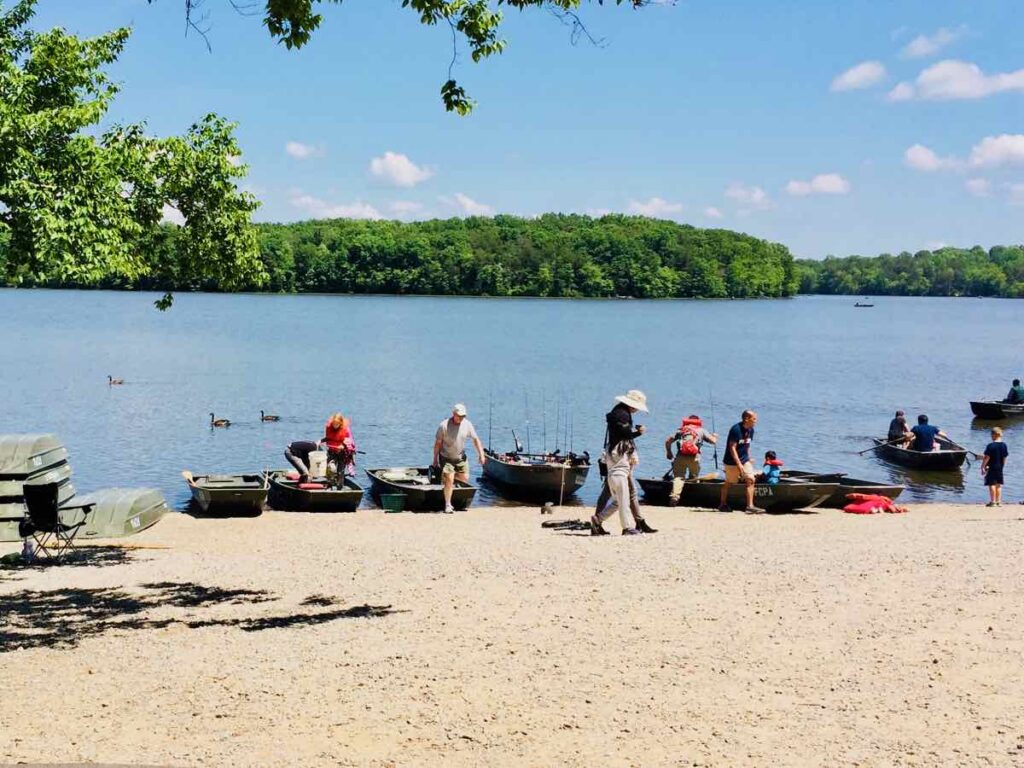 Fairfax County's Ellanor C Lawrence Park is another nice option for family summer hikes with a little learning fun. Take one of several shady trails through the woods. Be sure to stop at Walney Pond to look for fish, turtles, and birds.
Near the visitor center, you can explore the remains of several interesting, historic buildings at the former dairy farm. The center also offers a closer look at snakes, turtles, and other critters that live in the park.
There are two overlapping Wolf Trap Trails, and both offer shady summer hikes by a pretty stream and a small pond. While these hikes are short, they include some steep hills so you can get a little workout. If you are hiking with kids, they can learn about local nature with the Kids in the Parks app.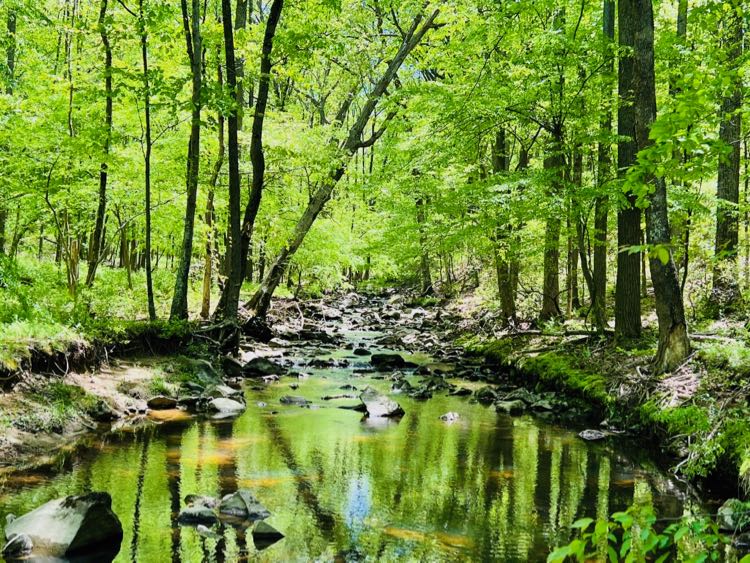 There is plenty of free parking at Wolf Trap, but keep in mind that the park closes two hours before showtimes. To avoid concert conflicts and higher temps, mornings are best for summer hikes at Wolf Trap.
Summer Hikes in Northern Virginia Map
Here is a handy map to all of the parks and trails on our list of the best summer hikes in Northern Virginia:
All of these Northern Virginia summer hikes can be uncomfortable when the humidity is high. If time allows, consider a day trip to Shenandoah National Park, where the elevation keeps temps a bit cooler.
Our favorite Shenandoah waterfall hike is Rose River Falls, which includes some fun swimming holes and slides. Use our Shenandoah Day Trip Planning Guide to plan your visit.
Prefer biking to hiking? Check out our guide Northern Virginia Bike Trails: Paved and Mountain Biking Fun Near DC to see which of these trails are bike-friendly and for more local options.
Looking ahead to Fall? Check out our list of Great Fall Hikes in Northern Virginia.
Follow us on Facebook, Twitter, Pinterest, and Instagram for more fun travel in and from Northern Virginia.