Drive-in outdoor movies in Northern Virginia offer the chance to relax and enjoy a fun flick under the stars. In 2020, most of the usual walk-up outdoor screenings were canceled. At the same time, several new drive-in-style movies popped up. Normally, summer screenings begin in June and continue through August, but space is limited so reserve your tickets early.
Most venues have not announced plans or schedules for outdoor movies in 2021. We'll update this listing as 2021 movie schedules are announced.
Our guide to outdoor movies in Northern Virginia includes venues in Alexandria, Arlington, Fairfax, Loudoun, and Prince William Counties and surrounding towns. Movies are listed in order of weekday and then by city.
Follow the links for line-ups and additional info on outdoor movies in Northern Virginia. Always double-check for cancellations during inclement weather.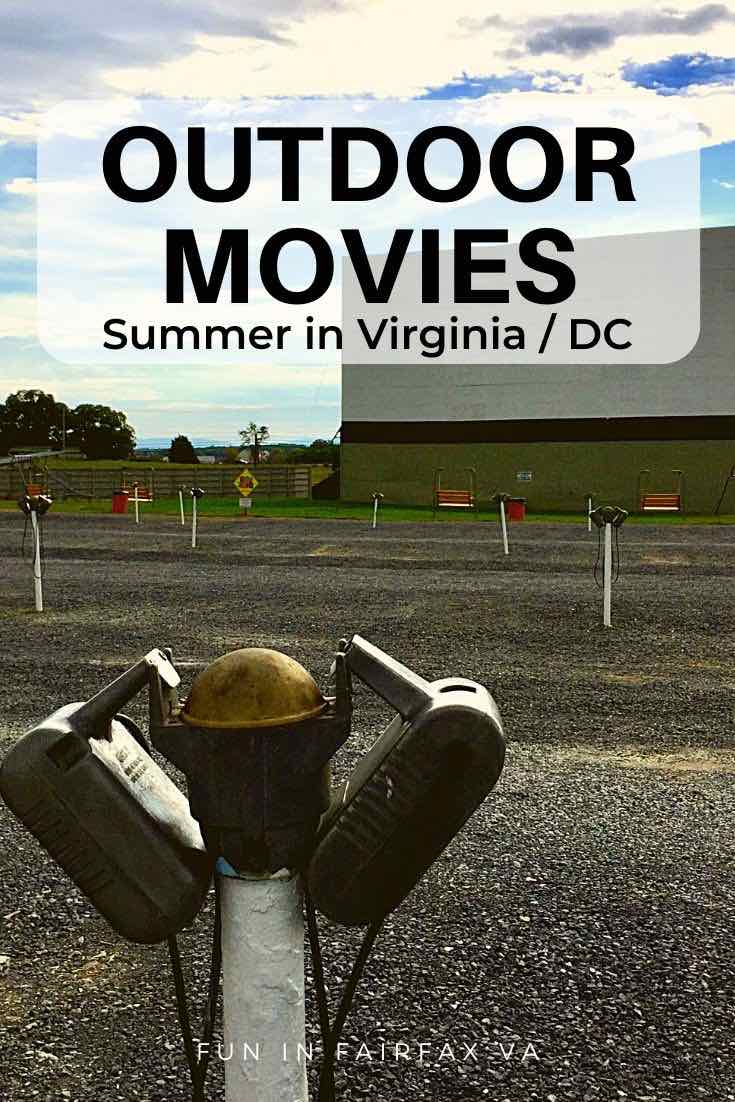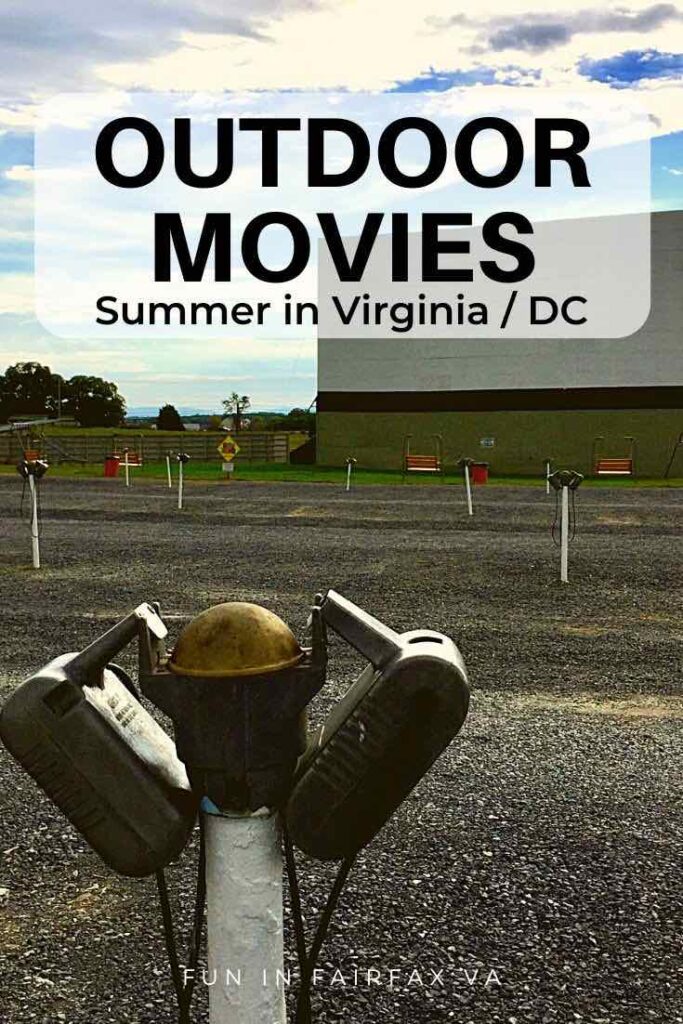 Summer Drive-in Movies in Northern Virginia
There were several new drive-in movie options in summer 2021, along with one fun classic. We hope that these pop-up drive-ins will return in 2021.
Tuesdays: Jun 22 – Aug 17, Sunset
South Riding kid-friendly movies are drive-in this year and are now located at South Riding Town Center. Space is limited and you must register in advance. You must stay in your car during the movie, but pizza and snack deliveries will be available. Movies will start at sunset or as soon as it is dark enough. Free.
Wednesday – Sunday nights (Fall season Friday-Sunday), 2021 schedule TBA
A bit further away but worth the drive, Family Drive-in Theater is a classic big screen experience named one of the 10 Best Drive-ins in America. In 2020, tickets must be purchased in advance online; no drive-up admission. Pre-order food from the snack bar online. Tickets are $9/$7 for adults double/single-feature, $4/$3 ages 3 – 11.
Plan a day trip with our guide: 15 Fun Things to Do in Winchester.
2021 schedule TBA, 7:00 – 11:30
Head to Tysons on the weekend for free drive-in movie nights at Capital One Center. Enjoy the show on two bug screens at the McLean Metro Lot with food trucks on hand offering tasty treats. Admission is free but a $25 donation per car is encouraged to support charity partner Second Story. You must register in advance and no walks-in are allowed.
2021 schedule TBA, Lot opens at 6:00, movie at 8:30
The Tysons Corner Center mall is hosting special drive-in showings in the parking lots between Nordstrom and Bloomingdales. Reserve your spot with a donation of $10 or more to Second Story, a local nonprofit helping vulnerable community members. The lot opens at 6:00 with live music and food until 8:30 or head into the mall for a meal and some shopping. Movies begin at 8:30.
Apr 3 + 4, additional 2021 dates TBA lot opens at 3:00/6:30, movie begins at 4:00/7:30.
Watch great movies on the top level of Mosaic District's Market Garage, once the grounds of a drive-in movie theater. Tickets are $28 per car and space is limited. No walk or bike-ins permitted.
2021 schedule/plans TBA
Support a great cause and enjoy a fun drive-in movie night out at Pfitzner Stadium in Woodbridge. Passes are $40 per vehicle and must be purchased in advance. All proceeds go to local Prince William County non-profits.
2021 schedule TBA. Gates open at 8:15, movie at 9:00
The Workhouse Arts Center is excited to present Drive-In Movies that offer a fun night out while maintaining social distance. Tickets are $30 and must be purchased in advance online. Only 75 tickets will be sold and available parking spaces are first come first served.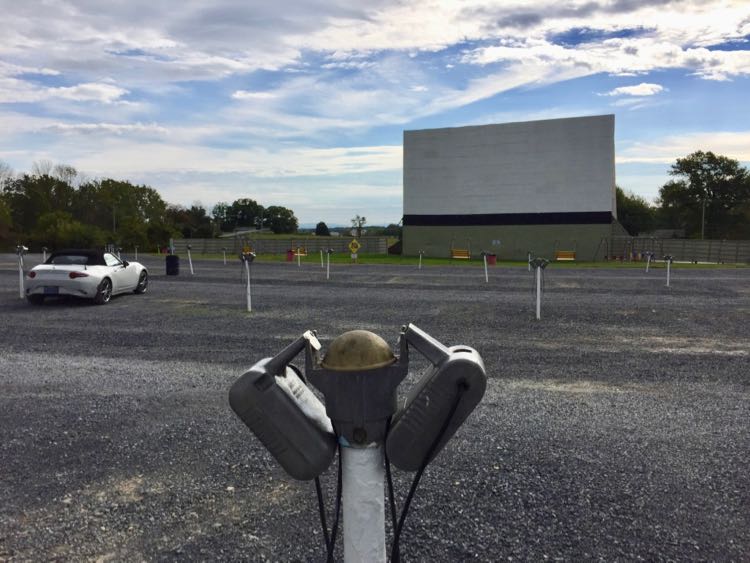 2021 schedule/plans TBA. Gate opens at 7:00, movie begins at dusk
Enjoy a line-up of popular movies on weekend nights at The Boro Tysons. Reserve your spot to drive in or bring a blanket and chairs to assigned spots. Tickets are $20 per vehicle or non-vehicle for up to 4 people. The drive-in entrance opens at 7:00 so you can park your car and walk over to The Boro for dinner or a drink. Boro Place will open to pedestrians only with extended restaurant outdoor seating and live entertainment from 7:00-8:00 pm on Fridays and Saturdays.
2021 schedule/plans TBA, 8:30 – 10:30
Drive-in, family-friendly movies screened under the stars. Limited spaces are available and you must register in advance. Free.
More Outdoor Movie Series: 2021 Schedules TBA
These annual outdoor movies series have not announced a schedule for 2021. Check back for updates later in the spring.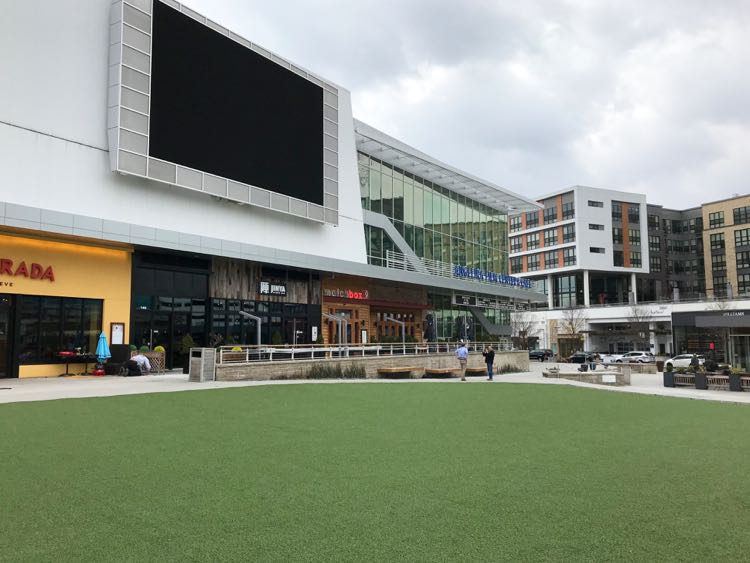 Fridays, June – July, 8:30 pm
Rosslyn's Gateway Park hosts a great line-up of outdoor movies in Northern Virginia, plus a pre-movie Pub in the Park. Arrive at 5:00 for games at this kid-friendly dog-friendly event, then enjoy movies at dusk. Free.
Saturdays: Jun – Aug, 7:00
The Town of Lovettsville presents the annual Movies on the Green Series, Saturdays on the Town Green. Bring a blanket or lawn chairs and a picnic to enjoy before the movie. Movies begin at dusk. Check the link for weather cancellations. Free.
Saturdays in June
Bring blankets and lawn chairs to enjoy family-friendly outdoor movies. Movies begin at dusk. Free.
Saturdays, Jun – Sep, 9:00 – 11:00 AM
Relax with a cup of coffee while the kids enjoy morning cartoons on the big screen on Saturdays, all summer long, at Mosaic District's Strawberry Park.
Saturdays, TBA
Enjoy a free movie under the stars on the Udvar-Hazy Center's outdoor airplane ramp. Bring chairs, blankets, and insect repellant! Food is allowed, but alcohol and glass bottles or containers are prohibited. Doors open at 8:00 pm and the movie begins at dusk. Free.
Cinema del Ray, Mount Vernon Rec Center, Alexandria
Saturdays: Jun – Sep, Dusk
The fun begins at 7:00 and the family-friendly screenings start at dusk, every third Saturday of the summer on the fields of the Mount Vernon Rec Center. Free.
Starlight Cinema, Trinity Centre Parking, Centreville
Saturdays Aug, 6:00 PM
Adding a little drive-in fun to outdoor movies in Northern Virginia, Starlight Cinema returns with an August full of family movies. Watch from your car or under the stars in the outdoor seating area. Gates open at 6:00, so head over early for pre-movie entertainment and activities. Bring a blanket, chairs, and a picnic, or purchase food on site. Cancelled if rain. Free.
Saturdays: Jun – Aug, 5:30, Movie at dusk
Bring blankets and lawn chairs and enjoy a for family-friendly outdoor movie on the new Liberty Green. Food trucks will be on site offering fun treats for purchase. Free.
Saturdays, every 2 weeks Jun – Sep, 7:00
Stonebridge offers a family-friendly movie on the Jumbotron every other Saturday in summer. Bring your own chairs and blankets, and arrive early for shopping and a meal at one of the many shops and restaurants. Free.
Jul – Aug, 8:30
Mixed in to the line-up of live summer entertainment, WolfTrap offers several nights of classic movies on the big screen accompanied by live music. Movies begin at 8:30 with pre-performance options. Follow the link for tickets and other details.
When the weather warms, outdoor movies in Northern Virginia are a fun way to spend an evening with friends and family. We love the chance to watch some stars under the stars, and these mostly free events are a nice night out. Please let us know if we missed any outdoor movie in Northern Virginia to add to the list.
Follow us on Facebook, Twitter, Pinterest, and Instagram for more fun travel in and from Northern Virginia.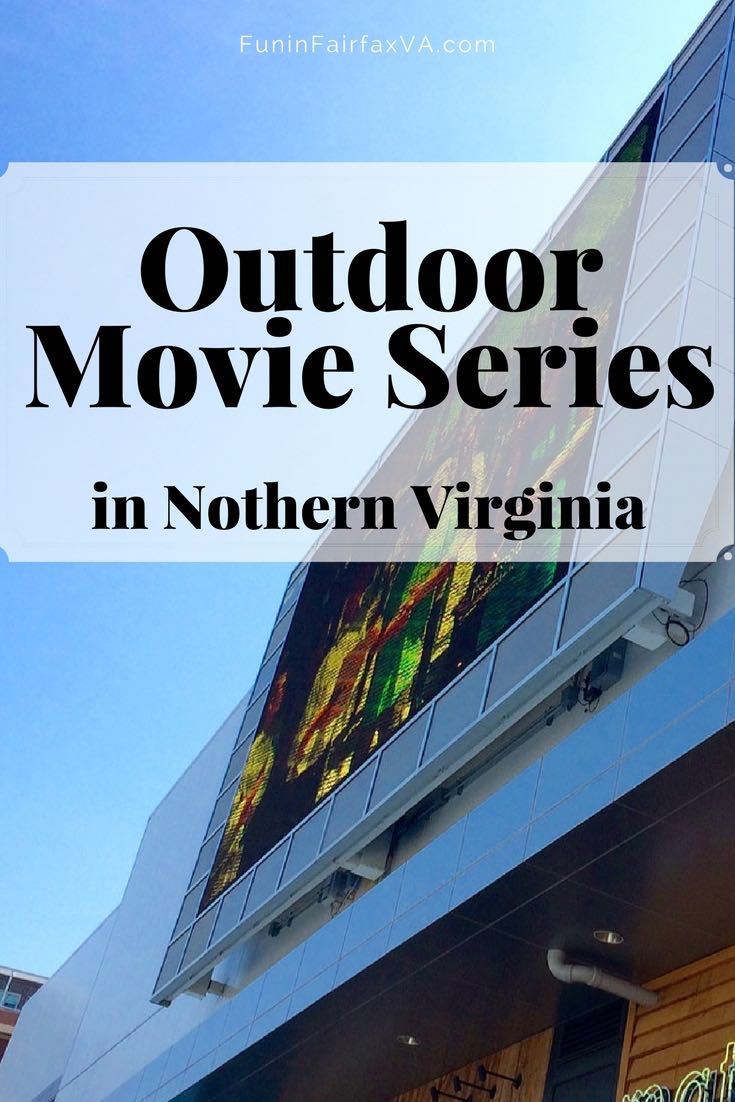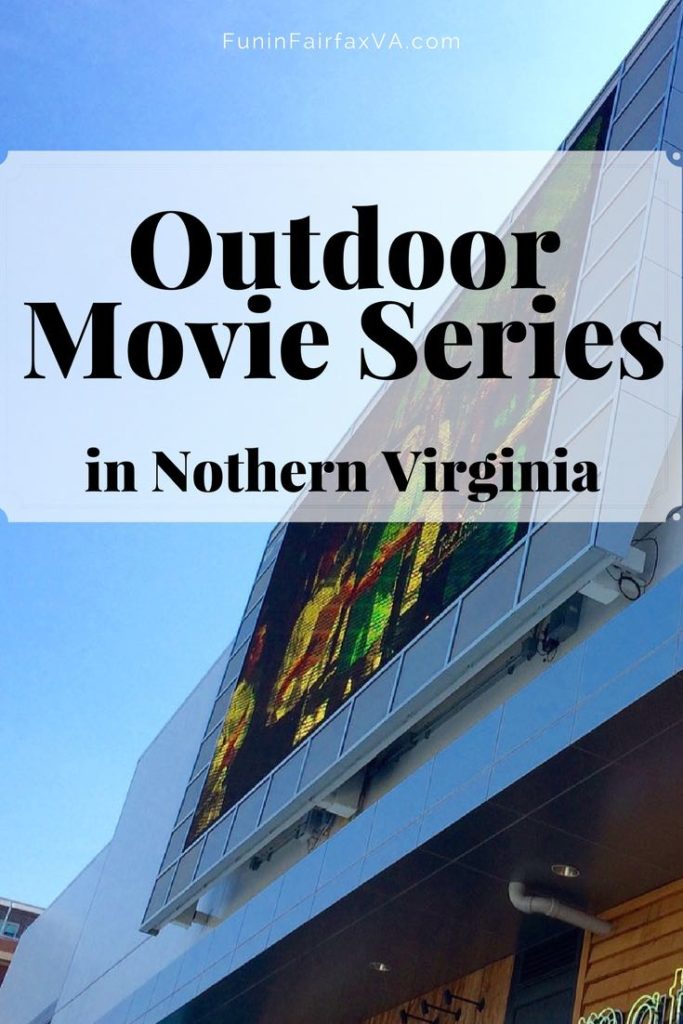 This article was published in 2018 and updated in 2019 and 2020.