Enjoy an expanded list of 2022 walk-in and drive-in outdoor movies in Northern Virginia at a fun mix of free and paid venues. Outdoor movies in Northern VA offer the chance to relax and enjoy a fun flick under the stars.
Most of the usual walk-up outdoor screenings were canceled and new drive-in movies popped up. Happily, free series for outdoor movies are back in 2022, with mostly walk-in venues. There are fewer drive-in options this year, though our favorite classic drive-in movie venue is still going strong.
Some of the outdoor movie series have not announced their plans for 2022 and are listed below as TBA. Follow the link for the latest updates.
Our guide to outdoor movies in Northern Virginia includes venues in Alexandria, Arlington, Fairfax, Loudoun, and Prince William Counties, and surrounding towns. Movies are listed below in three groups: drive-in movies, walk-in outdoor movies, and annual movie series that have not announced 2022 plans.
Follow the links for line-ups and additional info on outdoor movies in Northern Virginia. Always double-check for cancellations during inclement weather.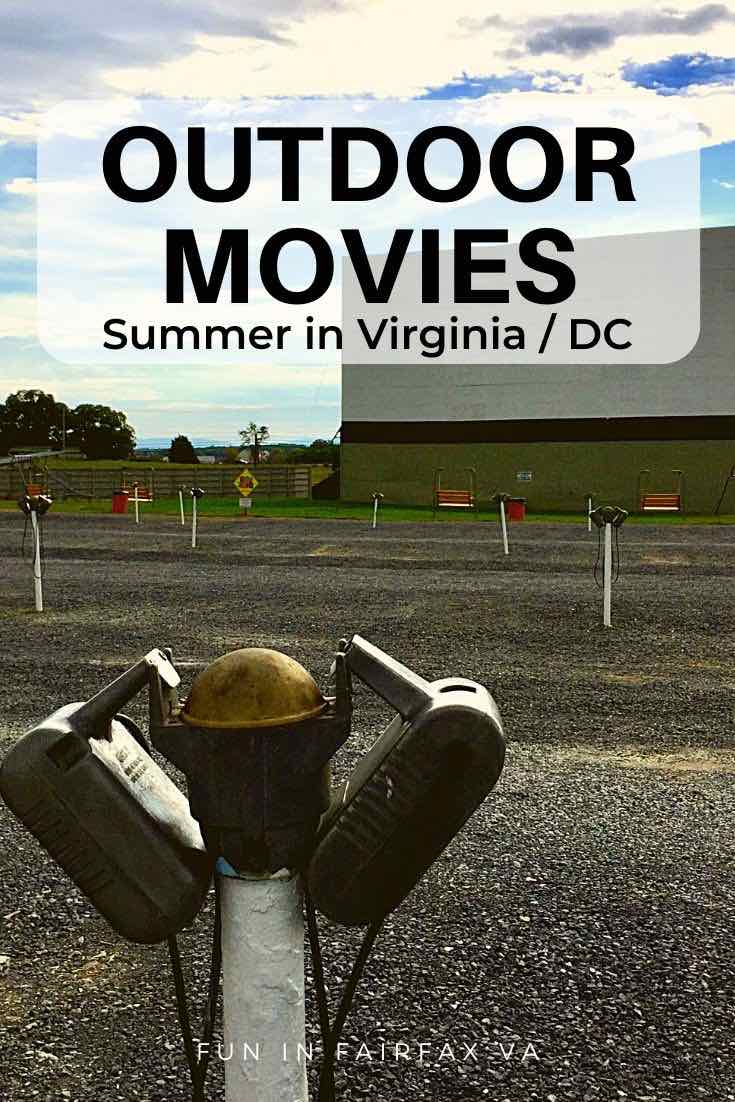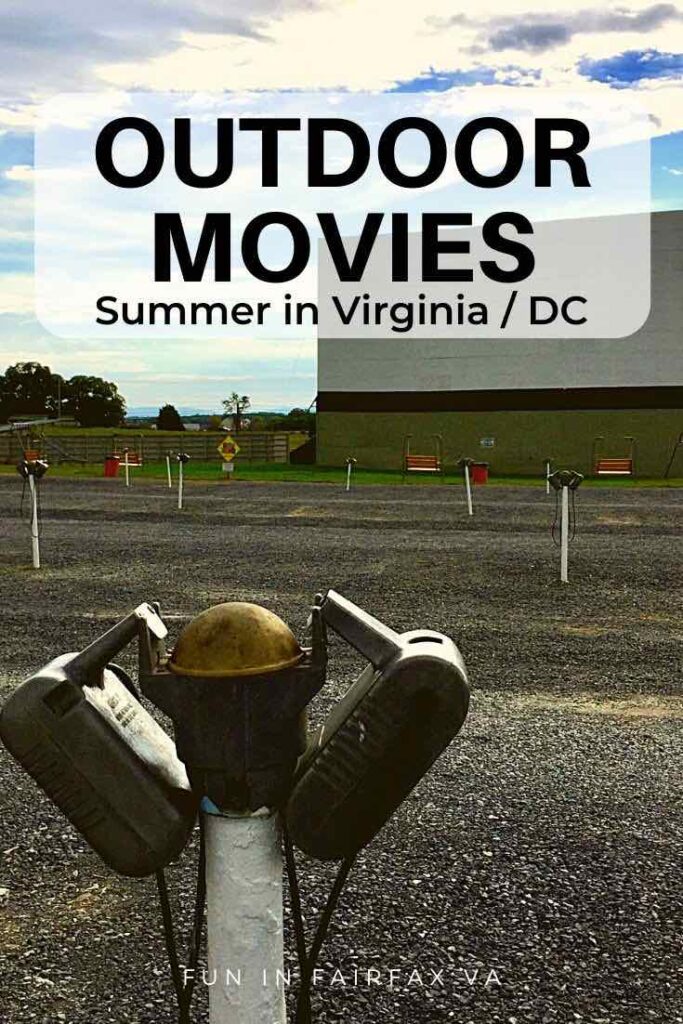 2022 Drive-in Movies in Northern Virginia
So far in 2022, only 2 drive-in outdoor movie series have been announced, including one fun classic. We hope that some additional pop-up drive-ins will return in 2022, but most of the venues are walk-in this year.
Wednesday – Sunday nights (Fall season Friday-Sunday), March 26 – ?
A bit further away but worth the drive, Family Drive-in Theater is a classic big screen experience named one of the 10 Best Drive-ins in America. In 2022, you can purchase tickets in advance online or at the gate. Tickets are $10/$5 for driver + adults/child ages 3 – 12.
Plan a day trip with our guide: 15 Fun Things to Do in Winchester.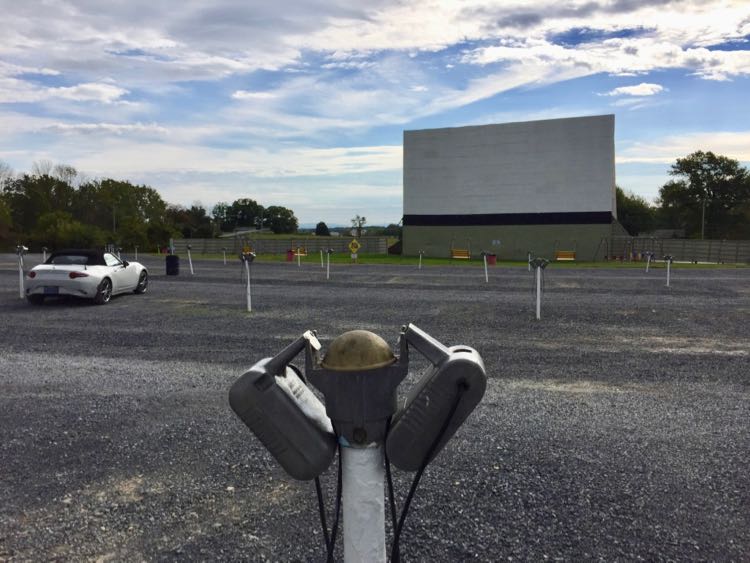 Starlight Cinema, Trinity Centre Parking, Centreville
Saturdays, August 6 – 27, 7:00 PM
Adding a little drive-in fun to outdoor movies in Northern Virginia, Starlight Cinema returns with an August full of family movies. Watch from your car or under the stars in the outdoor seating area.
Starlight Cinema gates open at 6:00, so head over early for pre-movie entertainment and activities. Bring a blanket, chairs, and a picnic, or purchase food on site. Canceled if rain. Free.
2022 Walk-in Outdoor Movies in Northern VA
Several of our favorite locations for outdoor movies are returning in 2022. Follow the links for schedule details and ticket info.
Fridays, June 4 – 25, 8:30 pm
Rosslyn's Gateway Park hosts a great line-up of outdoor movies in Northern Virginia, plus a pre-movie Pub in the Park. Arrive at 5:00 for games at this kid-friendly dog-friendly event, then enjoy movies at dusk. Free.
Fridays, Aug 12 – Sep 14, 6:00 – 9:30 pm
National Landing hosts family-friendly Movies in the Park on Fridays in September at Virginia Highlands Park. Movies are free but registration is required. Arrive anytime after 6:00 and bring a picnic or pick up dinner from the food truck. Free.
May 21, Jun 18, Jul 16, 7:00 – 10:00
The Fairfax Library Foundation will host 3 fun outdoor movies in 2022. Food trucks will be on hand, opening one hour before the movie begins, and these family-friendly movies begin at sunset.
Thursdays: Jun 9 – Aug 25, 7:30 – 9:30
Relax with a cup of coffee while the kids enjoy morning cartoons on the big screen on Saturdays, all summer long, at Mosaic District's Strawberry Park.
Crescent Cinema, Marketplace at Madison, Crescent, Gainesville
Fridays: May 13 – Jun 10, Dusk
Bring blankets and lawn chairs to enjoy family-friendly outdoor movies in Crescent Park behind the Marketplace at Madison Crescent. Movies begin at dusk. Free.
Select Fridays+: May 28, Jun 10 + 24, Jul 8 + 29, Aug 2 + 19 7:00
We expect the Lovettsville Summer on the Green will return in 2022 but schedules have not been announced. In prior years, the movies were held Saturdays on the Town Green. Bring a blanket or lawn chairs and a picnic to enjoy before the movie. Movies begin at dusk. Check the link for weather cancellations. Free.
Fridays: Jun 18, Jul 15, Sep 9, 8:00
Head to one of the Reston soccer fields and parks for a family-friendly movie under the stars. Locations and start times vary and tickets are required. Follow the link for details. $6/10 RA member/non-member.
Tuesdays: Jun 21 – Aug 16, Sunset
Walk-in South Riding kid-friendly outdoor movies are back in 2022! Bring your blanket and chairs at sunset for fun movies on the big screen. Location alternates between the Town Green and the SRC Stage. Movies will start at sunset or as soon as it is dark enough. Free.
Fridays: May 27, Jun 24, Jul 29, Aug 18, Sep 30, 7:00
Gather on The Plaza at Tysons Corner Center for family-friendly movies under the stars. Bring your blanket and chairs for fun movies on an outdoor screen. Free.
Cinema del Ray, Mount Vernon Rec Center, Alexandria
Apr 30, May 21, Jun 18, other dates TBA 7:00
The fun begins at 7:00 and the family-friendly screenings start at dusk on the fields of the Mount Vernon Rec Center. No dogs allowed so leave your furry friend at home Free.
Jul 16, 22-23, 29-30, Aug 11, 8:00
Mixed into the line-up of live summer entertainment, Wolf Trap National Park offers several nights of movies on the big screen accompanied by live music. In 2022, WolfTrap will screen the Sound of Music (with Sing-a-long), Harry Potter and the Half-Blood Prince, Star Wars, Toy Story, and Encanto. Most movies begin at 8:00 with pre-performance options. Follow the link for tickets and other details.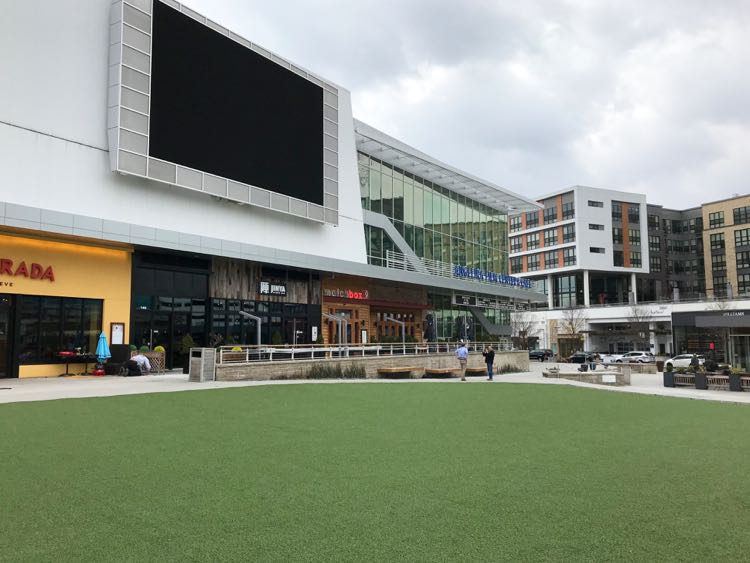 More Outdoor Movies: 2022 Plans TBA
These venues have held outdoor drive-in movies and walk-in movie series in prior years. However, they have not announced whether outdoor movies will be held in 2022. Follow the links to check for updates.
2022 plans TBA
Enjoy a free movie under the stars on the Udvar-Hazy Center's outdoor airplane ramp. Bring chairs, blankets, and insect repellant! Food is allowed, but alcohol and glass bottles or containers are prohibited. Doors open at 8:00 pm and the movie begins at dusk. Free.
2022 plans TBA
Watch great movies on the top level of Mosaic District's Market Garage, once the grounds of a drive-in movie theater. Tickets are $28 per car and space is limited.
2022 plans TBA
Combine Alamo food with a classic drive-in experience at One Loudoun. Pre-purchase tickets and snacks and they'll be delivered right to your door.
2022 plans TBA
Support a great cause and enjoy a fun drive-in movie night out at Pfitzner Stadium in Woodbridge. Tickets are $35 per vehicle and all proceeds go to local Prince William County non-profits.
Find more summer fun with our guides to Outdoor Concerts, Waterparks and Pools, and Boating in Northern VA.
Follow us on Facebook, Twitter, Pinterest, and Instagram for more fun travel in and from Northern Virginia.