Strawberry picking in Virginia is a fun spring activity for families, couples, and outdoor lovers of all ages. Fortunately, there are many u-pick strawberry farms in Virginia that make a perfect day trip from Washington DC.
Fruit picking is a chance to get outdoors and come away with delicious, seasonal, and local berries. Strawberries are one of the first treats of spring so read on to find fun Virginia strawberry farms near you.
Below is a listing of the best strawberry picking in Northern Virginia and other fruit and produce farms close to Washington DC. Plan a full day outing or a longer getaway with the "Nearby fun" links.
Disclosure: This article may contain affiliate links. We will make a small commission from these links if you order something, at no additional cost to you.
In the fall, return to the farm for Apple Picking in Northern Virginia and fun at Northern VA pumpkin patches. In winter, you can find the perfect Christmas tree at local farms.
Tips for Strawberry Picking in Virginia
Strawberry season in Virginia is usually in May and June. Of course, weather can have a huge impact on the timing and length of the strawberry u-pick season. In 2020 a Mother's Day freeze decimated the strawberry crop and canceled the u-pick season for many farms. Fortunately, the weather most years supports a strong strawberry crop.
Want to enjoy farm fresh strawberries without the effort? Happily, the farms on our list also offer pre-picked strawberries so you can still enjoy all that spring flavor. You'll also find fresh berries and local fruit and produce at over 50 Northern Virginia Farmers Markets.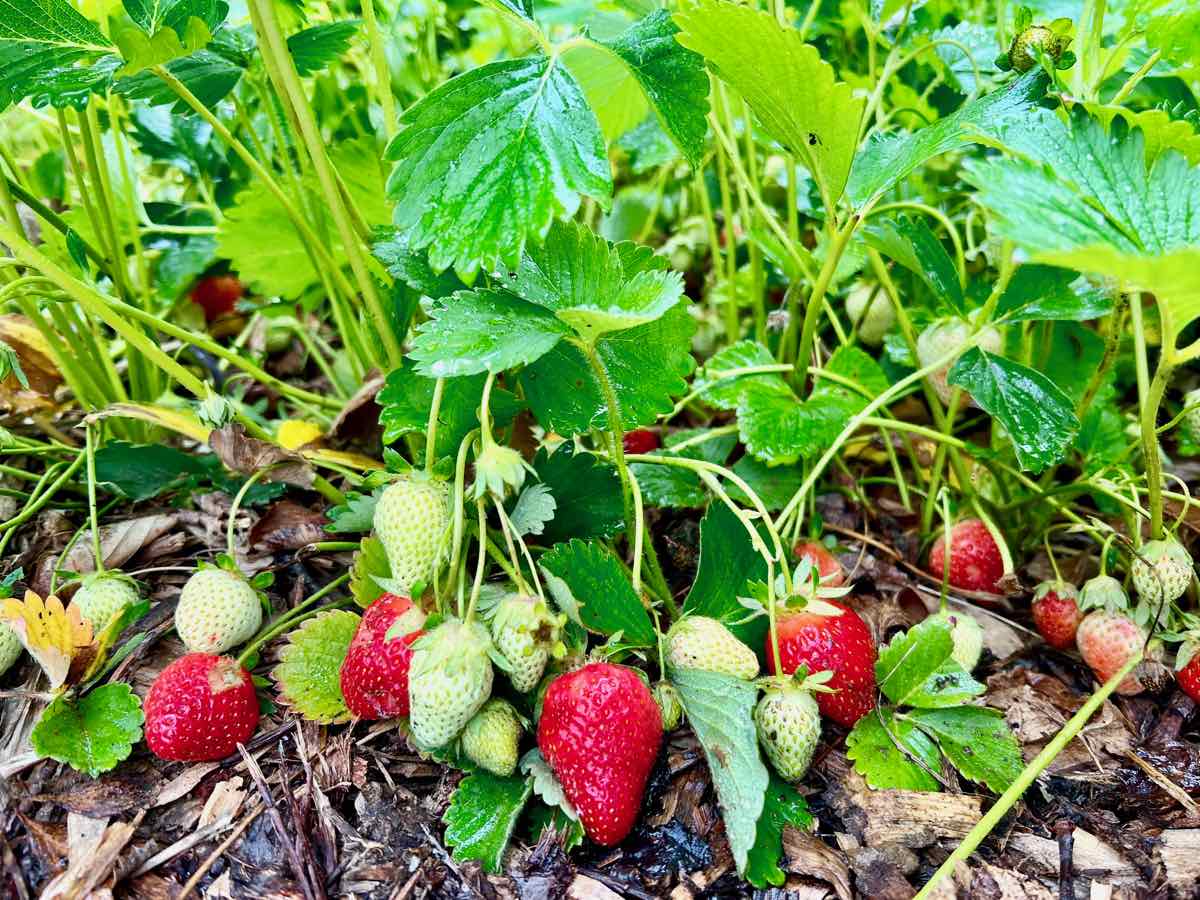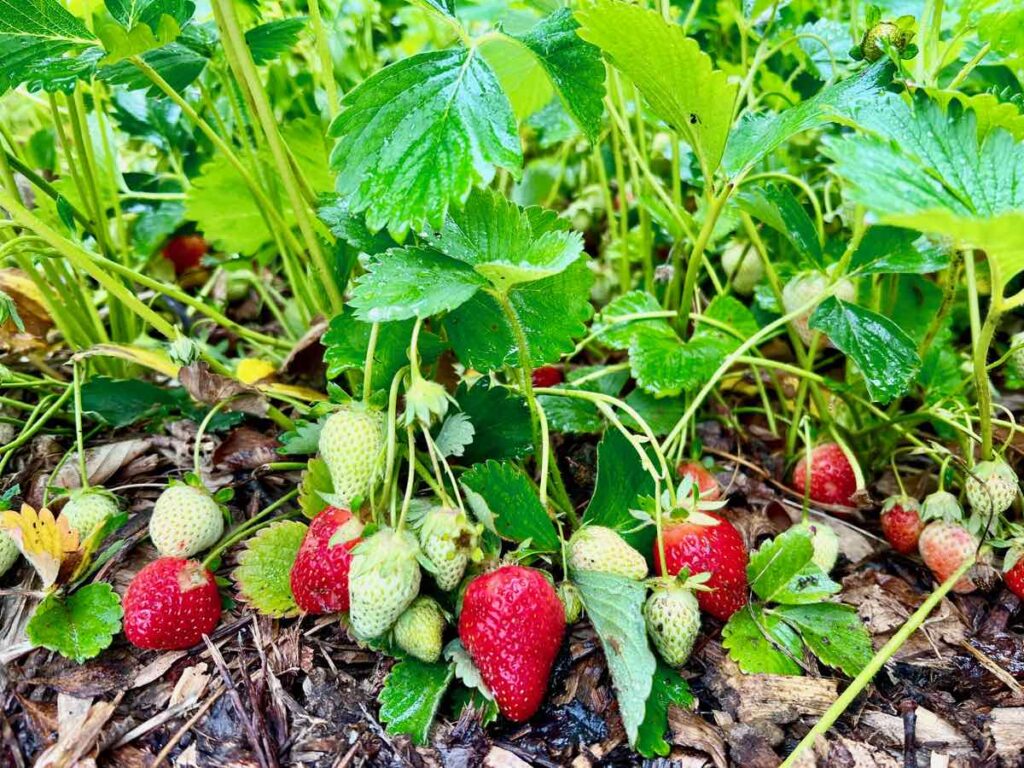 Common Rules at Strawberry Farms
Every u-pick farm with strawberry picking in Virginia has rules to keep visitors and the crop safe and happy. Make sure everyone in your group understands and follows the rules at the farm you visit.
While u-pick farm rules vary, here are some guidelines that apply to almost any strawberry picking location.
Always check the farm website or social media page before you head out. Availability, hours, and crop conditions can change rapidly, especially when storms are in the forecast.
In 2023, some farms require reservations, especially on weekends. Capacity limits mean fewer spots for pickers, so plan ahead.
Dress for dirty and possibly muddy fun. Waterproof boots are a good idea, especially after rainy days.
Check in when you arrive to get picking buckets or to have your own container weighed. Some farms allow visitors to bring their own containers and some do not.
Pay before you eat. It's tempting to sample the fruit in the field, but farms depend on their earnings from the fruit they grow.
Check the rules before you bring your pet. Most farms on our list welcome well-behaved leashed dogs, but they may not be allowed in the fields.
Fresh strawberries spoil fast, so plan to eat, cook, or freeze your fruit soon after picking.
Bring a cooler to keep your berries fresh, especially if you are going to make other stops after your u-pick visit.
Farms with strawberry picking in Virginia are busiest on weekends. Visit on a weekday for a quieter experience.
Pick your own strawberries are one of the tastiest highlights of spring in Virginia. Many of the farms listed below also offer peach picking, cherry-picking, and other fruit-picking options.
The strawberry picking season doesn't last long, so plan ahead and use our guide to find fun and tasty strawberry fields near you.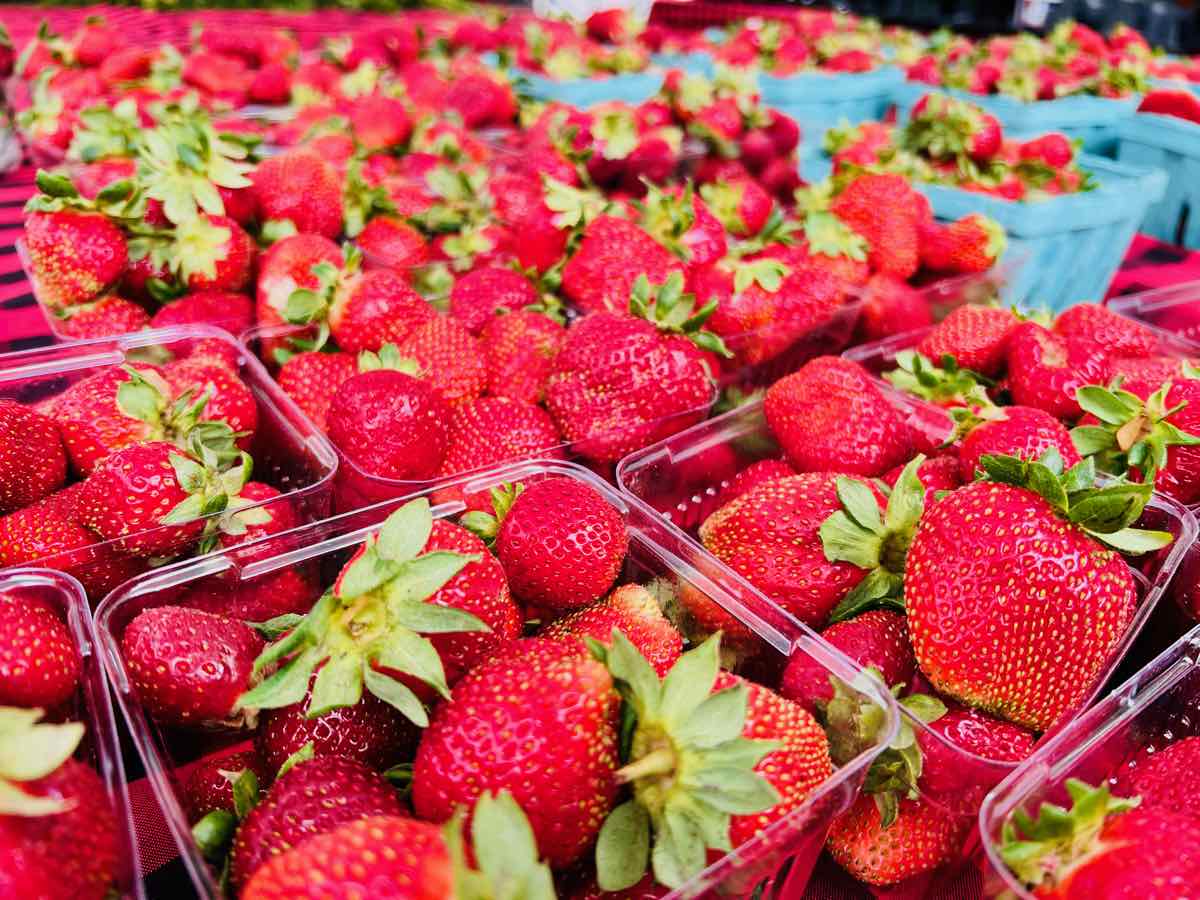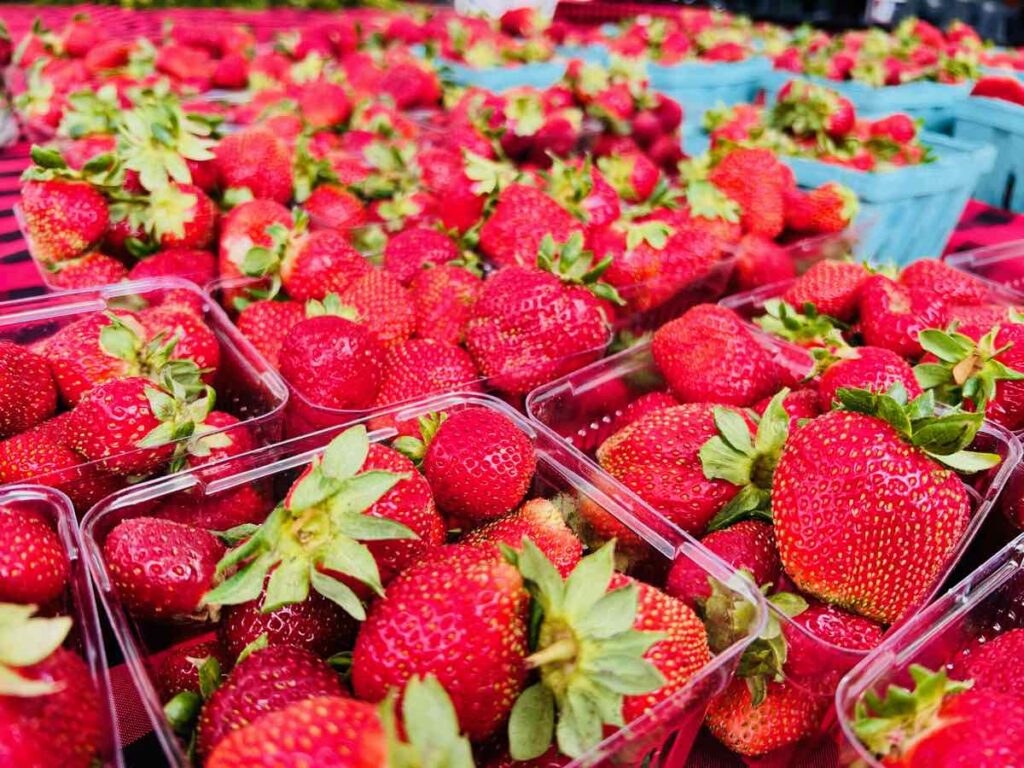 Strawberry Picking in Northern Virginia at U-Pick Farms
Strawberry picking in Northern Virginia is a favorite family activity. There are several u-pick strawberry farms to choose from, all within a couple of hours' drive from Washington DC. Some farms host extra activities and annual strawberry festivals.
Northern Virginia strawberry picking locations are listed below in order of distance from DC. Follow the links for additional details. Inclement weather can lead to unexpected closures, so always check the current status before you head out.
Wegmeyer Farms, Gilbert's Corner, Leesburg, Hamilton
With 3 locations, Wegmeyer Farms has the most extensive strawberry picking fields in Northern Virginia. You can also get pre-picked berries at all three locations.
Reservations are required for the u-pick strawberry fields. Purchase your ticket online to reserve a timeslot. In 2023, a $29 ticket covers the family and includes your first bucket of berries.
Choose your Wegmeyer u-pick strawberry field and plan a day trip:
Gilbert's Corner, at the intersection of Routes 50 and 15 in Aldie. Available for pre-picked berries in 2023.
Nearby fun: Take a scenic drive on the Snickersville Turnpike. Or plan a weekend getaway at one of these fantastic Wine Country vacation rentals and Airbnbs.
Oatlands, on Route 15 in Leesburg.
Nearby fun: Tour Oatland's historic mansion and beautiful grounds. Enjoy lunch at a tasty Leesburg restaurant and spend time exploring historic downtown Leesburg.
Hamilton, 38299 Hughesville Road, Hamilton
Nearby fun: Sip and relax at nearby wineries with spectacular views or at one of the many excellent craft breweries on the LoCo Ale Trail.
Strawberry picking is just one of the fun activities included in your admission to Great Country Farms. Creative outdoor play spaces include jumping pillows, rope swings, mazes, a fish pond, farm animals, and more. Start your visit with a wagon ride to the u-pick fields. 34345 Snickersville Turnpike, Bluemont
Celebrate the season at the annual Strawberry Jubilee, May 20 – 21, and 27 – 29, 2023.
Nearby fun: Explore more Fantastic Fun Things to Do in Bluemont Virginia.
2023 Strawberry picking opened in late April and reservations are only required on Saturdays and Memorial Day. Check the Yankey Facebook page for daily updates as rain may close the fields for the day. As in 2022, the Yankey Farms u-pick strawberry field is at 11812 Bristow Road in Bristow VA.
Nearby fun: Enjoy a day of Hiking and History in Prince William County.
This beautiful u-pick farm is situated on a hill in Fauquier County with pretty views of the surrounding countryside. Return in July to enjoy the u-pick flower fields plus u-pick berries and other fresh produce. 1524 Snowden Road, Delaplane.
Nearby fun: Take a hike or picnic by the pond at Sky Meadows State Park.
2023 Update: Sadly, the strawberry crop failed this year but you can still pick blueberries, black raspberries, red raspberries, blackberries, and veggies beginning in late June.
Tucked in the Blue Ridge Mountains at the entrance to Hartland Farms, Green Truck is a beautiful spot for fruit picking throughout the growing season. Containers are provided at the u-pick strawberry field. 3015 Hartland Lane, Markham.
Nearby fun: Take a scenic loop drive through Virginia Hunt Country. And be sure to come back in the fall for some of the best apple picking in Virginia.
Reservations are not required at this u-pick fruit farm in historic Fredericksburg and there are free playgrounds behind the market. 1130 Tyler Street, Fredericksburg
Nearby fun: Extend your outing with these 8 Great Things to Do on a Fredericksburg Virginia Day Trip
2023 Update: Buena Vista is not operating a u-pick strawberry field this year.
This pick-your-own farm west of Gainesville in Fauquier County offers strawberry picking in spring and pumpkin picking in the fall. 4262 Lee Highway, New Baltimore
Nearby fun: Visit nearby Warrenton to eat, shop, and support local businesses.
Pick fresh strawberries, visit the animals at the petting zoo, and play on the bounce pillow, slides, swings, and more. Enjoy extra activities during the annual Strawberry Festival. 6025 Catlett Road, Bealeton.
Celebrate at the annual Strawberry Festival, during the last weekend in April plus the first three weekends of May 2023. Extra kids' activities include hayrides, bounce pillows, barrel train rides, and more.
Nearby fun: Quaint downtown Culpeper is packed with great restaurants and shops.
You may have encountered this family farm offering its jams and jellies at NoVA garden and food festivals. Visit the farm in Bealeton for u-pick strawberries, blackberries, raspberries, and blueberries. 6062 Dwyer Lane, Bealton.
Stop in the market (May – October) to enjoy breakfast or lunch from the kitchen. Later in May, head to the field for strawberry picking. Subscribe to the Mackintosh newsletter for updates on u-pick hours and status. 1608 Russell Road, Berryville.
Nearby fun: Spend the day exploring Winchester's walkable downtown.
Chiles Peach Orchard offers strawberry picking (plus peaches, veggies, and more) at a family farm just outside Charlottesville. Sister site Carter Mountain Orchard is one of our favorite places for apple picking. Allow time to snack on apple cider donuts with a spectacular view. 1351 Greenwood Road, Crozet.
Nearby fun: Explore Fun and Unique Things to Do in Charlottesville Virginia and 21 Favorite Local Restaurants in Charlottesville.
Make it a day trip and head to Gallmeyer Farms, a popular u-pick berry farm near Richmond. Beginning in mid-May, the farm offers free strawberry picking in the u-pick field at 3622 Darbytown Court. Admission, parking, and containers are all free and visitors can also enjoy a free hayride, play area, and picnic area.
Celebrate the 40th annual Ashland Strawberry Faire on June 3, 2023.
Nearby fun: explore Unique Fun and Cool Things to Do in Richmond VA or visit the nearby Lewis Ginter Botanical Garden.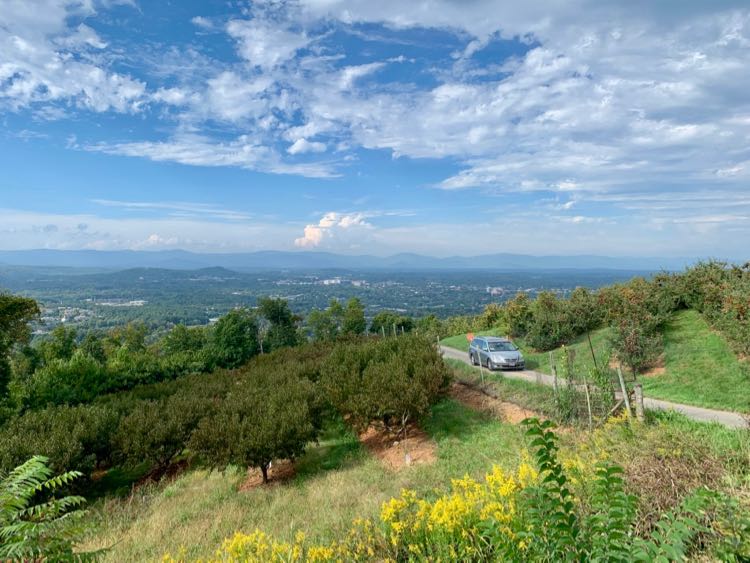 More Strawberry Picking Farms Near Washington DC
Here are more places to go strawberry picking in Virginia and Maryland, close to Washington DC.
Butler's Orchard, 22222 Davis Road, Germantown MD
Champion U-Pick Strawberries, 100 Bindery Road, New Market, VA
Gorman Farms, 12570 Scaggsville Road, Highland MD
Miller Farms, 10140 Piscataway Road, Clinton MD
Shlagel Farms, 12850 Shlagel Road, Waldorf MD
Southern Comfort Berry Farm, 22410 Bushwood Wharf Rd, Bushwood MD
Whether this is your first time strawberry picking in Virginia or an annual event, we wish you a happy and fun-filled spring outing.
Plan more spring adventures —30 Fun Spring Bucket List Adventures in Virginia DC Maryland.
Follow us on Facebook, Twitter, Pinterest, and Instagram for more fun travel in and from Northern Virginia.