Discover fun things to do at Massanutten Resort Virginia on a vacation getaway to the Shenandoah Valley. The resort offers a fantastic mix of adult and family-friendly activities, whether your goal is high-energy thrills or time to relax.
Massanutten Resort is just 120 miles west of Washington DC in Virginia's Shenandoah Valley. The resort is a popular destination in all four seasons. Winter draws snow-lovers to ski and tube the slopes. Warmer months mean its time for the Massanutten Waterpark, golf courses, trails, and more outdoor activities. And an Autumn chairlift ride is the perfect way to see Virginia's fall foliage.
Massanutten Resort hosted our stay. As always, text, photos, and opinions are our own.
Disclosure: This article may contain affiliate links. We will make a small commission from these links if you order something, at no additional cost to you.
Best Things to Do in Massanutten in Summer
Winter draws DC area skiers to the mountains, but summer is also a wonderful time to visit. The best things to do at Massanutten Resort in the summer include both indoor and outdoor activities.
Massanutten WaterPark
The Massanutten Resort WaterPark delivers the best of both worlds. With one entry fee, visitors get full access to both outdoor and indoor waterparks along with a big arcade. Both waterparks feature family-friendly water play areas along with twisty colorful slides. And you'll have plenty to do even if summer storms are in the forecast.
At Massanutten's outdoor waterpark, you can race your friends on side-by-side slides or shoot through 3 unique twisty slides on single and two-person tubes. Head to the open wave pool for a more relaxing soak or tackle the floating crosswalk and water hoops.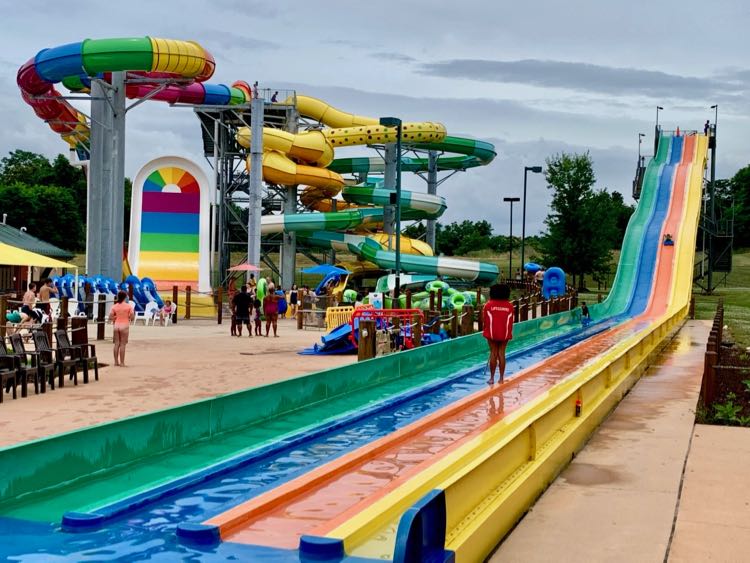 At the indoor waterpark, you'll find more fantastic tube slides and water play areas plus a relaxing lazy river.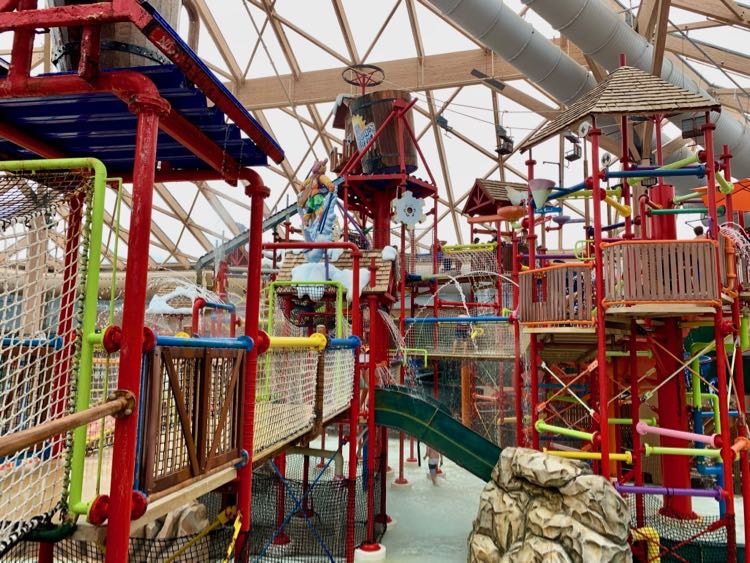 Head to the indoor snack bar or outdoor Chill Grill when you're ready for food or drink. Better yet, splurge on a cabana rental and have your food and drink delivered. Shady cabanas for up to 8 people include 4 lounge chairs, 2 dining chairs and a table, plus a complimentary locker rental.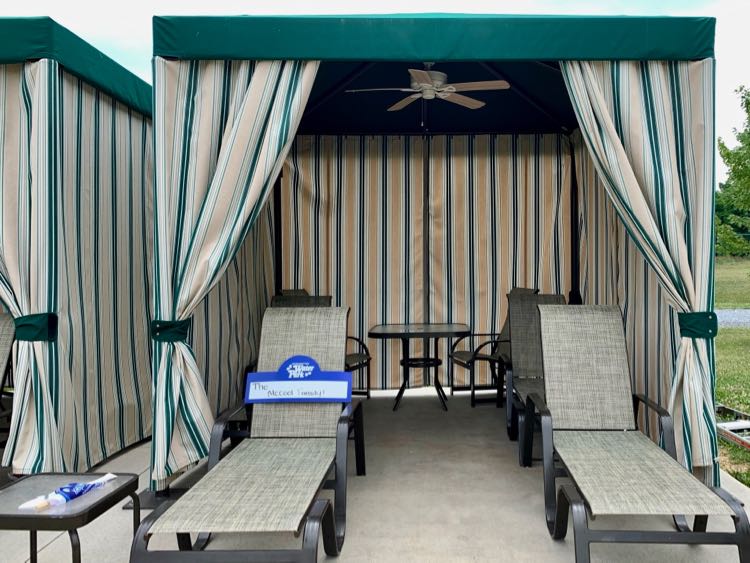 Family Adventure Park
Families and thrill-seekers should be sure to include the Family Adventure Park in a Massanutten visit. Here you can try zip-lines, tubing, a climbing wall, and a canopy tour that includes multiple zip-lines and bridges.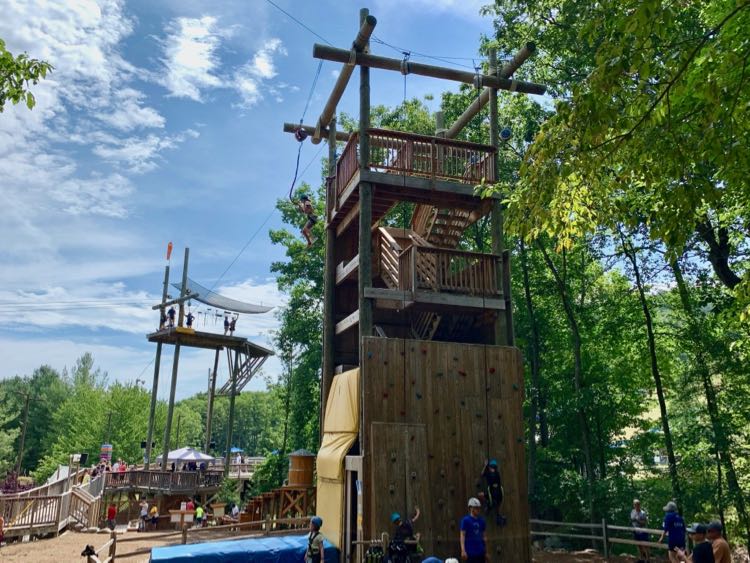 Younger kids get their own rope and zipline course, and there's a cute gem mining activity. The summer tubing run has 600-foot side-by-side lanes that are popular with folks of every age.
Chairlift Ride
Like many ski resorts, Massanutten makes good use of its chairlifts during the off-season. If you visit on the weekend or on a Wednesday, you can ride a combination of two chairlifts to the summit. Relax, picnic, and take in the views before your return trip.
Golf
Two 18-hole courses draw golfers to Massanutten Resort during the warmer months. Work on your game at the driving range with 25 stalls. Or try something new on the FlingGolf course, where you launch the ball down the fairway with a lacrosse-like move and a special FlingStick.
More Unique Indoor Massanutten Resort Activities
When the weather gets too hot, rainy, or chilly, try one of these unique indoor activities at Massanutten Resort. New in Fall 2022, adult guests can now enjoy a 4-course interactive dinner at the on-site Escape Room.
Street Curling
Like many people, we got hooked on the sport of curling while watching the Winter Olympics. Now you can try a fun indoor version of the sport at Massanutten's Street Curling court, new in 2021. The game uses regulation granite stones but on an indoor "synthetic ice" court.
Street curling plays like a cross between curling and shuffleboard. You shoot stones from one end and try to land close to the bullseye at the opposing end.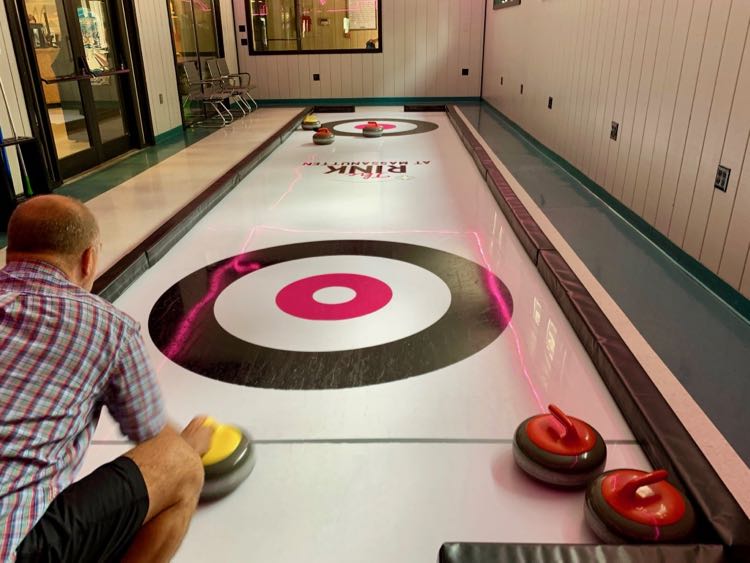 The granite stones are heavy, but you can launch them by hand or using a pole that hooks onto the stone handle. The pole gives extra leverage for folks with less upper body strength, and you don't have to kneel for every shot. Massanutten even has a lighter version of the stones with wheels so even young kids can play.
We really enjoyed street curling at Massanutten and highly recommend it.
Make-Your-Own Terrarium
Balanced Roots is a new 2021 location at the base of the Massanutten Resort mountain. The shop offers calming indoor activities along with a collection of wellness and meditative products. The make-your-own terrarium activity is fun, relaxing, and inexpensive. Best of all, you get to take your creation home with you.
Guests pick a glass vessel from a range of shapes and sizes, then choose the plants they want to put inside. You can add gnomes, baskets, and other tiny decorations to create a fairy garden or keep your creation natural. The shop provides the rest—potting soil, natural and colored sands and mosses, and all the tools and advice you need.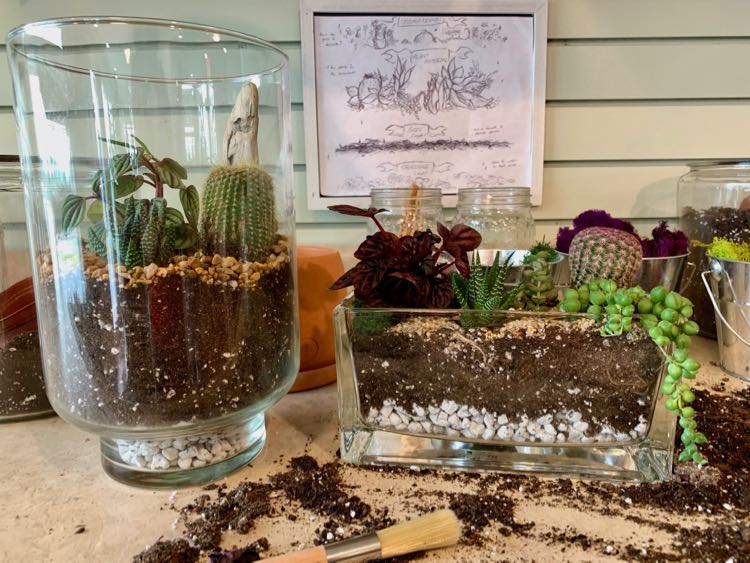 Terrarium building is a fun activity for adults and families as even the youngest kids can help. Of course, you can also stop by to shop the store's pre-made terrariums, candles, lotions, crystals, and more.
Free Things to Do at Massanutten Resort
The activities described above have a fee but there are fun free things to do at Massanutten as well. All of these activities require a resort ID so bring yours along.
Massanutten Overlook
Take in a spectacular view from the Massanutten Overlook at the top of Delwebb Drive. From here you can see many of the resort's amenities and ski runs backed by the beautiful Blue Ridge Mountains. While the sun sets behind the ridge, you may still catch a colorful glow at sunset.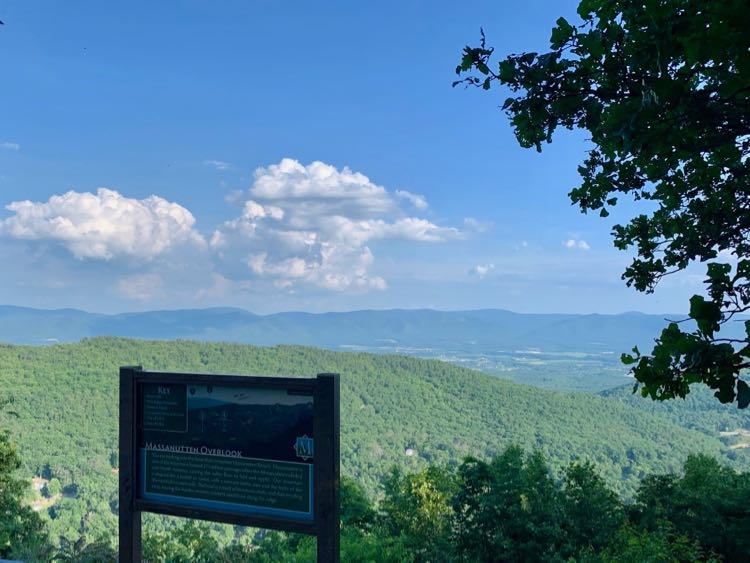 Massanutten Resort Hiking
The overlook is also the trailhead for two Massanutten Mountain hiking trails. Tackle the rocky, challenging Massanutten Ridge Trail to the Massanutten Peak. Or take a moderate 1.8-mile hike on the Kaylor Knob Trail to another great viewpoint. The Kaylor trailhead is across the street from the parking lot.
For an even easier stroll, take a nature walk on the Arboretum Trail at Hopkins Park. There are many varieties of trees on the short, level trail and they are labeled so you can learn as you walk. A playground and picnic tables are nearby.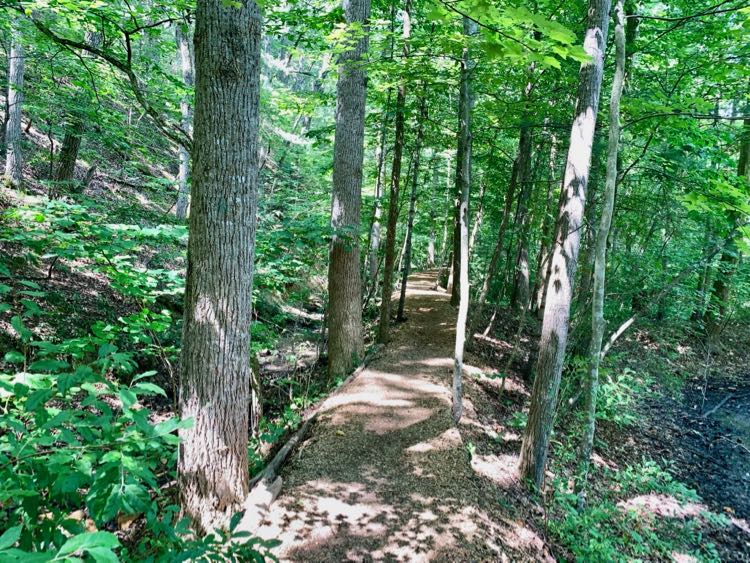 LOVE Sign Photo Opp
Capture the perfect photo of your family or group at the giant LOVE sign near the Mini-golf and Go Karts at Stonewall Terrace. There are Virginia LOVE signs throughout the state and many of them, like this one, are big enough to create fun photos with the whole gang.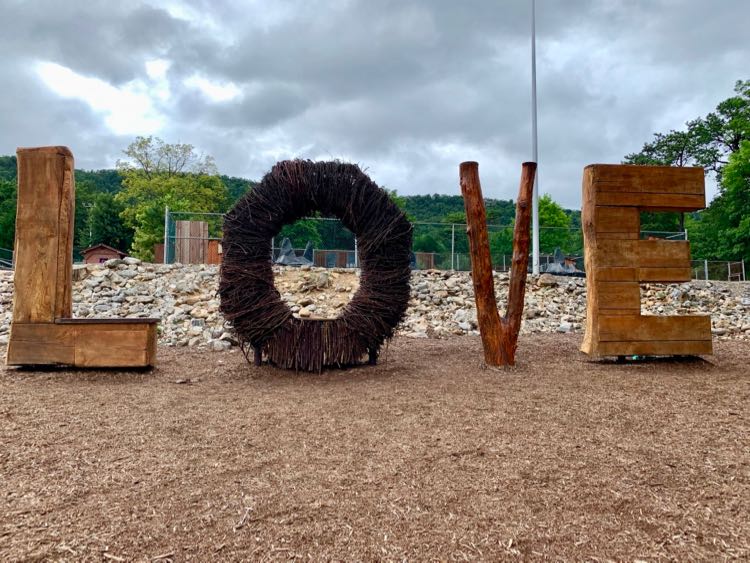 Fishing at Massanutten
There are two small ponds at Massanutten—Hopkins, and Painters—and both are stocked with bass, trout, and other fish. Painters Pond is larger and has several fishing piers including a wheelchair-accessible pier. A Virginia fishing license is required and you can buy one at the resort and rent equipment if needed.
Massanutten Resort Lodging
There are 9 different lodging areas listed on the Massanutten Resort website so you have plenty of options for your stay. Choose from Mountain or Valley condos close to the slopes, golf courses, or other amenities.
Check traveler reviews, rates, and availability of the Massanutten Resort.
We stayed in a beautiful 2-bedroom condo in The Summit at Hillside. The Summit condos include a comfortable living room, dining table, full kitchen, en suite master bedroom, second bedroom with twin beds, and a spacious bathroom with a jacuzzi tub.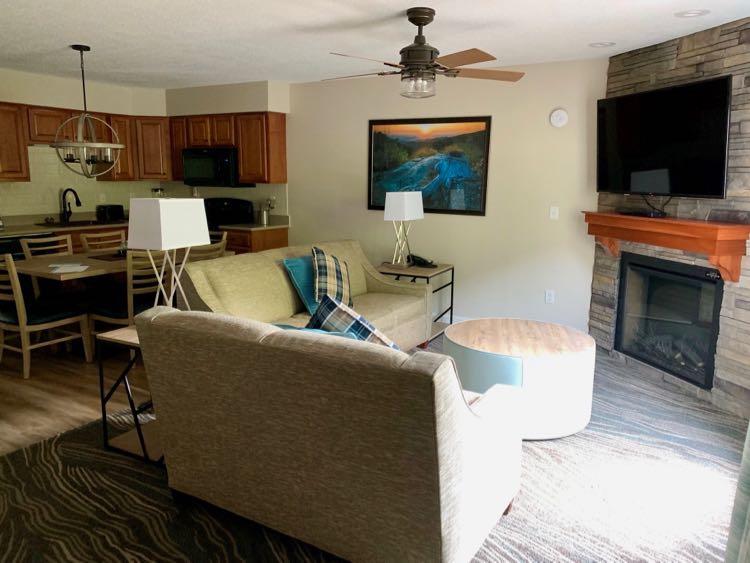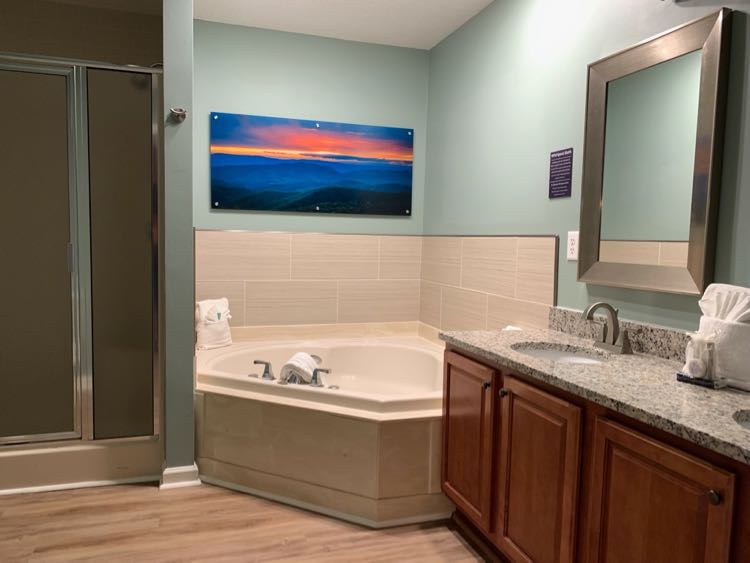 Two decks offer a nice place to relax and enjoy the mountain air and our back deck had a beautiful mountain view.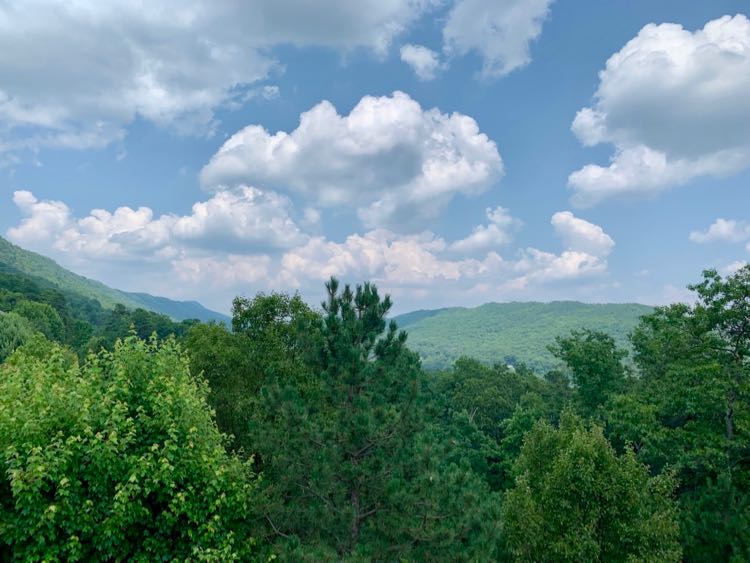 Massanutten Resort Restaurants
There are several dining options at Massanutten Resort and all are casual and family-friendly. Check current hours and make reservations before you head out as seating may be limited.
Campfire Grill
Head to the Campfire Grill for pizzas, burgers, skillets, and more tasty dishes. The menu is meat-heavy, but seafood lovers should try the cornmeal-dusted Pan-fried Trout served with a choice of two sides. Low-Country Gumbo features shrimp, cod, mussels, and sausage in a rich gravy over rice. Whatever you choose, be sure to add an order of the Cast Iron Cornbread served with sweet butter with clover honey.
There is casual seating both inside and on the deck but request a booth in the tent for extra atmosphere.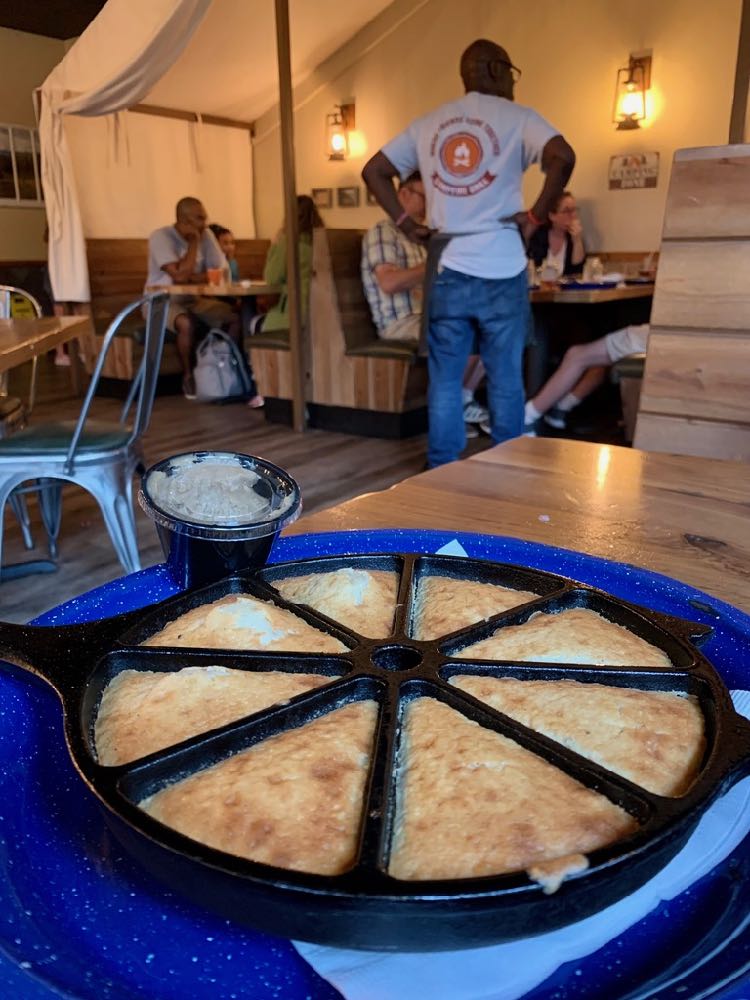 The Chill Grill
As mentioned above, The Chill Grill is a nice place to refuel and enjoy a drink at the outdoor waterpark. Grab a stool at the circular bar and try one of the resort's fruity drinks. Salmon Salad and a Blue Lagoon Margarita are a cool treat on a hot day.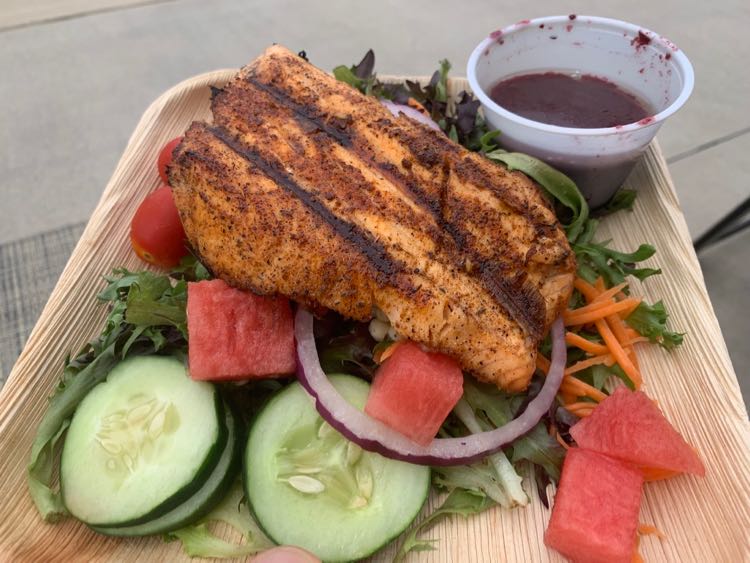 Places to Visit Near Massanutten Resort
Massanutten Resort is in an excellent location, tucked between Shenandoah National Park and some great Shenandoah Valley towns. Spend a little time exploring beyond the resort, or combine your stay with a longer road trip.
Here are two craft breweries just a few miles from the Massanutten entrance that are worth a visit.
Elkton Brewing Company occupies an attractive brick 1890 building, once home to Elkton Mining Company. A line-up of 11 brews included a very tasty Blood Orange Blonde and a rich Shenandoats Oatmeal Porter.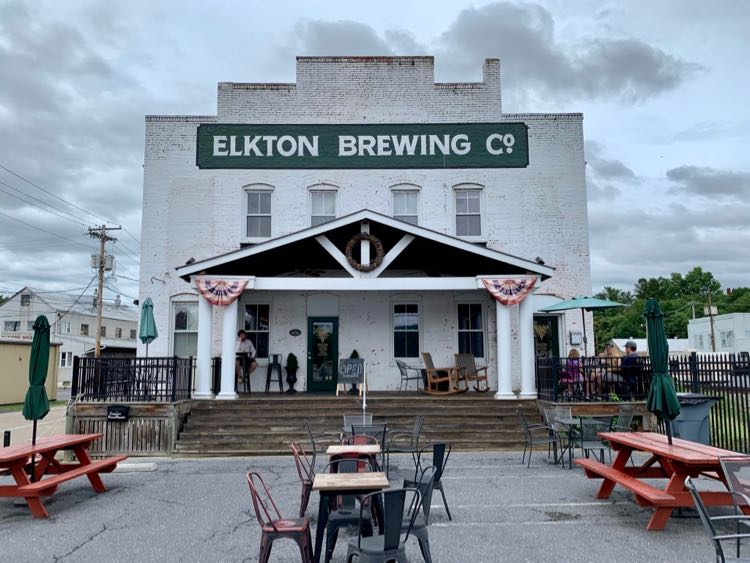 Cave Hill Farms Brewery is a combination brewery and farm museum in a huge barn. Way back in 1759, King George granted 1000 acres to the Hopkins family. Today Cave Hill is a 359-acre sixth-generation family farm growing its own barley and hops. Our favorite in the 10-brew lineup is the Sassy Goat Saisson.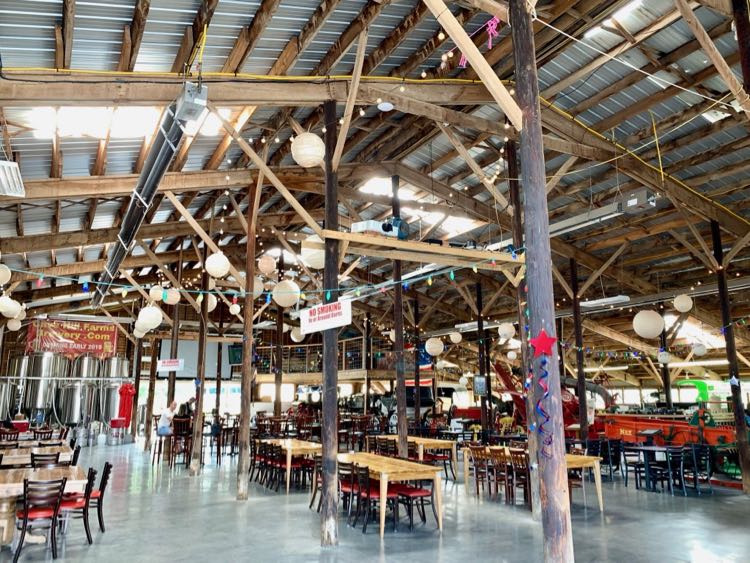 Skyline Drive is just 13 miles east of the resort. Head north from the Swift Gap entrance and you can visit some of the best trails, overlooks, and stops in Shenandoah National Park's Central District.
If you're ready for a multi-day hike, Massanutten is a great jumping-off point for hiking inn-to-inn on the Appalachian Trail.
Harrisonburg Virginia, home to James Madison University, is 14 miles west of Massanutten. Plan your visit with our guide: Favorite Things to Do in Harrisonburg Virginia and Rockingham County.
From Harrisonburg, you can road trip the Southern Shenandoah Valley, visiting towns like Staunton, Lexington, and Roanoke. Or turn north to visit beautiful Winchester Virginia.
Charlottesville Virginia, home to Thomas Jefferson's Monticello and the University of Virginia is about an hour southeast of Massanutten Resort. Plan your visit with our guides:
Whether you venture off property or spend all of your time at Massanutten Resort, you are sure to enjoy a fun and beautiful time in the mountains of Virginia. Visit the resort website for more information and to check current specials and events.
Follow us on Facebook, Twitter, Pinterest, and Instagram for more fun travel in and from Northern Virginia.