Wolf Trap National Park is a fantastic year-round destination for live performances, hiking, picnicking, and more fun for Washington DC area residents and visitors.
Wolf Trap National Park for the Performing Arts is the only US National Park dedicated to live performances. The National Park Service partners with the Wolf Trap Foundation to create and manage a robust calendar of arts programming at the park. The seasonal concert schedule includes over 90 performances at the park's Filene Center plus additional shows at other park venues.
But live performances are not the only reason to visit Wolf Trap Park. In fact, the National Park is a year-round resource for residents and is one of the most popular attractions in Northern Virginia for out-of-town visitors.
Disclosure: This article may contain affiliate links. We will make a small commission from these links if you order something, at no additional cost to you.
We first visited Wolf Trap for the holiday sing-along when our children were little. Later, we returned for more shows, both as a family and for a date night out. More recently, the park has become a frequent destination for hikes and picnics. Wolf Trap is easy to reach, free to visit during non-performance hours, and has ample free parking.
Read on to discover 8 great things to do at Wolf Trap National Park.
1. Attend a Show at Wolf Trap National Park
As its name suggests, the most popular thing to do at Wolf Trap National Park is to attend a live performance. The Wolf Trap concert schedule is packed with top musical acts, theater productions, and even movies accompanied by live orchestras.
Shows at Wolf Trap are held in three venues—the Filene Center, The Theater in the Woods, and The Barns at Wolf Trap. The indoor-outdoor Filene Center and Theater in the Woods offer shows from late May to early September. Indoor performances are held in The Barns year-round. All three venues offer a unique and beautiful concert experience.
The Filene Center at Wolf Trap
The flagship venue at Wolf Trap, the Filene Center, is a 6800-seat indoor-outdoor theater. The main auditorium provides comfortable, covered seating under soaring wooden ceilings with open sides. Behind and to the side of the covered area, a gently sloping lawn creates a relaxed outdoor space to enjoy a performance. Tickets on The Lawn are the least expensive while covered seating prices vary by location.
Sightlines are excellent in the covered section of the Filene Center. Assigned seats are available in several areas including Prime and Rear Orchestra, Prime Balcony, and sides. The covered seats are quite comfortable but be prepared for chilly or windy weather.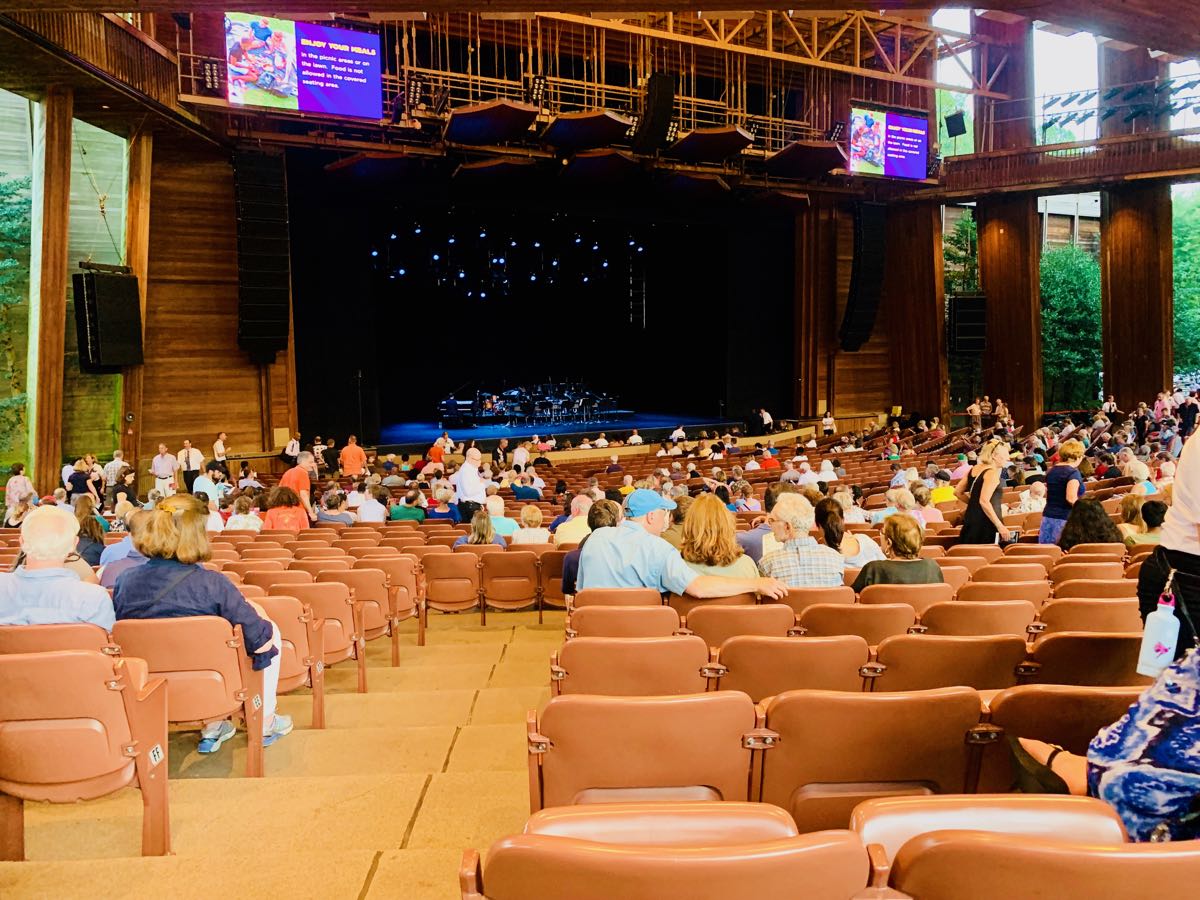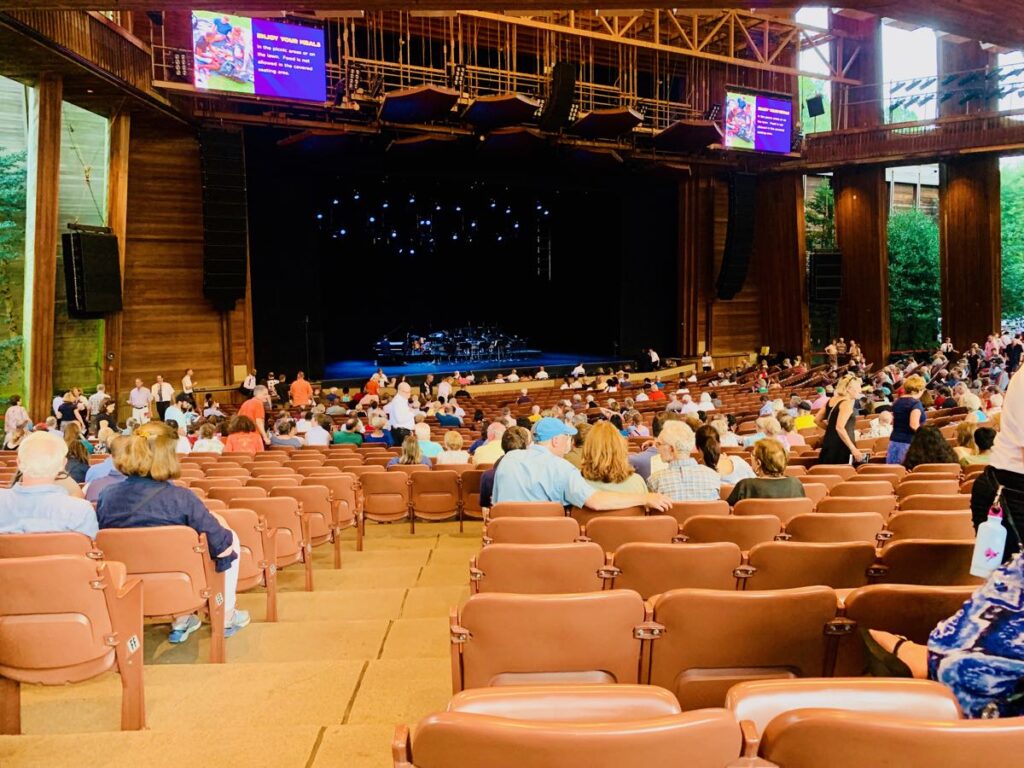 The Lawn, on the other hand, gives you room to spread out a blanket and enjoy a picnic and a glass of wine. Since the stage is further away, performances are projected on several giant screens. The relaxed atmosphere on the lawn is ideal for groups and families.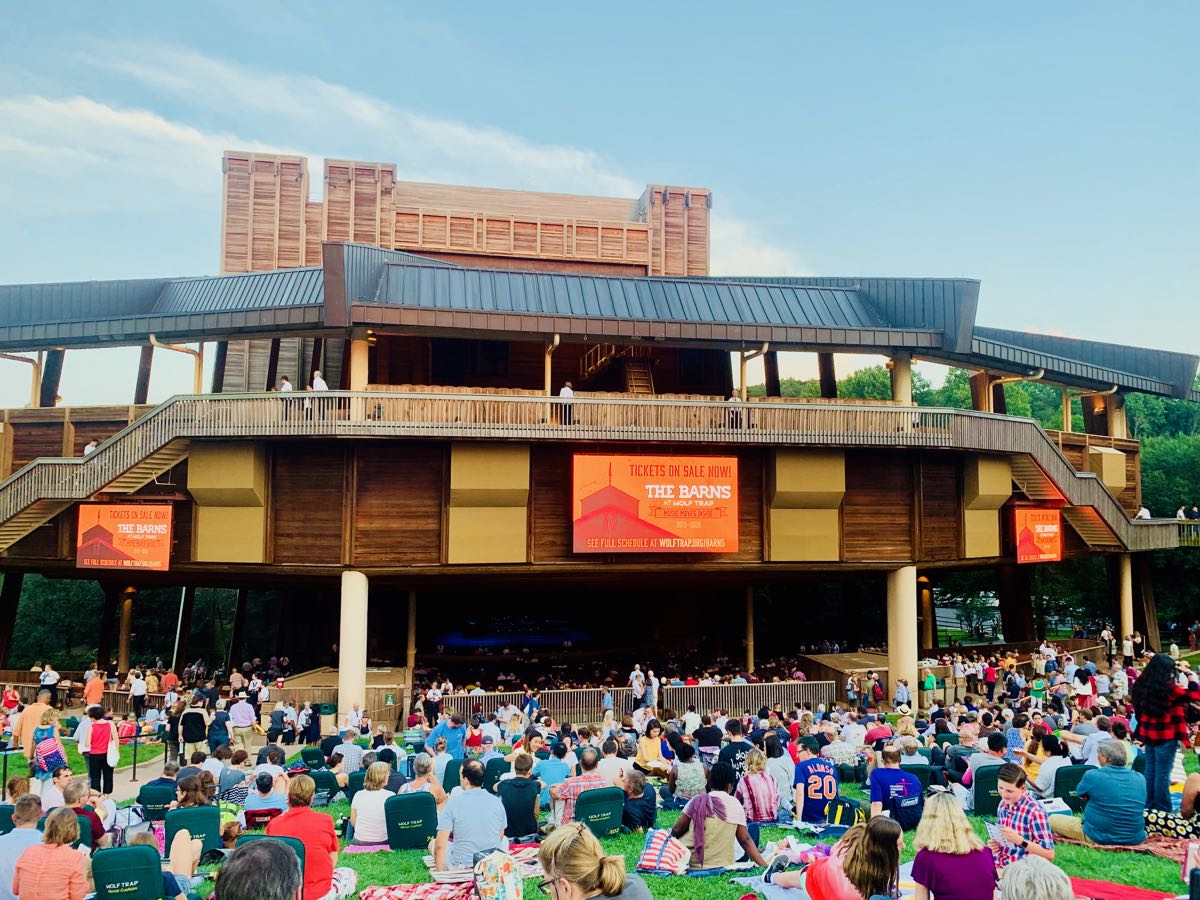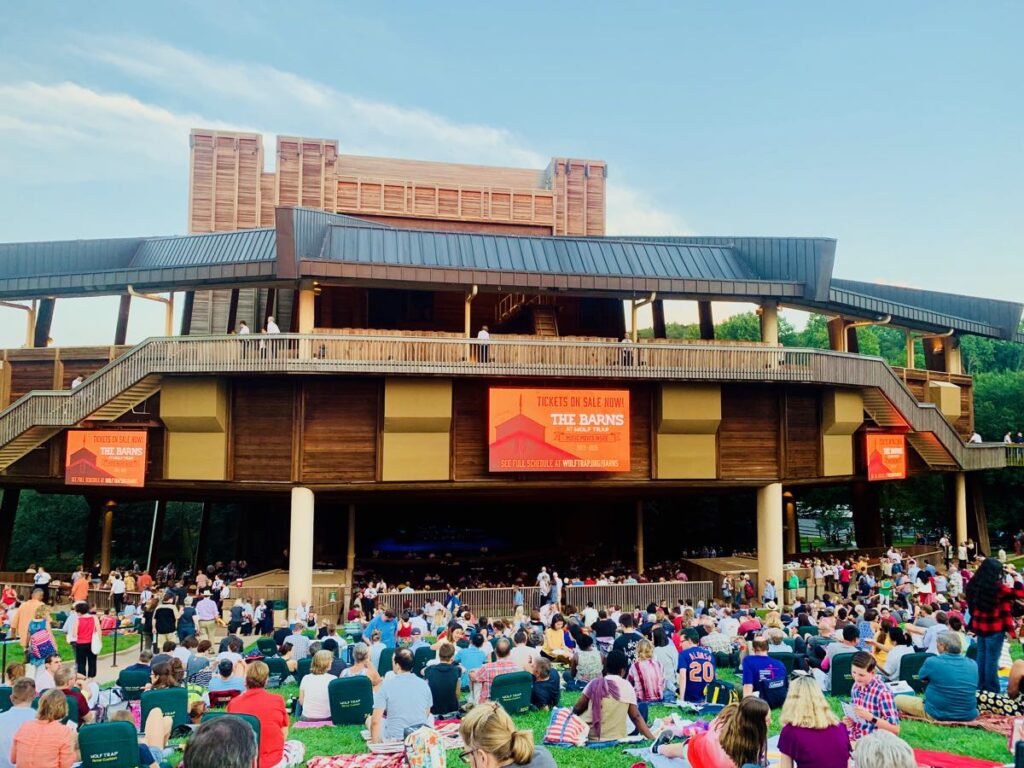 We have attended shows with both covered and lawn seating, and both offer a great show experience. We prefer the covered assigned seats though, both for comfort and protection from the weather.
Summer storms are unpredictable, so you're taking a bit of a risk when you buy lawn tickets. Bring rain gear if storms are in the forecast because tickets are only refunded if a show is canceled. See the Filene Center schedule here.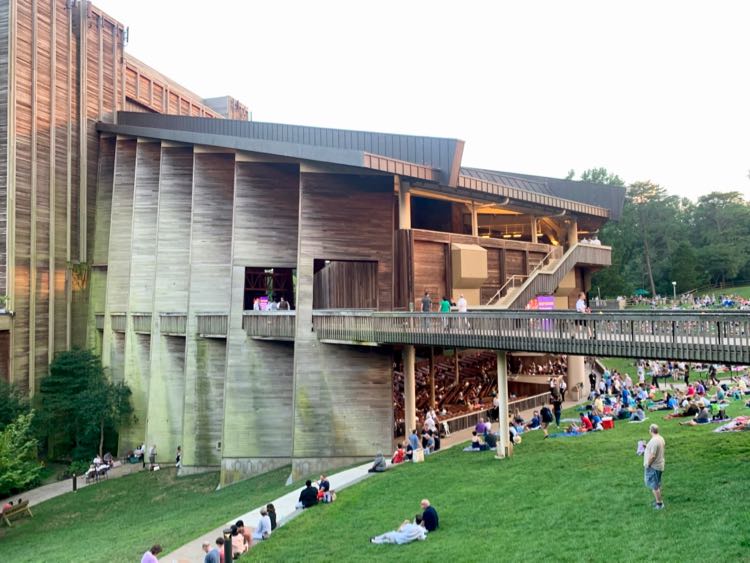 The Barns at Wolf Trap
A more intimate venue created from two 18th-century barns, The Barns at Wolf Trap offers performances throughout the year and is the summer home of the Wolf Trap Opera. The acoustics at The Barns are spectacular and the venue offers an intimacy with the performing artists that can't be created in a larger concert hall.
The primary theater at The Barns seats 284 guests on the "threshing floor" plus just under 100 seats in the hayloft. The second barn is used as a reception area where you can enjoy cocktails and food.
In 2022, The Barns will host music, comedy, opera, and more. See the current schedule for The Barns at Wolf Trap.
The Theater in the Woods
Looking for kid-friendly performances in the Washington DC region? The Theater in the Woods has got you covered. More than 30 spring and summer performances are geared to young attention spans (shows are just 1 hour long).
There is something rather magical about watching concerts, puppet shows, dance, and more in a cozy theater tucked into the woods. Check the current Theater in the Woods schedule here.
Where to Stay Near Wolf Trap National Park
If you are attending a show at Wolf Trap and want to stay nearby you have many hotel options. We recommend these hotels near Wolf Trap (and one campground) for their convenient location, amenities, and fun things to do nearby:
2. Have a Picnic
More than 150 picnic tables dot the grounds at Wolf Trap Park, making it one of the best places to picnic in Northern Virginia. Picnicking rules and availability are different depending on whether a show is scheduled.
On Filene Center performance days, picnicking is open to ticket holders two hours prior to showtime. Picnickers are allowed to bring food and alcohol, and this is a very popular pre-show activity.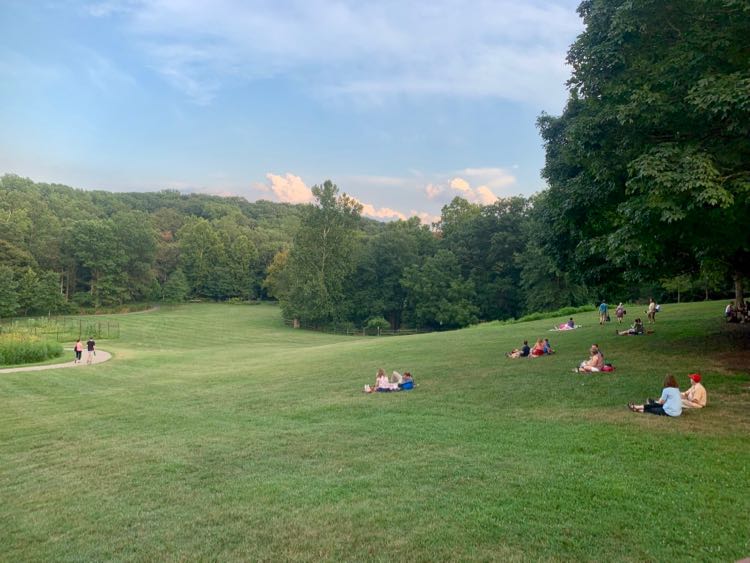 Picnics are also allowed on The Lawn during shows. However, food and drinks are not allowed in the assigned, covered seating areas, so plan to complete your meal before you enter the venue.
Wolf Trap is also a great place to picnic on non-show days. Tables and parking are free and there is plenty of room to spread out. There are no grills or firepits, so the park is not a good choice if you want to barbecue. Note that alcohol is not allowed except in the two hours prior to showtime.
Our favorite place to picnic at Wolf Trap is at the top of the hill between the Filene Center and the Ovations Restaurant. There are lots of picnic tables at the top of the hill plus a long sloping lawn perfect for blankets.
3. Enjoy a Pre-show Meal or Drink
In addition to picnicking, Wolf Trap venues offer a few options to purchase a meal, snack, or drink before or during a show:
The Filene Center Concession Stand offers casual meals and snacks including burgers, rice bowls, pretzels, and popcorn. They also sell drinks including craft beer, wine, and cocktails. The stand opens 90 minutes before showtime. Note that you can not bring food or drinks into the assigned seating area.
The Barns serves a more upscale menu of main dishes, flatbreads, cocktails, wine, beer, and more in the atrium next to the concert barn. Place an order from your table and it will be delivered to your table. You can also take drinks to your seat during performances at The Barns.
In previous years, the Ovations Restaurant offered an open-air buffet in a pavilion at the top of Encore Hill. The restaurant has been closed since 2019 and we're waiting to see if it will reopen for meals during the 2022 season.
4. Take a Scenic Hike on Wolf Trap Trails
Two overlapping scenic trails at Wolf Trap National Park meander through the woods by a pretty stream and a small pond. While both trails are short (1.5 – 2.5-miles) they include hilly sections that offer a nice workout.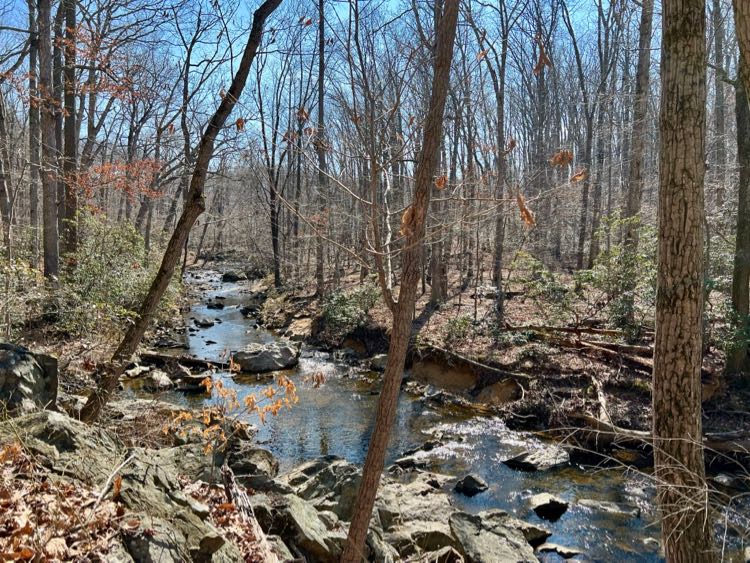 It's easy to get children involved in your hike on the Kids to Parks Wolf Trap TRACK Trail. You can also create a short hike by completing a portion of this trail that's perfect for little legs.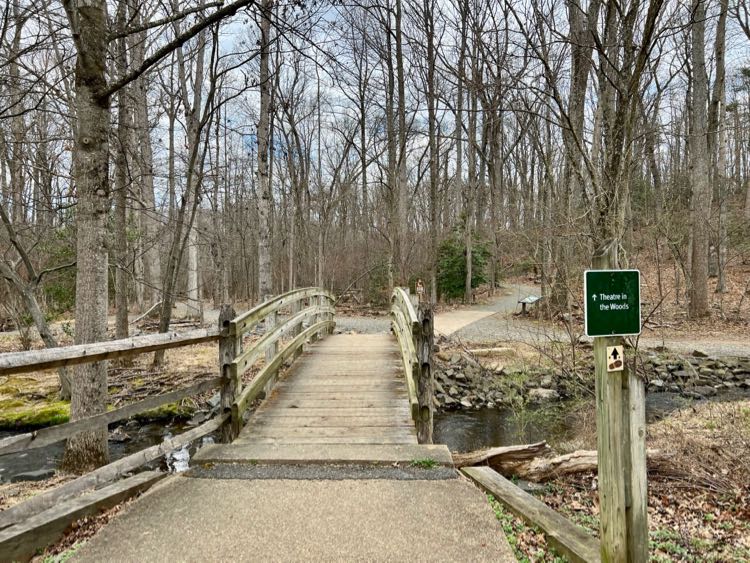 Wolf Trap's 600 acres are surrounded by neighborhoods and the busy Dulles Toll Road, so you are never far from urban noise. Still, the woods at the park are lovely and offer a convenient nature escape in the heart of Northern Virginia.
Hike Details: 2 Scenic Wolf Trap Trail Hikes in Vienna Virginia.
5. Take a Wolf Trap Tour and More
Normally, the National Park Service hosts interesting and fun events throughout the year. For example, we enjoyed a free tour of the Filene Center that took us onto the stage and behind the scenes. They also host a camp out program in spring and fall for Fairfax County 5th and 6th graders.
Unfortunately, programming like this has been on hold for the past two years. We hope to see more educational programming return in 2022. Follow the park's Facebook page for the latest updates.
6. Attend a Free Special Event: Fireworks and Singalongs
There are two free events at Wolf Trap every year and they are both excellent. The Filene Center season kicks off on Memorial Day Weekend with a concert and fireworks show. And in early December the park hosts a family-friendly holiday sing-along.
Kick off Summer at Memorial Day Weekend Blast Off!
One of the best ways to kick off summer in Northern Virginia is at the annual Blast Off! concert and fireworks show at Wolf Trap National Park. This free event welcomes the public to a special performance of "The President's Own" US Marine Band. A spectacular fireworks show follows the concert.
Tip: The free fireworks show at Wolf Trap Park is extremely popular. We suggest you pack a picnic dinner and arrive early to claim your spot on the lawn. Gates open at 6:30 for seating on the lawn and parking will close when the lots are full.
In 2022, the Blast Off! concert and fireworks show is on May 29 at 8:00 pm.
Celebrate the Season at the Wolf Trap Holiday Sing-Along
One of our favorite holiday traditions in Northern Virginia is the Holiday Sing-Along at Wolf Trap National Park. The free annual event welcomes everyone to a fun concert with "The President's Own" US Marine Band. Children and adults join in singing Christmas carols, Hannukah songs, and popular holiday tunes.
Tip: A highlight of the Sing-Along comes at the end when guests light candles and process out of the Filene Center to Silent Night.
7. Learn About Wolf Trap History
Wolf Trap owes its beautiful setting to Catherine Filene Shouse, who dedicated 100 acres and funds to the US Government in 1964. She envisioned a place where the public could enjoy arts in a natural setting.
Mrs. Shouse purchased Wolf Trap Farm in the 1930s to create a peaceful country escape from busy Washington DC. The land had been used for farming since the 17th century and Mrs. Shouse continued that tradition, growing crops and breeding horses and dogs.
Today, Wolf Trap's natural areas are filled with native plants and trees. Hike the park trails and you can visit the small pond once visited by cows and the pretty Wolf Trap Run that gave the park its name.
Stop by The Barns at Wolf Trap for a close-up look at the two historic barns that make up the venue. In 1981, Mrs. Shouse had the barns relocated from New York and transformed into an intimate concert venue using 18th-century techniques. Exposed beams and weathered walls reflect 200 years of history.
8. Host a Wedding, Party, or Other Private Event
Wolf Trap Park has several different venues that are ideal for private events including weddings and private parties. Four covered pavilions offer pretty park views and support 80 – 400 guests depending on layout. The Barns at Wolf Trap offer two indoor venues.
Find more rental facility details on the WolfTrap.org website.
Rental Pavilions at Wolf Trap National Park
The Ovations Pavilion sits at the top of Encore Hill with a pretty view of a sloping lawn surrounded by woods. The pavilion accommodates up to 312 seated, 450 reception.
Nearby, the Associated Pavilion has a similar view and also accommodates up to 312 seated, 450 reception.
Set a bit further back from the hill, the smaller Terrace Pavilion accommodates up to 160 seated, 250 reception.
At the bottom of the hill, the Meadow Pavilion accommodates up to 70 seated, 100 reception.
The Barns at Wolf Trap Rental Facilities
The 1730 German Barn is a gorgeous setting with exposed beams and perfect acoustics. It accommodates up to 160 seated, 400 reception.
The smaller Scottish Barn accommodates 60 seated, 200 reception.
Wolf Trap National Park Essential Information
Wolf Trap National Park is located at 1551 Trap Road in Vienna Virginia. The park is about 16 miles from Washington DC; a 25-minute drive during normal traffic. To reach the park by car, take the Dulles Access Toll Road (267) to the Wolf Trap exit (exit 15). Alternatively, you can enter the park from the north side via Route 7 and Trap Road.
For shows at the Filene Center, Fairfax County operates Wolf Trap Connector bus from the West Falls Church metro station to the park. The shuttles are $5 for a round-trip ticket and they start running 2 hours before showtime (excluding free shows).
Wolf Trap Park is open year-round from sunrise to sunset except during shows. The park closes two hours prior to shows and events except for ticket holders. There is no entrance fee and parking is free.
Find more information about Wolf Trap on the National Park website.
More Fun Things to Do Near Wolf Trap National Park
Combine your Wolf Trap visit with these other Northern Virginia gems for a perfect day trip from Washington DC:
Whether you visit Wolf Trap National Park for a show or special event, or just stop in for a little time in nature, you are sure to enjoy this wonderful Northern Virginia park.
Follow us on Facebook, Twitter, Pinterest, and Instagram for more fun travel in and from Northern Virginia.