Discover fun things to do in Great Falls Virginia, plus tips and essential information for your visit. Visitors to Great Falls Park enjoy waterfall views, hiking, picnics, history, and more outdoor fun. We also have tips on where to eat, where to stay, and things to do nearby.
Great Falls Virginia is one of the most popular natural destinations in the Washington DC area, visited by locals and tourists from around the world. The Potomac River courses through dramatic waterfalls, rapids, and a narrow gorge at Great Falls Park.
The US National Park Service manages this top Virginia attraction. They maintain excellent facilities, including an interesting Visitor Center, and host ranger-led events at the park.
Disclosure: This article may contain affiliate links. We will make a small commission from these links if you order something, at no additional cost to you.
What is Great Falls Park?
Great Falls Park is a stunning natural area marked by dramatic waterfalls, excellent hiking trails, and interesting history. At the Great Falls of the Potomac, the river drops 76 feet in less than a mile. At the same time, the banks narrow from 1000 feet wide to only 60 to 100 feet as the river passes through Mather Gorge.
The combination of dropping and narrowing as the river passes over jagged rocks creates a dramatic series of waterfalls and rapids. It's a stunning, and easy-to-reach slice of nature only 18 miles from busy Washington DC.
Great Falls is located on historic Georgetown Pike and is part of the George Washington Memorial Parkway. This scenic national roadway connects historic sites from the park to George Washington's Mount Vernon.
Plan a Scenic Drive on Georgetown Pike & George Washington Memorial Parkway.
Great Falls VA offers a range of activities for every age and ability. Excellent waterfall views are reached on wheelchair-accessible pathways. A network of trails provides easy and more challenging hikes. And the park is a wonderful and popular place for family and friends to get together to enjoy nature close to the Nation's Capital. Read on for fun and favorite things to do in Great Falls Virginia Park.
1. See Dramatic Waterfalls at the Great Falls of the Potomac
There are three waterfall overlooks on the Virginia side of Great Falls Park. Visitors get easy access to stunning views of the falls from several angles, and the view changes dramatically with the seasons and water levels.
Overlook 1 is a rocky area close to the largest waterfalls. The falls are dramatic, but you'll have to climb on the rocks (staying behind the rail) for the best views. You can wave to people on the Maryland side of Great Falls, across the river on Olmsted Island.
Overlook 2 can be reached via steps and a wheelchair-accessible ramp that leads to a large platform. This overlook offers a nice view of the falls and the Potomac River.
Overlook 3 is accessible via an ADA-compliant level dirt path to a large platform. Sweeping views of the falls upriver are accompanied by interpretive signs about the changing Potomac River. A cutout in the rail allows views of the fall from a wheelchair.
A pole near Overlook 3 marks the highest flood levels over the years.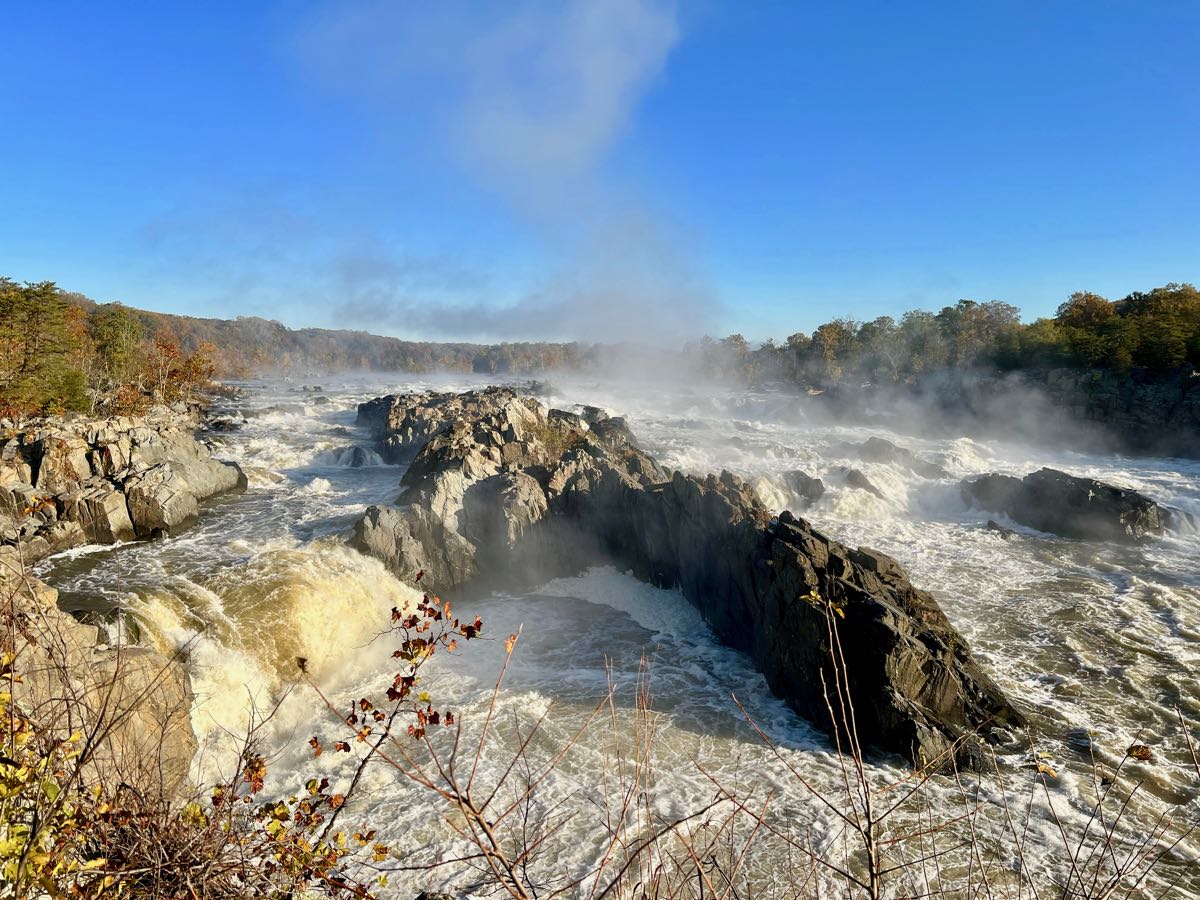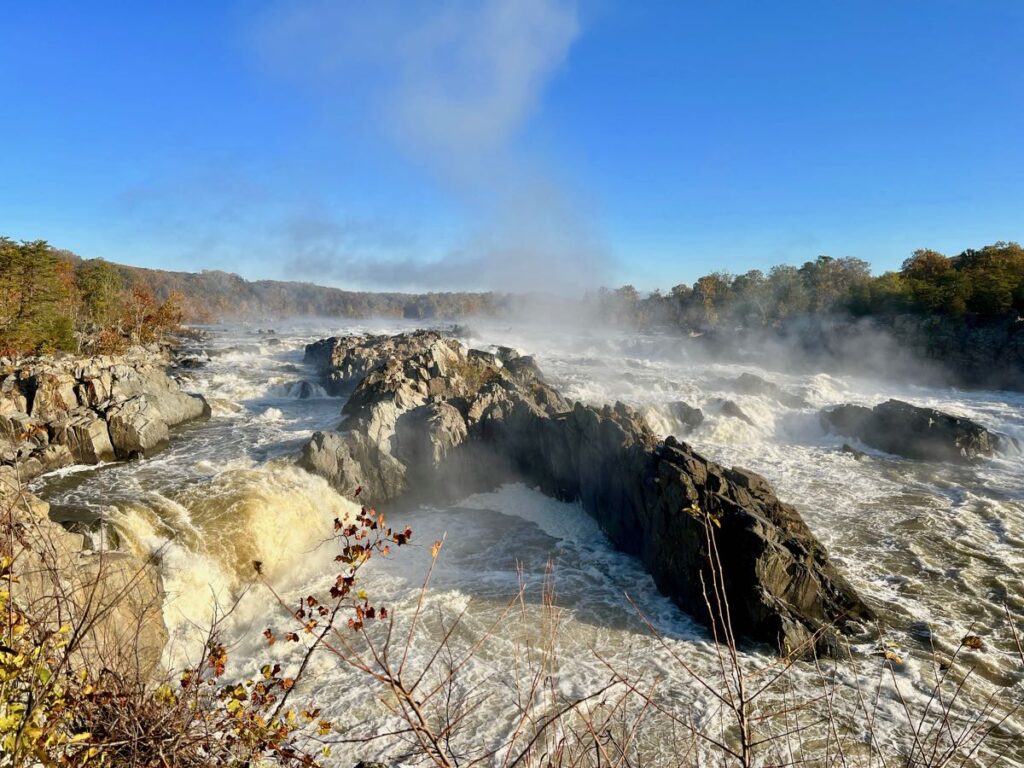 Compare these photos for a sense of how dramatically the Great Falls Virginia view can change. The first photo captures the water level on a quiet fall day. The photo below shows the same view with a raging Potomac River after a March storm and snowmelt.
See more waterfall photos and videos: Visit Great Falls Park Virginia Stunning Waterfalls.
2. Explore Great Falls Hiking Trails
Great Falls Park hiking trails cover 15 miles of the park on a mix of dirt and rock surfaces. The best Great Falls trails navigate the river-side cliffs and historic areas of the park.
Great Falls River Trail
Our favorite Great Falls hike follows the River Trail to dramatic views of Mather Gorge and the southern end of the park. You could hike the whole 1.5-mile trail, or turn back at the Mather Gorge sign, or Sandy Landing. Return on the Matildaville Trail for a nice loop hike.
If you hike the whole River Trail, stop at Cow's Hoof Rock for a picnic and view of the gorge. The River Trail is rocky and exposed to the cliffside in places. Use caution and watch children closely.
Plan a loop hike with our guide: River Trail Hike in Great Falls Park VA.
Hike Into Great Falls Park from Difficult Run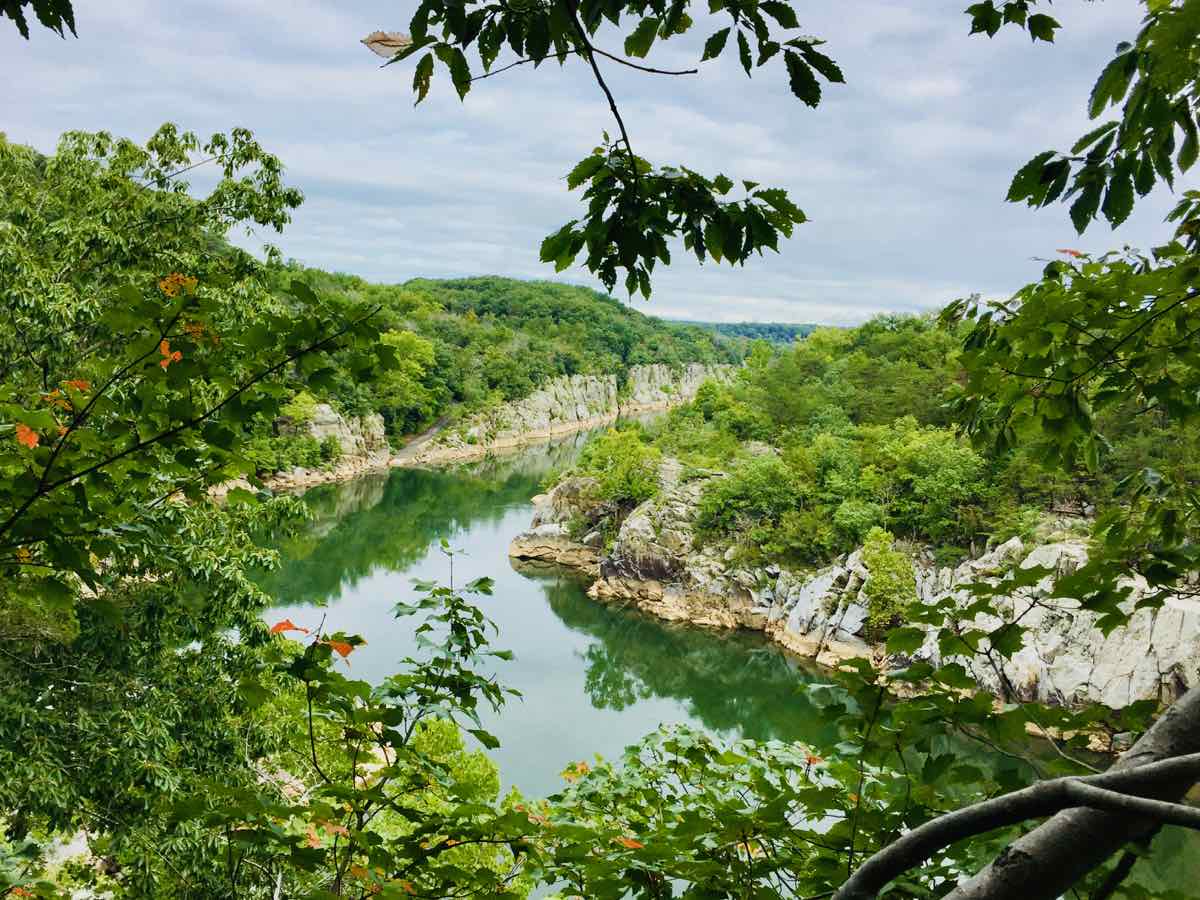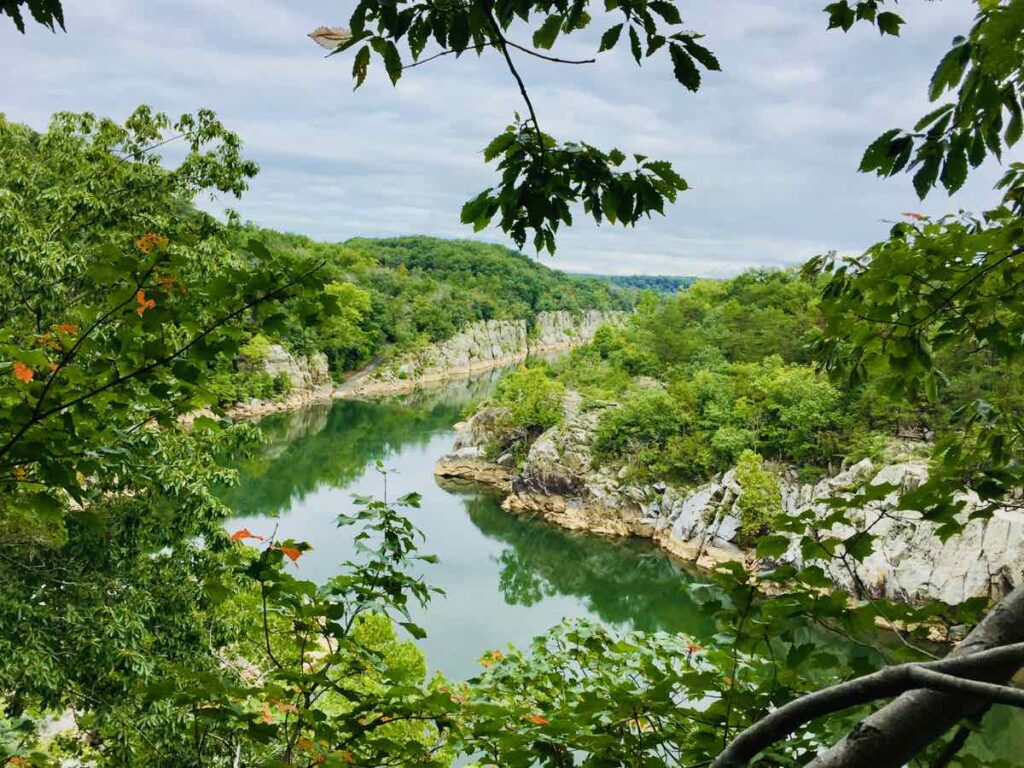 You can also reach the Great Falls River Trail and Cow Hoof Rock from the Difficult Run parking area outside the park. This route combines a portion of the Fairfax Cross County Trail along Difficult Run, with the River and Ridge Trails in Great Falls Park. Add in a segment of the Matildaville Trail to create a partial loop hike.
Plan your hike: Great Falls Loop Hike: Run Ridge and River
Hike the North River Trail to Riverbend Park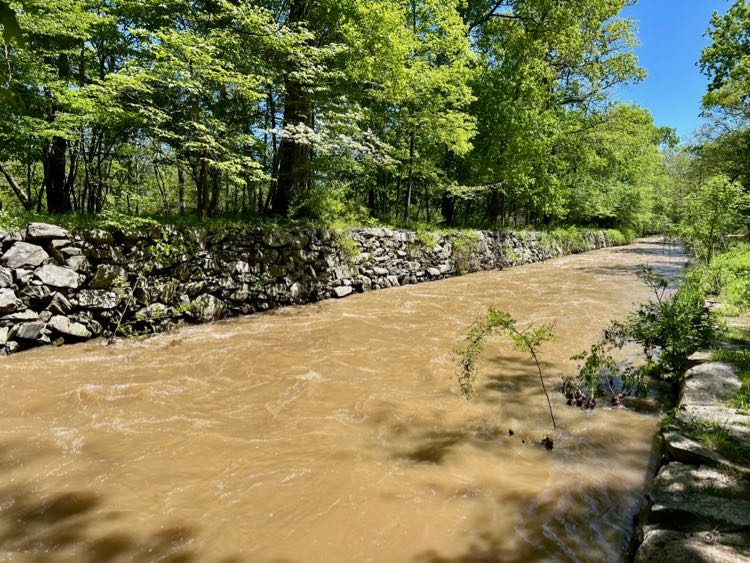 The North River Trail is a mostly level and easy hike that follows the Potomac River 1.5 miles to Riverbend Park. The trail offers nice river and canal views and is a quieter alternative to the popular Mather Gorge route.
Near the Visitor Center, the North River Trail follows a long section of the canal George Washington's company built to direct boating traffic around the falls (more info below). Further on, you'll pass Aqueduct Dam, which is a good turnaround point if you want a shorter hike.
Plan your hike: Potomac Hike: Riverbend to Great Falls Park VA
3. Enjoy Dramatic Views of Mather Gorge
Head to the Mather Gorge plaque for an excellent view of the gorge in both directions. You can reach the plaque via the River Trail or follow the more level Patowmack Canal Trail.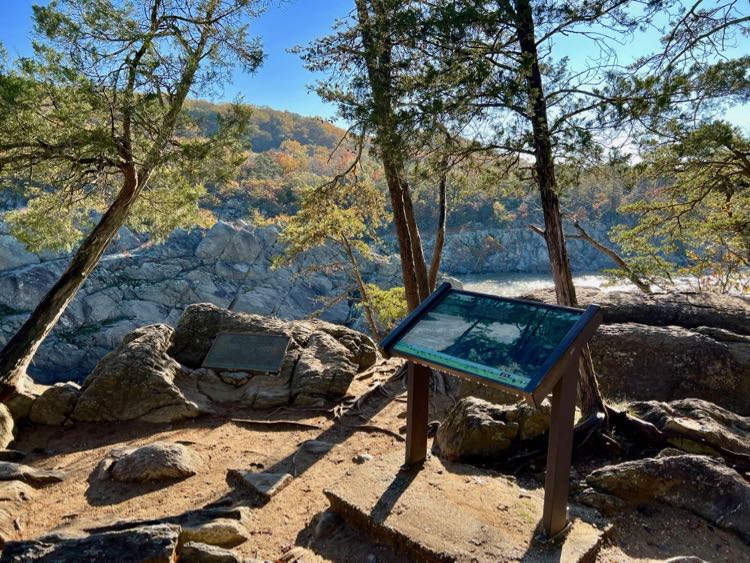 The gorge is named after Stephen T. Mather, who served as the first Director of the National Park Service. Hike the full River Trail (see above) if you want to see Mather Gorge from several viewpoints.
4. Learn About Great Falls Park VA at the Visitor Center
2023 Update: The Great Falls Visitor Center is closed for renovations, however, restrooms are open daily.
Stop in the Visitor Center for some background on the geology, history, and nature of Great Falls Park. There are displays and two short videos that will explain George Washington's role in creating the Patowmack Canal and the park's later fame as a popular trolley destination.
The Visitor Center also has information about the region's early inhabitants. There is a small activity area for children and a souvenir shop. Restroom facilities are located at the ground level, beneath the Visitor Center.
5. Explore History at Great Falls Virginia
Learn about the history of the park at the Visitor Center, then visit the remains of the Patowmack Canal and the small town of Matildaville.
Patowmack Canal
Great Falls Virginia was part of George Washington's ambitious project to build a navigable canal from Ohio to the Chesapeake. He hoped the river route would help to unite the fledgling country through trade.
"To make the river navigable by even shallow-draft boats, the Patowmack Company had to dredge portions of the riverbed and skirt five areas of falls. By far the most demanding task was building a canal with locks to bypass the Great Falls of the Potomac. "
At Great Falls Park, you can see several segments of the Patowmack Canal and the remains of the locks that lowered boats to the river below Mather Gorge.
Matildaville
The small town of Matildaville was constructed to support the building of the Potowmack Canal. The name honors the wife of Revolutionary War hero "Light Horse" Harry Lee. Today, there are only a few remains of the once-thriving enterprise.
Learn more of Washington's Virginia history: 5 Historic George Washington Sites in Northern Virginia
6. Relaxed Outdoor Fun at Great Falls Park Virginia
It's easy to spend a relaxing day in Great Falls Park. There is a large picnic area near the Visitor Center that is very popular on weekends. Picnic tables and grills are available on a first-come-first-served basis. You can also purchase food at the Snack Bar during summer months.
It's always a thrill to watch kayakers navigate the class 5 whitewater at Great Falls Park. Kayaking is especially popular during the summer when the water levels are more manageable. Even then, Great Falls kayaking is only for expert boaters who have the skill and training to navigate the treacherous rapids and falls.
Watch for kayakers from all three overlooks and along Mather Gorge. The photo below was taken from Overlook 1 and you can see our full kayaker video on Instagram. For even more drama, watch the Great Kayak Race from the Great Falls overlooks in August.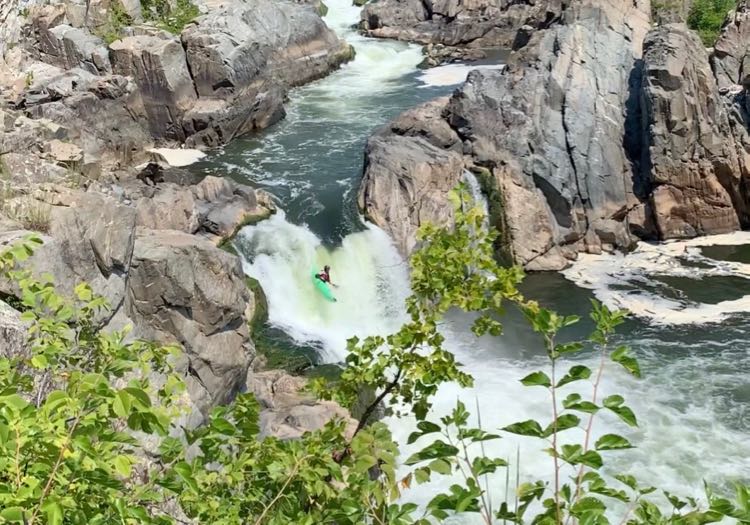 7. Active Outdoor Fun at Great Falls Park Virginia
Hiking is the most popular outdoor activity in Great Falls Park VA. See the section above for our favorite hikes in the park.
Rock Climbing is another popular activity in Great Falls. Sign in to the Hiker's Log at the Visitor Center then head to the area between Overlook 2 and Sandy Landing to pick your route.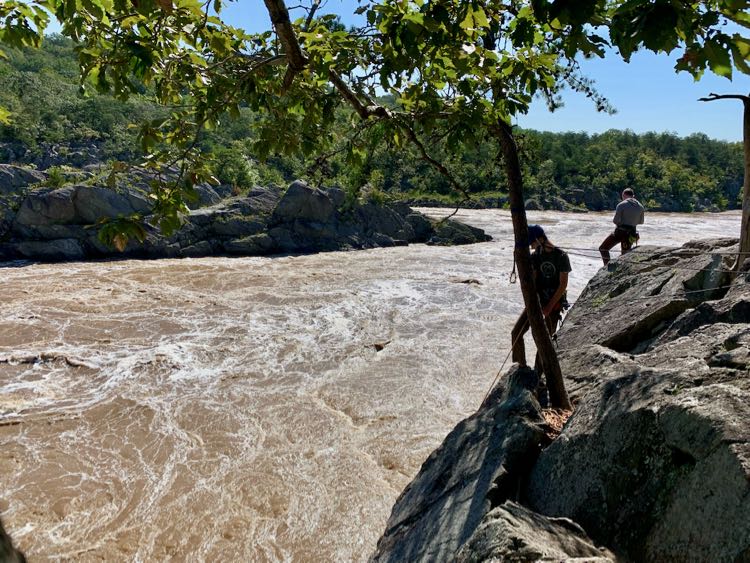 There are several trails open to bicycling and horseback riding, but we rarely see bikes in the park. The biking trails at Great Falls Park are set back from the river and don't offer good views of the waterfalls or the gorge.
Several private outfitters offer guided rafting and kayaking trips in the Potomac River Gorge. Outfitters generally put in from the Maryland side of Great Falls, which offers easier river access.
Note that wading and swimming are banned in the Potomac River Gorge. Anyone entering the water is subject to a hefty fine and grave danger. People underestimate the power of the Potomac River current, and multiple rescues and deaths occur every year.
8. Visit Nearby Potomac River Parks
There are several excellent parks along the Potomac River in Northern Virginia. These parks offer a great alternative to Great Falls when the park is overcrowded. You can also view and hike along Great Falls and Mather Gorge from the Maryland side of the Potomac River. Great Falls Maryland is part of the Chesapeake and Ohio Canal National Historical Park.
Here are nearby Northern Virginia parks on the Potomac River to explore: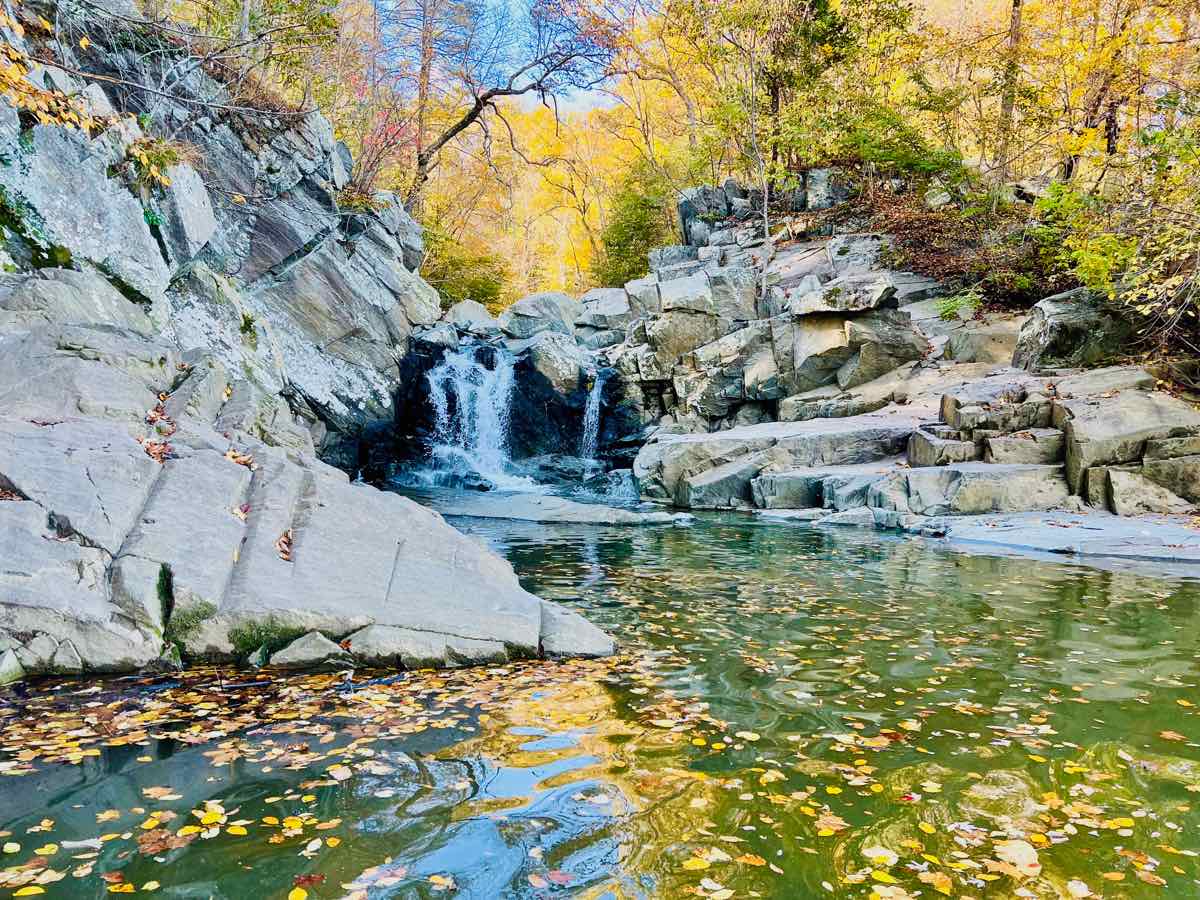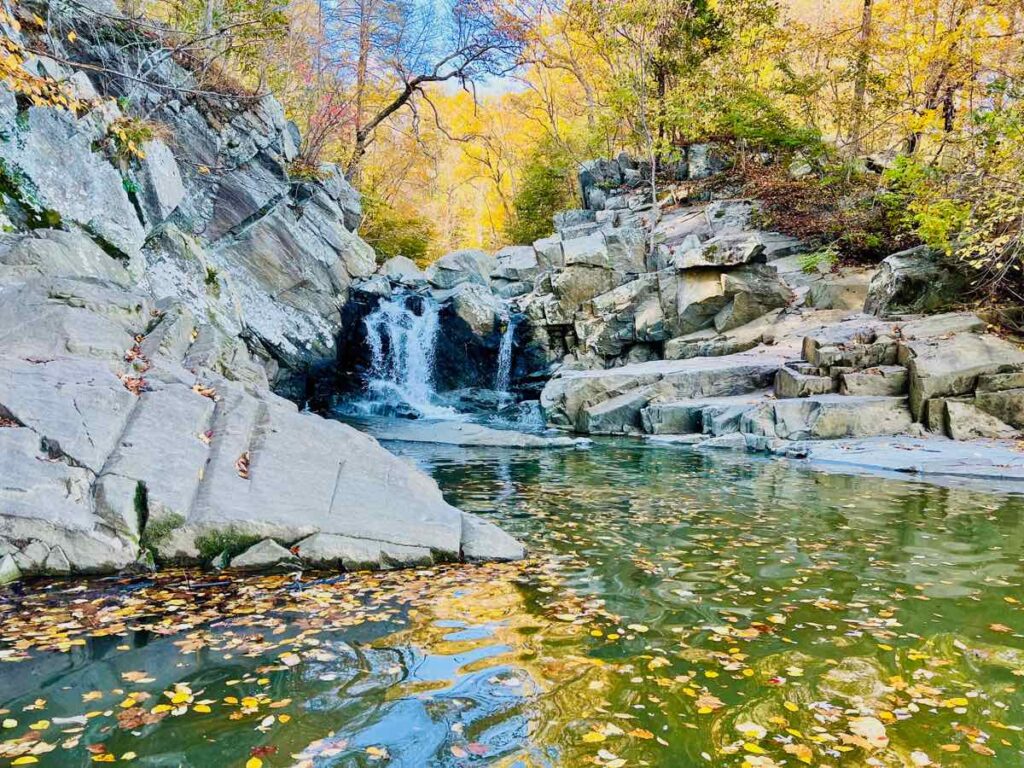 Essential Information for Your Great Falls Virginia Visit
Where is Great Falls National Park? The park is in McLean Virginia, but that's not its official name. While Great Falls is managed by the Park Service, it is not a separate National Park. Rather, it is part of the George Washington Memorial Parkway.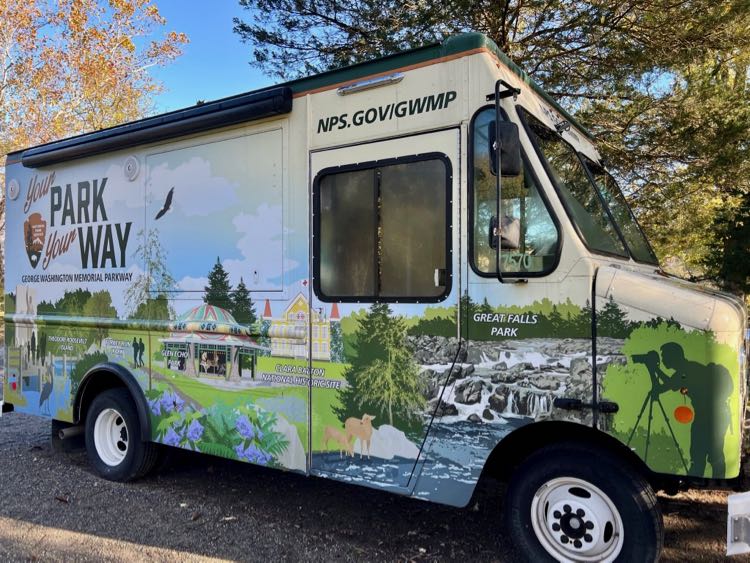 Great Falls Park Virginia is about 18 miles northwest of Washington DC at 9200 Old Dominion Drive, McLean VA. DC to Great Falls Virginia Map
Great Falls Park VA hours are 7:00 AM to 30 minutes after sunset, daily, year-round. The Visitor Center is open from 10:00 to 4:00 daily.
Admission to Great Falls is $20 per vehicle for a 7 consecutive day pass. Individuals entering on a motorcycle pay $15, and on foot, horse, or bike pay $10. The fee also covers entrance to the Chesapeake and Ohio National Historical Park in Maryland.
Tip: Since Great Falls Park is part of the National Park Service, fees are waived on National Park Free Entrance Days in the United States.
Great Falls Park also offers an annual pass for $35. The pass covers a vehicle with up to 4 occupants at both the Virginia and Maryland sides of Great Falls.
If you plan to visit frequently or visit multiple parks in a year, the National Park Pass is a fantastic value.
Leashed dogs are allowed throughout Great Falls Park.
Check the park website for special events and occasional closures.
Great Falls Park is a year-round park and a beautiful place to visit in all seasons. Winter snowmelt and spring rains often lead to dramatic water levels in the Potomac River. Summer brings kayakers and rock climbers to the park, and pretty fall foliage lines the rocky banks in Autumn.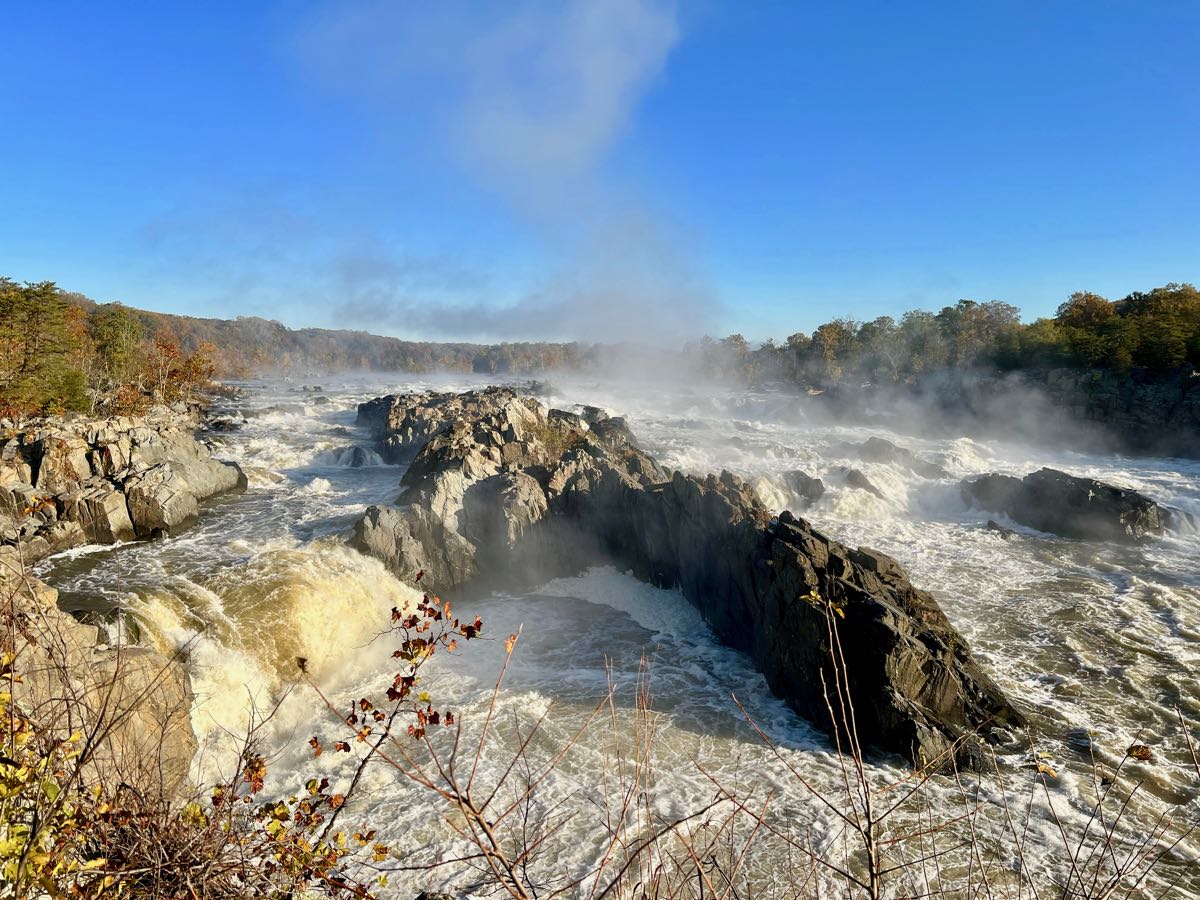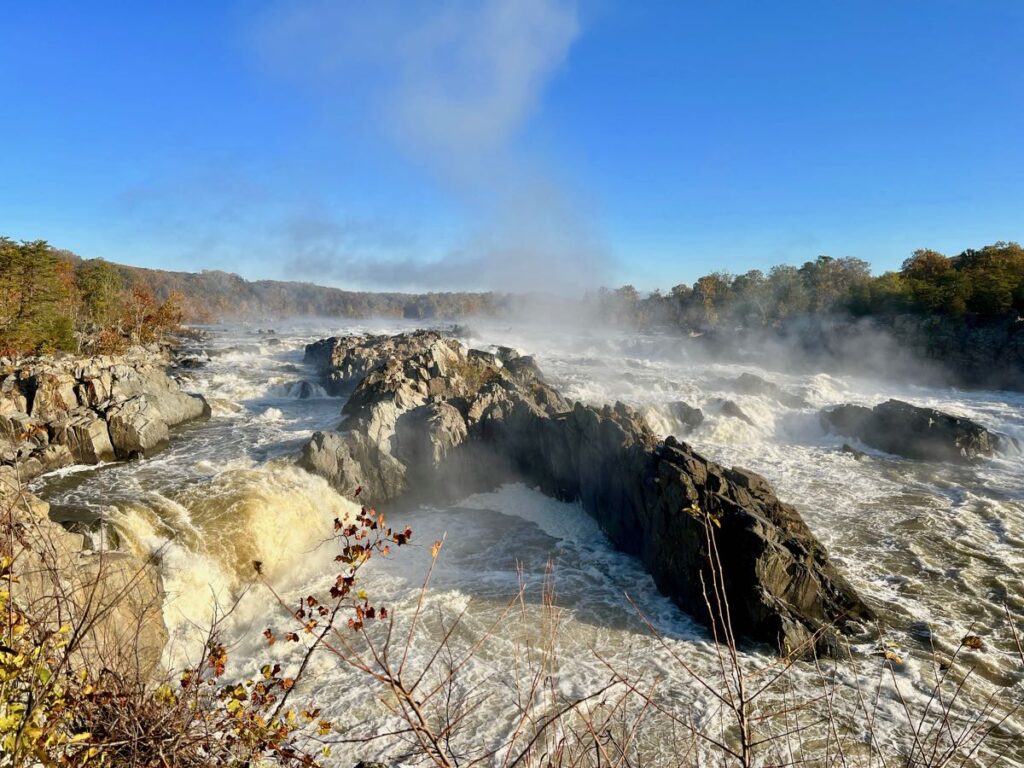 Ample car parking is available, but it does fill on weekends when the weather is good. Wait times to enter the park can reach an hour or more. If you arrive and the line is long, consider heading to one of these alternate nearby Northern Virginia parks.
There is no public transportation to Great Falls Park. Reserve a Zipcar and make the park part of a Virginia day trip in the Washington DC area.
Where to Eat in Great Falls Virginia
There are many dining options in the town of Great Falls; here are a few of our favorites:
The popular Old Brogue Irish Pub has been serving traditional Irish fare to locals and visitors for many years. In warm weather, the outdoor patio is one of our favorite spots to refresh and cool down after a hike at Great Falls or Riverbend Park.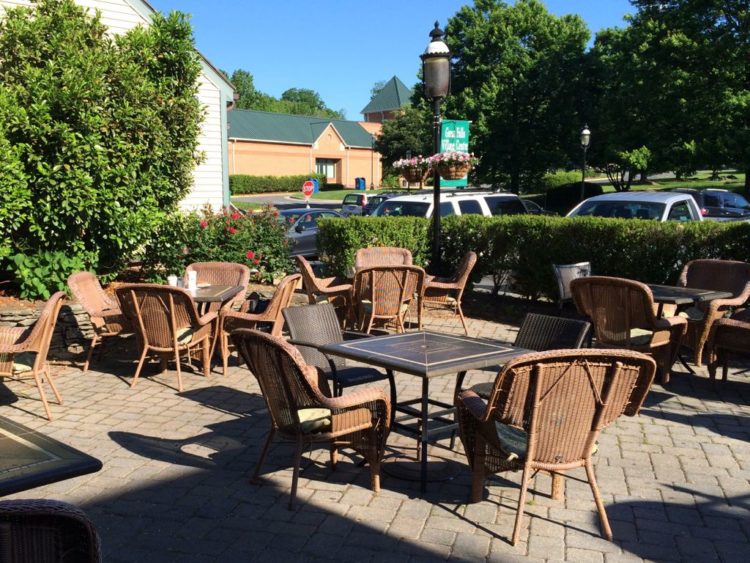 Bollywood Bistro, like its counterpart in Old Town Fairfax, offers a lovely ambiance, contemporary Indian cuisine, and friendly service, at its Great Falls location.
If you just want a treat, Great Falls Creamery serves delicious ice cream right around the corner from the Brogue. The small shop is one of the best ice cream shops in Northern VA.
Mookie's BBQ is a casual spot for some tasty barbecue and a cold craft beer.
The venerable L'Auberge Chez Francois has been a popular, family-run destination since the Great Falls location opened in 1976. Hidden on a quiet country road, L'Auberge serves award-winning lunch and dinner with a French country feel. It's more upscale than the options above and is perfect for a romantic dinner or special occasion or to impress visitors.
Explore more: 15 Fun Northern Virginia Small Towns to Visit Now
Where to Stay Near Great Falls VA
There is no lodging or camping in Great Falls Park, but there are plenty of places to stay near Great Falls VA. The Hyatt Tysons Corner makes a great base for exploring Northern Virginia and it is right next to a metro stop so you can easily visit Washington DC. The Ritz Carlton Tysons Corner is similarly located.
The Fairfax County Park Authority offers excellent campgrounds near Great Falls at Lake Fairfax Park and Burke Lake.
Great Falls Park is number 1 on our list of the Top 10 Must-Visit Northern Virginia Attractions. The park is just a short drive from Washington DC but feels worlds away. Great Falls Park is a wonderful escape to beautiful nature, interesting history, and lots of outdoor fun for every age. Find more information and follow Great Falls Park: web | Facebook | Twitter.
Follow us on Facebook, Twitter, Pinterest, and Instagram for more fun travel in and from Northern Virginia.