These 6 hike and beer day trips combine a little exercise in the great outdoors with the relaxing payoff of a cold Virginia craft brew. Hike and beer day trips celebrate great weather and Virginia's thriving craft brewery scene, exploring new trails and taprooms near Washington DC.
1. Raven Rocks and Dirt Farm Brewing, Bluemont
Plan your visit: 15 Fantastic Fun Things to Do in Bluemont Virginia.
Work up a thirst on a hilly section of the Appalachian Trail known as the roller coaster. Just shy of 3 miles on the trail you'll reach the rocky outcropping known as Raven Rocks. Your payoff for the effort is a beautiful open view of the Shenandoah Valley and distant mountains.
Disclosure: This article may contain affiliate links. We will make a small commission from these links if you order something, at no additional cost to you.
Like the Raven Rocks hike, Dirt Farm Brewing has a spectacular view. The transition from rock ledge to rock patio is short, and this time your car gets to handle the ascent. Dirt Farm focuses on small-batch handcrafted beer from fresh ingredients grown on the owner's family farm, Great Country Farms. You'll find traditional brewing style ales and many seasonals, including an excellent pumpkin ale. There are several more craft breweries, all part of the LoCo Ale Trail, in nearby Purcellville.
Map: Raven Rocks to Dirt Farm Brewing
2. Bears Den Overlook and Bear Chase Brewing in Bluemont VA
If you prefer a much shorter and easier hike, head to nearby Bears Den Overlook. You can hike from the parking area on route 7, or park near the Bear's Den Shelter. You can also extend this hike by continuing further on the Appalachian Trail.
Bears Den Overlook hike details.
After your hike, head across the street to Bear Chase Brewing Company. The brewery offers beautiful views and tasty brews in a large indoor/outdoor space. If you're hungry, try one of the huge pretzels, pizza, or something from the on-site food truck.
3. Bull Run Occoquan Trail and BadWolf Brewing, Manassas
Start your hike in Fountainhead Park, the southern end of the 18 mile Bull Run Occoquan Trail. The wooded trail travels up and down hills and along the edge of the Occoquan Reservoir. Our suggested route follows the trail 6.5 miles to the turn-around at Bull Run Marina, but you could extend longer or turn back sooner. If you'd rather bike than hike, Fountainhead offers some excellent mountain biking trails with three levels of difficulty.
Bull Run Occoquan Trail hike details.
Pick your beer destination based on your preferred driving direction. We suggest heading northwest to BadWolf Brewing in Manassas. They offer generous flights and a range of flagship, seasonal, and experimental beers on tap. If you'd rather head toward DC after your hike, Fair Winds Brewing is a short drive northeast in Lorton.
Map: Fountainhead Park to BadWolf Brewing
4. Seneca Park and Lake Anne Brew House, Reston
Great Falls Park gets the attention, but Seneca Regional Park is a beautiful place to hike through quiet woodlands and a portion of the Potomac Heritage Trail (PHT) along the river. Take an easy loop hike through the park, or extend your mileage by continuing beyond park boundaries. The PHT continues south into Riverbend Park and on to Great Falls.
Seneca Regional Park hike details.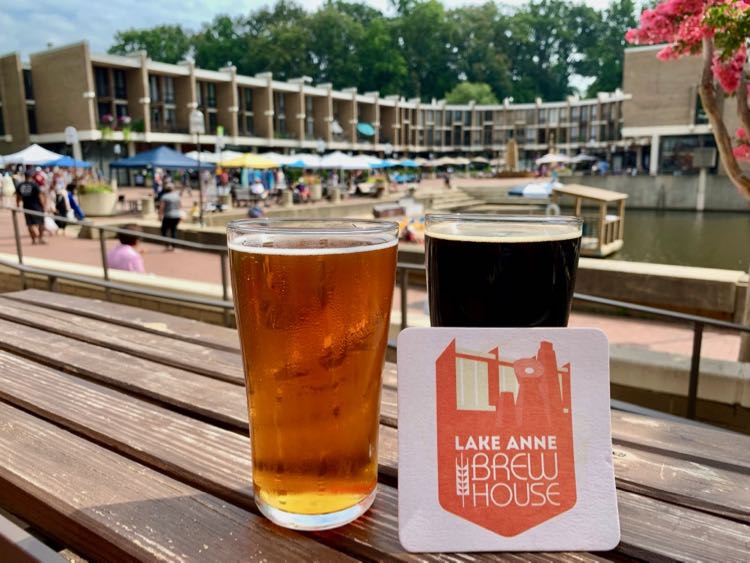 When you're ready for a rest, the Lake Anne Brew House in Reston is just 20 minutes away. The nanobrew has a comfortable porch with nice views of Lake Anne and Reston's original neighborhood plaza. Inside, the space is small but sleek and comfortable. Flagship, Reston-inspired beers like Reston Red and Simon's Stout share the taps with seasonal and special releases. If you're hungry, several restaurants surround the plaza.
Another option for your post-hike beer is Bike Lane Brewing, a great small brewery in Reston right next to the W&OD bike trail.
Map: Seneca Park to Lake Anne Brew House
5. Eagle Point and Winchester Brew Works, Winchester
An official side-trail of the AT, the blue-blazed Tuscarora Trail hugs a stretch of the Virginia / West Virginia border that leads to an incredible view from Eagle Point. It's just 1.5 miles to the viewpoint, but hikers can extend the distance by continuing to a later turn-around point. If you stick to the 3 mile out-and-back, allow time to soak in the view before your descent.
After the hike, it's off to Winchester for beer from one of three craft breweries in the downtown area. Winchester Brew Works is a woman-owned nanobrewery with 9 taps and a constantly changing beer rotation. The tap room at Alesatian Brewing is right in the pedestrian Old Town area, a fun place for dining, shopping, and history. Escutcheon Brewing is the third in-town taproom, pouring a diverse line-up from 10 taps.
Discover more fun things to do on a visit to Winchester.
Map: Eagle Point to Winchester Brew Works
6. Big Schloss or Tibbet Knob and Woodstock Brewhouse, Woodstock
For a truly gorgeous, nearly 360 degree view, it's hard to beat Big Schloss. The first .7 miles of the hike is very steep and rocky, then the trail levels out on a ridge with great views. A final climb up a spur trail leads to the open, rocky summit. During the fall, foliage views from the summit are absolutely outstanding. For more mileage, add on a hike to the Tibbet Knob summit, accessed from the same Wolf Gap Campground parking area.
Woodstock is a wonderful stop on a road trip through the Northern Shenandoah Valley.
Big Schloss hike and Tibbet Knob hike details.
In the center of town, Woodstock Brewhouse offers a nice selection of Virginia craft beer along with huge pretzels and tasty flatbread pizzas. The open space is hopping on Thursday nights when live music amps up the volume and the energy.
Map: Big Schloss to Woodstock Brewhouse
Hike and Beer Day Trip Tips
The trails on our hike and beer day trip list range from easy to moderately challenging (at least for casual hikers like us). Two trails are family friendly woodland walks, and three are steeper hikes to incredible views.
Brewery and taproom hours vary widely, and many smaller businesses are closed early in the week, Follow the links for schedules, beers lists, and special events. If you plan to hike with a four-legged friend check for trail rules about dogs. Fortunately, many craft breweries have expansive outdoor patios and indoor tasting rooms that welcome pets.
Prefer wine over beer? Check out our list of 5 hike and wine day trips.
Beer lover? Check out these 12 Terrific Virginia Beer Trails.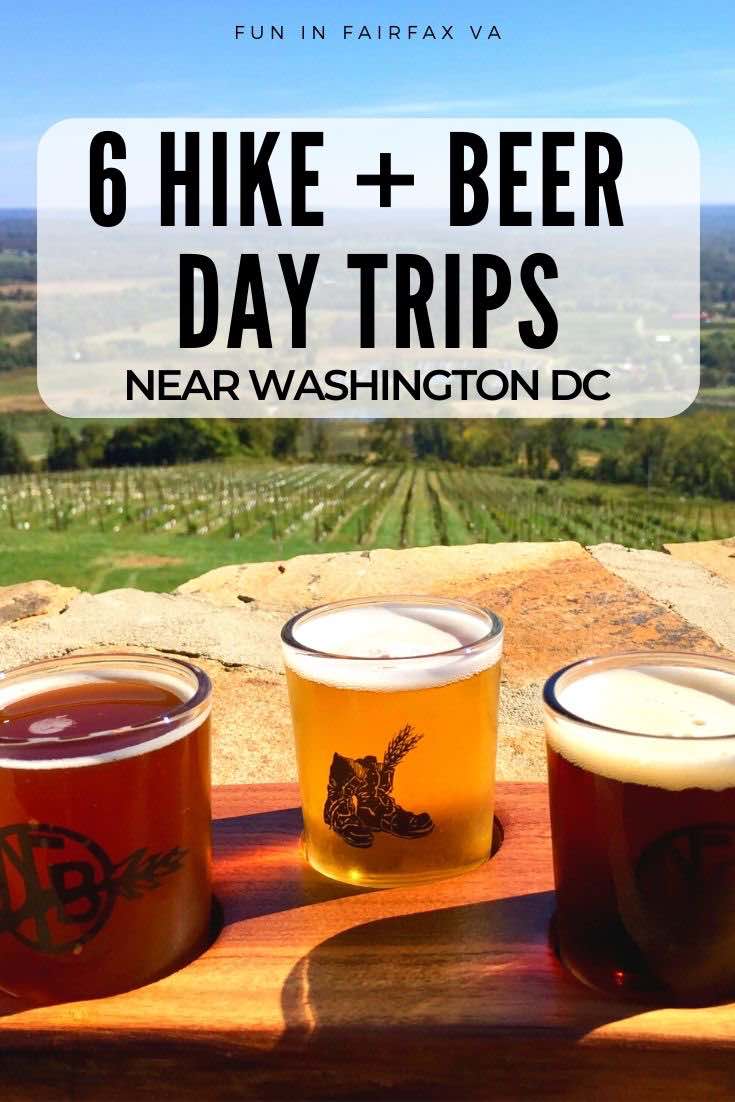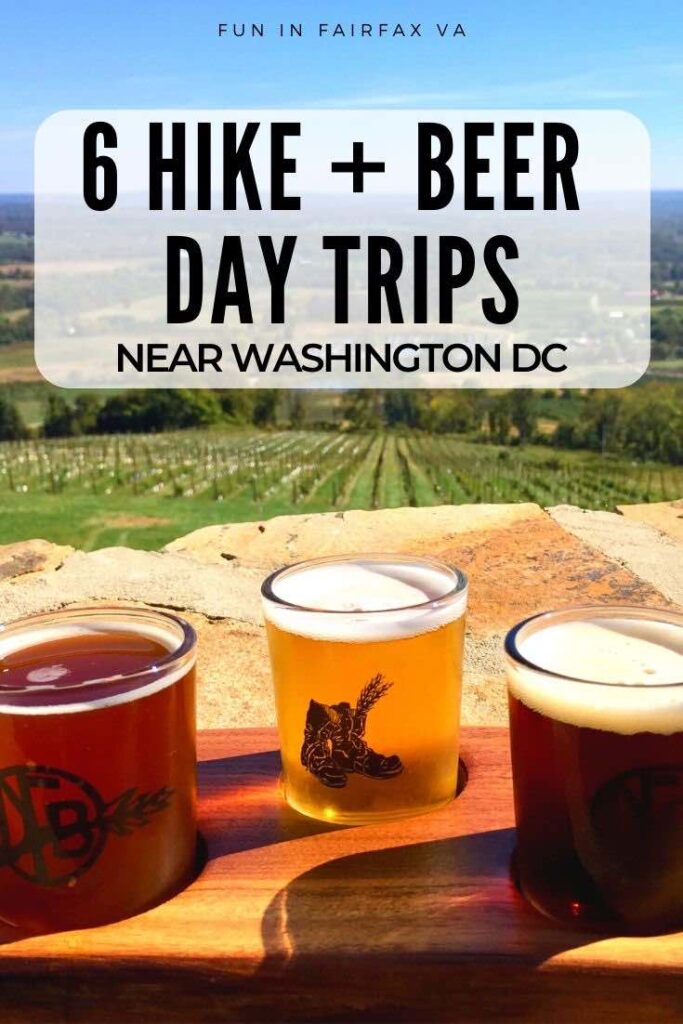 Follow us on Facebook, Twitter, Pinterest, and Instagram for more fun travel in and from Northern Virginia.
This article was published in 2017 and updated in 2019 and 2020.