Virginia hike and wine day trips combine two of our favorite things—a chance to get out and enjoy nature, and a relaxing and delicious glass of Virginia wine. These hike and wine outings in Northern Virginia make perfect day trips for outdoor lovers in the Washington DC area.
Northern Virginia residents and visitors to DC are lucky to have so many beautiful wineries and excellent hiking trails close by. In fact, all of the hike and wine outings on our list are 60 miles or less from Washington DC. Fortunately, you can reach these parks and wineries on scenic drives that set the mood for a day in the country.
Below are our favorite hike and wine pairings in the DC area. Follow the links for hike details plus suggestions on things to do nearby.
Disclosure: This article may contain affiliate links. We will make a small commission from these links if you order something, at no additional cost to you.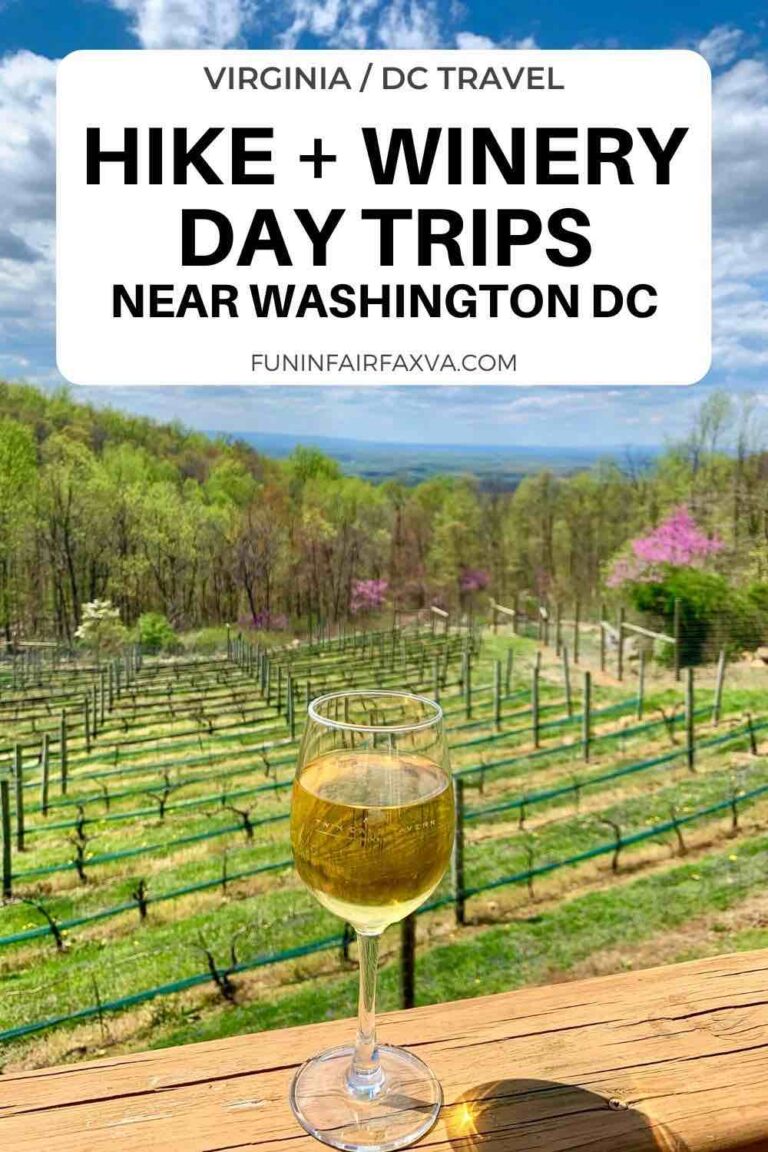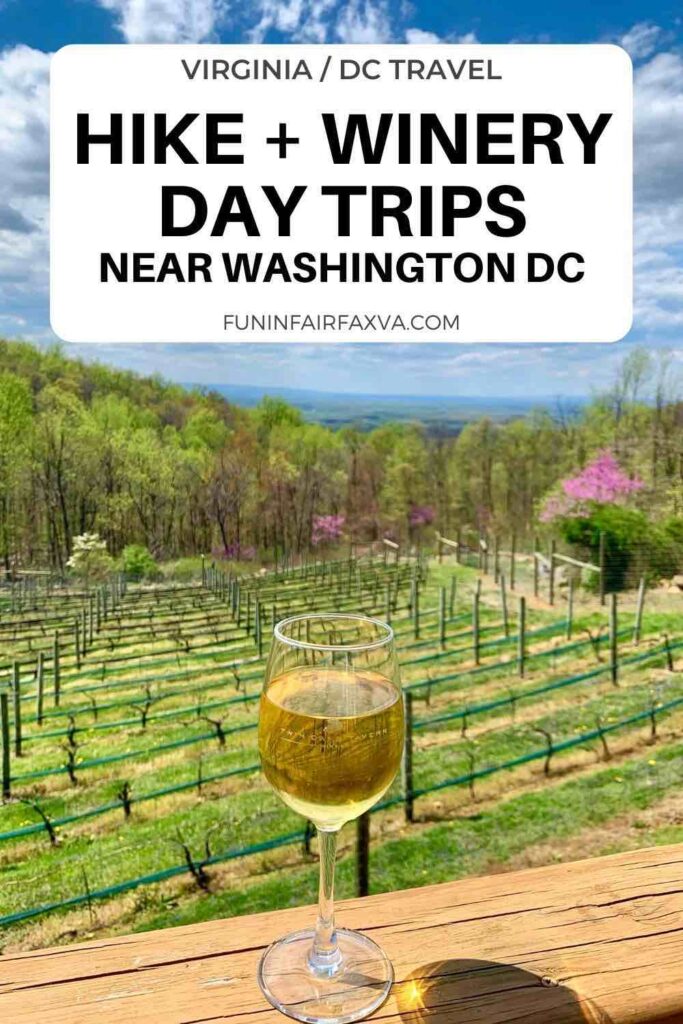 Calling all craft beer lovers! Plan your perfect outing with our guide to Virginia Hike and Beer Day Trips Near Washington DC.
Pair a gorgeous view of the Virginia Piedmont with a cozy barn-side winery and you have a perfect day trip in Northern VA. Plus, there are several more great breweries and wineries nearby.
Plan your trip: Sky Meadows State Park hike details
You'll find open fields, wooded hills, and beautiful views when you hike the trails at Sky Meadows State Park. A 4-mile loop hike culminates in a gorgeous view of the valley from the Piedmont Overlook Trail. The park includes 17 miles of trails, a segment of the Appalachian Trail and a 1-mile interpretive trail, so you can choose your level of difficulty.
After your hike, there are several great wineries nearby. If you have a mix of wine and beer-lovers in your group, head to Barrel Oak Winery and Farm Taphouse. Enjoy your wine and beer by the fireplace, or head outside for vineyard and mountain views. In the fall, you can combine your hike and wine outing with apple picking at nearby Valley View Farm.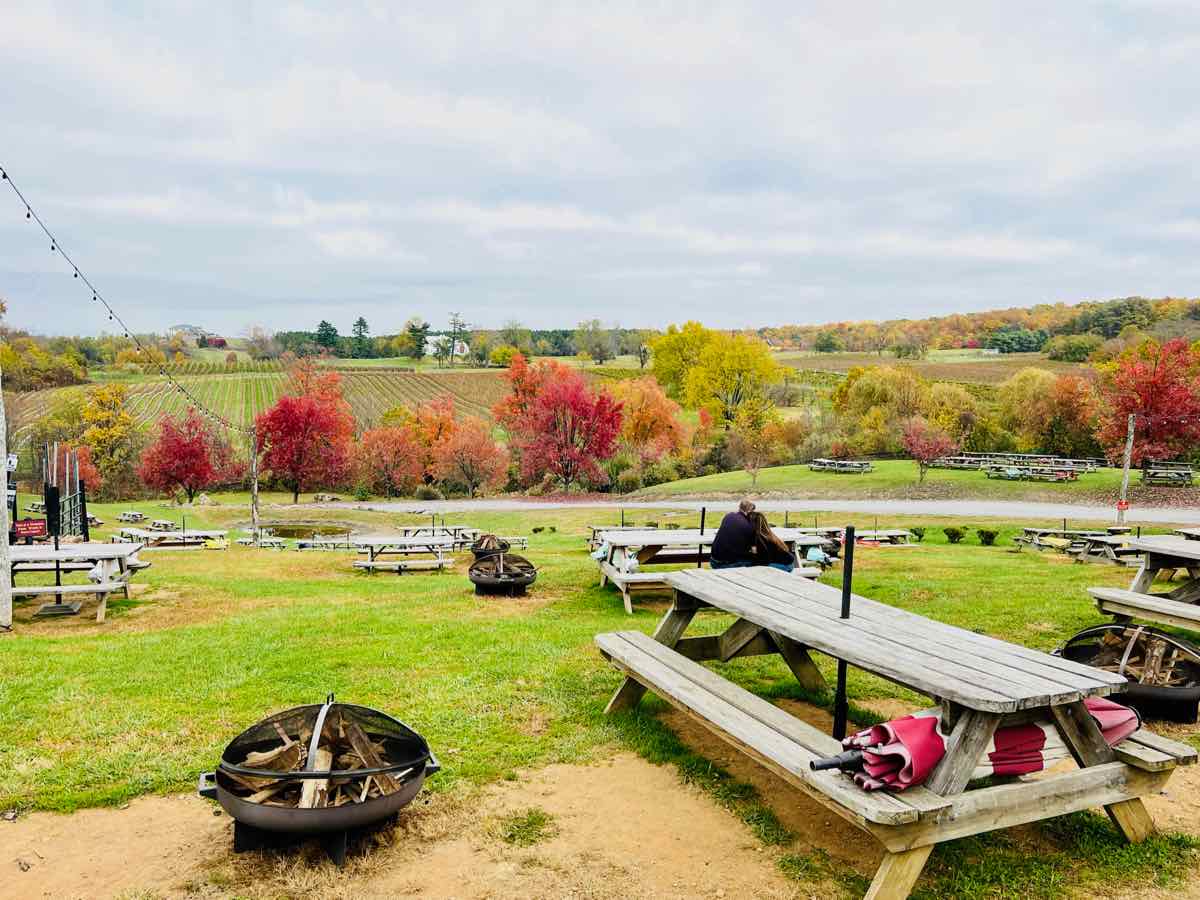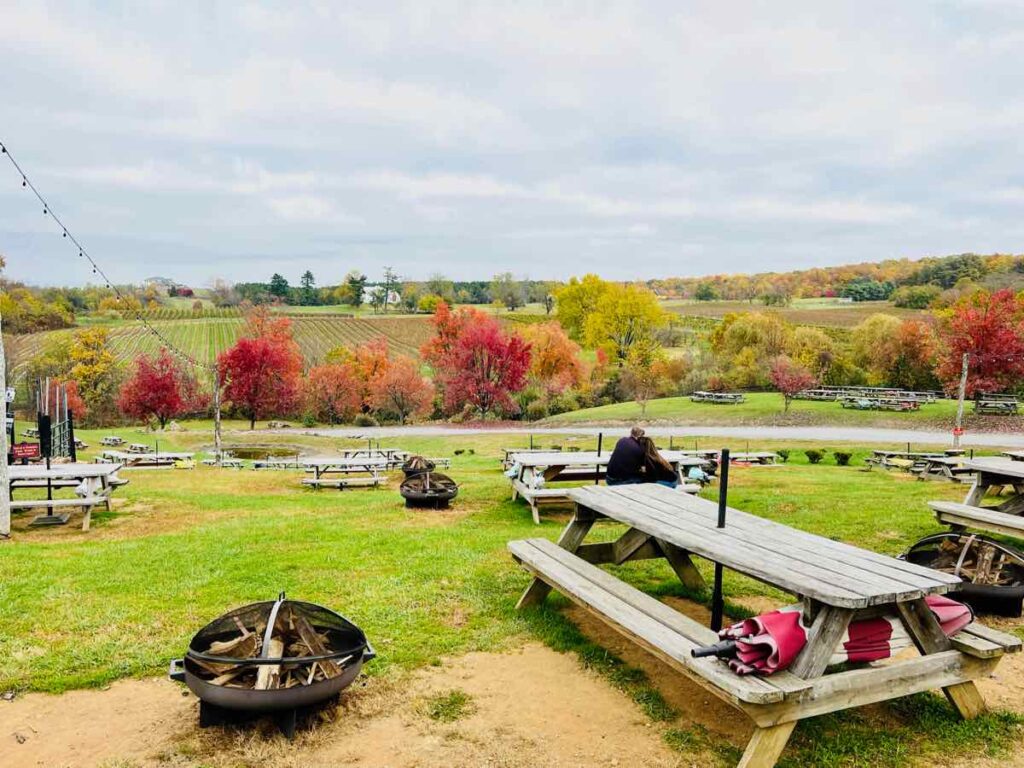 There are several other wineries near Sky Meadows. For example, Three Fox Vineyards in nearby Linden has one of our favorite winery views. When the weather is cold, we love the cozy fireplace and comfy seating at Aspen Dale Winery. Other nearby wineries include Arterra, Delaplane Cellars, and Naked Mountain. You can visit Sky Meadows and all of these wineries on a scenic drive through Virginia Hunt Country.
If you're looking for a hike and winery close to Washington DC, this combination makes an ideal day trip. It's very convenient too because the trailhead parking lot is right across the street from the winery.
Plan your trip: Bull Run – Occoquan Trail hike details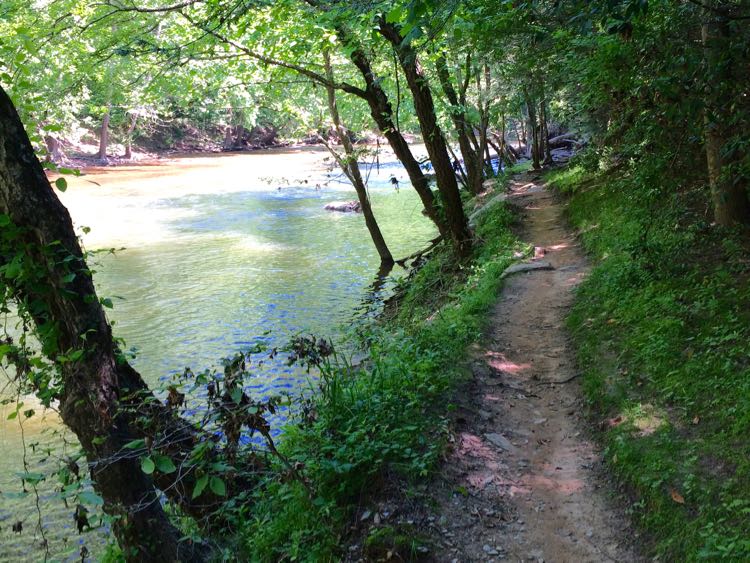 A nice segment of the Bull Run – Occoquan Trail begins on Yates Farm Road in Clifton and follows Bull Run (a run is a stream) in either direction. The path next to the water has some rocky sections but is a level, easy hike that's also great for kids.
This trail segment has the distinct advantage of ending right next to lovely Paradise Springs Winery, the closest winery to Washington DC. Celebrate your walk in the woods with a nice glass of wine on the front patio, huge lawn, picnic tables by the vineyard, in the tasting room, or on the enclosed back porch.
Extend your outing with a stop in quaint and historic downtown Clifton, which has excellent restaurants, shops, and historic sites to check out.
This is the perfect hike and wine combination for history lovers. Both the trail and the winery itself have fascinating Civil War stories to tell.
Plan your trip: Manassas Battlefield hike details.
Cooler days are perfect for hiking the open fields of Manassas National Battlefield, where you can immerse yourself in the details of two important Civil War battles. We enjoy the 5-mile First Manassas loop, but shorter hikes are available from the Visitor Center and the old Stone Bridge.
After your hike, continue your history lesson with a visit to The Winery at Bull Run. Picnickers gathered here to watch the Battle of First Manassas unfold, and some even became caught up in the action. There is plenty of space and seating inside and out plus a separate outdoor area for families with children.
Enjoy a quiet hike through this battlefield by the Potomac River, then relax at one of several pretty wineries and breweries in Leesburg. You can visit both Balls Bluff and Lost Creek on a scenic drive through Leesburg wine country.
Plan your trip: Balls Bluff hike details.
The first Civil War engagement in Loudoun County took place at Balls Bluff. The park has an excellent interpretive trail that explains how the battle unfolded. Other trails include sometimes steep, wooded hikes to the river and a segment of the Potomac Heritage Trail. Nearby Red Rock Wilderness Overlook also offers wooded hiking along a bluff and down to the Potomac River.
After your hike through history, relax at one of several Leesburg wineries east of route 15. We like the Winery at Lost Creek for the quiet setting and the comfy seats under a vine-draped pergola in front of the tasting barn. Other options in the area include Fabbioli Cellars, which pairs savory and sweet bites with their tastings, and Tarara Winery, which has a nice patio in the treetops. The route to all of these wineries is one of our recommended scenic drives in Northern Virginia.
Spend the night! 17 Fantastic Northern VA Wine Country Vacation Rentals and Airbnbs
Bluemont is one of our favorite places to combine hiking and a winery or brewery visit. Just an hour west of DC, the tiny town is packed with gorgeous scenery, great trails, and cool places to relax.
Plan your visit with our guide to 15 Fantastic Fun Things to Do in Bluemont Virginia and our detailed guide to the Bears Den Overlook hike.
The Bear's Den Overlook is one of the most beautiful and easy to reach viewpoints in Northern Virginia. Take the half-mile steep trail to the overlook, park in the day use area for an easy stroll to the rocks, or extend your hike on the Appalachian Trail. This is a great hike for families, and it gets busy on nice weekends. The nearby Raven Rocks hike offers a more challenging stretch of the Appalachian Trail to another gorgeous viewpoint.
Bluemont Vineyards is just a short drive from the Bear's Den hike. They make a great hike and wine combo because the overlook gives a westward view, and the winery gives an eastward view, from the same ridge. When the sky is clear, you can see the buildings of Tysons Corner from the porch at Bluemont.
Beer drinkers can head next to neighboring Dirt Farm Brewing, owned by the same family and with the same awesome view. In the fall, you'll find extra family fun at the pumpkin patch at Great Country Farms. There are also several great places to eat, drink, and shop in nearby Purcellville.
6. Cool Spring Battlefield and Twin Oaks Tavern Winery, Bluemont
Hike or bike on paved trails by the Shenandoah River at Cool Spring Battlefield, then catch one of the prettiest views in Bluemont at Twin Oaks Winery. Bonus points if you visit late in the day to catch the stunning sunset from Twin Oaks.
Plan your visit: Cool Spring Battlefield Hike.
Cool Spring Battlefield is a less rugged trail with its own great payoffs. The former golf course has been transformed into a beautiful natural site managed by Shenandoah University. Paved golf carts give hikers easy access to meadows and woods by the river. A natural trail at one end leads to a pretty waterfall, and a very steep section climbs to a gorgeous view.
The trails at Cool Spring are also open to biking and leashed dogs. Most of the trail is stroller-friendly, as long as you avoid the steep section and don't mind some small hills.
After your hike, take a short drive up the ridge to Twin Oaks Tavern Winery for excellent Virginia wine and a spectacular view. Twin Oaks was once a tavern welcoming visitors from Washington DC who came to Bluemont by train to enjoy the country air. Owners Donna and Bob Evers saved the property from fire damage and neglect then planted a vineyard.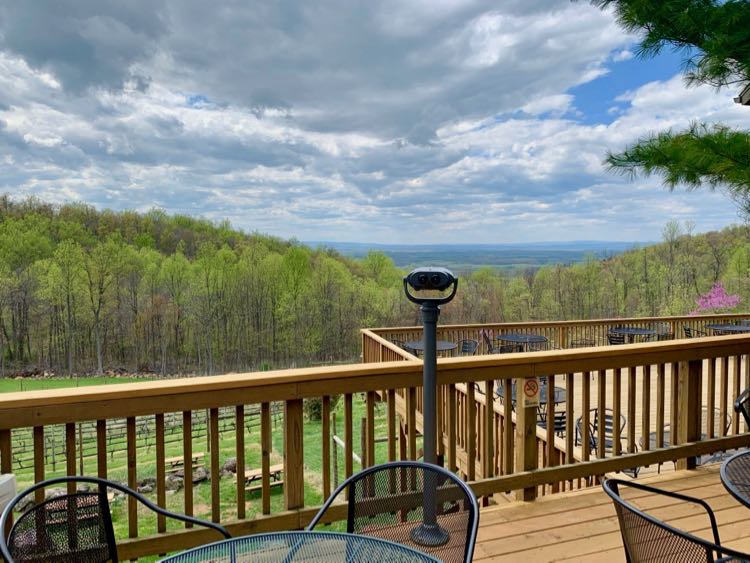 Today the family grows Chardonnay, Cabernet Franc, and Merlot at the beautifully restored mountain setting. Their tasting room with expansive windows and decks takes in the spectacular view and one of the best sunsets in Northern Virginia.
The Neabsco Creek Boardwalk is one of the newest trails in Northern Virginia and it's perfect for an easy hike. The 3/4-mile long boardwalk winds above the wetlands along Occoquan Bay in Woodbridge Virginia. This is a great destination for bird-watching, and you can extend your hike at nearby Prince William Forest.
You'll find Effingham Winery a short and scenic drive west of the boardwalk, in Nokesville. This is an adults only winery, housed in an historic manor house. Relax in two tasting bars and several rooms in the manor house, or a separate tasting barn that opens on weekends. On a nice fall day, you can't beat the lovely porch surrounded by colorful maple trees.
Neabsco Creek Boardwalk hike details. Find more great hikes in 6 Beautiful Boardwalk Hikes in Northern Virginia.
Check out the tallest stacked stone building in the US and hike the trails at this quiet nature preserve. Then sip wine inside and around an historic home nearby.
Plan your visit: History and Hiking in Prince William County
The Bull Run Mountains are the most easterly mountain chain in the Virginia Piedmont. Explore the unique nature and history of the area at the Bull Run Mountains Nature Conservancy. While a beautiful overlook hike was closed in early 2015, there are still several miles of easy hiking trails available.
Interesting historic sites along the lower trails include an old mill house, cemetery, and quarry trench. On weekends, you can explore the dramatic ruin of Chapman's Mill (aka Beverly Mill), thought to be the tallest stacked stone building in the United States.
Nearby, the Winery at La Grange is a lovely setting with a restored 1790s manor house tasting room. Enjoy a glass of wine on Adirondack chairs facing the vineyard or gather your group at picnic tables, the outdoor tasting bar, or the stone fireplace. Down the hill, families have room to play catch and corn hole, with plenty of space for the kids. Indoors, another tasting bar, an enclosed sun porch, and a reportedly haunted basement offer space for cooler days.
More Northern VA Wine Country Hiking Trips
Here is a map of the trails on our hike and wine list. If time allows, use the scenic routes recommended above to add more fun to your day trip. Happy hiking and cheers!
Here are two more ideas for hike and wine outings in Northern Virginia:
Great Falls Park and Fairfax County Wineries
While there are no wineries next to Great Falls Park, two Fairfax County vineyards are not so far away. The Winery at Bull Run and Paradise Winery are both about 27 miles from Great Falls (see info on each winery above). Great Falls Park hike details.
Burke Lake Park and Paradise Springs
This is a family-friendly wine combination, perfect for a wine and hike trip with kids. The 4.5-mile trail around Burke Lake is level, and the park also offers mini-golf, a train, and a carousel in season. Paradise Springs has a large kid-friendly field and you can bring your own picnic. Note that kids are not allowed on the back porch, where bands perform on weekends. Burke Lake hike details.
Follow us on Facebook, Twitter, Pinterest, and Instagram for more fun travel in and from Northern Virginia.