Warm weather means the return of Northern Virginia boating and paddling fun to the beautiful lakes, rivers, and bays of the Washington DC region. Whether you're looking for a casual float, an active paddle, or fishing fun, we've found facilities perfect for a summer day.
The 2022 boat rental season offers a great selection of places to paddle and safely enjoy the outdoors. In 2020, Tall Ship Providence added a historic and fun cruise option to the Alexandria waterfront (scroll down for details).
The Potomac and Occoquan Rivers, estuaries of the Chesapeake Bay, and several lakes all offer opportunities for Northern Virginia boating and paddling. Note that boat rentals are seasonal and some are restricted to weekend hours.
In addition, many parks have public boat launches for a modest fee to visitors with their own watercraft. Follow the links for details on marina hours, prices, and age restrictions.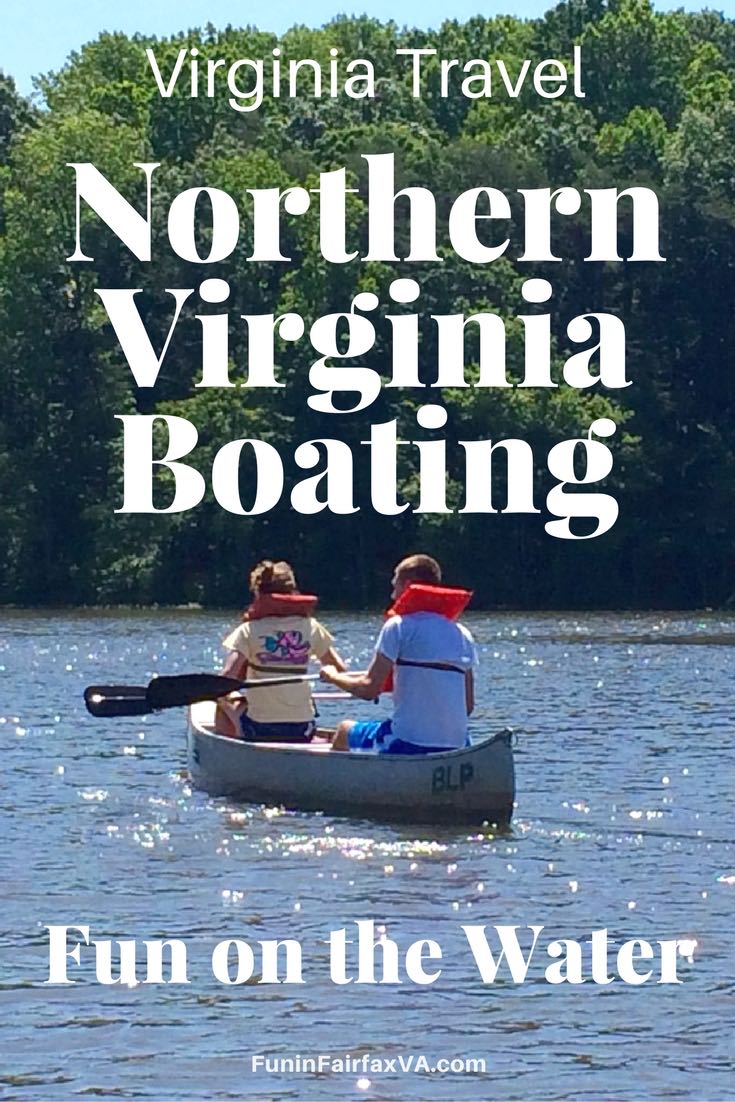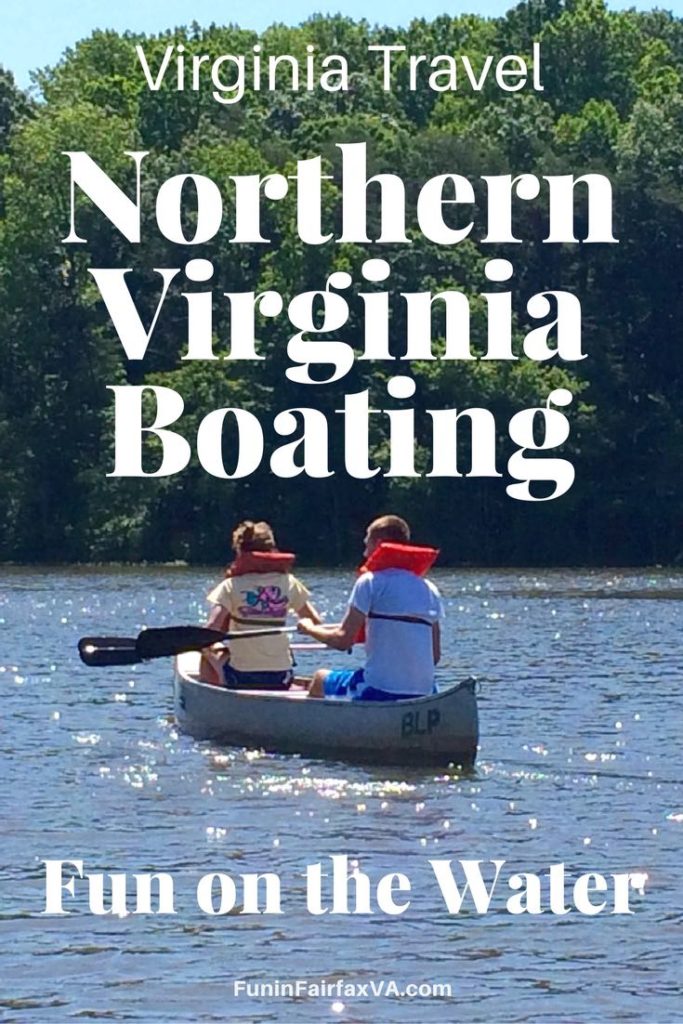 Northern Virginia Boating with Rentals and Tours
There are several options to tour and travel the Potomac River from the waterfront in Old Town Alexandria. In March and April, Potomac cruises are a fun way to see the cherry blossoms in DC without the crowds.
On weekends year-round, the Potomac Riverboat water taxi ferries visitors to National Harbor and the DC Wharf. Other cruises let you check out the monuments from a new perspective, visit George Washington's Mount Vernon, head to the ballpark, enjoy a meal, or simply relax as you cruise the river.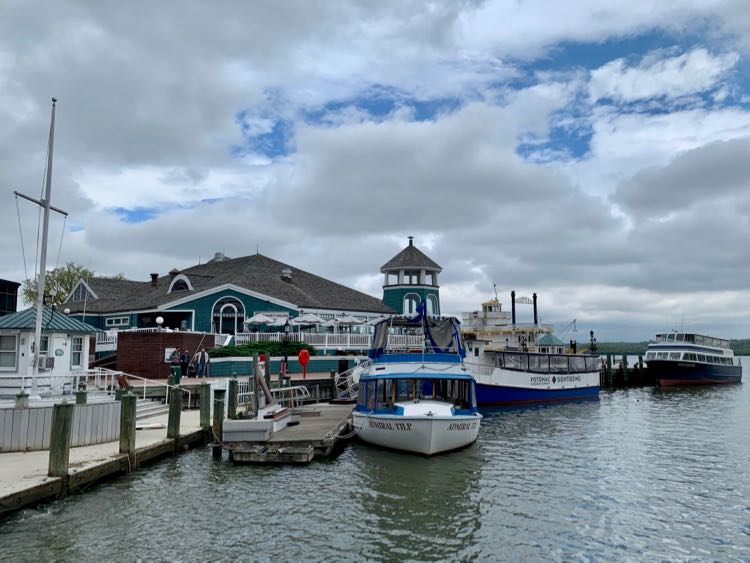 In 2020, Alexandria welcomed the historic Tall Ship Providence, a replica of the first ship authorized to serve in the Continental Navy and John Paul Jones' first American command. Now you can sail the Providence on a 90-minute cruise while interpreters share the history of the ship. Guests get to visit the Captain's cabin and ship's hold and enjoy the view from on deck.
Sailors can rent from a fleet of quality boats including a captained 34′ C&C sloop Canadame, 19′ Flying Scots, 14′ Sunfish, and more. Boat rentals open for the season in April. Non-sailors can enjoy the peace and quiet of paddling a canoe or kayak through Dyke Marsh.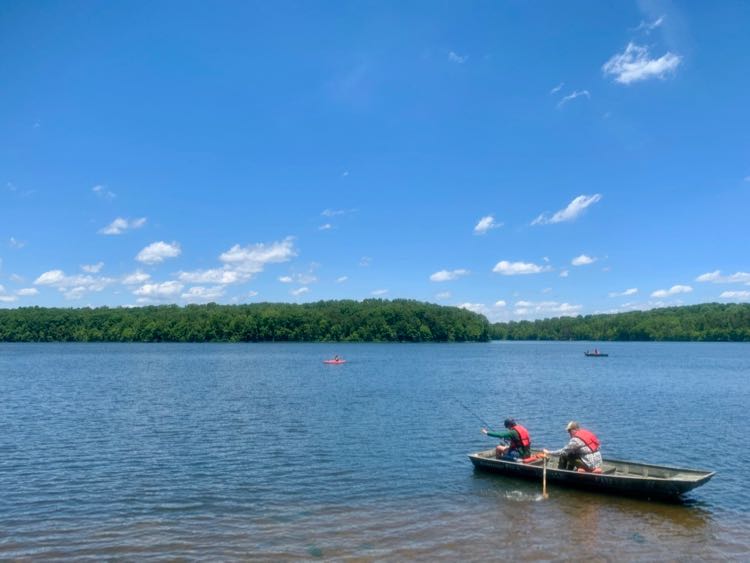 Burke Lake Park offers boat rentals, scenic boat tours, and a public boat launch. Visitors can rent canoes, fishing kayaks, rowboats, and jon boats or launch their own boats. Burke Lake offers some of the best fishing in Northern Virginia and the lake is stocked with largemouth bass, walleye, catfish, and perch.
Plus, the whole family can enjoy a guided tour of the lake on the park's pontoon boat. However, swimming, paddle boarding, and wind-surfing are not allowed. The Burke Lake Marina is open for boat rentals from April to early September.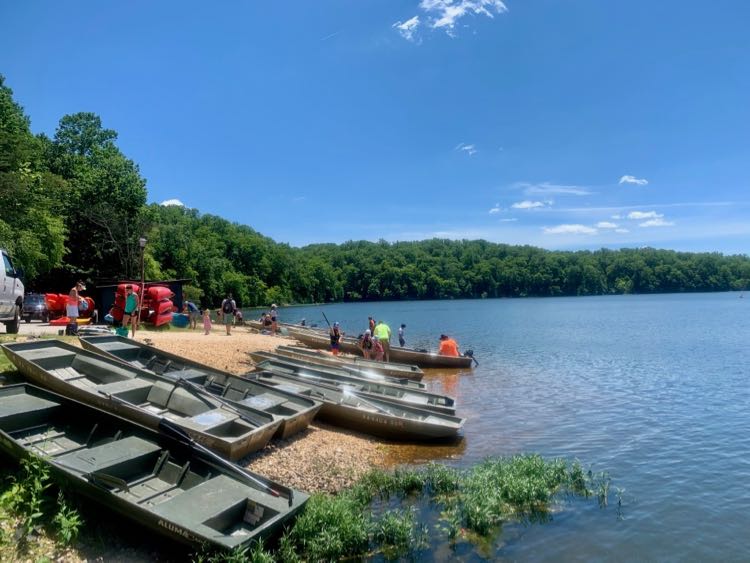 The marina at Fountainhead Regional Park rents out a variety of boats for use on the Occoquan Reservoir, including jon boats (engines available), kayaks, and canoes. Users can rent boats by the hour or for the entire day. A public boat launch and paddle tours are also available at the park. March – November.
After your time on the lake, visit the quaint town of Clifton for a meal or a treat.
Rent a kayak or sparkly paddleboat at the marina, or take a leisurely ride on the tour boat. A boat launch is available for small boats powered by electric motors, sailboats under 15 feet, canoes, kayaks, and rowboats. The marina is open from late May through early September.
Discover fun hike and bike trails in our guide to Lake Accotink.
Lake Anne, Reston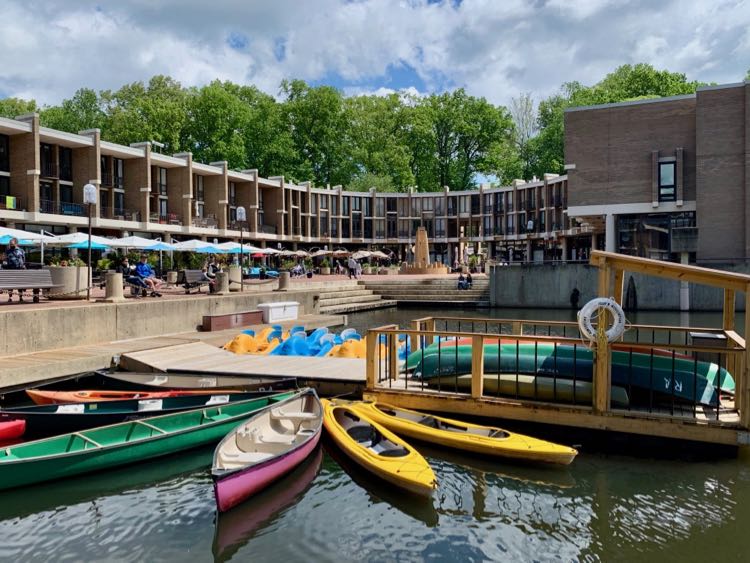 Enjoy a quiet paddle around Lake Anne on a beautiful summer day. Reston Association usually offers kayak and pedal boat rentals by the hour from Memorial Day weekend until Labor Day weekend. Purchase rental tickets at the Lake Anne boat dock.
Be sure to go see and paddle under the beautiful Van Gogh Bridge. Lake Anne also has a public boat launch area for Reston residents. And if you prefer to stay on land, enjoy a relaxing walk on the trail around Lake Anne.
Rent a pedal boat or kayak, or tour the 18-acre lake on a tour boat (note: tour boat may not operate due to low water levels). There is also a private boat launch but no motor-powered boats, sailboats, or paddleboards are permitted on the lake. Late May to early September.
Discover more fun things to do in our guide: Play All Day at Lake Fairfax Park.
The Lake Ridge Park Marina offers three-season boat rentals, with a Universal Access Boat Launch and dock access. Canoes, pedal boats, kayaks, stand up paddleboards and jon boats are available for rent.
Rent canoes, tandem kayaks, and stand-up paddleboards from the Breakwater Marina store. The park also has a popular boat ramp area with sailboat hoists and parking for cars and trailers. Motorboats are allowed, and there's a cartop launch for smaller boats, such as canoes and kayaks, on Powells Creek. Memorial Day through Labor Day.
Add a hike to your outing: Leesylvania State Park Hike Through History.
Rent a kayak or canoe for an hour or all day to explore Belmont Bay or Kane's Creek, home to eagles and other native birds. Cartop boat launch facilities are available but there are no facilities for trailer launching.
Add a hike to your outing: Mason Neck State Park: Nature and Outdoor Fun.
Occoquan Regional Park offers hourly and daily kayak rentals for exploring the Occoquan River. Kayaks are launched from shore and are available in one or two-seat configurations. The park also offers a boat launch, paddle tours, and access to the Occoquan Water Trail. After your paddle, enjoy outdoor dining with a view of the river at Brickmakers Cafe.
Add a hike to your outing: Occoquan Regional Park Hike and History.
Explore the beautiful environment of Pohick Bay in your own or a rented boat. Rental boats, available by the hour or the entire day, include jon boats, kayaks, canoes, pedal boats, and stand up paddleboards. There is also a public boat launch, including an area for boats launched from trailers, and shore access for kayaks and canoes.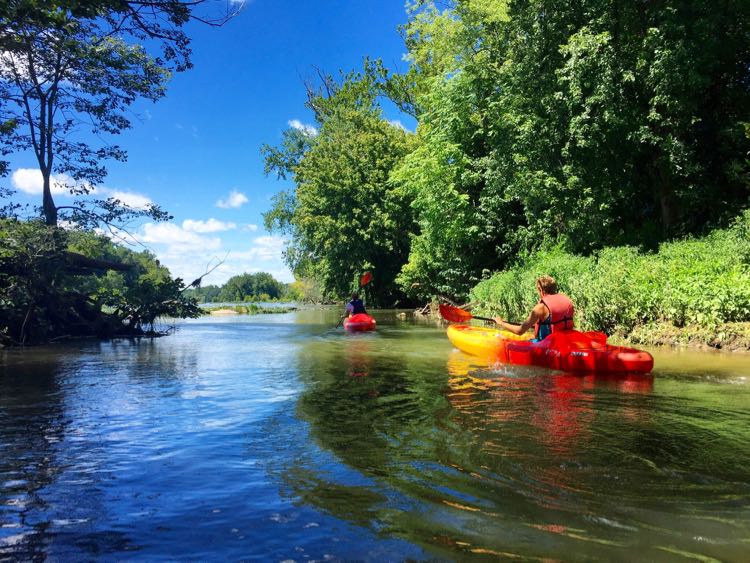 Riverbend Park offers weekend canoe, kayak, and rowboat rentals in summer for exploring this shallow rocky section of the Potomac River. A public boat launch is also available. Water skiing, jet skis, big boats, and tubes are not permitted.
Add a hike to your outing on the Riverbend Park River Trail.
Northern Virginia Boating: More Places to Launch Your Own Boat
Algonkian's boat launch is an excellent entry point to explore the Potomac River. The launch accommodates nearly any kind of boat including kayaks, canoes, and jon boats, as well as powered boats launched from trailers.
Bull Run Marina offers a boat launch for powerboats and cartop-launch boats. The launch is situated between a pair of wooden docks and offers easy access to the Occoquan Reservoir. To use the launch, purchase a season pass and gate key at Fountainhead Regional Park. March – November.
Extend your fun with a visit to the Charming Town of Clifton. And add a hike to your outing on the Bull Run Occoquan Trail: Fountainhead to Bull Run Marina.
Elizabeth Mills Riverfront Park (now named Bazil Newman Riverfront Park) offers boat launch access to the Potomac River and Goose Creek. Canoes and kayaks must be carried to the non-motorized boat landing at Kephart Bridge.
This park, adjacent to the historic Goose Creek truss bridge, offers a canoe and kayak launch to Goose Creek, which is a designated State Scenic River.
Piscataway Crossing offers easy boating access to the Potomac River, with access to Mason and Harrison Islands in the Potomac. The boat launch accommodates boats carried on car tops. Trailers, motorized boats and jet skis are not permitted.
Explore the Occoquan Water Trail
The Occoquan Water Trail follows a 40-mile route on two tributary waterways of the Chesapeake Bay and is part of the Captain John Smith Chesapeake National Historic Trail. The 40-mile water trail is in two sections, separated midway by the Occoquan River Dam. Paddlers can travel the entire trail; the lower portion is also accessible to motor craft.
The trail begins on narrow Bull Run and continues to the tidal estuaries of the Potomac River. The changing landscape traces 13,000 years of human history and includes areas once visited by Captain John Smith and long occupied by Native Americans. Public parking and boat access are available at Occoquan, Fountainhead, and Bull Run Regional Parks.
Whether your goal is a short paddle with the family, a day of relaxed fishing, or an epic adventure on historic waterways, Northern Virginia boating has an option for you. Grab a rental or bring your own boat to explore the beautiful lakes, rivers, and bays just outside Washington DC.
And when you tire of being on the water, jump in the water at Northern Virginia waterparks (some of which are right next to these boating areas).
Follow us on Facebook, Twitter, Pinterest, and Instagram for more fun travel in and from Northern Virginia.