Updated on November 13, 2023 by Julie McCool
Visitors can explore Prince William Forest Park in Northern Virginia on 37 miles of beautiful hiking trails and a scenic loop drive with dedicated bike lanes. The 15,000-acre park has an interesting history, which you can learn about at the Visitor Center and at historic buildings throughout the park.
While Prince William Forest Park is a lesser-known destination, it still makes our list of the Top 10 Must-Visit Northern Virginia Attractions Near DC.
Disclosure: This article may contain affiliate links. We will make a small commission from these links if you order something, at no additional cost to you.
Explore Prince William Forest Nature and Geology
You'll find a nice network of trails from which to explore the park. Choose your preferred distance and whether to focus on the park's nature or history, and stop at the Visitor Center for advice on the best trail options. The center also has nature displays, a shop, and lots of information about the park's interesting history.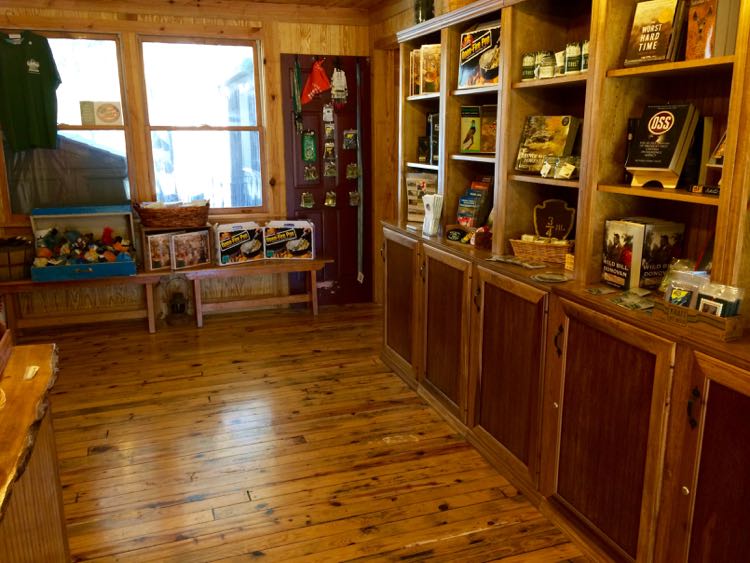 Once you've chosen your route, you'll find trails that are well marked, with helpful signs and maps at each trailhead (snap a picture to refer to while you hike).
The 1.4 mile Laurel Loop Trail, which passes through peaceful woods and along the South Fork of Quantico Creek, is a popular family hike which you can easily extend with connecting trails. If time allows, add a section of the Potomac Heritage Trail, crossing a pretty bridge over Quantico Creek.
We combined portions of the Laurel and South Valley Trails, with the Pyrite Mine and North Orenida Roads, to create a 4-5 mile loop hike that was stunning in the fall. Prince William Forest is one of our favorite places to see fall foliage in Northern Virginia.
For a shorter but steeper hike to the creek, take the Quantico Falls Trail to the cascades along Quantico Creek. In winter, we enjoyed views of ice-covered rocks and logs in the water. You can also explore the trails online before your visit. This geology focused walk is on our list for a future visit.
Cyclists can enjoy the park on a mix of paved and gravel roads. Three level miles of the scenic loop drive offer dedicated bike lanes perfect for beginners; and there are 10 gravel fire roads in the park for experienced cyclists.
History in Prince William Forest
During the Great Depression, the CCC built the Chopawamsic Recreation Area here to house children's 'relief' camps where low-income children from Washington DC could experience nature. From 1936 to 1948, the camps introduced city children to the joys of nature, hiking, swimming, and other activities. While the five cabin camps welcomed both blacks and whites, they were segregated, with separate entrances to separate sections of the park.
Today, Prince William Forest preserves the largest inventory of CCC structures in the National Park System. The cabin camps accommodate large groups and individuals and include sleeping cabins, an activity building, shared kitchen and dining halls, and restrooms.
During World War II Prince William Forest performed a very different function. From 1942 to 1945, the park was used to train civilian and military spies in the newly formed OSS (the precursor to the CIA). During their time at the park, future spies learned how to handle explosives, forge documents, gather intelligence, and even practiced spying in nearby towns.
Check the event schedule when you visit to find special programs that explore Prince William Forest Park's nature and history. Rangers at the Visitor Center are a great resource for planning your visit. The park entrance fee is $20.00 per vehicle (waived on fee-free days) for 7 consecutive days, and camping is available at the historic cabins and open sites. The fee is $15 for entrance on a motorcycle and $10 on foot or bike.
Prince William Forest Park is at Park Entrance Road in Dumfries, VA 22025. Visit the park website for the latest alerts and event information.
Find more NoVA hikes and parks in our guide 20 Must See Northern Virginia Hidden Gems Rich in Nature and History
Read more about history and hiking in Prince William County or plan a visit to nearby historic downtown Manassas.
Follow us on Facebook, Twitter, Pinterest, and Instagram for more fun travel in and from Northern Virginia.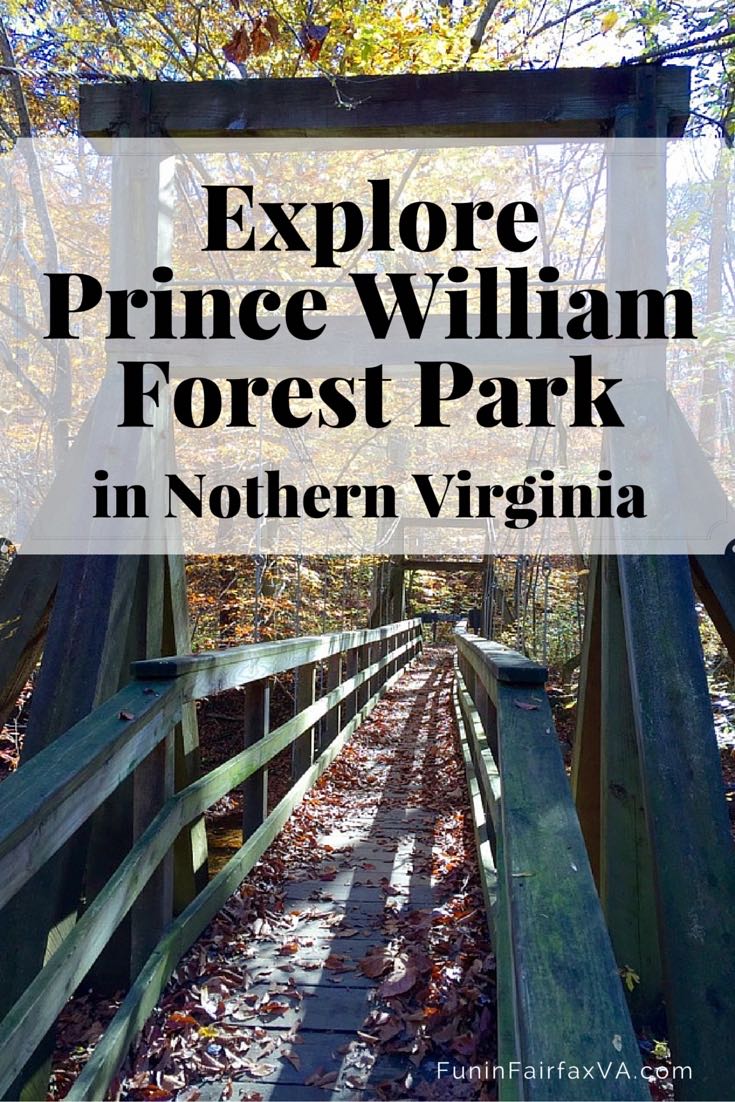 This article was published on 2016 and last updated in 2020.