These 17 amazing Northern Virginia Airbnb and vacation rentals offer the perfect place to stay for a couple's, family, or adult getaway near Washington DC. This carefully curated list features romantic cottages, spacious vacation homes, luxury apartments, unique properties, and family and pet-friendly Airbnb and VRBO rentals near Washington DC.
Our list includes vacation rentals in Fairfax, Arlington, Alexandria, Loudoun, and Prince William counties. From a historic townhome in Old Town Alexandria to a tiny house in Virginia wine country, we've rounded up an amazing selection of places to stay in Northern VA.
Disclosure: We may earn a small commission, at no additional cost to you, for stays booked through the links on our site.
Disclosure: This article may contain affiliate links. We will make a small commission from these links if you order something, at no additional cost to you.
Find even more awesome places to stay in 17 Fantastic Northern VA Wine Country Vacation Rentals and Airbnbs.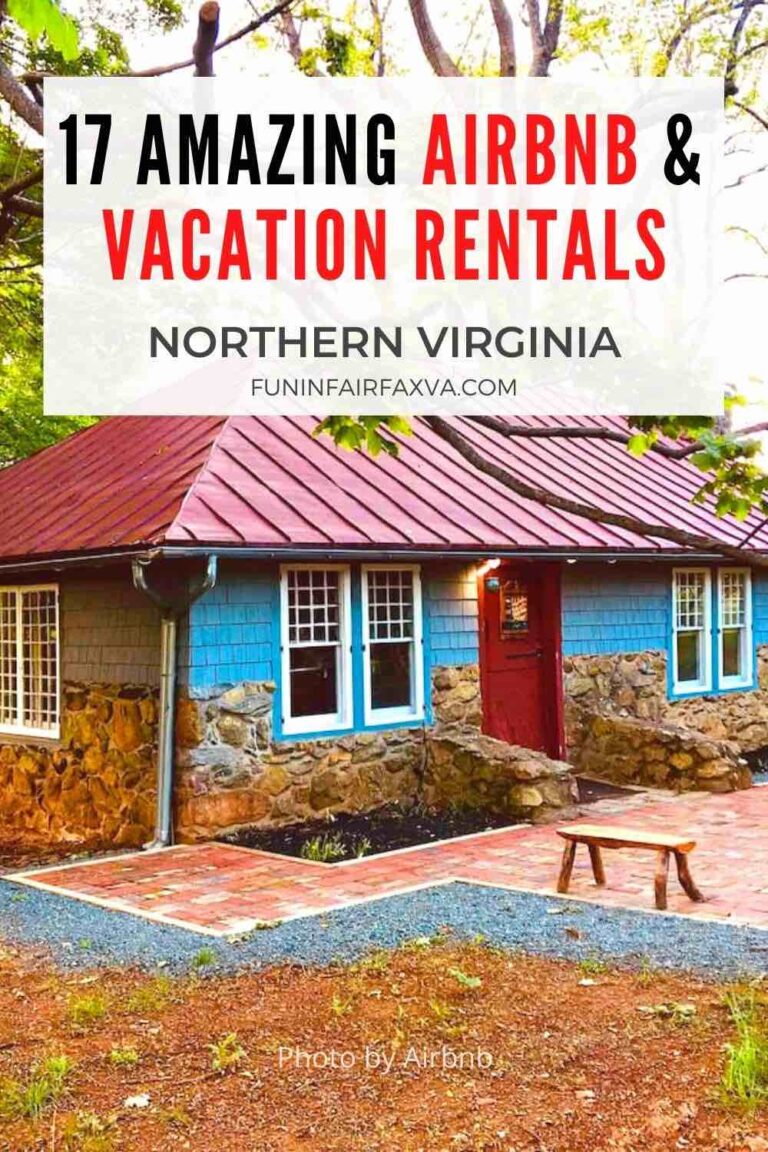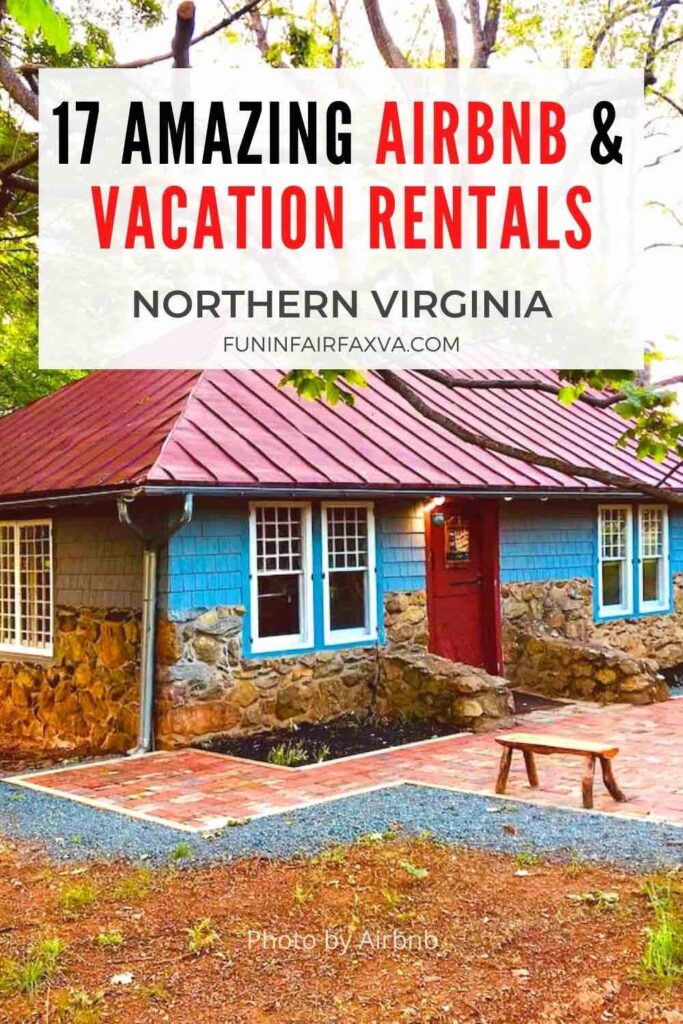 Amazing Northern Virginia Airbnb and Vacation Rentals
While we have not stayed at the Northern Virginia vacation rentals listed here, they are all highly rated places we would choose. The rentals on our list meet the criteria that we use during many years of booking apartment and home rentals:
They are highly rated by many renters on one or more rental sites.
They are managed by experienced hosts.
Listing photos and descriptions give a clear view of the rental.
Vacation rental amenities, rules, and cancellation policies are clearly explained.
Northern VA Airbnb and VRBO rentals are listed below in order of location, heading approximately from east to west. First, we list rentals close to Washington DC and convenient to the metro. Next, we've got rentals in DC suburbs in Fairfax County. Last are listings in Virginia Wine Country, close to mountains, wineries, and breweries.
At the time of publication, these vacation rentals and Airbnbs in Northern Virginia welcome children and allow pets unless otherwise noted. Always check detailed listings to understand house rules and policies.
George Washington Town House, Old Town Alexandria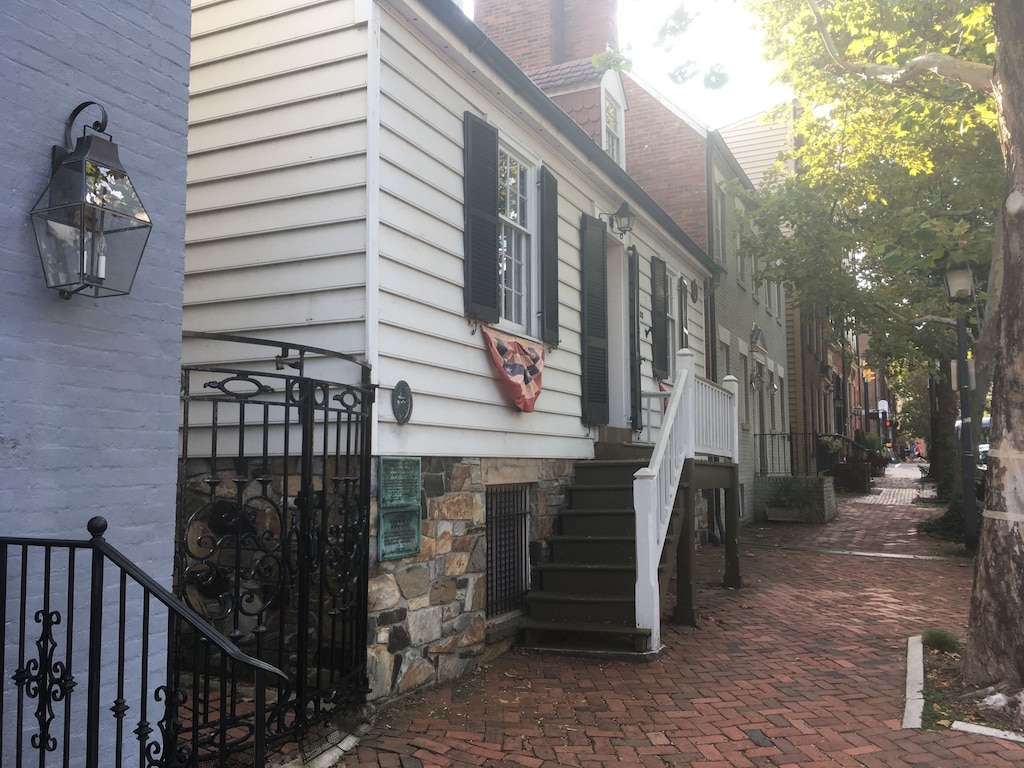 Stay in the heart of history at this charming George Washington townhouse in Old Town Alexandria. This period reproduction recreates, on the original site, a house that George Washington had built for his own use. Filled with historic charm inside, the town house also has a large courtyard and two parking spaces. All of the quaint shops, restaurants, and historic streets of Old Town are right outside your door.
2 bedrooms – sleeps 6 – George Washington town house rental info.
Duvall House, Old Town Alexandria
Pamper your group with a stay in history at Duvall House in Old Town Alexandria. Long ago, the stately brick building was a tavern that hosted a lavish celebration for George Washington after his victory over the British. Today, visitors can host weddings, reunions, and other events in the 2nd-floor ballroom, or just gather for a relaxing and fun getaway to Old Town. Shops, restaurants, and the Alexandria waterfront are just steps away, and children and pets are both welcome.
3 bedrooms – 8 guests – Duvall House rental information.
Historic Captain's Row House, Old Town Alexandria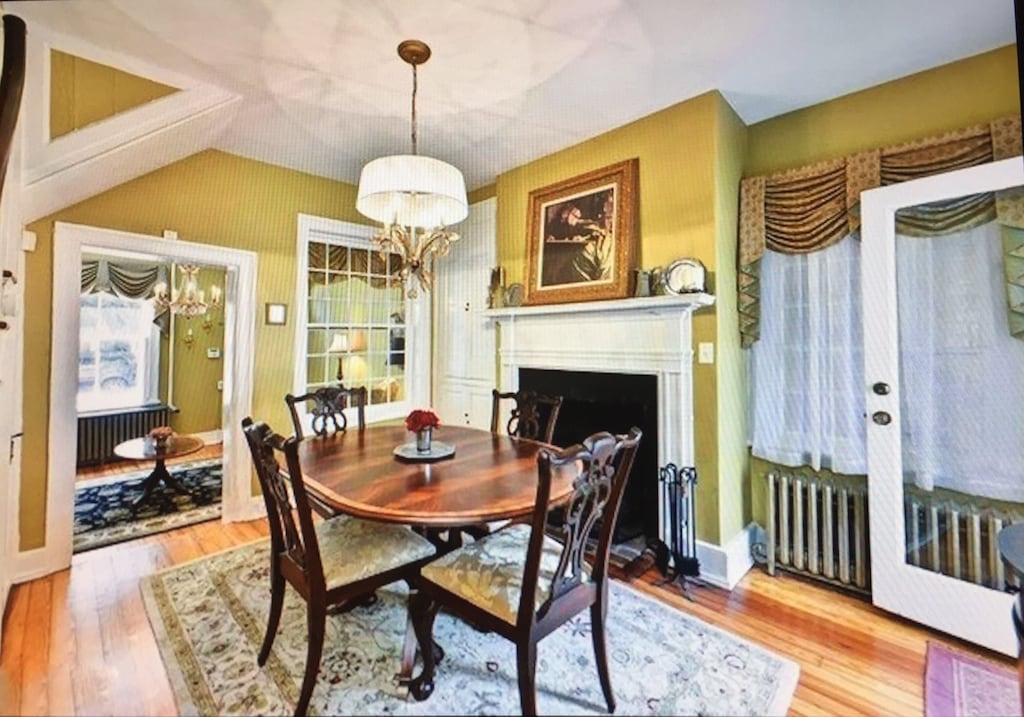 Stay in this historic Captain's Row rowhouse and enjoy luxury and comfort in the heart of Old Town Alexandria. This lovely rowhouse combines period Federalist antiques and modern conveniences. The Alexandria Waterfront, shops and restaurants on King Street, and historic sites are all close by. Guests enjoy a small fenced patio and can arrange a pass for free on-street parking.
2 bedrooms – 4 guests – no pets – Captain's Row House in Old Town
Vintage-style in Del Ray, Alexandria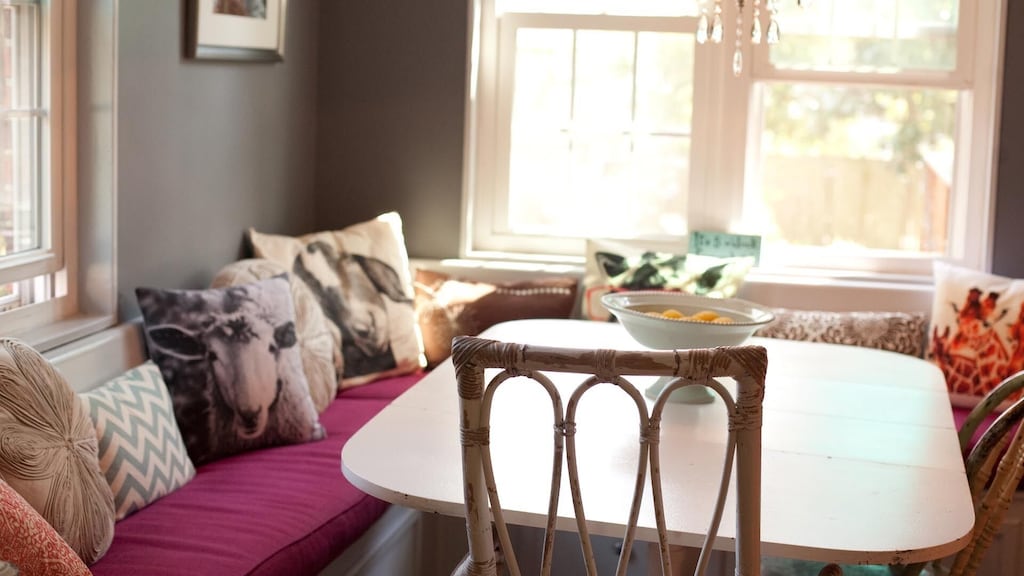 Vintage furnishings add extra style to this lovely townhome in the hip Del Ray neighborhood of Alexandria. With two bedrooms and a gourmet kitchen inside, and a lovely deck and garden out back, you'll have plenty of room to spread out. Tasty restaurants and quirky shops are steps from your door in Del Ray, one of Northern Virginia's coolest neighborhoods.
2 bedrooms – 4 guests – Vintage-styled Del Ray rental info
Beautiful Duplex Near Metro, Arlington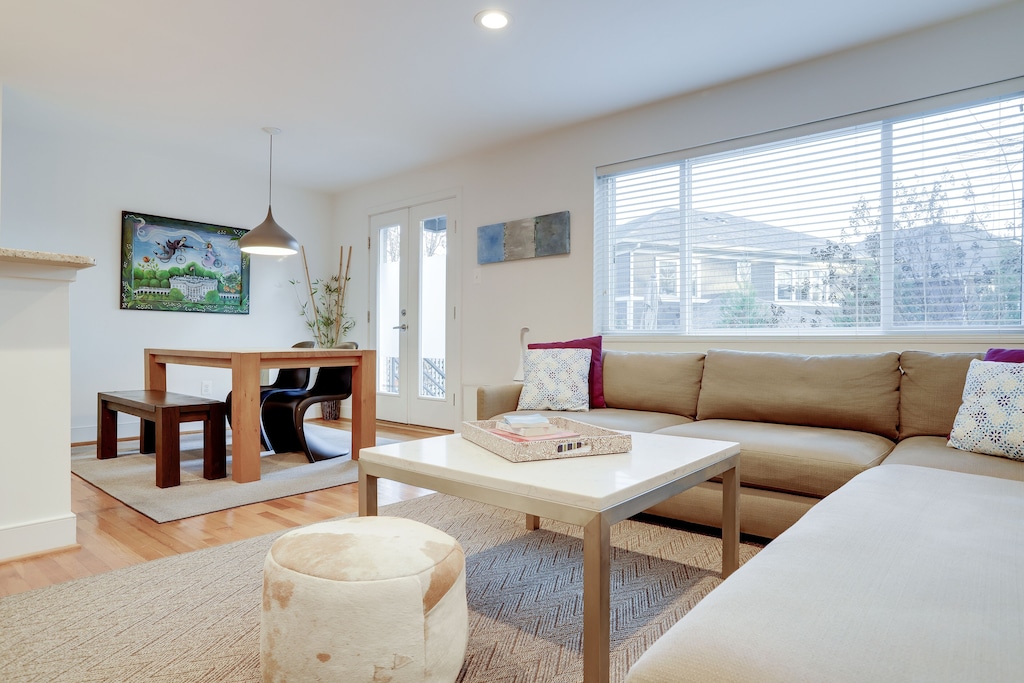 This beautiful duplex unit in Arlington offers a comfortable stay with excellent access to Washington DC. In fact, there are 3 metro stations within 1 mile of the unit. The apartment occupies the bottom floor of a two-unit duplex (the top floor is also on VRBO) with its own private entry and parking spot. With two king bedrooms and 2.5 baths, this unit is ideal for two couples.
2 bedrooms – 4 guests – No children – No pets – Arlington duplex rental info.
Apartment Near Balston Metro, Arlington
Stay in luxury at this 1 bedroom apartment in the Ballston neighborhood. Enjoy modern amenities like a stocked kitchen hardwood floors, a spacious balcony, and pool access. Enjoy the shops and restaurants of the Ballston/Virginia Square neighborhood and convenient access to the metro to DC.
1 bedroom – 2 guests – no pets – Ballston apartment rental info
The Farmhouse, Historic Occoquan
Plan your visit: 15+ Fantastic Things to Do in Historic Occoquan Virginia.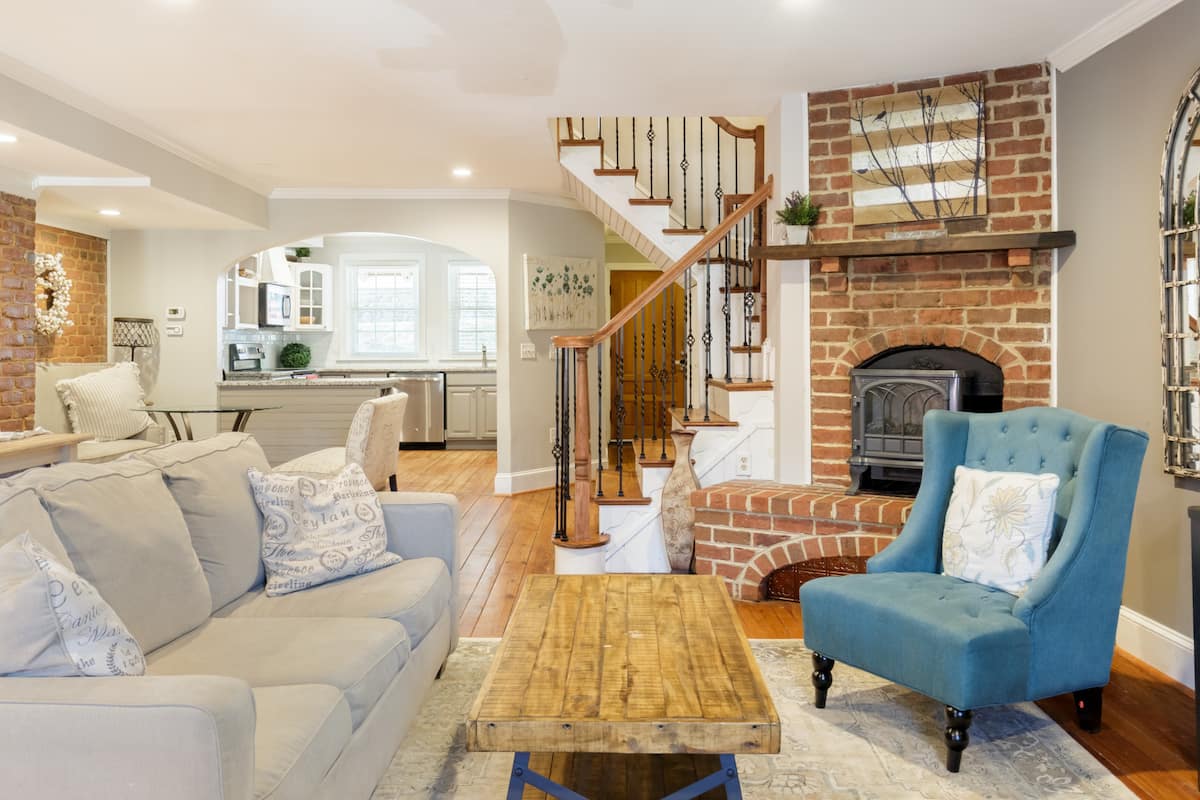 Exposed brick and a spacious interior add extra charm to this beautiful farmhouse in historic Occoquan. All of the unique shops, restaurants, and historic sites of Occoquan are just outside your door. After a day of exploring you can snuggle up by the brick-surround fireplace.
2 bedrooms – 10 guests – no pets – Occoquan farmhouse rental info
The Daisy, Historic Occoquan
Plan your visit: 15+ Fantastic Things to Do in Historic Occoquan Virginia.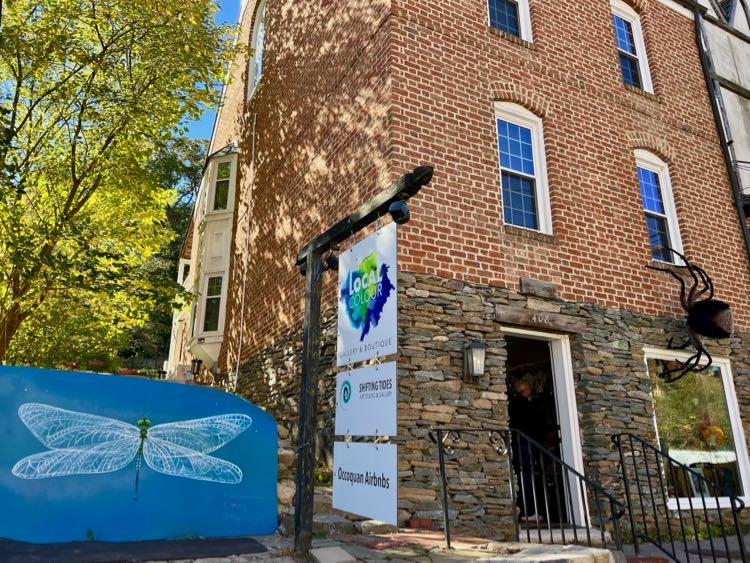 Stay in the midst of history at The Daisy in historic Occoquan. This modern first-floor condo is bright and spacious with a full gourmet kitchen. Best of all, the central location on Occoquan's main street is convenient to great restaurants, shops, and a historic town that just oozes charm.
1 bedroom – 4 guests – no pets – The Daisy rental info
Bright Spacious Home, Woodbridge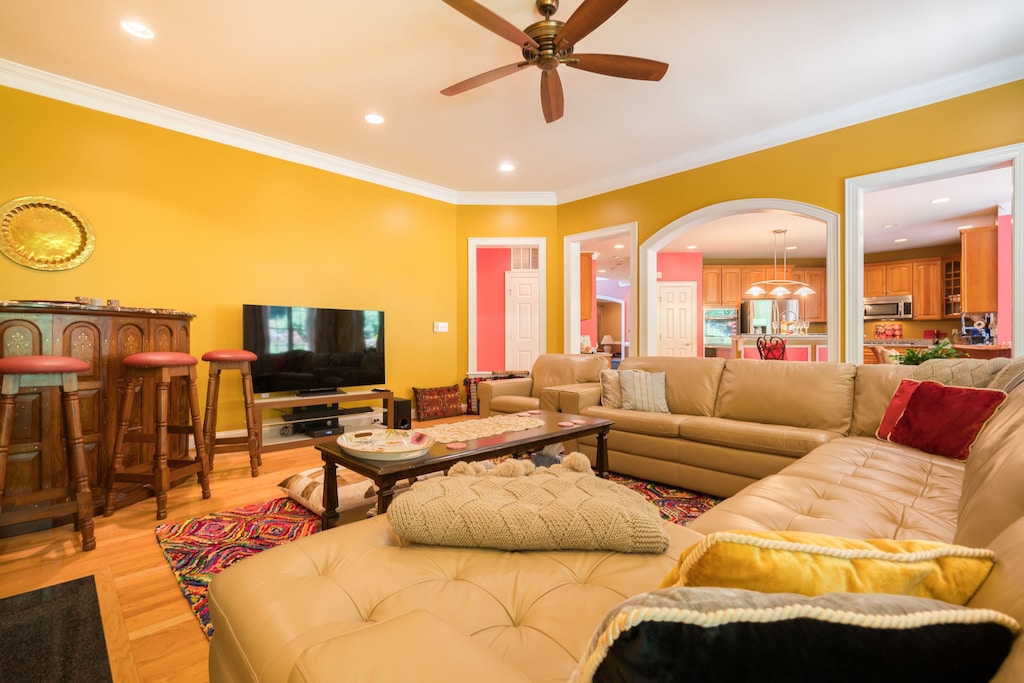 Brighten your next getaway with a stay in this bright, spacious home in Woodbridge with beautiful indoor and outdoor space. Cozy up by the fireplace or soak up the sun on the expansive deck bordered by trees. This quiet, residential neighborhood is close to Leesylvania State Park, Quantico, and Fort Belvoir and DC is a short drive away.
6 bedrooms – sleeps 12 – Woodbridge home rental info.
Huge Guilded Age Home, McLean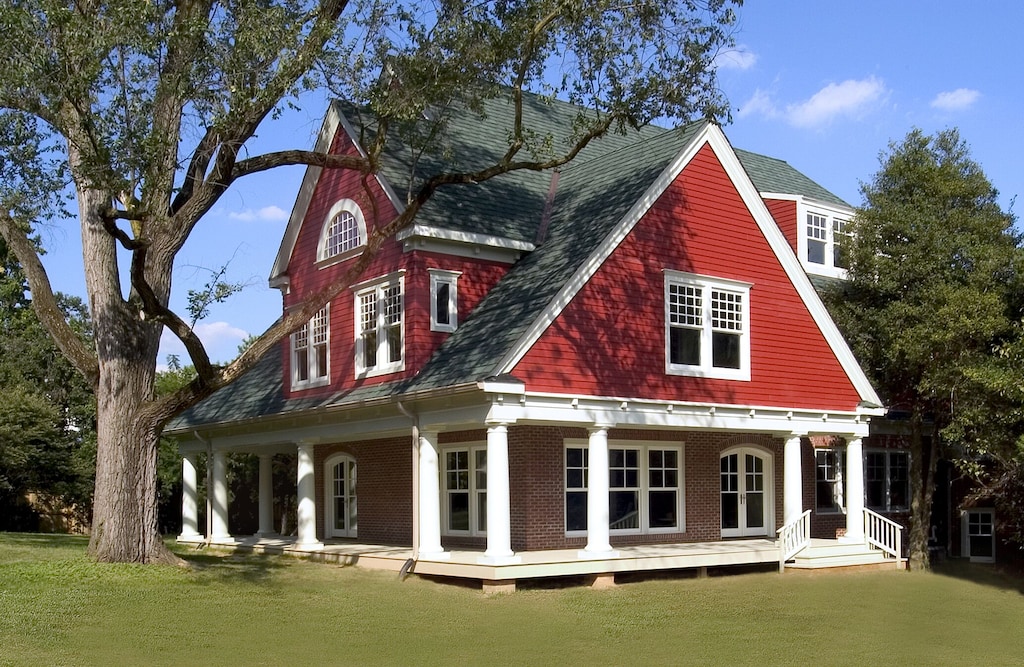 With 6 king bedrooms, this gorgeous Gilded Age home in McLean is ideal for a family reunion, adult retreat, or girl's getaway. The house is beautifully decorated and equipped. Snuggle up by the dual-sided fireplace, workout and play in the spacious third-floor fun space, or head outside to the wraparound porch and large yard. The location is ideal for visiting Great Falls Park, Arlington Cemetery, and other sites in Northern Virginia and DC.
6 bedrooms – 16 guests – no pets – Tysons home rental info
Firefly Cottage, Herndon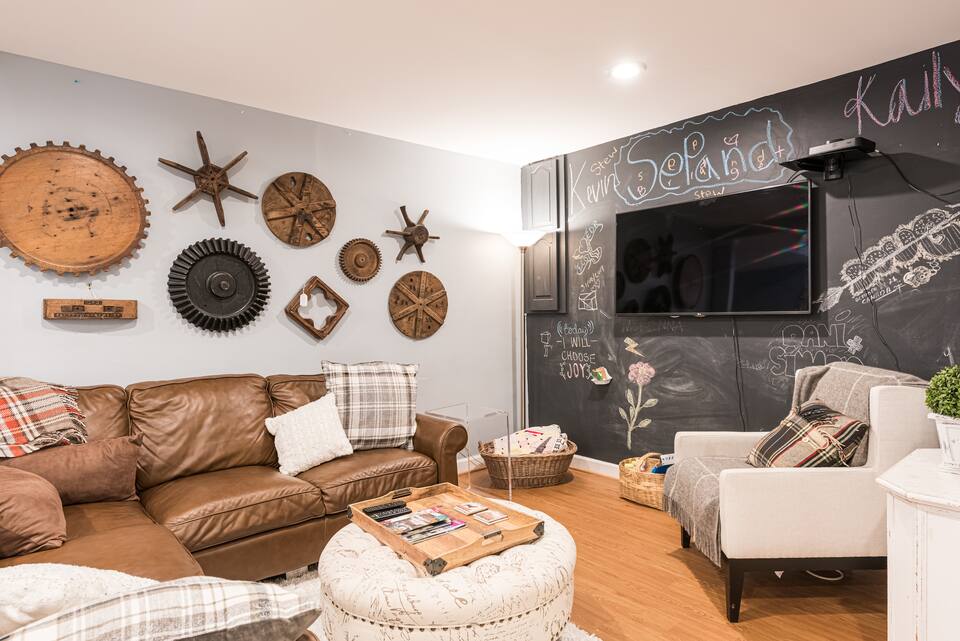 Looking for a beautiful vacation rental in Fairfax County? Firefly Cottage in Herndon is ideally located for exploring Northern Virginia and the Washington DC area. Nearby, family-friendly Frying Pan Park, fun hiking and restaurants in Reston, and the stunning aviation collection at Smithsonian Udvar-Hazy Center are just minutes away. At the end of the day, charming decor, a full kitchen, and lovely patio are waiting.
1 bedroom – 5 guests – Firefly Cottage rental info
1820 Waterford Village Farmhouse, Waterford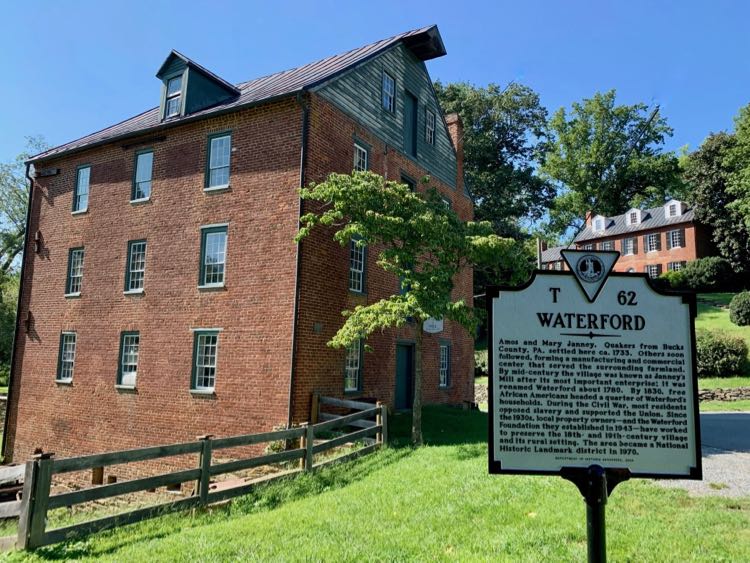 Country charm and elegance combine in this restored 1820 farmhouse in historic Waterford. Relax in the comfy eat-in kitchen by the huge wood-burning fireplace. Or head outside to explore the trails and fields of Philips Farm and beautiful, historic downtown Waterford. Then watch the sunset from your back porch as the sheep graze in the meadow next door.
3 bedroom – 6 guests – no pets – Waterford Village Farmhouse rental info
Cedar Lane Cottage, Middleburg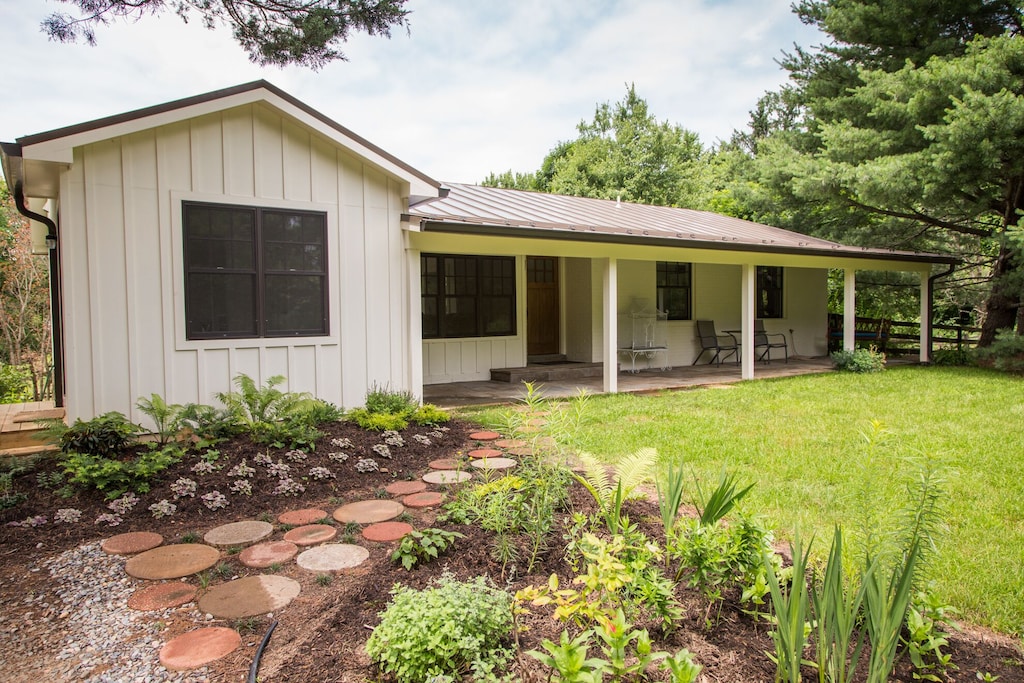 Cedar Lane Cottage in Middleburg is filled with light and country views. Tucked at the end of a tree-lined dirt road, the cottage is close to all of the wonderful wineries, shops, and restaurants of Middleburg. Watch the sunset from the back deck or relax on the front patio and watch for passing horses.
2 bedrooms – sleeps 4 – no pets – Cedar Lane Cottage rental info
Historic Tip of the Hill, Purcellville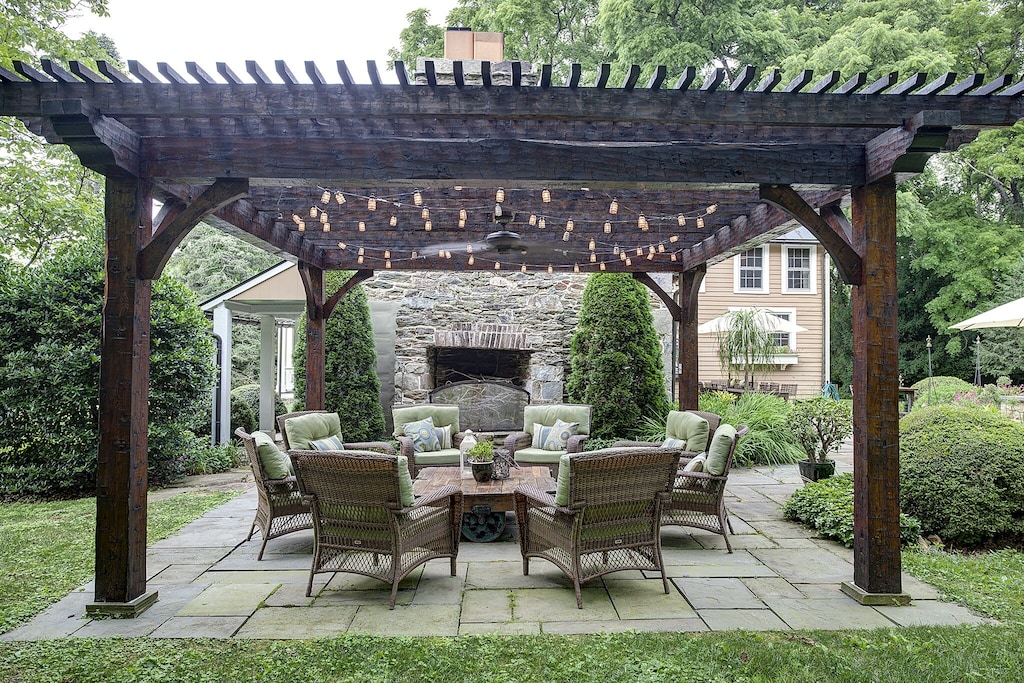 Historic Tip of the Hill in Purcellville is the perfect place to gather family and friends for a getaway to Virginia wine country. The interior is full of period charm, while the outside offers exceptional spaces to gather. Enjoy dinner on the patio with gas grill or prepare your feast in the gourmet kitchen. The outdoor shower with huge rain head is a zen setting to wash the day away.
3 bedrooms – sleeps 6 – no pets – Tip of the Hill rental info
Mill House with Pool, Upperville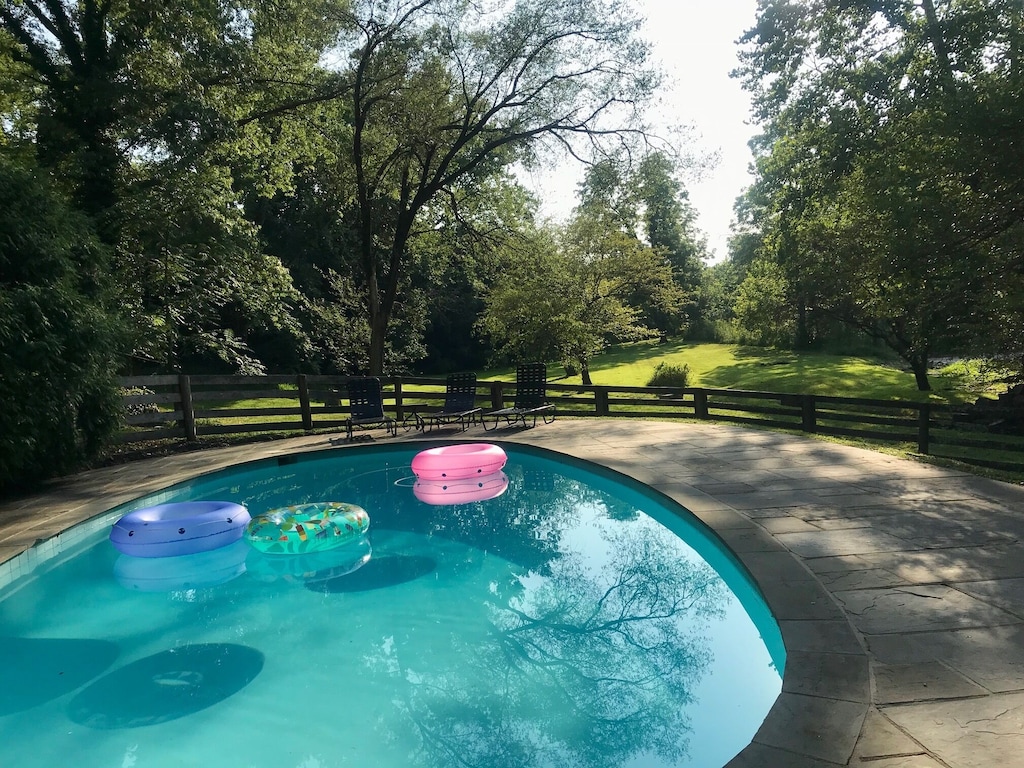 Step into history and comfort at the Mill House in Upperville. This spacious home in the heart of Virginia Hunt Country is ideal for a family gathering or relaxing getaway. Snuggle up by the fireplace or find a private reading nook. Outside, a lovely pool, babbling creek, and fire pit offer more places to play and enjoy the country life.
4 bedrooms – sleeps 8 – no pets – Mill House rental info
Brewery Chateau, Bluemont
We love the location and style of this brewery chateau in Bluemont so much that it also appears on our list of Wine Country vacation rentals. With room for 14 guests, an indoor pool, jacuzzi, and sauna, it's an impressive getaway destination for any group. Outside, the huge deck commands a gorgeous mountain view. You can not beat the location next to Bear Chase Brewery, Bears Den Overlook, and more fun places to visit in historic Bluemont.
6 bedrooms – 14 guests – Brewery house rental info
Whether your goal is a quiet staycation, a weekend getaway, or a longer stay, these Northern Virginia Airbnb and vacation rentals offer convenience and comfort. Whatever your vacation style and group need, these VRBO and Airbnb rentals near DC are sure to please.
Tips for Choosing Airbnb and Vacation Rentals
We frequently choose vacation rentals from Airbnb and VRBO. We enjoy extra amenities like kitchens, living rooms, and laundry facilities. However, it is important to research thoroughly before you make your choice. Here are strategies we use to find the best vacation rental to meet our needs:
Look at the photos carefully. Does the space reflect the experience you want?
Read the reviews. We rarely rent a property with very few or no reviews.
Check cancelation policies; some are very strict while others are more flexible.
Message the host to clarify any questions about the property (is it right for children? pets? is there parking? etc).
This comprehensive article from McCool Travel shares Airbnb advantages, booking tips, and why Airbnbs are often a better choice than hotels.
Looking for more awesome getaways in the Washington DC Region? Check out our round-up of 21 Fantastic Weekend Getaways In and Near Northern Virginia. Or impress your love with a stay at these 22 Fabulous Romantic Getaways from Washington DC. Check our Getaway archives for even more day trips and vacation destinations.
Follow us on Facebook, Twitter, Pinterest, and Instagram for more fun travel in and from Northern Virginia.