These 8 great Northern Virginia scenic drives near Washington DC include gorgeous views and fun stops, perfect for a relaxed outing or an active day trip. Our expanded collection of scenic drive routes includes driving maps, suggested stops and activities, and local tips. Enjoy parks, hiking, history, dining, wineries and breweries, and more local fun on these Virginia scenic drives.
Are you a Northern Virginia or Washington DC resident? Bookmark this article and explore a new route the next time you are searching for "scenic drives near me". These routes include pretty views and interesting stops all year long.
We have lived in Reston Virginia for more than 25 years and finding cool places to drive is a favorite activity. We created these auto routes based on our personal experience driving these roads in every season. That's why our Northern Virginia scenic drive articles include firsthand accurate information, tips, and photos.
8 Fantastic Northern Virginia Scenic Drives Tips
We especially love Northern Virginia scenic drives on a clear, crisp fall day, when fall foliage makes the views even more appealing. But scenic drives are a welcome pastime throughout the year.
In the spring, your views and hikes will be colored with Virginia wildflowers and a bright green canopy. In summer, a drive offers a break from the heat, with views of lush fields and forests. During the winter, snow-covered hills are beautiful, and many wineries offer gorgeous views from cozy tasting rooms.
Relax, take it slow, and enjoy the journey. Here are a few tips about our Northern Virginia scenic drives:
These scenic drives in Northern Virginia range from a historic parkway near Washington DC to dirt roads in the countryside. Some are loop drives and some are one way. Click the map link to see the route and decide on your best starting point.
Distance and time estimates are from Google Maps assuming normal traffic. Add extra time to visit the stops on our routes.
Routes range from 16 to over 100 miles, and you could combine several for a longer day trip.
Links within each drive lead to more detailed descriptions of our recommended stops.
It's hard to reach all of the scenery without including some major roads, but we've tried to avoid congested areas when possible.
No drive is scenic during rush hour in Northern Virginia. These drives are best enjoyed on the weekend or between 10:00 and 3:00 on weekdays.
1. Great Falls Scenic Drive Loop
The Great Falls loop is ideal when you are looking for short scenic drives in the DC area. This route delivers pretty winding roads and beautiful stops near the Potomac River.
Trip Details: Great Falls Scenic Drive on Pretty Country Roads in Northern Virginia
Distance + Time: 30 mile loop drive; 1 hour
Sights: Farms, forests, grand houses, parks
Activities: Hiking, paddling, history, dining
Map: Great Falls Scenic Drive
This scenic drive loop through Great Falls begins at the town library and ends at one of our favorite Northern Virginia pubs, You could also use the town green as your start and endpoint. The route includes the historic Georgetown Pike (193), named to the National Register of Historic Places, and designated as the first Virginia Byway.
Part of this drive overlaps the route in drive #2 below. You could combine the two drives for a full day outing.
Things to Do on the Great Falls Scenic Drive
See details, photos and more tips: Great Falls Scenic Drive.
2. Georgetown Pike + George Washington Memorial Parkway
Drive two of the most historic roads in Northern Virginia. Georgetown Pike is a winding Virginia Byway, and George Washington Memorial Parkway is a historic roadway managed by the National Park Service.
Trip Details: Georgetown Pike & George Washington Memorial Parkway Scenic Drive.
Distance + Time: 50 miles one way; 1.5 hours
Sights: Parks, historic monuments, Potomac River, and Washington DC views
Activities: National monuments and parks, hiking, biking, dining, shopping
Map: Georgetown Pike and George Washington Memorial Parkway Scenic Drive
This drive combines two historic roads. Georgetown Pike is the first road to be designated a Virginia Scenic Byway. The Pike is only 12 miles long, but it offers access to several parks with great hiking along the Potomac River. The drive passes through the center of Great Falls, a pretty Virginia small town. See drive #1 on our list for an alternate route through Great Falls.
The second of our Northern Virginia scenic drives is a national park and is just across the river from Washington DC. The historic George Washington Memorial Parkway follows the Potomac River from northeastern Fairfax County, through Arlington County and Alexandria, to George Washington's Mount Vernon.
There are many historic stops along the GW Parkway, along with opportunities for hiking and biking. Allow at least half a day to visit the gem at the end of the parkway, George Washington's Mount Vernon.
Things to Do on a Georgetown Pike Scenic Drive
Visit Krop's Crops to shop for produce and treats. In fall, visit the pumpkin patch. In December, pick out a Christmas tree.
Dine in the town of Great Falls at one of several good restaurants.
Make a short side-trip to Riverbend Park for an easy hike along the Potomac River.
Stop at Great Falls Park for waterfall views and a hike along Mather Gorge on the River Trail.
Take a stroll along Difficult Run and hike to a less-visited section of Great Falls.
Hike to the prettiest waterfall near Washington DC at Scott's Run Nature Preserve.
Things to Do on the George Washington Memorial Parkway Scenic Drive
3. Snickersville Turnpike and Northwest Loudoun County
Enjoy a beautiful loop drive through Loudoun County on the historic Snickersville Turnpike and beautiful country roads near Leesburg Virginia.
Trip Details: Snickersville Turnpike and Loudoun County scenic drive.
Distance + Time: 60 mile loop drive; 1.5 hours
Sights: Farms, small towns, country stores
Activities: Dining, wineries, and breweries, antiquing
Map: Snickersville Turnpike and Northwest Loudoun County Scenic Drive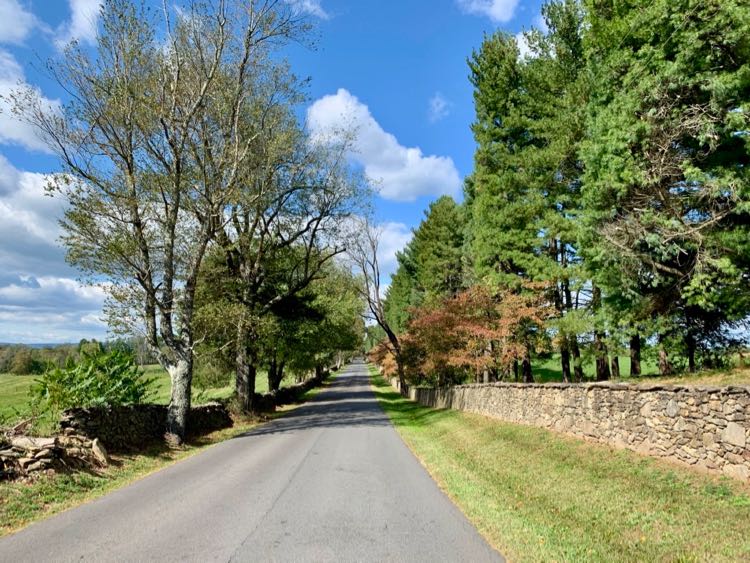 The roads of Loudoun County offer a wealth of quaint small towns; beautiful wineries, craft breweries, and distilleries; and historic sites and homes. You'll find many opportunities to learn, explore, and relax along the way.
This scenic route, sometimes called the Leesburg Loop Drive, includes the historic Snickersville Turnpike and a trip through northern Loudoun County wine country.
Things to Do on the Northwest Loudoun County Scenic Drive
4. Hunt Country Drive in Southern Loudoun and Northern Fauquier County
Explore the small towns, wineries, farms, and vistas of Virginia Hunt Country on this gorgeous scenic route through Southern Loudoun and Fauquier Counties.
Trip Details: Beautiful Hunt Country Scenic Drive in Northern Virginia
Distance + Time: 60 miles; 2 hours
Sights: Farms, quaint towns, Shenandoah foothills
Activities: Hiking, wineries, dining, apple-picking, parks
Map: Southern Loudoun and Northern Fauquier County Scenic Drive
A scenic loop drive is extra fun when it includes both beautiful small towns and open parkland. Our route includes the lovely towns of Aldie, Middleburg, Marshall, and The Plains plus several wineries and restaurants and a visit to Sky Meadows State Park.
Things to Do on the Southern Loudoun + Northern Fauquier County Scenic Drive
5. Unpaved Roads Scenic Drive Near Leesburg VA
A scenic drive on the Loudoun County unpaved roads near Leesburg Virginia includes beautiful country roads, pastoral farms, historic towns, one-lane bridges, and gorgeous views at every turn.
Trip Details: Beautiful Loudoun County Unpaved Roads Near Leesburg Virginia.
Distance + Time: 42 mile loop drive; 2 hours
Sights: Farms; field, forest, and mountain views; historic towns
Activities: Hiking, history, wineries, dining, local shops
Map: Unpaved Roads Near Leesburg Route*
GPS will re-route away from unpaved roads, so follow the trip details link for maps and turn-by-turn directions.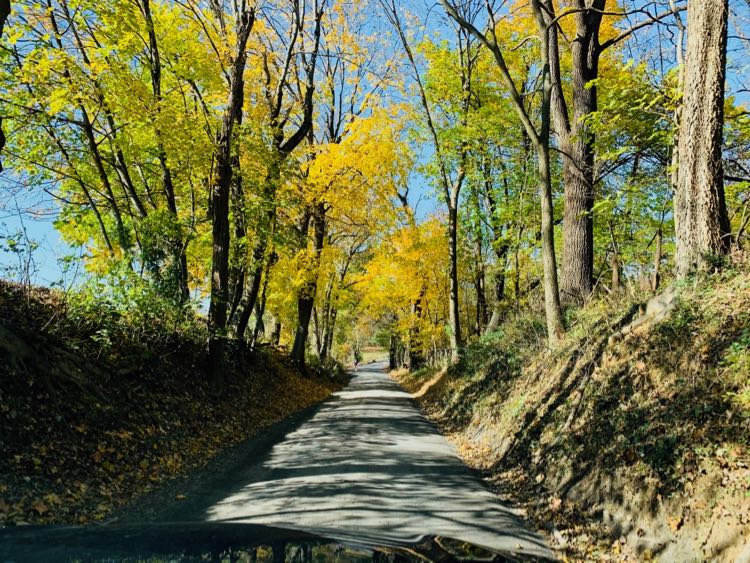 Loudoun County has more miles of unpaved roads than any Virginia jurisdiction, many of them dating to the 18th and 19th-century. Today, these roads connect farms and historic villages much as they did hundreds of years ago. Drive our unpaved roads scenic route and enjoy sunken lanes, one-lane bridges, stonewalls, historic towns and cemeteries, and some of the best views in Northern Virginia.
While the unpaved roads on our route are rugged, they are generally well-maintained and accessible to any vehicle. Roads are narrow and winding, so please slow down and watch out for cyclists, farm equipment, and oncoming traffic. Below are several optional stops to enjoy, but the unpaved roads themselves are our favorite part of this scenic drive.
Things to Do on the Unpaved Roads Near Leesburg Scenic Drive
Visit the gardens, mansion, and equestrian facilities at Morven Park.
Pay your respects at the historic Waterford Cemetery, which dates to the early 19th century.
Explore the history, architecture, and shops in historic downtown Waterford.
Drive through the historic villages of Taylorstown, Morrisonville, and Paeonian Springs.
Sample Virginia wine at Creek's Edge Winery, Hiddencroft Vineyards, or Corcoran Vineyards and Cidery.
Stop in Lovettsville for a meal and a photo with the Lovettsville LOVE sign.
Shop for farm cheese, meats, soap, and more at George's Mill Farm Store and visit the goats in the free petting area.
Drive narrow roads along and over Catoctin Creek.
Enjoy craft beer at Wheatland Spring Farm Brewery.
Hike or bike the Washington and Old Dominion Bike Trail at Paeonian Springs.
6. Scenic Drive on the Virginia / Maryland Border
Drive a pretty route near the border of Virginia and Maryland, stopping at pretty parks, historic sites, wineries, and a delicious local ice cream shop.
Update: Our original route included crossing the Potomac on a historic ferry. White's Ferry closed in December 2020 so you can no longer drive this route as a loop. We hope the ferry will reopen someday.
Trip Details: Leesburg Scenic Drive Along the Virginia Maryland Border.
Distance + Time: 66 miles; 2 hours
Sights: Historic parks and towns, wineries and breweries, farms
Activities: Hiking, history, wineries, breweries, dining
Map: Northeast Loudoun County and Maryland Scenic Drive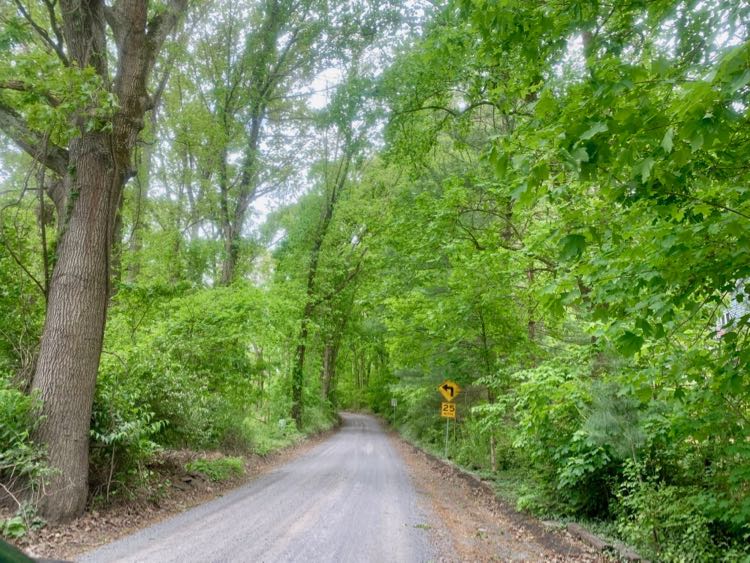 This scenic drive begins in historic Leesburg and travels over the Point of Rocks Bridge. Allow time for optional stops at parks along the C&O Canal in Maryland for hiking, biking, and history. This route also includes quaint towns, relaxing wineries and breweries, and a multi-generational farm selling tasty ice cream. One of the winery roads is dirt and crushed stone, but this drive is easy to navigate and offers relaxing views of the Virginia and Maryland countryside.
Things to do on the Leesburg to Maryland Scenic Drive
7. Fairfax County Scenic Drive on Beautiful Virginia Byways
Explore a quieter side of Northern Virginia's busiest region on this Fairfax County scenic drive. Our route follows lovely Virginia Byways past small towns, pretty parks, and hidden gems.
Trip Details: Fairfax County Scenic Drive on Virginia Byways.
Distance + Time: 46 miles; 1.5 hours
Sights: Virginia Byways, quaint towns, parks, historic sites
Activities: Hiking, biking, paddling, history
Map: Fairfax County Virginia Byways Scenic Drive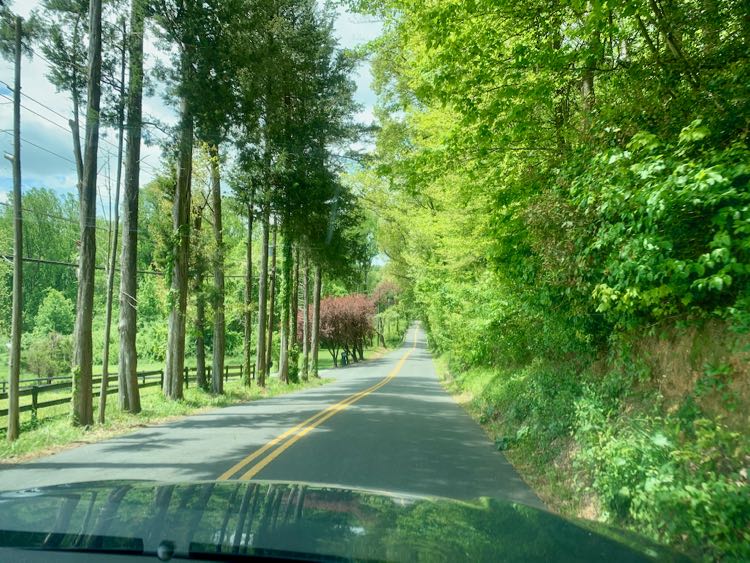 Explore Fairfax County Virginia as you drive 5 designated Virginia Byways to small towns, beautiful parks, and interesting historic sites. This drive makes a great day trip from Washington DC and includes places to hike, bike, and paddle plus great places to eat and the closest winery to DC.
Things to do on the Fairfax County Scenic Drive
Learn about historic Hunter Mill Road and stop to hike or bike.
Dine and explore history in Old Town Fairfax.
Drive a scenic Virginia Byway to one of the most lovely small towns in Northern Virginia.
Hike a scenic stream-side trail and relax at a beautiful Virginia winery.
Bike, hike, paddle, and play at three favorite Northern Virginia parks.
Visit a workhouse turned art center and a museum devoted to the struggle for women's right to vote.
8. Shenandoah National Park Skyline Drive
While Shenandoah National Park is a bit further west, no list of Virginia scenic drives would be complete without Skyline Drive. With 105 miles of gorgeous scenery and stops, Skyline Dive makes a fantastic day trip from Washington DC and is one of the best long drives near DC.
Trip Details: Shenandoah National Park Day Trip Planner and Helpful Tips
Distance + Time: 105 miles one way; 3 hours
Sights: Scenic views, wildlife, visitor centers, park lodges
Activities: Overlooks, hiking, picnicking, history, dining, ranger-led activities
Map: Skyline Drive, Shenandoah National Park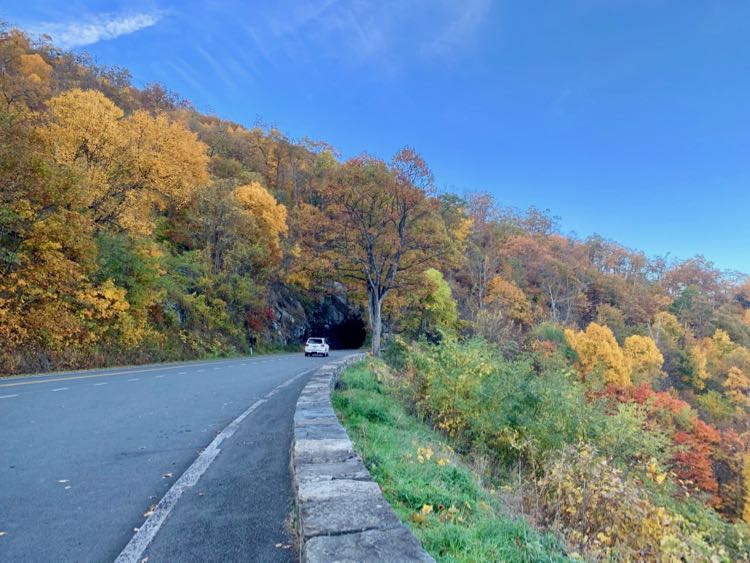 Skyline Drive stretches 105 miles through the Blue Ridge Mountains from Front Royal to Waynesboro. The drive bisects Shenandoah National Park and is the primary access point for park facilities and many popular hiking trails. Many people visit Skyline Drive during fall foliage season, but the road is open year-round, except when storms, snow, and ice lead to road closures.
With 75 overlooks, 2 park lodges, a Visitor Center, and over 500 miles of trails, Skyline Drive can be overwhelming to visit in a day. And since the speed limit is 35 miles an hour, it takes nearly 3 hours to complete the drive in one direction. That's why we recommend a narrower focus on Shenandoah's Central District covering 35 miles and many of the best overlooks, National Park facilities, and hikes.
Things to Do on Skyline Drive in Shenandoah Park Central District
Here are some of the best things to do from Skyline Drive between the Thornton Gap Entrance and Swift Run Gap Entrance.
Enjoy excellent eastward views of park mountains and the Virginia Piedmont from Tunnel Parking, Hazel Mountain, Pinnacles, and Thorofare Overlooks.
See gorgeous views of the Shenandoah Valley and Massanutten Mountains from westward-facing overlooks like Jewell Hollow, Stony Man, and The Point.
Stop for a meal and souvenir shopping at the two park lodges—Skyland and Big Meadows. Try the Blackberry Ice Cream Pie!
Join a ranger-led activity and learn about the park at the Harry Byrd Visitor Center.
Hike the popular trails to Stony Man Mountain and Little Stony Man for beautiful westward views.
Take the Dark Hollow Falls, Rose River, or Lewis Falls trails to beautiful waterfalls.
Tackle a longer Appalachian Trail hike to Mary's Rock or a short rock scramble to Bearfence Mountain for panoramic mountain views.
Spend the night at a park lodge or one of several excellent campgrounds.
Bonus: Washington DC Cherry Blossom Scenic Drive
Cherry blossom season is one of the most spectacular times to visit Washington DC. The most famous cherry trees bloom around the Tidal Basin, but there are more blossoms to see in nearby parks.
In late March and early April, see the Washington DC cherry blossoms from the comfort of your car on a Washington DC Cherry Blossom Scenic Drive. If you miss the peak bloom, you can still see gorgeous late-blooming cherry trees 2 to 3 weeks later.
Our DC scenic drive route gives you great views of the cherry blossoms plus the Washington Monument, World War II Memorial, and more. In fact, this DC scenic drive route is interesting year-round, even when the cherry trees are not in bloom.
More Scenic Drives Near Northern VA and Worth the Trip
Scenic drives in Northern Virginia are lovely, and there are many beautiful road trip opportunities nearby.
Follow these links to plan a scenic weekend getaway or a longer road trip:
We hope you enjoy these Northern Virginia scenic drives throughout the year and have a fun and relaxing time.
Follow us on Facebook, Twitter, Pinterest, and Instagram for more fun travel in and from Northern Virginia.