Discover the best things to do in historic Occoquan Virginia including outdoor fun, local shopping and dining, historic walks, and more in this quaint town in Northern Virginia. Occoquan VA makes a wonderful day trip from Washington DC and it's also perfect for a romantic weekend getaway.
Historic Occoquan was once a bustling town with a large mill. Today, visitors enjoy a lovely mix of local shops, tasty restaurants, historic buildings, and outdoor parks by the scenic Occoquan River.
Plan your visit with our comprehensive guide to the best places to visit and things to do in Occoquan Virginia. We also recommend where to stay in town and places to visit nearby on a weekend getaway or longer day trip.
Disclosure: This article may contain affiliate links. We will make a small commission from these links if you order something, at no additional cost to you.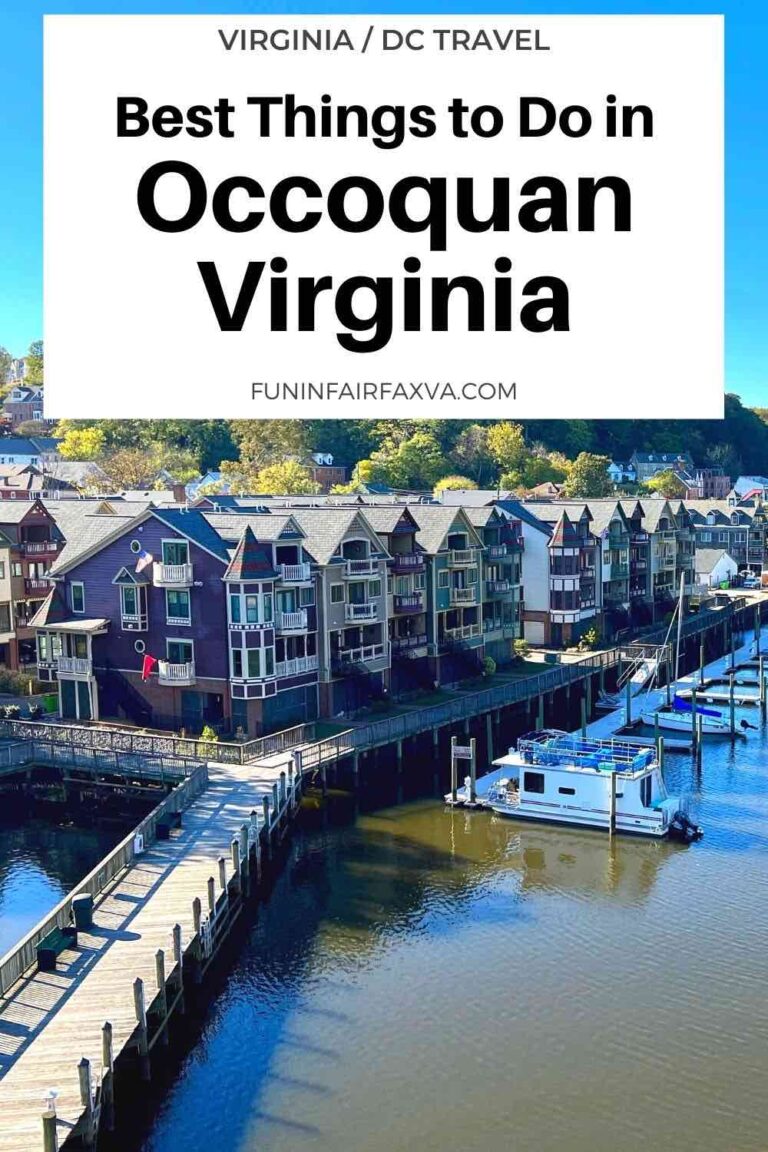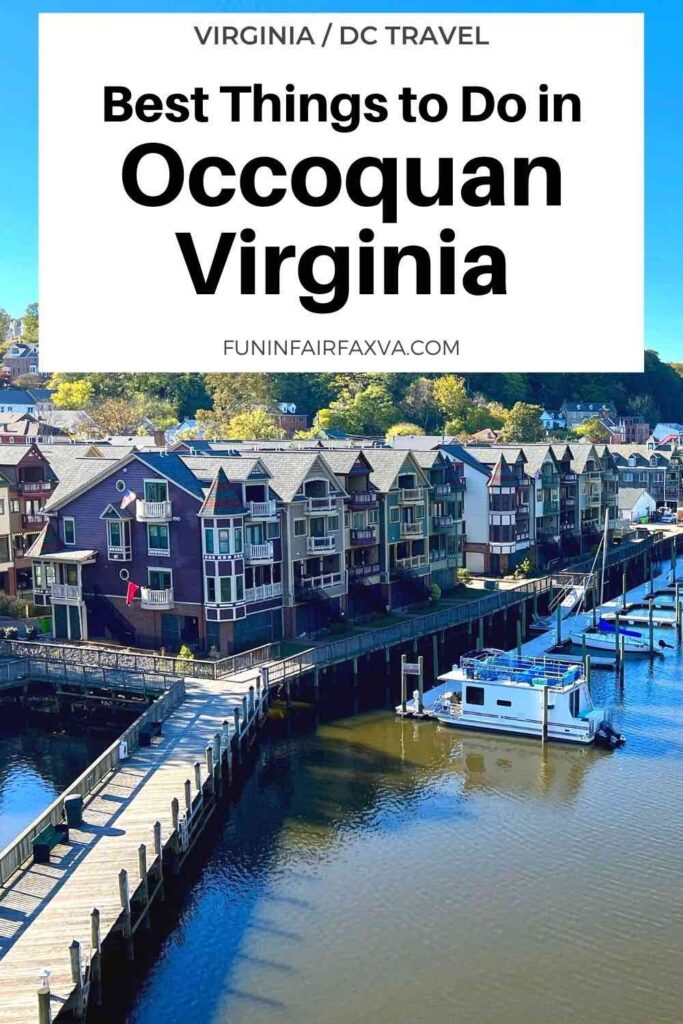 Places to Visit in Historic Occoquan Virginia
Historic Occoquan is one of our favorite small towns in Virginia. The Occoquan historic district is compact and walkable and it's packed with local shops and restaurants. The Occoquan River adds scenic vistas and fun water activities that are easy to enjoy from town.
Stop in to visit a few of the fun things to do on our historic Occoquan list, or spend the day and try them all. Special weekend events add extra fun but can also draw crowds. Visit Occoquan on a weekday for a quieter experience. If shopping is your priority, note that some businesses are closed early in the week.
Below are our picks for the best places to go and things to do in historic Occoquan Virginia. We also include essential information on directions, where to park, special events, and more resources to plan your Occoquan visit.
River Mill Park
At the north end of historic downtown Occoquan is River Mill Park, one of the prettiest green spaces in Prince William County. The one-acre park features lawn space, benches, an open stage, and a paved walking trail.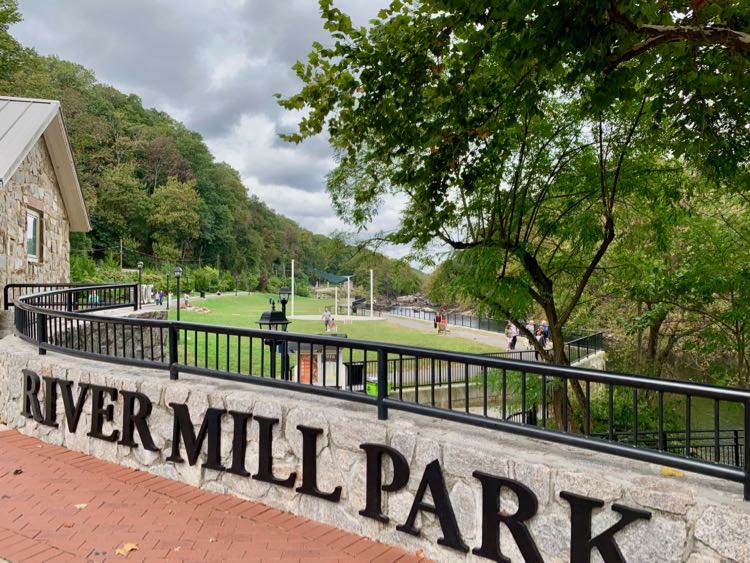 Best of all, the park offers lovely views of the Occoquan River. From here you can see a dam and rapids upstream and the pretty footbridge downstream.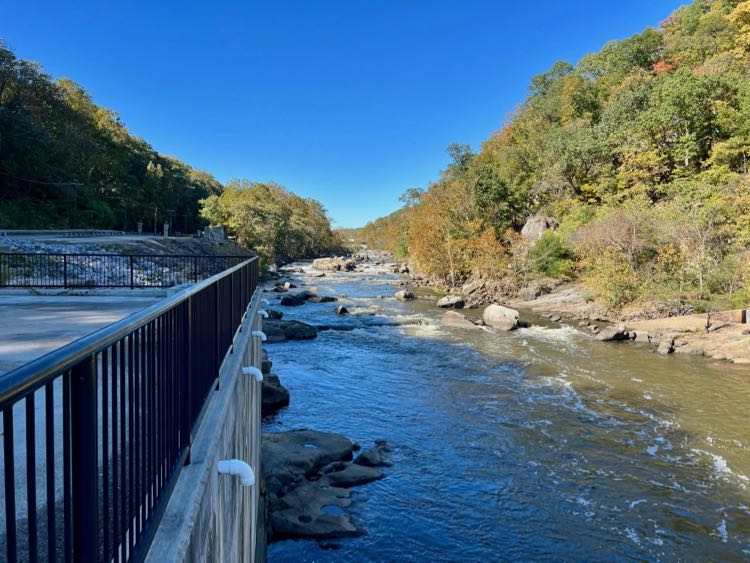 A fun LOVE sign in the park is a popular spot for couples and family photos. The LOVE work was created by a local artist and Zentangle teacher from the nearby Workhouse Arts Center.
See also 25 Perfect Picnic Spots in Northern Virginia for Couples to Groups.
Occoquan River Footbridge
One of the most scenic spots in Occoquan is the footbridge over the Occoquan River at the north end of Mill Street. The picturesque Nathaniel Elicot Bridge replaced earlier bridges at this location. The first bridge, built in the 1700s, made downtown Occoquan part of the main travel route up and down the East Coast. Later, Route 123 crossed the river in this location.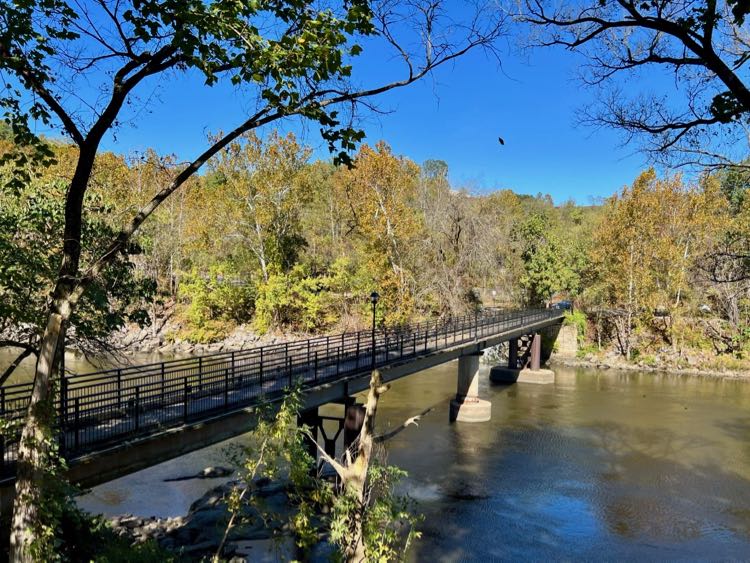 Today, the footbridge is a popular picture spot and a great place to watch paddlers, birds, and the flowing river. There is a small waterfall at one end of the footbridge. Scroll down for a pretty bridge to bridge walk that starts at the footbridge.
Mill House Museum
Learn about the history of Occoquan at the Mill House Museum (413 Mill St). The first automated gristmill in the US once operated here. The mill was destroyed in a fire, but the museum occupies the former millhouse. The small museum includes a fascinating collection of artifacts and photos from the town's early history. Occoquan's Mill House Museum is free and is open daily from 11:00 – 4:00.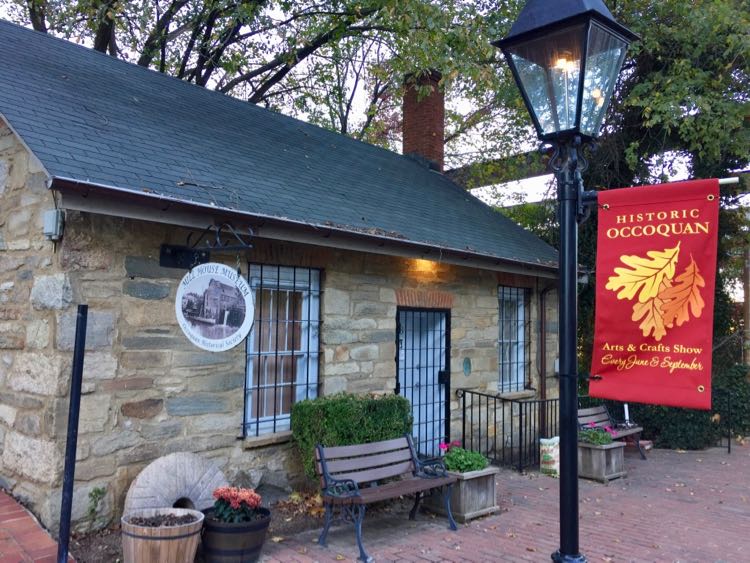 Mamie Davis Park
The cute gazebo at Mamie Davis Park is one of the most photographed spots in Occoquan Virginia. Here you will often see couples, families, prom-goers, and brides capturing the perfect pic. The small park has several benches and a small lawn, so it's also a nice spot for a picnic.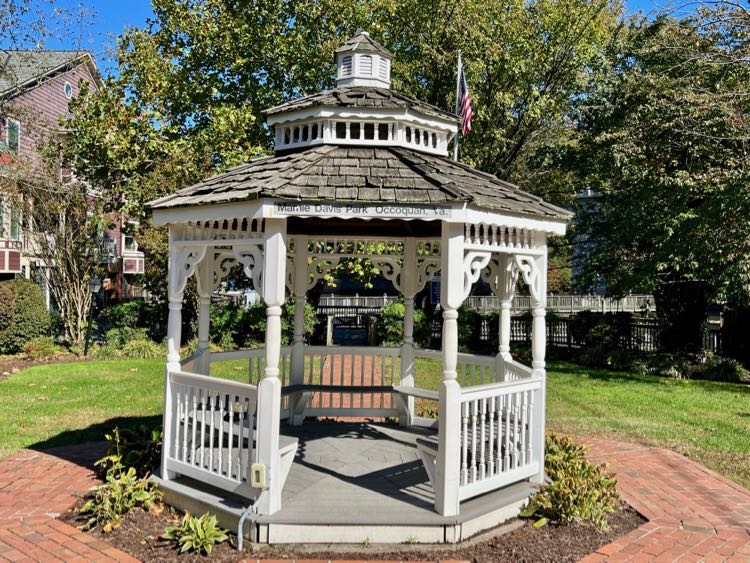 Walk past the bandstand toward the river to reach a picnic area on the town's riverfront boardwalk. A large sycamore provides a shady spot to relax and enjoy some local takeout.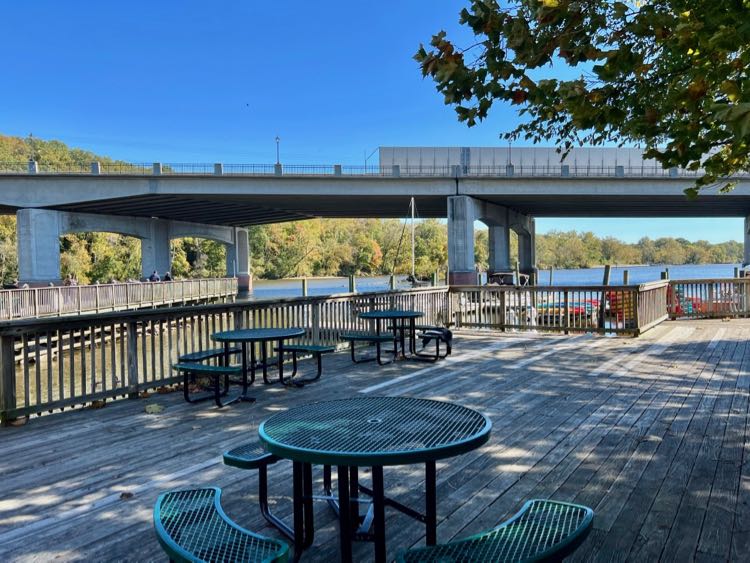 Occoquan Riverwalk
A short wooden walkway follows the river from the Riverside Shops building to the end of the Gaslight Landing development. From the walkway, you can enjoy beautiful views up and down the Occoquan River, enjoy a picnic, or soak up some sun.
The town of Occoquan is a bird sanctuary, and the riverwalk is a nice spot for spotting water birds including mallards, cormorants, and gulls. Keep an eye our for ospreys and herons hunting for fish.
Occoquan Town Boat Dock
Kayaking is one of the best ways to explore the Occoquan River near the historic downtown. Occoquan's public boat dock is free and open to the public. The dock makes it easy to launch your kayak, canoe, or paddleboard. The dock includes a ramp and accessible launch for wheelchair users. To access the dock, park under the 123 bridge in the free 8-hour lot.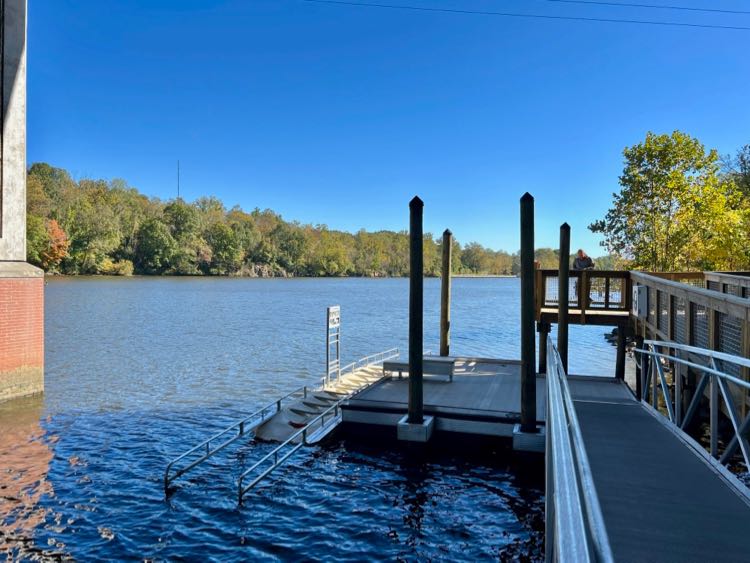 From the dock, paddlers can head upstream to see the town and footbridge from the water. This is a popular spot to fish or get a close-up look at the small waterfall near the bridge. Head downstream and you can paddle to Occoquan Regional Park and further downriver toward Belmont Bay.
Don't have your own kayak? Penguin Paddling (201 Mill St) rents kayaks from its location on the Riverwalk in season. They also offer seasonal paddling tours of the river and nearby Neabsco Creek. The two-hour guided kayak tours are a fun way to explore the Occoquan River, see local birds and wildlife, and learn about the town's history.
Occoquan Loop Walk Bridge to Bridge
Take a short Occoquan loop walk from bridge to bridge and see this quaint Virginia town from a new perspective. While this is an easy, paved walk it does include two hills.
To begin your walk, cross the Occoquan River Footbridge and turn right on the paved road. The road climbs a hill with mature sycamore, tulip poplar, and walnut trees on both sides. This is a great place to watch for songbirds and butterflies.
At the top of the hill, turn right as you transition from the quiet woods to busy Route 123. Now you'll cross the second bridge of the loop walk, high above the Occoquan River. You will likely see a steady stream of traffic, but the sidewalk is protected by concrete barriers. Stop mid-bridge for a great view of historic Occoquan.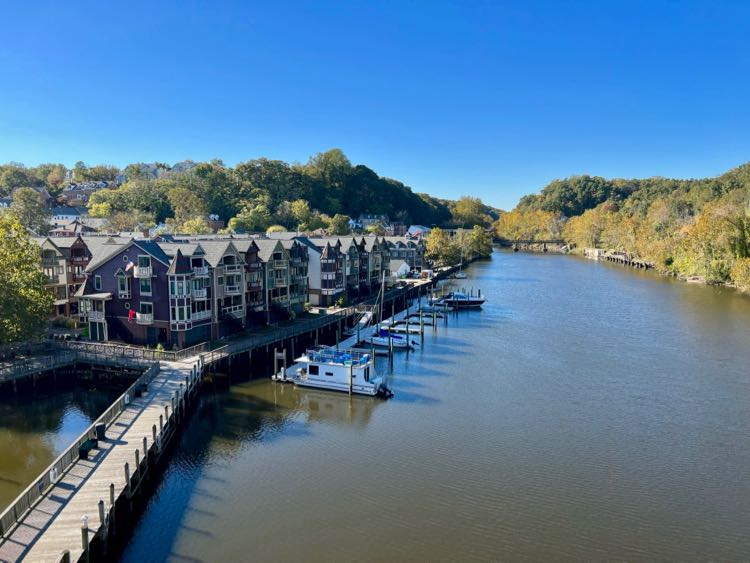 At the end of the bridge, turn right on Commerce Street and walk back downhill into Occoquan. Turn right on Washington or Union Street, then left on Mill Street to complete the loop back to the footbridge.
Notable Historic Spots in Occoquan
There are interesting buildings and artifacts sprinkled around historic Occoquan, so watch for them as you stroll downtown. We've highlighted some historic Occoquan sites below, and you can learn about many others on a self-guided walking tour.
306 Mill Street
The brick building at 306 Mill Street was built as a grocery store in 1931, and you can see the owner's name, R. Wayland, displayed in bricks near the roofline. In 1916, a devastating fire started here and swept through the downtown, destroying many buildings. A historic marker here shows a photo of the pre-1916 buildings.
Historic Occoquan Town Hall
The brick building at 314 Mill Street, once a Methodist Church, is Occoquan's Town Hall. A previous wooden church on this site was destroyed in the 1916 fire. Residents and visitors gather here in late November for the annual holiday tree lighting.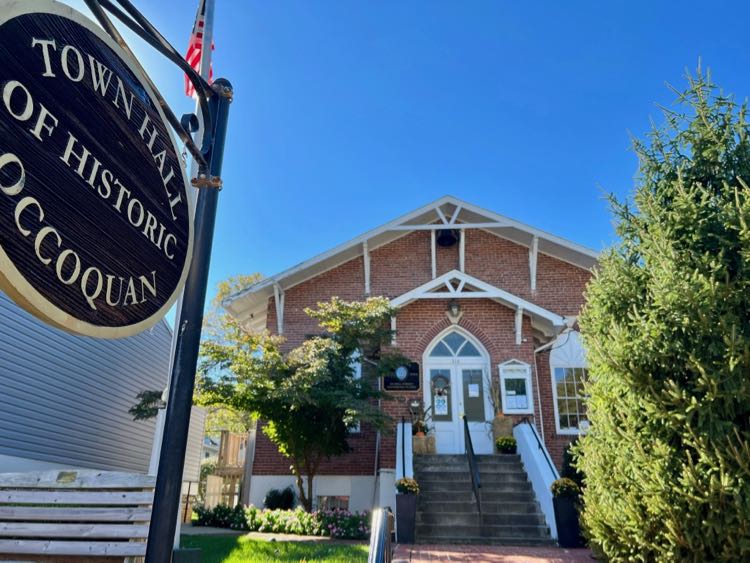 Carbide Bunker
Our favorite artwork in Occoquan graces the gate to the Carbide Bunker. Carbide was used in the 1900s to light the streets of Occoquan, and the explosive material was stored here. The little gentleman carrying a lantern on this gate is very photogenic.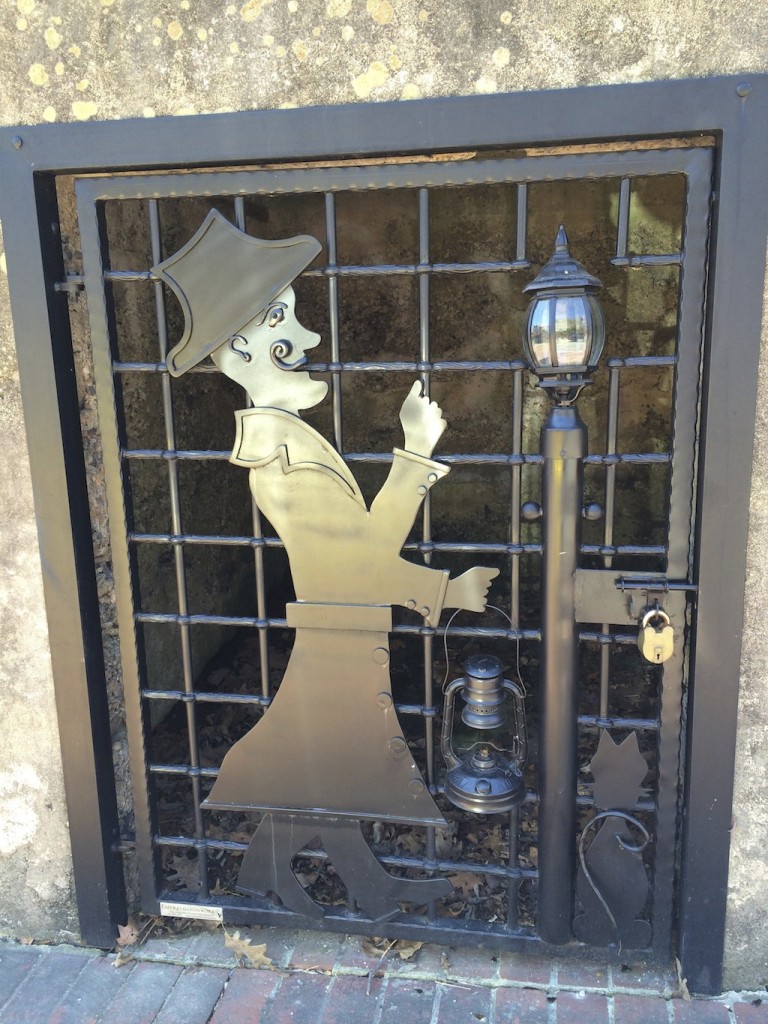 Rockledge Mansion
It's hard to miss Rockledge Mansion, perched on a hill at the west end of Mill Street. Rockledge actually predates the town, as it was built in 1758 for John Ballendine, who established the first mill here. Ballendine was friends with George Mason and George Washington, and he hired the architect of Mason's Gunston Hall to build his mansion.
The mansion has undergone many challenges over the years, including a fire in 1980. It is currently closed and on the market, though it was most recently used an as event space.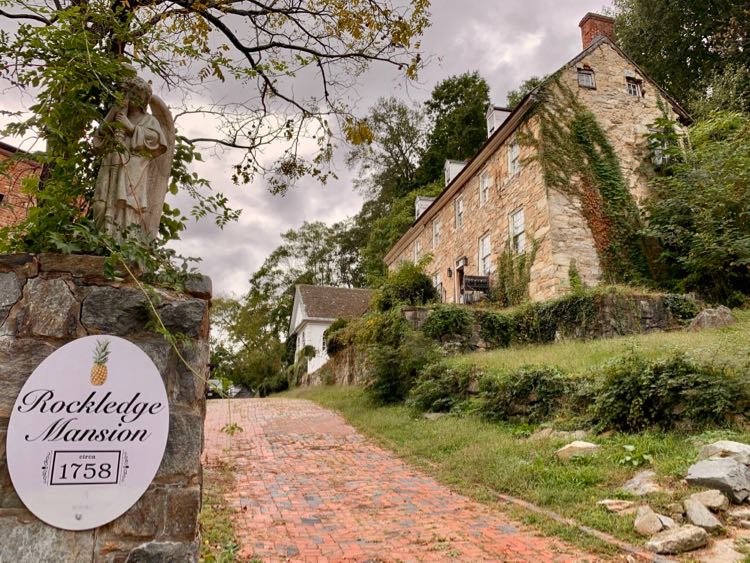 Historical Marker Trail
You will see historical markers posted throughout historic Occoquan. These signs, many of which include photos, tell the stories of artifacts, buildings, and events from the town's past. Watch for the signs as you explore downtown, or follow the Occoquan Historical Marker Trail to see them all.
Where to Stay in Occoquan VA on a Weekend Getaway
While Occoquan makes an excellent day trip near Washington DC, it's also perfect for a weekend getaway or overnight stay. Historic Occoquan is small, and there are no hotels in town. But you can stay in the heart of the historic area at one of several Occoquan Airbnbs. These unique Northern Virginia Airbnbs include a brick building right on Mill Street and a beautiful farmhouse with a gourmet kitchen.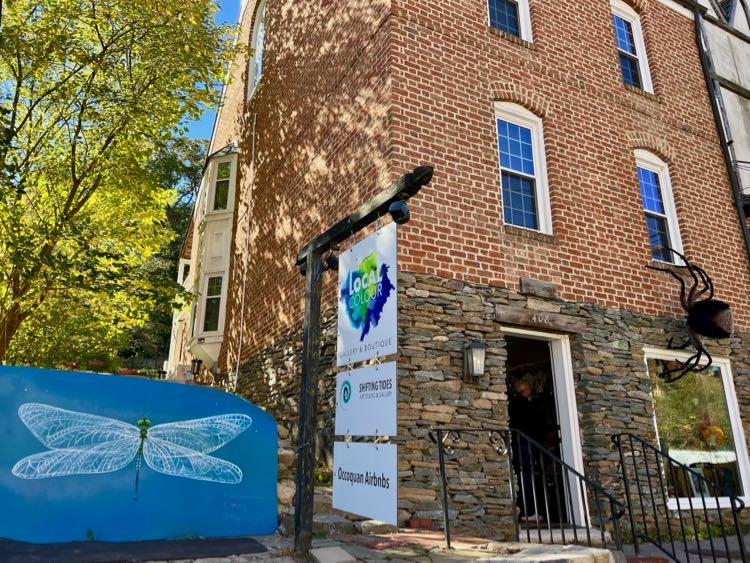 If you prefer a hotel stay, there are several chain hotels a few miles away in Woodbridge and Lorton.
Shops in Historic Occoquan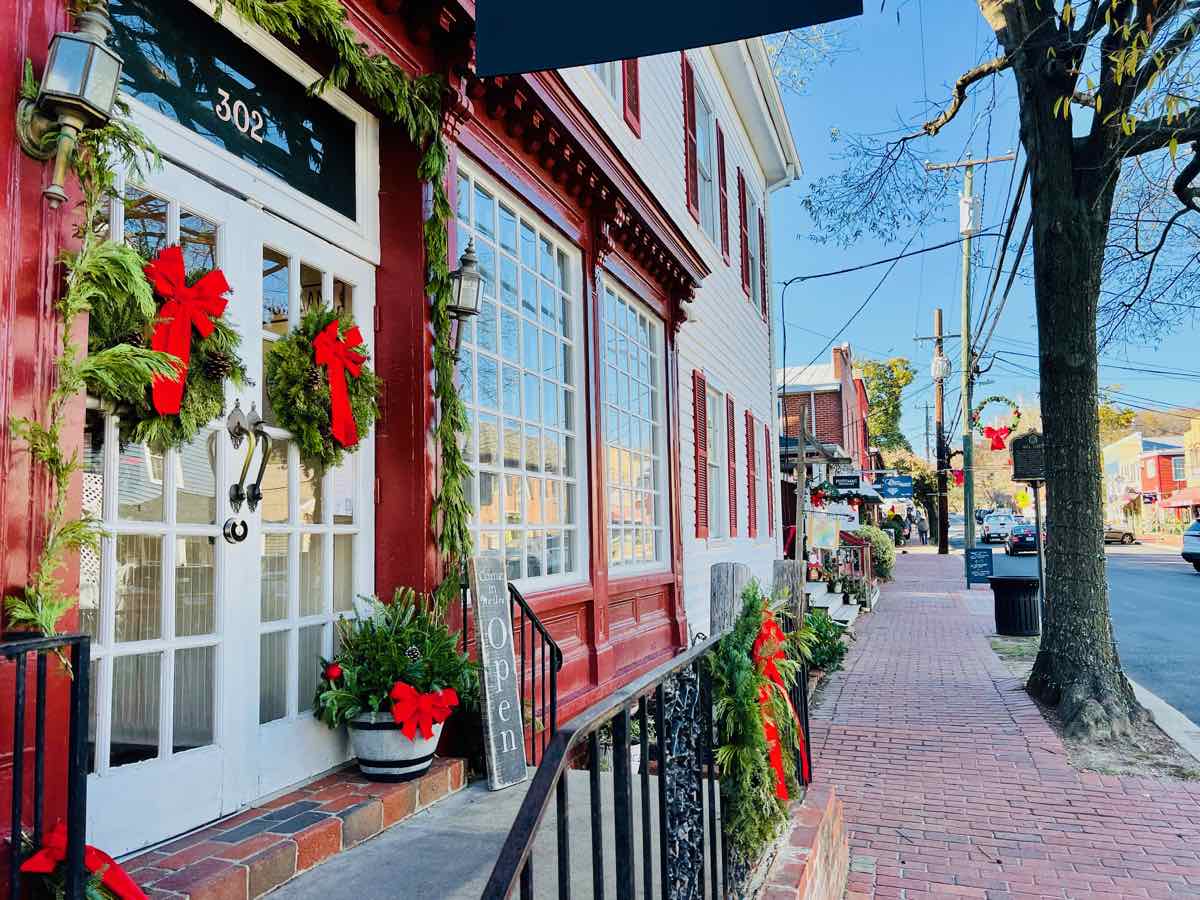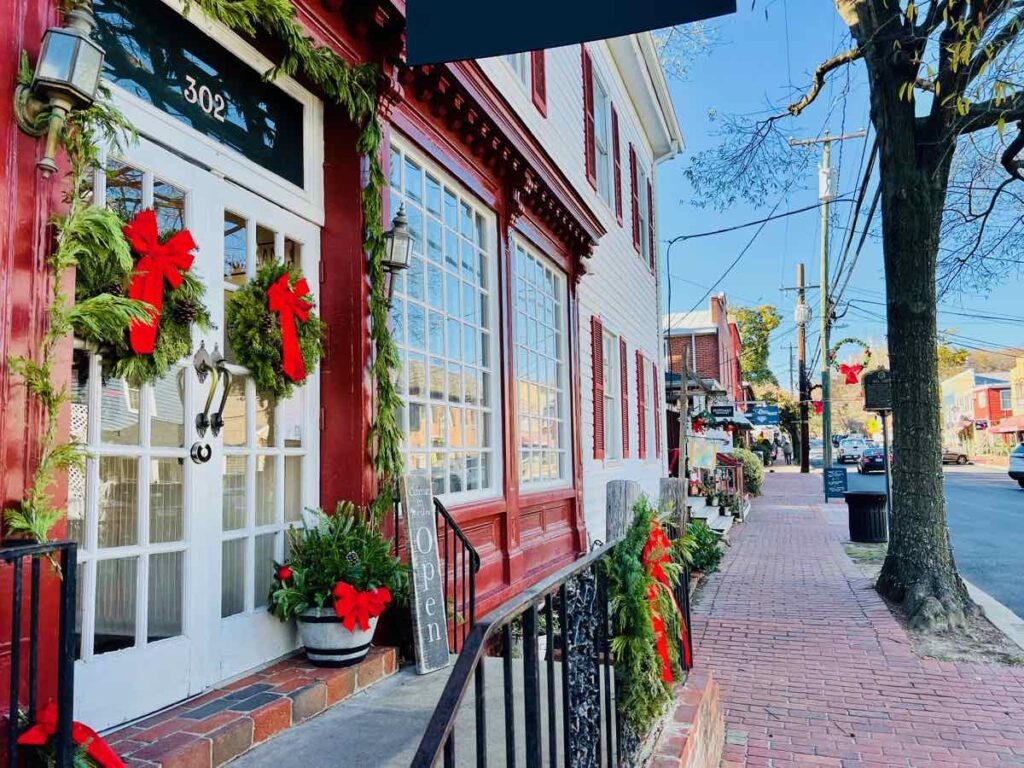 More than 40 local shops, art galleries, and boutiques line the streets of historic Occoquan. Spend a few hours and visit them all, or pop into a few favorites like the ones listed below.
The unique greeting cards, stationery, and notebooks at Hitchcock Paper Company (125 Mill St) are made in Occoquan by local owner Sarah Hitchcock Burzio. Her collection of high-quality paper products have a bit of a vintage feel, and you can find them in the Riverside Shops.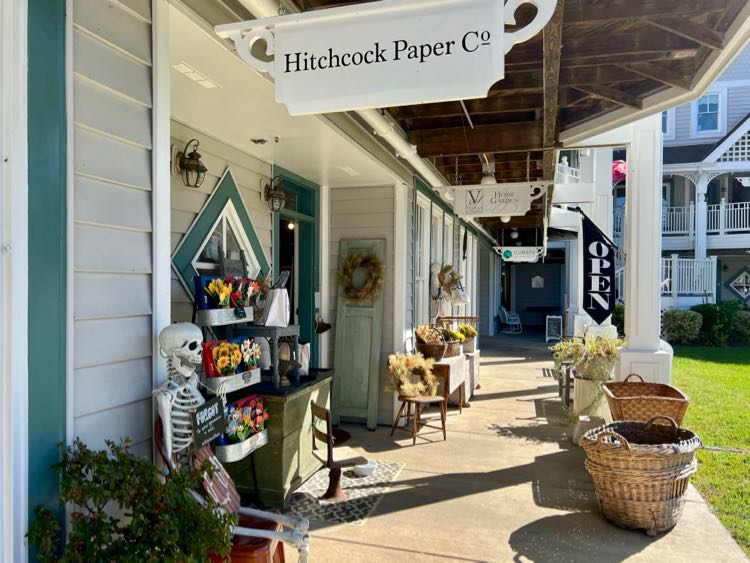 One of our favorite Occoquan shops is Puzzle Palooza Etc (305 Mill St), where the motto is "you are the missing piece." The small shop boasts an impressive collection of jigsaw puzzles from over 40 brands covering a huge range of topics and piece counts.
Next door, Gift & Gather (307 Mill St) features handmade products from the DC area, so it's a great place to shop local. They stock everything from jewelry to home goods and gifts for every age.
Be sure to visit shops beyond Mill Street too. For example, The Reclaimed Treasures (199 Union St) offers custom furniture, DIY kits, Fusion paint, and more.
Occoquan Virginia Restaurants
There is a nice selection of Occoquan restaurants for such a small downtown area. Dine at one of the pretty patios, inside historic Occoquan buildings, or enjoy a takeout picnic by the river.
The Secret Garden Cafe
Climb the steps between two Mill Street buildings to find the lovely patio at The Secret Garden Cafe (404 Mill St). This is our favorite Occoquan restaurant, ideal for outdoor dining when the weather is nice. Of course, the tables inside the cozy interior are nice too.
Cock and Bowl
You'll find another popular patio at Cock and Bowl (302 Poplar Aly), a Belgian bistro featuring mussels, sweet waffles, and imported beer. There is also limited indoor seating on the 2nd floor.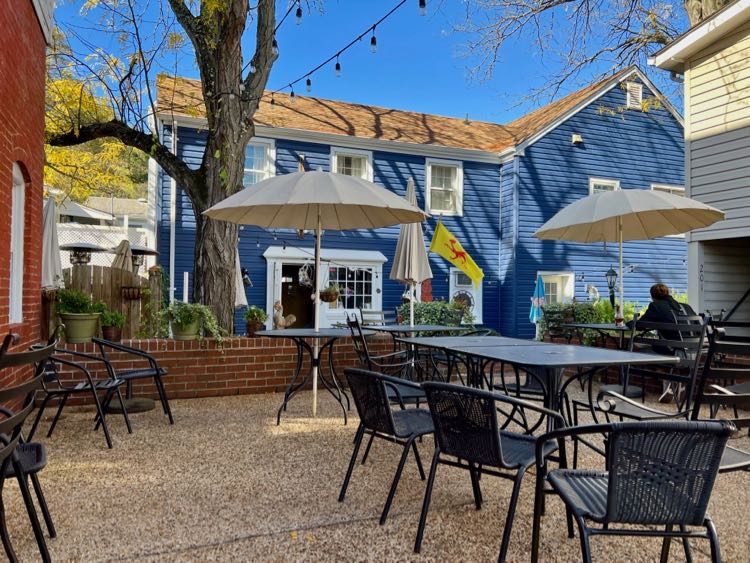 Mom's Apple Pie
Some of the best pies in Northern Virginia are baked at Mom's Apple Pie in Occoquan (we love the Leesburg location too). Stop in for a sweet treat to enjoy by the river or take a pie home for the family.
More Places to Eat in Occoquan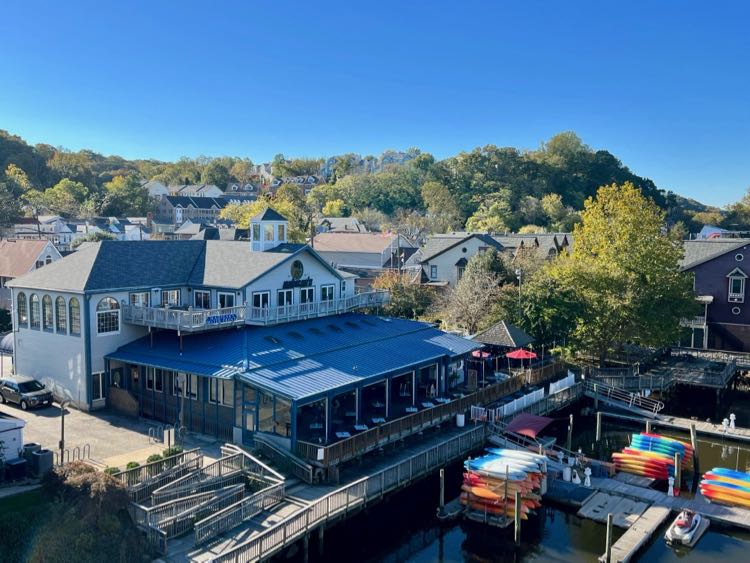 Occoquan is home to two excellent chocolate shops. Ben Rasmussen, owner of Potomac Chocolate (304 Mill St), hand crafts his chocolates right here in Occoquan. Across the street, Nazbro Chocolates (309 Mill St) is a small family business producing a tasty assortment of chocolate-covered fruit, nuts, truffles, and more.
Madigan's Waterfront (201 Mill St) is another popular restaurant in Occoquan VA with excellent river views. The large indoor dining room, spacious deck, and seasonal Tiki bar all have nice views of the river.
The Ballywhack Shack, in one of the cutest buildings on Mill Street (304), is a good stop for casual sandwiches, hot dogs, and drinks to go.
Enjoy a refined meal inside the shop at Bottle Stop Wine Bar (311 Mill Street) or people-watch from the patio.
Bann Thai Old Town (416 Mill St) serves modern Thai dishes on land that was once part of Rockledge Mansion. The building is not historic, but we love the hand-crafted bubble window.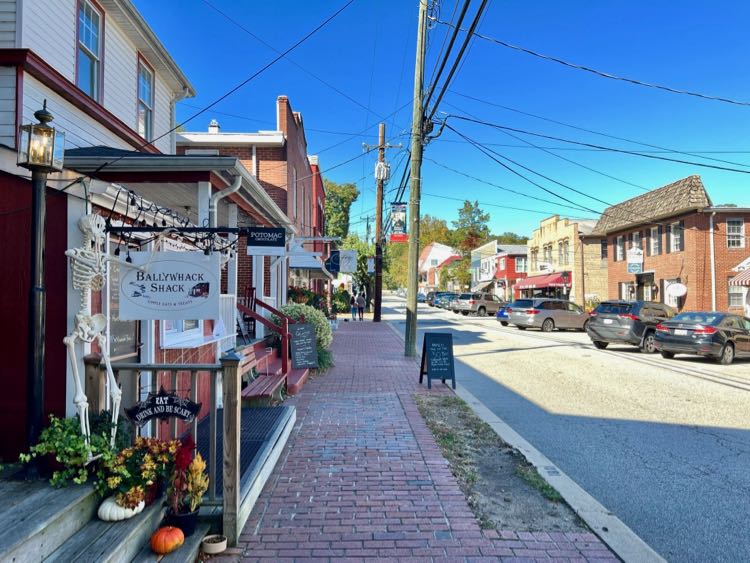 Occoquan Spirits Haunted Tours
Explore the spookier side of town on a walking tour with Occoquan Spirits. They offer guided weekend Haunted Pub Crawl and Ghost tours for adults, and a family-friendly haunted history tour on Sundays. Tours start in the Local Colour Gallery and Boutique (said to be haunted, of course) at 408 Mill Street.
Instagrammable Spots in Occoquan Virginia
The quaint town of Occoquan Virginia is a fun destination for photography. Here are our picks for the most Instagrammable locations in Occoquan. In addition, many of the shops have nicely decorated entryways. Visit around Halloween and you'll have spooky and fun decorations as your backdrop.
The bandstand at Mamie Davis Park is ideal for couples and groups.
The LOVE sign at River Mill Park is a fun spot for family and romantic photos. There is a little path behind the sign so you can frame people in and around the letters.
For a river backdrop, head to the Riverwalk behind Mamie Davis Park. Trees line the opposite bank and are especially pretty during fall foliage season.
The Occoquan River Footbridge is another excellent place for group photos with a river backdrop.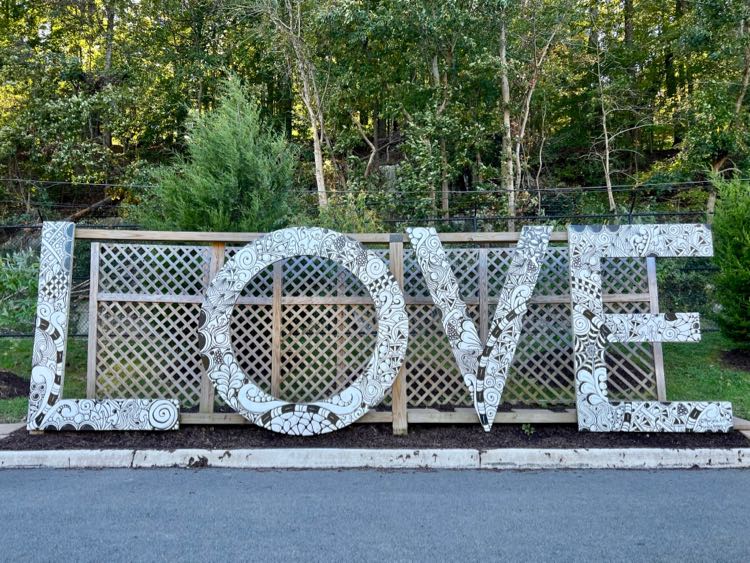 Upcoming Events in Occoquan
There are fun events in Occoquan Virginia on most weekends throughout the year. In the spring and fall, Occoquan hosts a popular weekend craft festival with vendors and artisans lining the downtown streets.
In the warmer months, visitors can enjoy free outdoor concerts and outdoor movies at River Mill Park. Halloween is a popular time in Occoquan for spooky decorations, ghost tours, and special events.
The annual tree lighting kicks off festive events and decorations that make Occoquan one of the best Christmas towns near Washington DC.
Visit the Occoquan government website for the latest event news.
Planning your visit to Occoquan Virginia
Occoquan Virginia is a beautiful small town that makes a fun day trip or weekend getaway close to Washington DC. Read on for tips to plan your visit.
Explore more Fun Northern Virginia Small Towns.
Getting There
The Occoquan Historic District is conveniently located near Route 95 in Northern Virginia, about 20 miles south of Washington DC. National Airport is 22 miles north of Occoquan, and Dulles Airport is just 29 miles northwest. Use this Google map link to find directions from your location.
Parking in Occoquan, VA
There are free timed parking spots throughout the downtown historic area. Note whether you are parking in a 4-hour or 8-hour spot so you don't overstay your visit. There are also a few 20-minute takeout spots near businesses.
If you are comfortable walking, park at one of two large lots on the south end of Mill Street. There are 8-hour parking spaces under the Route 123 bridge and in an open lot across the street.
More Occoquan Virginia Info
Check the Visit Occoquan website for events in Occoquan Virginia and to find local businesses.
There is a Visitor Information Kiosk with maps and brochures next to the Mill House Museum.
There are free restrooms at 458 Mill Street, near River Mill Park and the Mill Museum.
Occoquan welcomes leashed pets, though rules vary by business. There are waste bags and cans near Mamie Davis and River Mill Park, and we see furry friends out for a walk on most visits to town.
Places to Visit Near Occoquan Virginia
There are several excellent parks to visit near historic Occoquan Virginia where you can enjoy more nature, hiking, paddling, and history. Follow the links below for details about these great places to visit near the town of Occoquan.
Occoquan Regional Park
Just across the river, and visible from the town dock is Occoquan Regional Park. Here you can hike a woodland trail and paved paths throughout the park. In warmer months, this is a great place to rent kayaks and paddle upriver to the town and Occoquan footbridge. At Brickmaker's Cafe, dine with a river view on the patio or choose one of the indoor tables. The restaurant offers casual sandwiches, salads, and daily specials.
The park is open daily and there is plenty of free parking and no admission fee. Occoquan Regional Park is just a one-mile walk from downtown Occoquan.
National Women's Suffrage Memorial
Also located inside Occoquan Regional Park, the Turning Point Suffragist Memorial is one of the newest hidden gems in Northern Virginia. The outdoor memorial shares the long struggle for women's right to vote. It also shares details of the shocking events that made this site a turning point in the fight for the vote.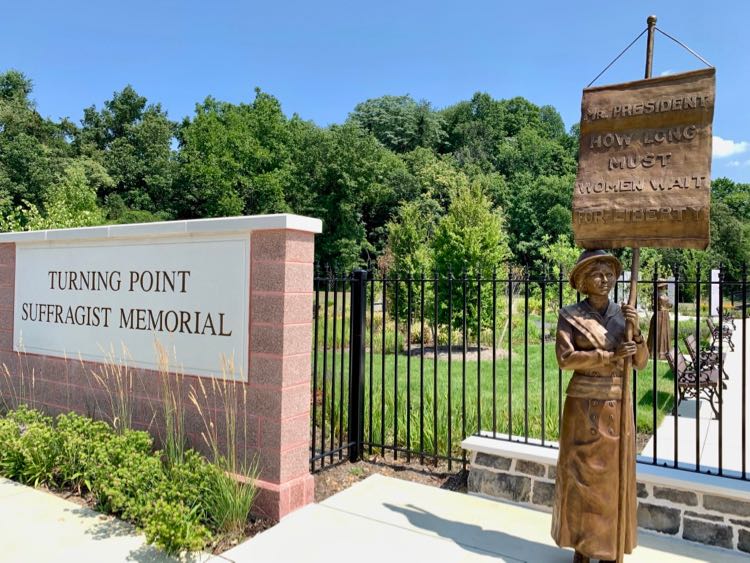 Workhouse Arts Center
Learn more of the women's suffrage story, and shop for local creations at the Workhouse Arts Center. Housed in a former prison, the center is home to art galleries that are open to the public. At the Lucy Burns Museum, learn more about the history of women's suffrage and a local connection to the national movement. The Workhouse Arts Center is just 1.5 miles from the historic downtown.
Occoquan Bay National Wildlife Refuge
The Occoquan River you see from town flows southeast, emptying into the Occoquan Bay. Take a short drive to the Occoquan Bay National Wildlife Refuge to see the area where river and bay meet. The small refuge is an excellent spot for birding and a quiet hike. Here you can explore 4 miles of unpaved roads, a 2-mile scenic loop drive, and observation platforms for bird-watching.
Mason Neck Peninsula
Just across the bay, the Mason Neck Peninsula is home to more beautiful nature and interesting history. Visit Mason Neck State Park for miles of pretty hiking trails, boating on Belmont Bay, and a chance to see eagles, osprey, and other wildlife.
Nearby Gunston Hall is home to founding father George Mason. Visitors can tour Mason's home and learn about his critical role in establishing fundamental American rights like religious freedom. Allow time to walk the grounds and see the historic garden.
A network of dirt trails offers excellent off-road biking and hiking. Stop at the information kiosk for maps.
Follow us on Facebook, Twitter, Pinterest, and Instagram for more fun travel in and from Northern Virginia.