Updated on May 9, 2023 by Julie McCool
Visit Frying Pan Farm Park in Herndon for free, family-friendly fun including the chance to see 100 farm animals and learn about early farm life in Northern Virginia. Here, visitors can explore a variety of buildings and barns that interpret life on the farm from the 1920s to 1950s.
An antique carousel, hiking trails, hayrides, children's play areas, country store, and equestrian facilities add to the fun.
Disclosure: This article may contain affiliate links. We will make a small commission from these links if you order something, at no additional cost to you.
Frying Pan Farm Park is one of the most popular places managed by the Fairfax County Park Authority, and for good reason. There is no fee to enter, so you can pop in for a short visit or spend several hours enjoying the park. Ample parking and open spaces make it easy to explore and play.
Wide, mostly level paths are stroller-friendly and wheelchair accessible. Leashed dogs are allowed in all park areas except during some special events.
Here are free and fun things to do at Frying Pan Farm Park. Visit the Fairfax County Park website to find the latest events and seasonal activities.
Find more family-friendly things to do in Herndon Virginia.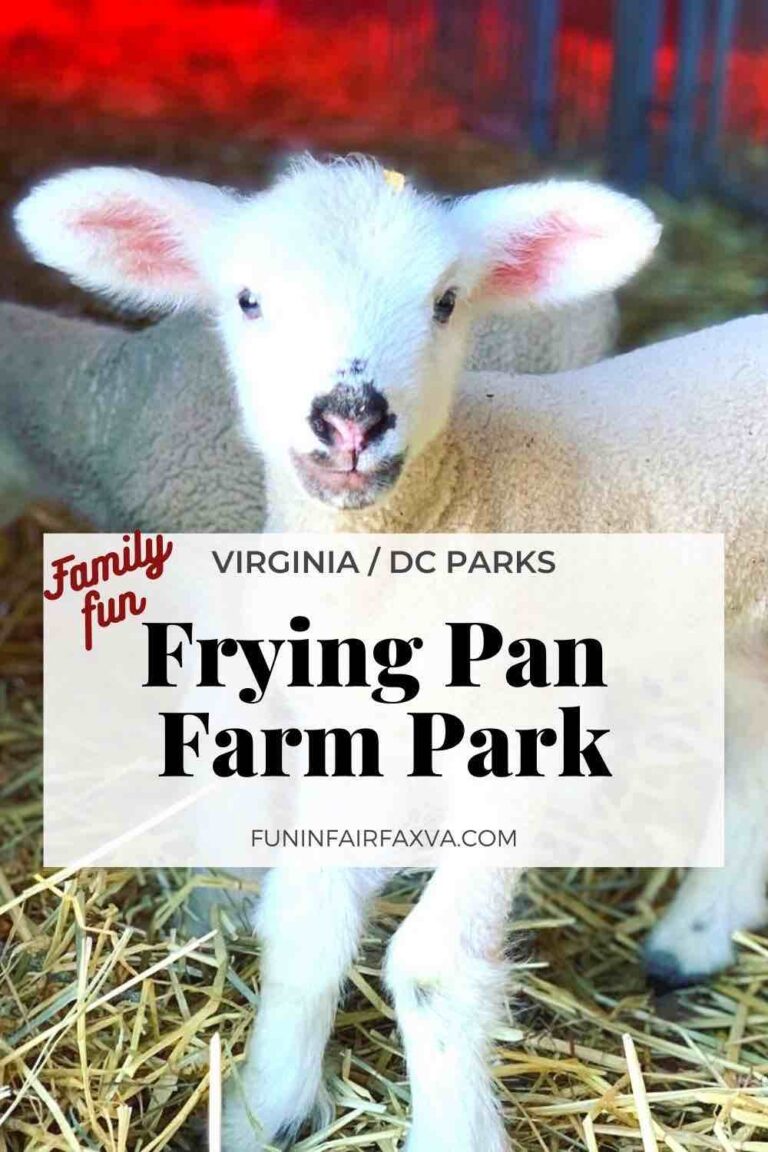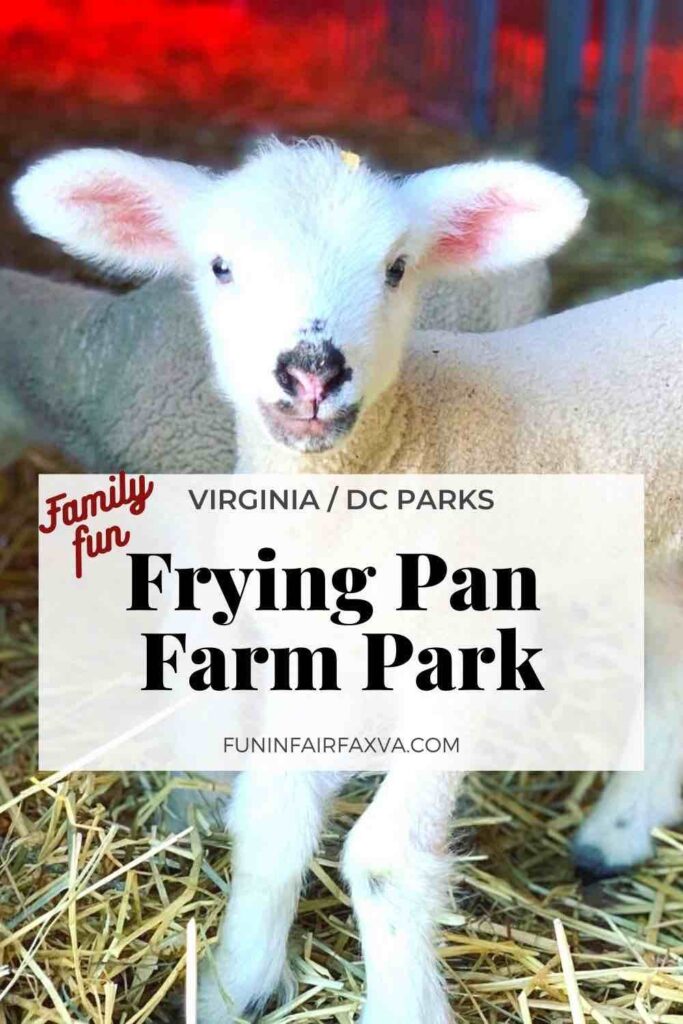 Visit the Frying Pan Farm Animals
Visiting the animals is a highlight of any trip to Frying Pan Farm Park. This is a working farm with over 100 animals including horses, cows, sheep, pigs, rabbits, ducks, geese, peacocks, and more. For example, you may see the farm's two handsome draft horses relaxing in the pasture or pulling a wagon full of happy visitors.
Several sheep make their home at Frying Pan. In spring 2021, Dorset ewe Fluffette gave birth to triplet lambs, while Suffolk ewe Lane (named after VT's Lane Stadium) had twins. Visit the farm in February and March to see baby animals at play.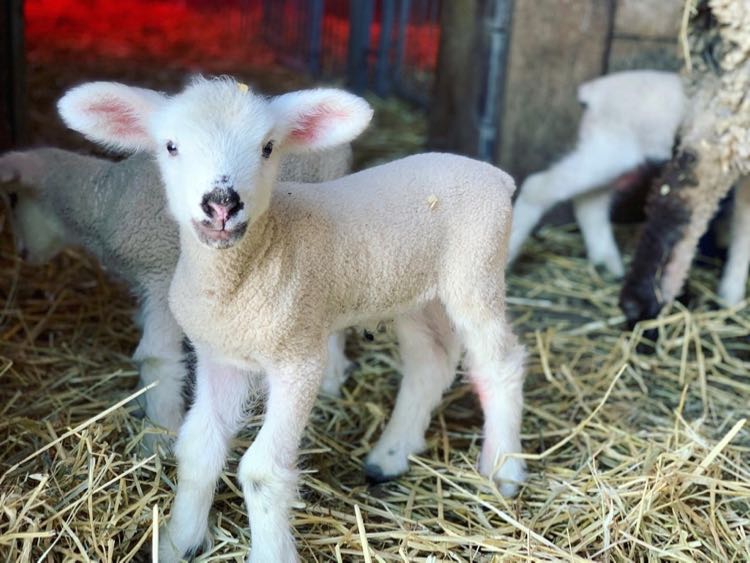 In adjacent pens, giant pigs birthed a litter of squirming, squealing piglets that are so fun to watch. Beyond the barn is a hutch for bunnies and large caged areas for ducks, peacocks, and geese.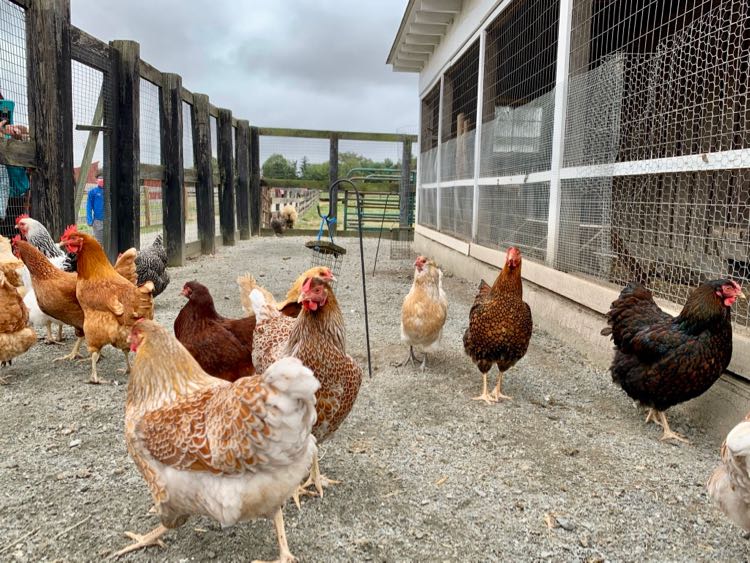 Which animals you see and where they are located varies. Usually, there are several animals in the large Kidwell Farm barn. Others are housed in nearby pens or out in the fenced pastures.
Happily, visitors can sometimes interact with the farm animals. However, you should never feed or touch animals except as part of a supervised event. Fun activities for kids include a turn at the milking station and "driving" miniature tractors.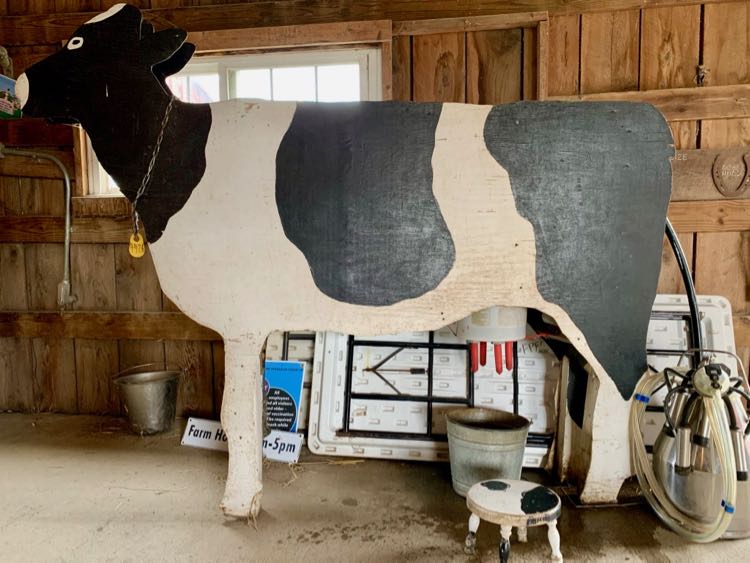 Learn About Early 1900s Farm Life
The buildings and displays at Frying Pan Farm Park interpret farm life in the 1920s through the 1950s. For example, the Cider Barn includes equipment that was used to produce cider on this site.
In 1928, when Clinton Jones invented the cider press, Fairfax County was home to 25,000 residents and almost 140,000 apple trees. Apples were a big industry in Fairfax at the time. Today, interpretive signs at the barn describe the difficult process of turning all those apples into cider.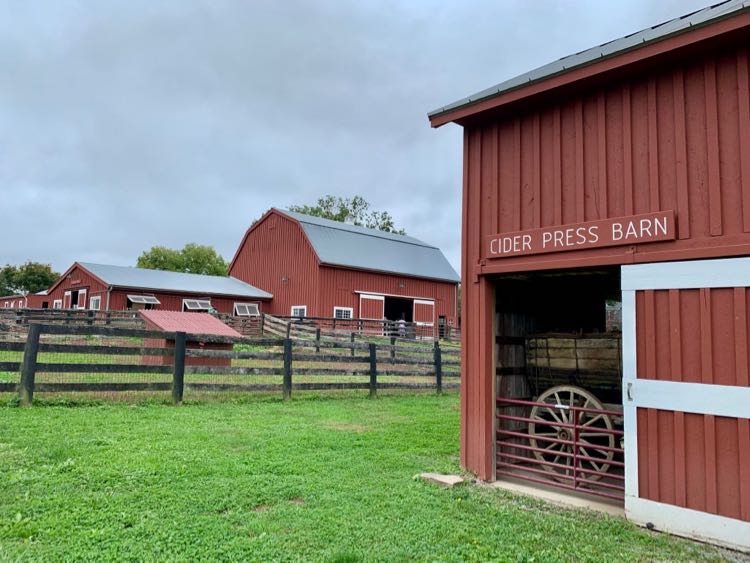 In the 19th century Dairy Barn, you can see the equipment once used to process milk from the farm's cows. Another barn displays a collection of early farm equipment. There's even an operational blacksmith and wheelwright shop, manned by a working blacksmith during special events.
Be sure to visit the Kidwell farmhouse to see how farm families lived in the 1930s. Take a moment to sit on the porch and imagine a day filled with farm chores. It's a far cry from the busy suburban life most Fairfax County residents lead today.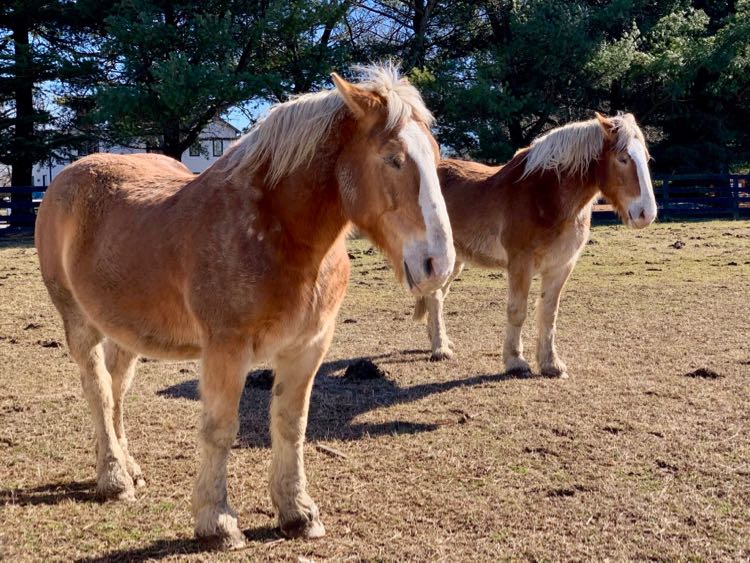 Enjoy an Easy Hike and a Picnic
There are two easy trails at Frying Pan Park where you can have a little outdoor fun during your visit. There are also two great picnic areas with tables and a rocky area that's a fun play space for young kids.
Walking and Nature Trails
A dirt and gravel road, wide enough for the farm's hay wagon, circles Frying Pan Farm. From the Kidwell Barn, follow the road behind the barn, walking between the fenced pastures. Keep an eye out for sheep, goats, and horses in the fields. At the end of the pasture, you'll see a Visitor Center, picnic area, and the park's second entrance.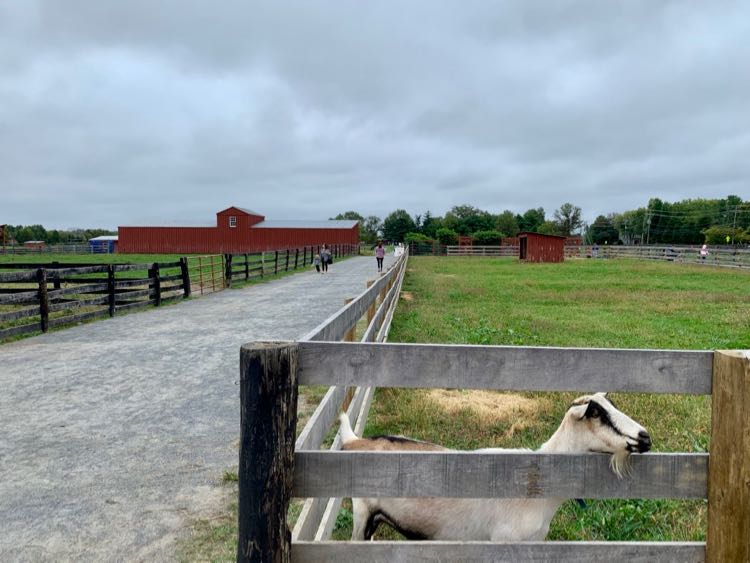 Turn left passing another pasture, then left again into the woods. The road passes behind the equestrian area through the woods. Here you'll find the second Frying Pan trail—a short nature trail through the woods. The dirt trail passes a small creek called Frying Pan Branch that gives the farm its name.
More Fun Outdoor Areas at Frying Pan Park
Behind the equestrian barn is a fun grassy area strewn with big rocks that kids love to play on. When our twins were small, we played a favorite game here hunting for small bells that we hid around the rocks. There are also several picnic tables in this area.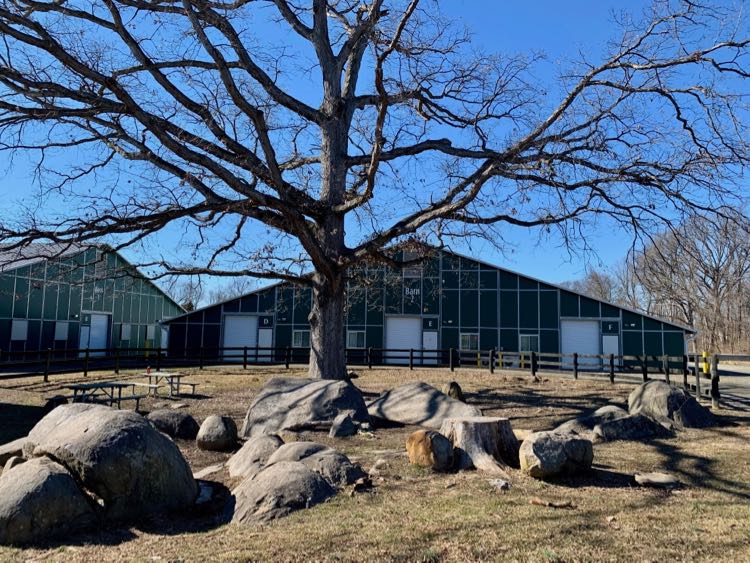 There are more picnic tables in various locations around the park, including near the barns, carousel, and Visitor Center. Planning a kid's party? Rent the picnic area at Frying Pan Farm Park (April – September) and give kids a fun day at the farm.
Go for a Ride at Frying Pan Farm Park
On many days during the warmer months, you can enjoy two fun rides at the park, on a farm wagon or an antique carousel. And equestrians can bring their own horses to ride in the park's rings and trails.
Wagon Rides at Frying Pan Park
Wagon rides are a fun way to see and learn about Frying Pan Farm. The wagon is lined with 2 benches and pulled by the farm's tractor or draft horses. The 30-minute ride follows a wide path around the farm giving visitors a wonderful view of the pastures and animals.
In 2022, wagon rides are available multiple times Friday through Sunday for $4.50 per person. Hours and availability vary by season so call ahead if you want to confirm wagon rides are available.
1920s Antique Carousel and Playground
Frying Pan's antique 1920s Herschell carousel was renovated in 2018 and it is open for rides Friday through Sunday from spring through fall. Tickets are $3 on weekdays, $4 on weekends and you can buy them online and at the Farm Store.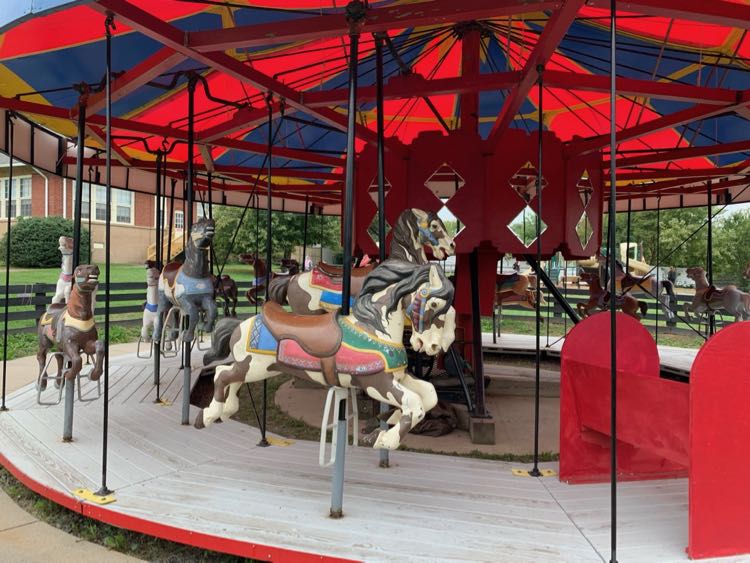 There is a free playground next to the carousel that is open to visitors.
Equestrian Facilities
The extensive equestrian facilities at Frying Pan Park are open to the public and also used by area clubs. Visitors with horses can ride in a large indoor arena, two outdoor rings, and a cross-country rally field. Bring your horse and purchase a daily, quarterly, or annual pass ($15/$55/$200) to ride at the park.
Attend a Horse Show or Other Event
Even if you don't ride, it is fun to watch horses and riders compete at one of the many shows held at the park. There are equestrian events at the park throughout the year.
Other popular Frying Pan Park events include festivals, concerts, classes, and camps. Outdoor concerts are held from June through August. During the colder months, the Bluegrass Barn series hosts indoor concerts in the Visitor Center auditorium.
Popular annual events add extra activities to a park visit and include Spring Farm Day, Easter Extravaganza, and Boo at the Farm Halloween trick-or-treating for little ones. In August, a multi-day Fairfax County 4-H Fair features carnival rides and lots of family fun.
Holiday celebrations at Frying Pan include a wonderful drive-through holiday light show.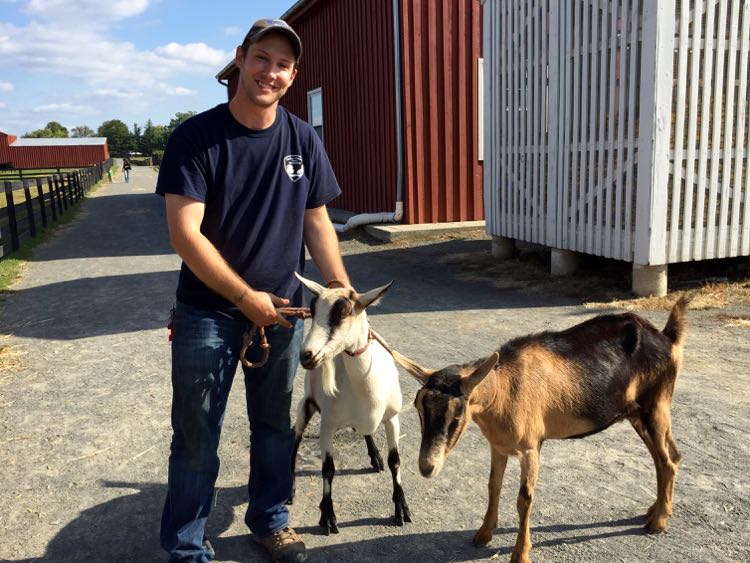 Host a Special Event in a 19th Century Barn
At the Frying Pan Farm Visitor Center, an old barn has been updated with modern amenities to create a beautiful venue for weddings, parties, corporate meetings, and other private events. The space features exposed barn beams, 26-foot ceilings, and a stage. A separate classroom is also available.
Frying Pan Farm Park Essentials
Here are answers to frequently asked questions about Frying Pan Park.
Frying Pam Farm Park is open daily, year-round, except Thanksgiving, Christmas, New Year's Eve, and New Year's Day.
The grounds and parking areas are open from dawn to dusk, and the farm is open 9:00 to 5:00.
Frying Pan Farm Park is free to visit. There is no admission fee and parking is free. To help preserve this wonderful community park, drop a few dollars in the donation boxes you see around the Kidwell Farm.
Frying Pan Farm Park is located at 2709 West Ox Road in Herndon Virginia. There is a second entrance and parking area at 2739 West Ox Road.
The park is just a few miles from Dulles Airport and easy to reach from the Dulles Access Road (267) and Route 28 (Sully Rd).
Plan a fun family day trip with a visit to Frying Pan Farm and the nearby Smithsonian Air and Space Udvar-Hazy Center.
Every visit to Frying Pan Farm Park is unique because the animals and life on the farm are always changing. Whenever you visit, you are sure to find family fun and a nostalgic step back to early farm life in Northern Virginia.
Looking for more fun parks for kids? Check out our list of 21 Fun Family-Friendly Parks with Trails in Northern Virginia.
Follow us on Facebook, Twitter, Pinterest, and Instagram for more fun travel in and from Northern Virginia.