Updated on November 7, 2023 by Julie McCool
Fun things to do in Southwest Virginia include fantastic outdoor adventures and activities, rich arts and culture, cool cities and quaint towns, and tasty places to dine and drink. Southwest Virginia, aka SWVA, covers a huge area full of beautiful parks, trails, and rivers to explore. For arts and music lovers, there are 333 miles of The Crooked Road Music Trail, 15 artisan trails, and interesting cities and towns to visit in Southwest VA.
We were guests of the Abingdon Convention and Visitors Bureau, Friends of SWVA, and Primland Resort during a week-long road trip. As always, all text, photos, and opinions are our own. This round-up of fun things to do in Southwest Virginia highlights places we visited and may contain affiliate links.
Disclosure: This article may contain affiliate links. We will make a small commission from these links if you order something, at no additional cost to you.
Fun Outdoor Adventures in Southwest VA
Outdoor lovers will find so much to do in Southwest Virginia it's hard to decide where to focus. You could hike 175 miles of the Appalachian Trail, bike the 34-mile Virginia Creeper Trail, or explore 73 miles of the Blue Ridge Parkway. The SWVA region is home to 9 state parks, 2 major rivers, a national forest, a national historic park, and some of the best sightseeing in Virginia. Here are some of the SWVA outdoor activities we enjoyed during a week-long visit.
Bike the Virginia Creeper Trail
The Virginia Creeper Trail is one of the most beautiful bike trails in Virginia and a member of the Rail-Trail Hall of Fame. Cyclists who bike the full 34.3-mile trail will cross 47 wooden trestles and bridges on their journey between the end points in Abingdon and Whitetop Station. The Creeper Trail has 10 access points so it's easy to customize a ride that's right for your group.
Enjoy the scenery without too much effort on a 17-mile downhill ride from Whitetop to Damascus. There are multiple outfitters in Damascus who rent bikes, and shuttle riders up the hill to Whitetop.
Begin your trip at mile 0 in Abingdon for an easy, level ride to one of the most photographed railroad trestles. Or continue 9 miles to beautiful Abingdon Vineyards, then grab a shuttle for the return to town.
The Virginia Creeper Trail Bike Shop in Abingdon rents bikes and shuttles riders to and from popular spots on the trail. It's only $26 to rent an adult bike for the day and the shuttle is free. Or bring your own bike and ride the shuttle for $15.
Hike with Ponies at Grayson Highlands State Park, Mouth of Wilson
Our hike to the shaggy-maned wild ponies who live at Grayson Highlands State Park was one of our favorite things to do in Southwest Virginia. Park at the Massie Gap Trail, then follow the Rhododendron Trail one mile uphill for the best chance to see ponies. We encountered two groups of ponies on our hike—right on the Appalachian Trail, which crosses the mountain here, and near a big pile of boulders. Grayson Highlands wild ponies do not seem to mind people as long as they maintain a safe distance.
If time allows, continue to the bluffs for more beautiful views. Another nice hike near the Visitor Center leads to dramatic views from Buzzard Rock Overlook. Other trails lead to the summit of Mount Rogers and more opportunities to see the ponies.
Explore Nature and History at Natural Tunnel State Park, Duffield
Thrill the kids with a short but fun chairlift ride down to the rock tunnel that gives Natural Tunnel State Park its name. The lift is open daily between Memorial Day and Labor Day weekends (weekends only in April, May, and October). The Carter Cabin, one of the oldest structures in the park, is a short walk from the tunnel view.
Next, head to the Wilderness Road Historical Area to learn about westward expansion in the 1700s. The recreated Anderson Blockhouse was a stopping place on the migration trail to Cumberland Gap. The park also offers hiking and mountain biking trails, kayaking trips on the Clinch River, cave tours, and camping.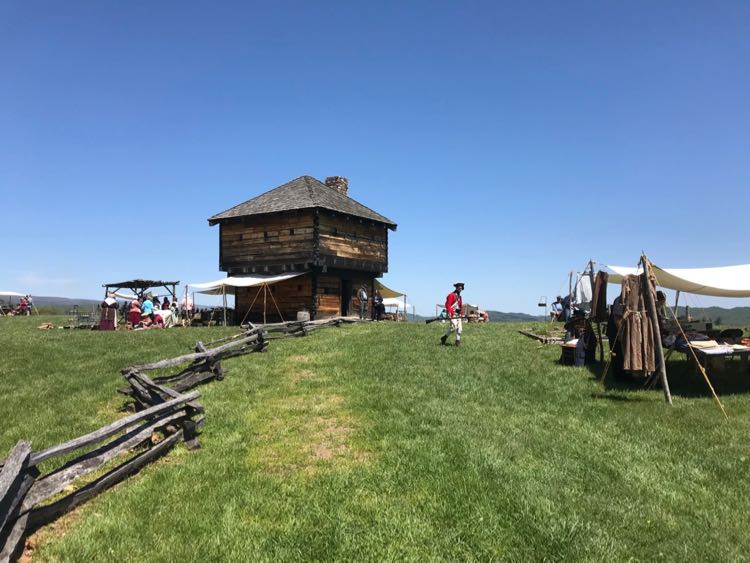 Southwest Virginia was once the edge of America's western frontier. In 1775, frontiersman Daniel Boone blazed the route followed by thousands of settlers as they migrated west. Historic sites on the trail are marked with 25 wayfinder signs. Get oriented and purchase a guide to the trail at the new Daniel Boone Interpretive Center in Duffield VA.
Drive an RTV at Primland, Meadows of Dan
Ramp up the adrenaline with a guided RTV tour through the wooded trails and rolling hills of Primland. Your hardtop RTV holds 2 people and can handle the steep, rocky terrain that makes this tour a thrill. Check in for your tour at the Outdoor Activity Center. RTV rentals are $120/$180 for 1/2 hour tours for 1 to 2 people. Other Primland activities including horseback riding, water sports, archery, clay shooting, and more, and activities can be adapted for family groups with kids.
Climb the Tower at Big Walker Lookout, Wytheville
The 100-foot Big Walker Lookout observation tower opened in 1947 and grew to include a restaurant, chair lift, and other amusements. Fire destroyed the chair lift, but you can still climb the tower's 200 steps to take in the stunning view. After your climb, visit the country store and relax in the picnic area, which also has a beautiful view. Summer weekends feature music on the porch plus local authors and artisans. Climbing Bib Walker Lookout is one of the best family activities in Southwest Virginia, as long as no one has a fear of heights. Admission to the tower is $6 for adults, $4 for kids under 12 (under 3 free).
More Things to Do Outdoors in Southwest Virginia
With only a week to explore Southwest Virginia, we still have much more to see and do. These Southwest VA outdoor adventures are still on our SWVA wish list:
Kayak and swim at Hungry Mother State Park
Hike The Channels
Whitewater raft the New River, one of the oldest rivers in the world.
Kayak and fish the Clinch River, home to a population of rare and imperiled fresh water mussels.
View 5 states from the High Knob Lookout Tower.
See the "Grand Canyon of the South" at Breaks Interstate Park
Summit Mount Rogers, the highest natural point in Virginia at 5,729 feet.
Explore the Crooked Road Music Trail
Southwest Virginia is the "birthplace of country music" and that heritage is honored on The Crooked Road Music Trail. The 333-mile driving route focuses on Appalachian music at 9 major venues, 150 affiliated venues, and 27 wayside exhibits. "Taking the crooked road" meant playing an unpredictable line of fiddle music, and you can plan your own musical journey at these and other stops on the trail.
Southwest Virginia Cultural Center and Marketplace, Abingdon
The Southwest Virginia Cultural Center and Marketplace (formerly known as Heartwood) is a great place to get oriented and learn about the Crooked Road Music Trail. Here you'll find a combination Visitor Center, musical venue, artisan marketplace, and restaurant.
Displays explain the region's musical, cultural, and natural highlights and you may catch live local musicians performing. The marketplace has a beautiful collection of local artisanal products for sale and the restaurant offers a limited menu of fresh dishes plus regional beer and wine.
Birthplace of Country Music Museum, Bristol
Immerse yourself in the beginnings of American music at the Birthplace of Country Music Museum in Bristol. This Smithsonian affiliate explores the 1927 Bristol Sessions and their impact on American bluegrass and mountain music. The Carter Family—A.P., Sarah, and Maybelle—were among the musicians "discovered" during these 12 days of recording sessions, which sparked the growth of country music in America.
Hands-on, interactive exhibits and multiple theaters engage music and history lovers alike. Don't miss the excellent film, "The Unbroken Circle," near the end of the displays.
Carter Family Fold, Hiltons
Every Saturday night, country music fans flock to the Carter Family Fold for live mountain music and bluegrass performances. The location, at the base of Clinch Mountain in Poor Valley, was the family home of the Carter family. Jeanette Carter hosted host music sessions in her store to honor her parents, A.P. and Sarah Carter. Today, shows are held in an 850-seat music shed built into the hill. Rita Forrester, the granddaughter of A.P. Clark, continues the family tradition.
Carter Family Fold shows are held every Saturday, year-round. The family-oriented venue is also popular with impressively energetic cloggers and flatfoot dancers of every age. Doors open at 6:00; the music starts at 7:00; and admission is $10, $2 for kids 6 – 11.
The Floyd County Store, Floyd
Step into the Floyd Country Store and you step back in time. The building opened as a country store in 1910, and immediately became a popular meeting place for locals. In the 1980s. the store began hosting musical performances. Today the store is a major venue on the Crooked Road. Stop in for the Friday Night Jamboree, which has been going for 35 years, or visit on Sunday afternoon for the weekly jam circle.
Even when there is no music playing, the Floyd Country Store is worth a visit. The cafe serves excellent fresh salads and sandwiches. Local goods, practical items, and fun trinkets are for sale, as you would expect in a traditional country store. And you can sign up for music lessons and workshops at the Handmade Music School.
Things to Do in Southwest Virginia for Art Lovers
Outdoor adventures and the Crooked Road Music Trail draw many visitors to Southwest Virginia, but the region has an impressive arts scene too. Local artisans, a nationally renowned theater, and unique museums are all worth a visit when you are touring Southwest Virginia.
Barter Theater, Abingdon
Enjoy top notch productions in an historic building at the Barter Theater, the State Theater of Virginia. The theater opened during the Great Depression with the motto "Trading Ham for Hamlet" as it accepted bartered goods in exchange for tickets. The longest continuously running theatre in the country has a permanent company or actors, set designers, and management staff.
Our matinee showing of "Madame Buttermilk" was packed with church groups and locals enjoying a laugh. Be sure to check out the photos of actors who were part of the permanent company here, including Ernest Borgnine, Gregory Peck, and "Newman" of Seinfeld fame.
The Arts Depot, Abingdon
What happens when a group of artists get together to create their own showroom? The Arts Depot, in Abingdon, was a neglected former train depot when a small group of local artists decided to establish a space to create, display, and sell their art. Today the Arts Depot hosts 7 resident artists. 170 members, and 6 juried shows a year.
The art is diverse—3D weaving, textiles, painting, clay, multi-media—and best of all, you can meet and talk to the artists about their work. During our visit, Nancy Johnson shared the personal and historical moments that inspire her art, Nancy Garretson described her unique 3D weaving process, and other artists answered questions about their collections.
William King Museum of Art, Abingdon
Explore an interesting collection of Appalachian art and objects at the William King Museum of Art in Abingdon. Three galleries exhibit a changing display that, on our visit, included pottery, quilts, furniture, and contemporary art. The basement houses a student gallery and classrooms. The nationally acclaimed museum occupies a 1913 former school building situated on a hill with lovely views.
A pair of museums in downtown Wytheville display an interesting and diverse collection. The Thomas J Boyd Museum is named for the "Father of Wytheville," a godson of Thomas Jefferson. One display highlights pieces by local craftsman and weavers. Another tells the frightening story of the town's 1950 polio outbreak, the largest number of polio cases per capita in the US. Next door, the Haller-Gibboney Rock House preserves the home of Wytheville's first resident doctor. Period furniture and architecture tell the story of life in the 19th and early 20th centuries.
Stay, Dine, and Drink in Southwest VA
With such a large region to explore, you'll need at least several days to visit every place on our Southwest Virginia to do list. Fortunately, there are lots of small cities and quaint towns where you can stay and dine in the region. Following are highlights of the Southwest Virginia towns and hotels where we stayed during our SWVA road trip, along with restaurants, breweries, wineries, and bars we sampled.
Fun Things to Do in Abingdon Virginia
The lovely, quaint town of Abingdon Virginia is a great base for exploring arts and culture, shopping, and dining. Enjoy a show at the Barter Theater, visit the downtown shops, and sample local food and drink. Abingdon is the eastern end of the Virginia Creeper Trail, so it's an excellent place to stay if you plan to hike or bike. Abingdon is about 2 hours Roanoke VA so it makes a great weekend getaway in Southwest Virginia, and a nice day trip destination for folks visiting Virginia Tech.
Where to Stay in Abingdon
Stay at The Martha Washington Inn and Spa to enjoy relaxed luxury in an historic hotel with a great downtown location. Spacious rooms, a fireplace-lit library, and a long porch offer comfortable areas to relax between activities. The spa downstairs offers massages and other treatments, and a pretty indoor and outdoor pool is open to all hotel guests.
Tip: Stop at the front desk for a complimentary glass of port in the evening.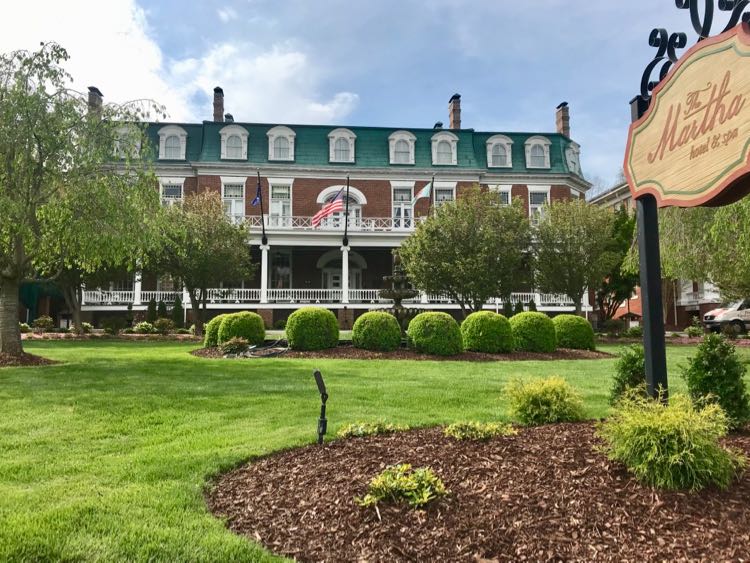 Abingdon Restaurants and Drink Spots In and Near Downtown
Foodies will find a lot to love at Abingdon restaurants and drink spots:
Fun Things to Do in Bristol VA
Bristol is a unique city spread across two states, which offers lots of fun photo opportunities. It's an excellent base if your focus is outdoor activities, since Grayson Highlands, Natural Tunnel, the Clinch River, and the Daniel Boone Wilderness Trail are all nearby. Bristol is also a must-see for music lovers exploring The Crooked Road.
Where to Stay in Bristol
Check into The Bristol Hotel to enjoy modern, relaxed luxury in a convenient downtown location. Since opening in 2018, The Bristol Hotel has earned accolades, including Top 30 New Hotel to Check Out in 2019 from US News & World Report. The hotel is right next door to the Birthplace of Country Music Museum, with easy access to Bristol's walkable two-state downtown. Watch this short video tour of a room in The Bristol Hotel.
Tip: Head to Lumac, the only rooftop bar in Bristol, for tasty cocktails and sunset views.
Where to Eat and Drink In and Near Bristol VA
Bristol Restaurants range from quirky casual to fine dining, and there are three craft breweries in town. We've also highlighted places to eat on your way to other activities.
Fun Things to Do in Wytheville VA
When your town name is the only one in the whole world, of course you adopt the motto "Wytheville, there's only one." Wytheville sits at the intersection of Routes 81 and 77, so it's a perfect spot to take a break from the highway and explore SWVA. Take a scenic drive up Big Walker Mountain and enjoy spectacular views from the lookout tower. Allow time for a walk down the classic Main Street (love the giant pencil!), and take a photo at the LOVEwork, which is also lit at night.
Where to Stay in Wytheville VA
The historic Bolling Wilson Hotel was reborn as a modern boutique hotel with comfortable rooms and a convenient downtown location. Thirty guest rooms share the space with a popular restaurant, Grazie on Main. Be sure to visit The Perch to enjoy sunset from the only rooftop bar in Wytheville (cocktails are available on summer weekends).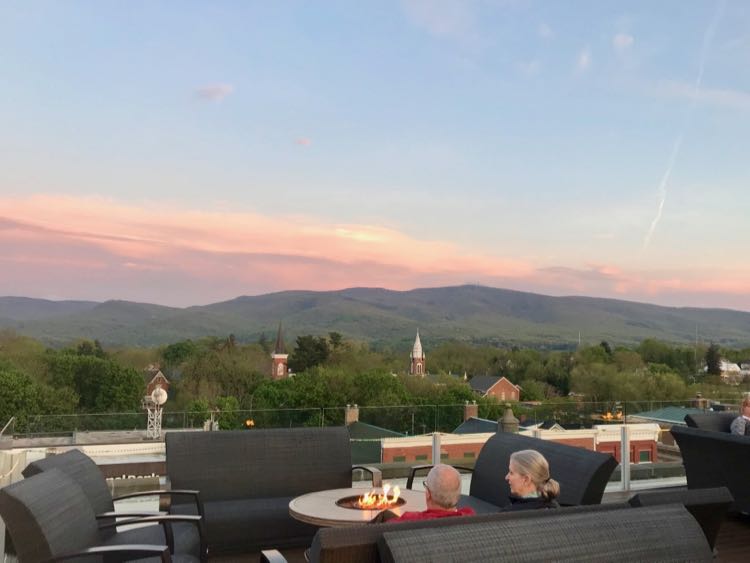 Where to Drink and Eat in Wytheville VA
American food, a new brewery restaurant, and tasty ice cream await in downtown Wytheville.
7 Dogs Brewpub opened in late 2018 in an historic building that was originally a hosiery factory. A nice range of brews and a casual menu make 7 Dogs a great dinner option.
The 1776 Log House Restaurant is a step back in time, with traditional American dishes served in an historic building at a relaxed pace. Steaks and seafood are accompanied by fresh-baked bread and sides served in the log house or on the porch. Allow time to visit the garden and Wilderness Road Trading gift shop.
Grayson Restaurant is a good choice for breakfast in Wytheville. The diner-style restaurant is popular with locals and they make a tasty egg and biscuit sandwich
Wiffle Pops is the place to go for homemade ice cream and popsicles in Wytheville. The name is a play on the frequently mispronounced town name, and everything is made in house.
West Wind Farm Vineyard and Winery is a fourth generation winery located about 12 miles east of town. The tasting room opened in 2006 and has become a favorite side trip for folks traveling Route 81. Visitors enjoy free tastings of up to 3 wines, and it's only $5 to taste the full line-up ($7 if you want to keep the glass).
Draper Mercantile, in Pulaski, is a wonderful place to eat if you are heading east on route 81. The combination restaurant, music venue, and shop occupies a beautifully renovated historic building. The coffee, salads, and sandwiches are top notch.
Floyd VA and the Blue Ridge Parkway
We visited Floyd on our way to Primland Resort and the Blue Ridge Parkway. The laid back town with a hippie vibe is home to lovely art galleries, shops, and the Floyd Country Store (info above). Stroll through town and check out the goods for sale at Bell Gallery and the Maggie Gallery, then sample the latest artisanal chocolate creation at Cocoa Mia.
Tip: Many Floyd stores are closed on Monday and Tuesday so check ahead if shopping is your goal.
Drive south to the Blue Ridge Parkway and sample Virginia wines at Chateau Morrisette Winery. The winery has an expansive property with indoor and outdoor seating, a large tasting room, and a gorgeous view. The Chateau Morrisette label features Hans, a black lab who was the constant companion of vintner David Morrisette. David developed their best-selling Black Dog wines in Hans' honor.
Mabry Mill, the most photographed spot on the Blue Ridge Parkway, is just a few miles further south. Stop in to learn about rural life in Appalachia and to take that iconic mill photo.
Primland, Meadows of Dan VA
Top your SWVA road trip with a 5-star stay at Primland Resort, south of the Blue Ridge Parkway in Meadows of Dan. Luxurious lodging, a spectacular mountain-top golf course, outdoor activities (see RTV Tour above), excellent dining, and gorgeous views welcome guests to Primland.
See more photos and tips in our full Primland review:
Primland Resort: Luxury and Outdoor Fun in the Blue Ridge Mountains
Yes, you can visit Primland for the day to dine in the restaurant, play a round of golf, relax in the spa, or enjoy one of the many outdoor activities. But if time and budget allow, we highly recommend a longer stay. Primland is truly one of the most romantic places we have stayed in Virginia.
Whether you plan an extended SWVA road trip, visit for a few days, or just stop for a day on your way somewhere else, we hope you enjoy these fun things to do in Southwest Virginia. Visit these websites for more information on places to visit in SWVA:
Follow us on Facebook, Twitter, Pinterest, and Instagram for more fun travel in and from Northern Virginia.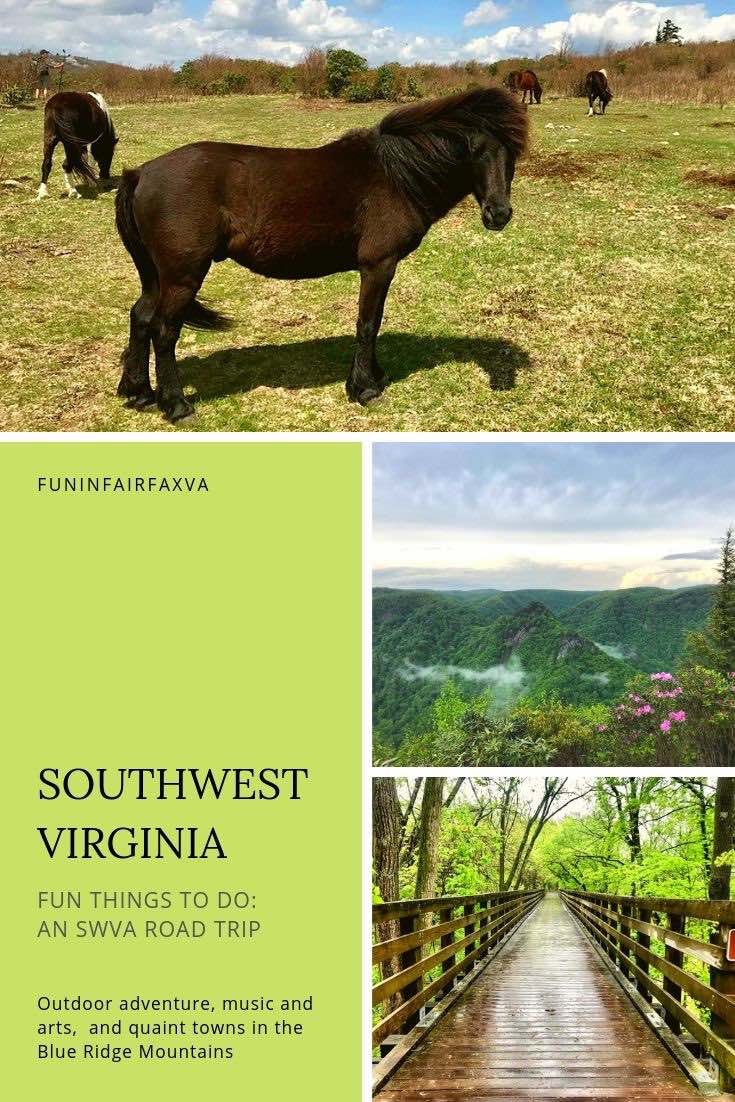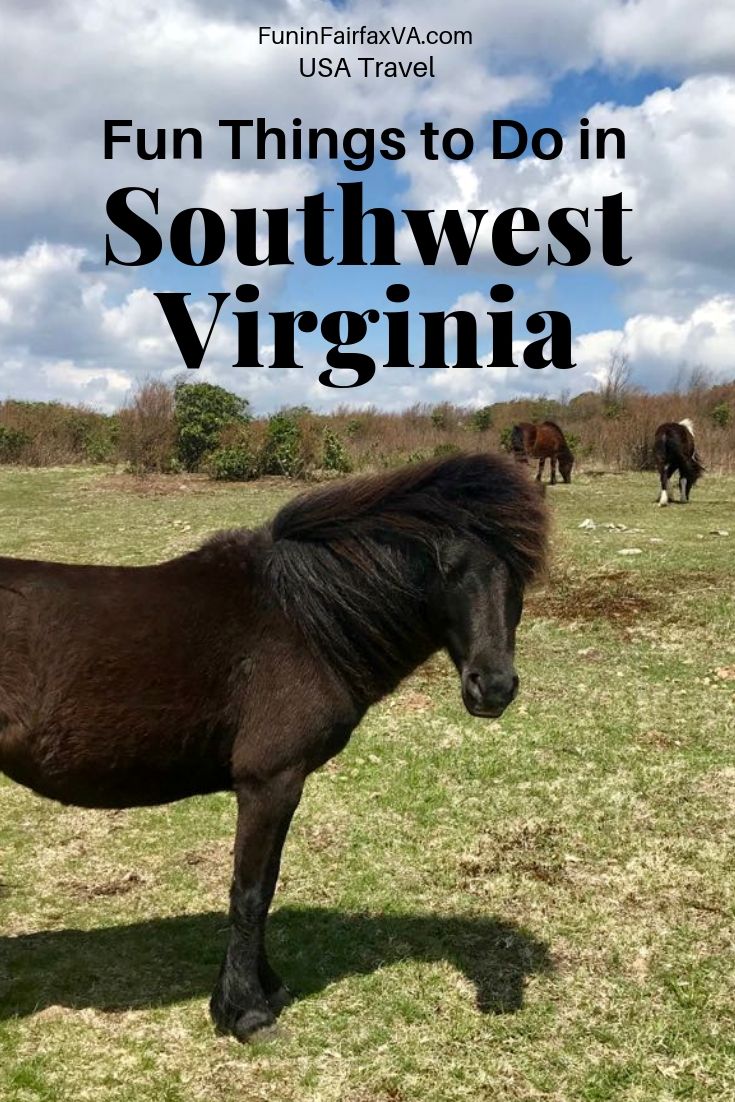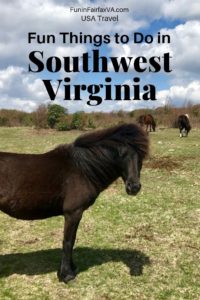 This article was published in 2019 and updated in 2020.