Updated on January 23, 2023 by Julie McCool
Capture memories at more than 200 Virginia LOVE works sprinkled throughout the state, perfect for a happy photo, whether you're enjoying a romantic date, group outing, or family fun. LOVE works are a fun travel destination to include in a Virginia road trip or weekend getaway.
These art pieces spell LOVE in giant letters, usually with a creative design that reflects the location. They offer a perfect photo opp as you explore new parts of the state, or celebrate a special occasion. These LOVE signs also offer a unique place to propose.
Disclosure: This article may contain affiliate links. We will make a small commission from these links if you order something, at no additional cost to you.
Where to Find Virginia LOVEworks
There are more than 275 Virginia LOVE signs sprinkled throughout the state, with new ones popping up all the time. The artworks always feature the word LOVE and are often made with unusual materials that reflect the local setting.
Some Virginia LOVE signs are built to highlight their natural location. At Humpback Bridge, Virginia's oldest covered bridge, the LOVE work features a tree standing in for the letter V.
At Montfair Resort in Crozet, take your photo with a 7 by 21-foot LOVE made from twigs and branches. The gorgeous Blue Ridge Mountain backdrop is perfect for photos. Crozet is a fun town to visit on a Charlottesville Virginia getaway.
Other LOVE works reflect the special activities associated with the Virginia towns and locations in which they reside. For example, a LOVE sign at the entry to James Madison's Montpelier highlights his role in authoring the Declaration of Independence.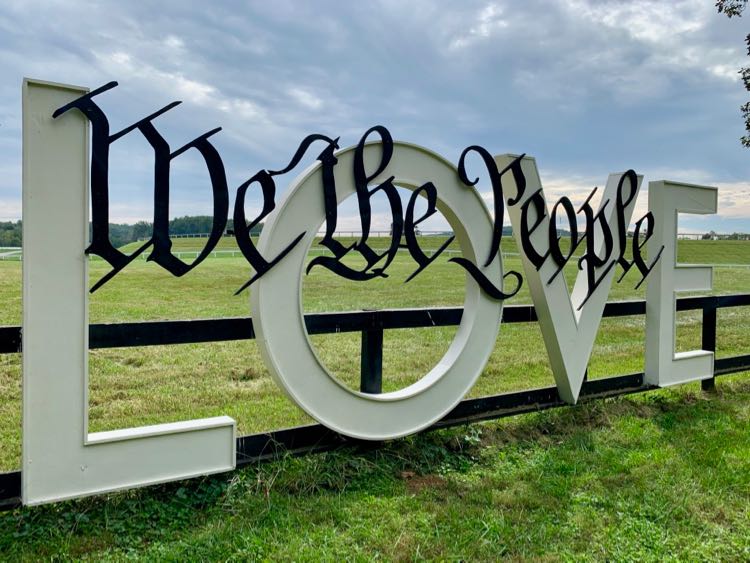 In historic downtown Culpeper, the LOVE sign uses film reels in a nod to the Library of Congress Packard Campus for Audio Visual Conservation. This unique Culpeper site is home to the largest collection of audio-visual materials in the world.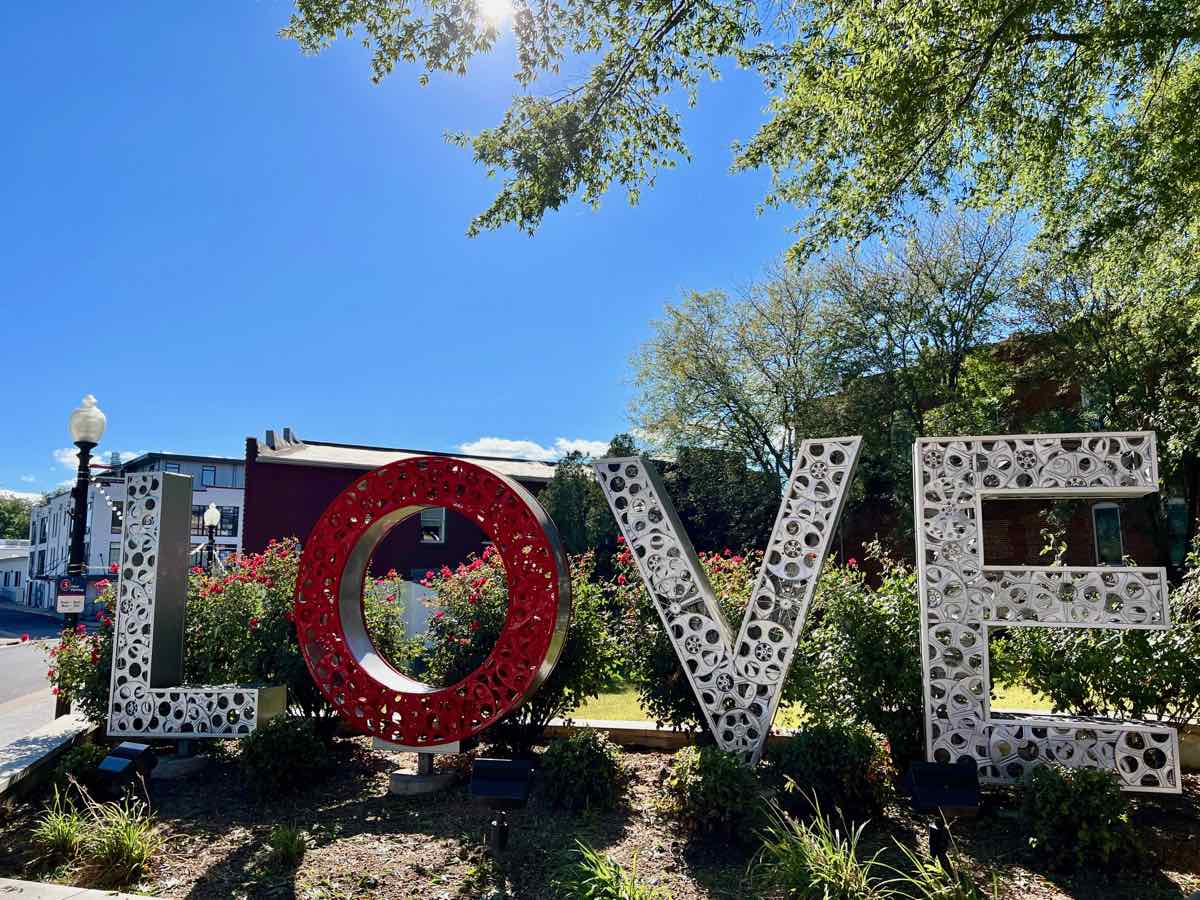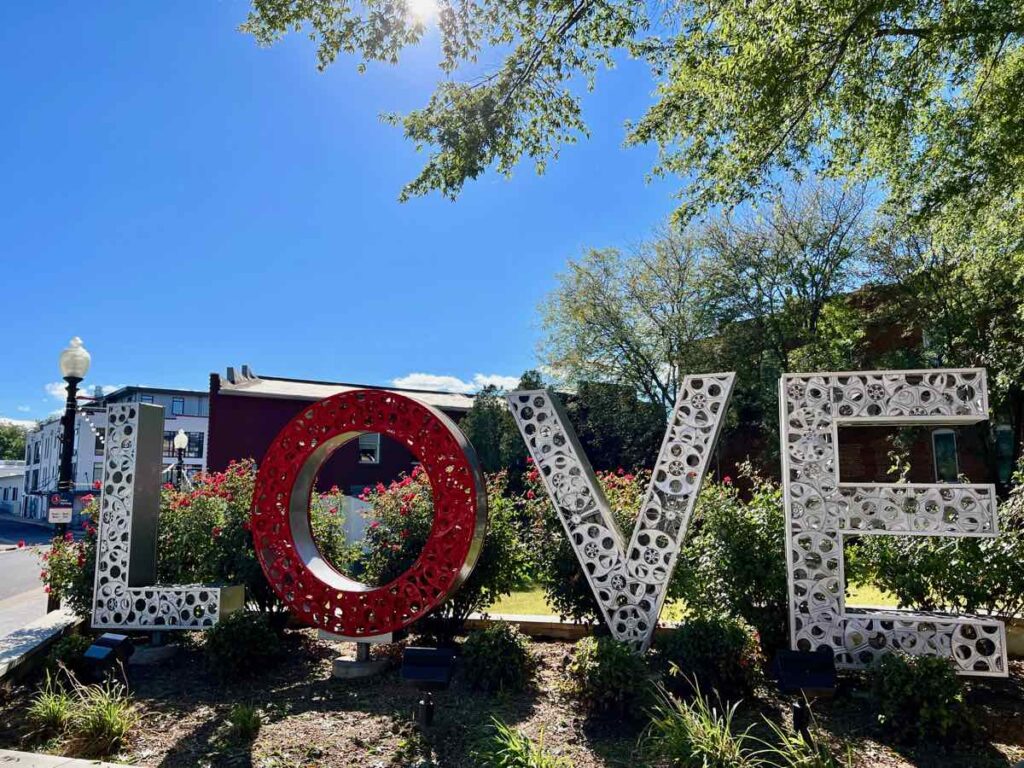 In Bristol, the birthplace of country music, a LOVE sculpture spells out LOVE with musical instruments.
The LOVE sign in nearby Wytheville is pretty by day and night when the letters are illuminated. These are just two of several creative LOVE signs you can visit on a road trip to Southwest Virginia.
The Waynesboro LOVE sculpture honors the town's fishing traditions with a very creative set of LOVE letters. Waynesboro sits between Skyline Drive and the Blue Ridge Parkway, an excellent place to begin a Southern Shenandoah Valley road trip.
In Harrisonburg, a LOVE work behind the Virginia Quilt Museum highlights four cultural themes of diversity, agriculture, recreation, and arts. Plan your visit with our complete guide to fun things to do in Harrisonburg VA.
Harrisonburg also makes an excellent base for exploring the Northern Shenandoah Valley.
Take a leisurely road trip to Virginia's Northern Neck and you'll encounter several LOVE works, including one in Montross that honors the region's watermen and wine. Nearby, The Tides Inn occupies a beautiful waterfront setting and makes a great base for a Northern Neck getaway.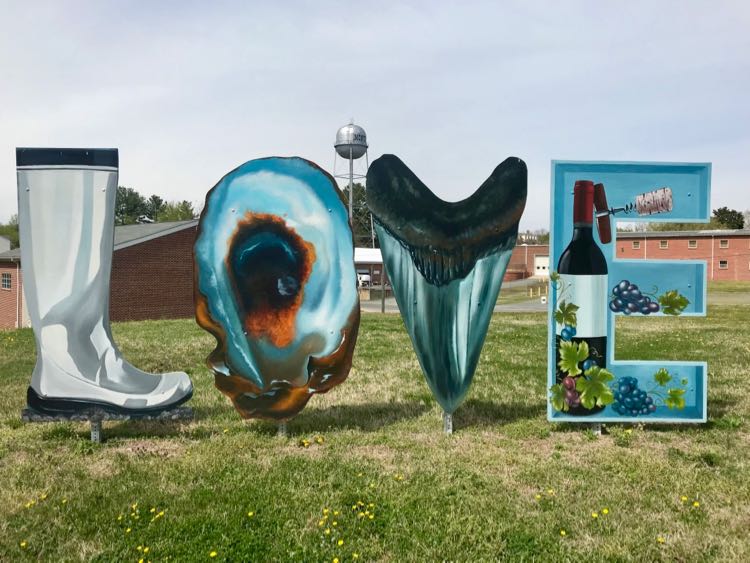 There are two LOVE signs with a beachy vibe on Virginia's Eastern Shore. LOVE in Chincoteague is spelled out on giant white Adirondack chairs. The huge, climbable structure is ideal for families, groups, and couples.
Further south, LOVE by the beach in Cape Charles Virginia honors the region's coastal traditions.
Plan a beach getaway with our guide Eastern Shore of Virginia Road Trip on a Chesapeake Bay Getaway
A Little Virginia LOVE Work History
The LOVE art started out as simple white letters that the Virginia Tourism Corporation could take around to Virginia Welcome Centers. The goal was to highlight Virginia as a family destination with love at the heart of every Virginia vacation.
The signs also play off the extremely successful Virginia is for Lovers slogan, which is featured on the Welcome to Virginia signs installed around the state.
The program expanded when Virginia Tourism partnered with destinations around the state to create new Virginia LOVE works. They even offer a program to reimburse approved new LOVE works projects "to promote family-friendly vacation experiences in Virginia."
Groups can also rent a traveling version of the sign for special events. The traveling LOVE sign stationed in front of the fountain at Reston Town Center during the World Police and Fire Games was a popular picture spot for athletes from all over the world.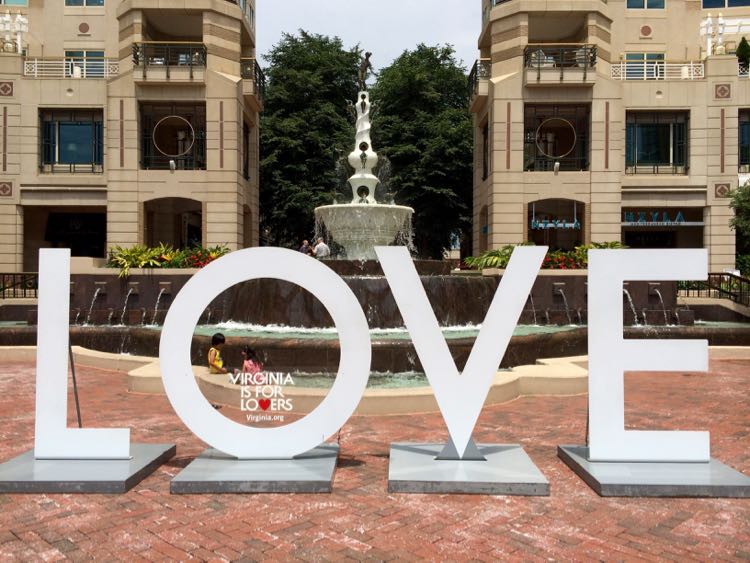 LOVE Works in Northern Virginia
In 2019, the state hosted special Summer of LOVE events honoring the 50th anniversary of the advertising campaign Virginia is for Lovers. As part of the celebration, a new Fairfax County piece joined the permanent Northern Virginia LOVE works in Loudoun and Prince William Counties.
Fairfax County LOVE Work
The new Fairfax County LOVEwork took a Summer of Love tour, before moving to its new home at the Workhouse Arts Center. The Workhouse reveals the newly bedazzled LOVE sign on February 14, 2020, giving us another fun and convenient place to capture the perfect pic.
Loudoun County LOVEWorks
In 2019, a new LOVE sculpture was unveiled in Loudoun County featuring script letters, a blue O filled with a heart, and a lovebird perched on the V. This pretty LOVE work sits on the Town Square, affectionately known as the squirkle, in the center of Lovettsville.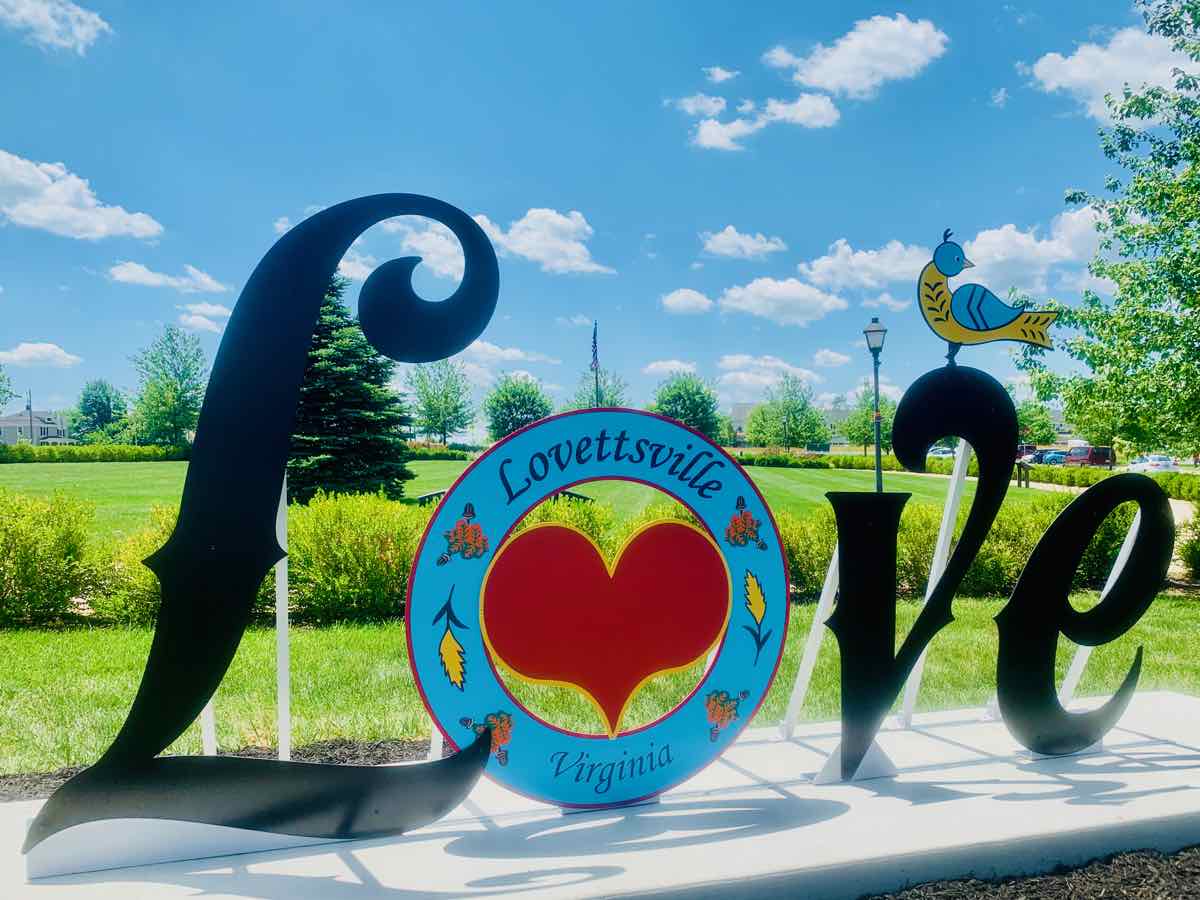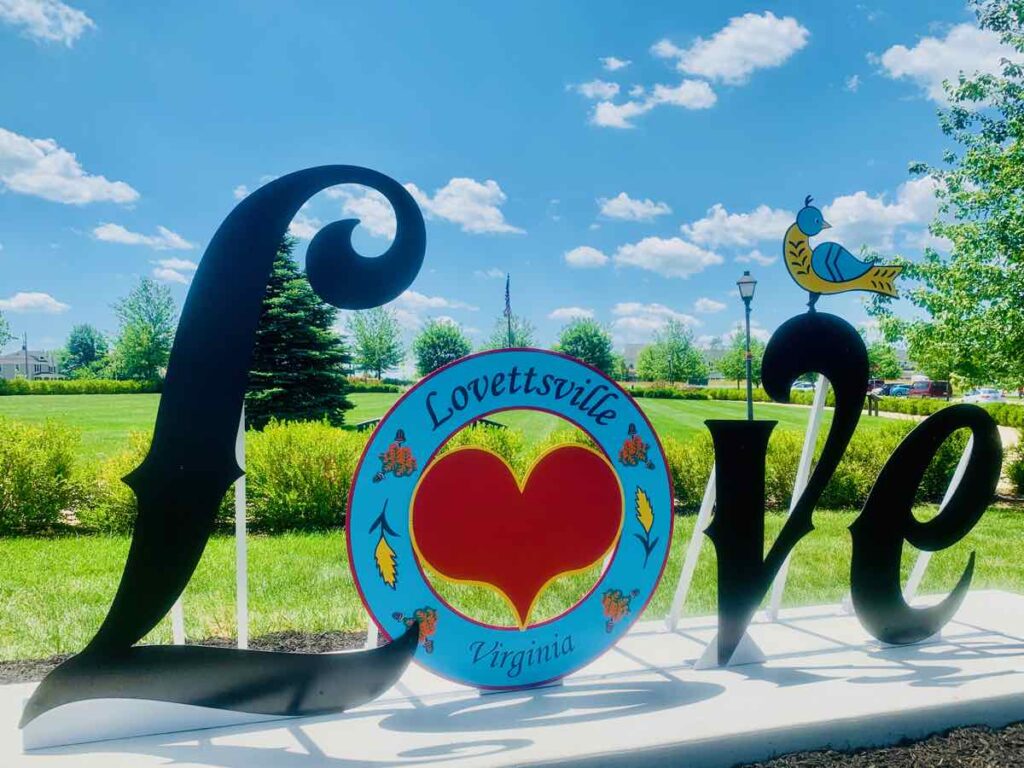 Another Loudoun County LOVE work honors the wine region and is stationed next to the Depot in Purcellville. The Purcellville sign is a clever collage highlighting Loudoun County as a DC wine destination. Explore this lovely country town with our complete guide: 8 Great Things to do in Purcellville Virginia.
Purcellville is also an excellent stop for beer lovers exploring the LoCo Ale Trail. You'll find breweries and wineries with an incredible view in nearby Bluemont, along with popular trails to Bears Den Overlook and Raven Rocks.
In historic Leesburg, a LOVE sign made of gears honors cycling near the Washington and Old Dominion bike trail. Cross the street to check out the interesting heart sculptures at Raflo Park, then head to one of these excellent Leesburg restaurants for a meal.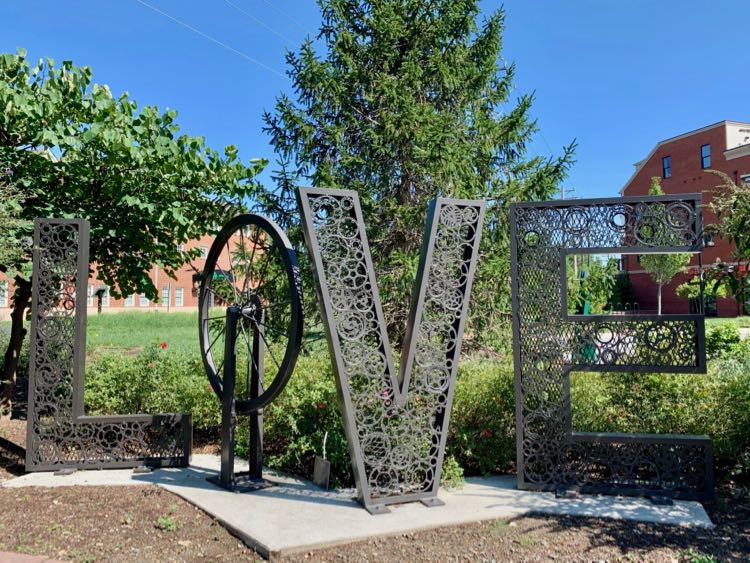 Prince William County LOVE Works
Prince William County has a huge LOVE sign mounted on a railroad car at the Manassas Railroad Depot. Large letters are big enough to fit a couple or a group of kids in the O, and the raised train platform makes it easy to frame your photo with a bright blue sky.
Old Town Manassas also makes a nice day trip or getaway from Washington DC.
There is also a fun LOVE sign at River Mill Park in the quaint town of Occoquan. Plan your visit with our guide: 15+ Fantastic Things to Do in Historic Occoquan Virginia.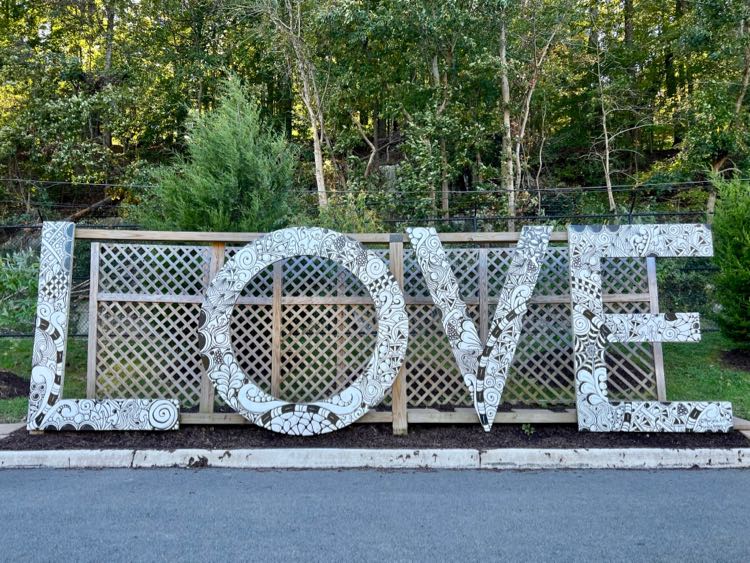 We'd love to see even more LOVE in Northern Virginia, maybe highlighting the explosion of craft breweries in the area.
If you take photos with a Virginia LOVE work, share them on the Virginia is for Lovers Facebook page and on Twitter and Instagram. Be sure to include the hashtags #LOVEVA and #ShareWhatYouLove.
You can also show your Virginia love with cool logo gear: Virginia Gift Guide for Residents and Travelers Who LOVEVA
LOVEworks make perfect anniversary, Valentine's Day, or family photo destinations. In fact, a LOVE sign could be the perfect place to propose. If you're looking for other picture-worthy places to celebrate, here are 21 romantic spots in Virginia and DC to visit all year round.
The McCools visited LOVEworks on a road trip to Virginia's Eastern Shore, July 9 – 12, 2019. Please follow all of our travels on Facebook, Twitter, Pinterest, and Instagram.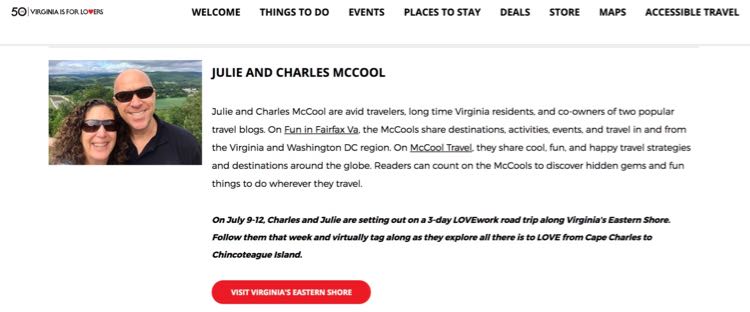 Have fun finding and celebrating at Virginia LOVE works!