Updated on November 21, 2023 by Julie McCool
Visit the new Sweet Run State Park in Loudoun County, Virginia, for hiking, horseback riding, and outdoor fun in lush woodlands and fields with gorgeous Blue Ridge Mountain views. The 42nd Virginia State Park preserves almost 900 acres with 11 miles of hiking trails, two streams, and a lovely pond.
We checked out Loudoun County's first state park on a beautiful October day when fall foliage was near its peak. Our 4.5-mile hike took us through the woods to pretty Gordon Pond, passing abandoned farms and interesting natural features along the way.
Disclosure: This article may contain affiliate links. We will make a small commission from these links if you order something, at no additional cost to you.
The park's excellent trails join our list of the best hikes in Northern Virginia and our favorite fall hikes. Read on for hiking info and more fun things to do in Sweet Run State Park, plus park essentials and tips.
Alert: Construction on Route 340 is leading to heavy traffic and delays on Harpers Ferry Road, the access road for the park. The construction is scheduled to end in mid-December 2023.
Check the park website for other closures and alerts. For example, Sweet Run State Park will be closed on November 20 and 27, 2023, for managed deer hunts.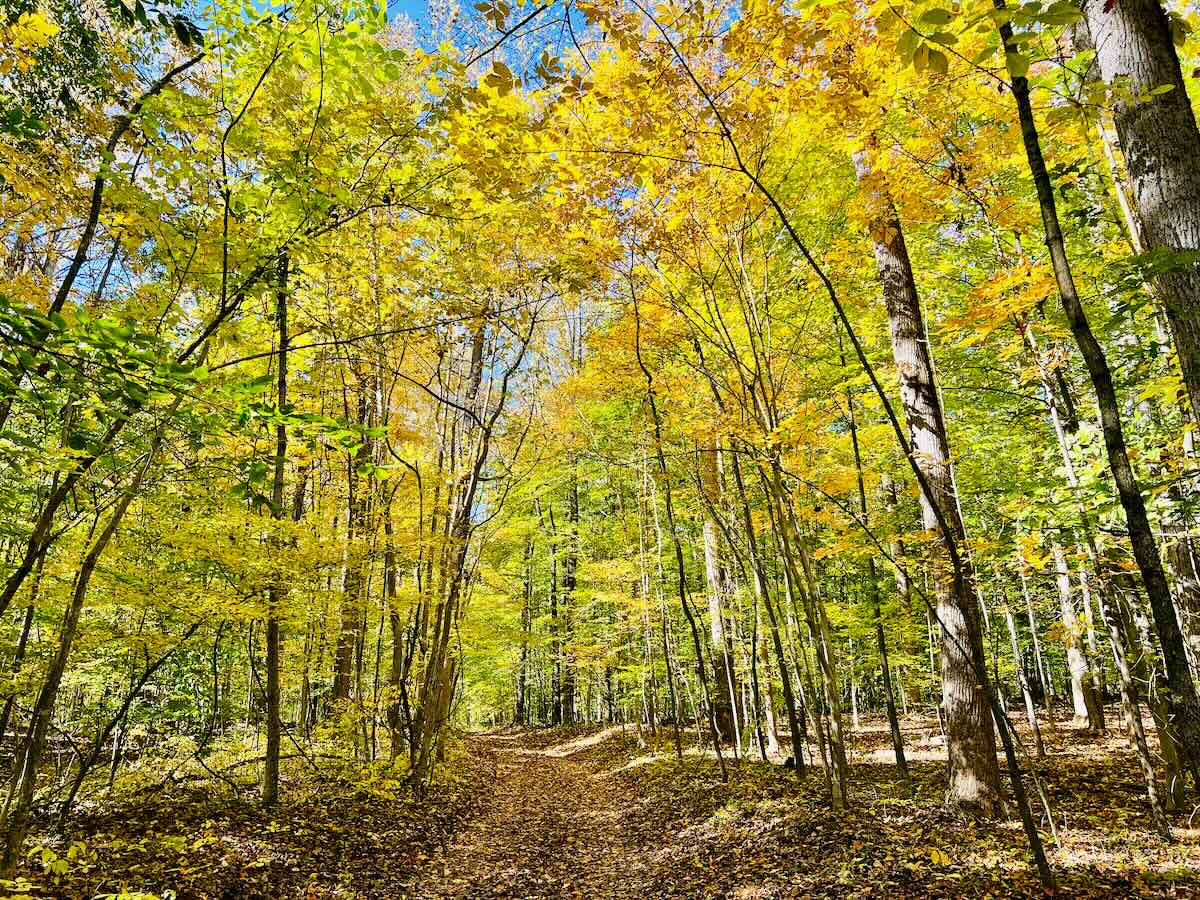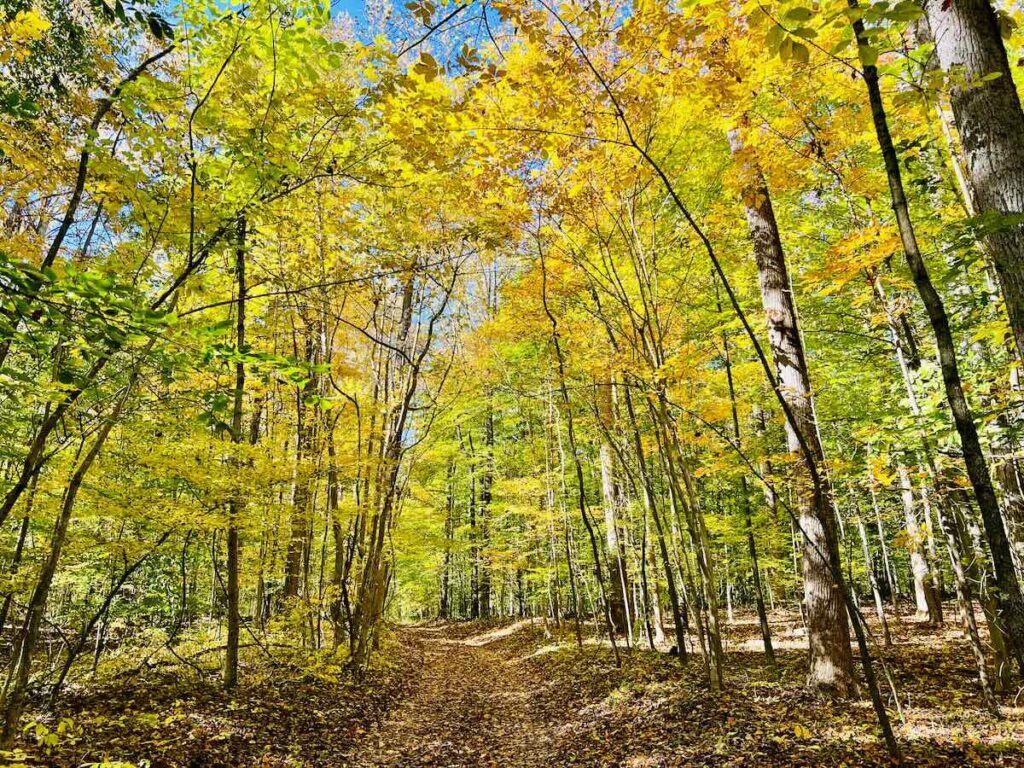 About Sweet Run State Park
Sweet Run State Park covers almost 900 acres located between the Short Hill and Blue Ridge Mountains, an area known as "Between the Hills." Entrances to the park are on Harpers Ferry Road (SR 671), which traverses the valley Between the Hills from Route 9 to the Potomac River.
The area is quiet now, but it was a thriving community due to its location close to Harpers Ferry. Residents here saw significant activity during the Civil War, including the Loudoun Heights Clash north of the park. Today, visitors see remnants of decaying farmhouses and stone walls dotted through the park.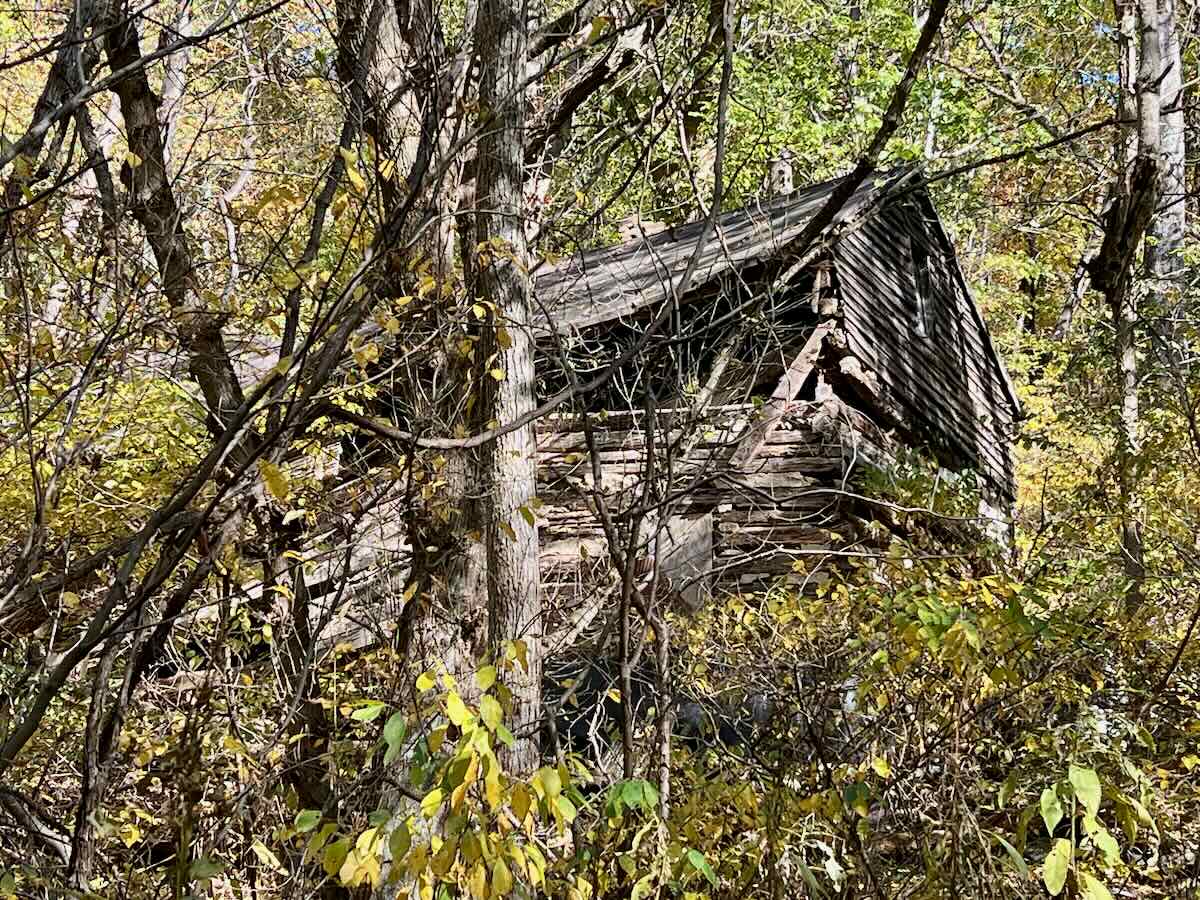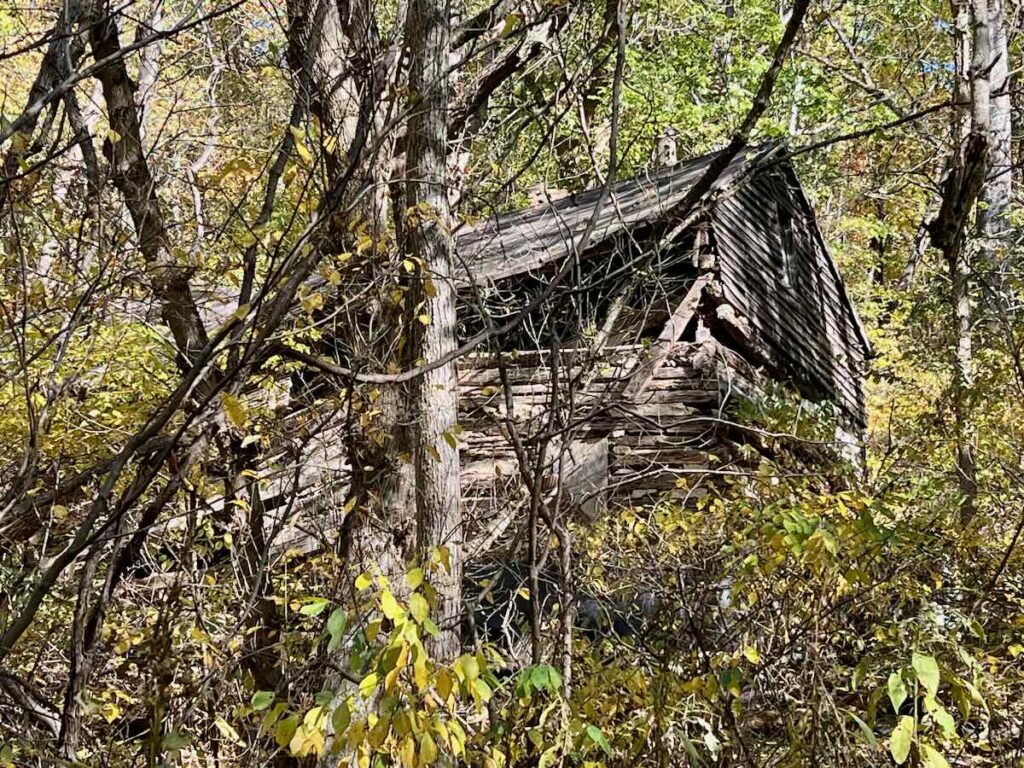 We first visited when the land was managed by the Blue Ridge Center for Environmental Leadership. The non-profit has been renamed and is now the Between the Hills Conservancy. This dedicated group of environmentalists is now the State Park's Friends support group for Sweet Run.
Wildlife making its home in Sweet Run State Park includes bald eagles, herons, black bears, and the rare wood turtle. Woodlands in the park include mature oak, poplar, beech, and maple trees. The woods boast beautiful shades of red, yellow, and gold during the fall foliage season.
Things to Do at Sweet Run State Park
There are fun things to do at Sweet Run State Park for every age. Park trails meander through several distinct environments so there is a nice variety for visitors to see. In addition, there are special play areas for children, facilities for equestrians, and a pond for fishing.
Sweet Run State Park Hiking Trails
There are 11 miles of hiking trails in Sweet Run State Park, spread among 14 named trails. All of the trails are rated easy or moderate. Kiosks near the main parking area display a trail map with a full list of the trails.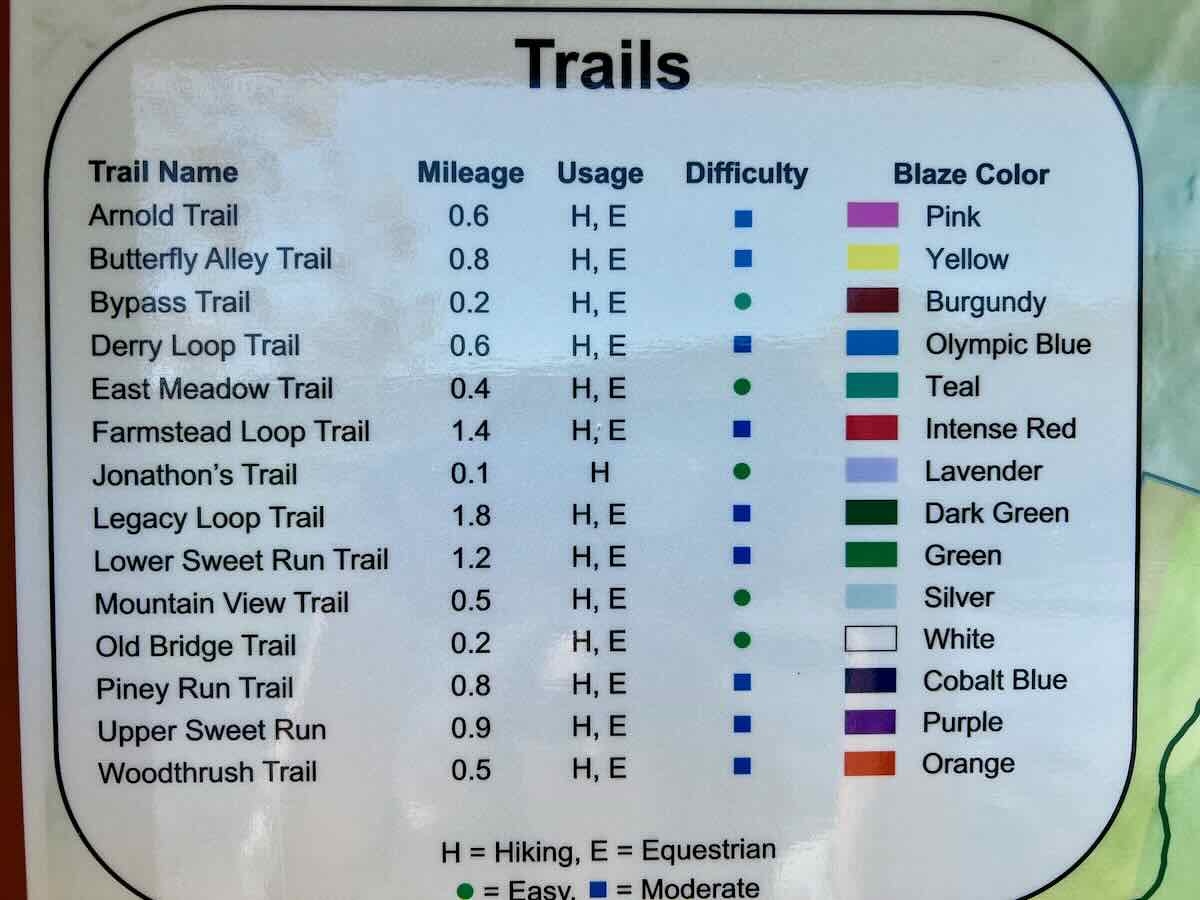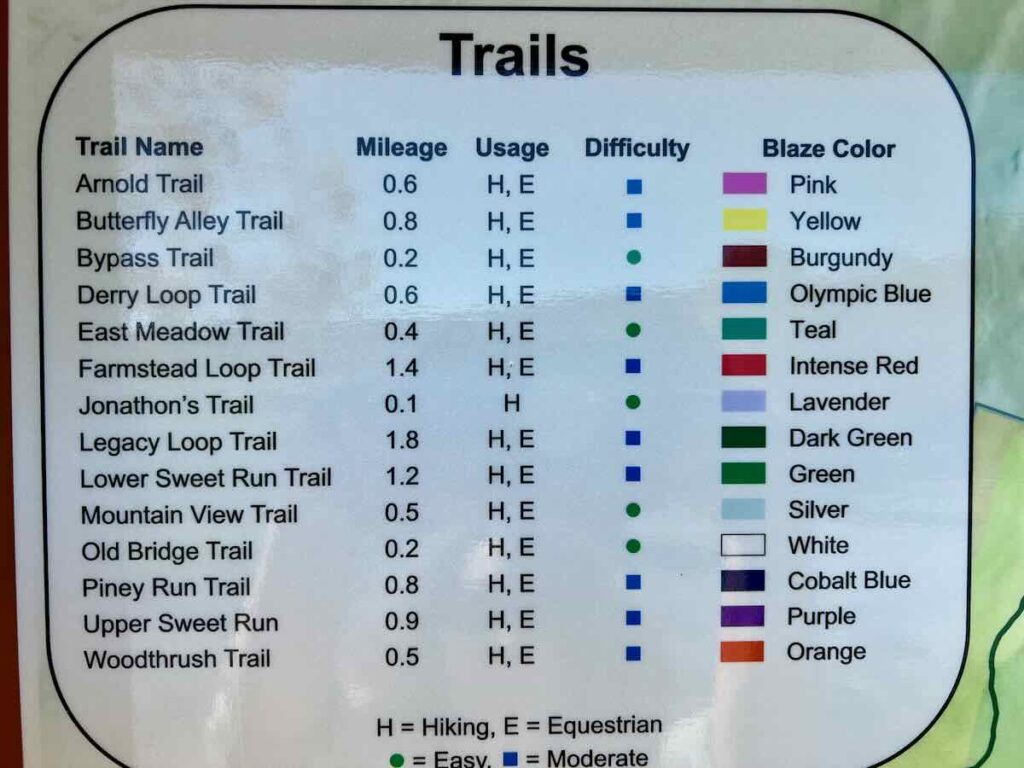 Park trails are very well marked and easy to follow, with clear markers at intersections and colored blazes to follow. Since many trails intersect, hikes can create many different loop hikes in the park.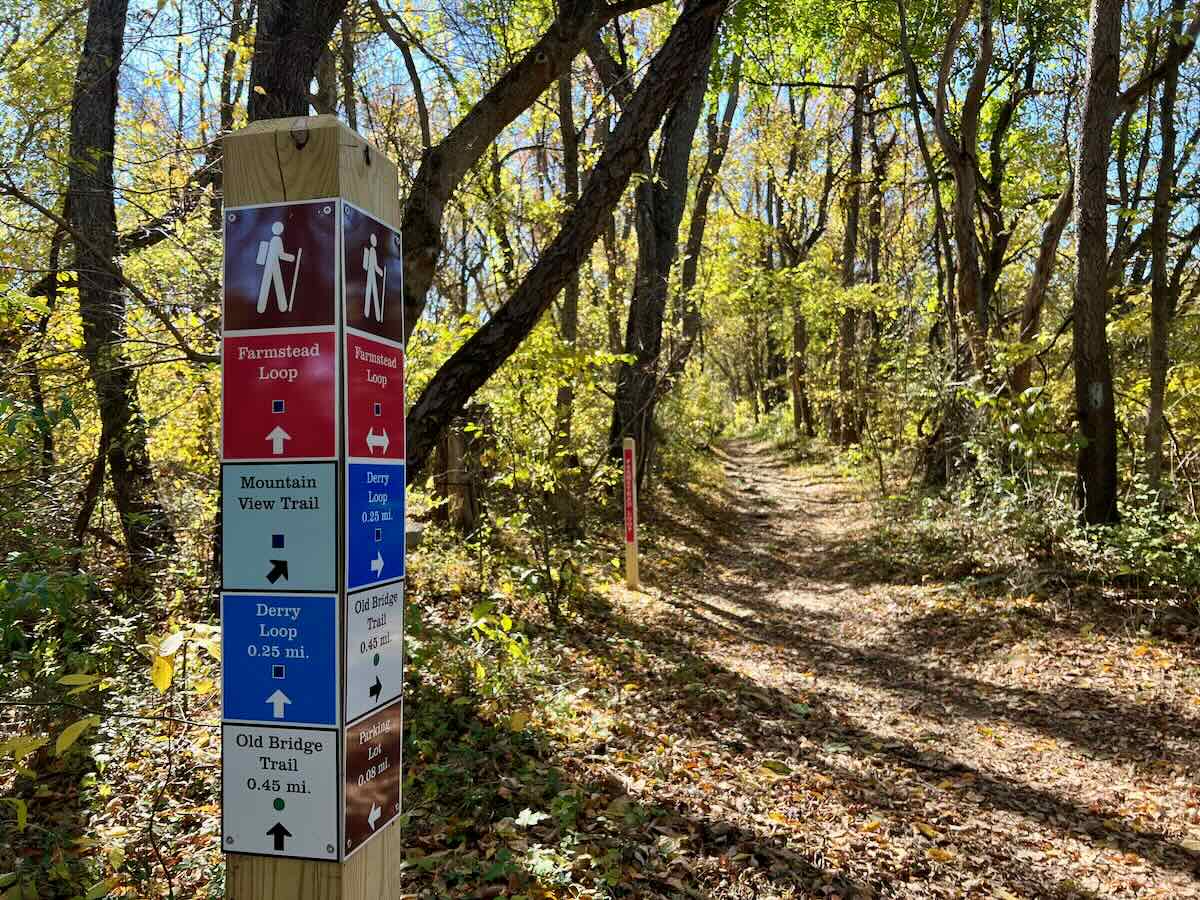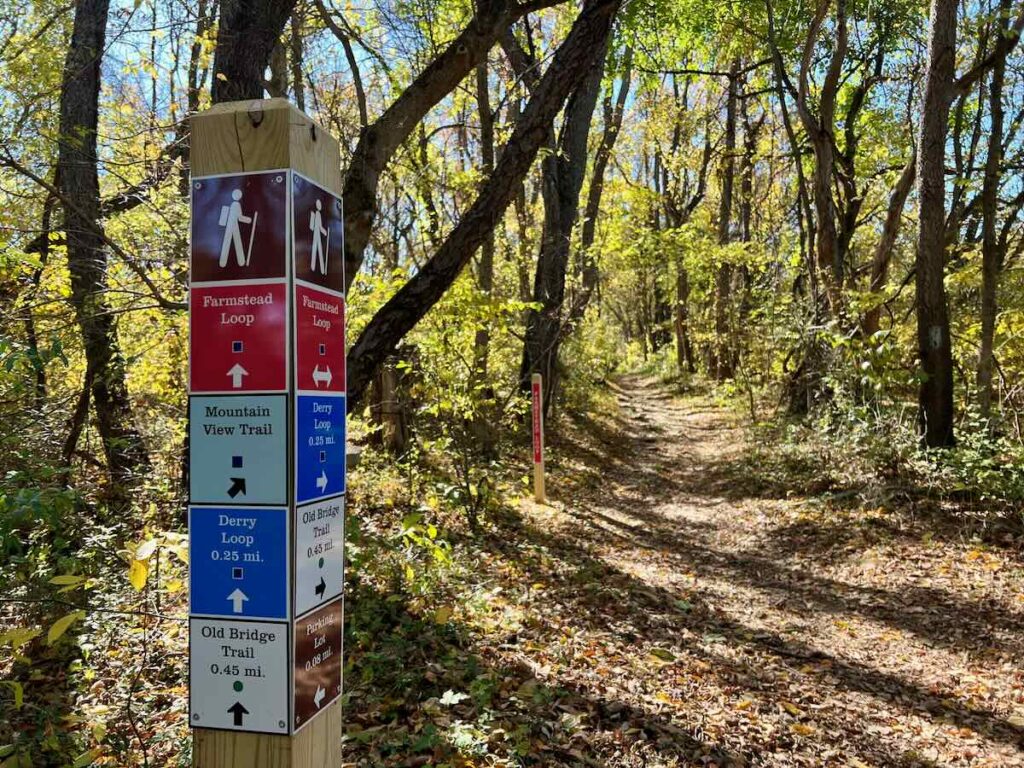 We hiked a 4.5 mile route through the park. Our hike included portions of the Headquarters Loop, Farmstead Loop, Piney Run, Arnold, Legacy Loop, and Jonathon's Rock Trails. Here's a map of our Sweet Run State Park hike, recorded with AllTrails.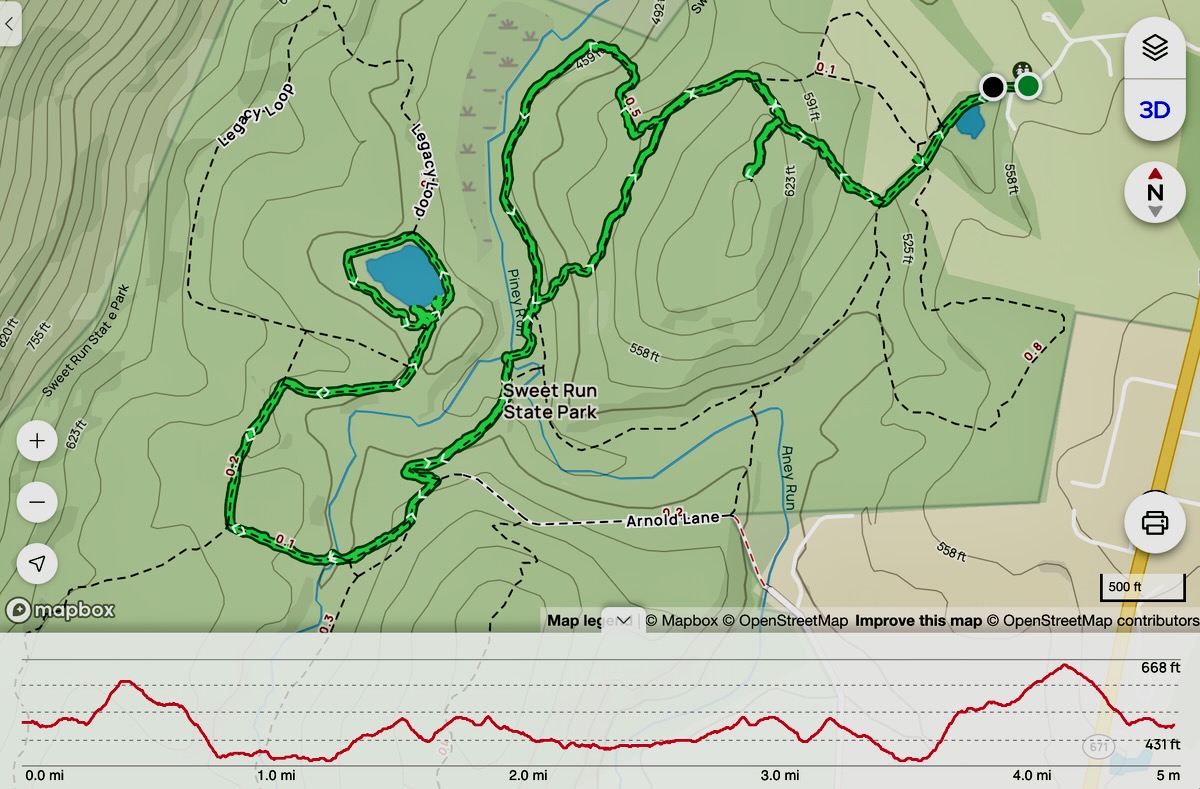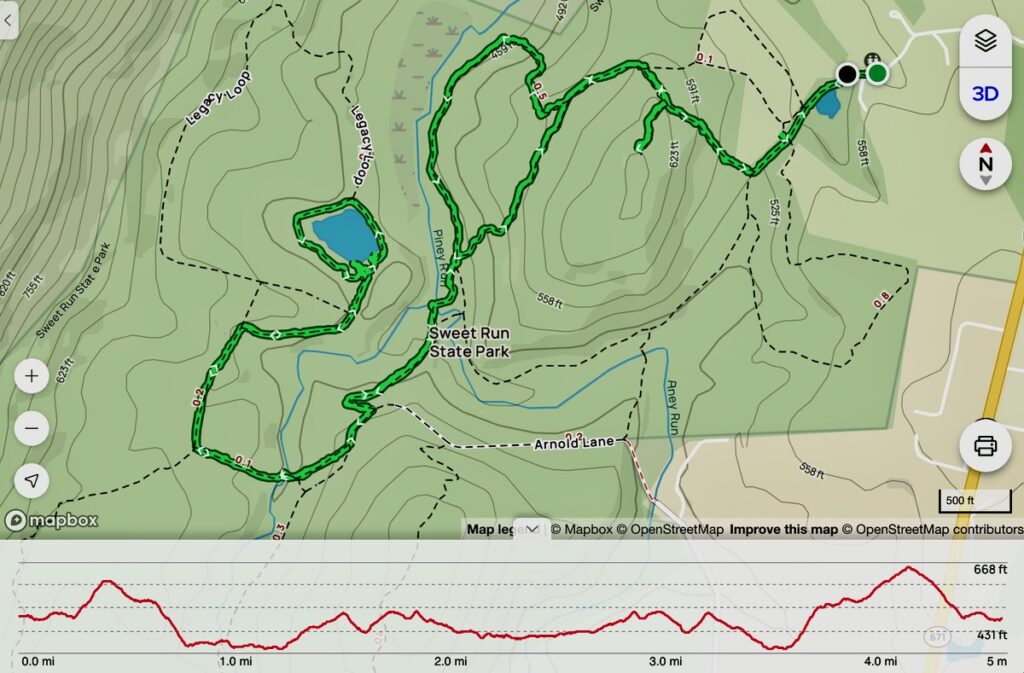 There were a few steep segments between the ridge and the stream, but this was an easy hike overall. The only tricky part of the hike was the Piney Run stream crossing. Fortunately, the water level was very low but small, wobbly rocks were a little hard to navigate. A rustic bridge crossed another part of the stream.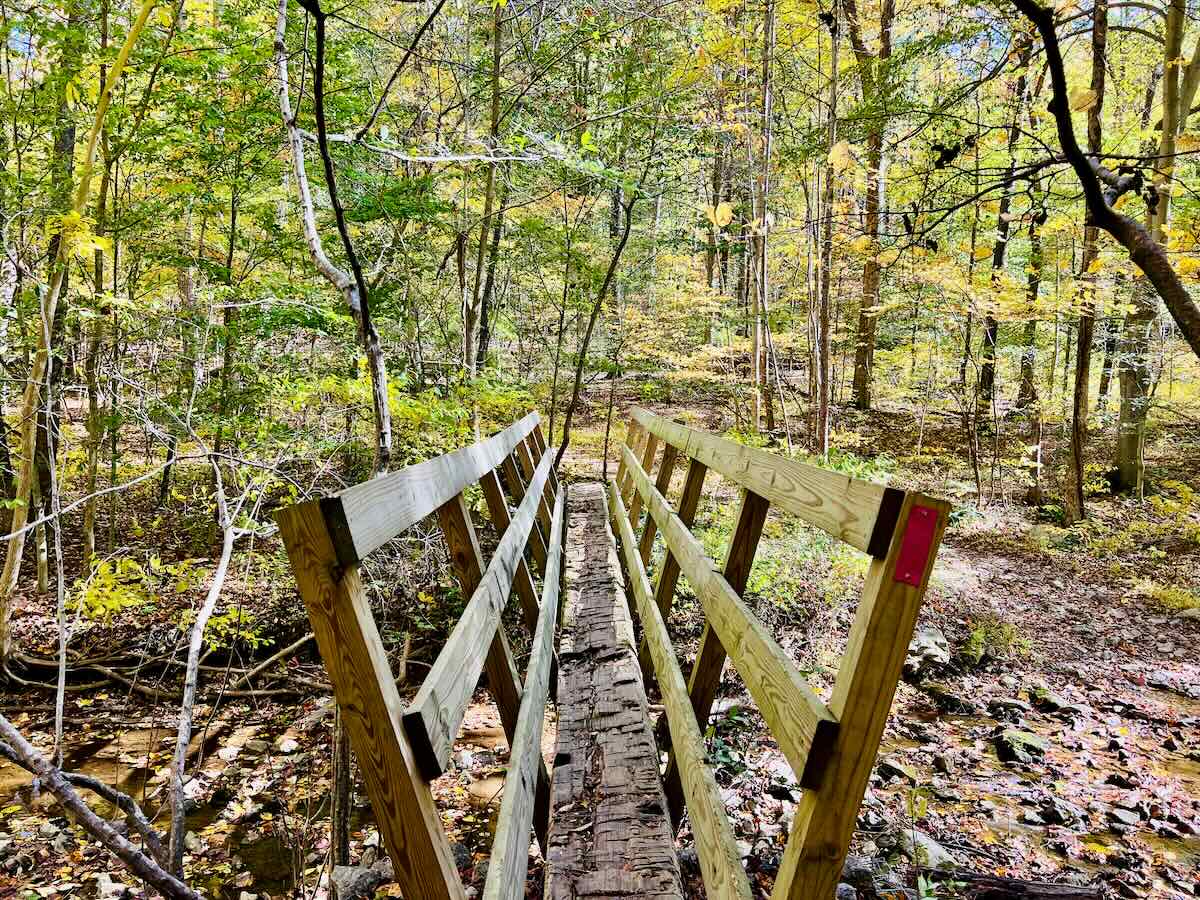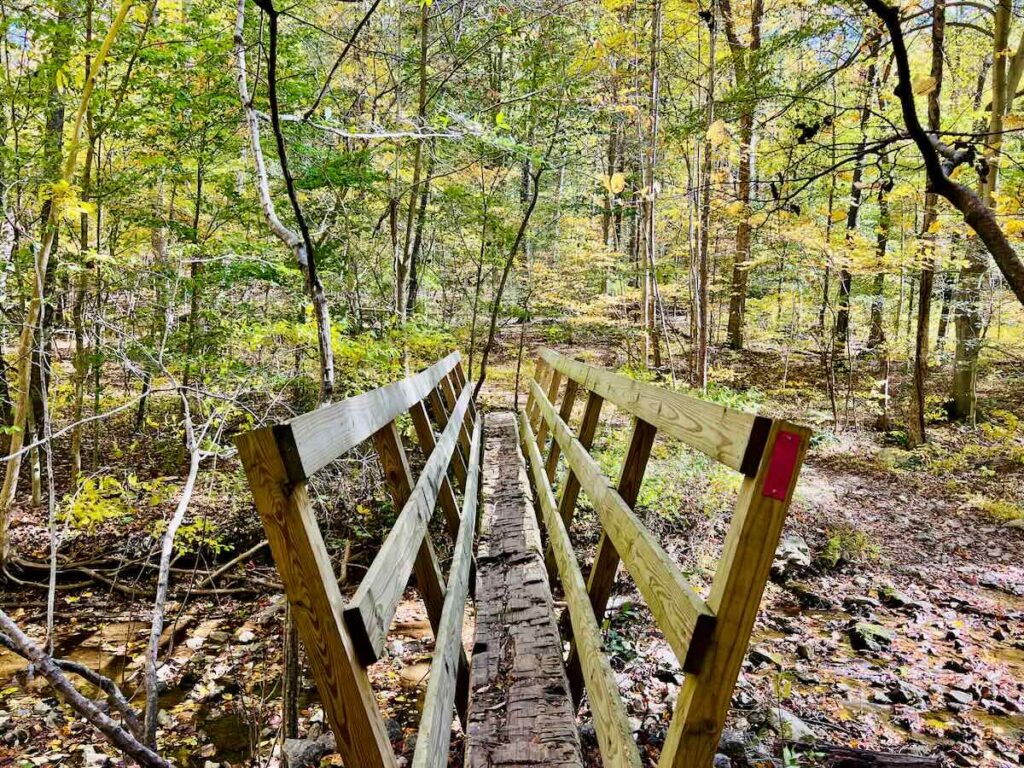 The biggest payoff for our Sweet Run Park hike was the beautiful fall foliage surrounding Gordon Pond and a view up to the Blue Ridge Mountains. (The Appalachian Trail follows that ridge).
We stopped for a picnic lunch then circled the spur trail around the pond before our return trip through the woods. The longer Legacy Loop Trail climbs the ridge before looping back.
Back on the Farmhouse Loop, take the short side spur to Jonathan's Rock if time allows. The large rock outcropping is scenic and would be a fun spot for kids to explore. Other Sweet Run trails cross meadows and woodlands. Whichever trail you take, watch for old stone walls and abandoned farmhouses as you hike.
Equestrian Trails and Parking
There are 9 miles of equestrian trails in Sweet Run State Park, shared with hikers and dog walkers. In fact, all of the park trails are open to horses except Jonathan's Rock and the Headquarters Loop Trail. The US Trail Ride group helps with trail maintenance and they also host group rides in the park.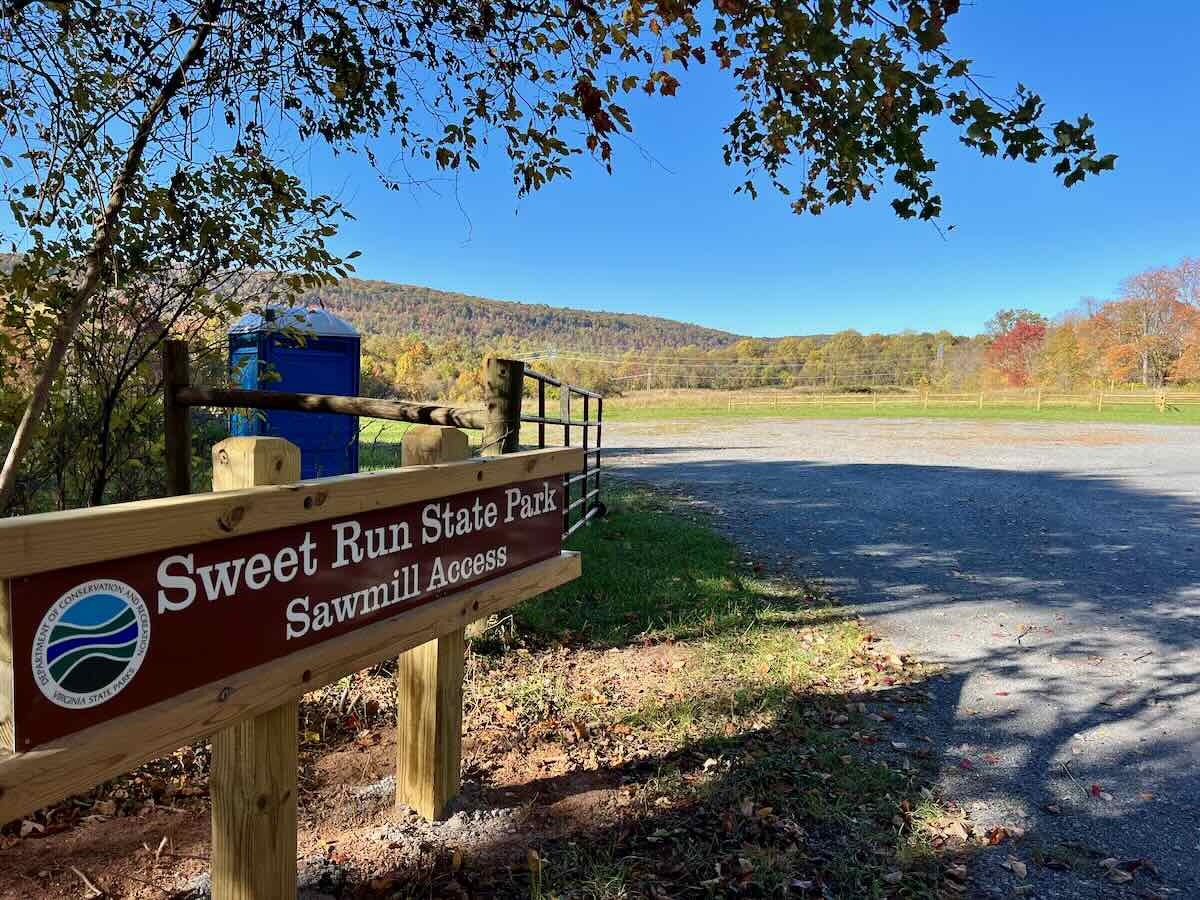 A large open lot offers convenient horse trailer parking with access to the park's equestrian trails. Use the Sawmill Access Entrance to reach the equestrian parking area. There is a porta-john at the lot and a small separate parking area for cars.
Fishing at Gordon Pond
Gordon Pond is home to sunfish, crappie, and largemouth bass, and it's a pretty and quiet spot for fishing. Anglers have to hike to the pond, which is accessed from the Legacy Loop Trail. Adults 16 and over must have a Virginia fishing license.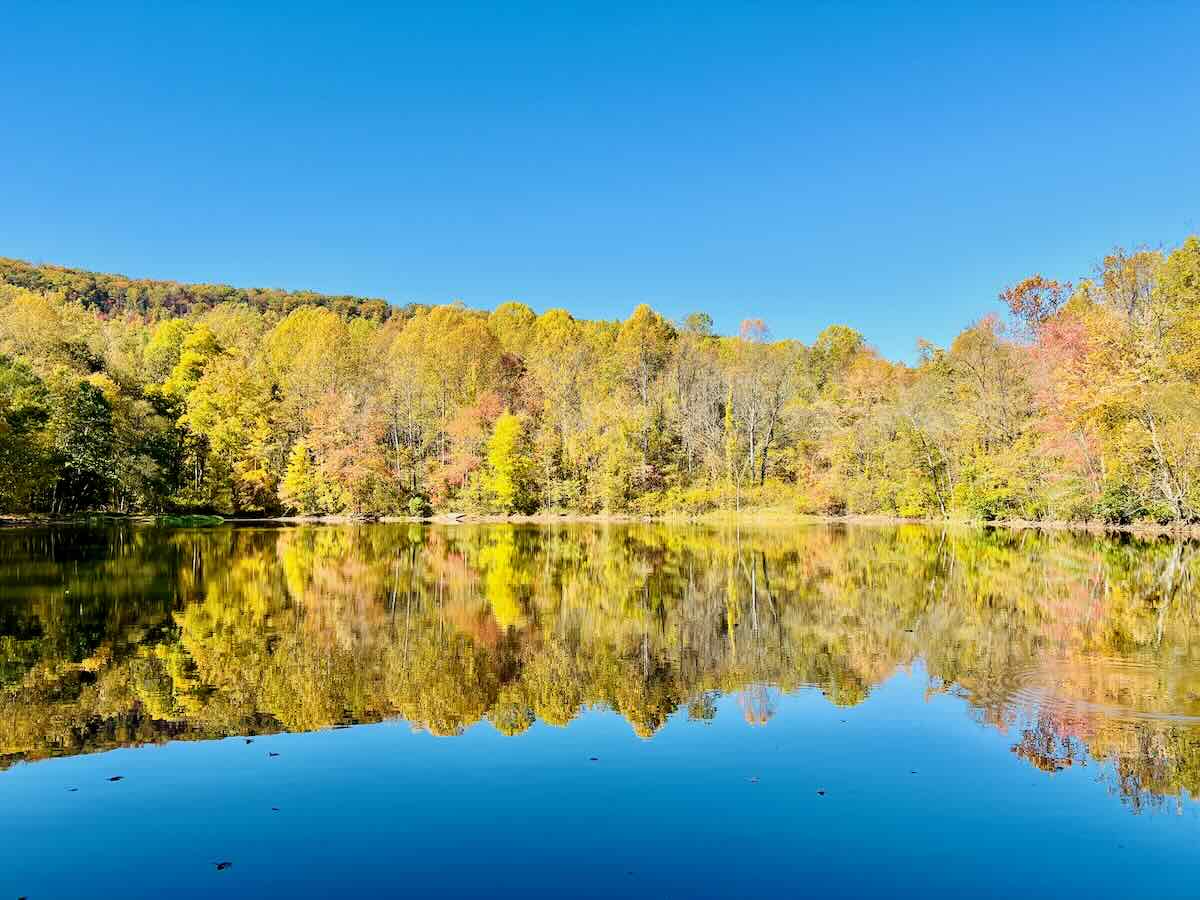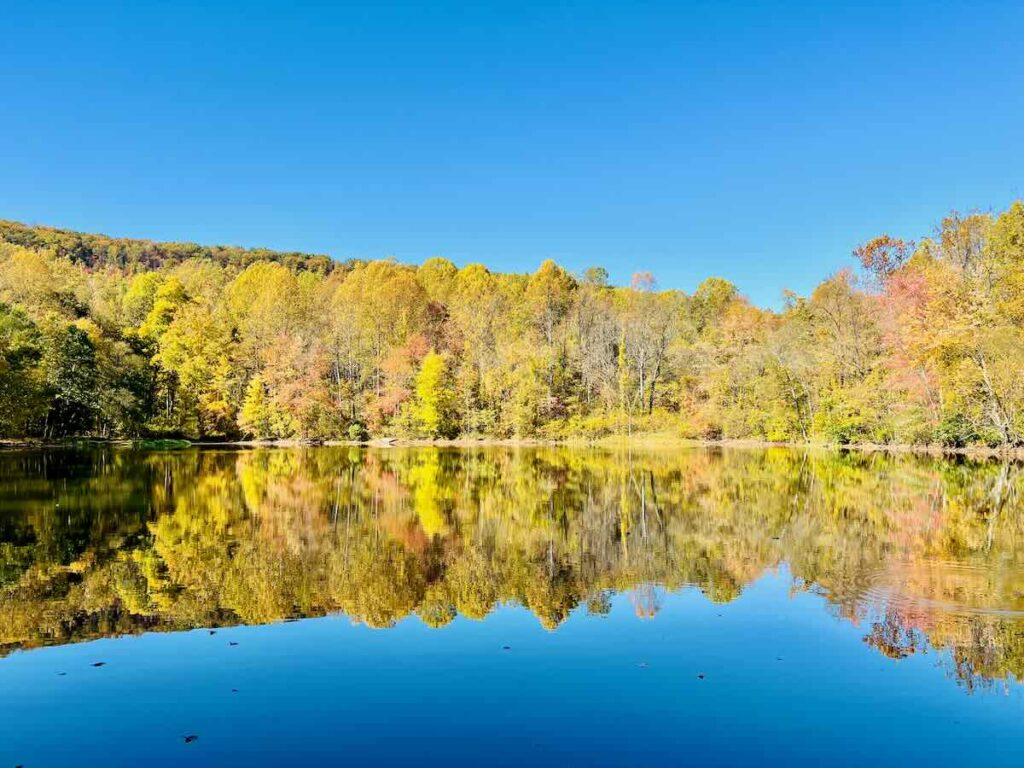 The nearest parking to Gordon Pond is on Arnold Lane, but there are only a couple of spots and it's difficult to turn around if they're taken. You can also reach the pond from the Sawmill Access, which has a few spots for cars (most of the lot is for horse trailers). Or follow our route from the main entrance to Gordon Pond.
Bird Watching
The woods, fields, and wetlands at Sweet Run State Park offer an excellent environment for bird-watching. Birds in the park include hawks, herons, woodpeckers, owls, and many other species.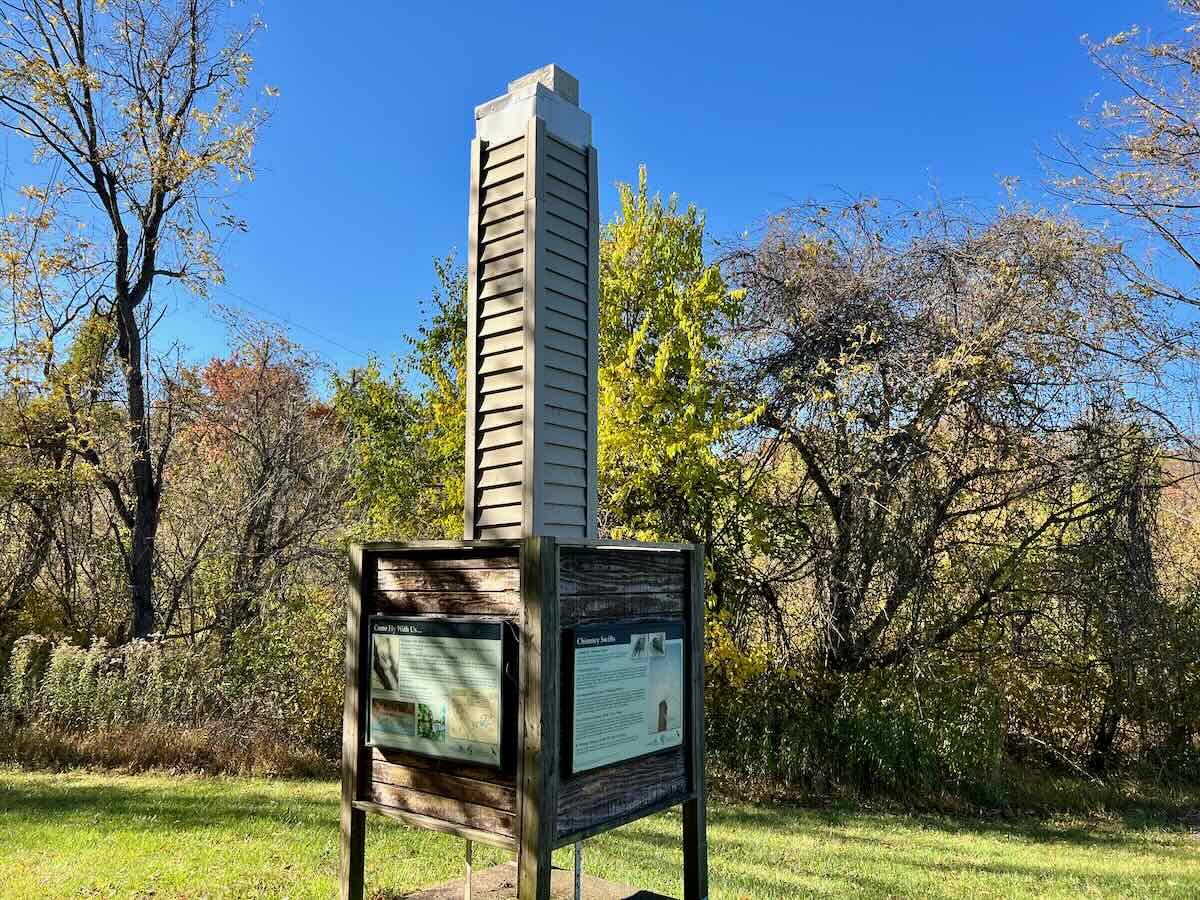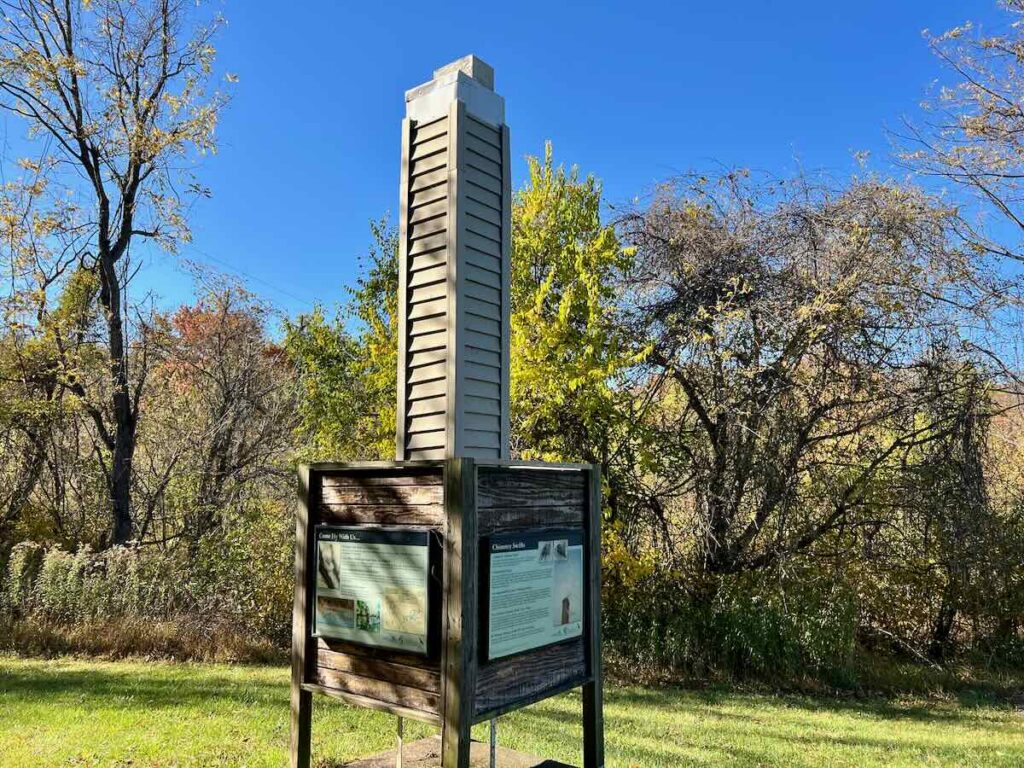 The Loudoun Wildlife Conservancy hosts monthly bird hikes at Sweet Run Park for adults. Bird-watching hikes depart the lot at 8:00 am and there is no fee or registration required.
Children's Outdoor Play Area
One of the fun things to do with kids at Sweet Run State Park is to visit the Nature Play Area. Kids can use tools like bowls and pots to get hands-on with nature. Check the Blue Ridge Conservancy calendar for special kid-friendly events at Sweet Run. For example, Pop-in Play Time events include a nature-themed craft or activity in the play area.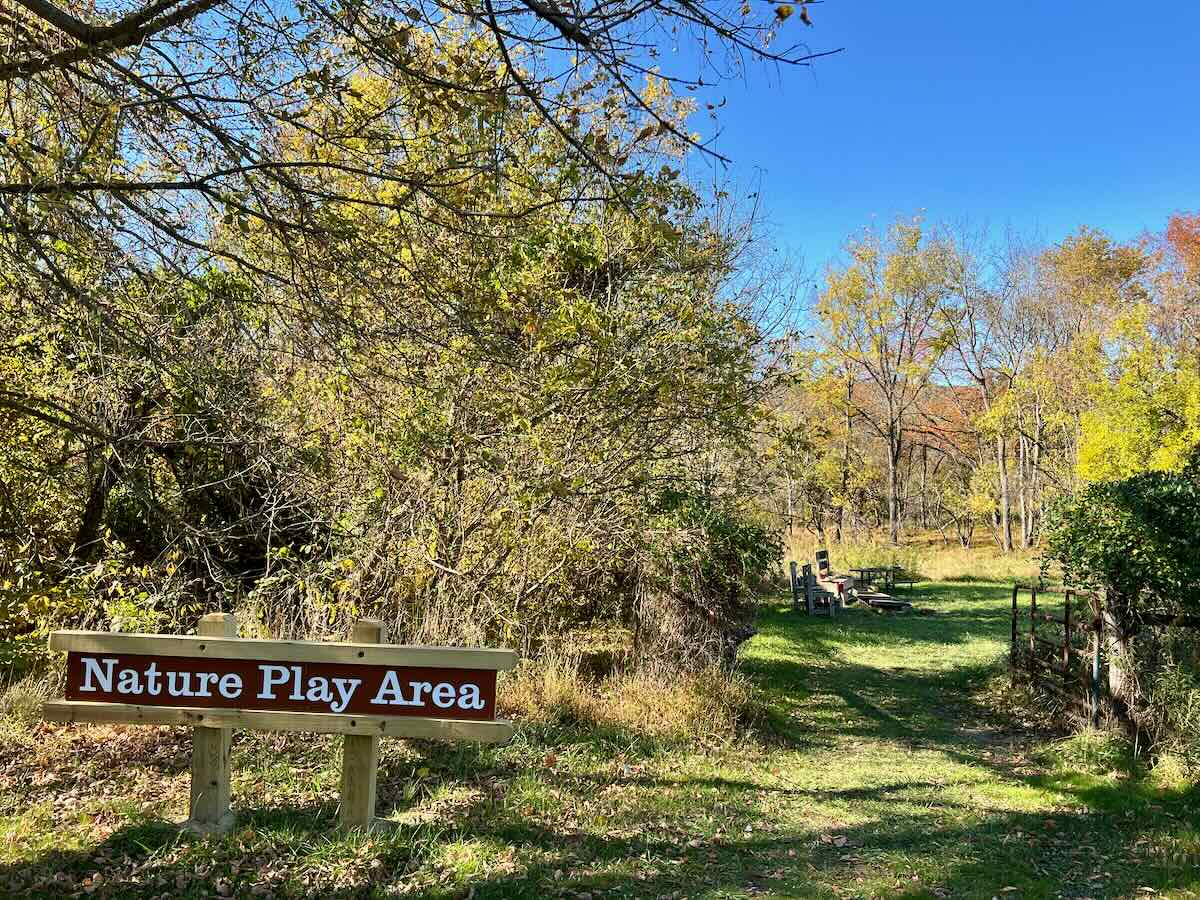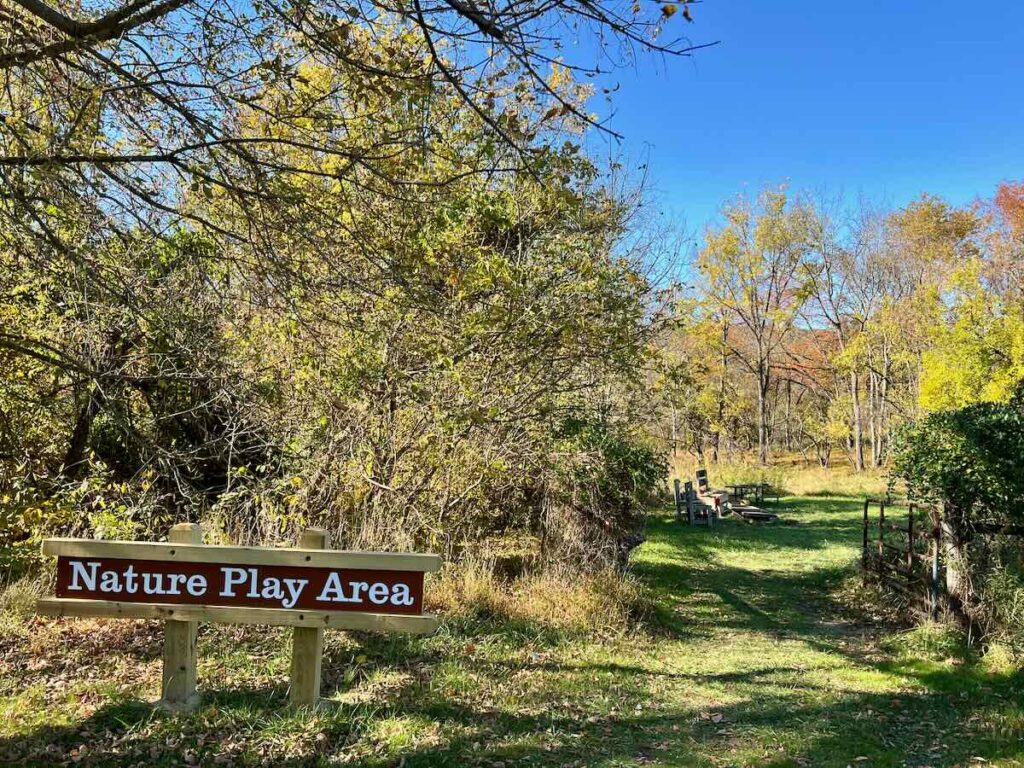 Near the play area, be sure to check out the Little Free Nature Library. This great little library is stocked with nature books for all ages. A few steps away is an interesting house for Chimney Swifts, a Spring House, and a Pollinator Garden.
Outside the park, there is a nice playground at the Community Center across the street from the main park entrance.
Picnic at Sweet Run State Park
There are a few nice spots to picnic at Sweet Run State Park. There are two picnic tables next to the Pollinator Garden next to the main parking area. You could also spread out a picnic blanket here or in the Nature Play Area.
A short walk on the Headquarters Loop Trail leads to a large, covered picnic pavilion. This is a good spot for a shady picnic as long as it is not being used for an event.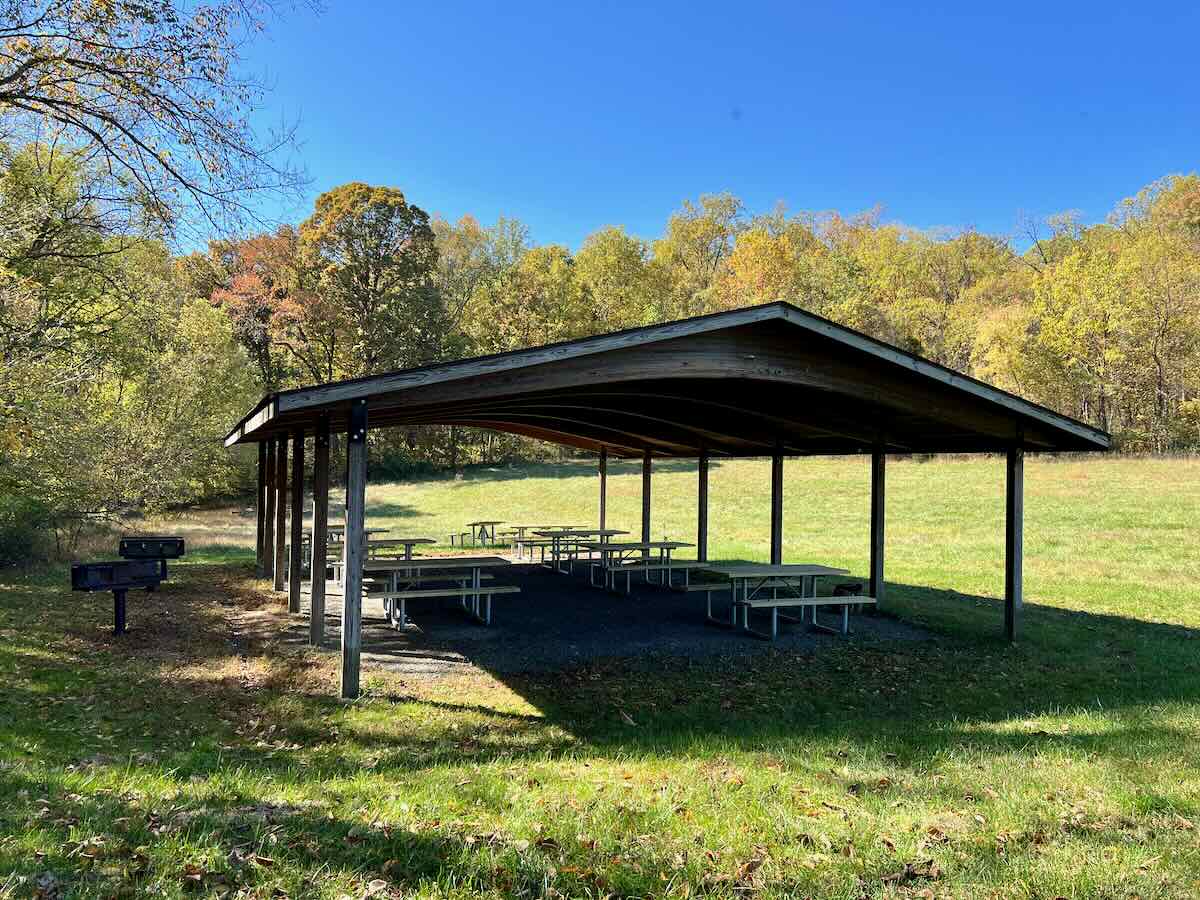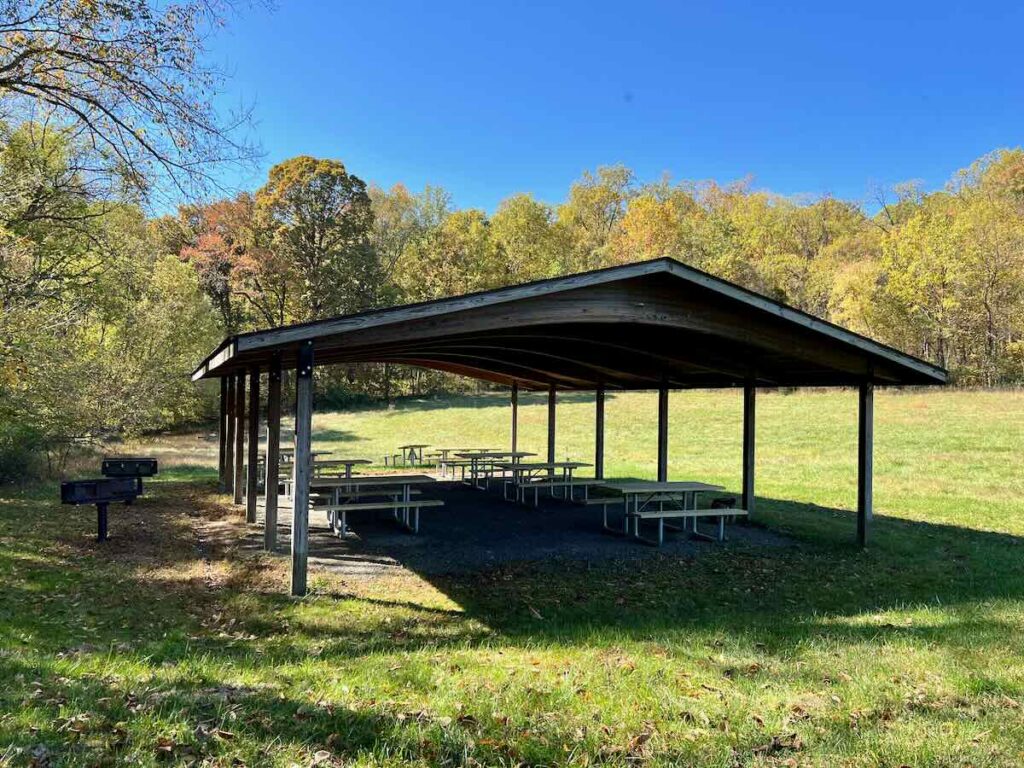 We were pleasantly surprised to find a picnic table at the edge of Gordon Pond, on the Legacy Loop Trail. This was a perfect lunchtime spot for us, with a view of the Blue Ridge Mountains and fall foliage reflected in the water.
Special Events at Sweet Run State Park
There are two calendars to check for events at Sweet Run State Park event:
The Virginia State Park website shows events hosted by the park.
The Blue Ridge Conservancy calendar shows additional events, including monthly bird-watching hikes.
Future Primitive Camping
There is currently no camping at Sweet Run State Park. However, the park plans to add primitive, hike-in camping spots in the future. Camping is a popular activity at many state parks, and the spacious hike-in sites at parks like Sky Meadows generally include fire pits, picnic tables, and bear boxes.
Sweet Run State Park Tips and Essential Info
Virginia's newest state park is so new that facilities are still evolving. Sweet Run State Park officially opened on October 6, 2023, though it had a soft opening in May.
Admission and Hours
Entry to Sweet Run State Park is free and the park is open daily from 8:00 am to dusk. Parking is fairly limited, so arrive early if you visit on a beautiful weekend day (see more parking tips below).
Location and Entrances
Access to Sweet Run State Park is from Harpers Ferry Road (SR 671) in northern Hillsboro Virginia. This is the northwestern area of Loudoun County and is close to the West Virginia border and Harpers Ferry National Historical Park.
There are two entrances to the park, but most people will enter at the northern main entrance. The southern Sawmill Access entrance is primarily for equestrians and horse trailer parking.
Parking at Sweet Run State Park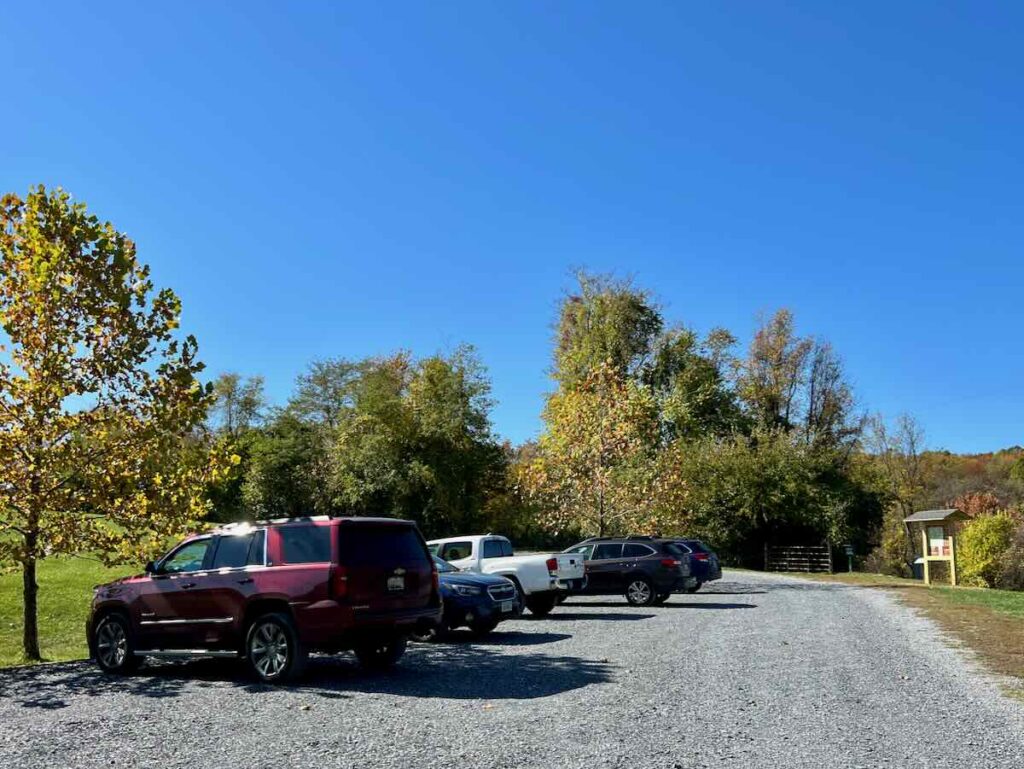 There is currently limited parking at Sweet Run State Park, which could be an issue on busy weekends. Here are 4 options for car parking and 1 for equestrians:
There are a few spaces near the Park Office at the main entrance.
The primary car lot has spaces near the Nature Play Area, picnic tables, and trailheads. There is a porta-john next to the lot. You can also walk uphill to use the restroom at the Interpretive Center. The restroom should be open even if the center is closed.
There are a few spaces for cars at the Sawmill Access lot. Most of the large gravel lot is for horse trailer parking and cars are not allowed to park in the gravel area.
There are a couple of parking spaces on Arnold Lane. Note that it's hard to turn around if the spots are full.
Visitor Center and Interpretive Center
There is currently no Visitor Center at Sweet Run State Park, though there is a Park Office building that was closed during our visit. There is also a large Interpretive Center building near the main parking area but it was also closed when we visited.
Accessibility
There are no wheelchair accessible trails at Sweet Run State Park. While the restroom in the Interpretive Center is accessible, the road to that center is marked private and it's up a short but steep hill. Picnic tables and the Outdoor Play Area are close to the main parking area, but visitors have to cross uneven grass to reach those areas.
Things to Do Near Sweet Run State Park
Northern Loudoun County is dotted with scenic wineries, breweries, and farms. This is a wonderful area for a weekend getaway, with pretty B&Bs and vacation rentals nearby. Here are some of the best things to do near Sweet Run State Park.
Enjoy craft beer on the Loco Ale Trail at nearby breweries including Harpers Ferry Brewing (great view!), Harvest Gap Brewery, Hillsborough Vineyards and Brewery, and Old 690 Brewing Company.
Sample Northern Virginia wineries with a view at vineyards including Doukenie Winery, Hillsborough Vineyards, Breaux Vineyards, and 868 Estate Vineyards.
Check out the stone houses and stop for lunch at Stoneybrook Farm and Market in the nearby town of Hillsboro. The Wright Brothers' mother was born here!
Head south to the quaint town of Purcellville for dining, shopping, and more craft breweries.
Enjoy small town fun and scenery in Bluemont where you can hike the Appalachian Trail to Bears Den Overlook or Raven Rocks.
Take a scenic drive on the historic Snickersville Turnpike.
Sweet Run State Park is a wonderful addition to family-friendly Northern Virginia parks and is sure to become a favorite spot for hiking and outdoor fun. We plan to hike all of the park trails and will update this article as park facilities evolve.
Follow us on Facebook, Twitter, Pinterest, and Instagram for more fun travel in and from Northern Virginia.
Save it for later: