Updated on May 9, 2023 by Julie McCool
Fantastic and fun things to do in Bluemont Virginia include great hiking, family and romantic settings, and craft breweries and wineries with awesome views. Bluemont is just an hour from Washington DC but the quiet country setting feels a world away. It's close enough for a fun day trip, and quaint vacation rentals make Bluemont perfect for a weekend getaway.
Bluemont sits at the edge of the Blue Ridge Mountains in western Loudoun County Virginia. Overlooks, wineries, and breweries in the little town command stunning views east to the Virginia Piedmont and west to the Shenandoah Valley. Bluemont was established as Snickers Gap in 1731. It was renamed Bluemont in 1900 and became a popular getaway for DC residents drawn to the country setting and healthy air.
Disclosure: This article may contain affiliate links. We will make a small commission from these links if you order something, at no additional cost to you.
We've made frequent trips to Bluemont during our 25 years living in Northern Virginia. Happily, this small town just keeps getting better, opening new day trip-worthy destinations without losing its historic charm.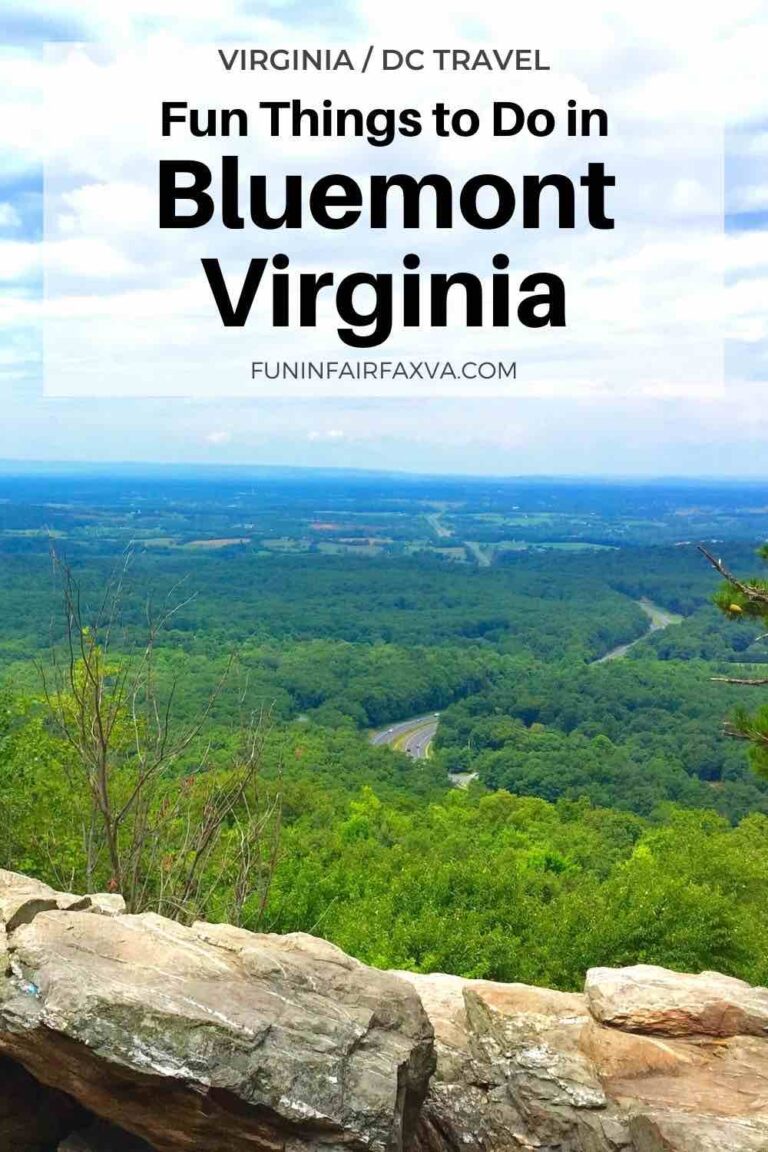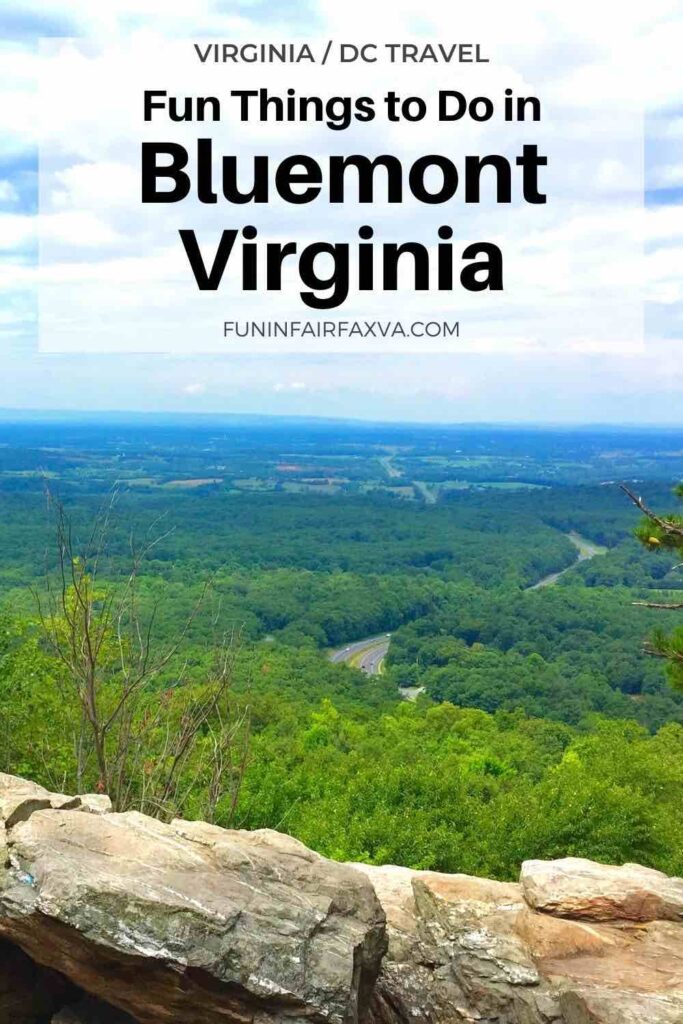 Explore more: 15 Fun Northern Virginia Small Towns to Visit Now.
Outdoor Activities and Hikes in Bluemont Virginia
The Appalachian Trail runs through Bluemont, and you can enjoy the outdoors on several great hikes here. The neighboring towns of Round Hill and Berryville are home to more trails and parks.
Bears Den Overlook
The hike to Bears Den Overlook is one of the most popular short hikes in Northern Virginia. The rocky overlook has a fantastic view and is a favorite stop for families with kids, picnicking couples, and AT hikers. Bears Den has a westward view is one of the best places to watch the sunset in Northern VA.
Most hikers reach the overlook on a .5-mile section of the AT from the Snickers Gap parking area. A day-use parking area offers a shorter and easier route to the overlook. And it's easy to extend your hike in either direction on this section of the AT known as the roller coaster.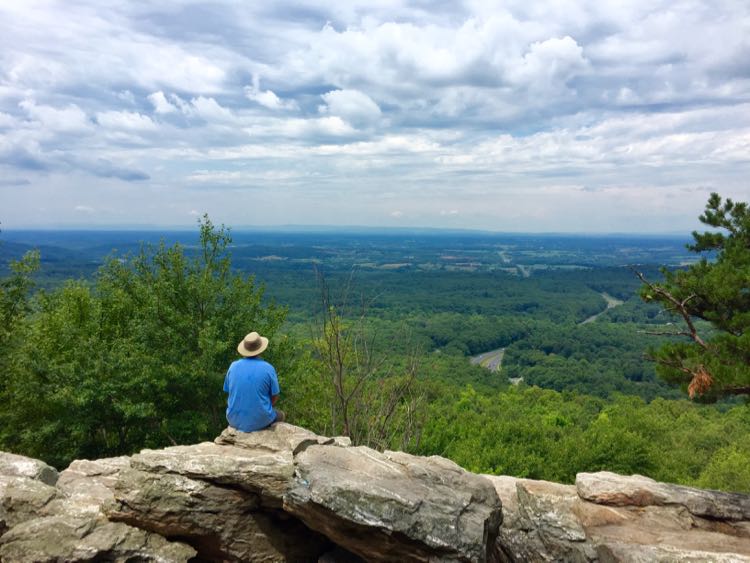 Explore more short hikes to gorgeous views.
Raven Rocks
Tackle more of the Appalachian Trail on a more challenging 5.5-mile out-and-back hike to Raven Rocks. The rocky trail completes three steep climbs and descents on a section of the AT known as the roller coaster. The payoff for your effort is an open ledge with great views of the surrounding valley and mountains.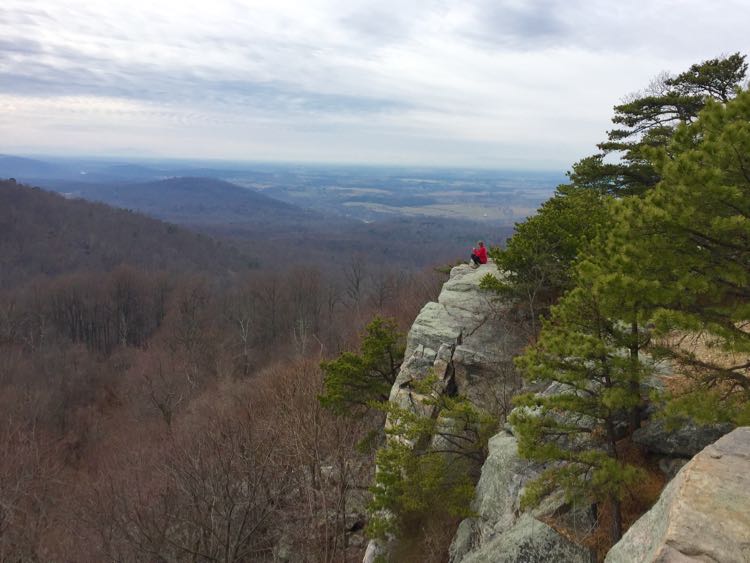 Buzzard Hill
The Buzzard Hill hike leads to a pretty waterfall and a nice summit view. The out-and-back hike on the Appalachian Trail is about 3.5 miles long and includes a rocky stream crossing. The waterfall is prettiest after spring rains, but be prepared for muddy trail sections. The parking and trailhead for Buzzard Hill are on Morgan Mill Road, a rough gravel road that can be difficult to navigate if it's snowy, icy, or muddy.
Cool Springs Battlefield at Shenandoah University, Berryville
A former golf course is now home to a 2.7-mile loop trail on paved paths with beautiful views of the Shenandoah River and surrounding countryside. At the northern end, a short spur leads to a pretty waterfall. During the Civil War, Confederate and Union forces clashed here in the Battle of Cool Spring. Today, the trail is on Shenandoah University property and is a quiet spot for hiking, biking, birding, and relaxing by the river.
Plan your visit: Hike Cool Spring Battlefield to Beautiful Waterfall and Views.
Sleeter Lake Park, Round Hill
Round Hill is a small town just east of Bluemont. In 2018, the town opened 11-acre Sleeter Lake Park to fishing, boating, and picnicking. Visitors can launch kayaks and fish from the shoreline, and there are picnic tables and grills. Unfortunately, the peaceful setting was marred by noisy construction across the lake on a weekday visit. The park is open seasonally from March 1 to November 1.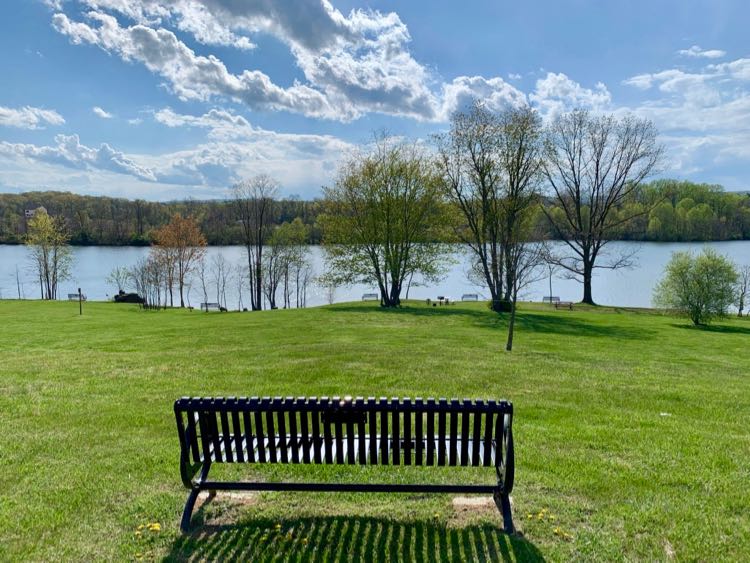 Bee's Wing Farm
Normally open by appointment only, Bee's Wing Farm hosts garden-inspired weddings brightened with fresh floral designs from their fields and greenhouse. They also offer nine Floral CSA subscriptions to brighten your home. In addition, seasonal Field Day events welcome the public to check out the farm and create their own bouquets.
Local Places to Eat and Drink in Bluemont Virginia
What began as a single farm has grown to an excellent collection of breweries, wineries, and a new cidery clustered in and near the center of Bluemont. Most locations also offer light bites, and there are more tasty restaurants a short drive away.
Bear Chase Brewing
With a great craft beer line-up and a stellar view, Bear Chase Brewing is a very welcome stop after a hike. The closest brewery to Bears Den Overlook boasts a spacious taproom, porch, and a sloping lawn sprinkled with seating areas. In winter, the porch is tented and there are heated igloos and fire pits outside. Food options include pizza, giant pretzels, and the A.T. Eats food truck.
Spoil your group with a stay in the on-site stone chateau with indoor pool and that same gorgeous view.
Plan more beautiful getaways: 17 Fantastic Northern Virginia Wine Country Vacation Rentals.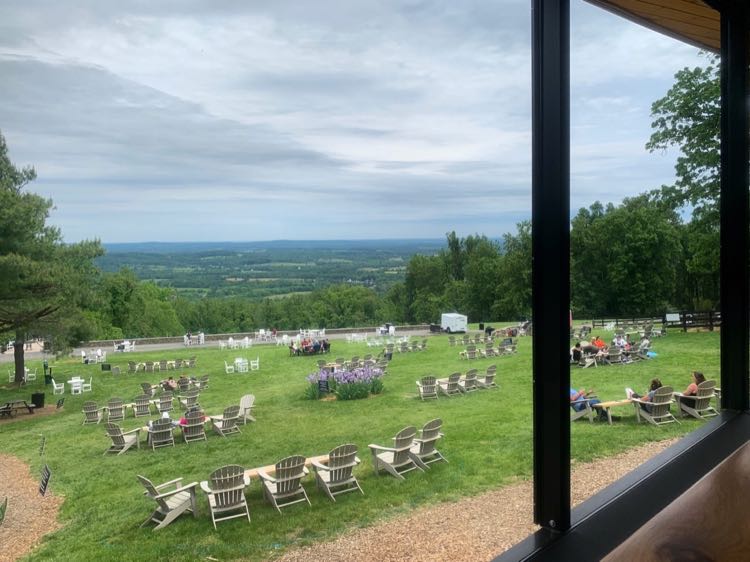 Bluemont Country Store
Pick up a sandwich for your hike, eat at the store's picnic tables, or shop for country treats to take home. The Bluemont General Store is one of three classic country stores on the Snickersville Turnpike (Along with Philmont and Airmont). The store, which has operated here since the early 1800s, is also a great place to pick up local eggs, beef, and produce.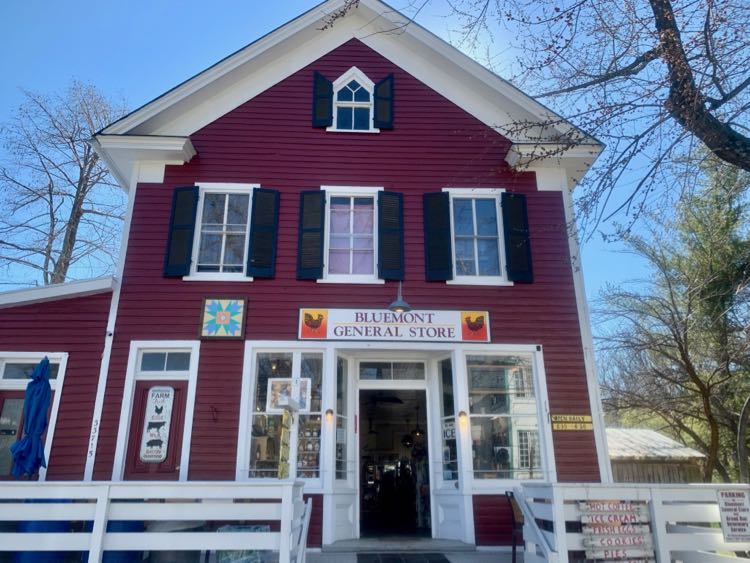 Bluemont Vineyard
Head to Bluemont Vineyard to sip local wine and enjoy one of the prettiest winery views in Northern Virginia. The vineyard's tasting room is perched on a hill with a fantastic eastern view of the Virginia Piedmont. Indoor and outdoor tables welcome guests and the Harvest Kitchen offers small plates and shareable bites. Bluemont Vineyard is also a popular wedding location.
Couples, enjoy a romantic weekend getaway in a pretty stone cottage tucked into the orchard.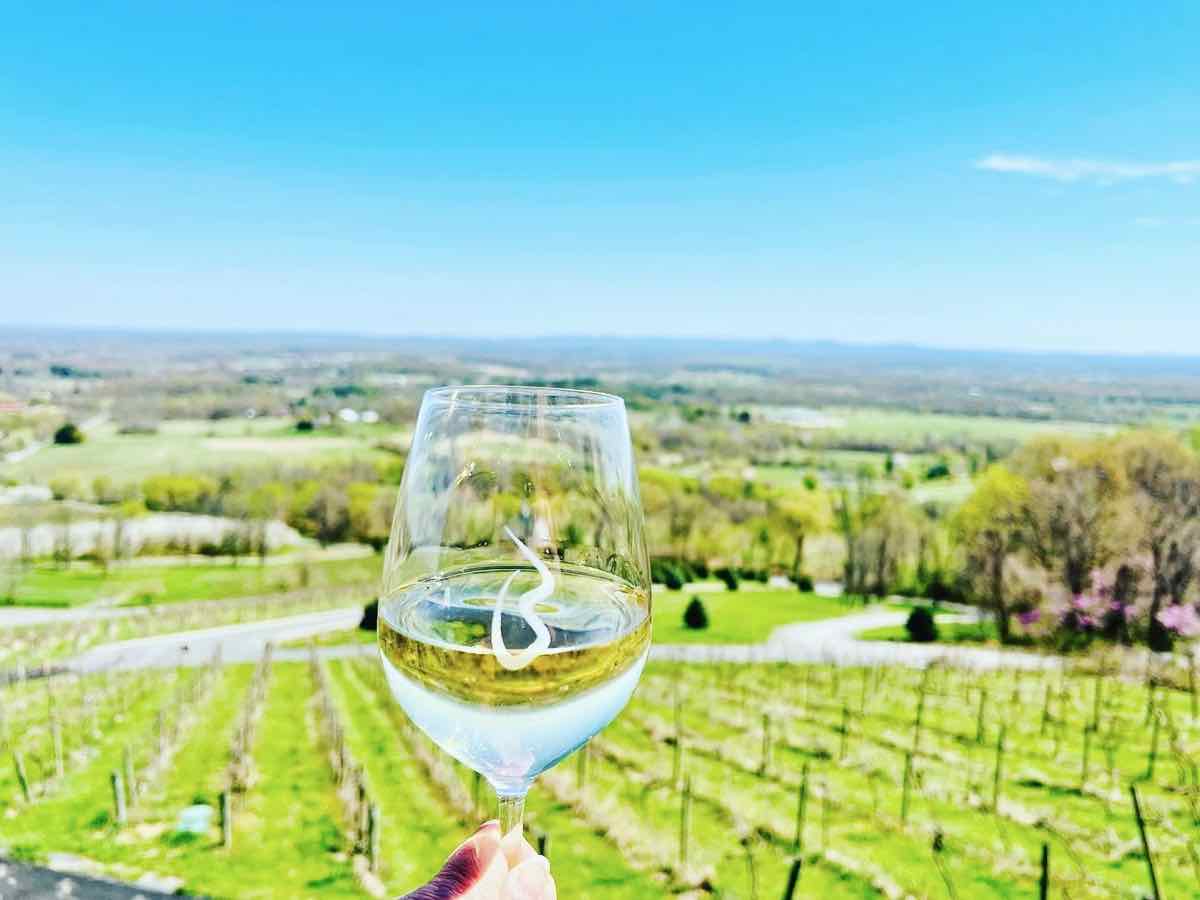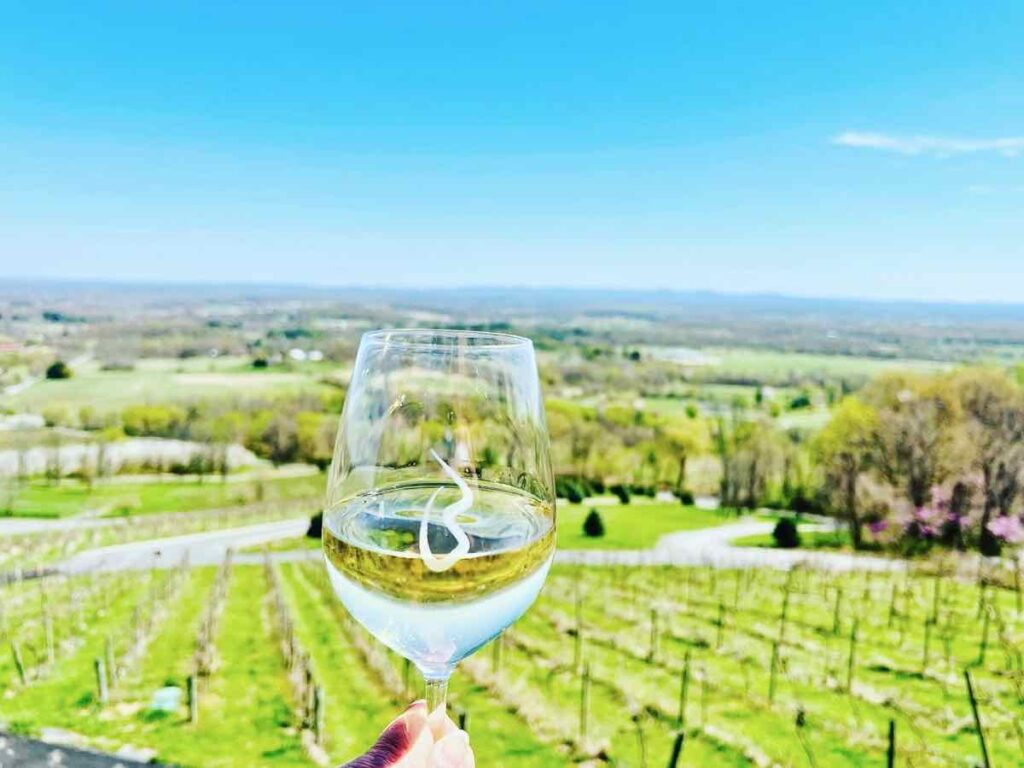 Dirt Farm Brewing
Prefer beer over wine? Dirt Farm Brewing shares the same lovely hill as Bluemont Vineyard. The view from Dirt Farm's patio is even more spectacular than its neighbor. Add in an excellent line-up of farm brewed beers and you have one of our favorite craft breweries in Loudoun County. A small kitchen turns out tasty dishes like flatbreads and tacos.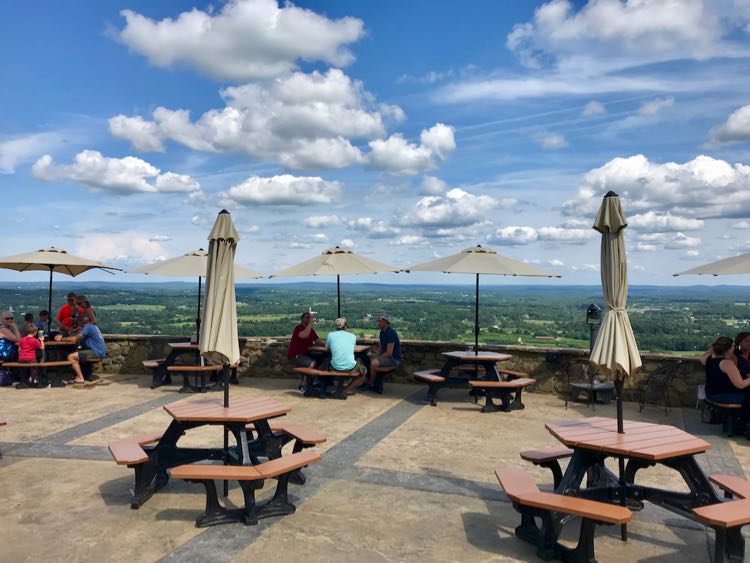 Great Country Farms
Pick up fresh produce, meats, dairy, jams, and other treats at the Great Country Farms store. The onsite Knead It Bakery turns out delicious apple cider donuts and sells packaged bread and dessert mixes.
You can order online so your goods are ready for pickup when you visit Bluemont. Or join the farm's CSA Produce Box and get a weekly, customized box of fresh fruit and vegetables all season long. Pick-your-own festivals add seasonal fun (more info below).
Henway Hard Cider
The newest addition to the Great Country Farm family is Henway Hard Cider. The cidery overlooks a pretty pond and uses the farm's apples to produce its tasty hard ciders. Indoor and outdoor spaces offer a comfortable place to sip with a relaxing view of the pond and fields. The Bird Bites lunch menu offers pizzas and giant pretzel sticks. The veggie pizza with cauliflower crust was delish!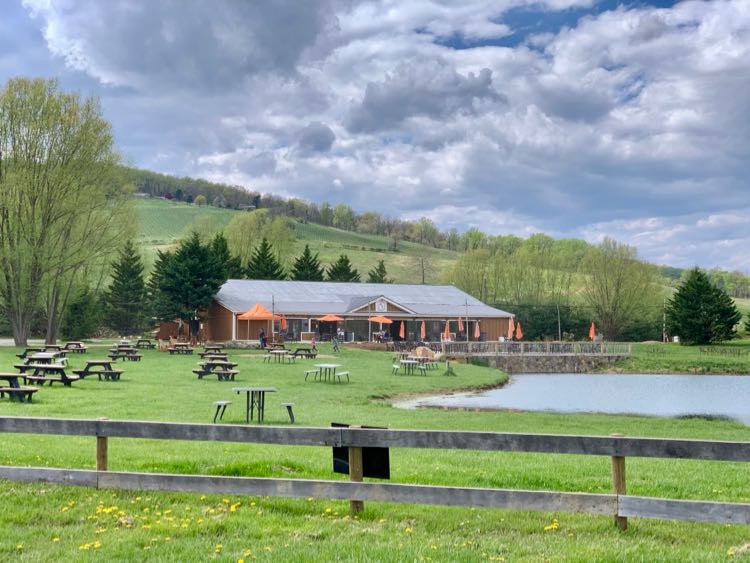 Twin Oaks Tavern Winery
Perched on a hill on the northern side of Route 7, Twin Oaks Tavern Winery is a pretty spot with a panoramic Shenandoah Valley view. The historic stone house here operated as an inn until the 1950s. Today, you can sample Twin Oak Tavern wines in a pretty tasting room or a spacious deck. The deck is a lovely spot to admire the view and a beautiful sunset on warm evenings.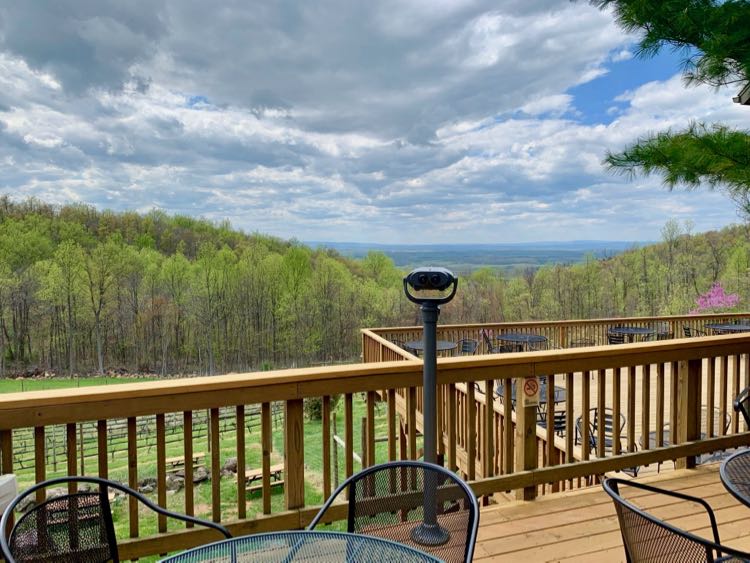 More Restaurants, Breweries, and Wineries Near Bluemont VA
The small towns surrounding Bluemont are sprinkled with more wineries, breweries, and restaurants to visit. Here are a few favorites to include in your day trip or getaway to western Loudoun County.
B Chord Brewing is just north of Route 7 in the town of Round Hill. With a large barn and a big, open field, B Chord offers plenty of room to spread out and enjoy their brews. As the name suggests, B Chord loves great music, and they host bands every weekend in warmer months.
Also in Round Hill, Hill High Marketplace is right on Route 7 just east of Bluemont. The former orchard packing plant now hosts several places to eat and drink local:
Stop in Mom's Apple Pie at Hill High for sweet treats, a meal, or country jams and other goods.
Next door, More Better Restaurant and Beer Garden is a relaxed spot for a meal or a drink. The menu features American and German dishes and beers including several Virginia brews.
At the other end of the building, Bogati Winery offers free and traditional wine tasting along with a bodega menu. They have an indoor tasting room and an outdoor seating area with a pretty pond view.
You'll find more local food, drink, shopping, and outdoor fun in Purcellville, just 7 miles east of Bluemont. Favorite Purcellville restaurants include Monk's BBQ, Market Burger, and Magnolia's at the Mill. Drink local at Catoctin Creek Distillery, Old 690 Brewing Company, and more.
Things to Do with Kids in Bluemont Virginia
Children are welcome at nearly all of the Bluemont places to visit on our list. But these family-friendly destinations offer extra fun for kids.
Great Country Farms
Kids can play for hours, and connect to the food they eat, at family-friendly Great Country Farms. The farm's seasonal kid's activities include wagon rides, farm animals, a fishing pond, mini-golf, an agility course, jumping pillow, swings, tubes, slides, and more. Seasonal pick-your-own fields and produce-inspired festivals (see events below) add to the fun.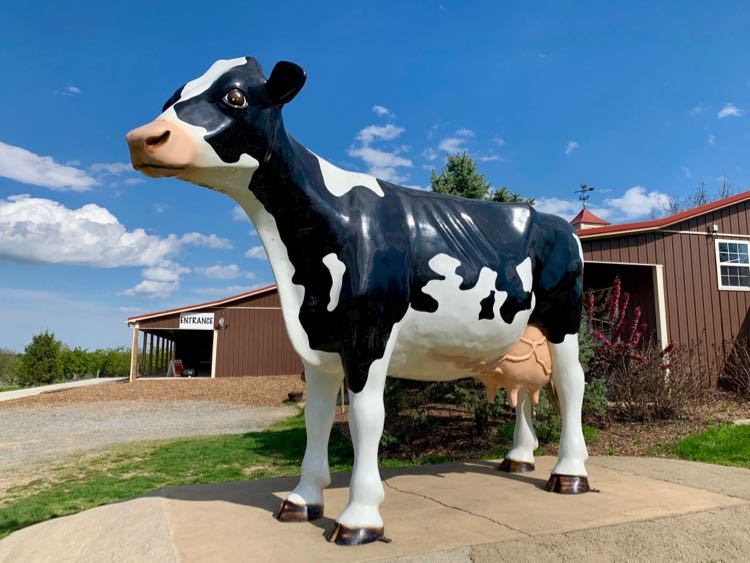 Bears Den Overlook
The short hike to Bears Den Overlook is one of the best family hikes in Northern Virginia (more details above). The climb is steep enough to offer a challenge and the rocky overlook is lots of fun.
If the kids are too small for the half-mile climb, start your hike from the day-use parking lot. Keep a close eye on your children around the exposed cliffs of the rocky overlook.
Horseback Riding Shows Lessons and Camps
Two Bluemont farms offer horseback riding lessons for young riders. Red Gate Farm offers private and semi-private riding lessons for young riders of all levels. They also host summer riding camps, a Pony Club, horse trials, and birthday parties.
Serene Acres Riding Center has been operating in Bluemont since 2004. They offer summer riding camps along with a Spring Break camp session. Group and private riding lessons are geared to age and ability. They also have adult riding lessons for new riders and those who have been out of the saddle for awhile.
Annual Special Events in Bluemont VA
Bluemont Fair: Every September, the Bluemont Fair welcomes everyone to a family-friendly celebration of country life. Enjoy live entertainment, artisans and crafts, food, games, a Children's Fair, and more. Admission is $10 (9 and under free). No pets allowed.
Easter Egg Hunts: In Spring, Great Country Farms hosts a fun Easter Egg Hunt & Marshmallow Harvest with timed hunts for different age groups.
Strawberry Jubilee: Late May is time for strawberry picking in Virginia. Great Country Farms annual Strawberry Jubilee features seasonal treats, pick-your-own fields, special entertainment, and children's activities.
Cut-Your-Own Sunflower Festival: Lush fields of u-pick sunflowers add extra beauty to the region in July and August. Great Country Farms gets in on the action with a sunflower fest that's fun for all ages.
Explore more ways to Celebrate Spring in Northern Virginia.
Apple-picking Season: Every September the farm welcomes visitors to their pick-your-own apple orchard and corn maze.
Pumpkin Patches: Celebrate the October pumpkin harvest with a wagon ride to the field to find your perfect pumpkin. Special entertainment and activities add to this popular Fall event.
Christmas Holiday Lights: One of the most unique holiday light displays in Northern Virginia takes place every December. At Light Up the Vines, held nightly throughout the holiday season, the vines at Bluemont Vineyard sparkle with lights.
Choose and cut your own Christmas tree: Create a fun family tradition at Snickers Gap Tree Farm beginning in late November. You'll have a gorgeous view of the surrounding fields and mountains as you find your perfect tree. Of course, this is a fun tradition for adults and couples too.
Where to Stay in Bluemont Virginia
There are no big hotels, but you'll find many beautiful places to rent in Bluemont and nearby towns. Bluemont rentals include unique stays at Bluemont Vineyard, Bear Chase Brewing, and independent cottages and homes.
For example, we loved our stay at the highly-rated Windswept Inn cottage on a private country road at the edge of Bluemont. The 3-bedroom cottage is perfect for a couple, small family, or pre-wedding group stay.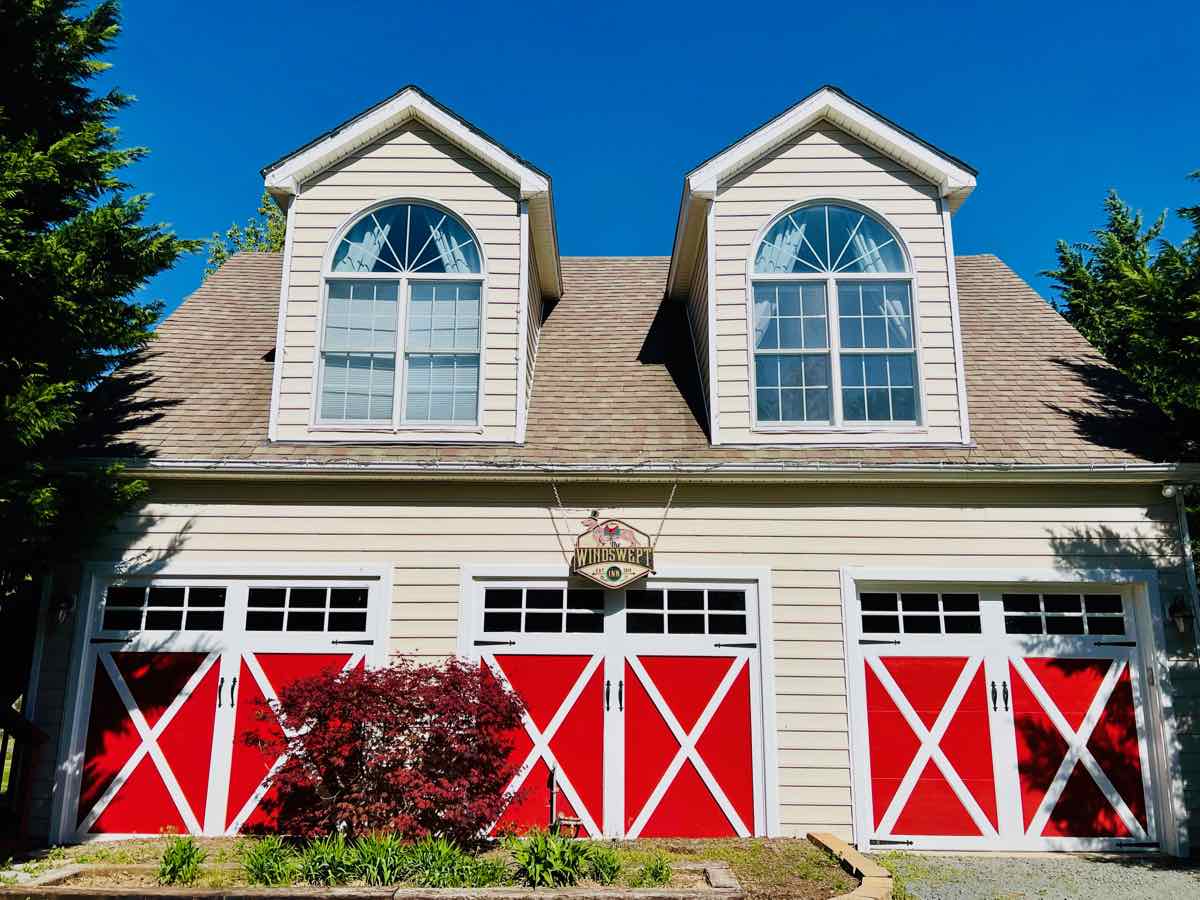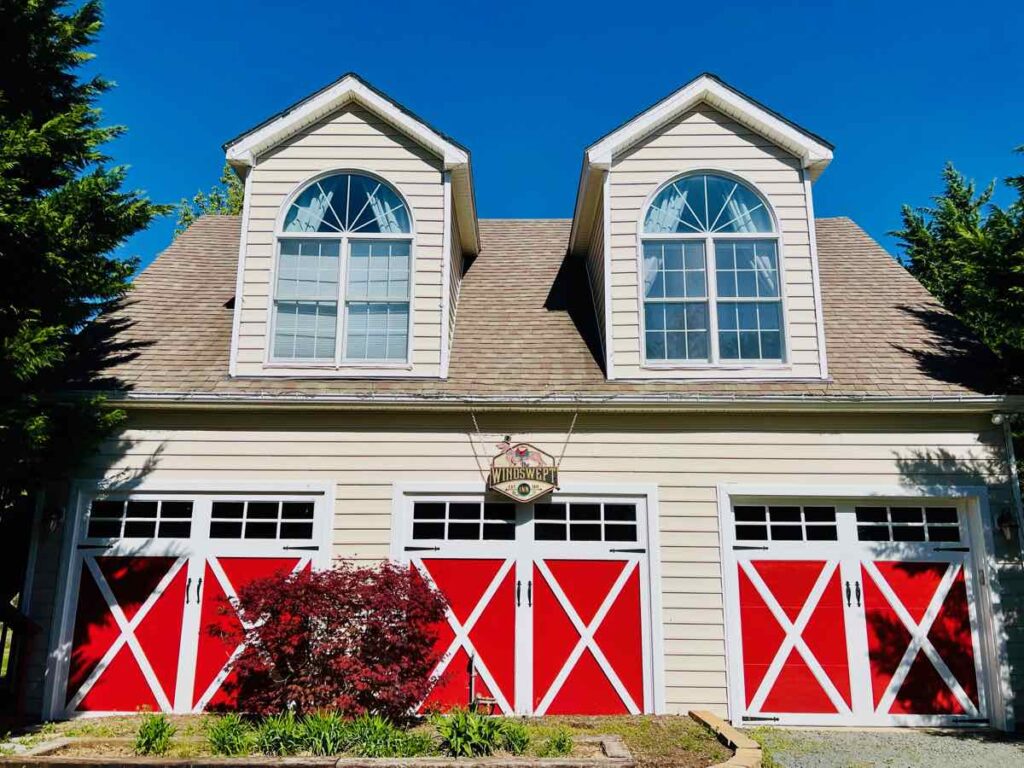 Find more unique DC area lodging in 17 Amazing Northern Virginia Airbnb and Vacation Rentals.
Scenic Routes and Directions to Bluemont Virginia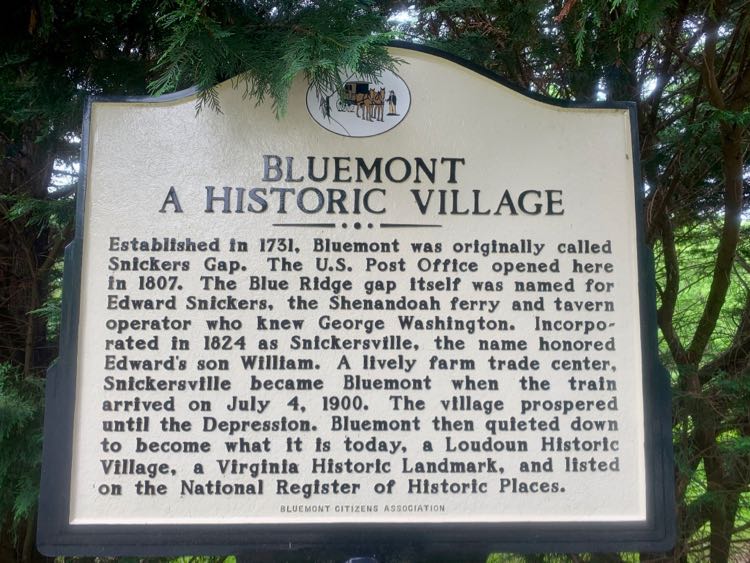 Here are four routes to Bluemont from Washington DC. Use the map links to adjust for your starting point. If time allows, we highly recommend the Snickersville Turnpike scenic drive.
Bluemont is about 20 miles east of Winchester and is an easy side trip from Interstate 81. Plan a visit with our guide: 15 Fun Things to Do on a Winchester Virginia Getaway or Day Trip.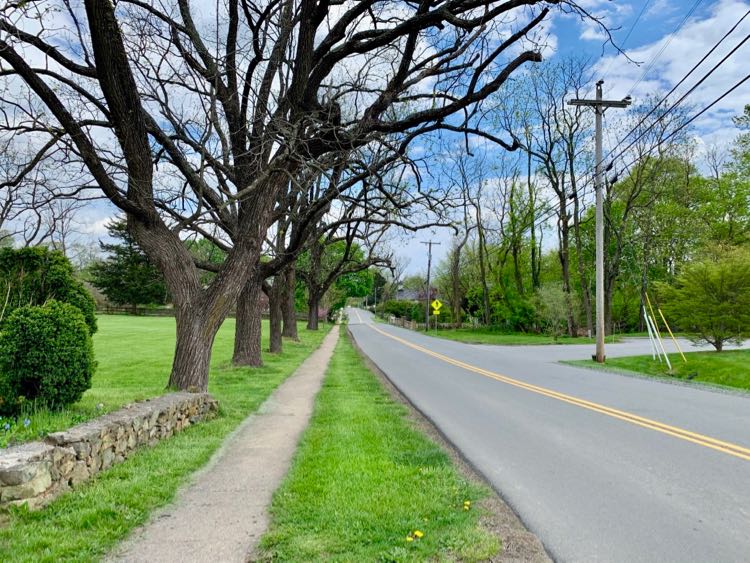 Whether you visit for a day or longer, you'll find scenic beauty, local flavor, and outdoor fun in Bluemont Virginia. Learn interesting Bluemont history and local stories on the town website and the Loudoun History site. The Visit Loudoun County tourism site lists event and destination info for Bluemont and surrounding towns.
Follow us on Facebook, Twitter, Pinterest, and Instagram for more fun travel in and from Northern Virginia.