Updated on March 24, 2023 by Julie McCool
Take a Hunt Country scenic drive in Northern Virginia to explore beautiful farms, quaint towns, vineyards, orchards, parks, and winding roads. Our route through southern Loudoun and northern Fauquier Counties makes a perfect day trip and it begins just an hour from busy Washington DC.
We are always looking for fun places to drive, and this scenic route features some of the prettiest countryside in Northern VA. From your car, you'll see rolling hillsides dotted with farms and vineyards, and country roads lined with stoned walls. When you're ready for a break, we highlight where to stop for a hike, a meal, a drink, local shopping, and outdoor fun.
Disclosure: This article may contain affiliate links. We will make a small commission from these links if you order something, at no additional cost to you.
Hunt Country Scenic Drive Route and Tips
Read the route overview and tips below for a big picture look at this Hunt Country scenic drive. Below the tips, you'll find details and photos about the sites and stops to look for on your drive.
Route Overview: Scenic Drive Through Loudoun and Fauquier County
A scenic loop drive is extra fun when it includes beautiful small towns and open country roads. Our route includes the lovely towns of Aldie, Middleburg, Marshall, and The Plains. Plus, you can add activity to your day with a hike at Sky Meadows State Park.
Use this map of our Hunt Country scenic drive route to plan your trip. The route is approximately 60 miles long. Allow 2 hours for the drive plus extra time for stops and activities.
Our drive begins at Gilbert's Corner, at the rotary where Routes 50 and Route 15 meet, and follows a loop:
West on Route 50 from Aldie to Paris, Virginia
South to the town of Markham and two of our favorite apple orchards
East on pretty roads that parallel Route 66
North on either of two return routes—Route 15 or the unpaved, wooded Route 629.
Hunt Country Scenic Drive Tips
Avoid this drive during rush hour. Route 50 is a heavy commuter route and is congested on weekday mornings and evenings.
Our drive does not follow the most direct route between destinations. Instead, we highlight a trip that includes nice scenery and interesting stops. Set your map to "avoid highways" so it doesn't try to redirect you.
All of the roads on our main scenic drive route are paved, but we suggest one alternate unpaved road.
Take your time and obey speed limits. Be especially cautious when you pass through town centers in Middleburg, The Plains, and Marshall.
Explore more: 15 Fun Northern Virginia Small Towns to Visit Now
Scenic Drive Through Horse Country in Loudoun County: Aldie to Paris VA
The first section of our drive features horse farms and wineries, stately homes, and pretty towns. From the rotary at Gilbert's Corner, drive west on Route 50, the John Mosby Highway.
Aldie Virginia
In just a mile you'll enter the little Village of Aldie. On your left is the 200-year-old Aldie Mill. The grist mill was built in the early 1800s and used water from Little River to grind grain. Today, the mill is maintained by NOVA Parks who note "Aldie Mill survives today as one of the best-preserved historic mills in the Commonwealth and Virginia's only known mill powered by twin overshot wheels." The mill is sometimes open for tours.
Just down the street, you can pick up a treat at the Little Apple Pastry Shop, one of many excellent pie shops in Northern Virginia. Nearby, Aldie Country Store and Cafe offers indoor and outdoor dining and meals to go.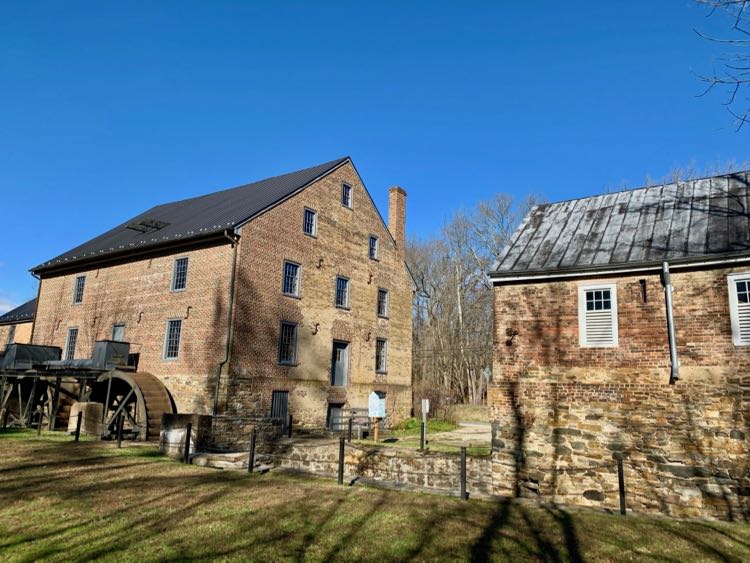 Middleburg Virginia
As you enter Middleburg, the vibe shifts to horses, vineyards, and upscale shops. You'll pass several wineries that are worth a stop before entering the downtown area. Middleburg's tagline is "The Nation's Horse and Hunt Capital" and a walk around town will show you why. Jockey statues, horse-inspired names like the Cuppa Giddyup, and historic buildings line the streets.
Visit the National Sporting Library & Sporting Museum to learn more about the town's equestrian history. The Red Fox Inn and Tavern, built in 1728, still welcomes guests for a meal, a cocktail, or an overnight stay. Across the street, King Street Oyster Bar is a nice option for tasty crab cakes.
A block away is Salamander Resort and Spa, one of the most highly-rated places to stay in Northern Virginia. The resort offers elegant accommodations and fun activities like horseback riding and is an ideal base for a weekend getaway from DC.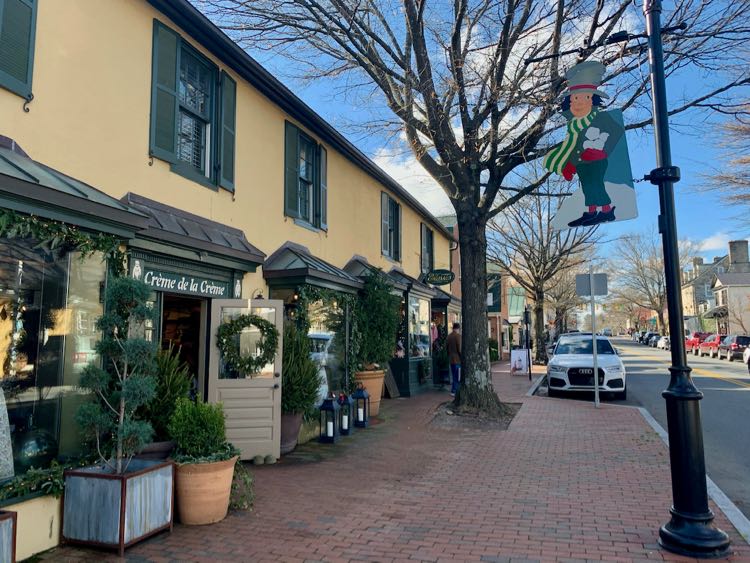 Country Roads and Quaint Towns in Northern Fauquier County
When you finish dining, shopping, and exploring downtown Middleburg, continue to drive west on Route 50, entering Fauquier County. The rest or our loop drive explores the towns, wineries, parks, and country roads of Northern Fauquier County,
Upperville Virginia
Soon you'll pass through the small town of Upperville. If you're ready for a meal or a pint, stop at Hunter's Tavern, one of our favorite pubs in Northern VA. They have cozy indoor dining and a spacious outdoor patio.
There are several pretty stone buildings in Upperville, including a tiny stone library and the imposing Trinity Episcopal Church. In May, the church holds a weekend-long Hunt Country Stable Tour to connect visitors with local farms and to raise funds for community programs.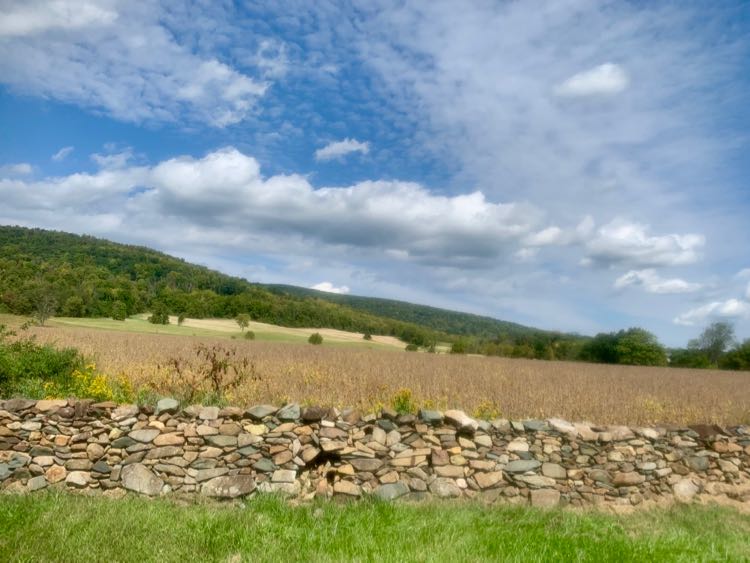 Enjoy a Hike at Sky Meadows State Park in Paris
Turn left and drive south on Route 17 in the town of Paris. Here you can enjoy scenic views of Piedmont farmland rising into the foothills of the Blue Ridge Mountains. On your right is Sky Meadows State Park, an excellent stop for hiking, picnicking, history, and seasonal pumpkin patch fun.
If time is short, visit the preserved buildings of the historic farm and take a short but steep hike up to the Piedmont Overlook for a stunning eastward view. You can enjoy more scenic views and woodland trails on a 4-mile loop hike in the park. There are also equestrian trails and a small pond with picnic tables and fishing piers.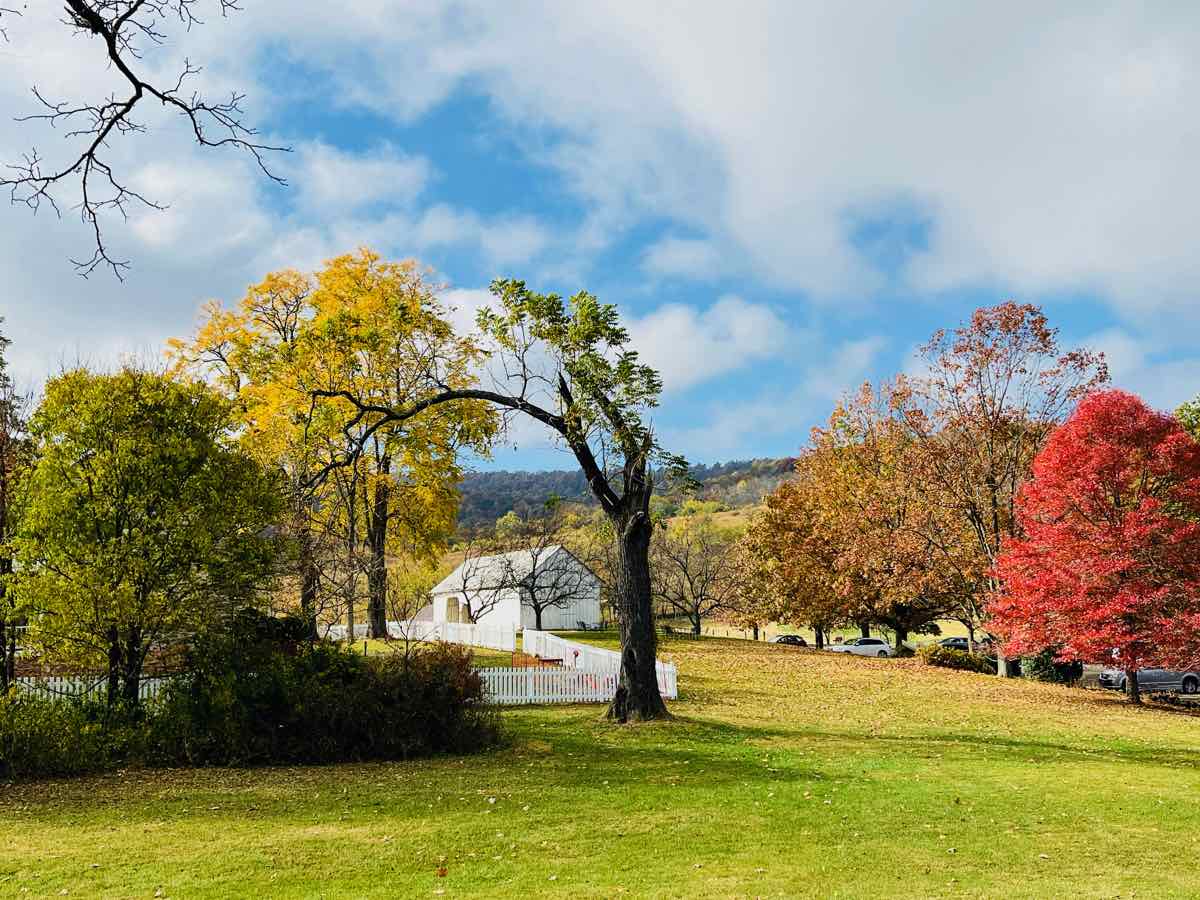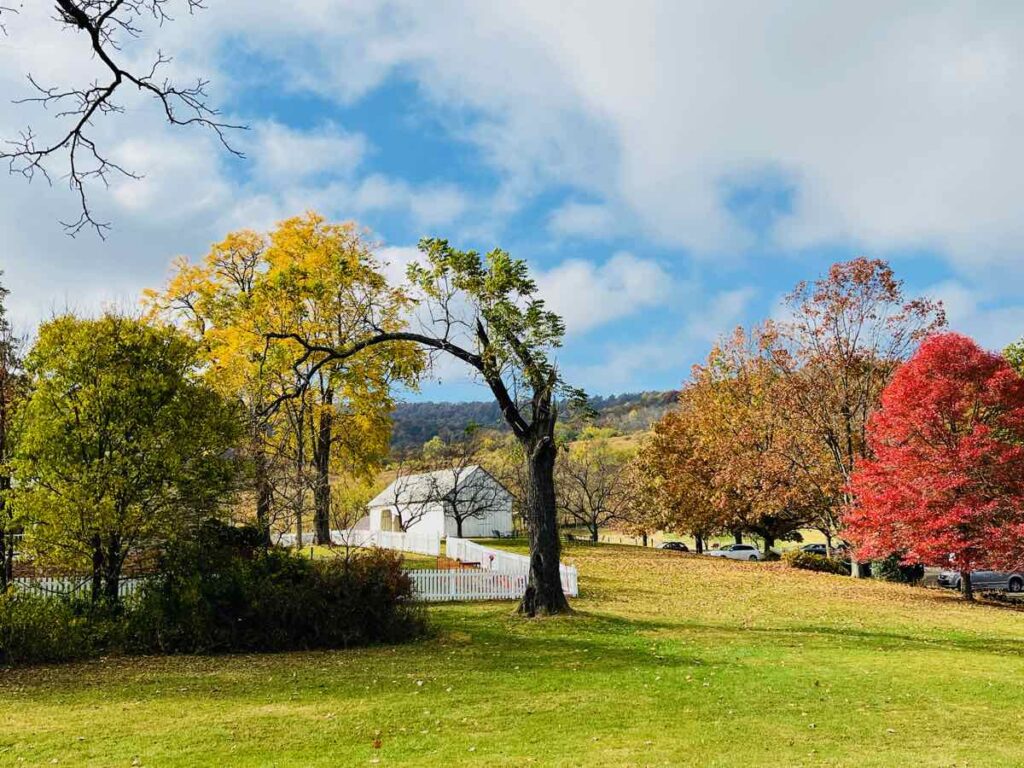 South to Markham and Pick-Your-Own Orchards
Past Sky Meadow State Park you have two route options. You can continue straight on Route 17, or you can turn right onto Route 688, Leeds Manor Road. We prefer narrow, winding country roads so we choose 688. Happily, there are two nice wineries here—Arterra and Naked Mountain Winery—if you're ready for a break.
You will also find two wineries on Route 17 if you choose that route. You'll have to backtrack west a bit to reach the orchards in Markham.
Whichever road you take, our next destination is Hartland Orchard and Green Truck Farms. The orchard is an excellent stop in the fall when you can enjoy apple picking, a pumpkin patch, and a corn maze. Visit Hartland even if you don't want to pick, to take in the gorgeous views from the orchard hills.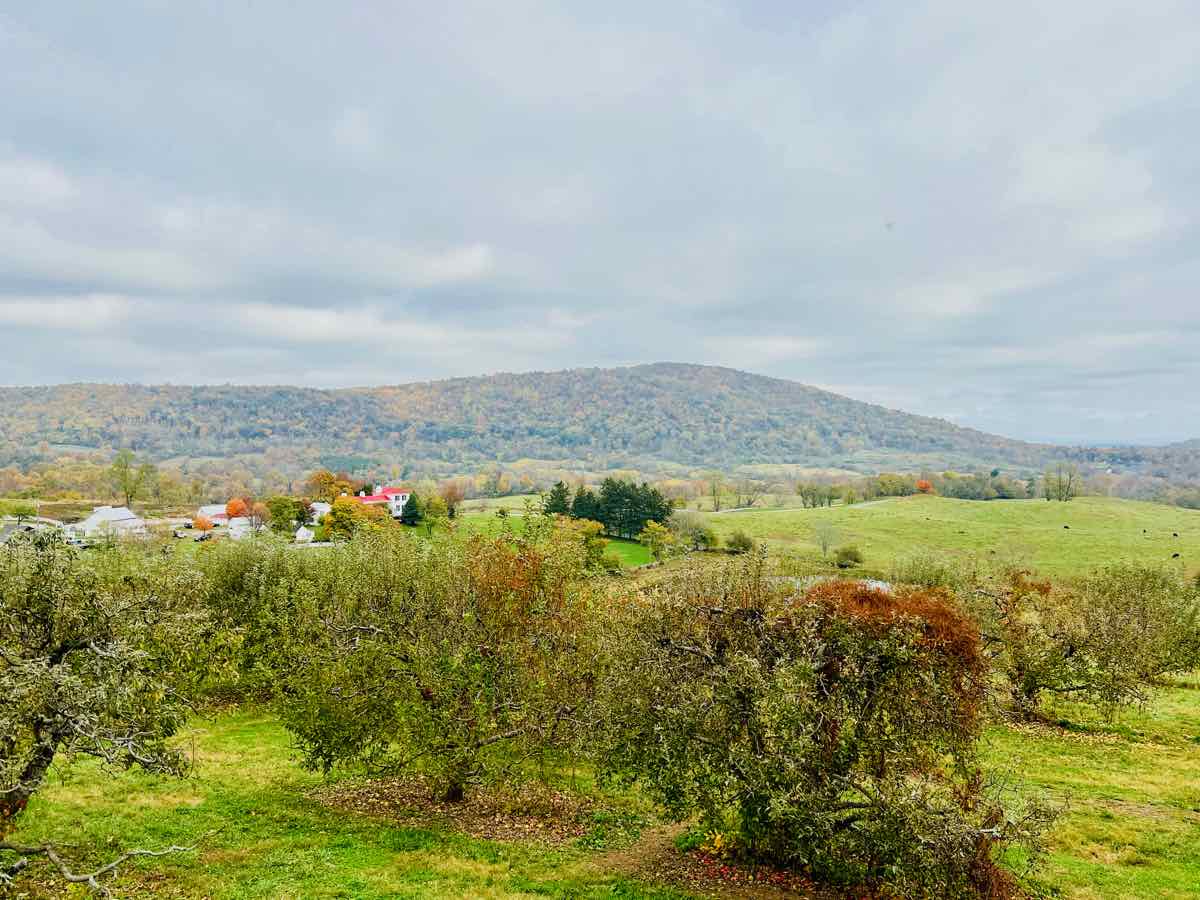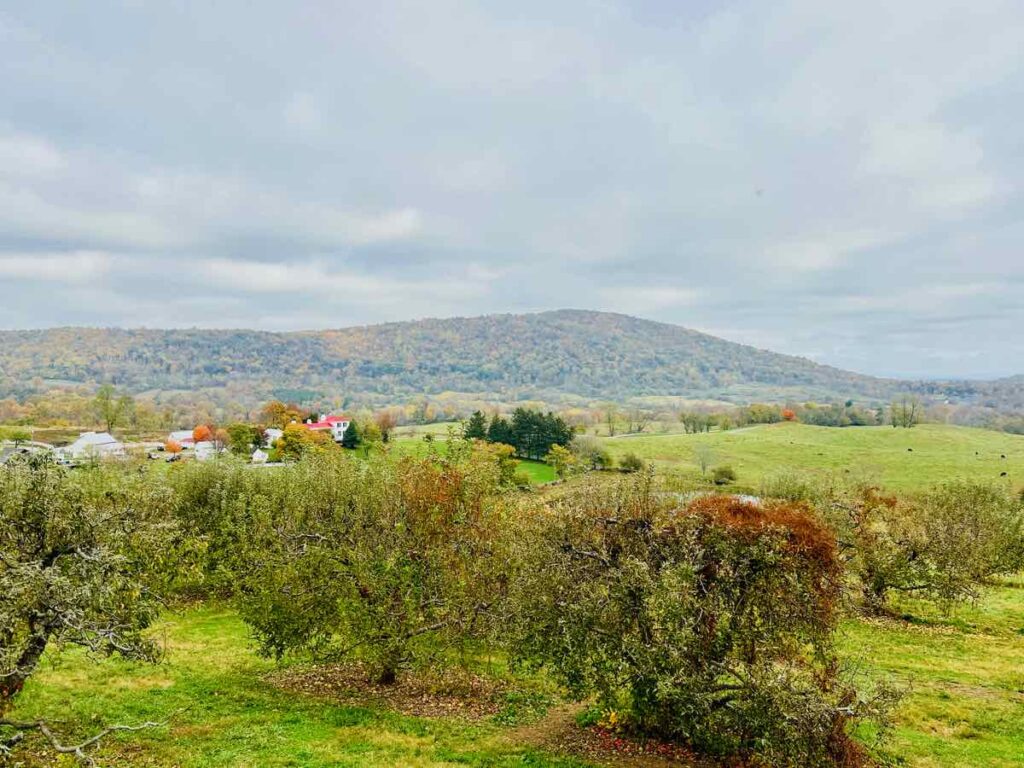 Nearby Stribling Orchard is another fun pick-your-own apple orchard.
Dine and Drink Local in Marshall and The Plains
From Markham, our scenic route turns east, following small roads that parallel Route 66. You could certainly make the trip faster on the highway, but then you would miss two lovely stops. Aspen Dale Winery at the Barn is a favorite place to visit in winter when you can enjoy a glass by the cozy fireplace.
Further east, Barrel Oak Winery and Farm Taphouse offers Virginia wine and tasty craft beer from a hilltop barn. This brewery has a pretty indoor fireplace and a lot of outdoor space to spread out. They are very dog and child friendly.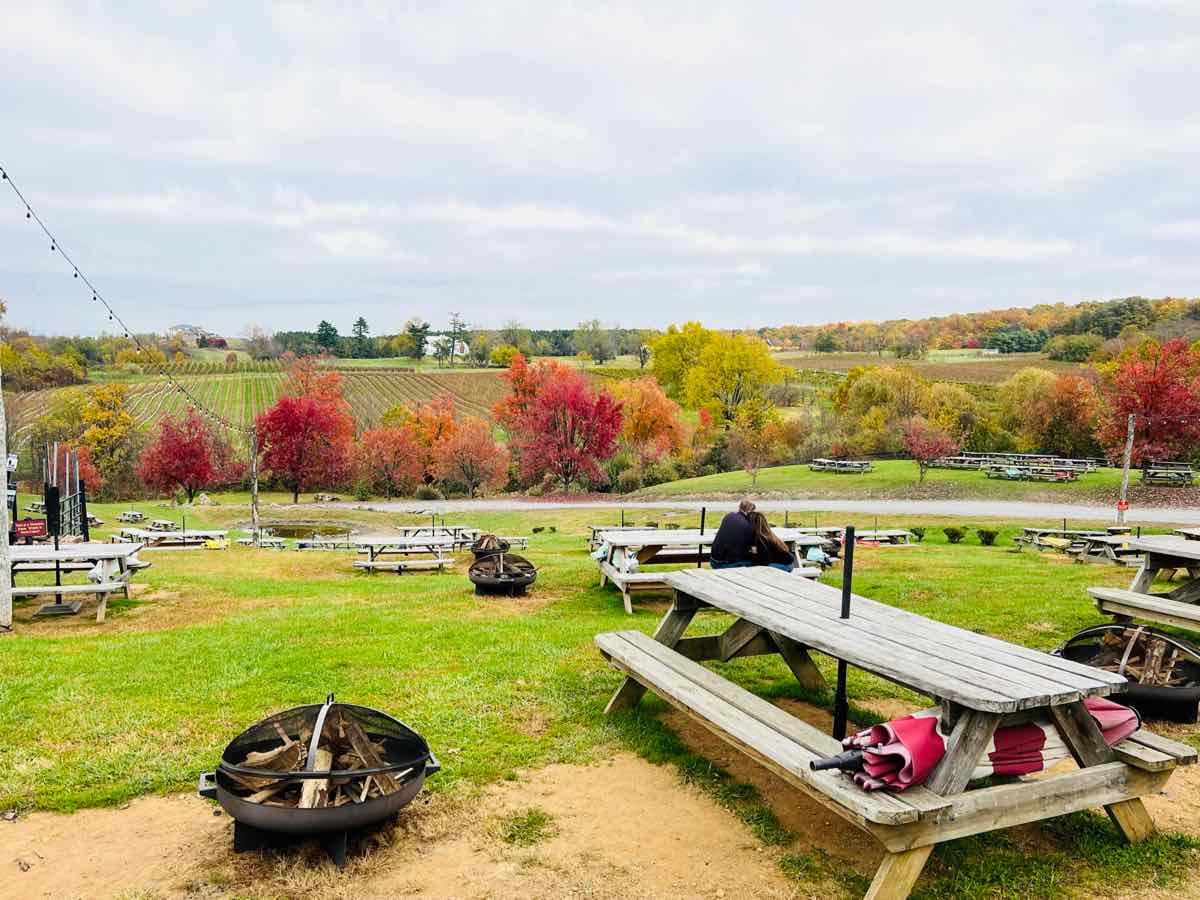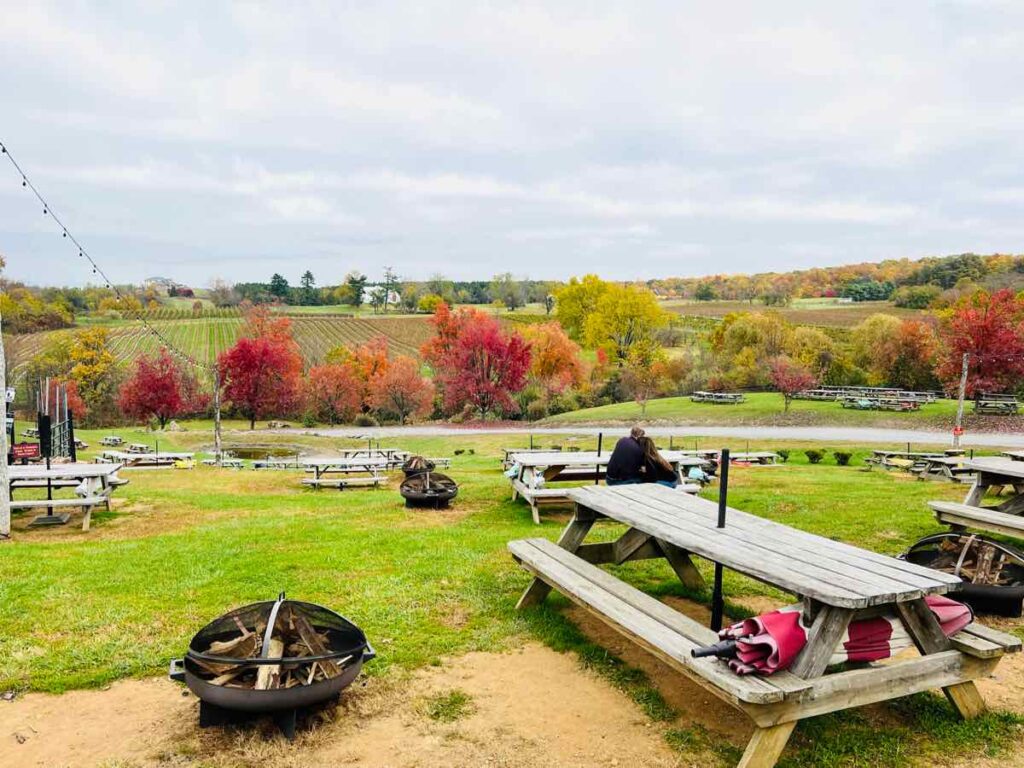 Further on, bear left onto Route 55 to downtown Marshall. The small downtown boasts a few excellent dining spots and shops.
Johnny Monarch's "busteraunt" is a red double-decker bus converted to a takeout restaurant. There are outdoor tables for dining or you could take your meal to a local park. 2023 Update: Sadly, Johnny Monarch's has closed and the busteraunt is no longer there.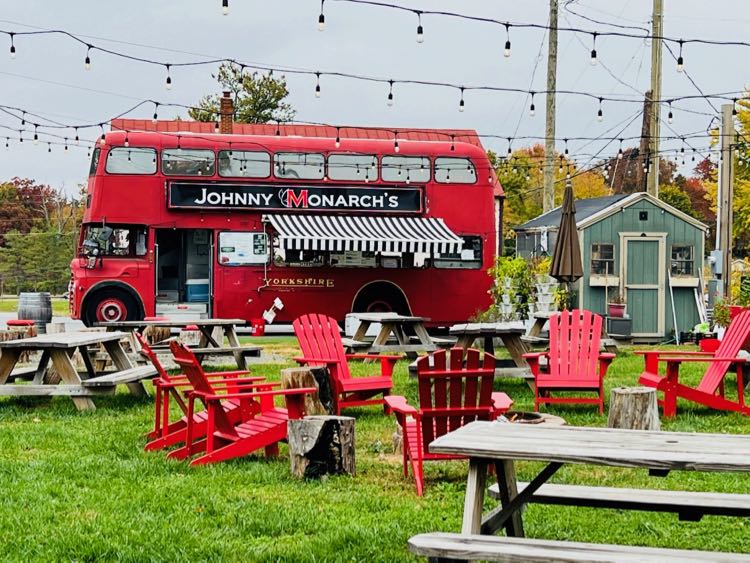 Nearby, Red Truck Rural Bakery features farm-fresh sandwiches and pies. Next door, The Whole Ox makes excellent burgers and other deli sandwiches. For an upscale farm-to-table meal in a refined setting, head across the street to Field and Main.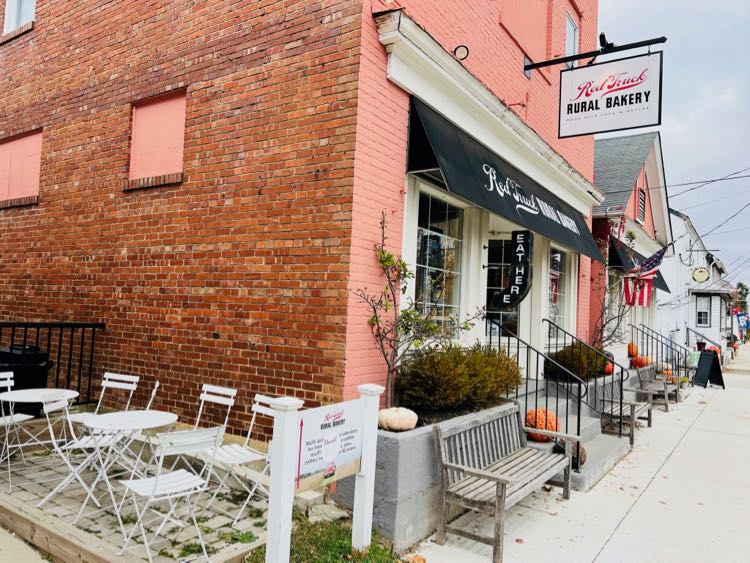 Once you leave downtown, heading east on Route 55, watch for the Number 18 School House on your left. The one-room schoolhouse served white children from 1887 to 1910, then served African American students until it closed in 1964.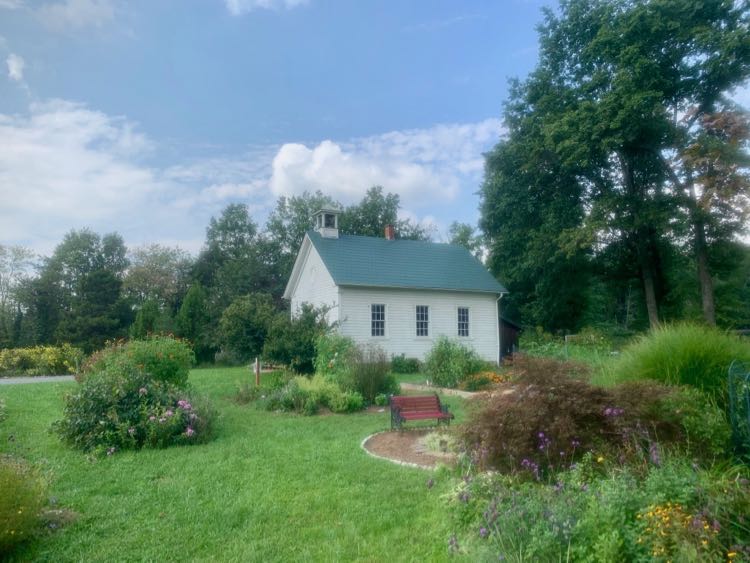 If you want to walk off some of that delicious dining, stop at Northern Fauquier Community Park, which has a lovely network of paved paths. The park is also an ideal place to picnic if you picked up takeout in town.
Continue east on Route 55 to The Plains, another pretty small town with excellent restaurants. The Front Porch creates modern, locally sourced dishes in a historic railroad house with indoor and outdoor seating. (Robert Duvall, who has a house in The Plains, was here on one of our visits.)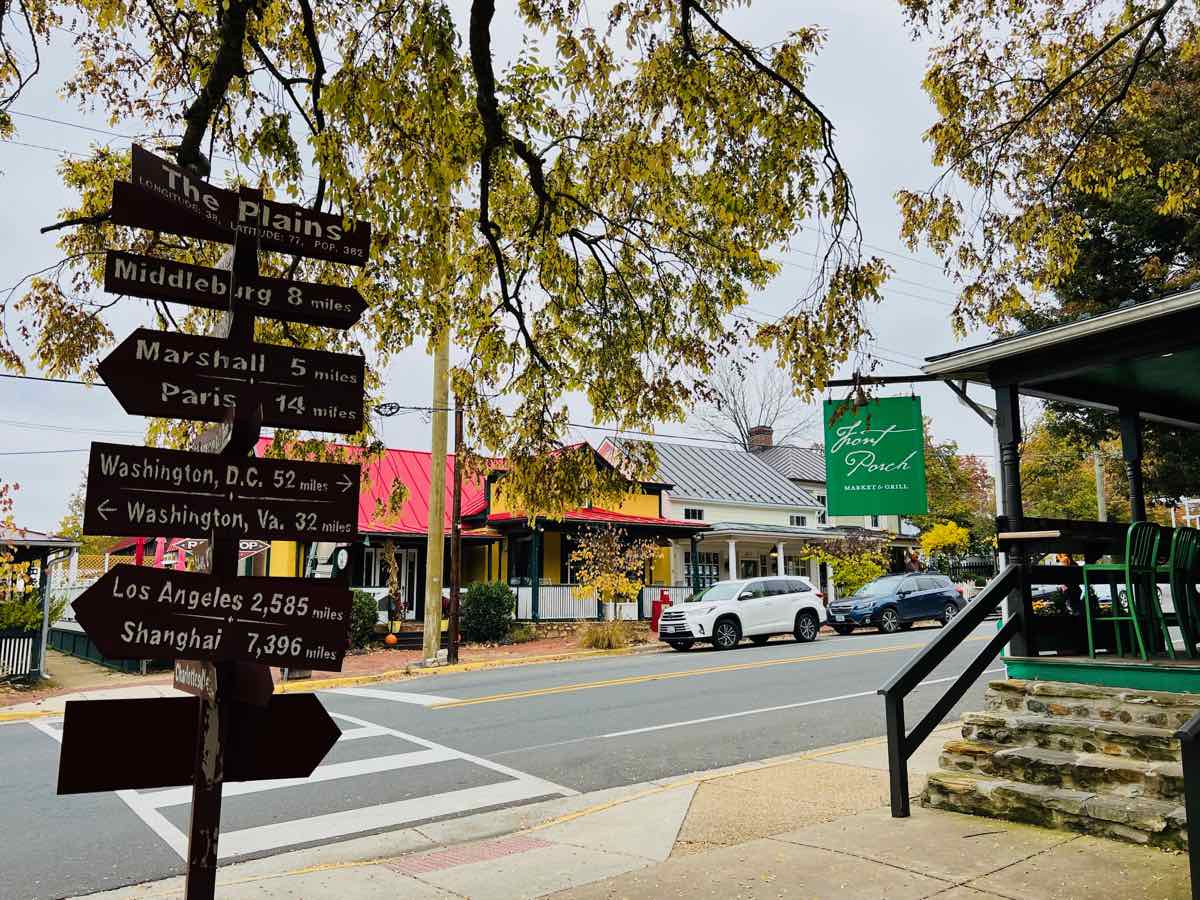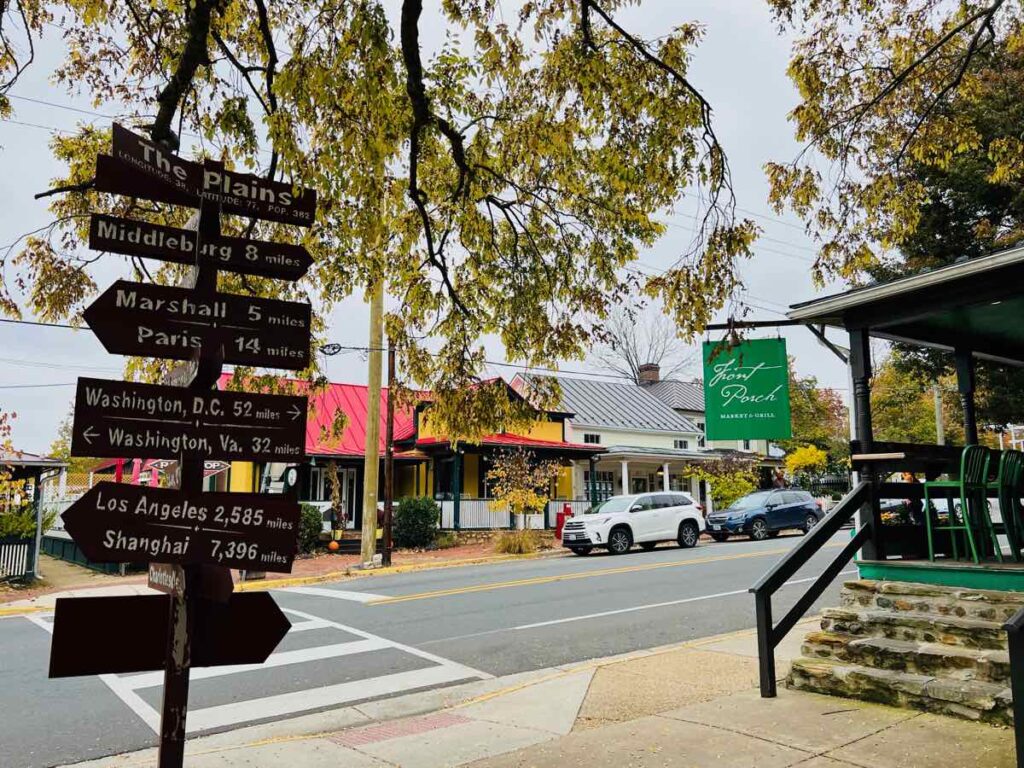 Across the street, The Rail Stop Restaurant offers gourmet dishes created by Chef/Owner Tom Kee. Down the street, Girasolle serves upscale regional Italian cuisine in a relaxed country setting.
Side Trip to Culpeper Virginia
Want to extend your drive through the Virginia countryside? The beautiful town of Culpeper is just 35 miles south of Marshall and it makes a great side trip or overnight stop.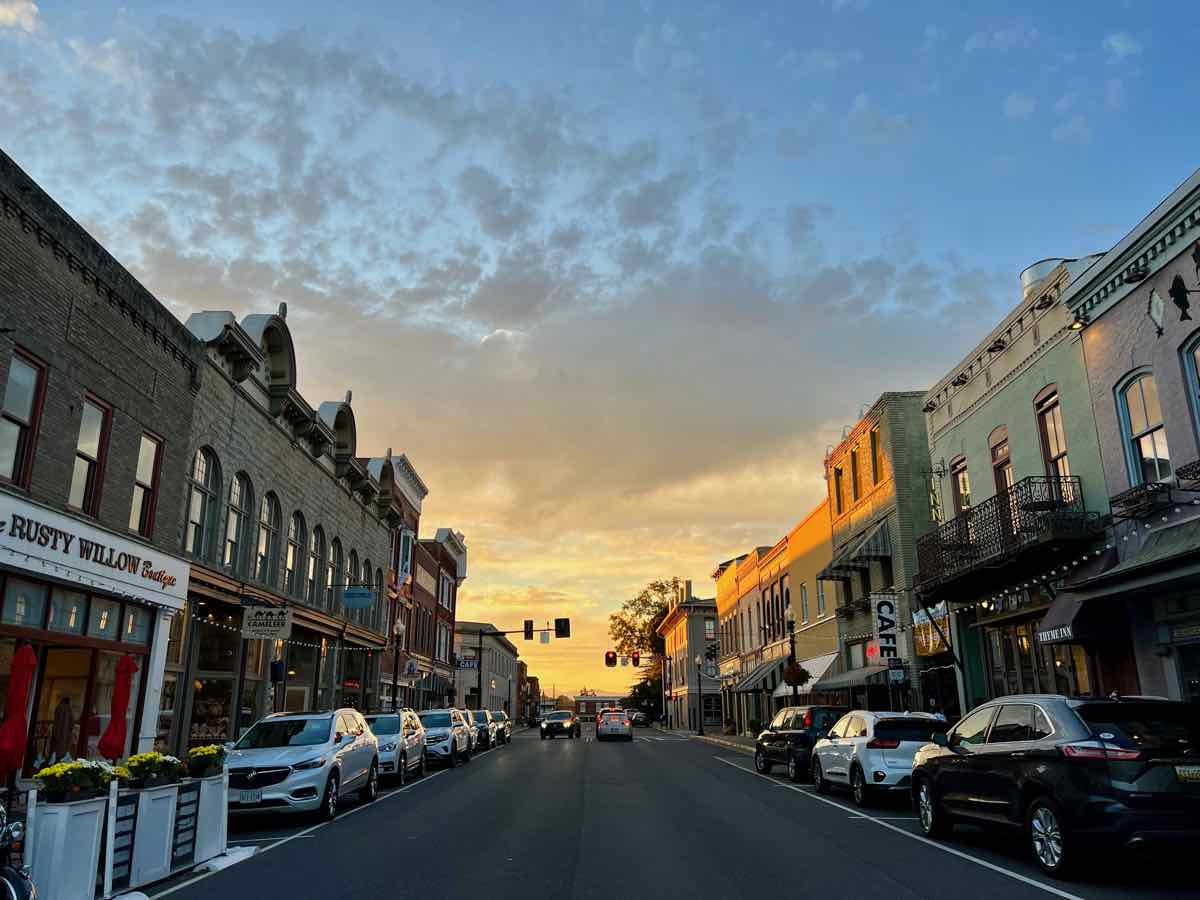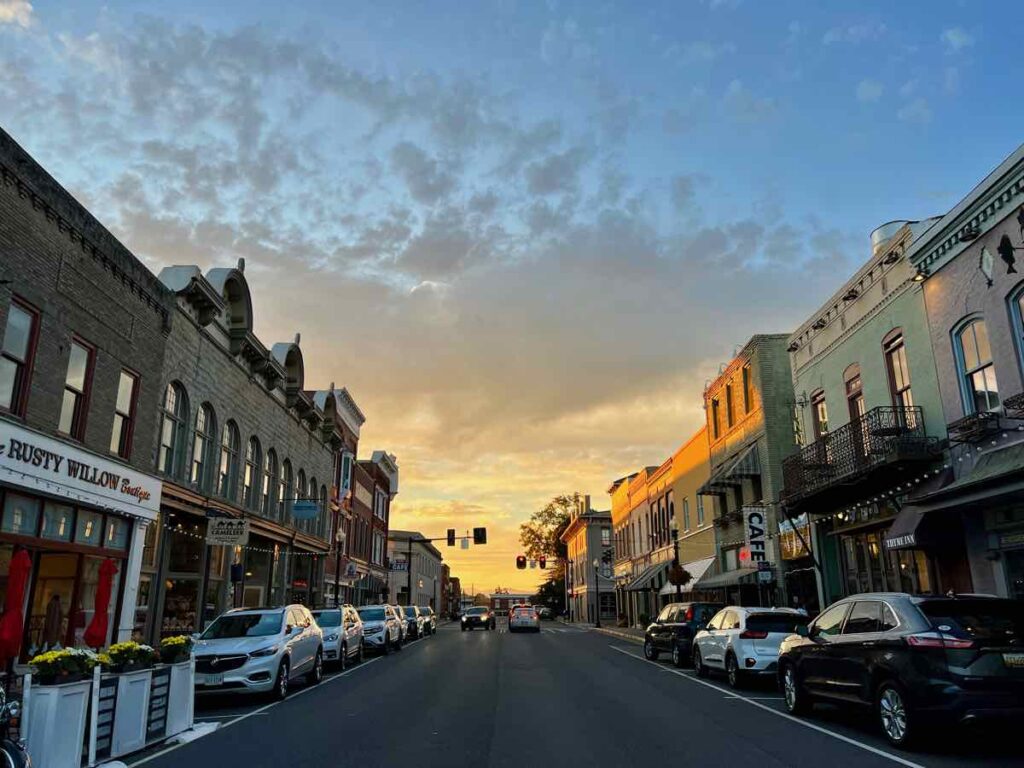 Culpeper's historic downtown is packed with great places to eat, drink, shop, and relax and there are beautiful wineries and breweries nearby. Spend the night and you'll have a great base for exploring more of Fauquier and Culpeper Counties.
Country Roads and Views Complete the Hunt Country Scenic Drive
Continue east from The Plains on Hopewell Road, Route 601. The stone walls are beautiful along this stretch of road.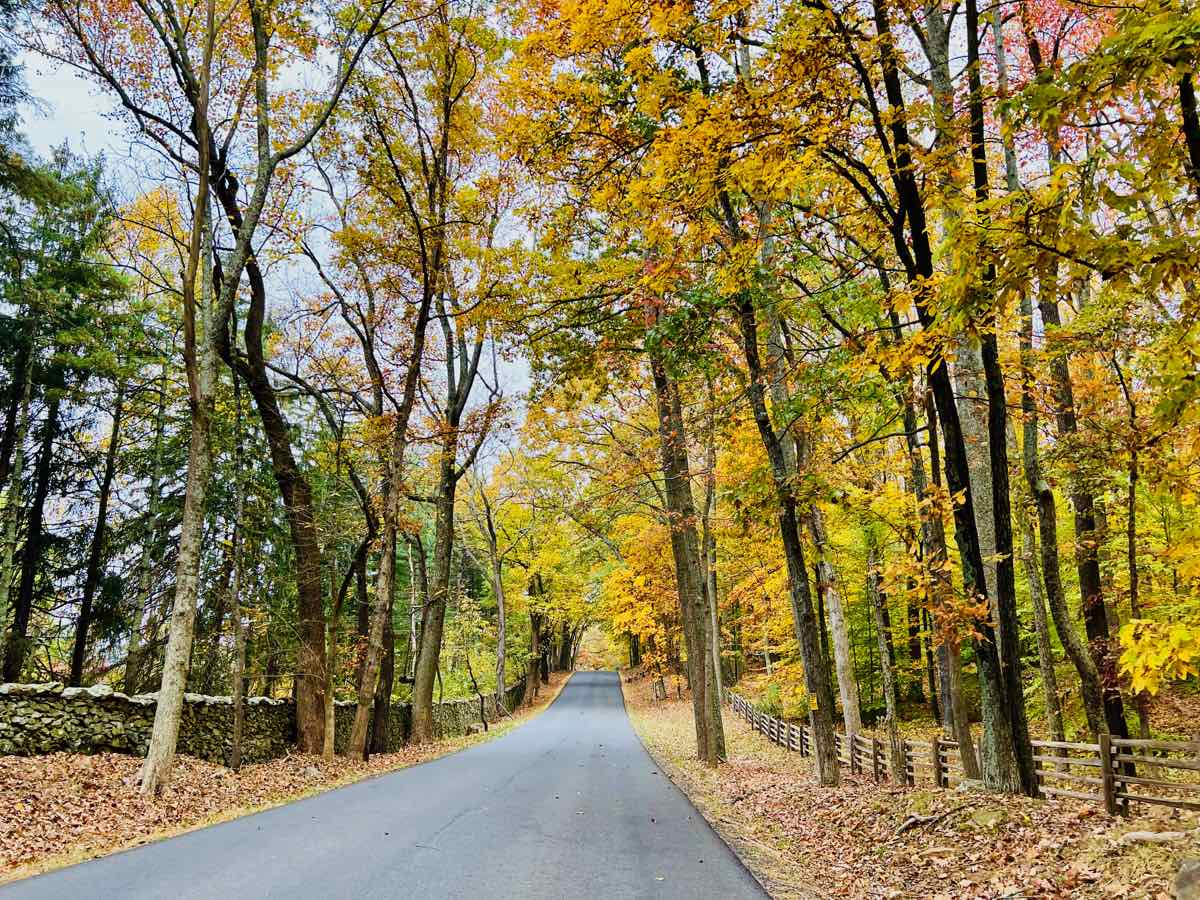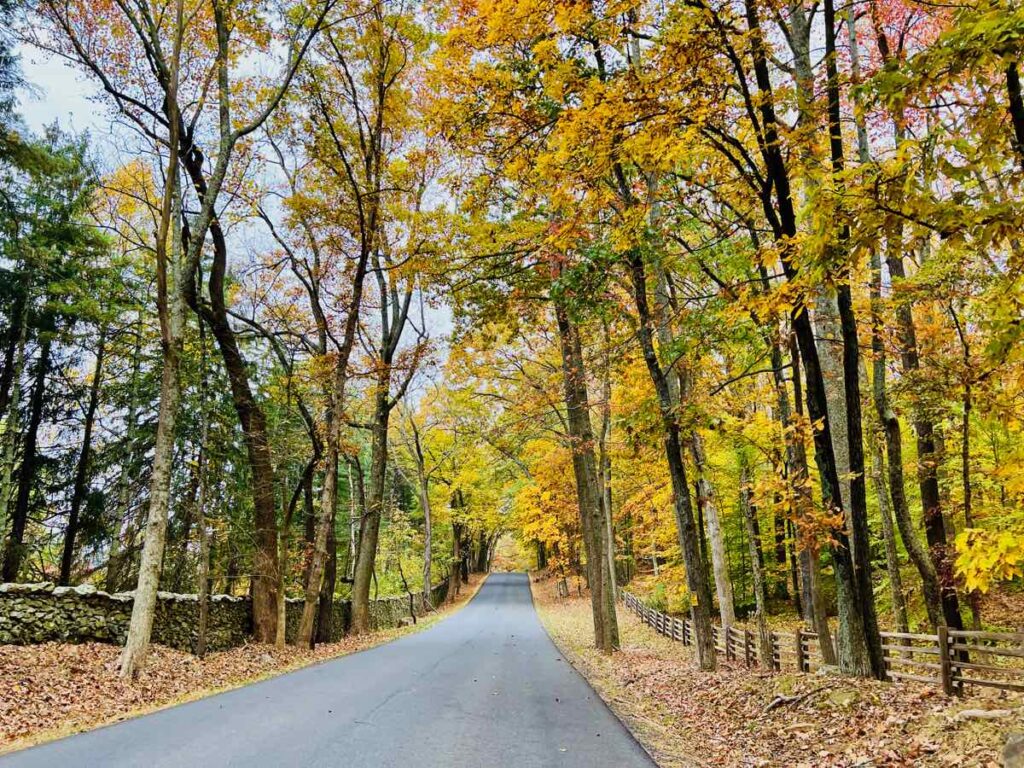 On your right, you pass Kinloch Farm, which raises heritage grassfed cattle and raw honey. Their farm store on Old Tavern Road is open Thursday through Sunday.
Hopewell Road is especially scenic in Autumn when colorful fall foliage lines the road. If wineries are on your to-do list, take a short side-trip down Antioch Road, a Virginia Byway, to The Winery at La Grange.
Back on Route 601 you pass an old market then bear left onto Waterfall Road, another scenic area. Our scenic loop ends at Route 15, the James Monroe Highway. Turn north here for your return trip to Gilbert's Corner.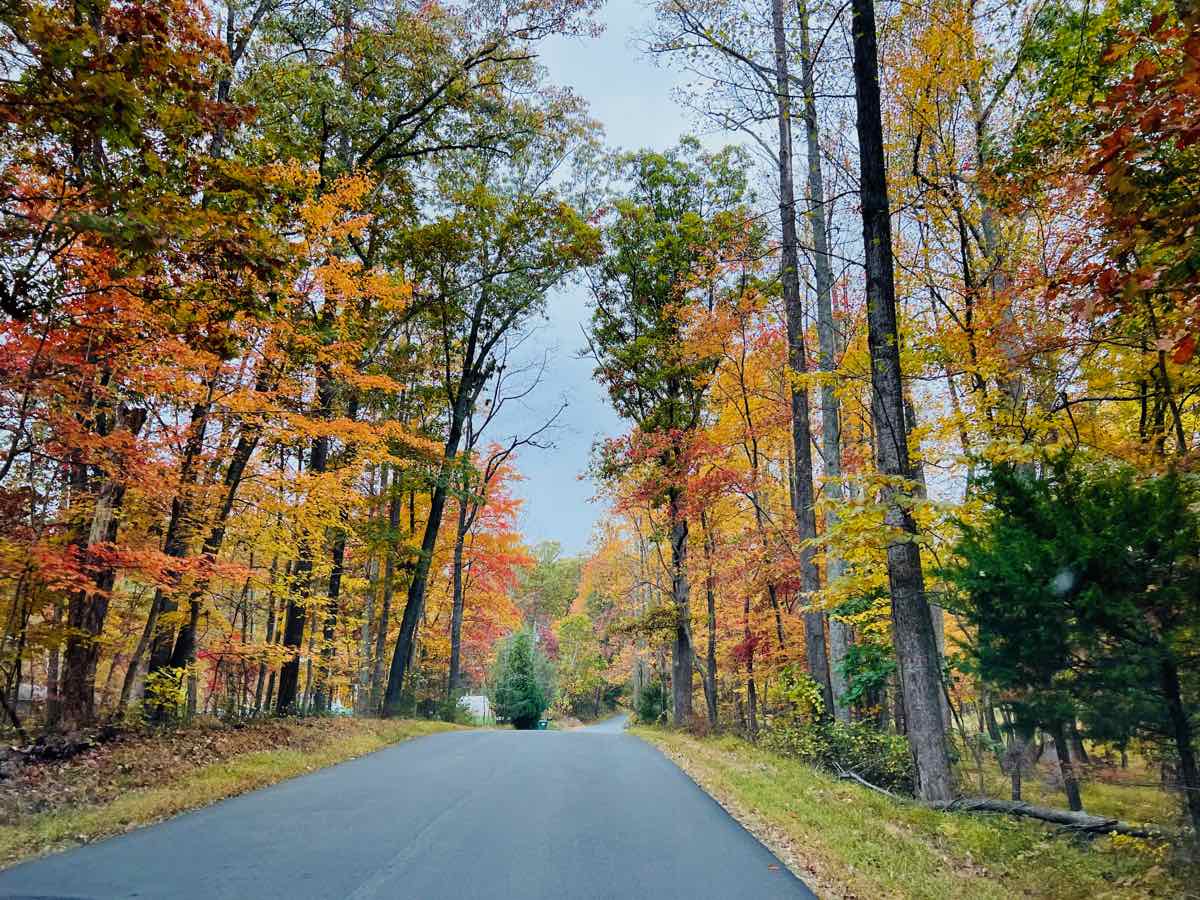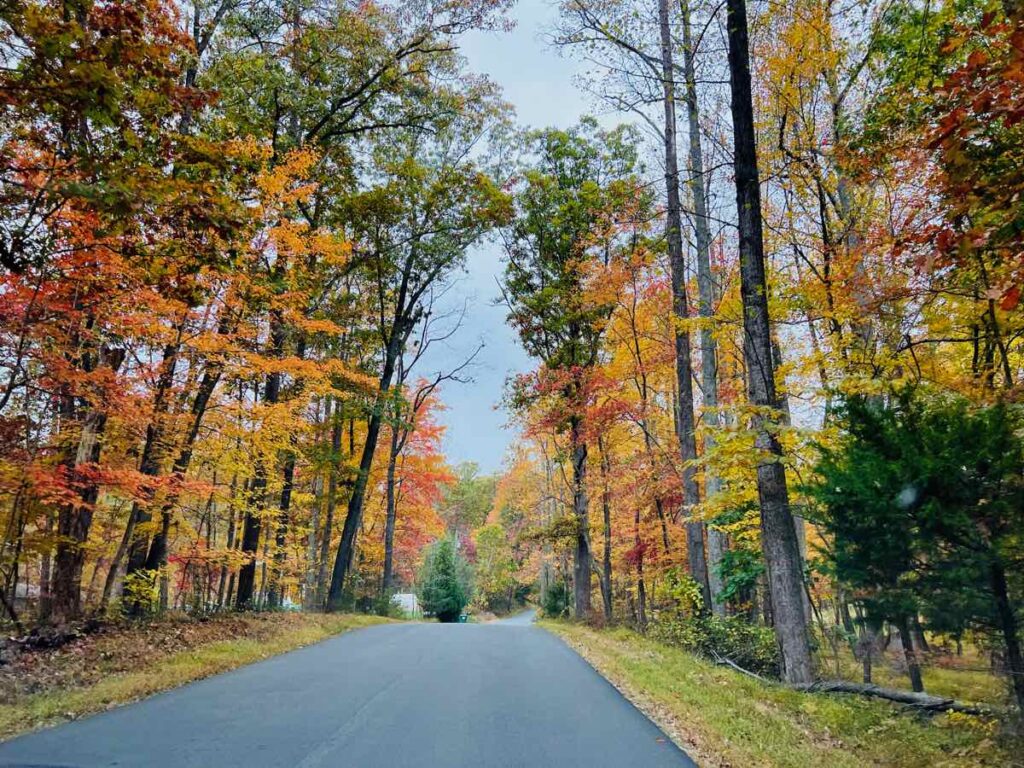 If you are comfortable with an unpaved road, we have a fun option. Instead of continuing to 15, turn north on Route 629, Bull Run Mountain Road. This dirt and gravel road travels through forests and passes a wooded Virginia Outdoors preserve. It's a very pretty drive that ends back on Route 50 in Aldie.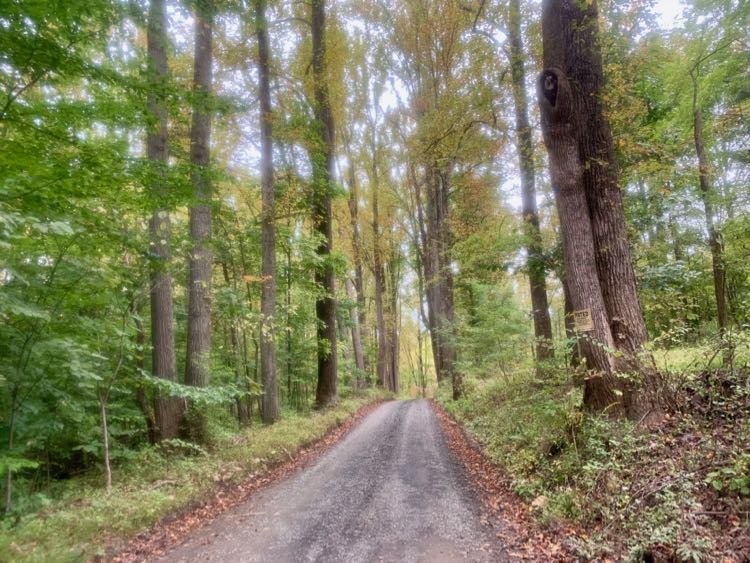 Read more: Beautiful Loudoun County Unpaved Roads Near Leesburg Virginia.
Extend Your Hunt Country Scenic Drive
Our Hunt County scenic drive through southern Loudoun and northern Fauquier Counties is complete. But you can easily extend your day in Northern Virginia with stops to the north or south.
More Scenic Places in Loudoun County
Another of our favorite Northern Virginia scenic drives begins in the town of Aldie. A Scenic Drive on the Snickersville Turnpike explores historic sites, more quaint towns, and plenty of local restaurants, breweries, and wineries in Loudoun County.
North on Route 15, historic Leesburg has a walkable downtown packed with antiques, restaurants, and more local shops. Explore the region on a Leesburg Getaway in Northern Virginia Wine Country, or make a day trip to enjoy some of these 10 Tasty Leesburg Restaurants.
Leesburg is also the starting point for a fun Leesburg Scenic Drive Along the Virginia Maryland Border. This drive includes a ferry ride across the Potomac River, nice places to hike or bike by the river, and a popular local ice cream stop.
Craft beer lovers will have to plan multiple trips to sample the tasty breweries on Virginia's LoCo Ale Trail.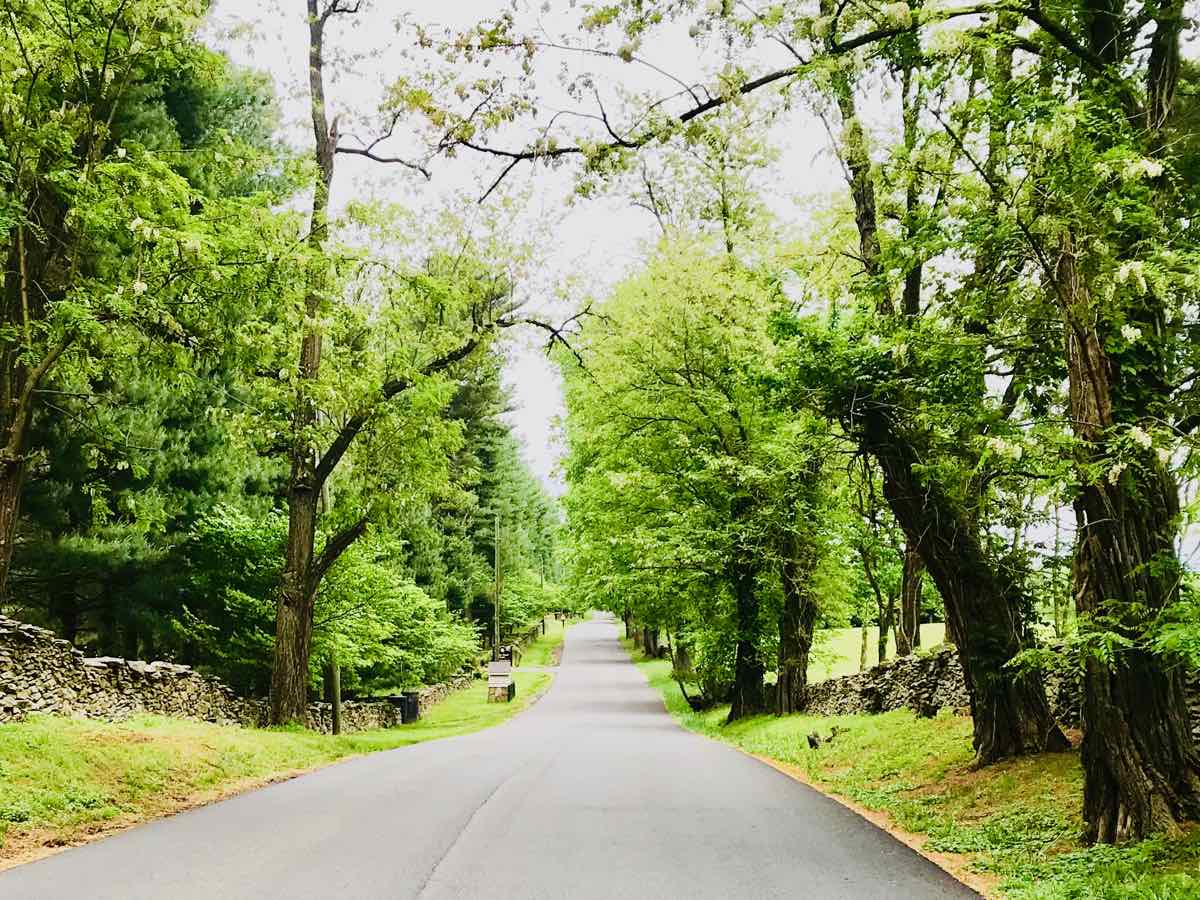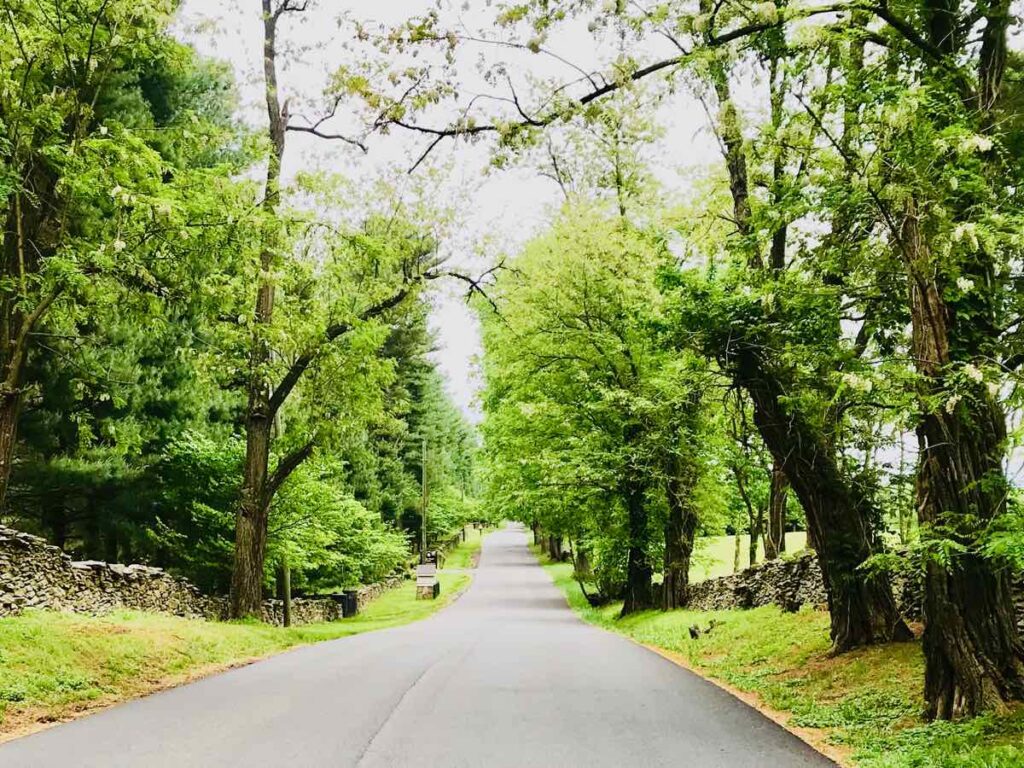 Nearby Places to Visit in Prince William County
Drive south on Route 15 for more outdoor fun in Prince William County.
Take a hike in Conway Robinson State Forest through old growth hardwood and newer pine forests. This is an easy, family-friendly trail and is also on our list of 15 Northern Virginia Bike Trails for Paved / Mountain Biking Near DC.
Explore nearby Manassas National Battlefield on a drive or hike through an important Civil War battlefield. Plan your visit with our guide Manassas National Battlefield Loop Hike and The Winery at Bull Run.
You'll find more hiking and history at the Bull Run Mountains Conservancy.
You can explore all of these stops plus another walkable downtown on a day trip or overnight visit to Historic Manassas.
Explore More of Northern Virginia
Find more fun things to do and places to go in Northern Virginia in our guides:
Follow us on Facebook, Twitter, Pinterest, and Instagram for more fun travel in and from Northern Virginia.