Visit Lake Anne in Reston to enjoy local restaurants and shops, fun common spaces, pretty lake views, and a historically unique Northern Virginia neighborhood. The eclectic mix of local businesses at Reston's Lake Anne makes it a nice destination for a family day trip or a couple's date night.
Lake Anne Village Center was the original neighborhood in Reston, one of the first planned communities in the nation. Today, the Lake Anne Plaza is lined with shops, restaurants, and condos that open to water views. Sculptures and public spaces scattered around the plaza encourage kids to play and adults to relax.
A Little Lake Anne History
Reston has a very unique history as one of the first and most successful planned communities in America. Lake Anne Village Center, the first neighborhood center of Reston, is where it all began.
Disclosure: This article may contain affiliate links. We will make a small commission from these links if you order something, at no additional cost to you.
Town founder and visionary Robert E. Simon (who put the RES in Reston) wanted to create a new kind of community. Simon was frustrated with traditional suburbs and long commutes. In Reston, he planned a town where people could live their whole lives. Residents would have access to a mix of homes, businesses, open spaces, and shared sports facilities grouped around village centers.
Today, the town's motto "Live, Work, and Play," is alive at Lake Anne, and the village center was named to the National Register of Historic Places in 2017.
Things to Do at Lake Anne Reston
Despite its small size, there are a surprising number of fun things to do in Reston's first neighborhood. Explore the plaza's history, architecture, and art; dine at one of several restaurants and a nano-brewery, visit local shops, or just relax and play. From spring to fall the plaza hosts a popular Farmers Market and lots of special events and festivals.
Unlike most "town centers" and outdoor malls, there are no chain stores at Lake Anne Plaza. Here every business is truly unique and locally owned. In fact, most of the businesses surrounding the plaza are women-owned or run.
Enjoy Virginia Craft Beer at Lake Anne Brew House
Lake Anne Brew House occupies an excellent spot by the water, perfect for people-watching. The brewery opened in 2016 and has been turning out tasty small-batch beers ever since. The tap line-up includes flagship beers like the Live Work Play IPA, plus a changing menu of specialty and seasonal brews.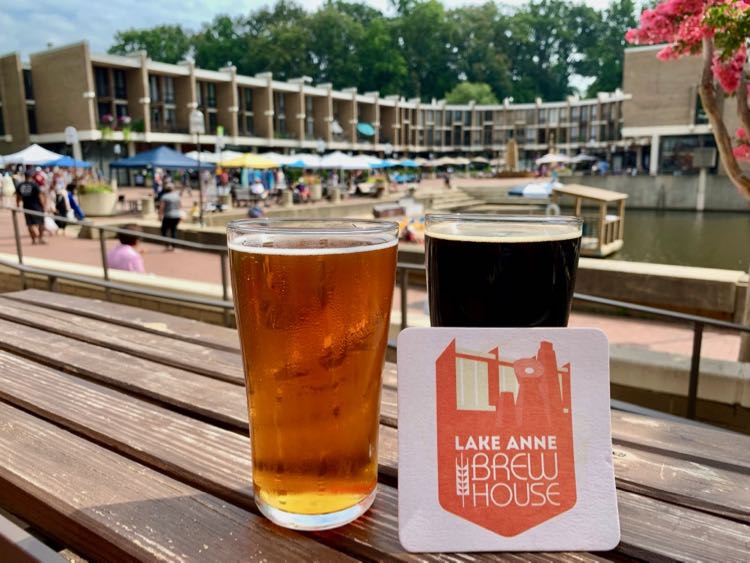 The brewery is small but offers a nice range of indoor and outdoor seating. Grab a patio table or a spot by the rail and you can enjoy your beer with a stellar view. Fire tables and heat lamps make Lake Anne Brew House a cozy spot for heated outdoor drinks on a chilly day.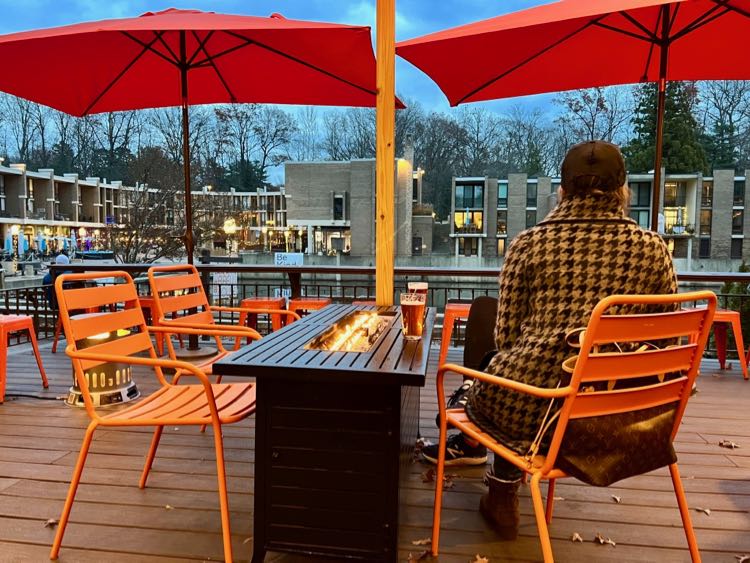 Dine and Sip at Lake Anne Plaza Restaurants
There are 4 sit-down Lake Anne Plaza restaurants and they all offer tasty meals and a casual vibe. In addition, the La Miguelena Market offers a takeout menu of Latin dishes. Here is an overview of the lake's sit-down restaurants, listed alphabetically.
Cafe Montmarte
One of the most long-lived Lake Anne Reston restaurants, Cafe Montmarte serves French and Viet dishes in a bistro setting. The cafe has a great location near the fountain, and the patio has nice lake views. From escargot to pho, diners enjoy classic dishes, not modern mashups.
Kalypso's Sports Tavern
One of the prettiest spots for a meal at Lake Anne is on the outdoor patio at Kalypso's Sports Tavern. Diners enjoy authentic Greek and Italian dishes with a great view of the lake and the plaza. Couches and bar seating at one end offers a nice place to enjoy a drink and a little people-watching. Kalypso's is open late, and live music and special events are a draw at night.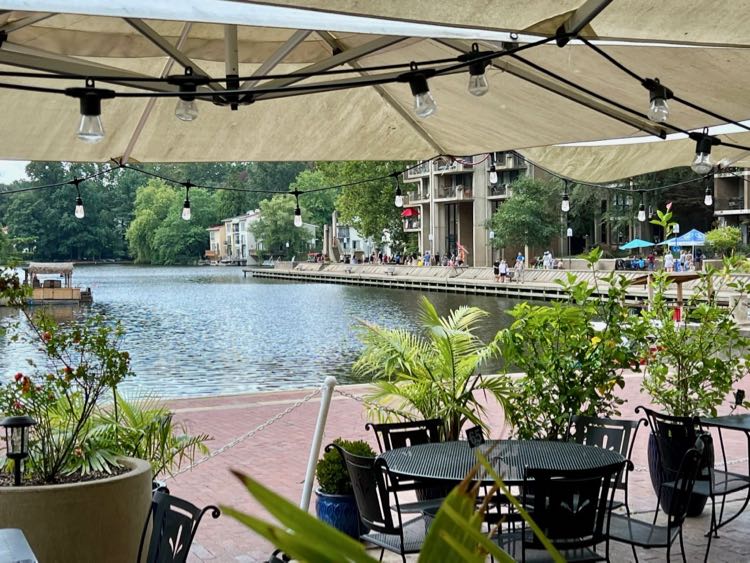 Lake Anne Coffee House
One of the most popular gathering spots on the plaza is the patio at the Lake Anne Coffee House and Wine Bar. Stop in for a full meal, coffee and a pastry, or a glass of wine.
You'll find a welcoming patio and a cozy interior where you can meet up with friends and catch live music on the weekend. In summer 2023 the Lake Anne Coffee House also opened a back patio.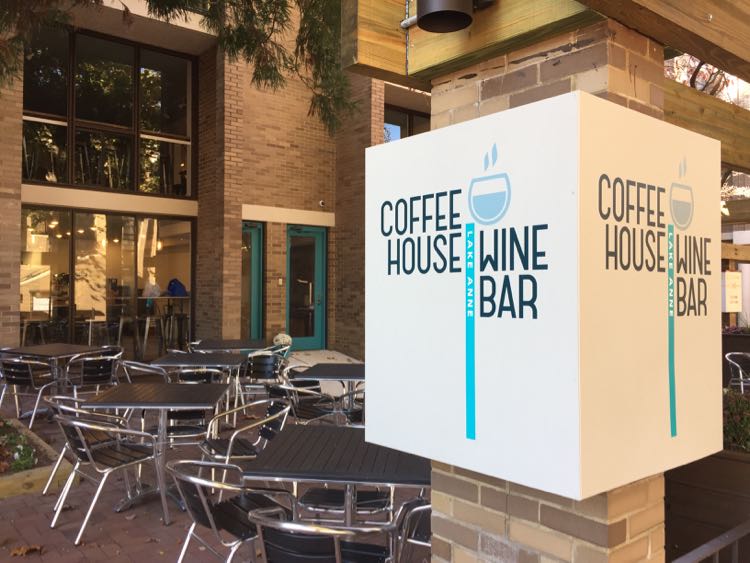 Shop Local at Lakeside Reston Stores
In addition to the village restaurants, a few local shops invite visitors to browse and buy, in person or online.
One of the first businesses in town, Reston Used Book Shop has been a favorite place to hunt for the perfect read since 1978. The small shop is packed with gently used books and a cozy reading area.
At Chesapeake Chocolates, shoppers will find a tasty assortment of handcrafted chocolates and artisanal sweets. The store also stocks Virginia wines and gifts, so you can create the perfect pairing.
There is no storefront at Nordic Knot, but you can order their delicious pretzels and more online. Choose from an assortment of flavored pretzels (including a vegan option) plus braid boards featuring smoked salmon, charcuterie, and more. You can also enjoy a pretzel with your beer at Lake Anne Brew House most days.
Drop-in services at Lake Anne Village Center include Top Style by Kate Noda, New Trail Cycling, and the Just Cats Clinic. In addition, Barberland and Dogma Dog Bakery are open by appointment.
Learn Unique History at Reston Museum
Stop in the Reston Museum to learn more about the historic town. Here you will find a small collection of permanent and rotating displays that highlight Reston's unique history as one of the first planned communities in the United States. The museum also sells Reston gear and hosts popular events like the annual Cardboard Boat Regatta.
Snap a Photo with Reston Founder Robert E. Simon
The Untold Stories statue, fondly known as Bronze Bob, features a sculpture of Robert E. Simon sitting on a bench by the lake. Reston's founder was a frequent sight at Lake Anne Plaza. In fact, he lived here in the Heron House tower for the last third of his life, until his death at 101.
Today you can honor his memory and snap a selfie or family photo with Bob.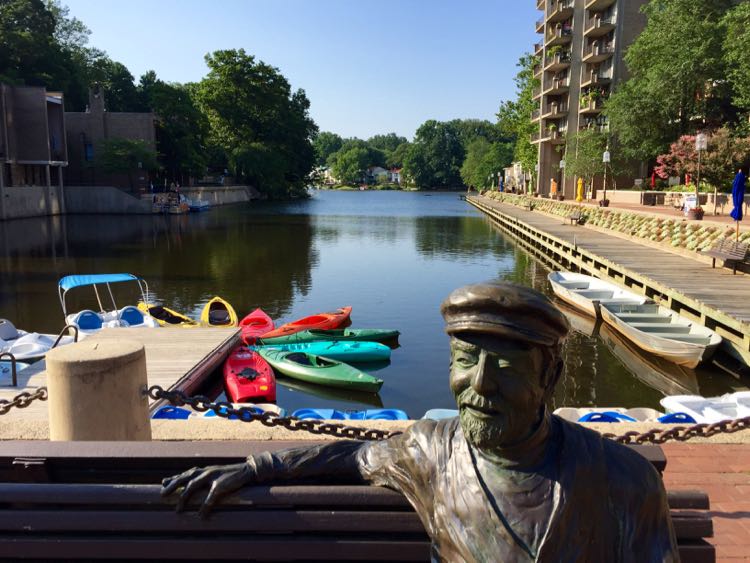 Capture a Perfect Photo at the Van Gogh Bridge
One of the most scenic hidden gems in Northern Virginia is located a short walk from the plaza. The Van Gogh Bridge connects the lake with neighboring homes, creating a picturesque spot to enjoy the view or snap a photo. The bridge was modeled after Van Gogh's paintings of the Langlois Bridge in Arles.
The bridge is one of the best places to see cherry blossoms in Virginia. Here, a small cluster of cherry trees provides a background of pink and rose-colored blossoms hanging over the water.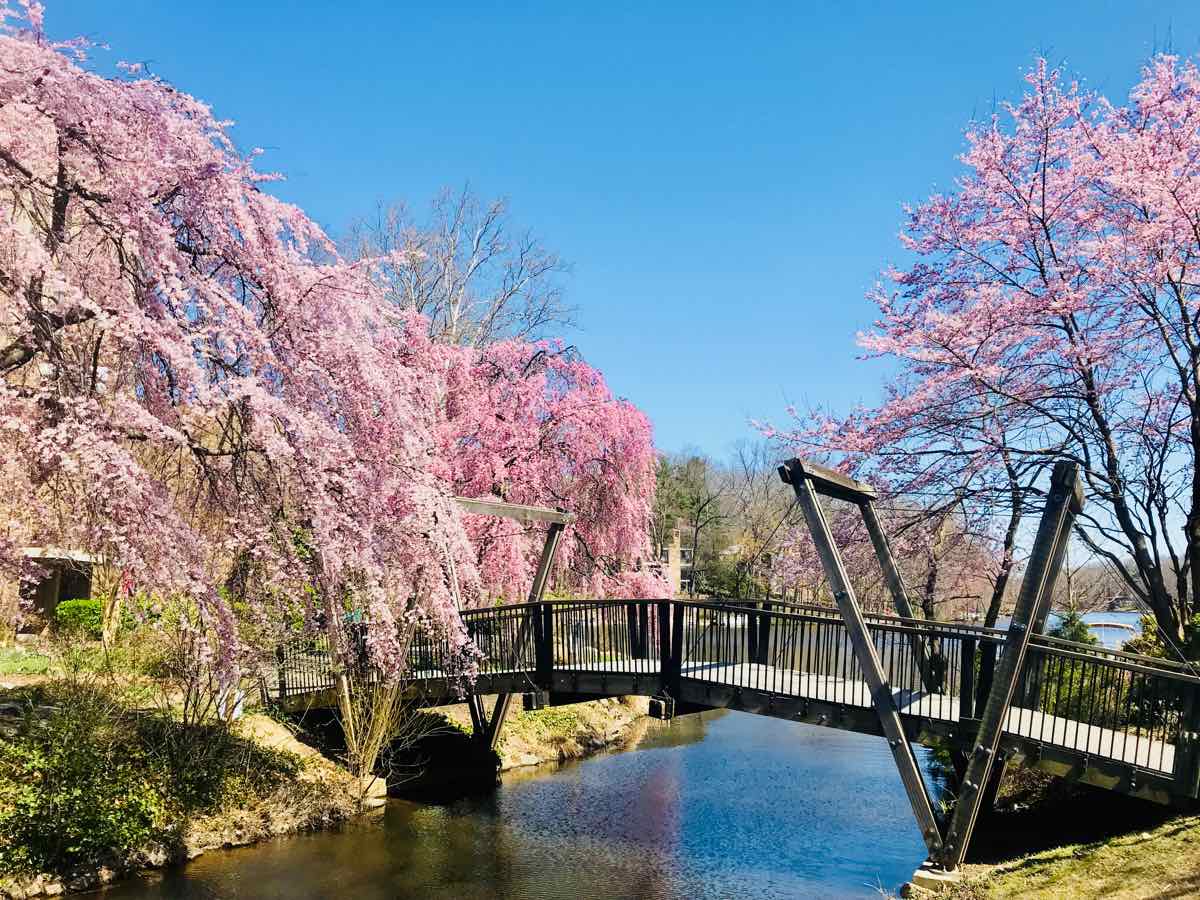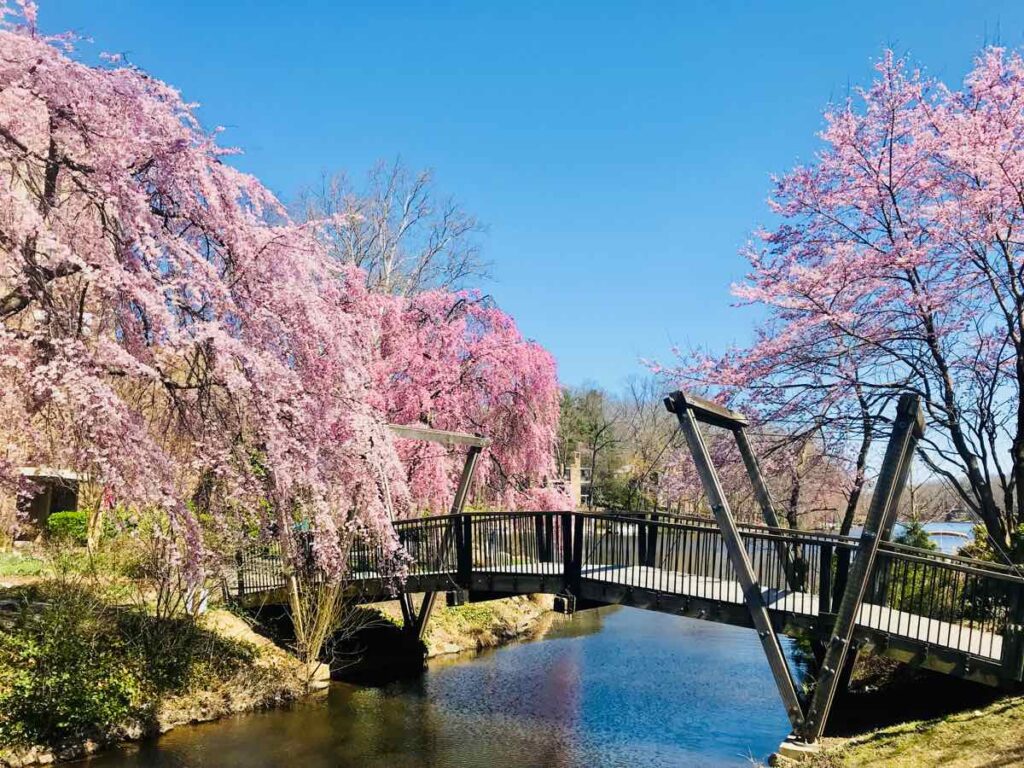 Play at Lake Anne Plaza Fountain and Sculptures
If you're looking for unique and fun places to visit with kids, you'll find a lot to love at Lake Anne Reston. The plaza area is small enough for little legs to explore but big enough to enjoy a few hours of fun.
Note that most of the sculptures and play areas are concrete so keep a close eye on your kids at all times. Here are a few of the fun places for kids at the plaza:
Pyramid is a concrete block tower that kids can climb up and walk under. It is one of the first sculptures you'll see walking onto the plaza from the parking area.
Young children love to splash and play in the Plaza Fountain. It's a fun spot for them to cool off on a hot day at the Farmer's Market.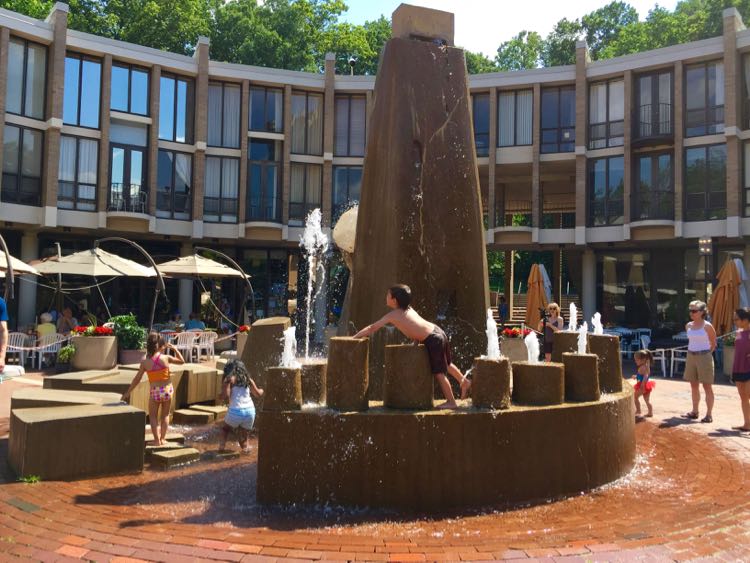 The Sun Boat is another favorite spot for kids. The boat-shaped sculpture includes a cute walk-through cube and low shapes fun for climbing.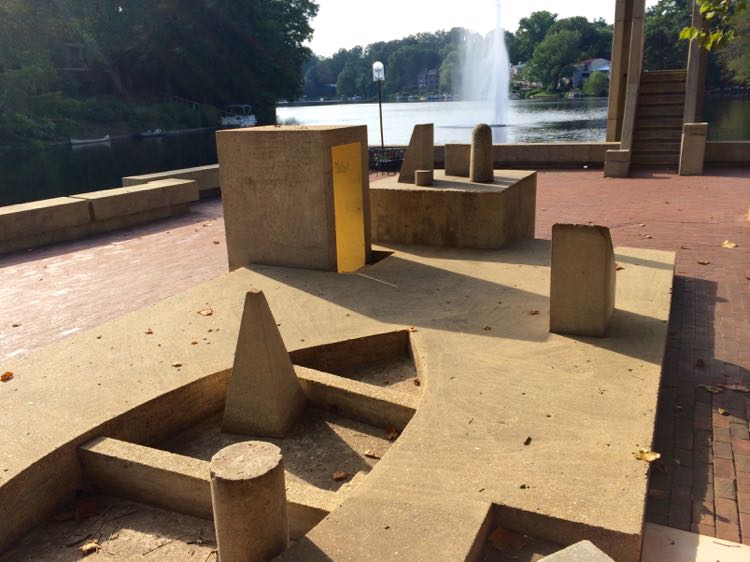 Wooden Horse, a wooden sculpture next to the Sun Boat, is another cute photo spot.
Continue around the lake, over the Van Gogh Bridge, and turn right to reach the North Shore Underpass. Here you'll find another collection of built-in sculptures to enjoy.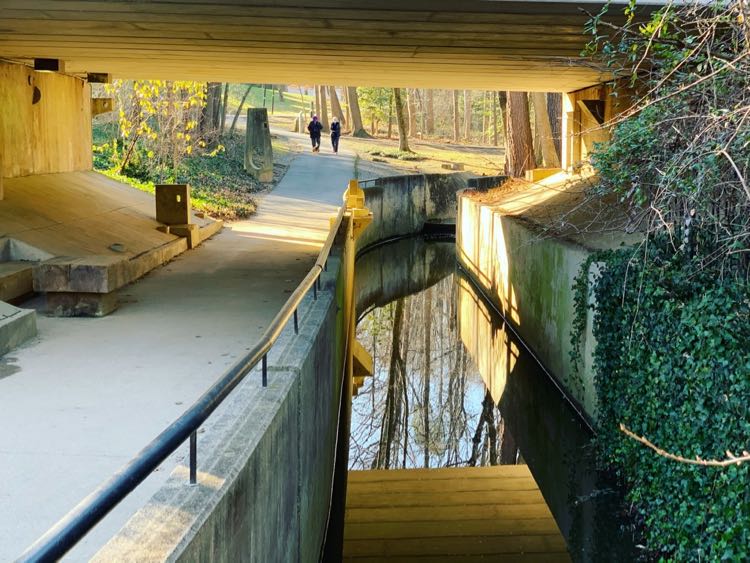 Snuggle Up in the Swing
Planning a couple's visit to Reston's Lake Anne? The Swing is a cozy spot to snuggle up and enjoy a quiet moment a short walk from the main plaza.
To reach the swing, walk down the right side of the lake, turn right and cross the Van Gogh Bridge, then turn right again. The Swing is straight ahead on your right (just before the North Shore Underpass.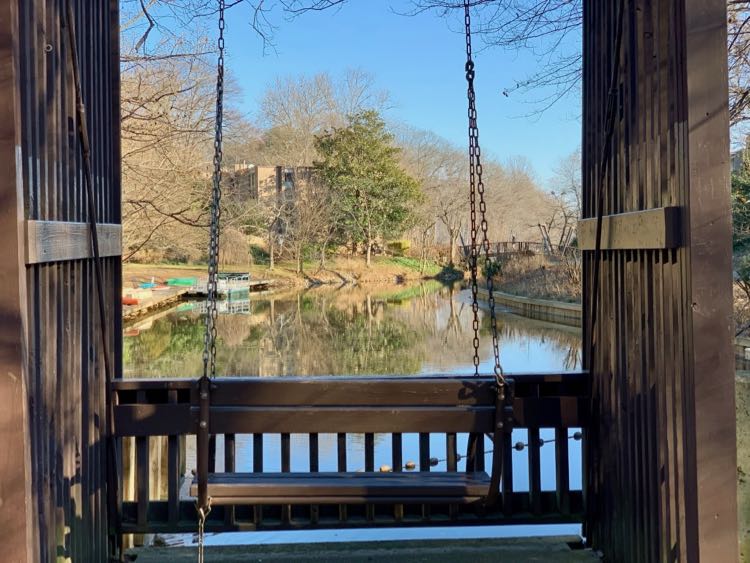 More Unique Art in Reston's Award-Winning Plaza
Visitors can see the works of local artists at two locations on the plaza. Both locations also offer art classes and special events.
The Community Center at Lake Anne features changing displays in the JoAnn Rose Gallery and the 3D Gallery. The Community Center also offers a wide range of classes throughout the year.
Reston Art Gallery and Studios is a cooperative of local artists that features a changing display and studio space. The gallery is open on weekend afternoons and sometimes hosts craft sessions for kids.
There are several more unique Lake Anne artworks in addition to the kid-friendly sculptures listed above. You can see all of these pieces on a short walk on and near the Plaza. Use our custom map to locate Lake Anne sculptures and see Hidden Art Reston for more photos.
Decorative Icons are located just past the fountain beside the stairs. The oversize toothbrush, comb, and other items used a Pop Art style to decorate the outside of a pharmacy, one of the original Lake Anne businesses.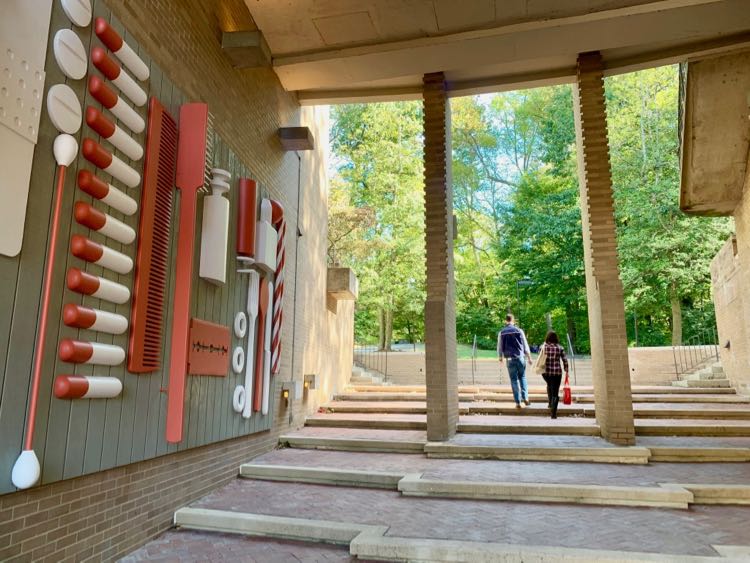 The Pulpit is a small concrete sculpture built into the wall near the fountain. You can see Lake Anne 1963 carved into the concrete from the water.
At the far end of the plaza, Lookout Tower climbs steep stairs to a platform with a nice view of the lake.
Relax and People Watch by the Water
There are several excellent places to sit and watch the world go by at Reston's Lake Anne Plaza.
Take a seat at one of the plaza benches facing the lake (Bronze Bob may be right behind you).
Find a spot on the dockside benches further down the plaza. On warm Saturdays, you may see model boats out for a mini regatta.
Lakefront restaurants, the Brew House, and the Coffee House patio are also prime people-watching spots.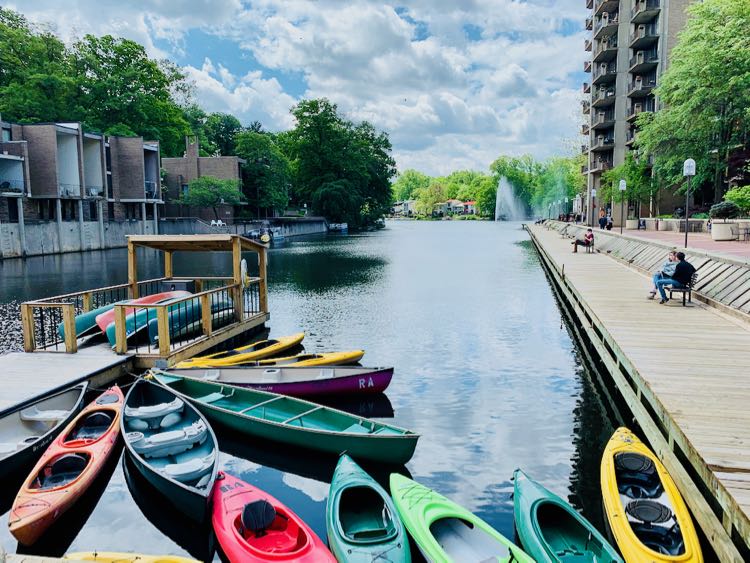 Take a Leisurely Hike Around Reston's Lake Anne
Walk an easy 1.7 loop around Lake Anne and you'll pass through some of Reston's first neighborhoods. The trail around Lake Anne follows paved sidewalks and paths with frequent views of the water.
You'll find a map, step-by-step directions, sites to see, and photos in our guide:
Lake Anne Trail: An Easy Lakeside Loop in Reston Virginia
Our favorite route travels counter-clockwise around the lake. Cross the Van Gogh Bridge and go straight up the hill, turning left at the first sidewalk. Stay to the left for the rest of the route, following the sidewalks and paved paths. You'll enjoy views of gardens and the lake as you walk through several Lake Anne neighborhoods.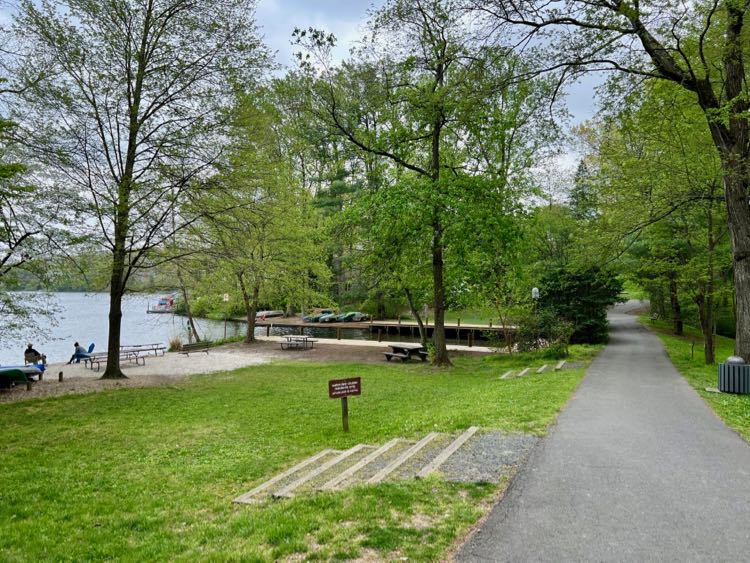 One of the highlights of this route is this beautiful rock garden, but there are other surprises as well. You'll find all the details in our article about the Lake Anne Trail.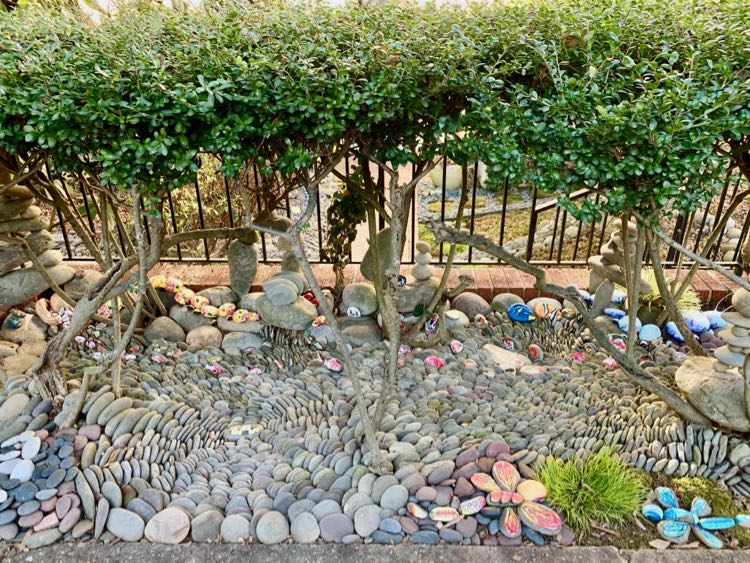 Explore Lake Anne on a Pedal Boat, Kayak, or Canoe
During the summer months, visitors can get out on the lake and see the sights from a different perspective. The Lake Anne Boat Rental offers a colorful collection of kayaks, pedal boats, and canoes for rent by the hour. Boat rental tickets are sold at the Lake Anne Dock and are open Friday through Sunday from June through September.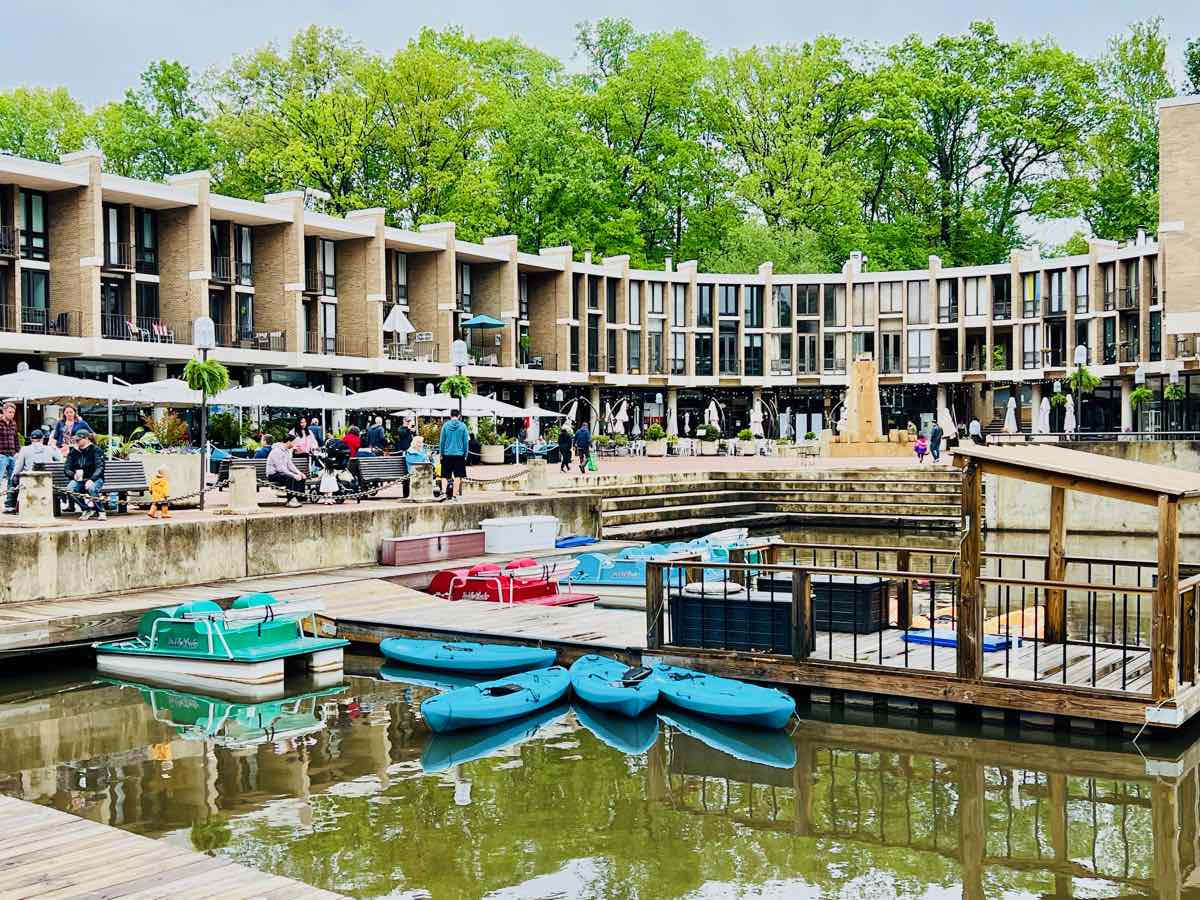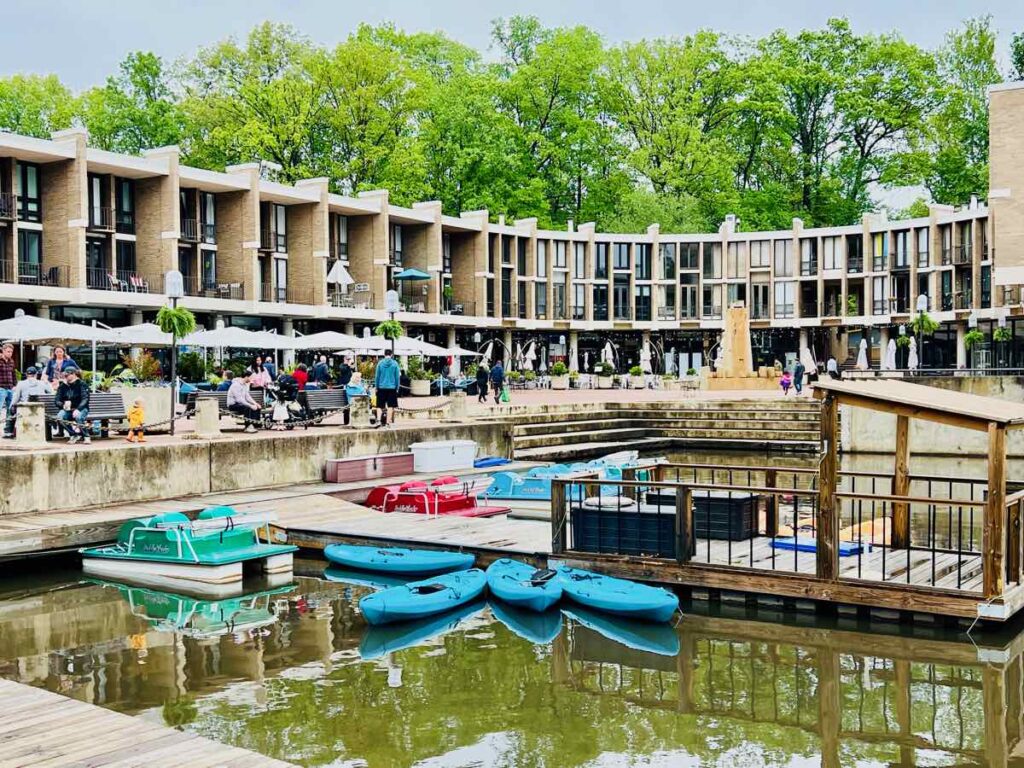 Once on the water, you can glide under the Van Gogh Bridge, circle the fountain, and paddle around Lake Anne's 119 acres.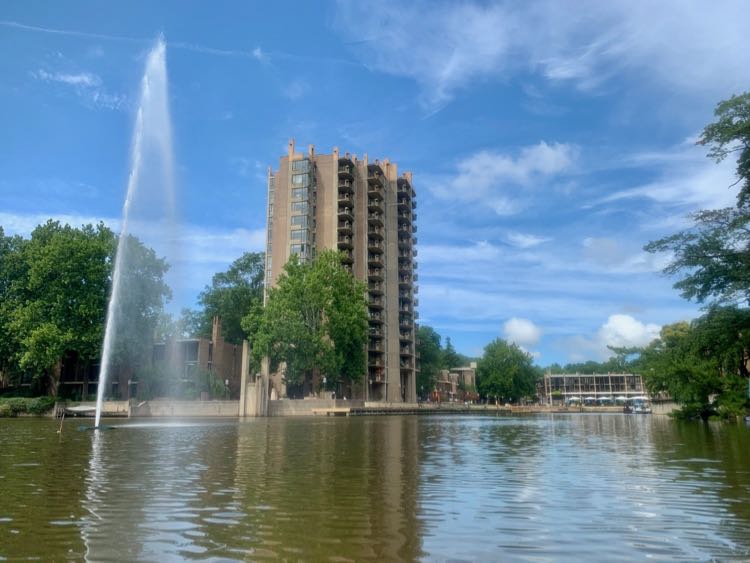 Visit the Lake Anne Farmer's Market
The Saturday market at Reston's Lake Anne is one of the best farmer's markets in Northern Virginia. The parking area and plaza fill with farmers and crafters who offer a fantastic array of produce, meat, seafood, cheese, plants, bread, specialty items, crafts, clothing, and more.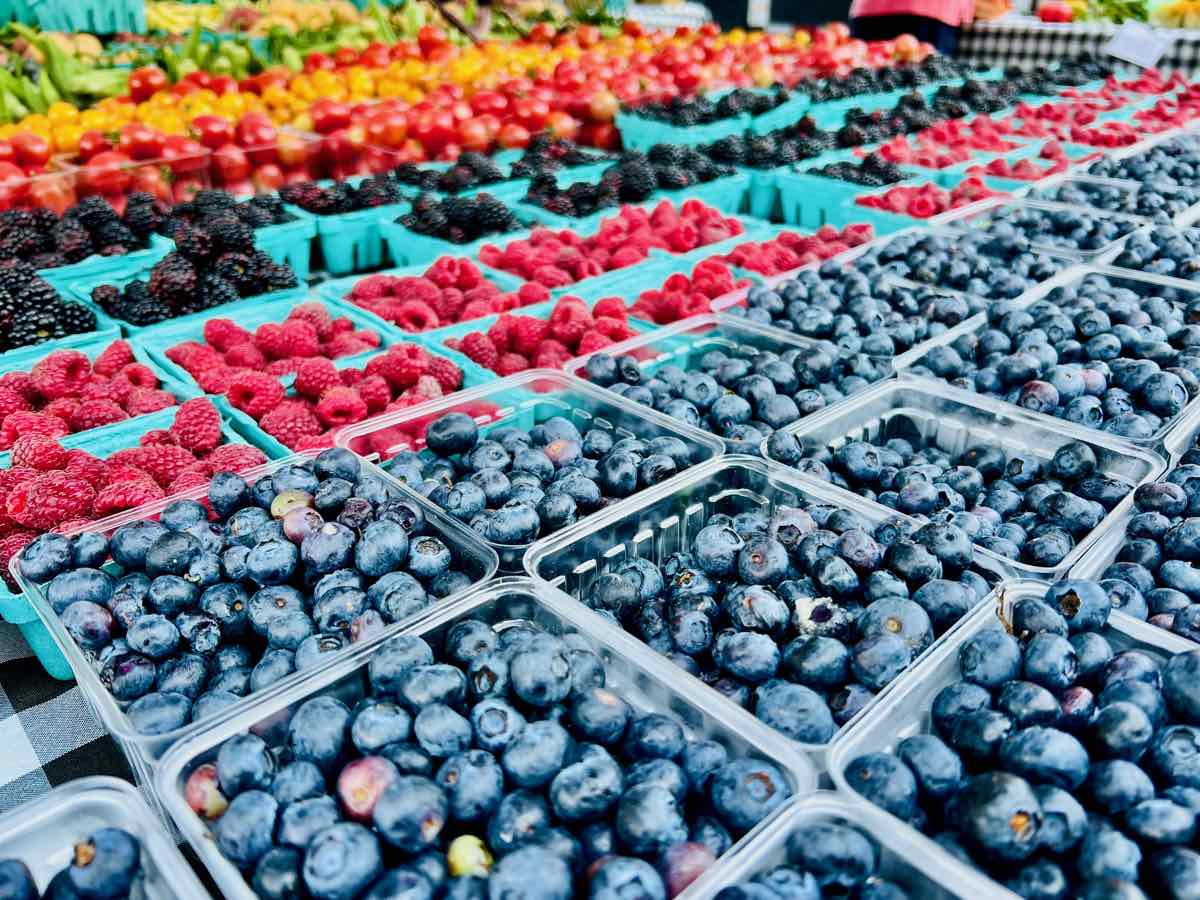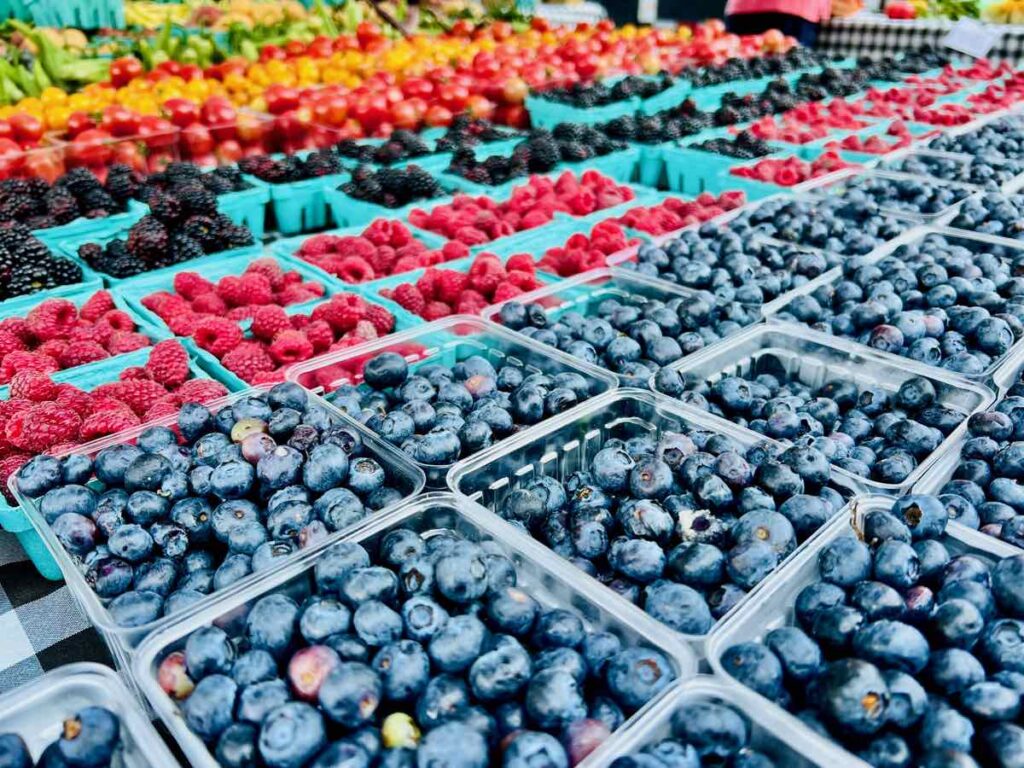 We like to stop by the empanada stand for breakfast to enjoy while we shop. The market is open 8:00 to noon on Saturdays from March to November. Plastic bags are available, but bring your own reusable bags if possible.
Enjoy a Free Outdoor Summer Concert
Outdoor summer concerts are a staple in Northern Virginia during the warmer months. The Reston Community Center hosts a free Thursday night concert series at the lake from June to September.
Attend Fun Reston Festivals Throughout the Year
There are several annual Lake Anne Reston events to attend in addition to the weekly summer concerts. For example, the town still turns out to honor Bob Simon every April on Founder's Day. (Founder's Day 2014 marked Reston's 50th anniversary and Bob Simon's 100th birthday.)
A favorite August event is the annual Cardboard Boat Regatta which challenges boats made entirely of cardboard to stay afloat. And a favorite holiday event welcomes Santa to the plaza as he arrives by boat, accompanied by a flotilla of elves on SUPs.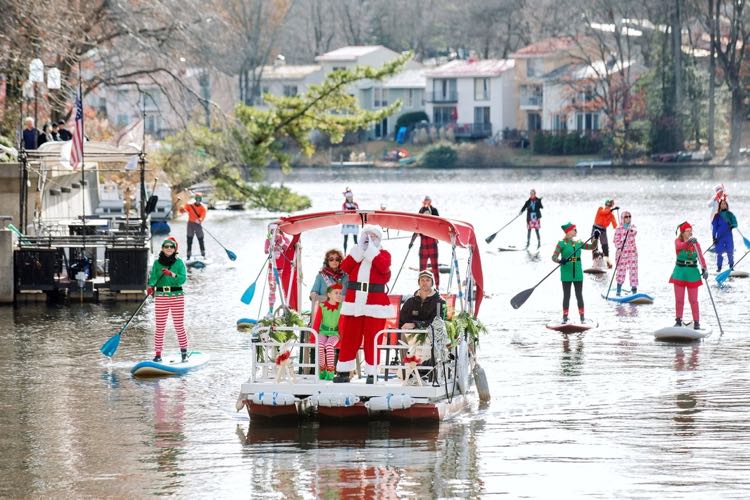 Tips for Your Visit to Lake Anne Plaza in Northern Virginia
Here are a few tips to make your lake visit a success:
The entry to the plaza is a bit hidden. To reach the public parking lot from Baron Cameron Road, turn onto Village Road, then turn left at the light. The parking entry is the first right.
Once you park, walk between the buildings and you will see the lake straight ahead.
The parking lot is used by the Farmer's Market on Saturday mornings from March to November so you won't be able to park there. Instead, park on North Shore Drive, across the street on Brown's Chapel Road, or in the Washington Plaza West Commercial Lot.
Visit the village center website for more information.
Lake Anne Frequently Asked Questions
Where is Reston's Lake Anne Village Center?
Lake Anne Reston is on the north side of the Dulles Toll Road (rt 267), 22 miles west of Washington DC and 8 miles east of Dulles International Airport.
How big is Lake Anne?
Lake Anne is 119 acres. It is a manmade lake designed to offer outdoor amenities and handle storm runoff.
Can you walk around Lake Anne?
Yes, there is a 1.5-mile trail around Lake Anne that uses a combination of paved paths and sidewalks.
Is there free parking at Lake Anne?
Yes, there is a free parking lot at Lake Anne. Enter the lot near the intersection of Village and North Shore Roads. Street parking is also allowed on North Shore Road.
Can you fish at Lake Anne?
Yes, fishing is allowed at Lake Anne from the public dock (most lakefront areas are private). Anglers 16 and over must have a Virginia fishing license.
Can you swim in Lake Anne Reston?
No, swimming is not allowed at Lake Anne due to water quality issues and lack of safety monitoring. You may occasionally see residents in the lake, but there is no beach and no public water access.
Lake Anne in Reston is a welcome break from cookie-cutter suburbs. The unique design and history of this Reston Village Center are fun to explore on a day trip from DC. The lake is also a great destination for locals who want a new spot to eat, drink, shop, and play.
Follow us on Facebook, Twitter, Pinterest, and Instagram for more fun travel in and from Northern Virginia.