Updated on November 7, 2023 by Julie McCool
Our guide to fun outdoor activities in Roanoke VA and Virginia's Blue Ridge includes some of the best hiking, mountain biking, road cycling, and paddling in the Eastern US. Enjoy outdoor adventure in the region's mountains and waterways.
Then relax at Roanoke's unique craft breweries, restaurants, and hotels. Roanoke Virginia is an ideal base for small-city fun combined with fantastic outdoor adventure.
Disclosure: This article may contain affiliate links. We will make a small commission from these links if you order something, at no additional cost to you.
In fact, Virginia's Blue Ridge was awarded a Silver-Level Ride Center™ designation by the International Mountain Bicycling Association (IMBA), one of only 15 such designations in the world, and the only one on the East Coast.
Outdoor activities in Roanoke and Virginia's Blue Ridge include a range of adventures from family-friendly outings to challenging hiking and biking. We've rounded up our favorite outdoor adventures in the Roanoke area, along with recommendations from expert sites covering the region.
Visit Virginia's Blue Ridge sponsored this article and hosted our mountain biking gear and stay at Hotel Roanoke. As always, all opinions, photos, and text are ours unless otherwise noted.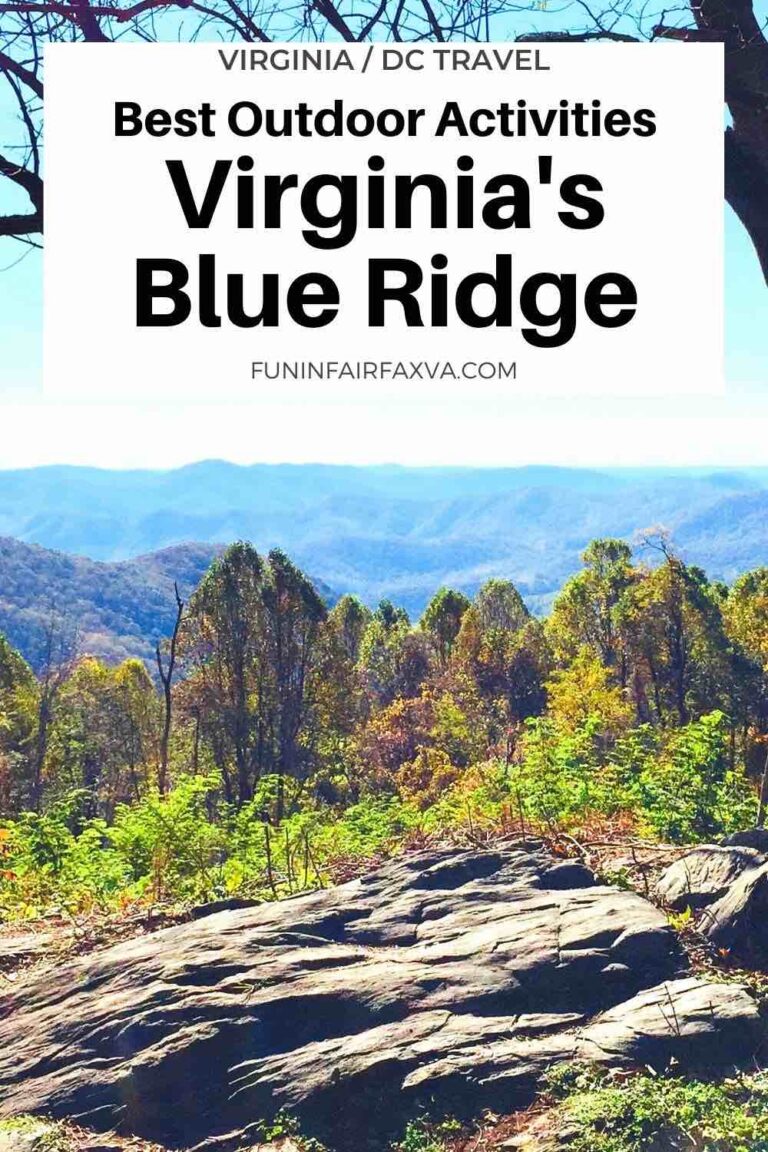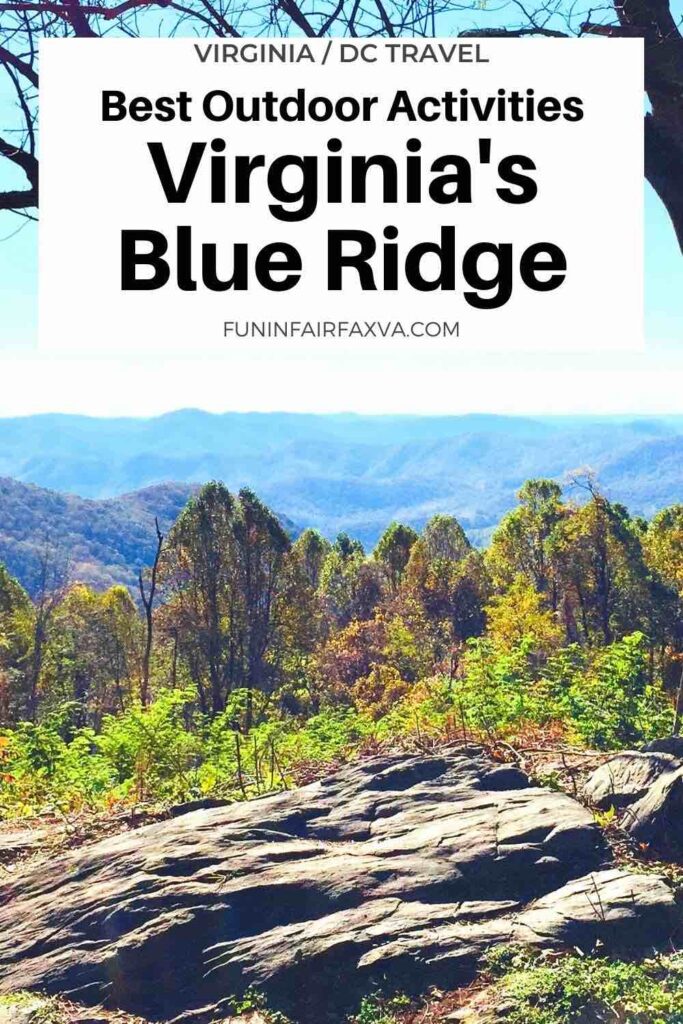 Where to Find Outdoor Activities In Roanoke and Virginia's Blue Ridge
Roanoke Virginia has one of the most enviable locations in the eastern United States. The small city is surrounded by the Blue Ridge Mountains, national forestland, and beautiful rivers and lakes. These natural areas make Roanoke an ideal metro to mountain destination for outdoor adventure and small-city comfort.
The city of Roanoke sits at mile 120 of the Blue Ridge Parkway, one of America's most scenic drives. The parkway follows the Blue Ridge Mountains to the north and south, offering access to excellent hiking, road cycling, and outdoor fun.
The most photographed spot on the Appalachian Trail is just 15 miles from Roanoke VA, and several miles of the National Scenic Trail skirt the city.
The George Washington and Jefferson National Forests, to the west, are home to beautiful vistas and several great hikes.
Southeast of Roanoke, Smith Mountain Lake is a water-lovers paradise for paddling, sailing, fishing, and more outdoor activities.
The Roanoke River and James River are popular for paddling, tubing, and fishing. In fact, the Roanoke River made the USA Today Top10 list for Best Urban Kayaking spots in North America in 2022.
Preserves and parks like Carvins Cove have some of the best mountain biking in the eastern U.S.
Read on to discover the best biking, paddling, and hiking in Roanoke and Virginia's Blue Ridge. We've also got suggestions on where to stay and play in the Roanoke area, and tips to plan your visit. Outdoor activities in Roanoke and Virginia's Blue Ridge await.
Hiking in Roanoke and Virginia's Blue Ridge
Hiking is one of the most popular outdoor activities in Roanoke and Virginia's Blue Ridge, and there are trails for every ability level. Whether your goal is a short family hike to a waterfall, a moderate climb to epic views, or a challenging workout on the Appalachian Trail, the Roanoke area has you covered.
Here are some of the best hiking trails in Roanoke VA and Virginia's Blue Ridge.
Appalachian Trail Triple Crown: Dragon's Tooth, McAfee Knob, and Tinker Cliffs
Whether you tackle them all in one trip, or break them up into separate day hikes, the Appalachian Trail Triple Crown delivers incredible views and challenging workouts.
McAfee Knob is the most photographed spot on the entire Appalachian Trail. Though AT hikers will tell you that the knob is not quite as dramatic to stand on as photos suggest, it's still a must-visit for Virginia hikers. The 8-mile out-and-back hike is not technically challenging, but the gradual climb and descent will give you a workout.
The climb to Tinker Cliffs on the Andy Layne Trail is tough. It's 3.8 miles up, with 1900 feet of elevation gain and some very steep sections. The view from the top is worth the effort, but be prepared for a challenging climb.
Dragon's Tooth is a 5-mile out-and-back hike to incredible views from a rock outcrop shaped like a dragon's tooth. This one is not for the faint of heart. The hike includes rock scrambles and a traverse across a rock face using narrow ledges. Don't attempt this hike if you have a fear of heights or you aren't confident zig-zagging up a cliff face.
Parking can get very crowded for the hike to McAfee Knob. Fortunately, hikers can now arrive via the McAfee Knob Trailhead Shuttle from the Park and Ride lot in Salem. The shuttle operates Friday through Sunday and Monday holidays from March through November.
Devil's Marbleyard, Natural Bridge
If you're looking for a short but challenging hike, we highly recommend the Belfast Trail to Devil's Marbleyard. The trail is part of the James River Face Wilderness area and offers a fairly steep and rocky 1.4-mile climb.
The payoff is an area strewn with huge boulders that are fun to explore and have beautiful mountain views. If you prefer a longer hike, you can connect to the Gunter Ridge Trail for an 8.3-mile loop hike.
Mill Mountain Star Trail
The Roanoke Star, and the view from the top of Mill Mountain, is easy to reach by car. In fact, a trip to the Mill Mountain Star is one of the most popular things to do in Roanoke.
But the hike from the bottom on the Mill Mountain Star Trail offers a good workout and time to immerse yourself in nature. It's a 3.7-mile hike from the base to the star and back down or dirt and rocky surfaces. Several other trails on the mountain are popular for mountain biking (see details below).
Tip: The Roanoke Star is one of the top places to visit in Roanoke. It's a fantastic spot to soak in a gorgeous view of the surrounding mountains by day, and the sparkling city lights at night.
Best Waterfall Hikes Near Roanoke Virginia
It's easy to enjoy outdoor activities in Roanoke and Virginia's Blue Ridge when your goal is waterfalls. Several waterfalls in the area offer easy to difficult hikes, so there is something for everyone.
Mountain Biking in Roanoke Valley and Virginia's Blue Ridge
Virginia's Blue Ridge is known as America's East Coast Mountain Biking Capital for good reason. The new IMBA Silver-Level Ride Center status solidifies Virginia's Blue Ridge as on par with some of the greatest mountain bike destinations in the world. Click here for a peek at the incredible mountain biking you'll experience in Roanoke and Virginia's Blue Ridge.
Here are three favorite mountain biking parks with over 80 miles of easy-to-expert trails, all a short ride or drive from the city of Roanoke Virginia.
Carvins Cove, Roanoke
Carvins Cove earned Roanoke Valley its reputation as one of the best mountain biking areas in the eastern United States. There are 60 miles of trails to explore. Bike cross country on single track, take an exhilarating ride on downhill trails, or explore on a more relaxed fire road.
Know your abilities! Trails like Rattlin Run will challenge even mountain biking experts.
Explore Park, Roanoke
There are 14 miles of hiking and biking trails at Explore Park, plus a bike skills area for beginner and intermediate riders. The skills loop includes practice berms, rumble strips, and rock features.
9 miles of trail at Explore Park were purpose-built for mountain biking. They include hilly, mountainous terrain with off-camber straightaways, challenging climbs, and fast drops. Explore Park is also an access point for paddlers to enjoy a 7-mile float to Smith Mountain Lake. Camping, a ropes course, and other amenities are under development.
Mill Mountain Park, Roanoke
Mill Mountain Park is just a short bike ride from the center of Roanoke on the paved Roanoke Valley Greenway. Once there, mountain bikers enjoy 13 miles of intermediate and expert trails.
Steep but relatively short trails (the longest is just under 2 miles) makes biking Mill Mountain challenging but manageable. Uphill climbs lead to an incredible payoff—epic views from the Roanoke Star.
Restroom facilities and parking at the top of the mountain offer a convenient starting point if you don't want to bike in from town. Mill Mountain is also home to a Discovery Center, Wildflower Garden, and the Mill Mountain Zoo.
Tip: Get funky at the Wednesday Night Disco Race Series in May.
Pandapas Pond Trails, Blacksburg
The Pandapas Pond Trails offer a few options for mountain biking fun. Choose the singletrack trails on the "Brush Side" of Poverty Creek, the more technical trails on the "Gap Side", or combine the two for a challenging 13-mile outing. The multi-use trail is also open to horses
Tip: There are several great craft breweries in downtown Roanoke and the surrounding area. After a day of challenging trails, reward yourself with a tasty craft brew.
Road Cycling in Roanoke and Virginia's Blue Ridge
The easy, paved Roanoke Valley Greenways meander through the heart of Roanoke. A short ride away are the challenging climbs and beautiful vistas of the Blue Ridge Parkway. Here are three of the most popular areas for road biking in Roanoke Valley.
Blue Ridge Parkway to Peaks of Otter
Access to the Blue Ridge Parkway is just 5 miles from downtown Roanoke. Head north on the Parkway for the beautiful and challenging ride to Peaks of Otter. You'll tackle plenty of steep hills on the 70-mile out-and-back ride, but you'll also get to soak in spectacular views on your journey.
Roanoke Valley Greenways, Roanoke
30 miles of paved pathway traverse the city, linking parks, neighborhoods, and more outdoor activities in Roanoke Virginia. These urban trails are also popular with walkers, joggers, and dog walkers.
Most of the Roanoke Valley Greenways trails are level, so there are plenty of kid-friendly sections that also link playgrounds and parks. Much of the path system follows the Roanoke River offering nice scenic views.
Route 76 on the TransAmerica Bicycle Trail, Christiansburg to Botetourt County
Cycle over rolling hills and mountain roads on the Route 76 section of the TransAmerica Bicycle Trail. The cross-country trail ends in Yorktown Virginia, and there is a very scenic section in Virginia's Blue Ridge beginning in Christiansburg and passing through Botetourt County. Enjoy epic views of the Blue Ridge Mountains and the Washington and Jefferson National Forest.
Paddling in Roanoke VA and Virginia's Blue Ridge
Rivers run through and around Roanoke, and there are beautiful reservoirs and lakes nearby. Enjoy a lazy float, a quiet paddle, a fast-paced boat ride, or a day of angling surrounded by the scenery of Virginia's Blue Ridge. Whether you prefer fly fishing on the Roanoke River or sport fishing in Smith Mountain Lake, the region has got you covered.
Here are three of the best places for paddling in Roanoke VA and Virginia's Blue Ridge.
Upper James River Water Trail
The Upper James River Water Trail draws active paddlers and relaxed tubing fans to Virginia's Blue Ridge. Travel Channel included the James River on their list of best lazy rivers for a summer float. But active kayakers and canoers will also enjoy miles of scenic river and a few class I and II rapids. The water trail flows through 46 miles of Botetourt County on its way to the Chesapeake Bay, surrounded by views that are stunning when fall foliage covers the mountains.
Roanoke River Blueway
The 45-mile Roanoke River Blueway is a paddler's paradise. The water trail offers canoeing, kayaking, fishing, tubing, wading, and wildlife viewing as it passes through or around Roanoke Virginia and surrounding counties. The river has 17 public access points, some of which offer parking lots, picnic areas, playgrounds, and other facilities. Follow the link for details and to check water levels on the river.
Smith Mountain Lake
Smith Mountain Lake is a warm-weather playground for water-lovers. The lakes boasts 500 miles of shoreline and a wealth of outdoor activities close to Roanoke VA.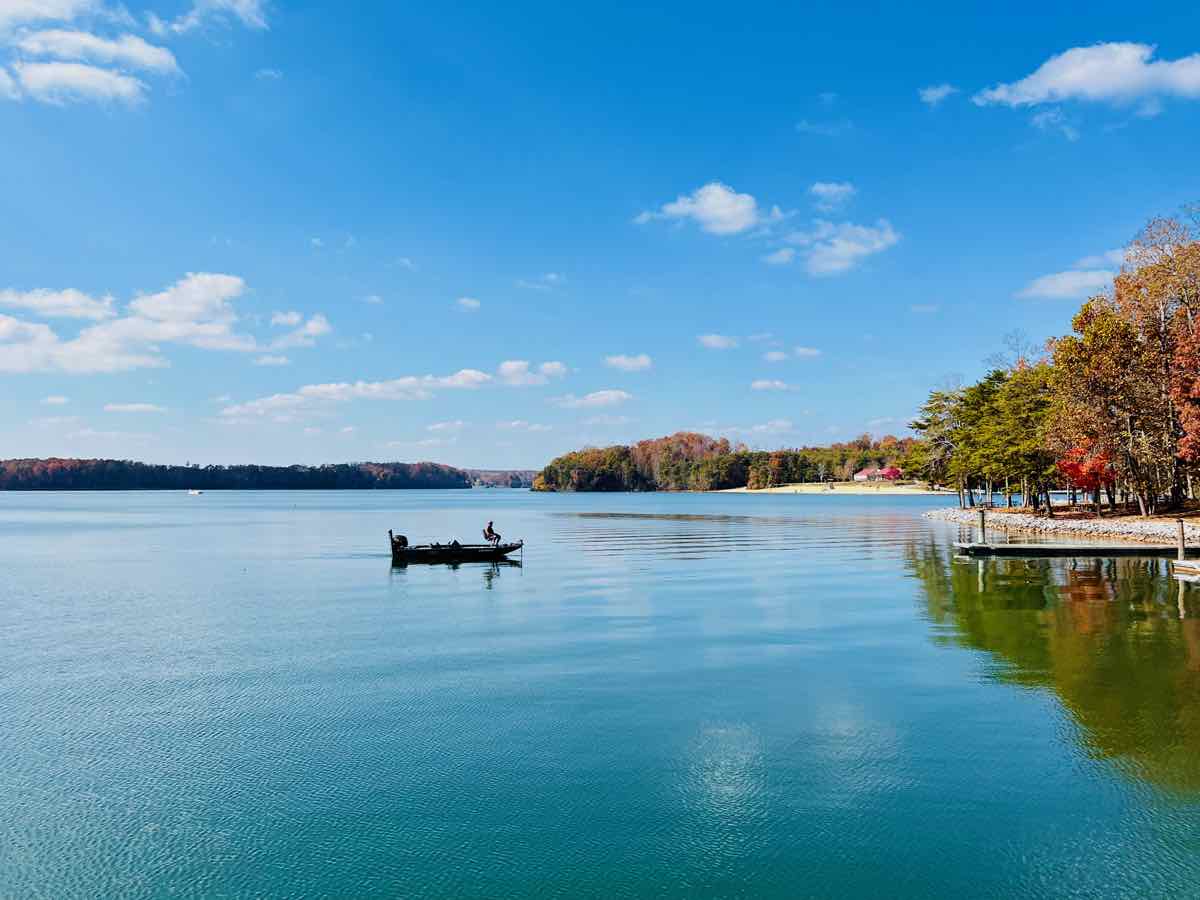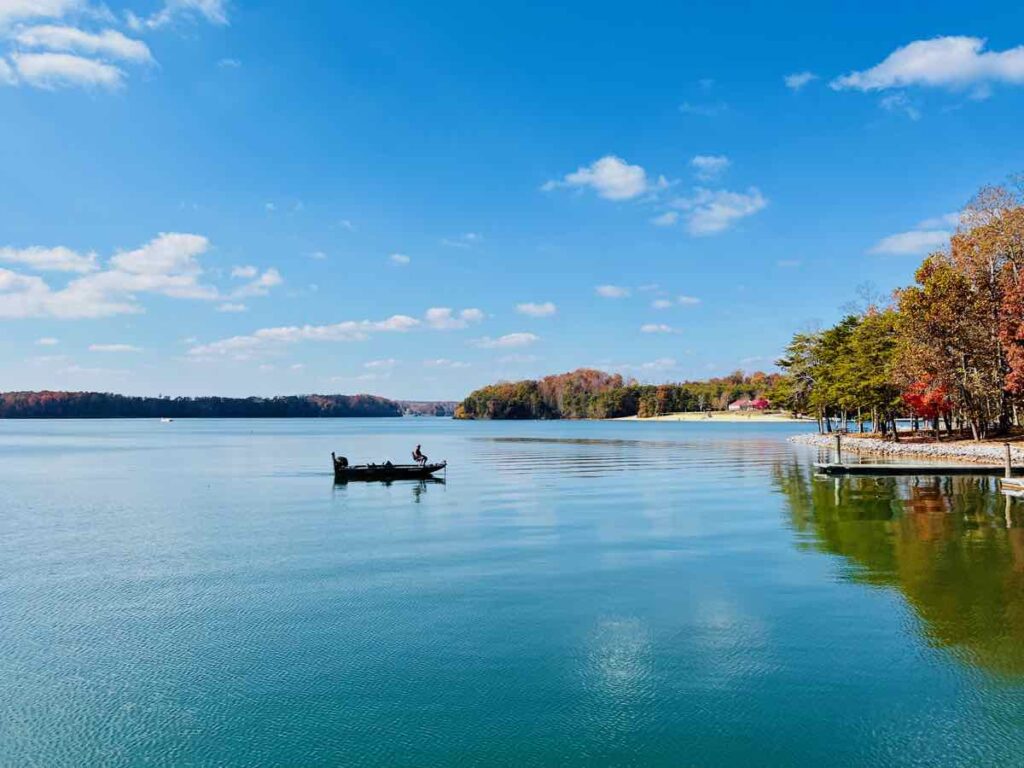 Learn to sail, take a scenic cruise, play on the beach at Smith Mountain State Park, or head out for a relaxed day of fishing. Visitors can rent kayaks, pontoon boats, stand-up paddleboards, sailboats, wake boards, giant tubes, and more for a fun day on the water.
Find an Outfitter for Outdoor Activities in Virginia's Blue Ridge
This full-service outfitter supports mountain biking, cycling, kayaking, paddleboarding, and tubing. They offer guided trips, shuttles, and equipment rentals from a convenient downtown location next to the Roanoke Valley Greenways.
Tip: Roanoke Mountain Adventures also operates as a consignment shop so it's a great place to buy and sell quality outdoor gear.
Offering single and multi-day paddling trips on the James River from lazy floats to whitewater rafting. River tubes, kayaks, and canoe rentals are available to folks who know the river and can transport the boats to an access point.
Tip: Take a walk across the cool swinging bridge when you visit Buchanan. It's right next to Twin River Outfitters.
With an area so rich in natural resources, there is a seemingly endless range of outdoor activities in Roanoke and Virginia's Blue Ridge calling to visitors. Plan a multi-day trip to the region to sample several of the outdoor adventures described here, or make the Roanoke area a repeat getaway destination.
There are many excellent places to stay in and near Roanoke. Here are our favorite Roanoke lodging options:
Roanoke is a 4-hour drive from the Washington DC area, and you can also reach the city by train. Amtrak service to downtown Roanoke makes a fun and relaxing train trip from Washington DC, Baltimore, and New York City. The train stops right near the Hotel Roanoke, one of our favorite places to stay in the area.
Learn more at Visit Virginia's Blue Ridge: web | Facebook | Twitter | Instagram | Pinterest
Follow us on Facebook, Twitter, Pinterest, and Instagram for more fun travel in and from Northern Virginia.