These Northern Virginia hidden gems offer beautiful places, fascinating history, and unique things to do at lesser-known destinations. They're perfect for a locals outing or a day trip for Washington DC visitors. Our list of great places to visit in Virginia includes family fun, adult outings, cool photoshoot locations, interesting history, and special sites for every age.
After 25 years in the region, we are still surprised by the diversity of places to visit and things to do in Northern Virginia. Popular spots like Great Falls Park and Shenandoah National Park call us back regularly. But we also love to follow the road less traveled and uncover new local experiences.
2020 UPDATE: Many of the parks on this list are open with restrictions, while many of the historic sites are closed. Always check for closures before heading out using our guide Northern Virginia Resources for Tracking Updates and Closures or by visiting the site online.
Our Northern Virginia hidden gems are in two groups: natural gems and history-focused places. However, many of these destinations include both nature and history. Links offer additional information, tips, and photos to help plan your outing.
Natural Northern Virginia Hidden Gems
Northern Virginia is a happy place for nature-lovers. We have bays, rivers, and wetlands; rolling hills across the Virginia Piedmont; and the foothills and peaks of the Blue Ridge Mountains to explore. These beautiful places in Virginia are fun for active outings and include some of our favorite places to take pictures and create happy memories.
1. Bear's Den Overlook, Bluemont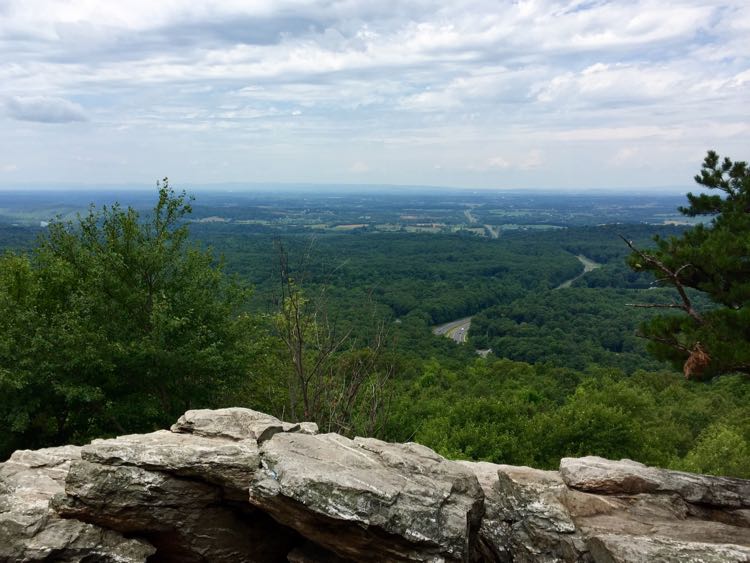 A half-mile uphill hike from a parking lot in Bluemont leads to rocky Bear's Den Overlook. Here you can enjoy a beautiful westward view of the Blue Ridge Mountains and Shenandoah Valley. The rocky outcropping offers lots of spots to sit and enjoy lunch or a great sunset view. You can also reach the overlook from the day-use area of the Bear's Den hostel. If you want a longer and more challenging hike to a view, try Raven Rocks just across Route 7. Combine your visit with a stop at nearby Purcellville for tasty dining, shopping, and craft beverages. Or check out the eastward view with a brew at Dirt Farm Brewing. Free.
Plan your visit: Bears Den Overlook Hike in Bluemont Virginia: Alternate Routes and Tips.
2. Neabsco Creek Boardwalk Trail, Woodbridge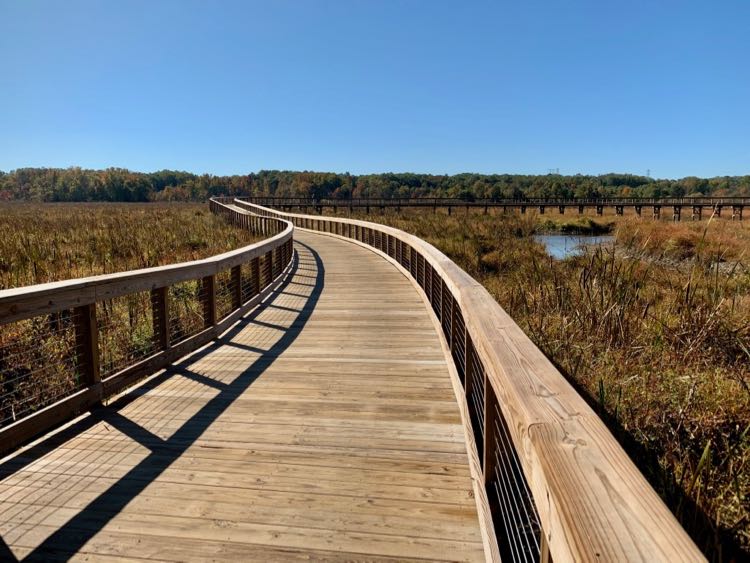 New in 2019, the Neabsco Creek Boardwalk Trail winds over a wetland in Prince William County. The boardwalk is part of the Potomac Heritage National Scenic Trail, a network of trails that highlight historic and natural areas along the Potomac River. The 3/4-mile long Neabsco Creek Boardwalk is fully accessible to wheelchairs and strollers, making it ideal for a family-friendly outing near Washington DC. Free
Plan your visit with our guide: Neabsco Creek Boardwalk Trail Hike in Northern Virginia.
3. Dyke Marsh Wildlife Preserve, Alexandria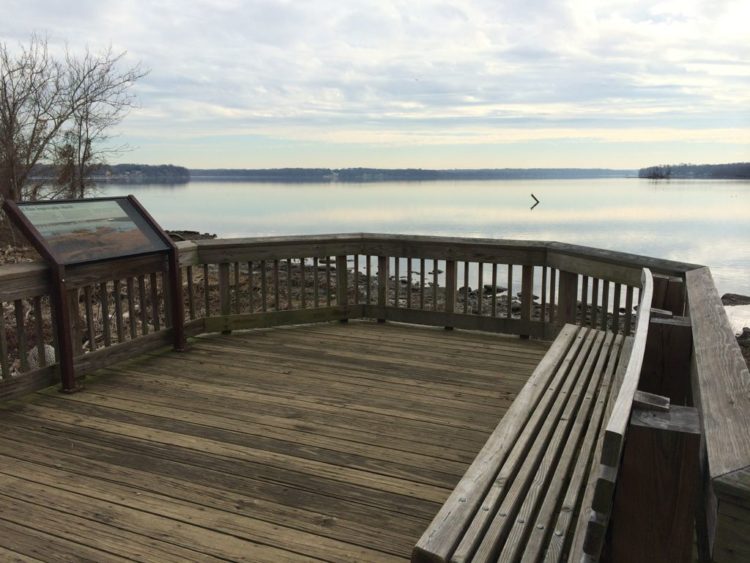 It's easy to visit this unique Northern Virginia hidden gem by bicycle or car. The Mount Vernon Trail, a paved bike trail along the Potomac River, passes through the marsh. Or you can park at nearby Belle Haven Park and walk out to the marsh. A .7 mile dirt trail follows the banks of the Potomac River. You'll enjoy nice views of the marina, Woodrow Wilson Bridge, and National Harbor in the distance. The level, easy trail ends with a  long boardwalk and viewing platform over a tidal marsh and across the river. Dyke Marsh is also a popular destination for birdwatching. Free
Plan your visit with our guide to Dyke Marsh and the Mount Vernon Trail
4. Difficult Run and Cross County Trail, Great Falls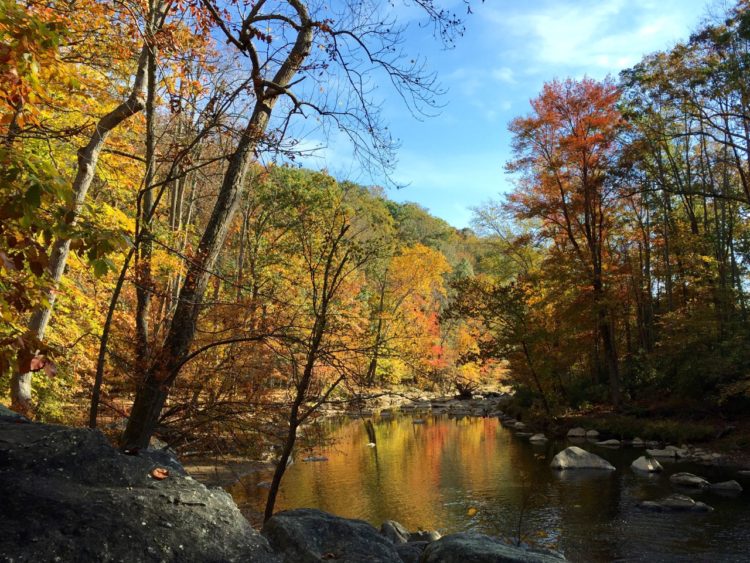 The Gerry Connolly Cross County Trail extends for over 40 miles across Fairfax County. The trail begins at the Potomac River in the north and ends at the Occoquan River in the south. Along the way, it passes through many of Fairfax County's best parks and stream valleys. Our favorite stretch of the CCT follows Difficult Run and enters the eastern section of Great Falls Park before arriving at the Potomac. The trail is shady and the river offers a place to cool your feet in summer. In the Fall, foliage colors the banks and reflects in the stream, creating lovely photoshoot locations. Free.
You can also extend your outing with a partial loop hike: Run, Ridge and River Trails. Here are some helpful tips for hiking the CCT with links to other trail segments.
Plan your hike: Difficult Run Hike to the Potomac River on the Fairfax Cross County Trail
5. Great Marsh Trail, Mason Neck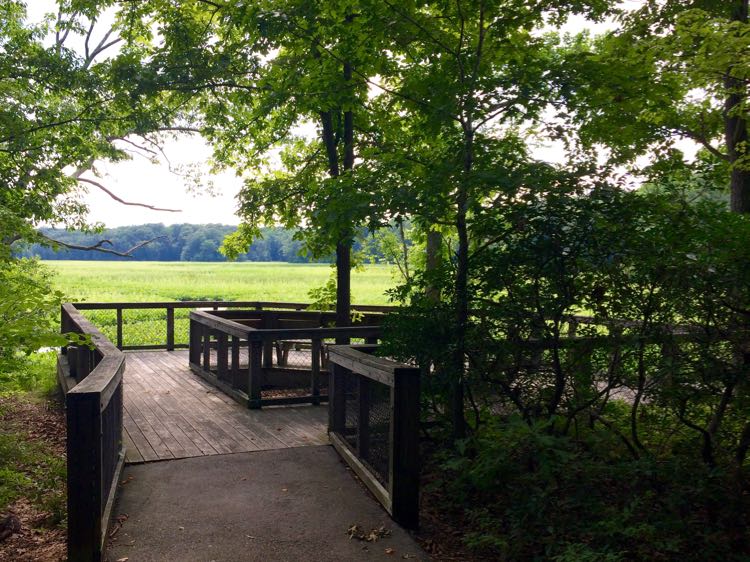 The Great Marsh Trail is a paved, 3/4-mile accessible trail that is part of the Elizabeth Hartwell Mason Neck National Wildlife Refuge on Gunston Road. There is a large platform at the end of the trail with expansive views of the 250-acre Great Marsh, one of the largest freshwater marshes on the Potomac River. This is a beautiful spot to watch for birds, including the many bald eagles that nest in the protected marsh. Extend your visit with a stop at Mason Neck State Park for beautiful birding, hiking, and boating. Free.
Plan your visit: Hiking and Eagles on the Mason Neck Peninsula in Northern Virginia.
6. Huntley Meadows Park, Alexandria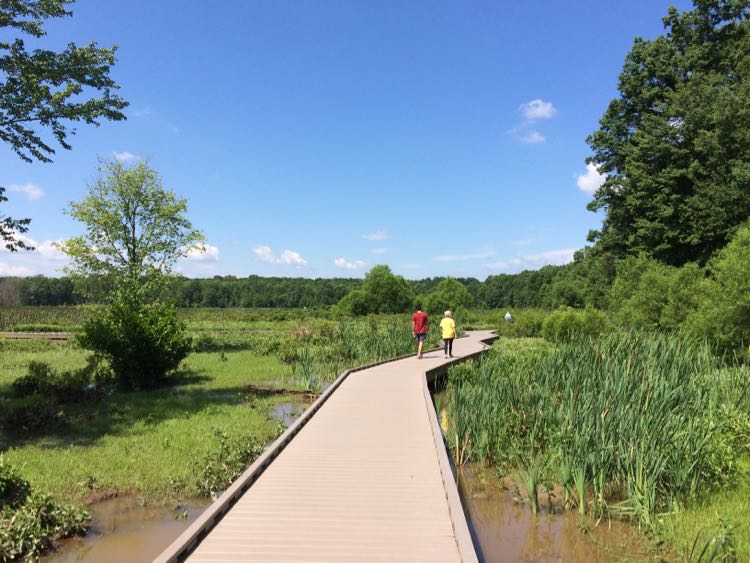 Huntley Meadows Park brilliantly transformed a former asphalt testing facility into one of the most beautiful marshland habitats in our busy region. Visitors stroll a long, ADA-compliant boardwalk allowing close-up views of the many birds, amphibians, and other wildlife in the park. Climb the Observation Tower, one of our favorite romantic spots in Virginia, for beautiful views and a rest. Free.
Plan your visit to the Wonderful Wetlands at Huntley Meadows Park
7. Meadowlark Botanical Gardens, Vienna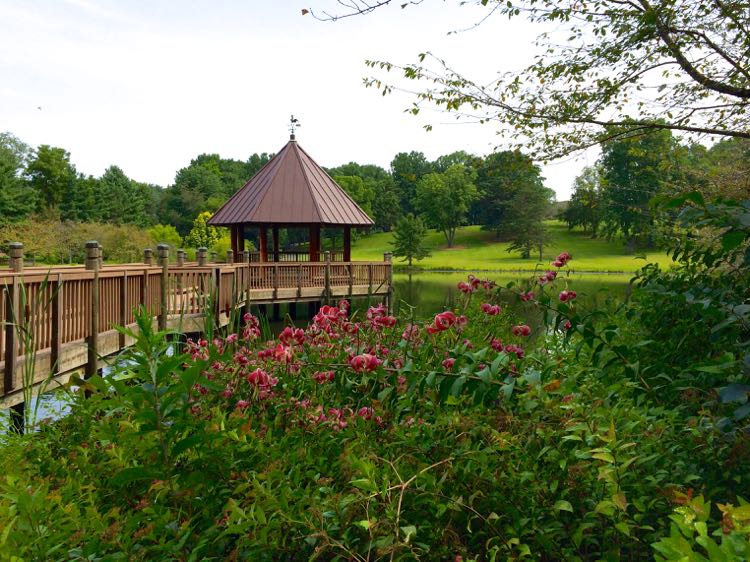 Meadowlark Botanical Gardens is a Northern Virginia hidden gem we return to throughout the year. The gardens grow, transform, and fade, but the parks 95 acres and paved paths always offer peace and beauty. A children's garden, gazebo and pond, and small bridges entertain families; and the Korean Bell Garden adds cultural interest. The gardens are especially beautiful when cherry blossoms bloom in spring.  $3.00 – $6.00, depending on age; free in winter.
Plan your trip: Visit Meadowlark Botanical Gardens for Year-round Beauty in Northern VA
8. Potomac Heritage Trail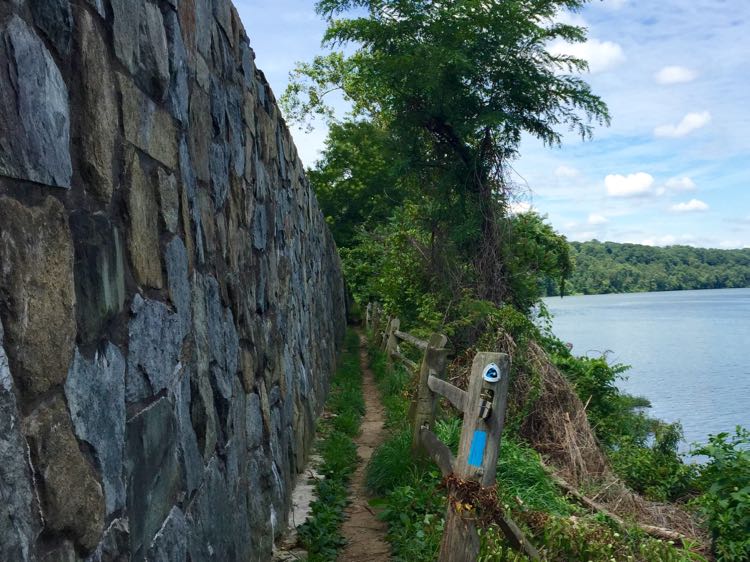 The Potomac Heritage Trail (PHT) covers over 800 miles from Washington DC to Pennsylvania, with local segments following the banks of the Potomac River in Northern Virginia. Close to the DC, we like the stretch from Theodore Roosevelt Island to Windy Run. More popular segments pass through Great Falls and Riverbend Parks. Free.
Plan your hikes with our guide to Potomac Heritage Trail Hikes in Northern Virginia
9. Prince William National Forest, Triangle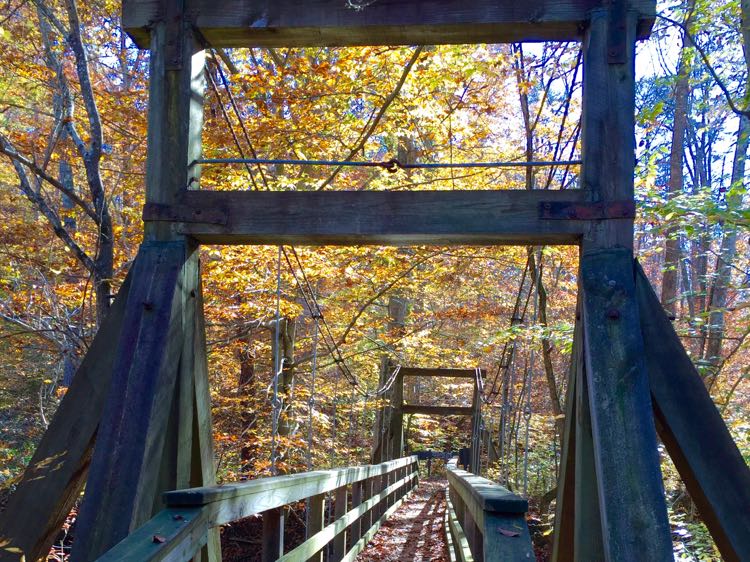 It's odd to think that part of the national park system can be a Northern Virginia hidden gem, but we frequently meet locals who have never visited Prince William National Forest. Those who do visit will enjoy 37 miles of beautiful hiking trails, a 9-mile scenic loop drive, and paved and gravel bike roads. There is also some interesting history from the park's days as a "relief camp" for low-income DC children. Camping is available in historic cabins or open sites. $7.00 per vehicle for a five-day pass, waived on national free entrance days
Plan your visit: Explore Prince William Forest Park in Northern Virginia
10. Seneca Regional Park, Great Falls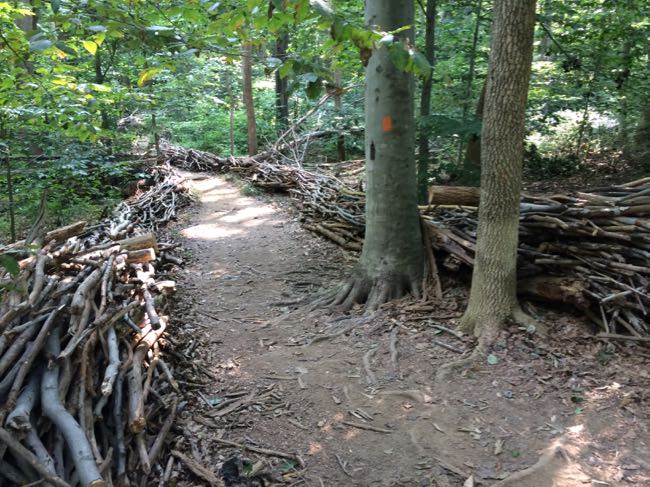 An entryway of woven branches welcomes hikers, birders, and equestrians to the beautiful woodland and riverside trails at this Northern Virginia hidden gem. One section of the Potomac Heritage Trail passes a historic section of a 1700's stone wall from George Washington's Patowmack Canal. Near the parking area, signs explain details of a historic calvary crossing during the Civil War. Free.
Plan your visit with our guide: Hike Seneca Park and the Potomac Heritage Trail in Northern VA
Historic Northern Virginia Hidden Gems
11. Balls Bluff Battlefield Park, Leesburg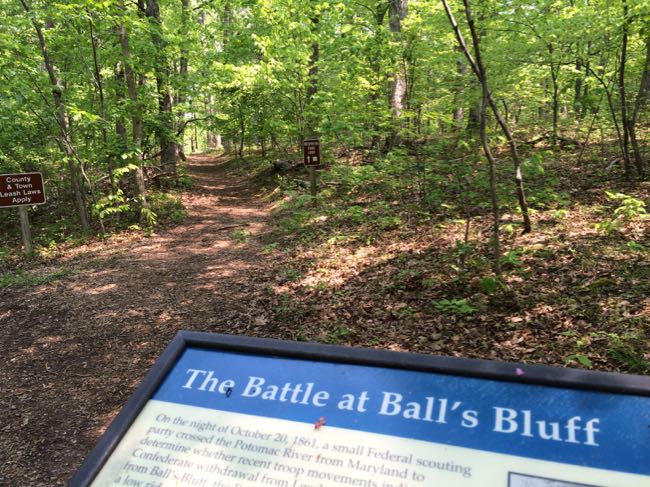 The battlefield at Balls Bluff was the site of the first Civil War engagement to take place in Loudoun County. Today, the park has an excellent interpretive trail that explains how the battle unfolded. Other trails include sometimes steep, wooded hikes to the river and a segment of the Potomac Heritage Trail. The park also includes one of the smallest National Military Cemeteries in America. Nearby Red Rock Wilderness Overlook also offers wooded hiking along a bluff and down to the Potomac River. Free.
Plan your visit: Ball's Bluff Battlefield Park: Hiking and History in Leesburg Virginia
12. George Washington Distillery and Gristmill, Mount Vernon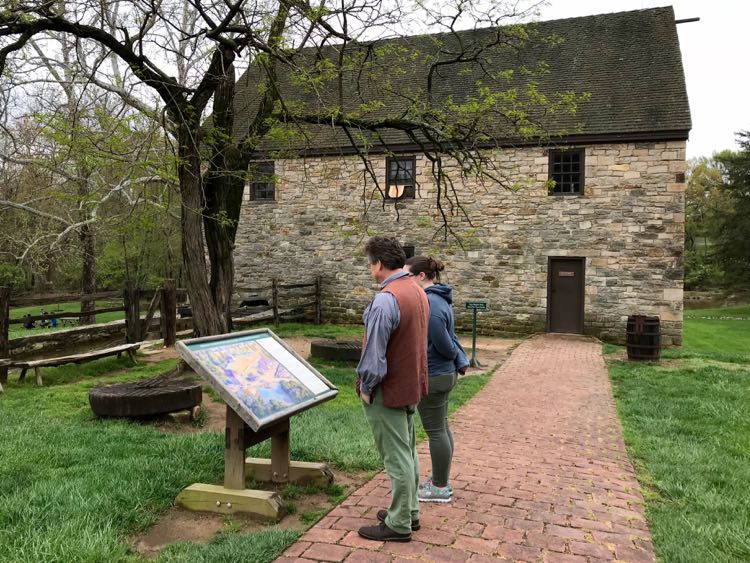 Step back in time for a close-up look at businesses built by George Washington in the 18th century. The George Washington Distillery and Gristmill faithfully recreate two of Washington's profitable businesses using period methods and materials. Today, the gristmill grinds wheat and corn just as Washington's workers and enslaved people did. Nearby, the only authentic 18th-century distillery in the United States creates fine whiskey, brandy, and other spirits using the arduous methods of Washington's time. The distillery and gristmill are open seasonally, from April 1 through October 31. Admission is $5.00, or you can purchase a ticket that also includes admission to George Washington's Mount Vernon.
Plan your trip: Visit George Washington's Distillery and Gristmill in Mount Vernon Virginia
13. Historic Downtown Clifton, Virginia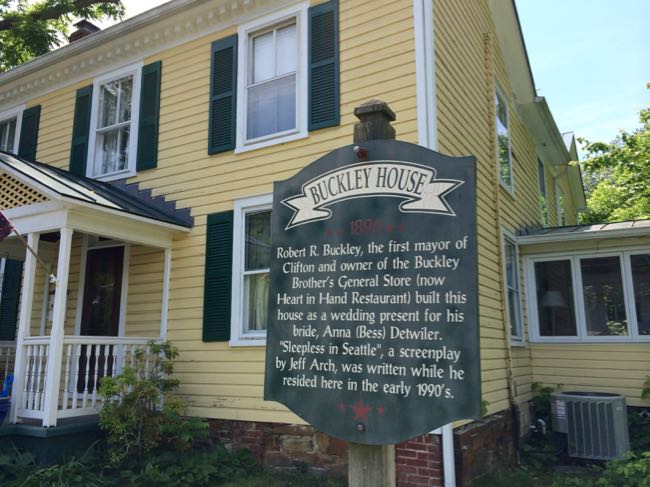 Clifton's compact downtown is a Northern Virginia hidden gem blessed with interesting and well-marked history. Clifton makes a perfect day trip, with several delicious restaurants, good hiking, and a winery to explore. The downtown is a National Historic District, and a stroll up Main Street leads to houses and businesses marked with signs offering interesting tidbits about the people who lived and worked in them. Free.
Plan a Clifton Virginia Day Trip: A Charming Small Town Near Washington DC
14. Gunston Hall, Mason Neck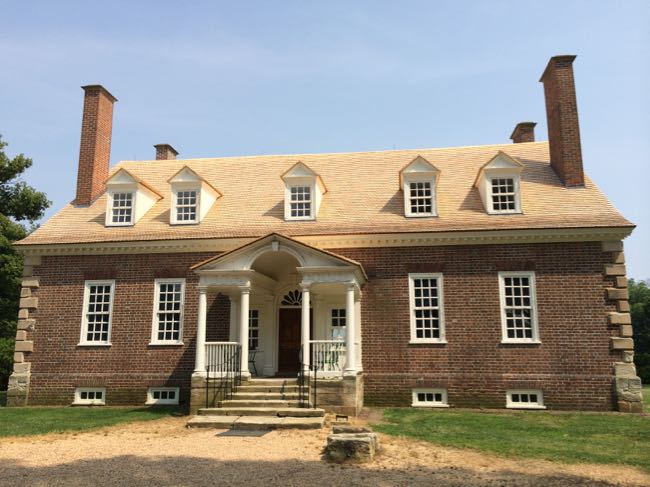 At Gunston Hall, the family home of George Mason IV, you can enjoy a guided tour of the mansion and reconstructed outbuildings, and explore 550 acres of grounds and hiking trails. As you explore the history and beauty of Gunston Hall, you'll learn about George Mason's lasting impact on Virginia and the very beginnings of our American democracy. Mason was among the first to call for such fundamental American liberties as religious tolerance and freedom of the press, ideals that became the foundation of the United States Bill of Rights. $10 with discounts for seniors and children.
Plan your visit with our guide to Beautiful History at Gunston Hall
15. Lake Anne Van Gogh Bridge, Reston
The Van Gogh Bridge is one of the most beautiful photoshoot locations in Northern Virginia. And this hidden gem is just one of several picturesque art installations at Reston's original village center, Lake Anne. The Lake Anne Plaza opened in 1966 to national acclaim and was even compared to Venice's Piazza San Marco by an architecture critic. Concrete artworks are built into the plaza and surrounding pathways and underpasses. This lovely bridge and a nearby swing offer pretty spots to enjoy the view and take pictures. Local Reston restaurants at Lake Anne include a brewery and a coffee shop/wine bar. Free.
Find this hidden photo spot with our guide: Van Gogh Bridge in Reston Virginia
16. National Museum of the Marine Corps, Triangle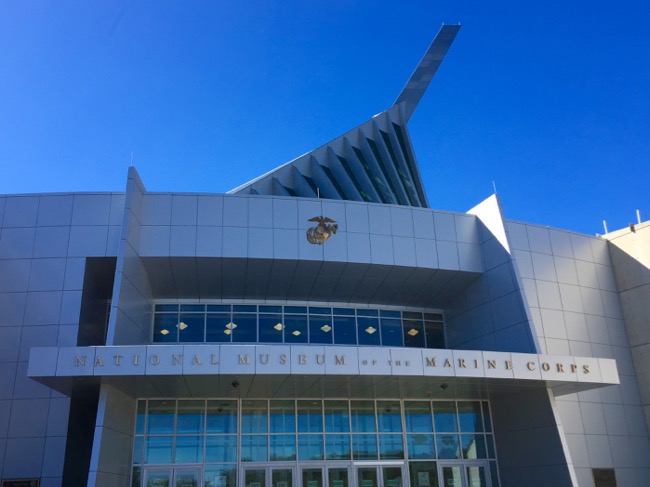 Anyone traveling busy route I-95 will notice a dramatic 210-foot stainless steel mast, angled to mimic the flag-raising on Iwo Jima, that soars from the National Museum of the Marine Corps. But too few locals stop to explore the excellent immersive displays and multi-media experiences that tell the story of the strength and heroism of the Marines Corp throughout history. Displays capture important moments of American history from the perspective of Marines who participated in them, from an assault on Iwo Jima by Higgins Boat, to a frozen mountain pass in Korea, to the aftermath of the battle in Vietnam. Free.
17. Pope-Leighey House, Alexandria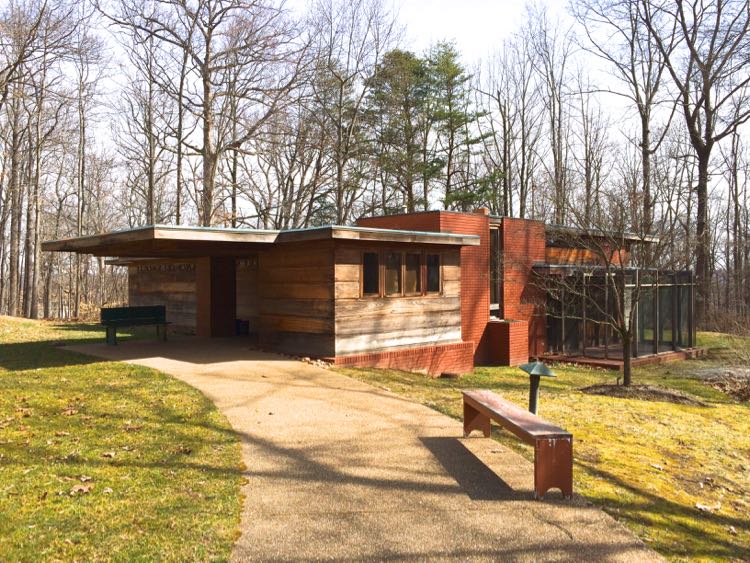 The Pope-Leighey House was designed by Frank Lloyd Wright, recognized by the American Institute of Architects as "the greatest American architect of all time," to encourage living in connection to, and harmony with, nature. Designed for middle-class family living, it reflects Wright's belief that garages, attics, and basements were unneeded structures that encourage excessive consumption and cluttered living. Guided tours explain how every design detail contributed to Wright's vision of happy family life. Open April to December, tours are $15, or $20 for a combined tour with Woodlawn Plantation.
Plan your visit: Pope-Leighey House Tour: Frank Lloyd Wright's Usonian Gem in Northern Virginia
18. Snickersville Turnpike, Aldie to Bluemont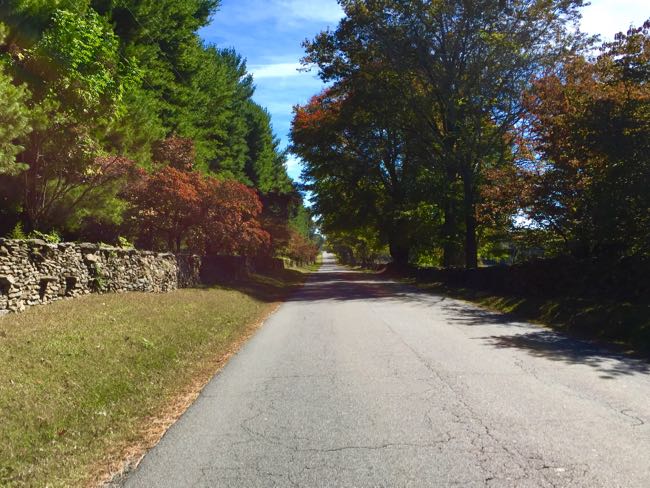 The Snickersville Turnpike (SR 734) is a quiet, two-lane road, that passes farms and fields, and preserves much of its early character. George Washington traveled the road as a surveyor, and by 1786 it was the first operating turnpike in America, praised by Thomas Jefferson as a success. A monument erected by survivors of the 1st Massachusetts Cavalry marks the site of one of the bloodiest cavalry battles of the Civil War. The Turnpike passes three general stores along the drive, including the Philomont General Store, which has been in continuous operation since 1913. Free.
Plan your trip with our guide: A Scenic Drive on the Snickersville Turnpike In Loudoun County Virginia
19. Stabler Leadbetter Apothecary, Alexandria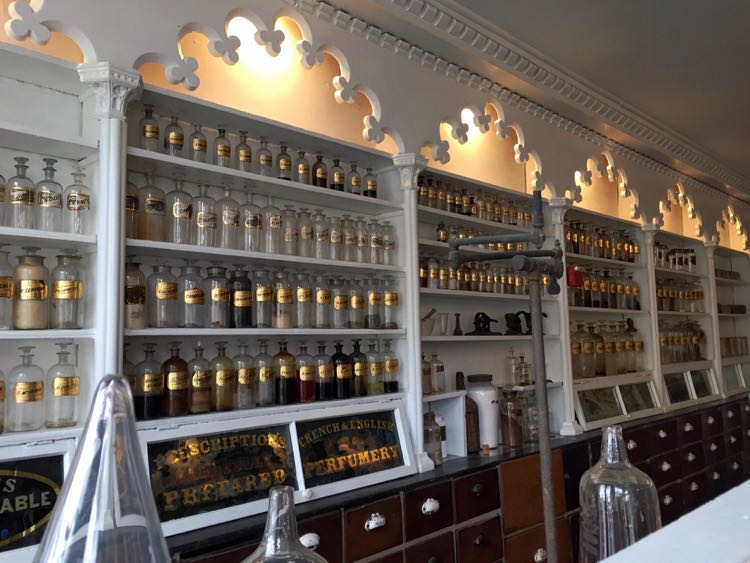 One of the most unusual Northern Virginia hidden gems is frozen in time—preserving and displaying it's original 1933 contents. The Stabler-Leadbetter Apothecary was frequented by Martha Washington and Robert E. Lee (or their servants) and everyday residents in the bustling port of Alexandria. Glass bottles line the shelves, filled with the same exotically named medicines and herbs they contained when the business abruptly closed. The glassware, the furnishings, the fabric, and even the contents of the containers-unicorn root, dragons blood, "worm destroying drops," and more—are all original. $5.
Explore more: Visit Stabler-Leadbetter Apothecary Museum in Old Town Alexandria VA
20. Occoquan Regional Park and Workhouse Arts Center, Lorton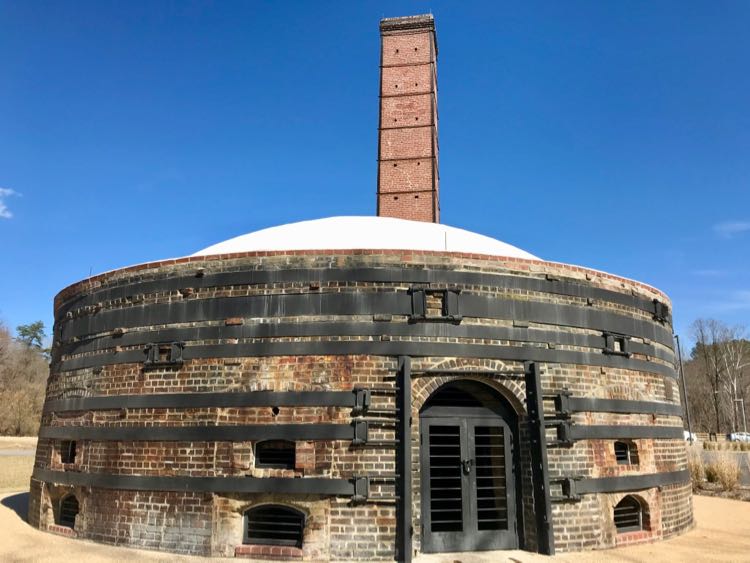 Occoquan Regional Park is a popular spot for boating and fishing along the Occoquan River. The area is part of the Captain John Smith Chesapeake National Historic Trail, explored by Smith in 1608. The park is also home to the last of nine Beehive Brick Kilns, used by prisoners from the former Occoquan Workhouse. Many of the red bricks produced here were used in public buildings throughout Washington DC.
This was also the site of a critical turning point in the long fight for women's right to vote. A future National Turning Point Suffragist Memorial is planned for 2020. Visit the nearby Workhouse Arts Center Lucy Burns Museum for a powerful introduction to the events at Occoquan that helped turn the tide and gain support for women's suffrage. Park and museum admission are free.
Plan your visit with our guides:
Our 20 picks for Northern Virginia hidden gems are great destinations for family time, a solo escape, or a DC day trip. If you're a local, keep the list handy for inspiration the next time you're looking for something to do near home. Please share your feedback and favorite Northern Virginia hidden gems in the comments below.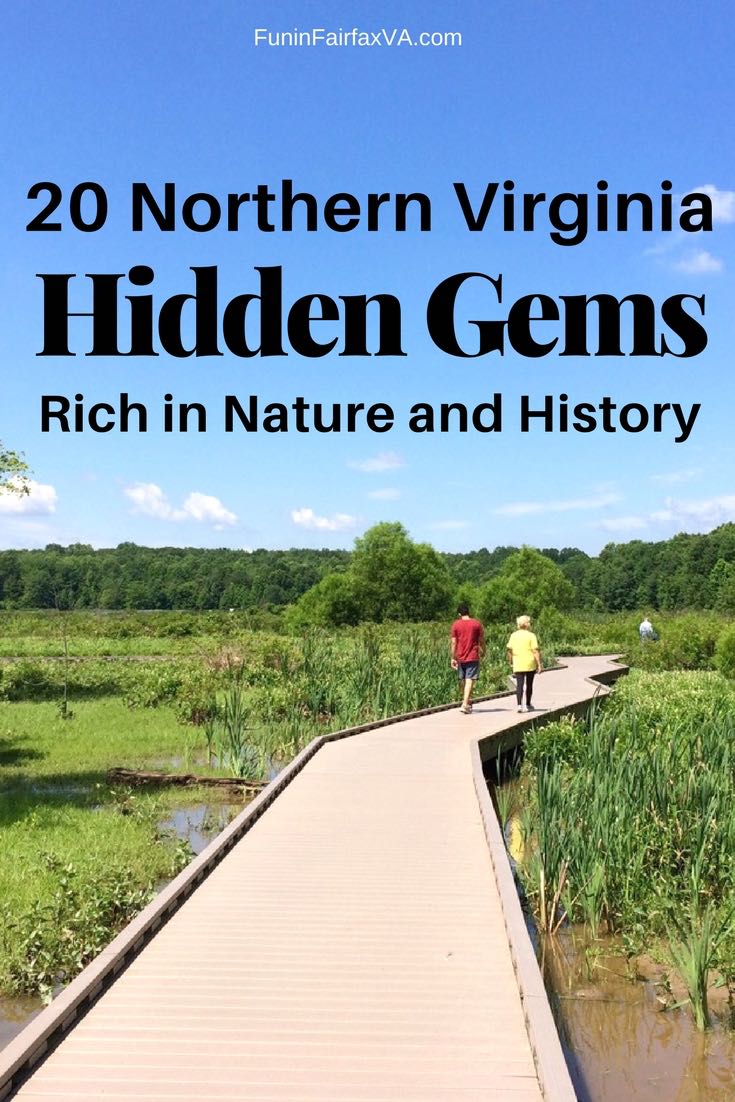 This article was published in 2017 and updated in 2019.