Take a scenic drive on historic Georgetown Pike and the George Washington Memorial Parkway for beautiful views, parks, and hiking along the Potomac River. There are plenty of scenic views and stops along this route, and both roads are very close to Washington DC.
This scenic drive includes two historic roadways. Georgetown Pike, aka State Route 193, is Virginia's first scenic byway. The George Washington Memorial Parkway is a commemorative road managed by the National Park Service.
The two roads offer a wonderful combination of nature and history that are easy to explore on a scenic drive near Washington DC. Both Georgetown Pike and the George Washington Memorial Parkway include beautiful scenery, interesting parks and hikes, and fascinating historic sites by the Potomac River.
Disclosure: This article may contain affiliate links. We will make a small commission from these links if you order something, at no additional cost to you.
If you prefer a shorter drive, skip the Parkway and take a very scenic drive through the town of Great Falls. The Great Falls scenic drive includes Georgetown Pike and all of the stops in the first section below.
Our scenic route below includes the full length of Georgetown Pike and the George Washington Memorial Parkway. Our route begins at the western end of Georgetown Pike, where it intersects with Route 7 in Great Falls, and ends at George Washington's Mount Vernon. See the maps, details, and photos below to learn about the route and plan your stops
Georgetown Pike Scenic Drive: Dranesville to McLean
Georgetown Pike is less than 12 miles long, but the road offers easy access to several of our favorite Fairfax County hikes. The old Georgetown Pike was built in the early 1800s with hand tools and horse-drawn equipment. In 1974, the road was designated as the first Virginia Byway, and it was named to the National Register of Historic Places.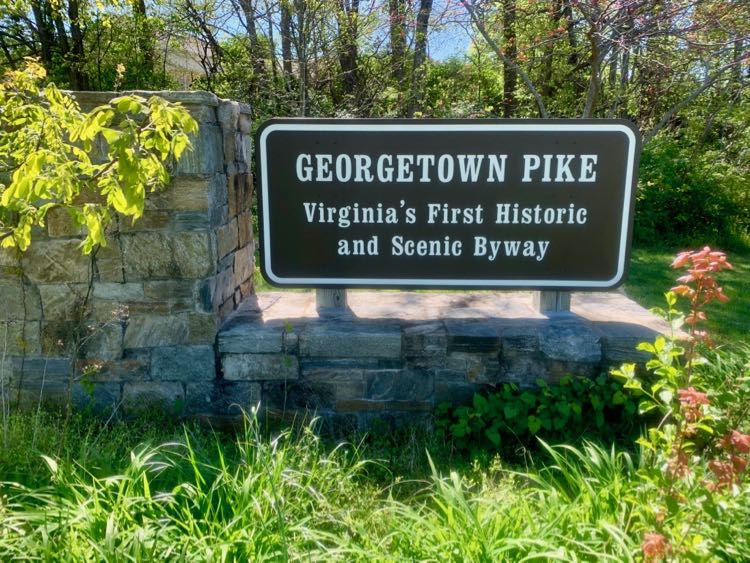 Most of Georgetown Pike is in the lovely town of Great Falls, where you can stop for a bite or a pint. Past the town center, the two-lane road passes extravagant homes and fields, then twists and turns as it skirts Great Falls Park.
Use this map to locate the Georgetown Pike places highlighted below.
If you want to explore more of the town of Great Falls, use our guide: Great Falls Scenic Drive on Pretty Country Roads in Northern Virginia. Great Falls is a beautiful small Northern Virginia town, and we recommend the longer route if you have time.
Things to Do from Georgetown Pike (State Road 193)
Stop at Krops Crops for farm-stand favorites. If you're driving in October you can take a hay wagon ride to the seasonal pumpkin patch. During late November and December, the stand sells pre-cut Christmas trees and has a cut-your-own field.
Stop for lunch or a treat in downtown Great Falls. The Old Brogue is one of our favorite pubs in Northern Virginia, and you can enjoy the patio if the weather is nice enough for outdoor dining. We're also fans of the delicious Indian food at Bombay Bistro. If you prefer a treat, opt for a generous scoop of homemade ice cream at Great Falls Creamery.
The town hosts a year-round Farmer's Market on Sundays, along with outdoor concerts on the town green in summer.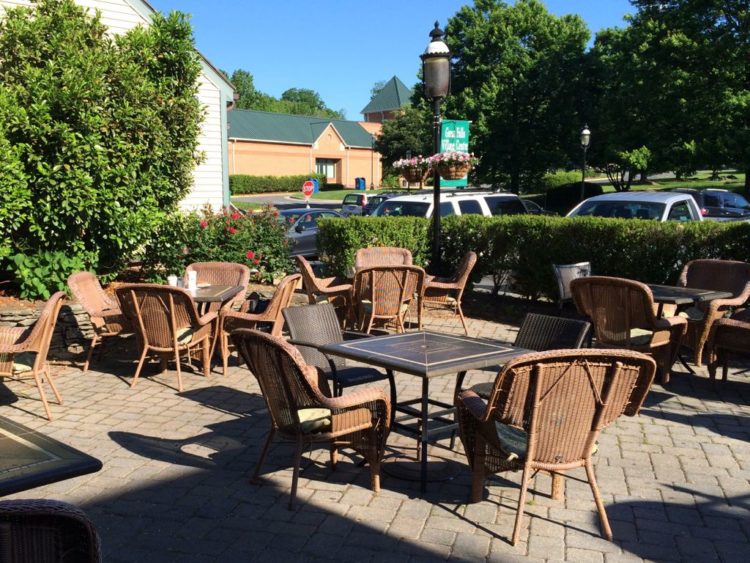 If you have young kids in your group, visit the excellent playground next to the Great Falls Grange. Here you will find a shady park and two sets of equipment for ages 3-5 and 5-12, along with swings, picnic tables, and a sports field.
During cherry blossoms season, keep an eye out for the beautiful trees at the entry to Ad Hoc Road, on your left, You'll also see flowering trees and gardens in the yards of stately homes lining the road.
Turn left on River Bend Road for a short side-trip to Riverbend Park and one of the best nature trails in Northern Virginia. At Riverbend Park,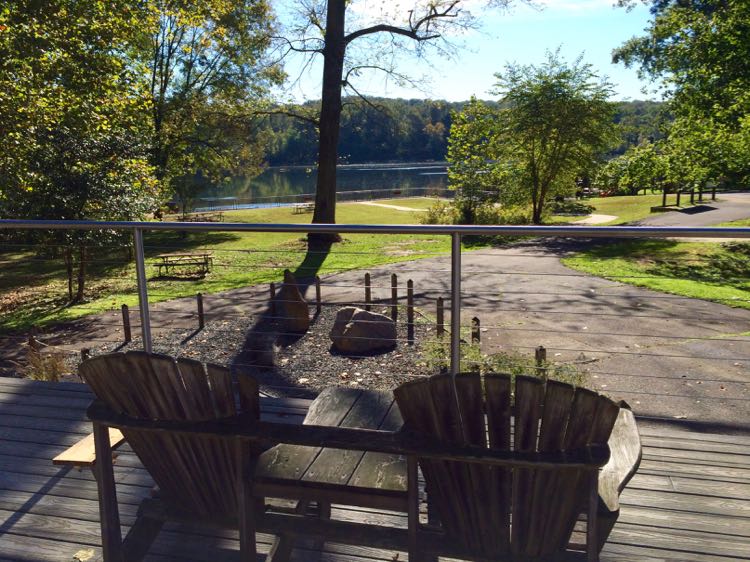 Further east on Georgetown Pike is the entrance to Great Falls Park, one of the most popular day trip destinations in the DC region. Dramatic waterfall views are easy to reach from the Visitor Center, and two falls overlooks are wheelchair accessible. Hike the River Trail to enjoy more spectacular views of Mather Gorge and the Potomac River.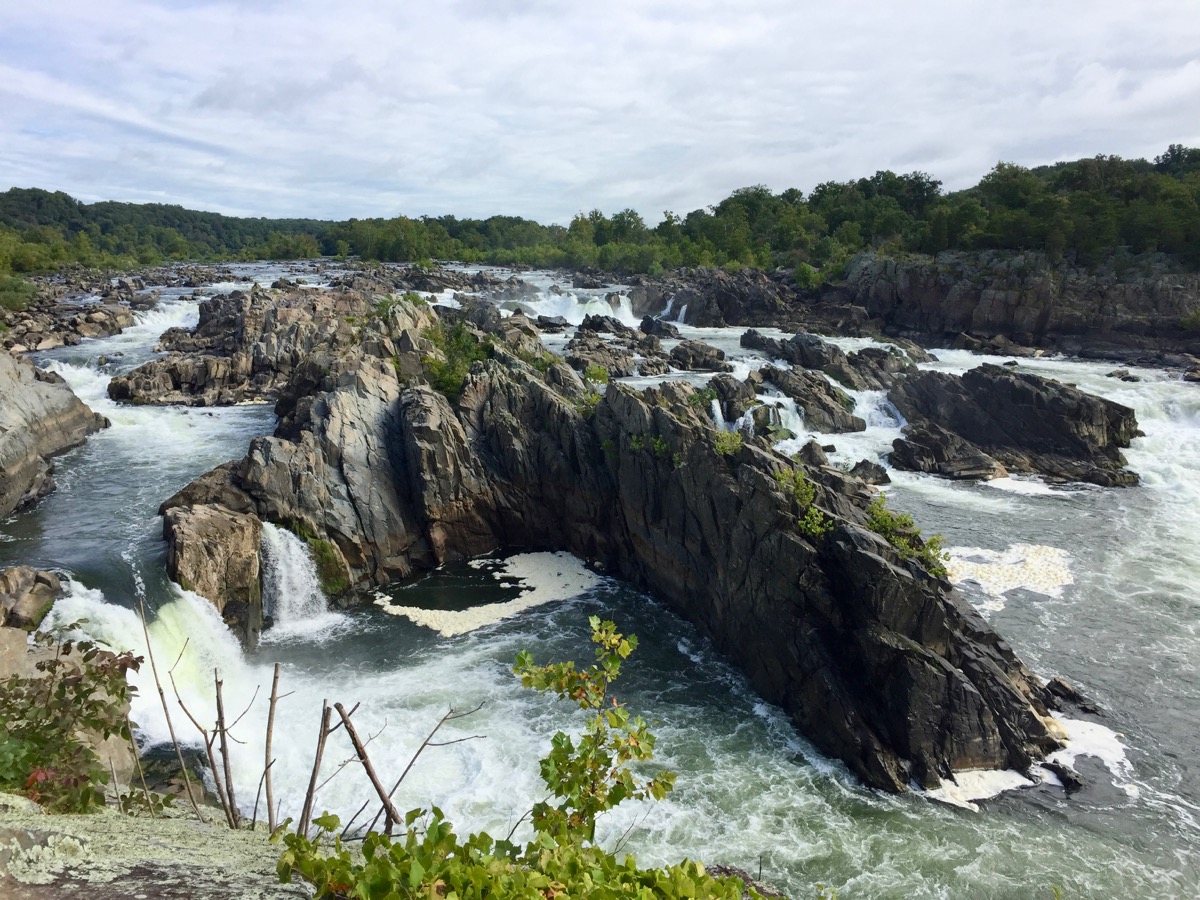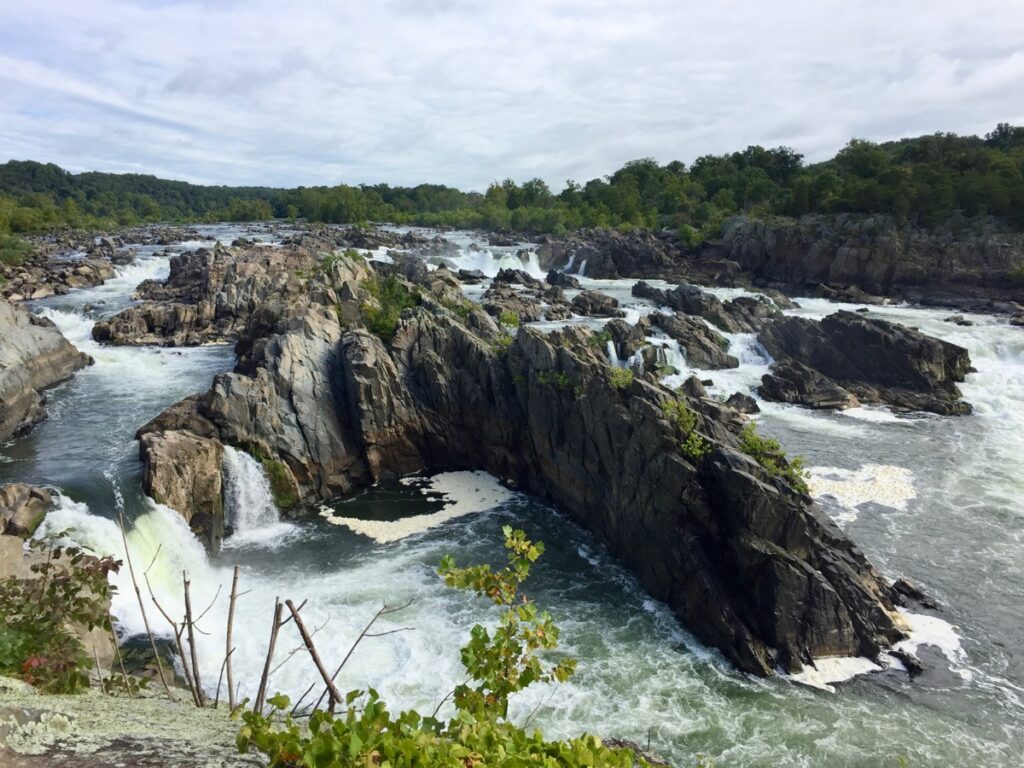 East of the park, Georgetown Pike is narrow and winding, so use caution and watch out for cyclists. Fall foliage can be especially nice on this stretch of your scenic drive.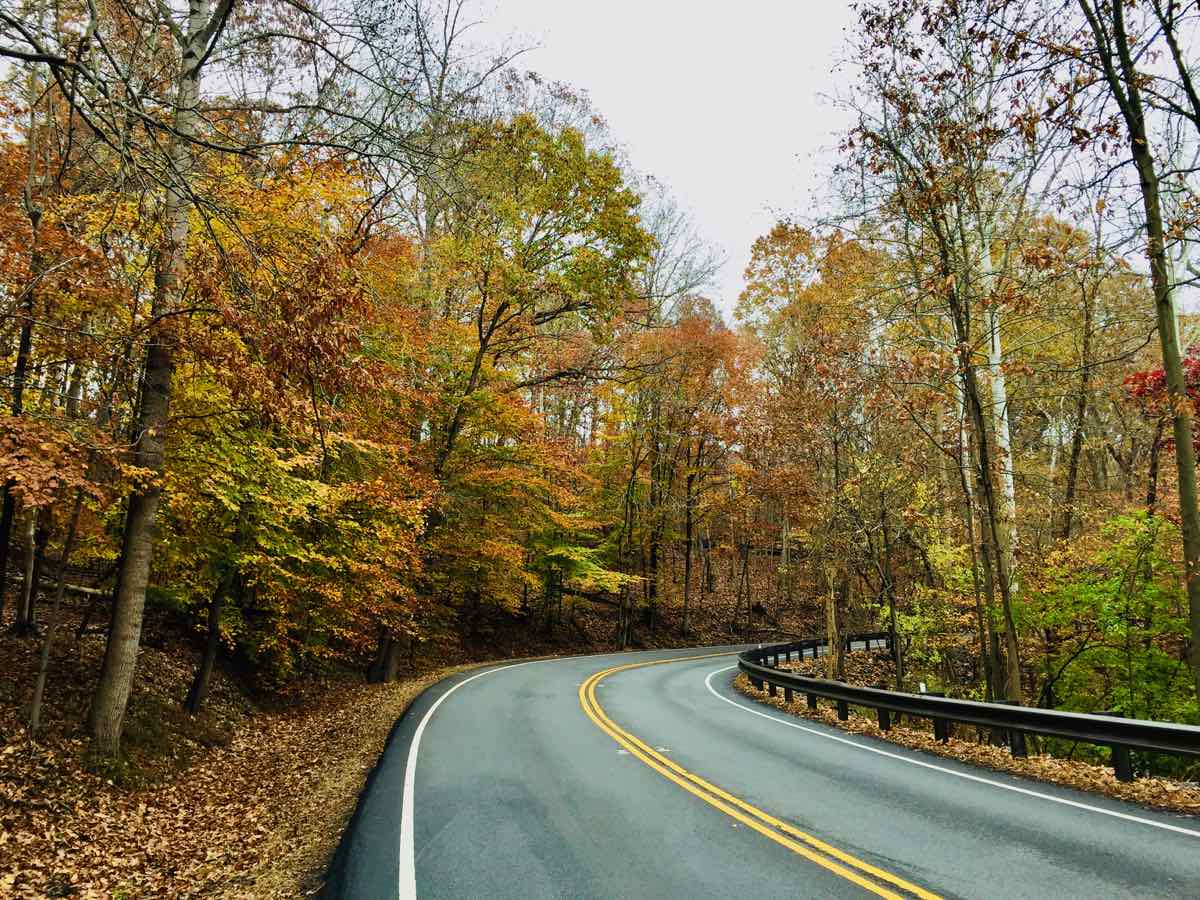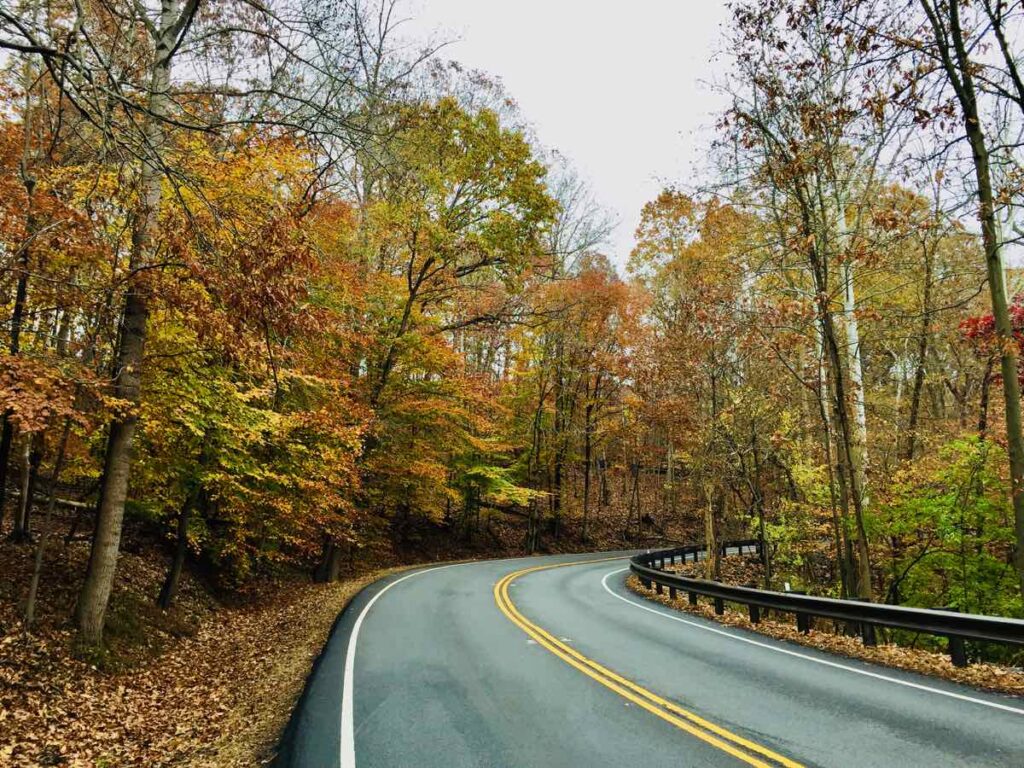 Explore a less-visited section of Great Falls Park on a hike from the Difficult Run Parking Area. The first part of the trail is level and an easy walk, but the climb to the ridge is very steep. This trail next to Difficult Run is the northernmost section of the Fairfax Cross County Trail, a 40-mile pathway through Fairfax County.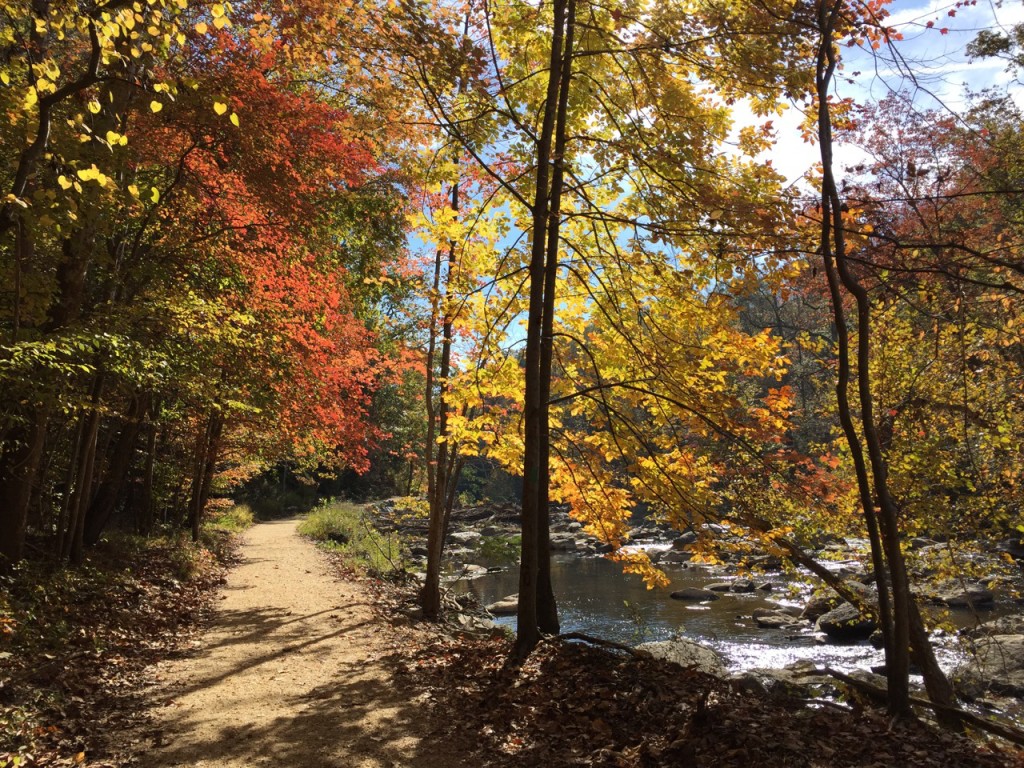 There is one more nice hiking area, with two parking lots, on Georgetown Pike. At Scott's Run Nature Preserve, you can take a one-mile hike to a waterfall, or take a longer loop hike through the woods.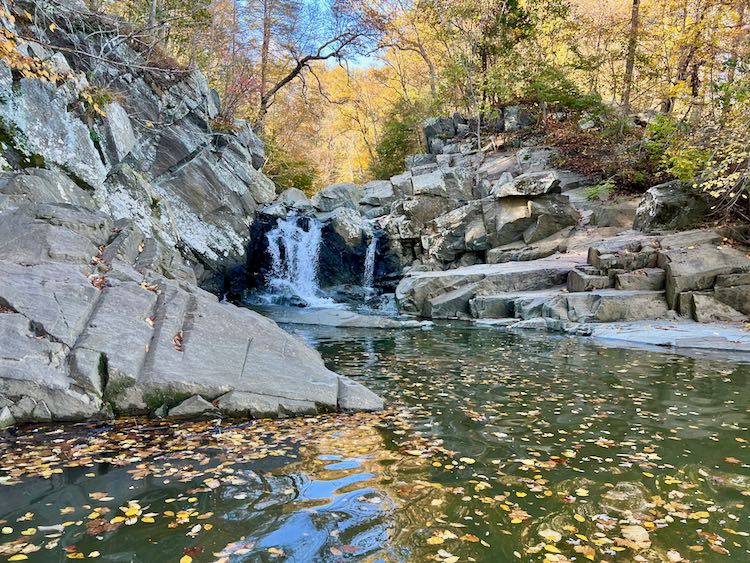 Georgetown Pike Highlights
As described above, these are fun places to visit from Georgetown Pike:
Visit the farm stand and pumpkin patch at Krop's Crops.
Stop in Great Falls center for a meal or drink at The Old Brogue, Bollywood Bistro, or another Great Falls restaurant.
If you have kids along, play at the Great Falls Grange playground.
Make a short side-trip to Riverbend Park for an easy hike by the Potomac River.
Stop at Great Falls Park for waterfall views and a hike along Mather Gorge.
Take a stroll along Difficult Run and hike to a less-visited section of Great Falls.
Hike to a pretty waterfall at Scott's Run Nature Preserve.
George Washington Memorial Parkway: Langley to Mount Vernon
To transition from the scenic state road to a national roadway, head northbound on Route 495, then take the first exit onto the George Washington Memorial Parkway. The GW Parkway was designed to link sites that commemorate important episodes in American history, and to preserve habitat for local wildlife.
The national parkway was originally conceived as a route along the Potomac River's edge from Arlington to Mount Vernon. In 1929, Congress authorized its extension to include Great Falls Park, which is managed by the National Park Service.
Discover more Top 10 Must-Visit Northern Virginia Attractions Near DC.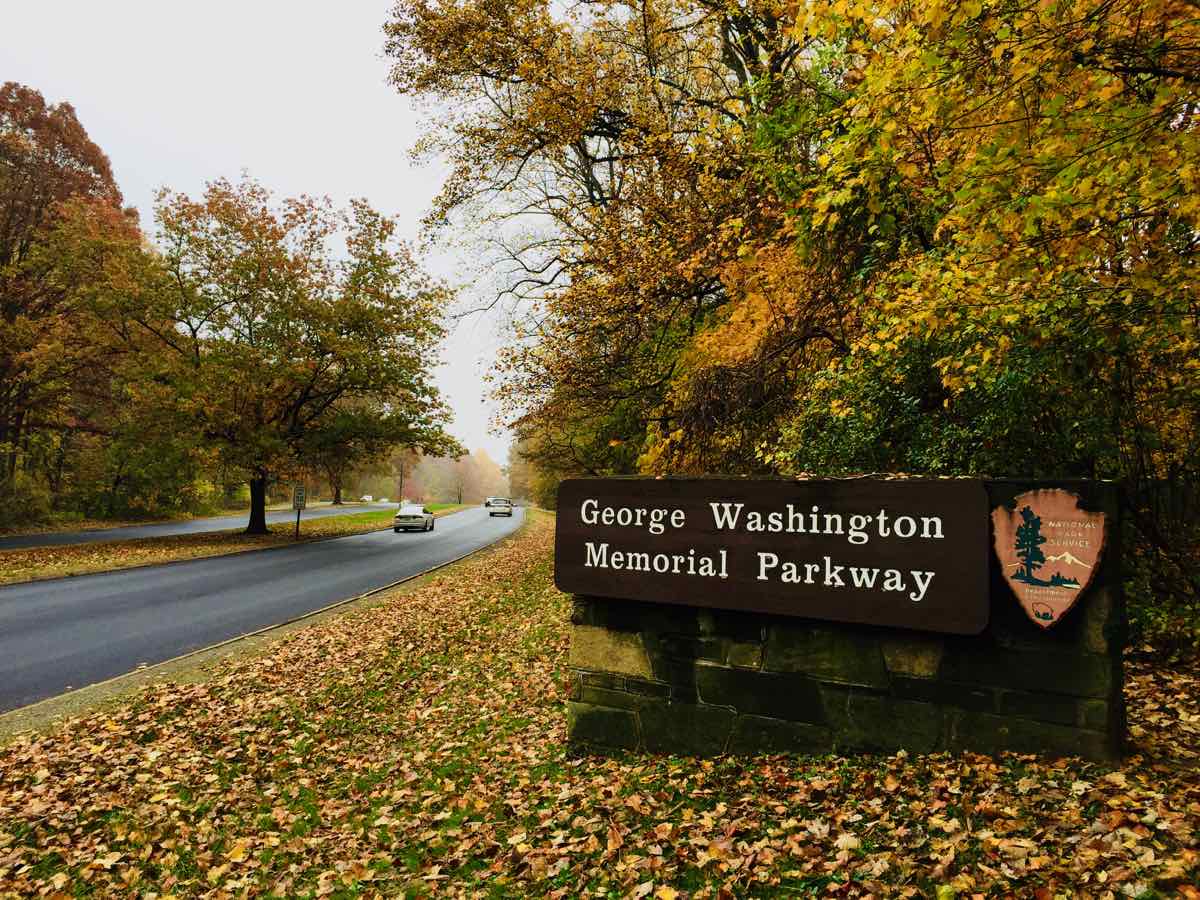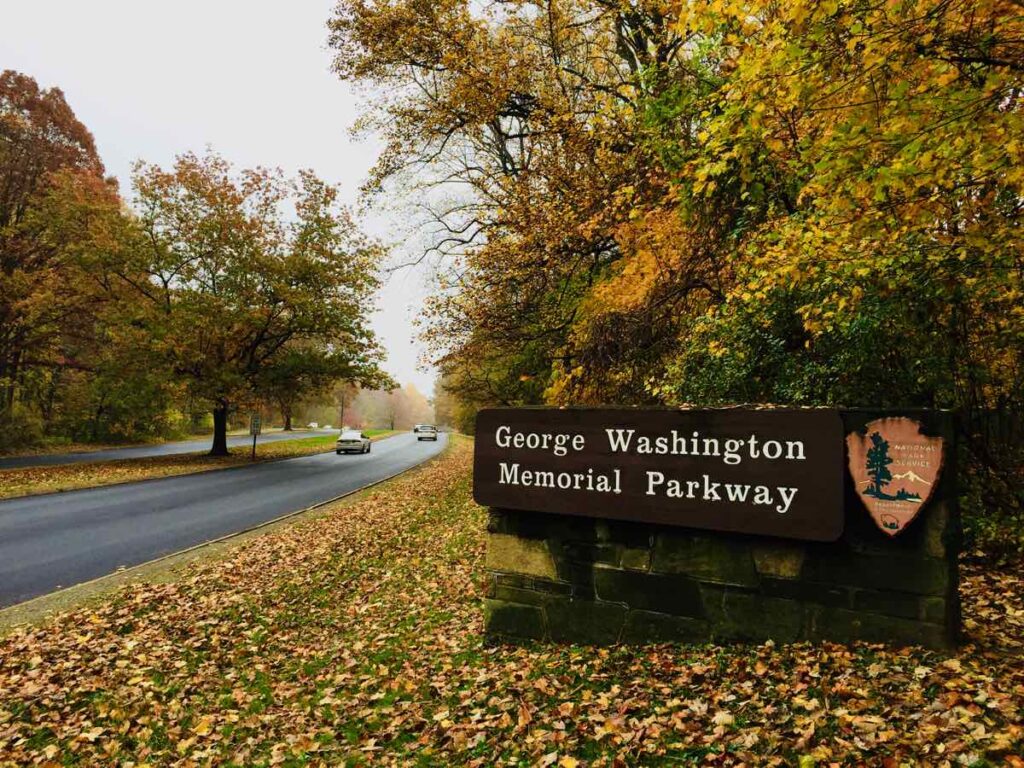 Today, the roadway offers panoramic views and easy access to some of the most important historic destinations in the DC area. In the northern section, overlooks offer views of the Potomac River. Further south, you'll have glimpses of the monuments of DC across the river.
There are so many stops on the 25-mile parkway that you'll need multiple trips to visit them all. And you should really allow a separate day to visit the gem at the end of the parkway, George Washington's Mount Vernon.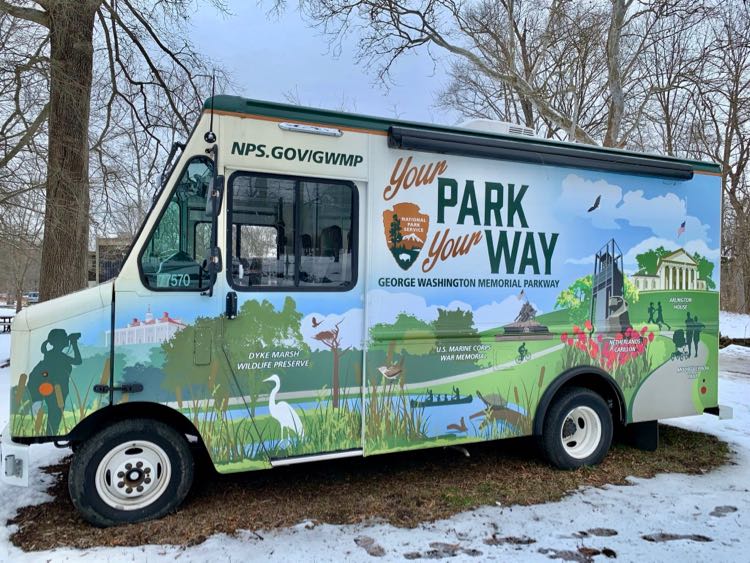 Use this map to locate the destinations listed below. NOTE: You'll have to do some backtracking to reach Theodore Roosevelt Island because it is only accessible from northbound lanes. To simplify your route, eliminate that stop.
Things to Do From George Washington Memorial Parkway:
Enjoy a picnic or a short hike by the Potomac at Turkey Run Park. This park isn't as scenic as the ones listed above, but it's a good alternative to the crowds at Great Falls. The hike down to the river is steep and can be muddy after spring rains.
Hike the pretty boardwalk trail and visit the Memorial Plaza at Theodore Roosevelt Island (head northbound to access the parking lot). The island is actually in DC, but you can only reach it from a footbridge in Arlington Virginia. The plaza is pretty during warmer months when fountains and a decorative moat are filled with water.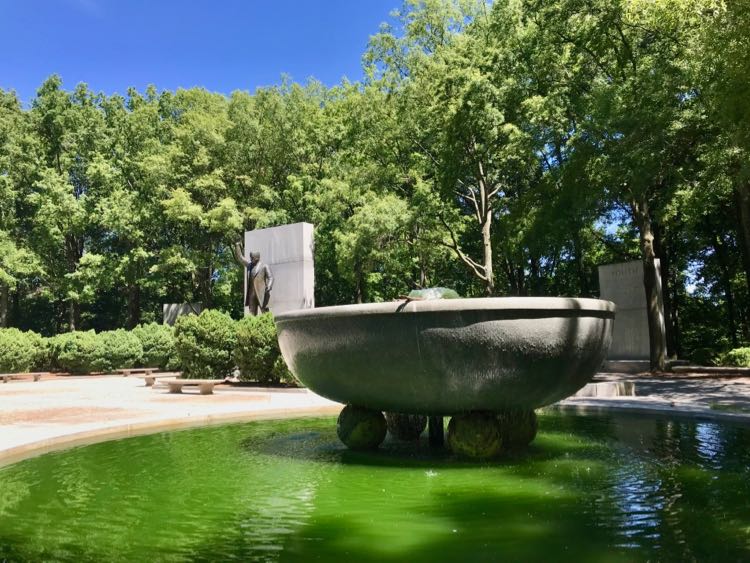 The footbridge parking lot is also the starting point for a short, easy hike to a small waterfall at Windy Run. This is also the northern end of the paved Mountain Vernon Trail, one of the most popular bike trails in the area.
The US Marine Corps War Memorial captures the iconic raising of the US flag on Iwo Jima. The park and the nearby Netherlands Carillon offer excellent views of Washington DC.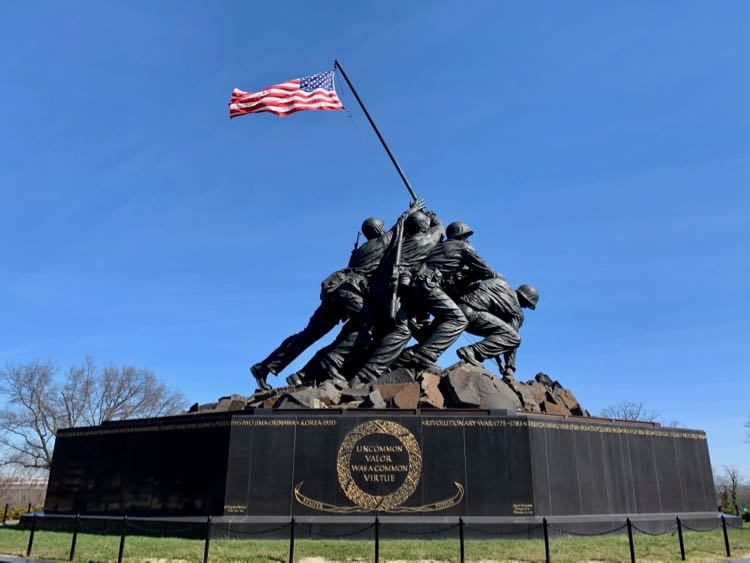 Allow at least an hour, preferably more, to honor fallen heroes at Arlington National Cemetery. Narrated bus tours take visitors to important stops including the Tomb of the Unknown Soldier, where you can watch the changing of the guard. If time allows, we suggest a slower walk through these hallowed grounds.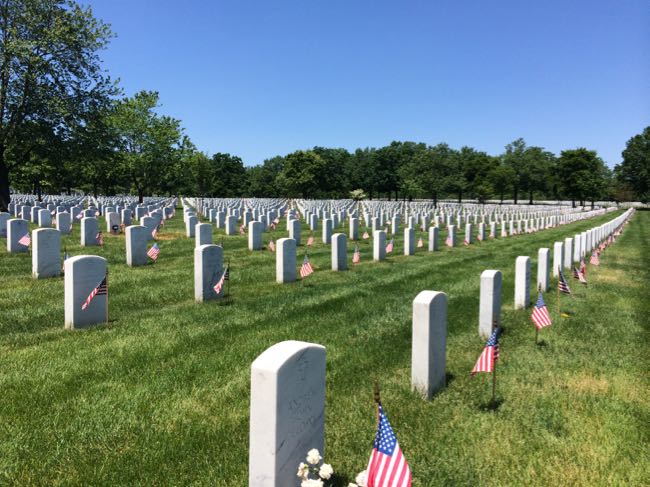 Stop at Lady Bird Johnson Park for a short, relaxing stroll or picnic. The park, formerly called Columbia Island, honors the first lady's dedication to preserving America's natural beauty. The park includes lovely plantings, picnic tables, and good views of the Washington Monument across the river. Daffodils and tulips fill the garden in spring. Cross the footbridge to learn about the interesting history of the island.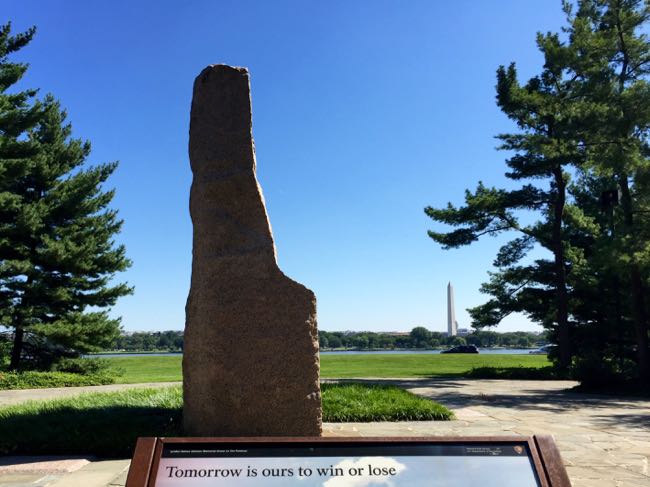 As you drive south you'll have a good view of the Pentagon and National Airport from the parkway. The road becomes busier and a bit more confusing as you navigate through a few blocks of Alexandria. You can easily spend a day (or longer) dining, shopping, and visiting historic sites in Old Town Alexandria. including a very unique pharmacy
Jones Point Park is another interesting stop in Alexandria, under the Woodrow Wilson Bridge. The park marks Washington DC's southern corner and includes a playground, walking trail, and historic lighthouse. Look for the stone marker where the boundaries of DC, Maryland, and Virginia meet.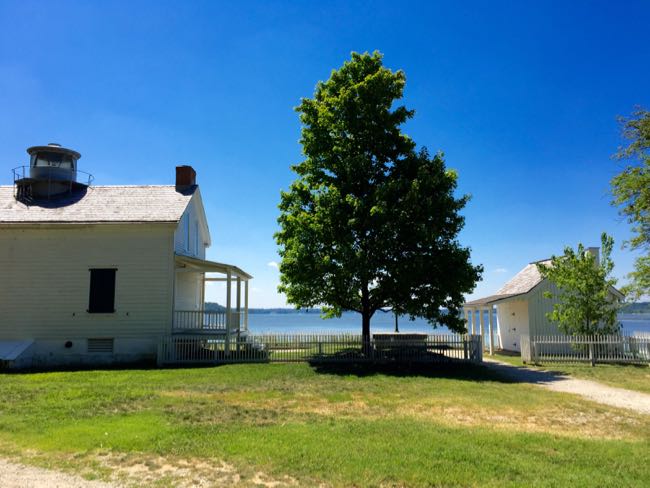 Further south, Belle Haven Park has a large parking area with access to a pretty section of the Mount Vernon bike trail. You can also hike and bird watch at Dyke Marsh, a partially restored wetland with a nice boardwalk and Potomac River views.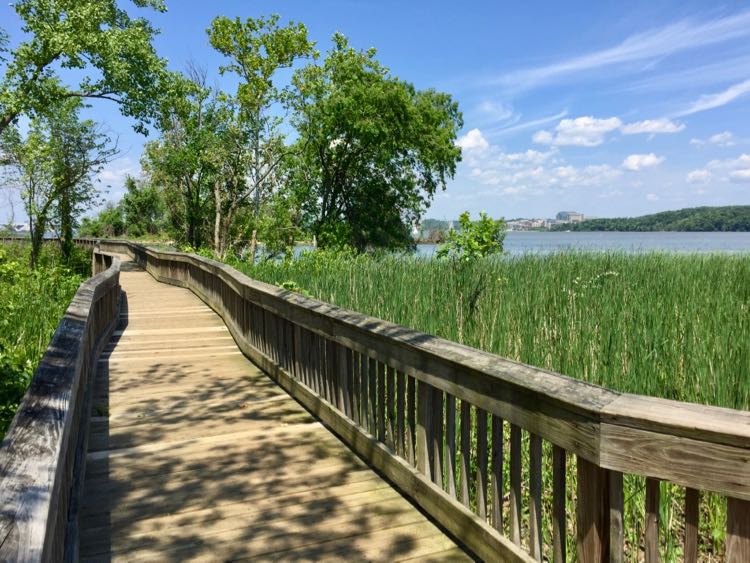 Garden lovers should definitely include River Farm in your George Washington Memorial Parkway scenic drive. The farm, once part of George Washington's huge estate, is now the headquarters of the American Horticultural Society. Here, you can enjoy various formal and natural gardens, including a wonderful children's garden.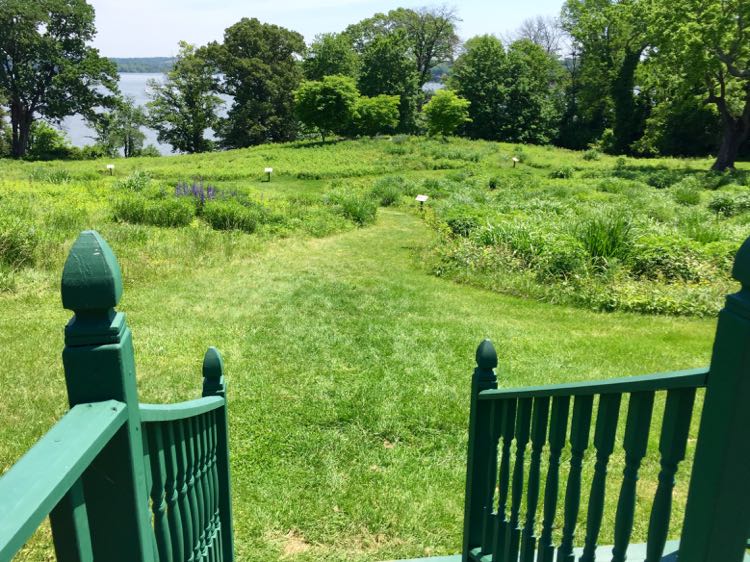 As you drive south, you'll see several parking areas that front the Potomac River. We watched a beautiful sunset over the Potomac at Riverside Park, and this is also a good place to access the Mount Vernon Trail.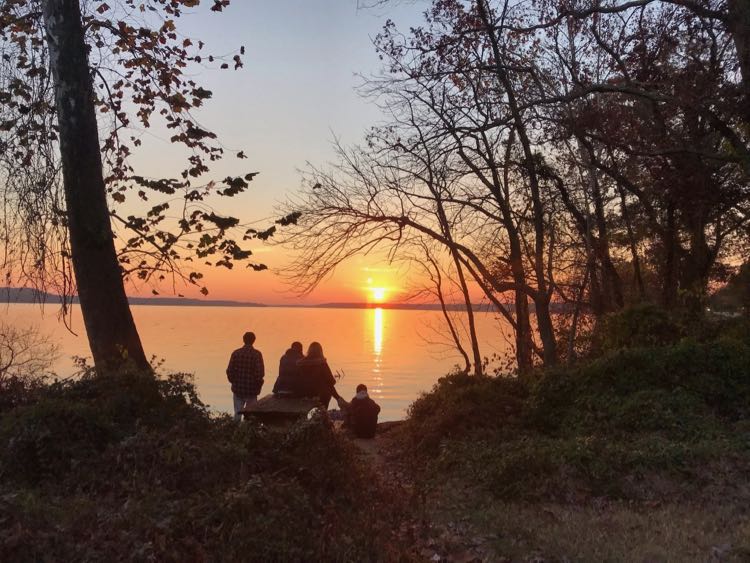 The George Washington Memorial Parkway ends at Mount Vernon, George Washington's beloved home. Allow at least a few hours to tour the mansion, grounds, and education center. Don't miss the interactive Be Washington exhibit.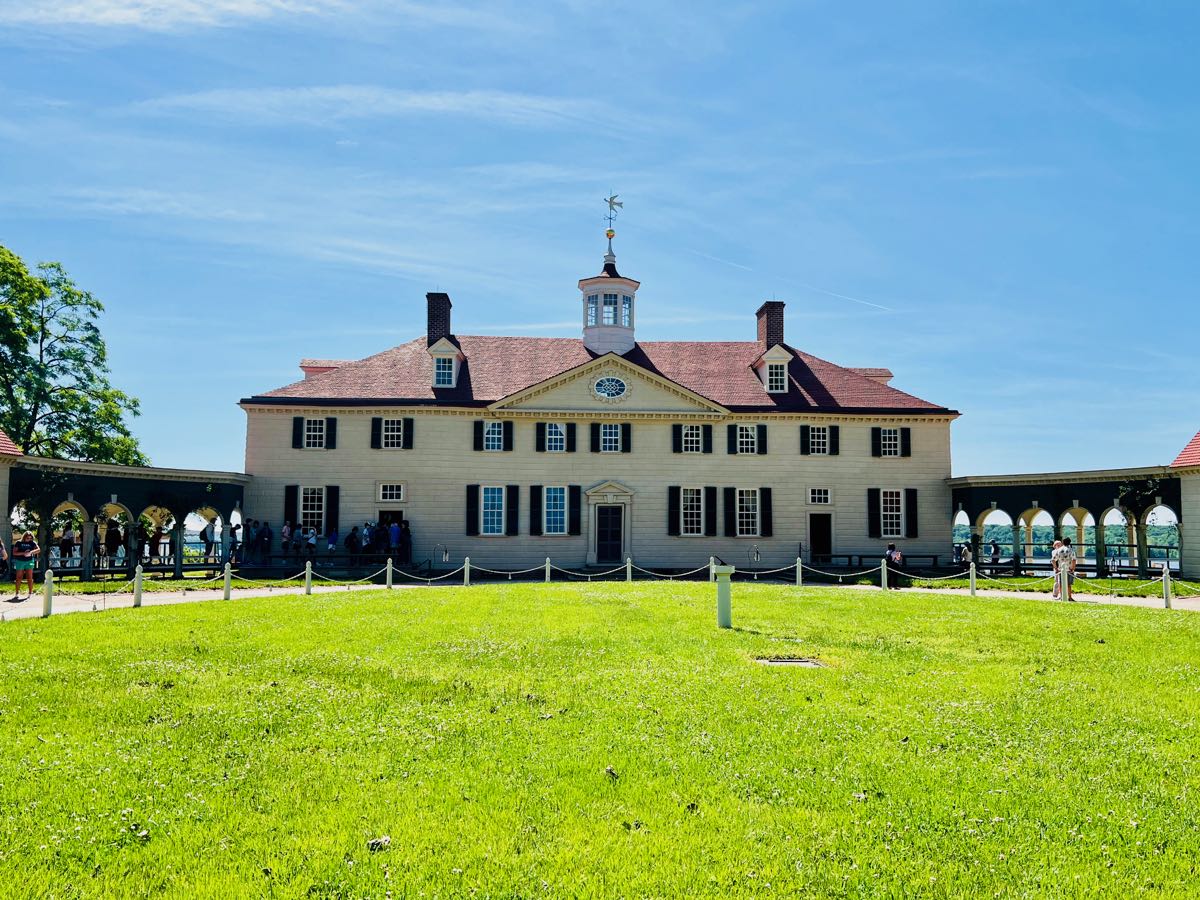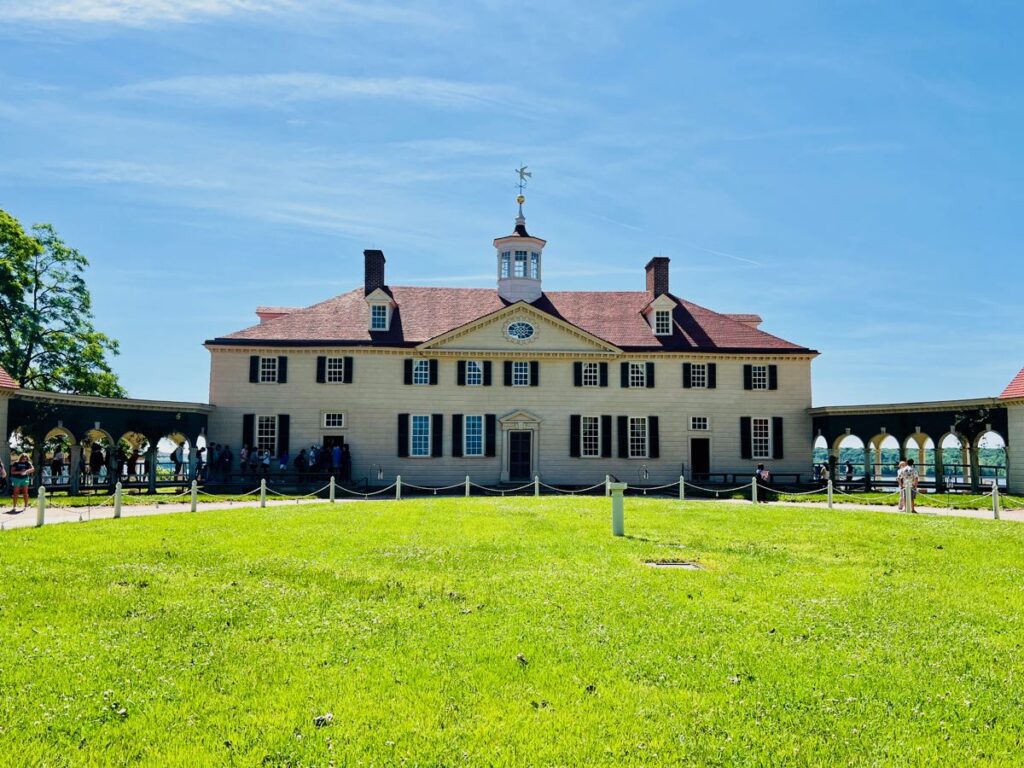 George Washington Memorial Parkway Highlights
As described above, these are places to visit from the GW Parkway:
How many of the parks and hikes have you tackled on these scenic and historic Virginia roads? Plan more fun outings with our guide: Fantastic Northern Virginia Scenic Drives.
Follow us on Facebook, Twitter, Pinterest, and Instagram for more fun travel in and from Northern Virginia.