A Winchester Virginia getaway or day trip offers tasty dining and craft beer, beautiful scenery, interesting history, and unique fun for every age. Old Town Winchester's walkable pedestrian mall is lined with restaurants, shops, historic architecture, museums, breweries, and more. Within a few blocks are more fun and fascinating Winchester places to explore.
The Winchester Virginia getaway fun extends beyond the downtown. Nearby farms, small country roads, and trails are perfect for scenic exploring. Winchester is less than two hours from Washington DC, so it's ideal for a last-minute day trip. But we highly recommend a longer visit to enjoy everything the area has to offer.
Start at the Winchester Frederick County Visitors Center to pick up information and learn a little about the area. You'll find self-guided walking tour maps, along with information about guided tours and other special events. Next, head to Old Town Winchester and start exploring.
Disclosure: This article may contain affiliate links. We will make a small commission from these links if you order something, at no additional cost to you.
Explore more: 15 Fun Northern Virginia Small Towns to Visit Now.
Old Town Winchester Activities and Places to Visit
The historic downtown is the perfect place to start your Winchester Virginia getaway or day trip. The walkable downtown is packed with great restaurants and shops combined with interesting history and beautiful architecture. Here are the must-visit downtown Winchester spots.
Old Town Pedestrian Mall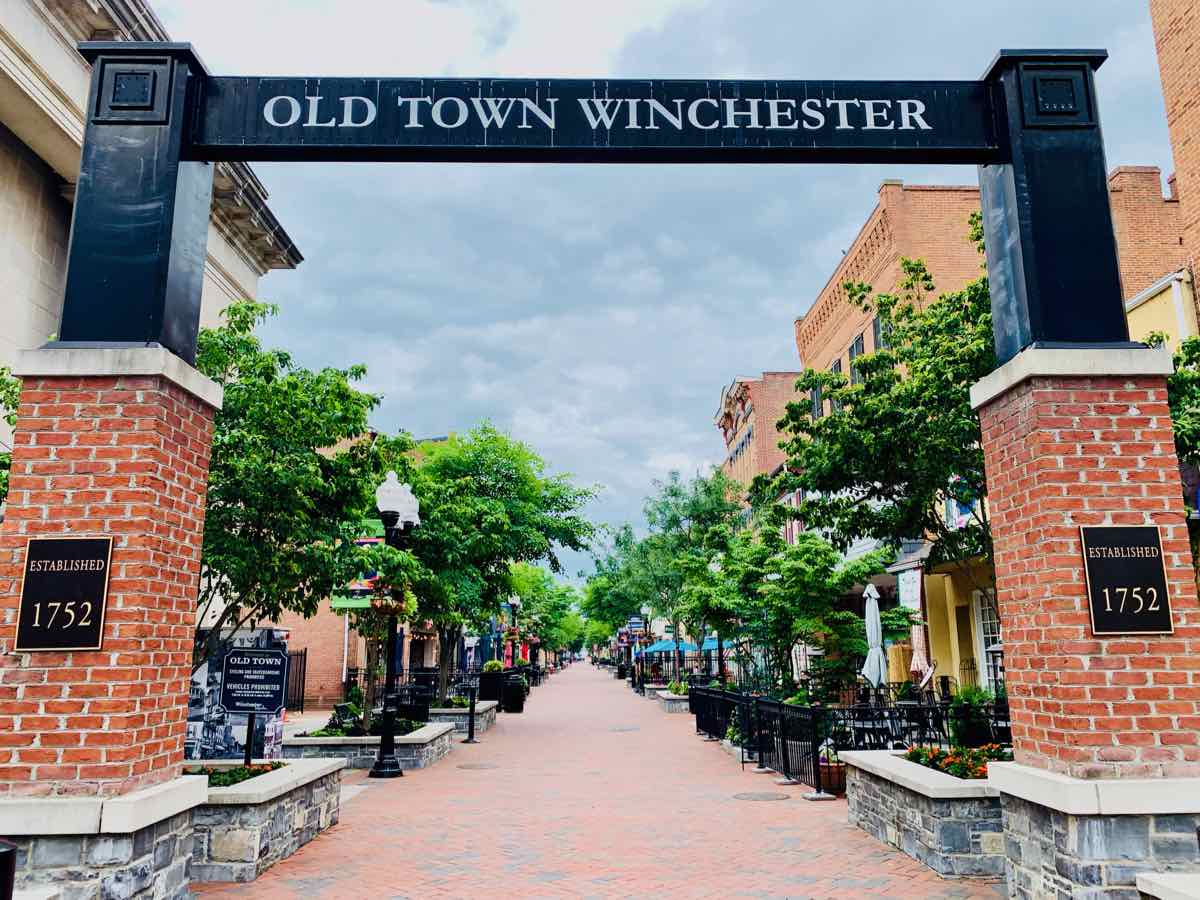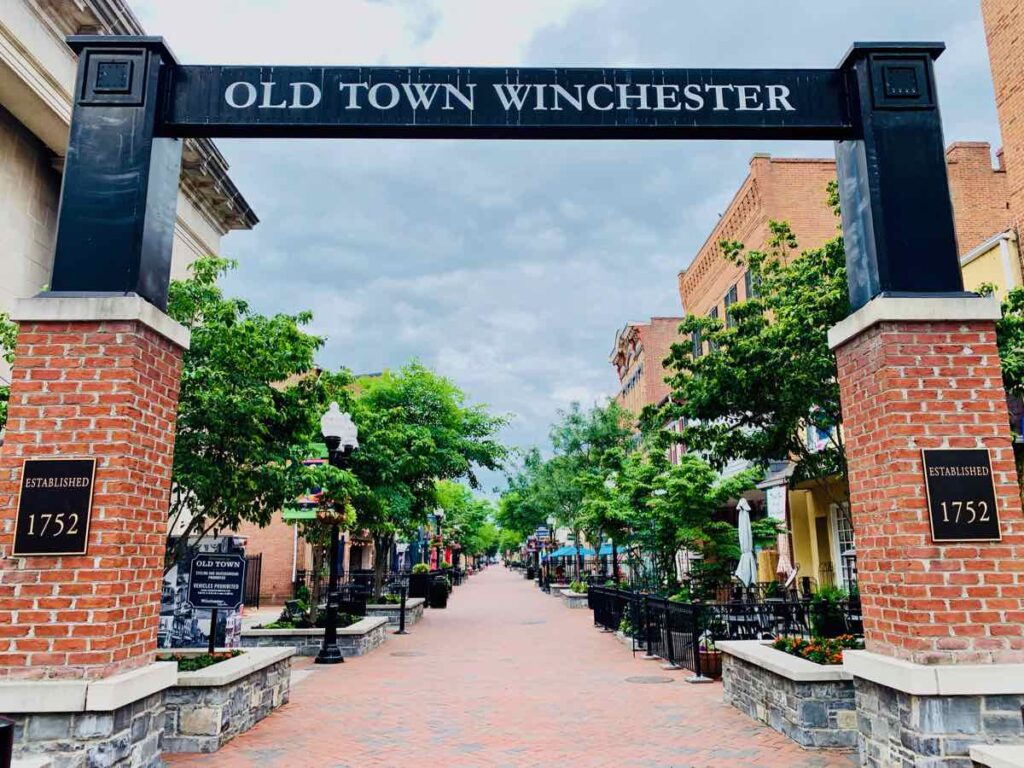 You could spend several hours wandering through Winchester's Loudoun Street Pedestrian Mall. The brick-clad street boasts restaurants and shops, plus a Civil War museum, and other historic buildings.
At the southern end, kids can play in a splash pad during the warmer months. The mall hosts special events throughout the year including a summer Farmer's Market and seasonal activities. The Apple Blossom Festival, which starts in late April, is a popular 10-day celebration of spring.
Shenandoah Valley Discovery Museum
The Shenandoah Valley Discovery Museum is definitely one of the best things to do in Winchester with kids. Here kids can play as they learn on four levels of interactive exhibits Plus, there are plenty of hands-on activities at the museum for kids and parents to try together. Don't miss the pretty views from the rooftop level!
George Washington Office Museum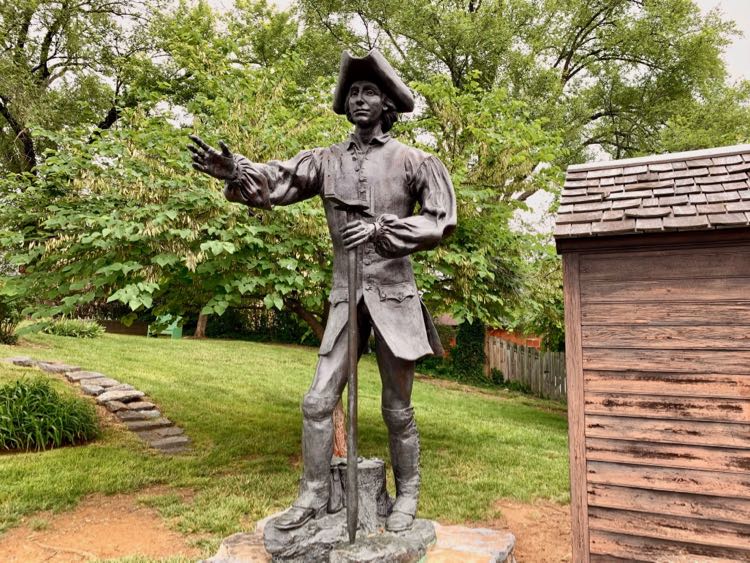 Founded in the 1730s, Winchester is the oldest town in the Shenandoah Valley. George Washington developed his reputation and skill as a commander while living and working in the area. Visit George Washington's Office Museum to learn about his time here as he planned and oversaw the construction of Fort Loudoun.
Interestingly, though Washington spent many important years of his life in town, he was not pleased to be in Winchester and referred to it as "this vile post."
Shenandoah Valley Civil War Museum
Winchester changed hands 72 times during the Civil War, more than any other U.S. town. Today, that history is preserved and interpreted at several area sites. The Shenandoah Valley Civil War Museum is located on the pedestrian mall. It occupies a courthouse that was used as a hospital and prison during the Civil War. Nearby, Stonewall Jackson's Headquarters is preserved as a museum.
More Historic Sites in Downtown Winchester
There are several more historic sites in the downtown Winchester area, not far from the pedestrian mall.
Handley Library
A block from the mall is one of the finest Beaux-Arts buildings in the area, the Handley Regional Library. The library is named for Judge John Handley, whose will allocated money "to build a library" for the free use of the people of the city of Winchester forever."
The beautiful exterior was designed to suggest an open book. The rotunda forms the spine and two wings are the book's covers.
Climb the pretty curving stairwell inside for a closer look at the stained-glass rotunda.
Mount Hebron Cemetery
Gravestones in the Mount Hebron Cemetery date to the 1760s. Four separate burying grounds share a common entryway and enclosure. In one section, the remains of a Lutheran Church are surrounded by graves from the late 18th century. The nearby labyrinth offers a place for quiet reflection.
The Stonewall Confederate Cemetery was dedicated shortly after the Civil War in 1866. It is the resting place of 2,576 Confederate soldiers who died in the area.
Patsy Cline Historic House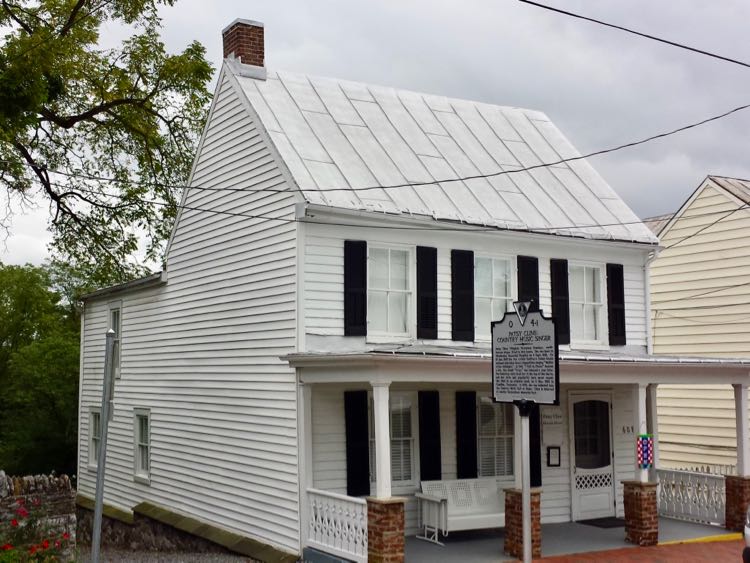 Explore musical history at the Patsy Cline Historic House, half a mile from the mall. The country music legend, Patsy Cline, lived in the modest Winchester home from the age of 16 to 21. Tour the modest home and learn about Patsy's rise to country music fame and her tragically short career.
After your visit, head to Shenandoah Memorial Park (4 miles away) to pay your respects at Patsy Cline's gravesite. It is tradition to leave a penny on the gravestone for good luck. Fans can also enjoy a day of fun and music at the annual Patsy Cline Block Party, one of the fun September events in Northern VA.
Historic Downtown Winchester Architecture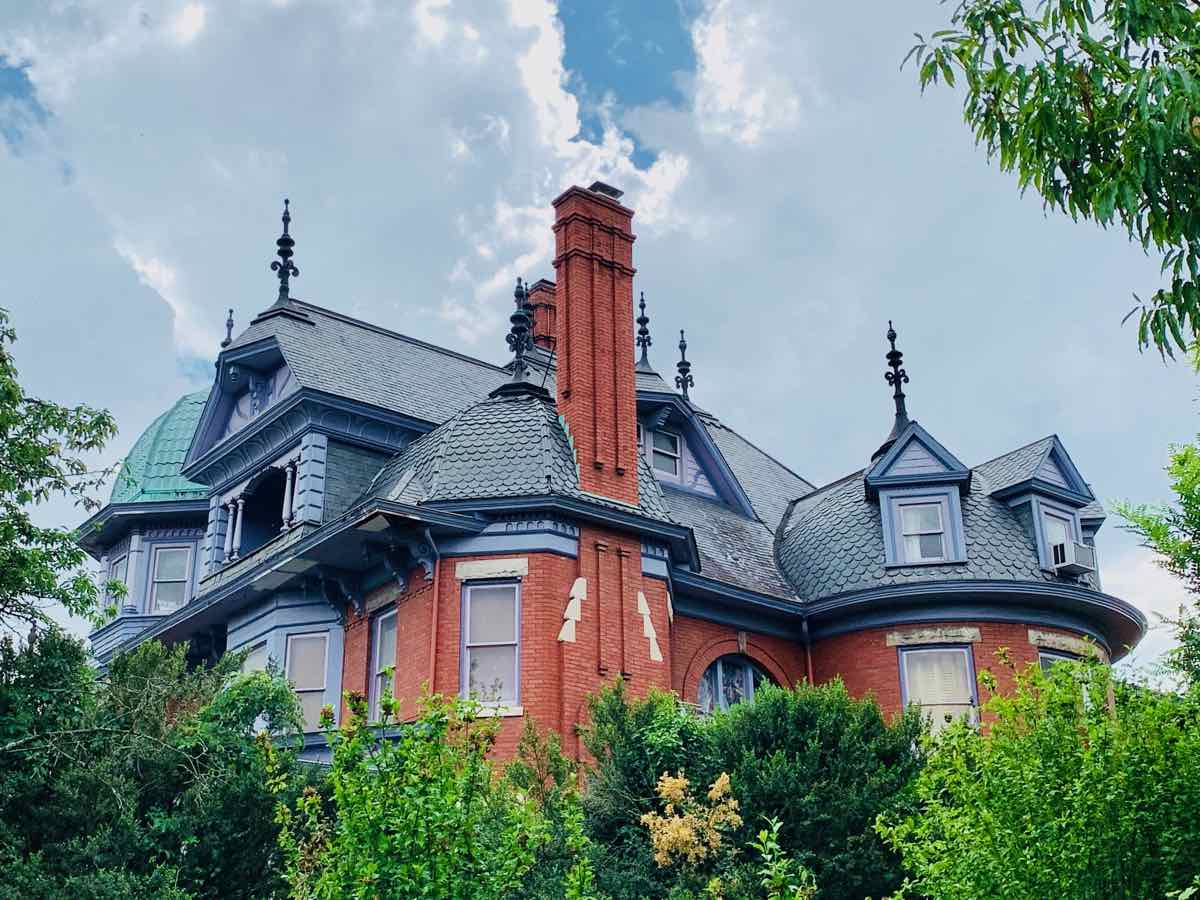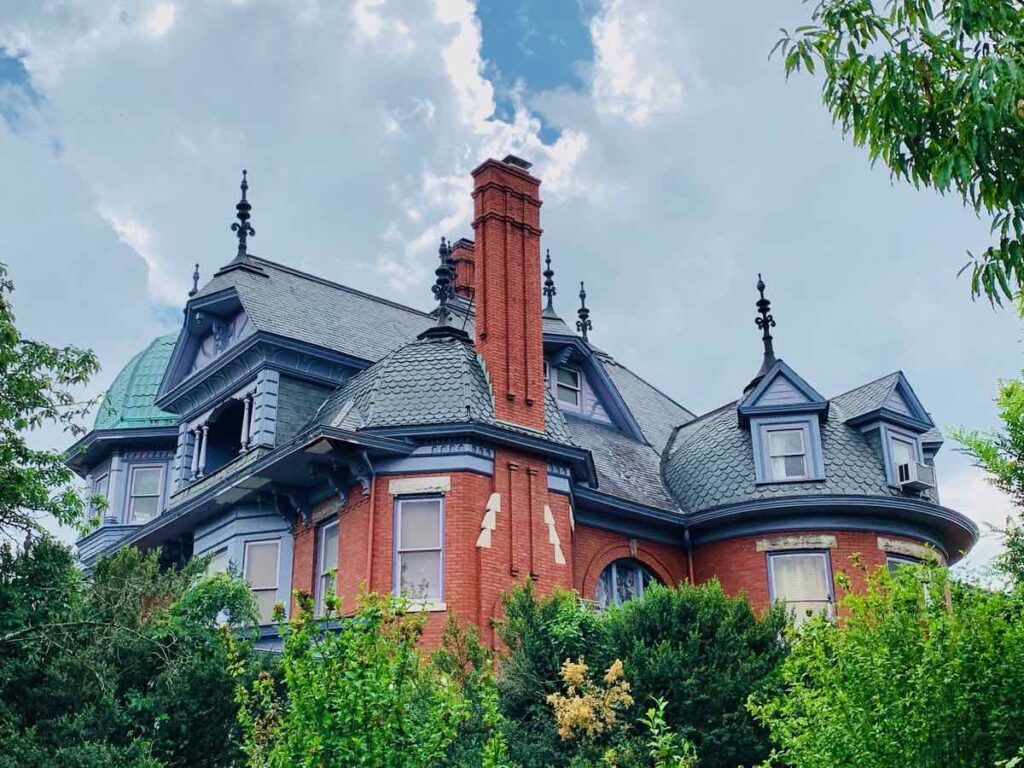 Take a walk around downtown Winchester to admire the many interesting homes in the area. For example, "The Gables" on Amherst Street is a wonderful example of the Queen Anne style with turrets and spires and a beautiful roof. Find more details on downtown Winchester buildings in this architecture and history brochure.
Lord Fairfax Tomb
Located on the grounds of the Christ Episcopal Church is the final resting place of Thomas, the Sixth Lord of Fairfax of Cameron, who Fairfax County is named after. Lord Fairfax was an important mentor and friend to George Washington, and he was the only titled English nobleman who made a permanent home in the American colonies.
More Things to Do on a Winchester Virginia Getaway
Once you have explored the historic downtown and pedestrian mall, there are more great things to do in Winchester and the surrounding countryside. Here are more of the best things to do in Winchester VA and nearby.
Museum of the Shenandoah Valley
Explore the art and gardens at the Museum of the Shenandoah Valley to learn more about the people and places of the region. The collection includes an incredible display of miniature houses and furniture.
Outdoor lovers should stroll through the Glen Burnie Gardens, a small but beautiful Virginia garden. The Asian-influenced water garden is particularly beautiful.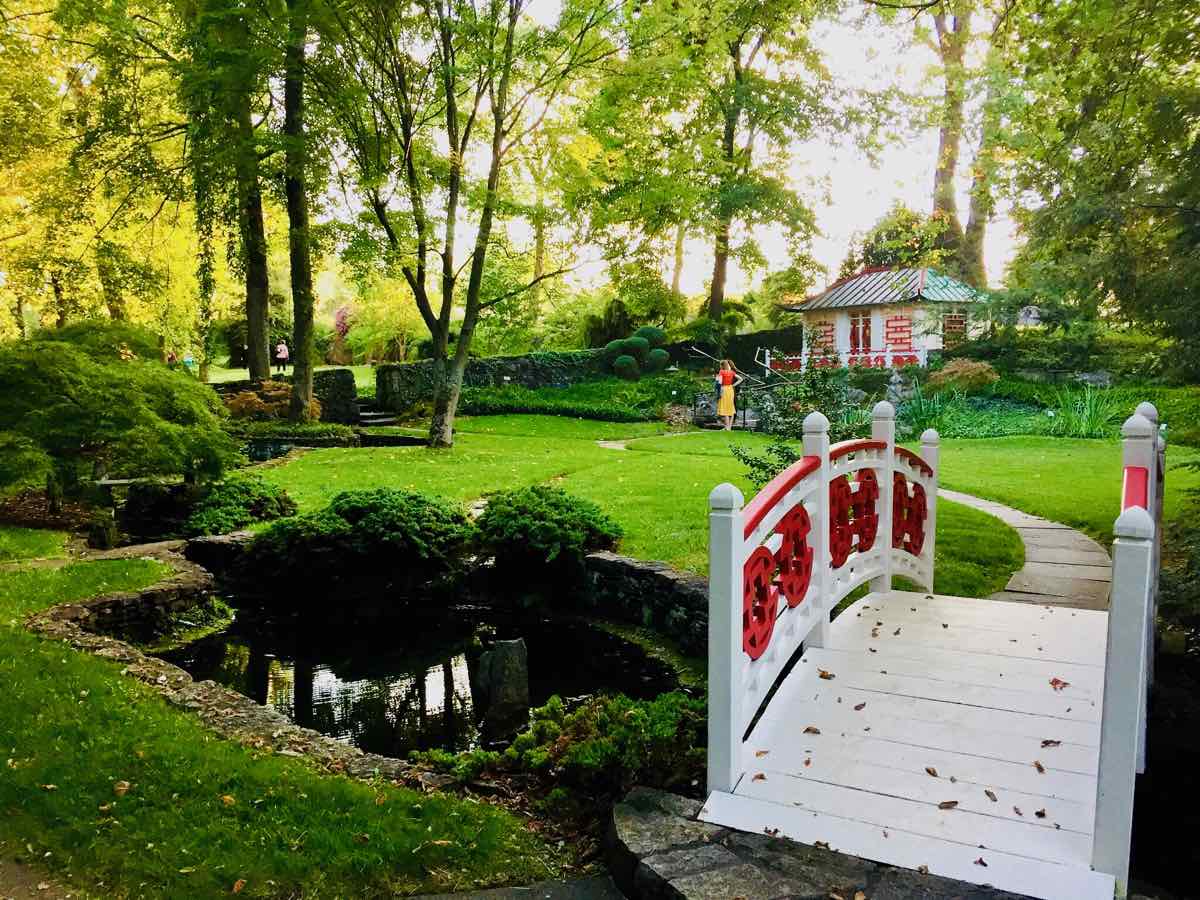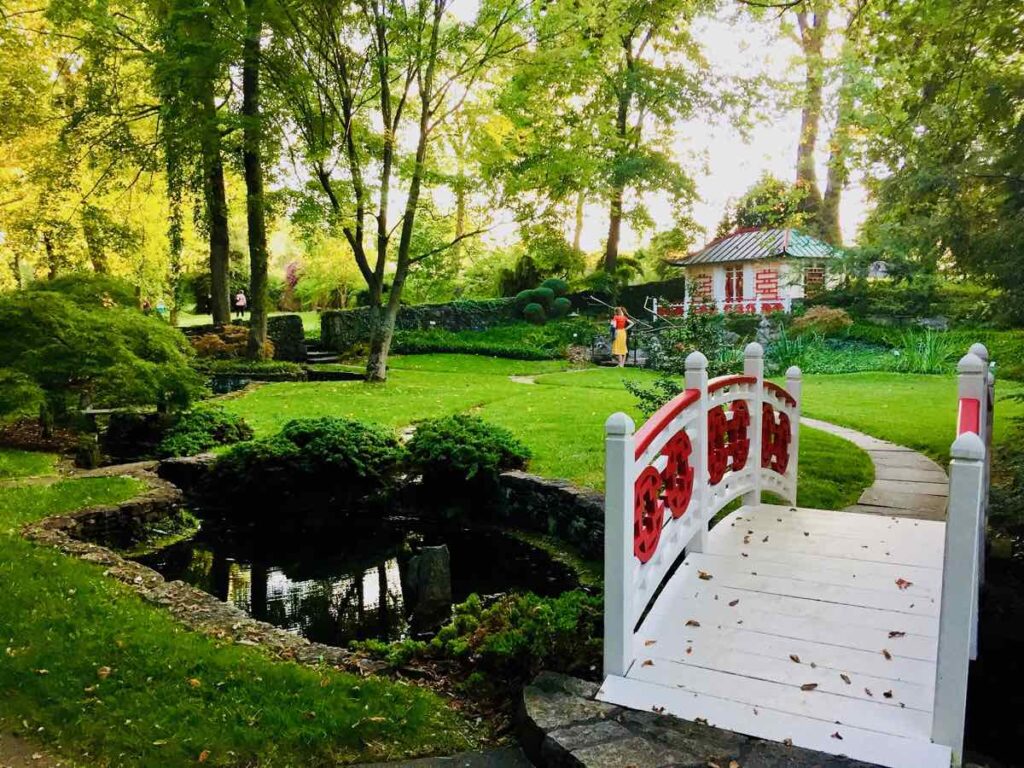 A lovely network of trails dotted with sculptures and pretty views covers the museum grounds. You can hike the MSV trails even when the museum and gardens are closed.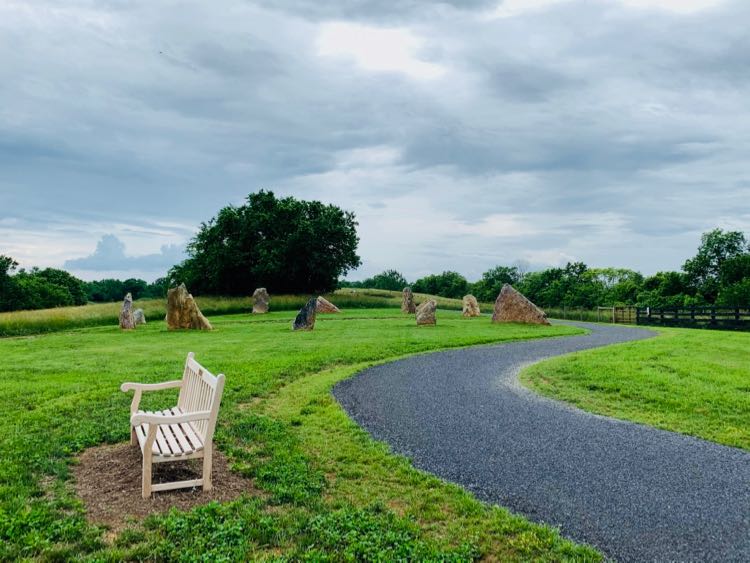 Abrams Creek Wetlands Preserve
Take a pretty nature walk just 2 miles from Old Town Winchester at the Abrams Creek Wetlands Preserve. This 25-acre wetland is officially a "calcareous muck fen," a rare habitat that is home to a wide variety of plants and birds.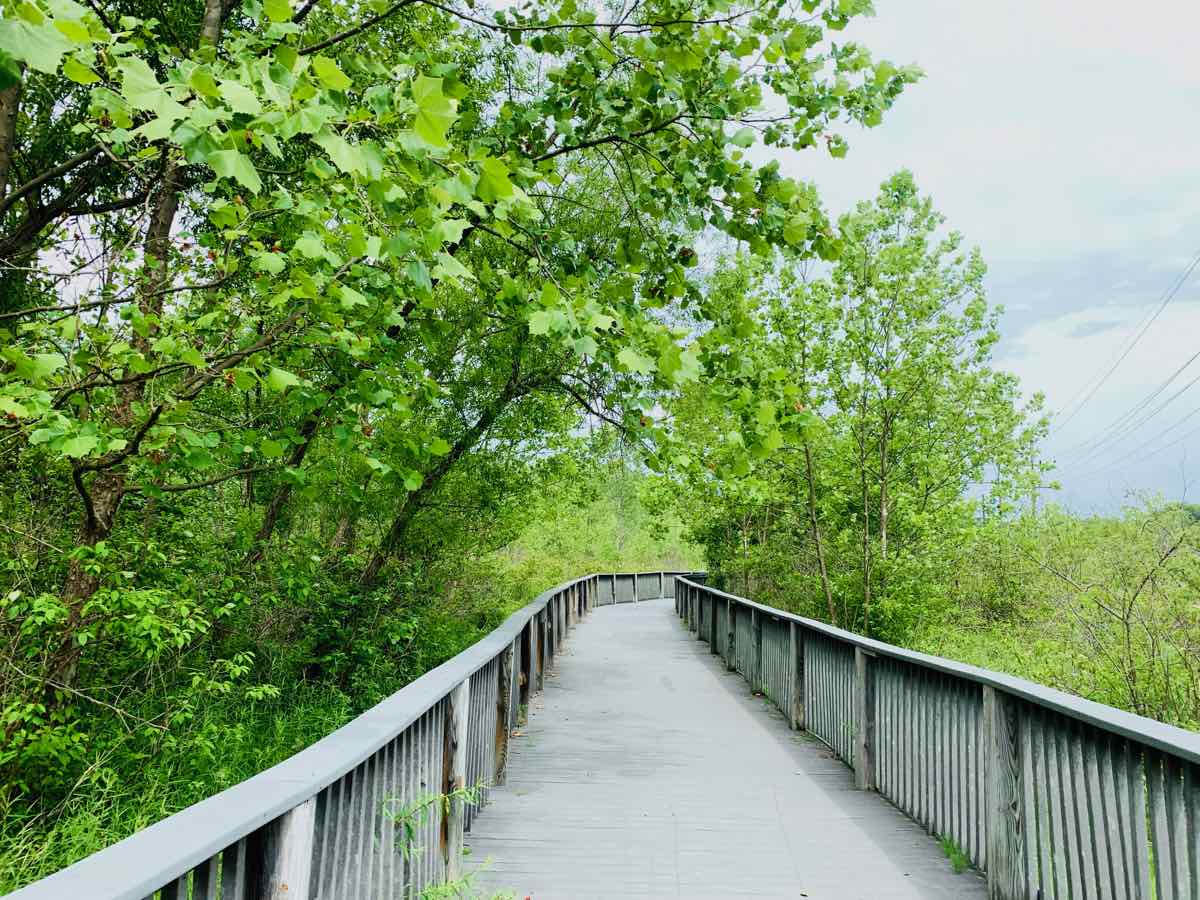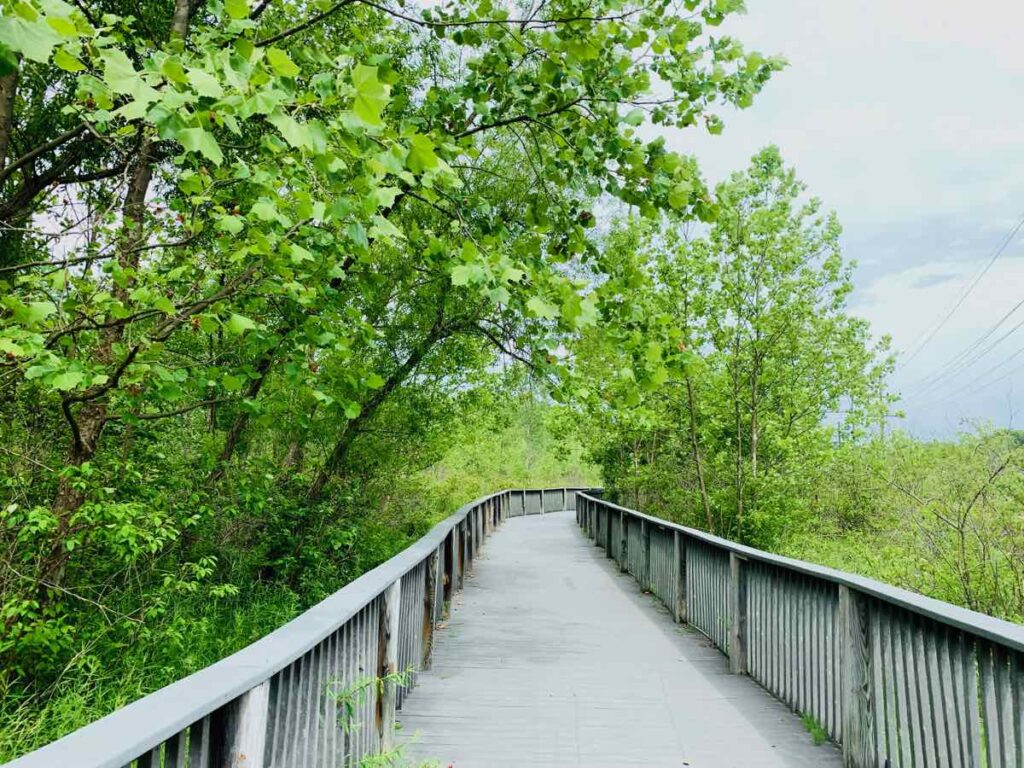 The short trail through the preserve is a mix of pavement and a pretty winding boardwalk. There are informational signs about the 300 plant species and 180 types of birds found here. The easy trail is stroller-friendly so Abrams Creek is a fun thing to do with kids in Winchester.
Tip: There are a few parking spots and an entrance to the Abrams Creek trail on Meadow Branch Ave. There is another trail entrance on Stone House Court.
Third Winchester Battlefield Park
Nature and history combine at the Third Winchester Battlefield Park, the site of the largest Civil War battle fought in the Shenandoah Valley. Stop in the Visitor Center to get oriented and watch a short film about the battle. Then head outside to hike the fields and forests preserved here.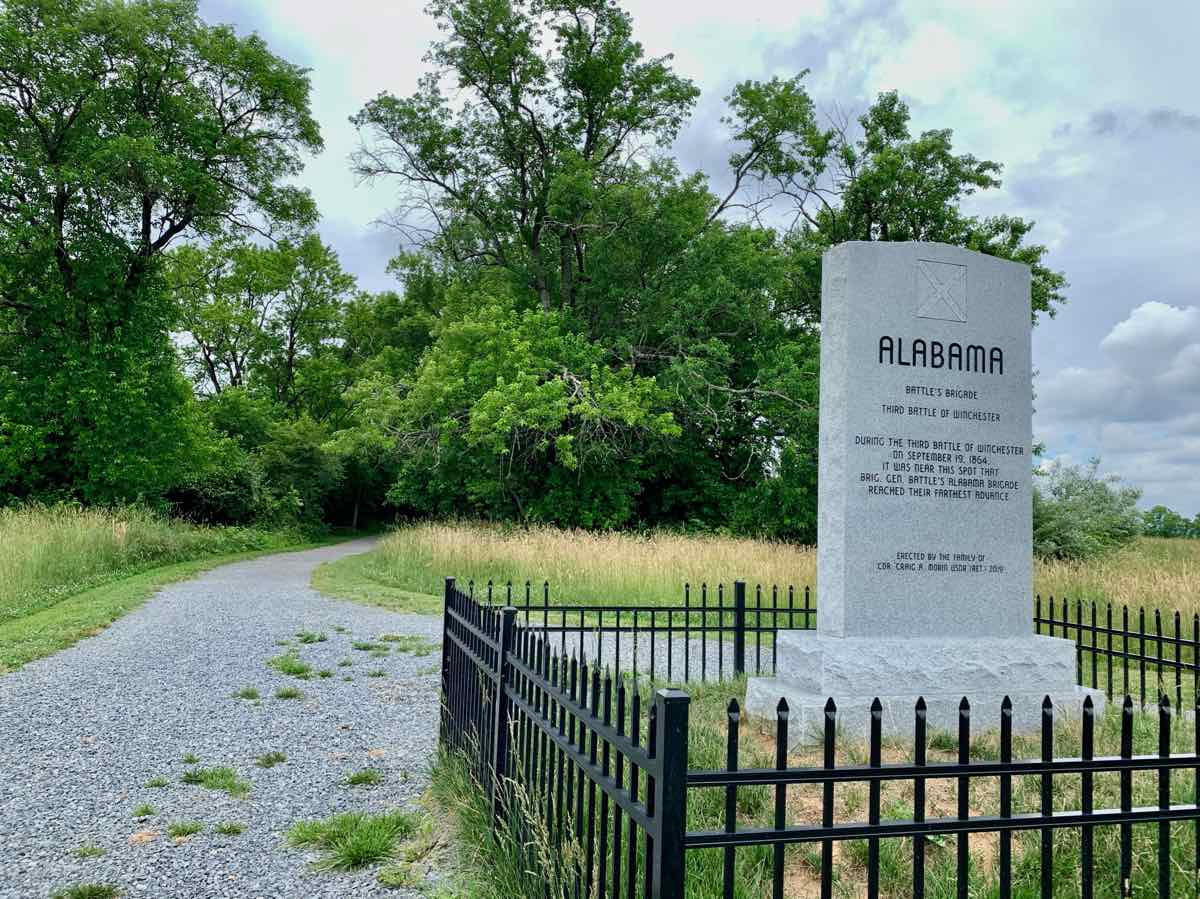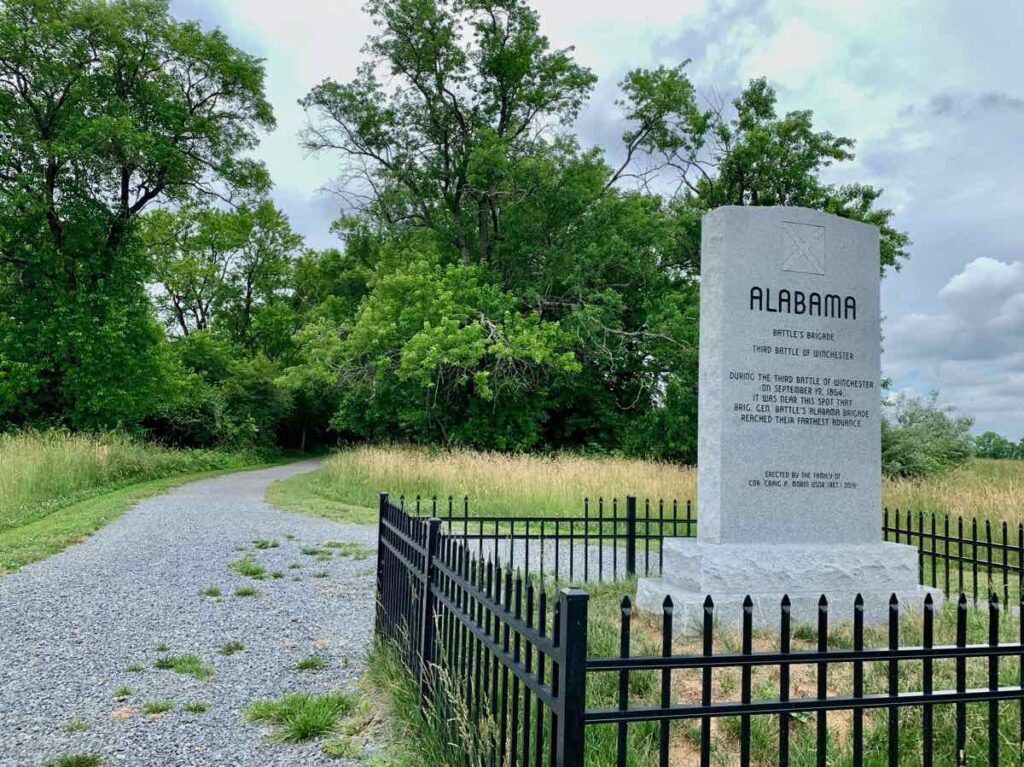 There are 6 miles of hiking trails marked by more than 30 interpretive markers in the park. The trail network is divided into 3 main trails that interpret different parts of the battle. We recommend following the wide stone dust trail, which passes several of the markers and monuments.
State Arboretum of Virginia, Blandy Experimental Farm
The University of Virginia conducts research and trains budding scientists at the State Arboretum of Virginia, Blandy Experimental Farm. The farm also preserves a diverse collection of trees and plants. Several trails and a loop drive make it easy to explore the collection and enjoy the beauty.
Local Farms In Frederick County Virginia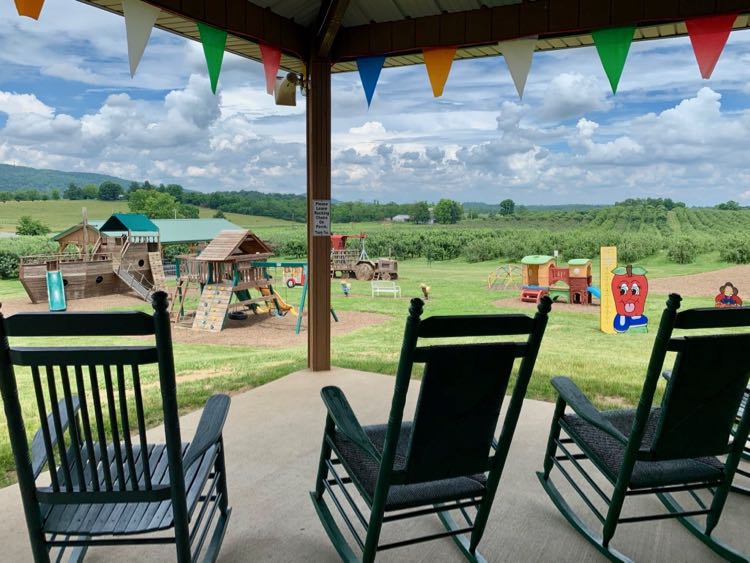 Local farms are fun stops for tasty fruit, produce, and other treats. They also invite a scenic drive on country roads. For example, Richard's Fruit Market is a fifth-generation farm (there were three generations on site when we stopped by). They sell their own produce, meats, and of course, fruit at the farm stand. They also have a pick-your-own flower garden, animals to visit, and a very cool apple grader that buffs and sorts the apples.
Another popular farm stop is Marker-Miller Orchards and Farm Market. This is one of the best places to go apple-picking in Virginia and in October they host a family-friendly pumpkin patch. The on-site bakery makes yummy apple cider donuts, and there's a large playground out back for the kids. Look for the big apple near the parking lot for a fun photo spot.
The Homestead Farm at Fruit Hill Orchard is a smaller farm with a lovely organic garden and a shop selling gifts and treats. Most of the farms are open seasonally so follow the links for the latest hours.
Hike to a Beautiful View
The climb to Eagle Rock Overlook is a short hike to a beautiful view. It's a bit of a workout but worth the effort. It's not too difficult for younger kids as long as you take your time. The pay-off is a series of overlooks and impressive eastward views of the Shenandoah Valley countryside. One overlook even has a stone bench that makes a good picnic spot on this 3-mile out-and-back hike.
The trailhead for the Tuscarora Trail Eagle Rock Overlook begins at a small parking area on the Virginia and West Virginia border. To reach the parking area, turn onto Capon Springs Grade (609) and follow the dirt road uphill to the small parking area just before the West Virginia line.
The trail begins across the street, marked with a Great Eastern Trail sign. Follow the blue-blazed Tuscarora Trail to the overlook.
Find more great hikes in our Guide to Shenandoah National Park Central District.
Learn and Shop with the Artisans in Berryville VA
Many artisans make their home and sell their wares in the small town of Berryville, in neighboring Clark County. Begin at the Barns of Rose Hill Cultural Arts Center to see current exhibits then visit artisans at shops in the downtown area.
Cedar Creek and Belle Grove National Historic Site
The Cedar Creek and Belle Grove National Historic Site shares the story of an important Civil War battle and a historic 1800s plantation. Stop in at the Visitor Center to get oriented and pick up a driving tour map.
Belle Grove Plantation is an antebellum farm once owned by Isaac and Nelly Hite (the sister of President James Madison). Tours share details of life on the plantation for both the plantation owners and the enslaved people who lived here. Outside, visitors can stroll the gardens and grounds in this pastoral country setting in Middletown.
Nearby, visitors can follow a 17.5-mile self-guided driving tour or hike nearly 2 miles of trails to learn about the Battle of Cedar Creek. Sheridan's victory here marked the end of the Confederate resistance in the Shenandoah Valley, helping propel Lincoln to victory in the Presidential election a few weeks later.
Where to Eat in Winchester Virginia
Winchester is home to more than 30 restaurants and some fantastic craft breweries. We've shared a few Winchester restaurant and brewery highlights below. You'll find more of our top picks in our guide to 18 Fantastic Local Breweries and Restaurants in Winchester VA, which is based on our personal experience during 25+ years of visits.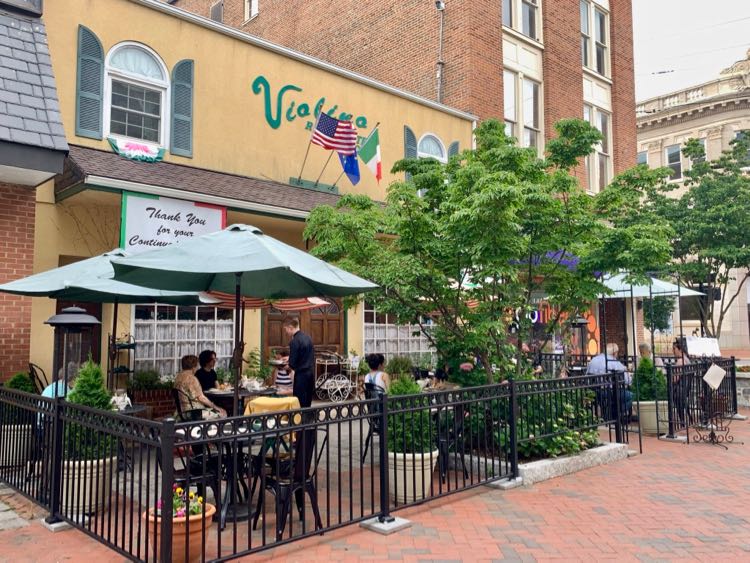 The range of dining options in Winchester VA is extensive and diverse. Here are some options to check out when you visit.
For breakfast, Big L's Bagels is a nice spot to start the day with a cup of joe and a homemade bagel. Or head to Bonnie's Southern Market and Bakery for generous and delicious omelets, biscuits, or shrimp and grits.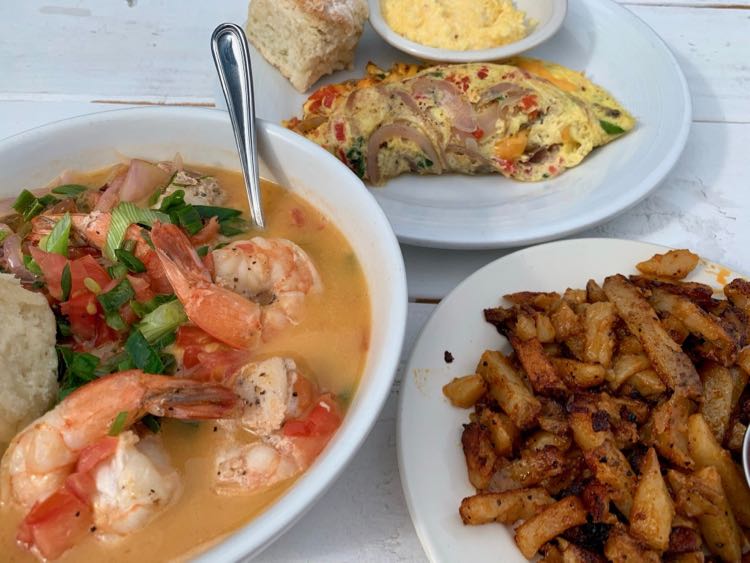 The pedestrian mall is a good bet for lunch, with a wide range of restaurant styles and price ranges.
Explore more: 18 Fantastic Local Breweries and Restaurants in Winchester VA.
Drink Local Craft Beer and Cider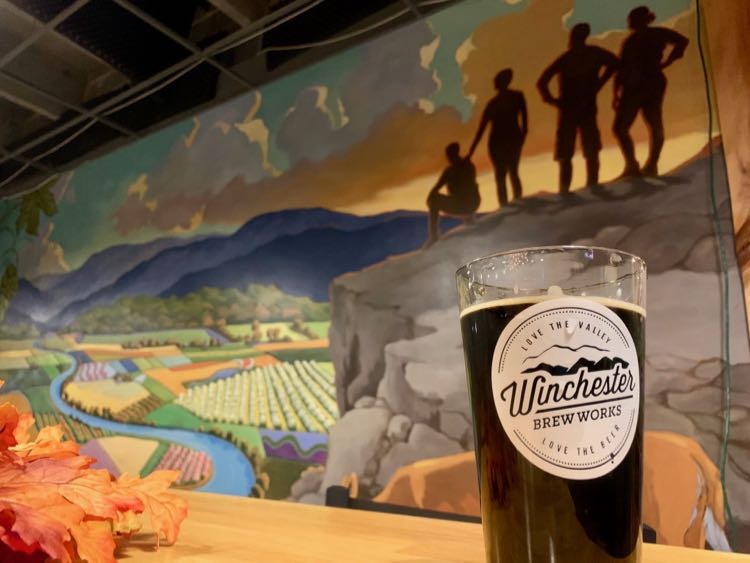 There are several excellent breweries in downtown Winchester.
Explore more great craft breweries with our guide to 12 Virginia Beer Trails.
Where to Stay on a Winchester Virginia Getaway
There are several excellent places to stay in Winchester, both in and outside the downtown area. Book a stay at one of our top picks listed below, or check rates and availability at all Winchester Virginia hotels.
Best Place to Stay in Downtown Winchester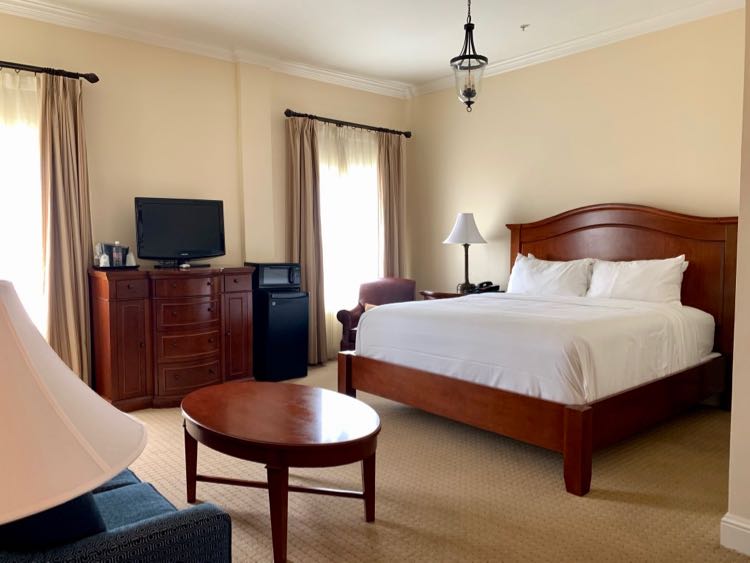 The George Washington Hotel combines elegance, comfort, and a perfect location for exploring downtown Winchester. The Wyndham Grand Hotel occupies a Georgian Revival brick building just a block from the pedestrian mall. Your room is close to everything, but away from nighttime noise.
Free wifi, comfy beds, and a welcoming on-site bar and restaurant make the GW a great base for your Winchester Virginia getaway. Relax with a massage or facial at Saumaj, the on-site spa, or soak in the beautiful indoor, saltwater pool, modeled after a Roman bathhouse.
Check availability and rates at the George Washington Hotel now.
Unique Places to Stay Near Winchester
Book a romantic getaway at the Inn at Vaucluse Spring for a beautiful dose of elegance and history in the countryside. The inn is located in the small town of Stephen's City, just south of Winchester. There are six different guest houses to choose from.
We highly recommend the historic Mill House, with fireplace, small kitchen, bedroom with expansive windows, and jacuzzi tub. Best of all, the mill has a private patio overlooking a small pond fed by Vaucluse Spring. Breakfast in the manor house is three courses of farm-to-table deliciousness and the whole experience is so relaxing.
Another option for a stay filled with country elegance is the Historic Rosemont Manor in Berryville. Rosemont is a popular venue for weddings and corporate retreats, but they rent individual rooms when no events are being held. The sumptuous rooms are unique and lovely, and the grounds are spectacular. Rosemont Manor also offers traditional English teas throughout the year.
There are also many vacation rentals in Winchester VA perfect for travelers who want a home setting with specific amenities.
Whether you visit for a day or a longer stay, you'll find plenty of fun and interesting things to do and see in Winchester Virginia and the surrounding towns. It's a short drive from the busy Washington DC area, but the country vibe feels much further away.
Map of Things to Do in Winchester Virginia
Click our handy map to plan your visit to Winchester Virginia and Frederick County.
Some of our Winchester activities were hosted by Winchester Frederick County Tourism. Visit their website for event calendars and regional information.
Follow us on Facebook, Twitter, Pinterest, and Instagram for more fun travel in and from Northern Virginia.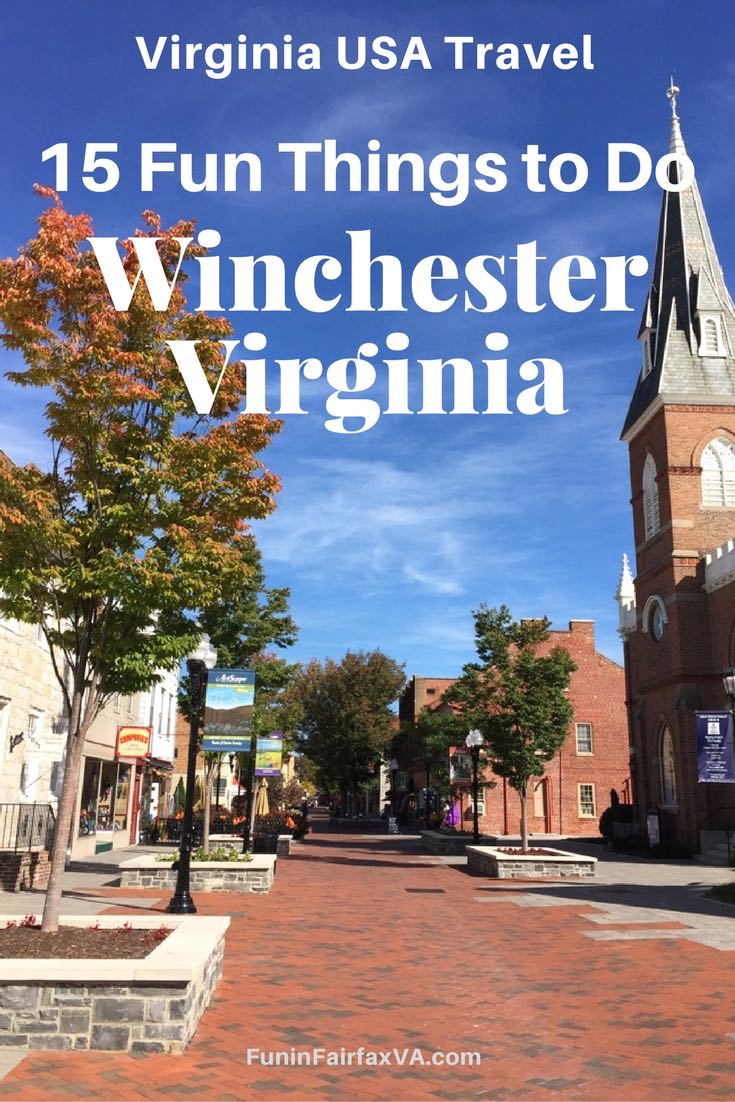 Published 2017, last updated 2021.