Updated on May 25, 2023 by Julie McCool
Take a scenic drive on the unpaved roads of Loudoun County to enjoy beautiful views, wonderful Virginia wineries, bucolic farms, and quaint small towns. Loudoun County unpaved roads cover nearly 300 miles of Northern Virginia and they lead to some of the prettiest views and countryside in the state.
The scenic roads near Leesburg, the county seat of Loudoun County, make an ideal day trip from Washington DC, less than a 45-minute drive (with no traffic) from the capital city. The wine tasting scene continues to grow in popularity, and there are several excellent farm wineries on the dirt roads near Leesburg.
Disclosure: This article may contain affiliate links. We will make a small commission from these links if you order something, at no additional cost to you.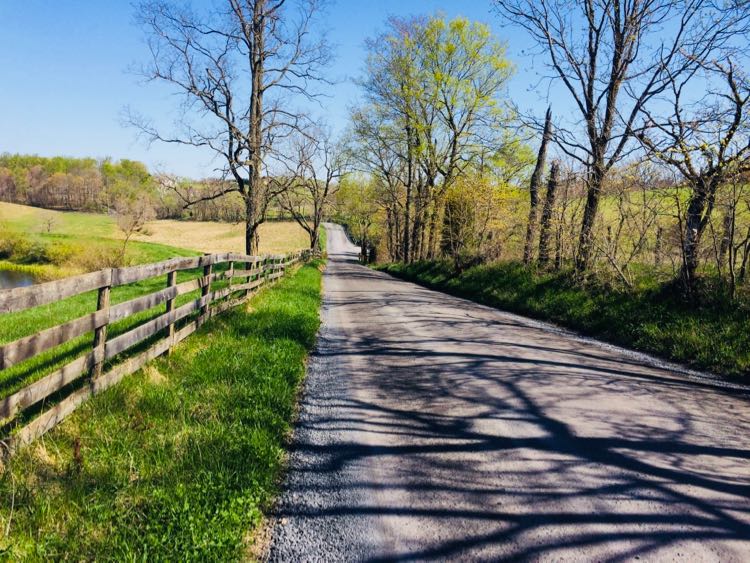 Read more: 6 Beautiful Northern Virginia Scenic Drives Near Washington DC.
Why Drive on Loudoun County Dirt Roads?
What makes Loudoun County dirt roads so special? These unpaved country roads offer a unique and beautiful mix of terrains and views. Here you can follow 18th and 19th-century tree-lined roads, sunken lanes, and one-lane bridges past open fields, stone walls, and local farms.
Small towns and historic sites along the route offer interesting places to stop for a meal, shopping, and local history. In addition, excellent farm wineries and breweries are sprinkled along the backroads of Loudoun County. Note that many of the wineries on our route are only open Friday through Sunday.
Fortunately, our route covers drivable dirt roads that are a little rugged but accessible to almost any vehicle. You should slow down and watch for potholes, but that's part of the charm of backroad exploring.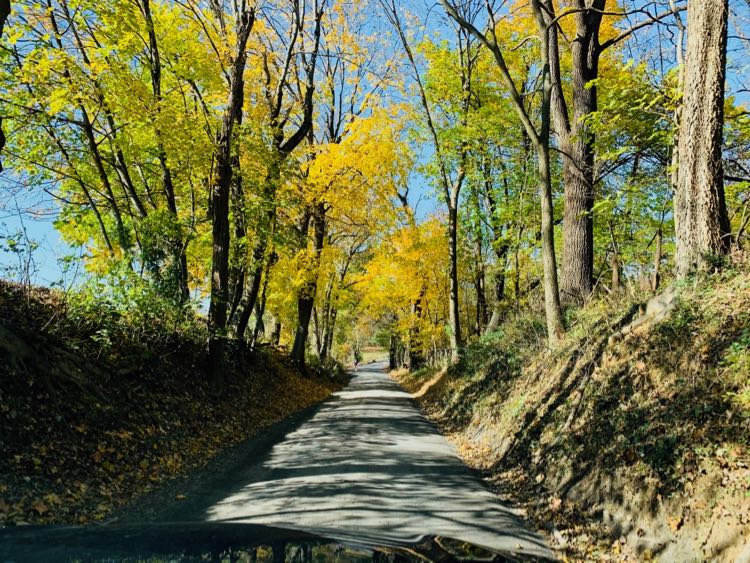 Loudoun County Unpaved Roads Overview
Following are highlights, sights, and a recommended route based on several exploratory trips on the Loudoun County dirt roads near Leesburg. You'll also travel on paved roads that connect the unpaved segments.
Our route begins in historic Leesburg and follows a roughly counter-clockwise loop to the north and west. This scenic drive passes through the center of historic Waterford and skirts other small towns and villages.
While this unpaved route is only 42 miles long, you should allow almost 2 hours to complete the drive plus time for stops. You will be driving very narrow roads and sharing the road with farm equipment and cyclists. Please drive slowly!
Since GPS maps prioritize paved roads over unpaved, we are not able to create automated directions for this route. However, the map below highlights our full route and a closeup of the area above Waterford. In addition, we created a Google map of the places to see on our scenic drive on the unpaved roads near Leesburg.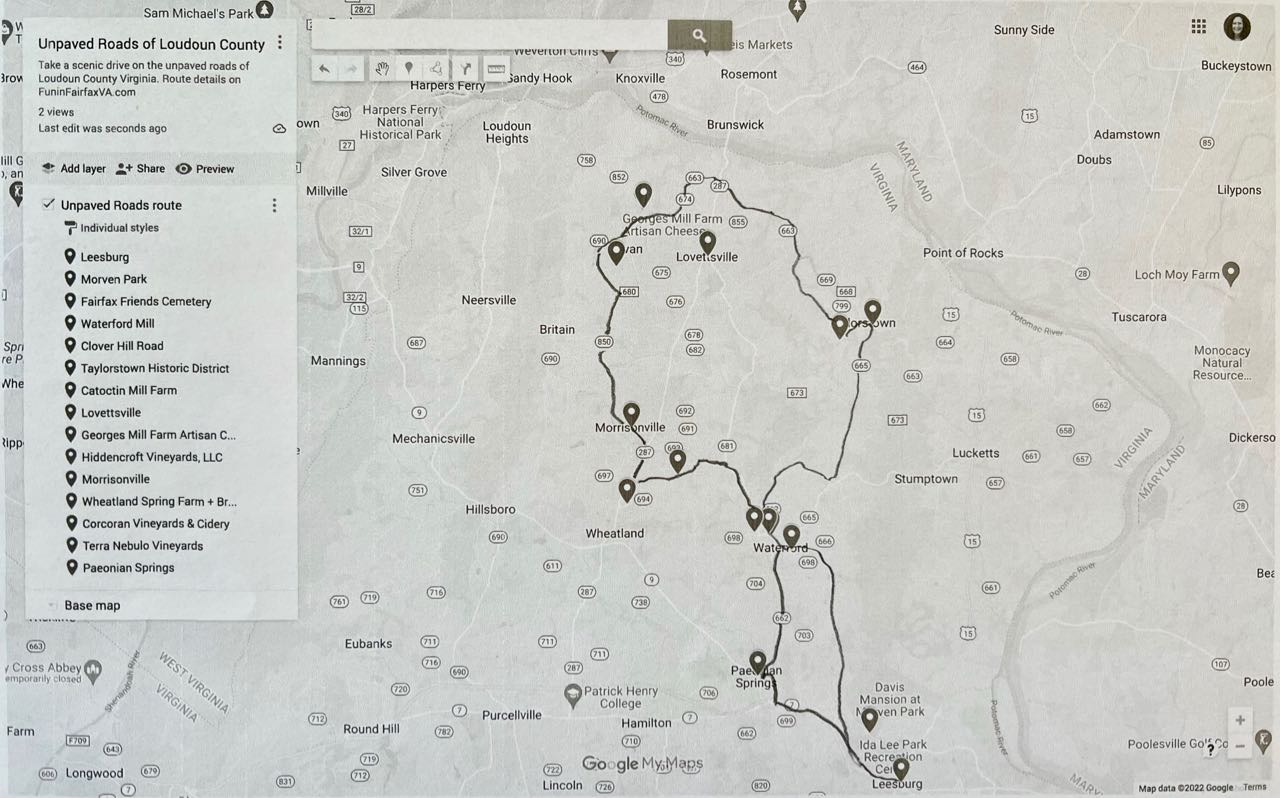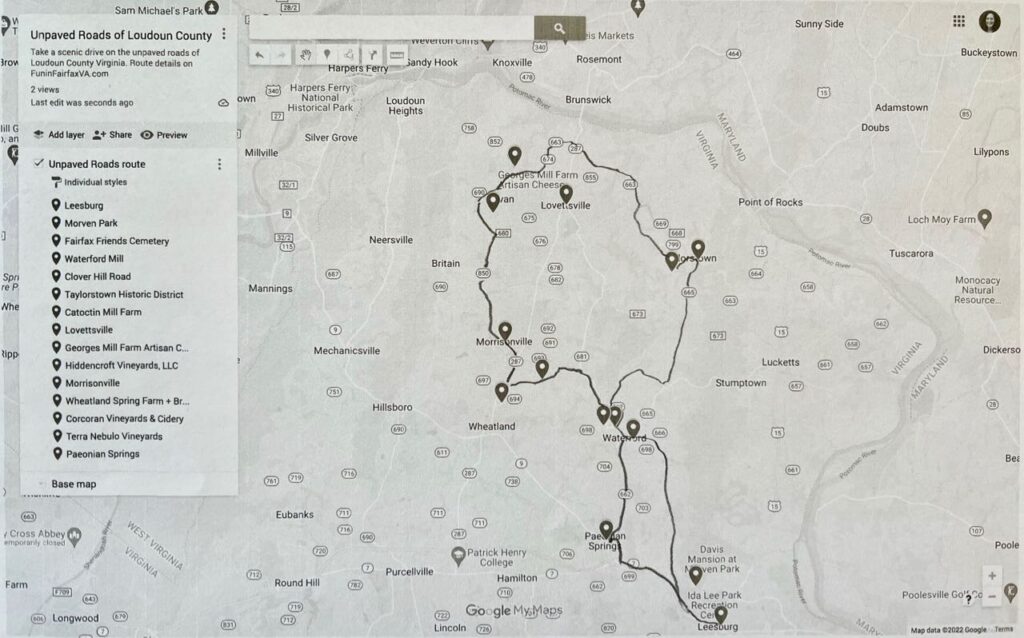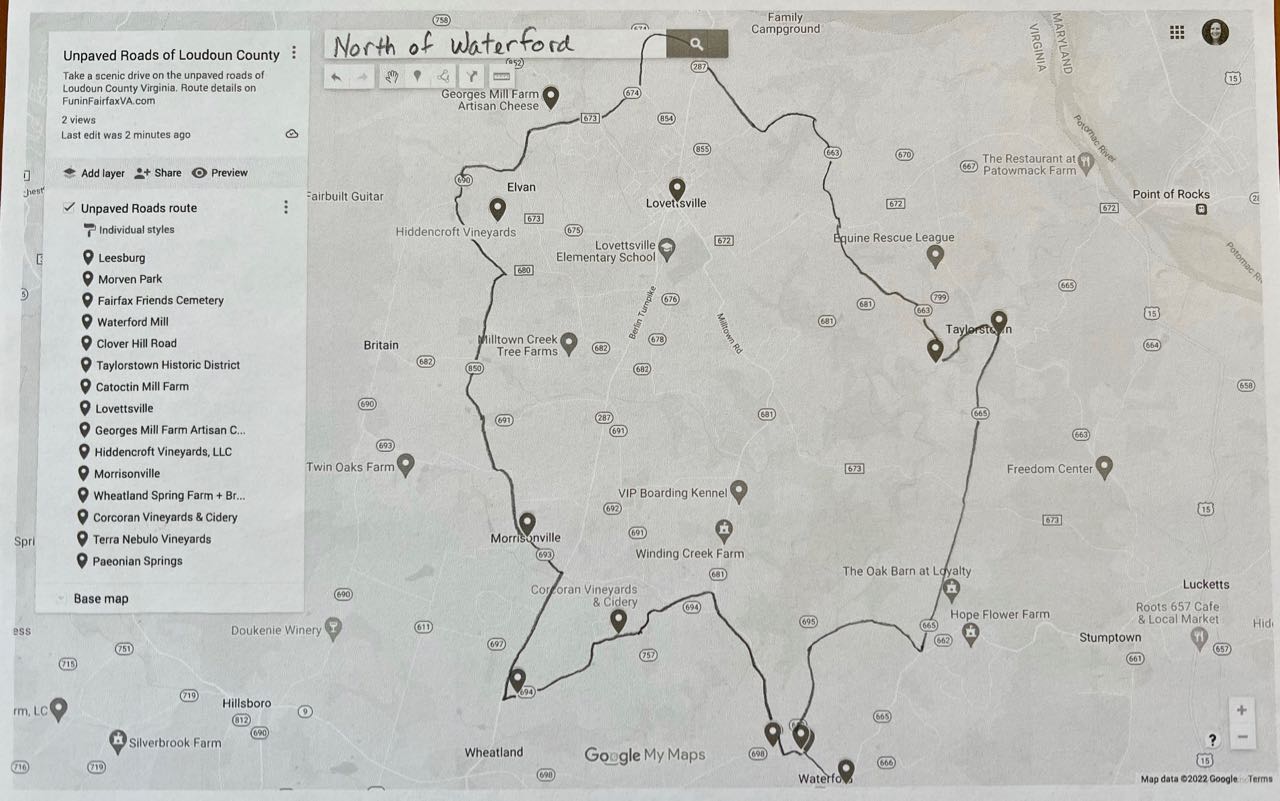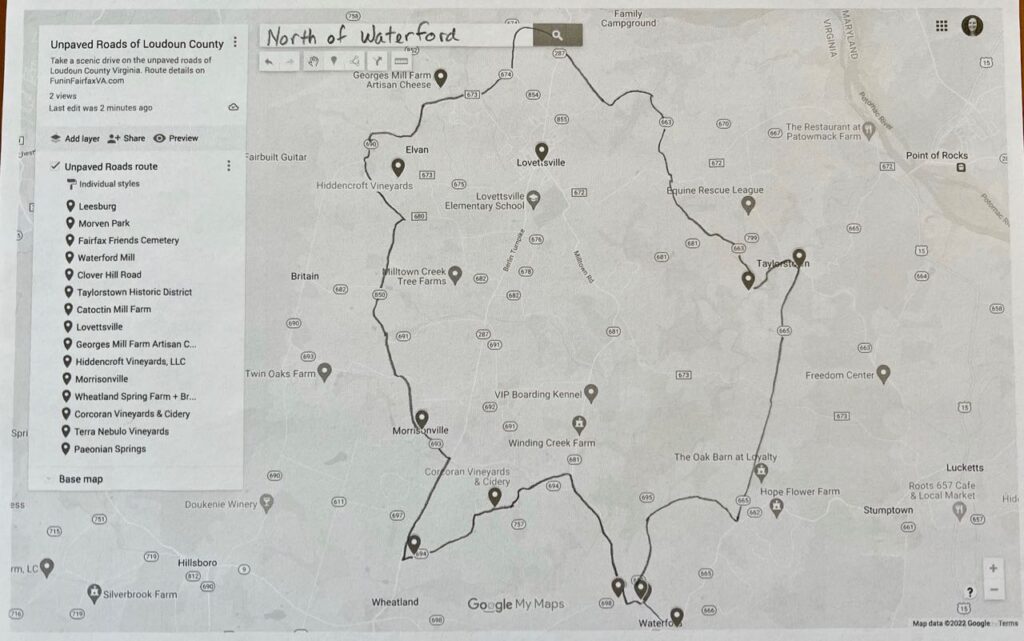 Loudoun County Unpaved Roads—Scenic Drive Near Leesburg VA
Here are details and photos for this scenic drive on Loudoun County dirt roads near Leesburg. We've broken the route into sections so you can modify your distance if you choose. At the end of this article, you'll find additional planning resources and a summary of turn-by-turn directions and stops.
Old Waterford Road, Leesburg to Waterford
To begin this dirt road scenic drive, head north from Leesburg on Old Waterford Road (698). The road begins near Toby Atwell Field, behind the Union Cemetery. Old Waterford Road is a hilly and mostly unpaved road with several gorgeous 100-acre farms.
If you like, stop at Morven Park, a historic park featuring lovely gardens, a mansion, several small museums, and equestrian facilities. For a quick stop, drive into the park (especially pretty during fall foliage season) and take a short walk around the garden. The park hosts frequent equestrian events so you may see cross-country jumps in action.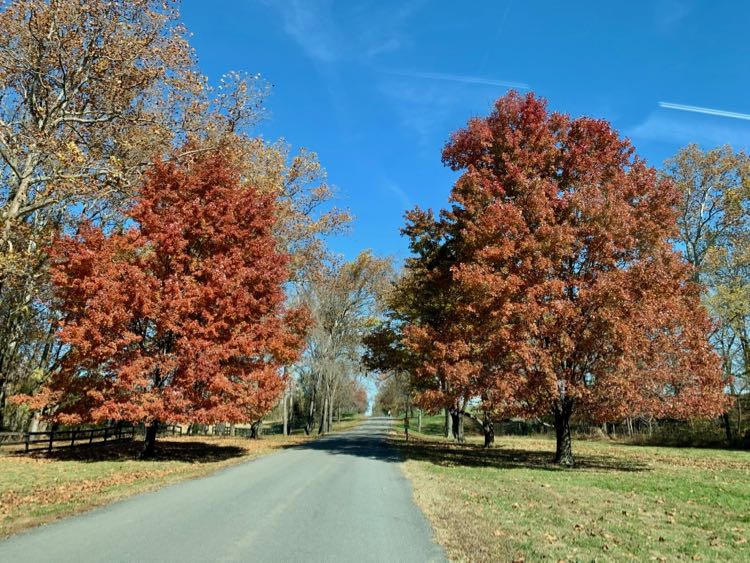 Back on Old Waterford Road, the surface switches from pavement to gravel. Now open fields and sprawling farms dominate the views. Watch for horses in the fields and beautiful old barns as you drive. For example, we love the yellow barn and silo at Fieldstone Farm (founded in 1760).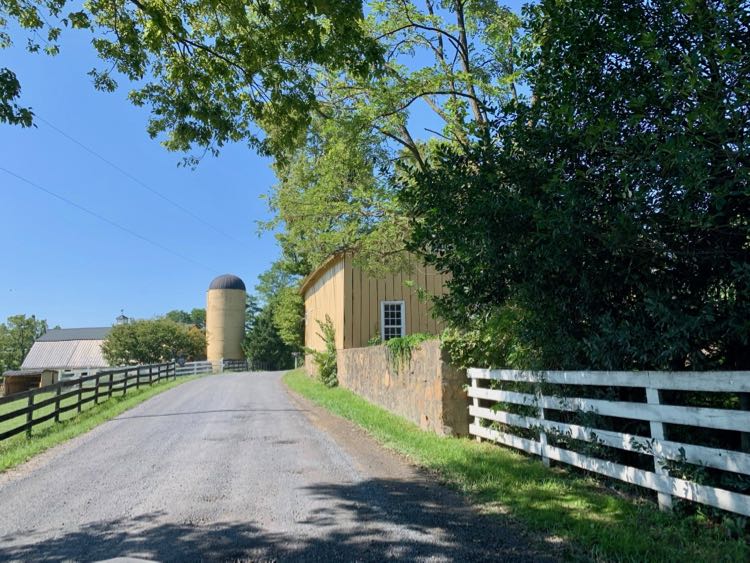 There are a half dozen side roads to explore if you wish. All are dead ends returning to Old Waterford Road, except Hurley Lane, which escapes west to Clarkes Gap Road.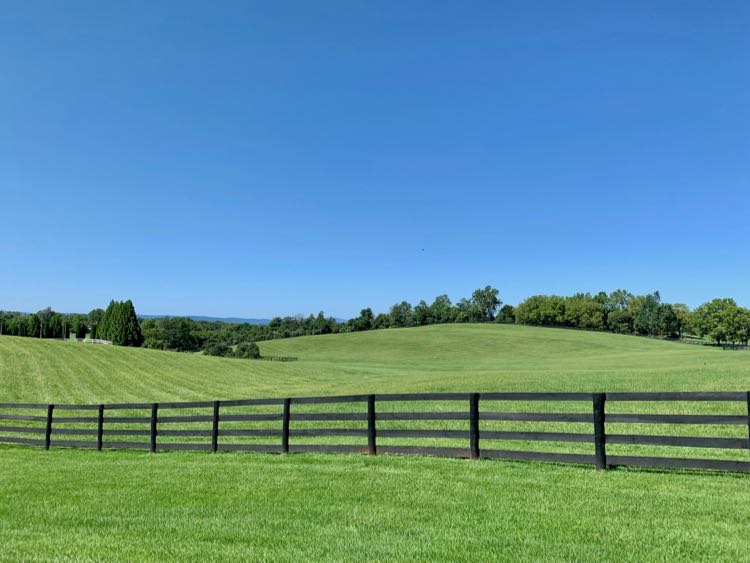 As you near town, you'll pass the Waterford Cemetery (Fairfax Friends Burial Ground) on your right. Both Confederate and Union soldiers are buried in this early 19th-century cemetery.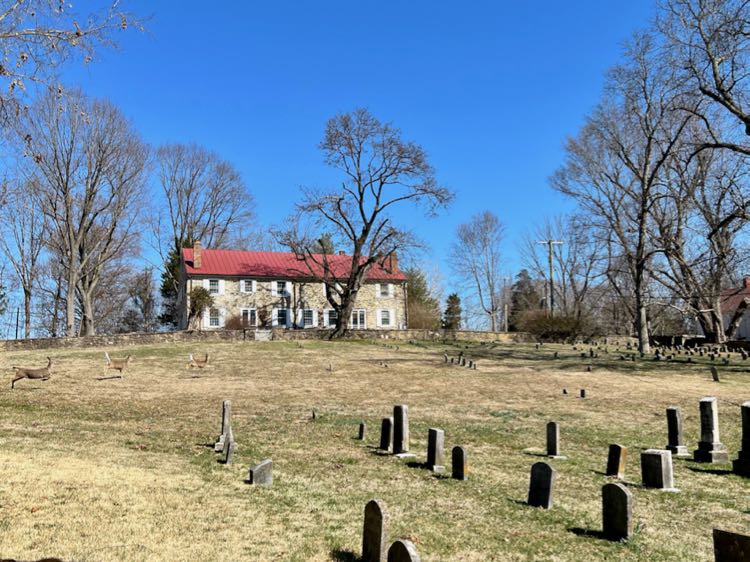 When the road ends, turn left on Loyalty Road (665), then left on Butchers Row, and right on Main Street.
Historic Waterford to Lovettsville
Our scenic drive now passes through the quaint town of Waterford. You can stop in picturesque Waterford to see beautifully-preserved homes and businesses in the walkable downtown.
See our guide to 5 Fantastic Things to Do in Historic Waterford Virginia for details on what to see and do in town.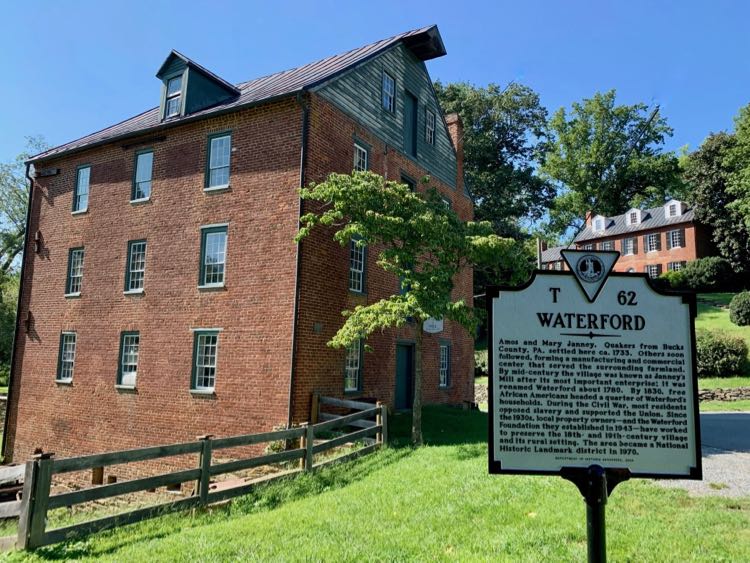 After passing the historic Waterford Mill building, turn right onto Clover Hill Road. This lovely backroad passes more pastoral views and farms.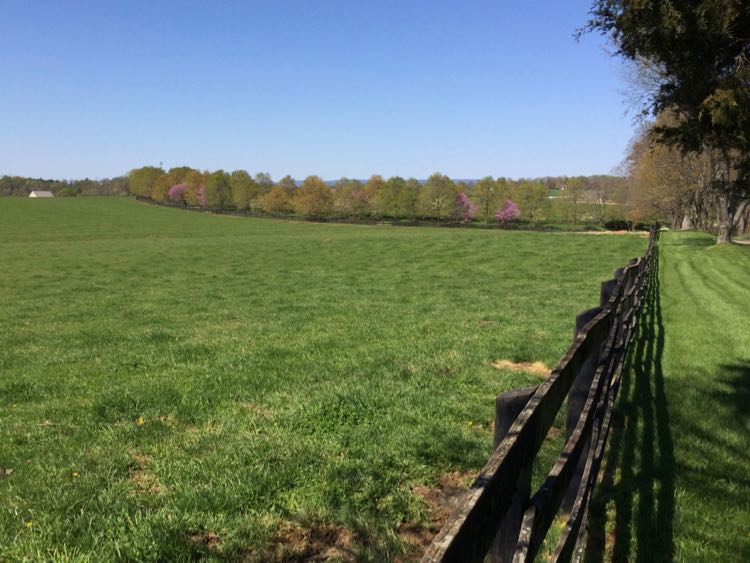 When Clover Hill ends, turn left onto Loyalty Road (665). While Loyalty is paved, it is still a very pretty drive with sweeping views of farms and distant mountains.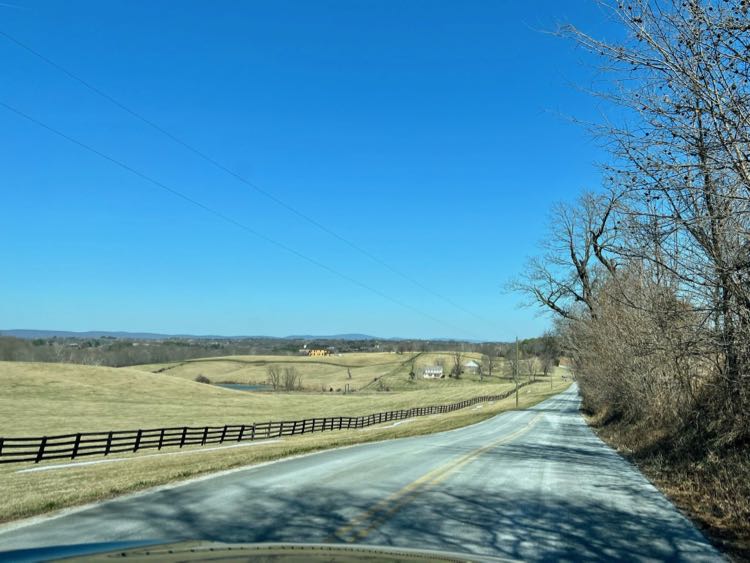 Soon, you'll enter the tiny village of Taylorstown, one of the earliest settlements in Loudoun County. If you're ready for a break, turn right on Anna Lane to visit Creeks Edge Winery.
Back on the road, cross Catoctin Creek and turn left on Downey Mill Road (663). This scenic dirt road skirts Catoctin Creek then proceeds through some great farmland scenes. Watch for an interesting stone wall with built-in steps on your right.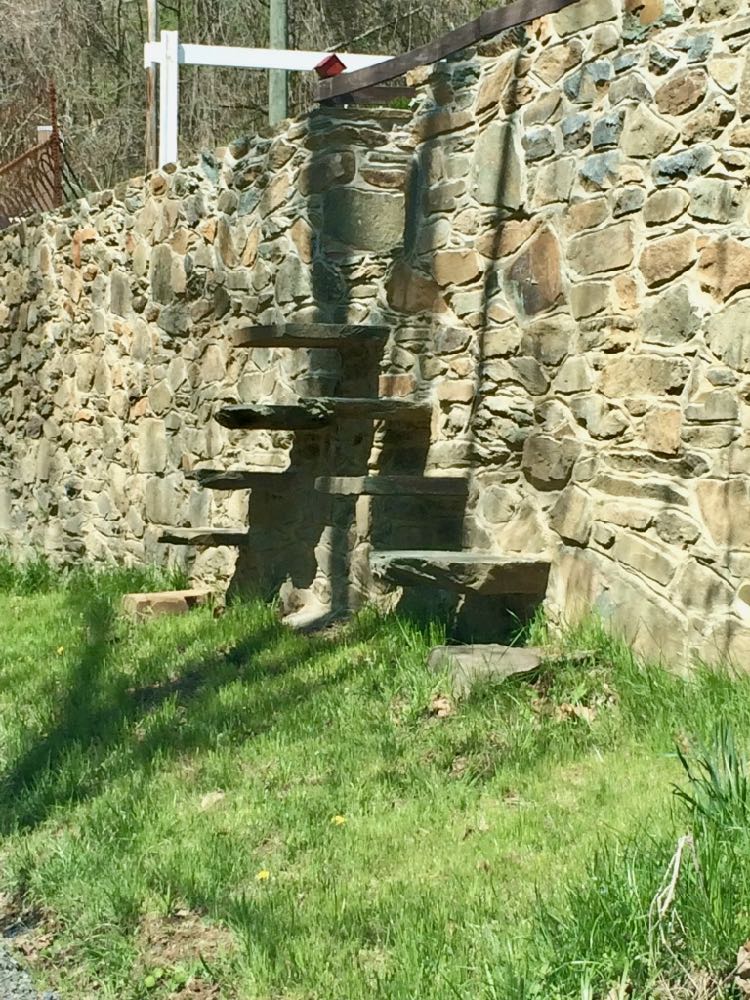 Soon, the road turns away from the stream, passing the gorgeous red barn of Catoctin Mill Farm. Just after the turn for Booth Rd, watch for a fun tractor mailbox at a farm on your right.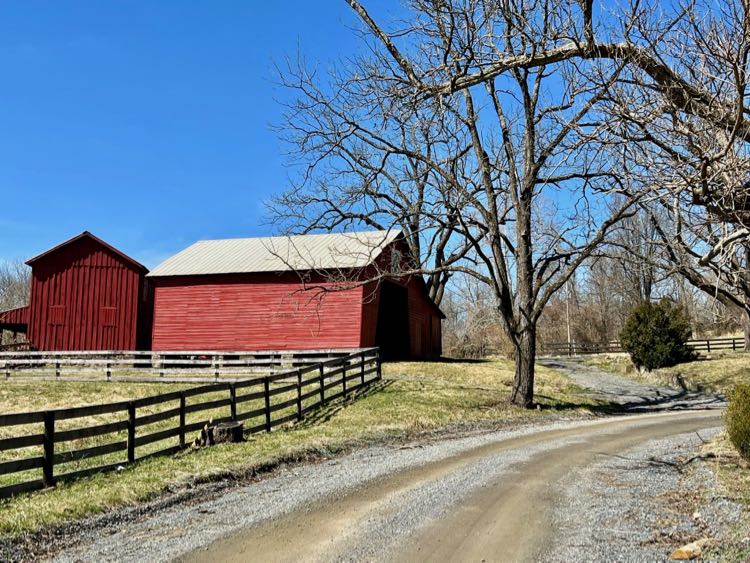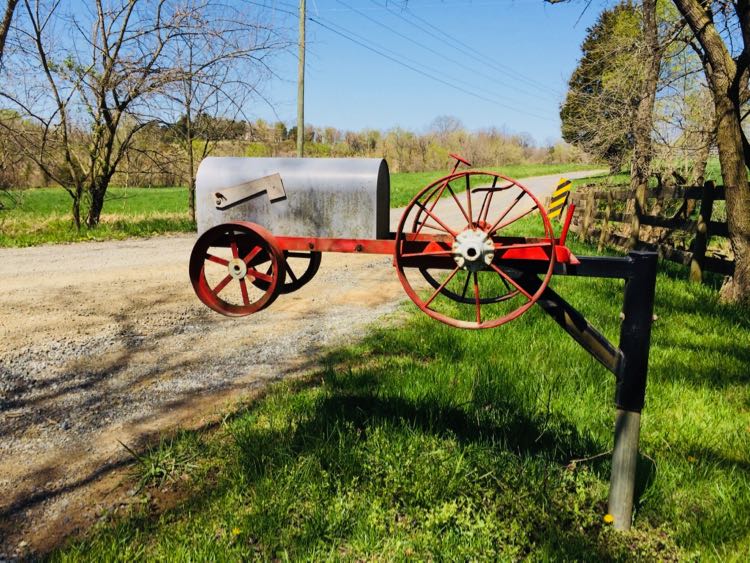 When you reach the intersection with Lovettsville Road, go straight onto Quarter Branch Road, or take a side trip into town as described below.
Optional Side Trip to Visit Downtown Lovettsville
Downtown Lovettsville is an excellent place to stop for lunch and a break from driving the unpaved roads of Loudoun County. To reach town, turn left on Lovettsville Road.
Before you reach downtown you'll pass a historic German cemetery that is worth a stop. A German Reformed congregation church, built before the American Revolution, once stood here.
There are several restaurants to choose from in Lovettsville. We've had good meals at 1836 Kitchen and Taproom, Rodeo's Mexican Grill, and Andy's Pizza and Subs. Market Table Bistro is next on our list to try.
Before you return to our Loudoun County scenic drive, stop near the Town Square (aka the Squirkle) for a photo with the pretty Lovettsville LOVE sign.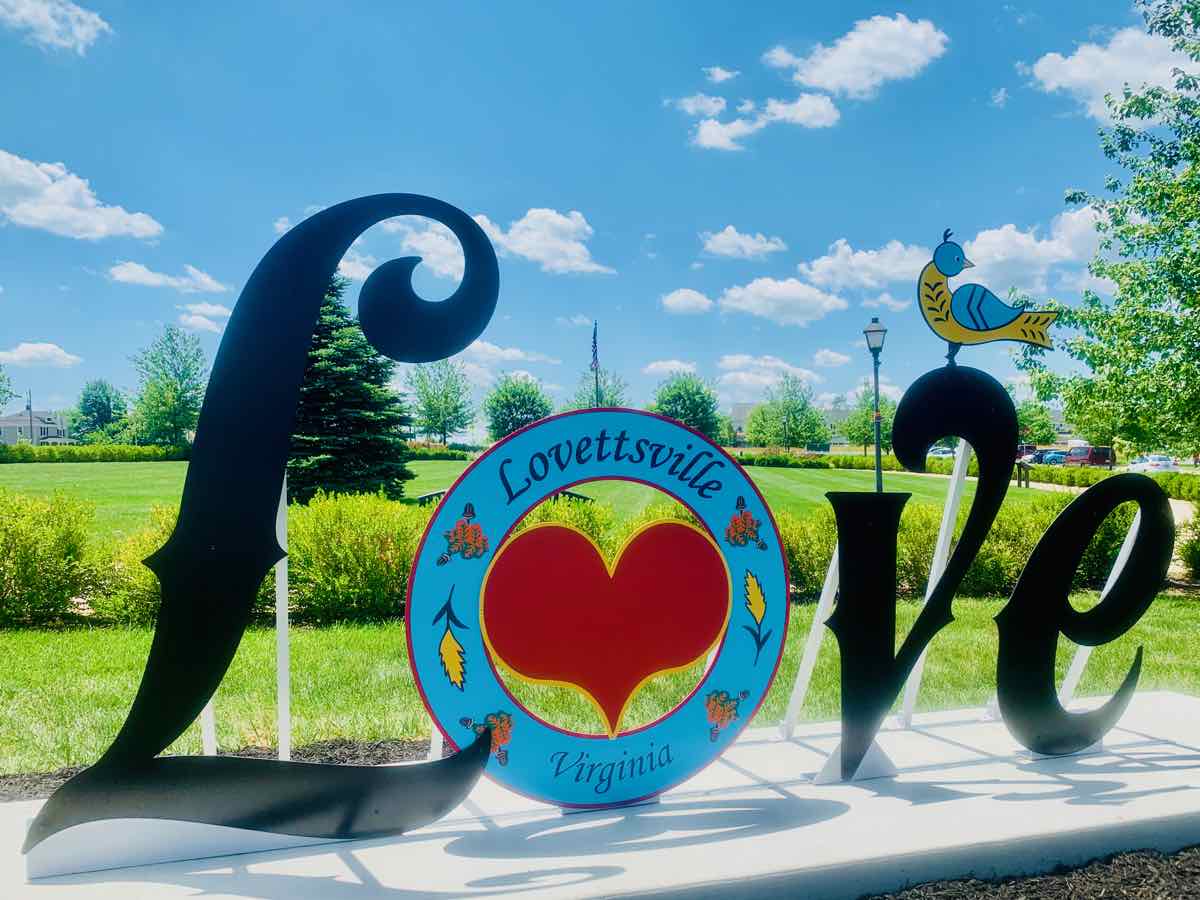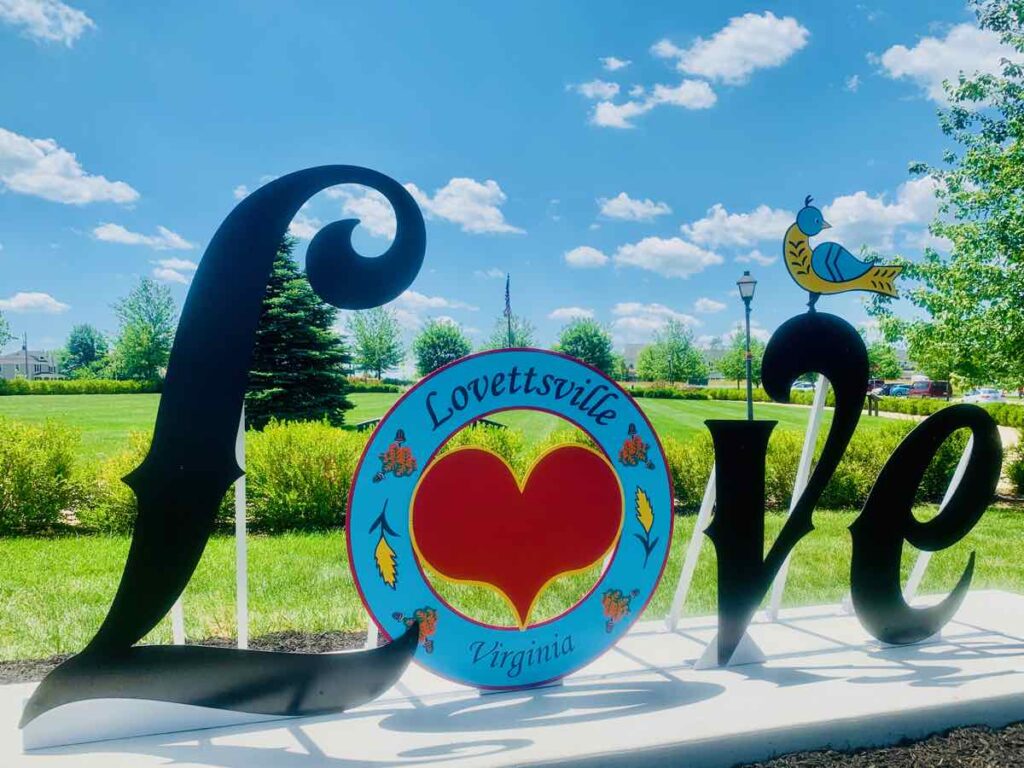 When you're ready, return back to the intersection of Lovettsville Road and Downey Road, and turn left onto Quarter Branch Road.
George's Mill Area of Lovettsville VA
Next, our scenic drive heads to the George's Mill area west of the Berlin Turnpike. Follow Quarter Branch, a quiet road with sweeping views of the surrounding hills. Watch on your left for another fun country mailbox, this time featuring a rooster.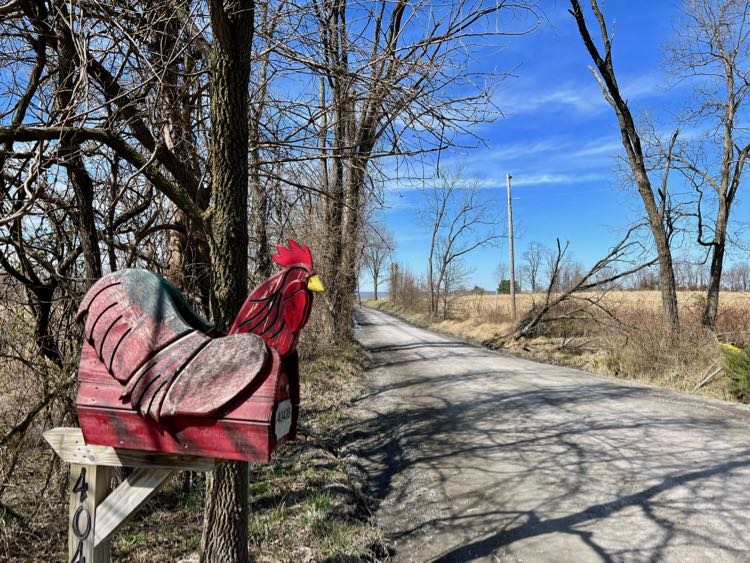 The road name changes to Wenner Road and makes a few sharp turns before reaching the Berlin Turnpike. Go straight across the turnpike onto Tollhouse Road (still 663). Next, turn left on Dutchman's Creek Road (674) and right on Irish Corner Road (673). Many of the landmarks and roads here are named for early communities that settled this area in the 1720s.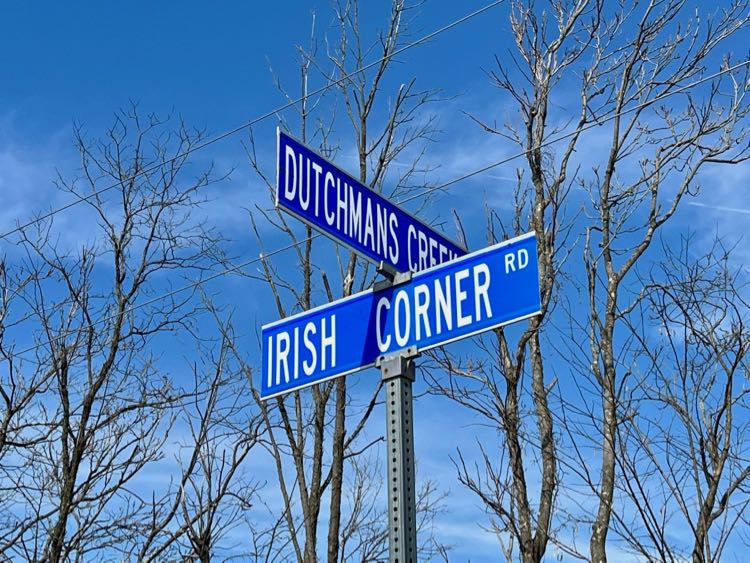 Turn right onto George's Mill Road for our next stop on the dirt roads near Leesburg. On your left is George's Mill Farm, which dates to the 1770s. The stone house you see was built in the 1860s and is now a B&B.
Stop at the cute George's Mill Artisan Cheese Farm to shop for farm products like cheeses, meats, and goat milk soap. The goat milk fudge is delicious! Bring cash or a check because the shop uses an honor system. Put your cash in an envelope, note what you bought on the front, and slip the sealed envelope into the locked depository.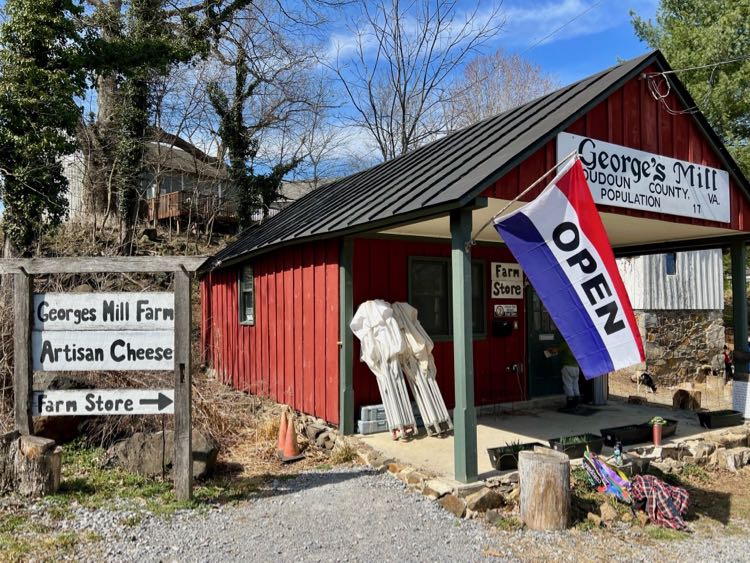 George's Mill is also a fun place to visit with kids. To the right of the farm store is a petting area with friendly goats. Stop by in March and you can visit and pet baby goats in the pen.
George's Mill Road continues north until it ends near the Potomac River. There is a small section of Harper's Ferry National Park here, but access is limited and you'll be towed if you park on private land or block the road.
George's Mill to Paeonian Springs
When you're ready to continue your scenic drive, turn right on Irish Corner Road (673), head straight on Mountain Road (690), and turn left on Axline Road (680). Axline is a pretty dirt road that passes more lovely farmland in the foothills.
The road passes Hiddencroft Vineyards, which has a large outdoor patio perfect for a relaxing glass of Virginia wine. Next, turn right on Picnic Woods Road, a long, pretty gravel road.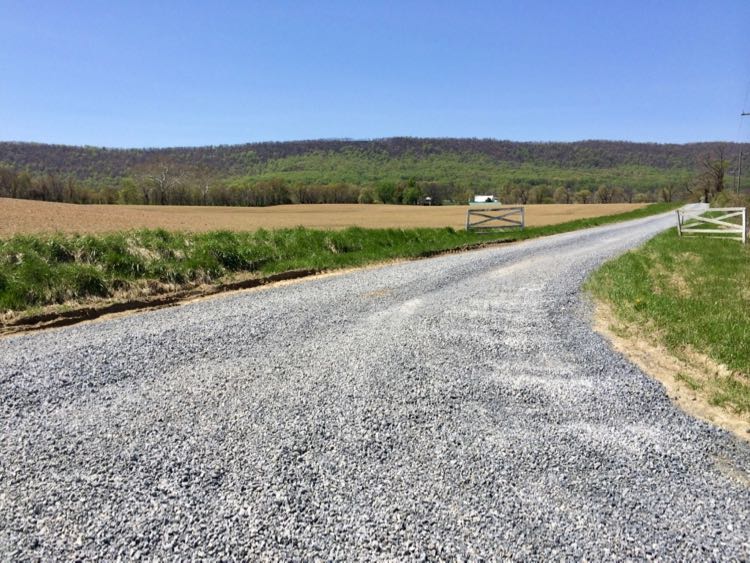 When the road ends, turn right on paved Morrisonville Road. Soon you will pass through the tiny town of Morrisonville. Several attractive stone and log homes, built in the 1790s, border the road. Fun fact: PBS Masterpiece Theater host and Pulitzer Prize-winning author Russell Baker grew up here.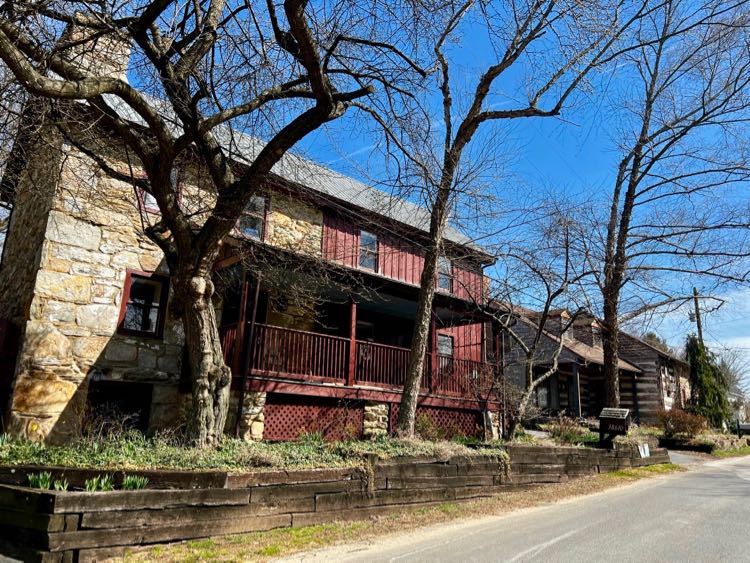 Turn right on the paved Berlin Turnpike (287), heading south. In 1.5 miles, turn left onto John Wolford Road (694).
We highly recommend a stop at Wheatland Spring Farm Brewery which offers delicious craft beer in a beautiful country setting. Visit in early September and you'll be surrounded by fields of sunflowers. If you prefer wine, Corcoran Vineyards and Cidery is just ahead.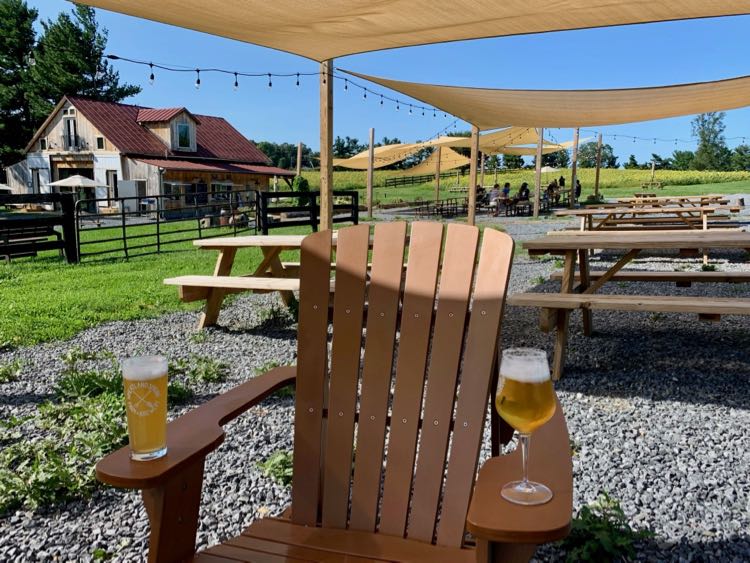 When you reach Milltown Road, turn right and head south, back to Waterford. You'll pass Terra Nebulo Vineyards, an adults-only winery, just before you reach town.
Drive through Waterford and follow Clarke's Gap Road (662) through Paeonian Springs to Route 7. If you want to stretch your legs, stop near the Paeonian Springs Post Office for a walk on the W&OD bike trail. This wonderful rails-to-trails conversion travels 45 miles from Loudoun County to Arlington.
Return to Leesburg on Route 7 to complete this scenic drive. If you prefer to explore further, head west to Purcellville and drive the historic Snickersville Turnpike to Aldie. From there you can connect to a beautiful loop drive through Virginia Hunt Country.
Loudoun County Unpaved Roads Resources
You have completed our scenic drive on the dirt roads near Leesburg, but there are many more unpaved roads to explore in Loudoun County. Here are resources you can use to explore more country roads in Northern Virginia:
We have been exploring the dirt roads of Northern VA for over 25 years and, unfortunately, ongoing development is shrinking these routes. In fact, Virginia Preservation included Loudoun County's rural roads on their list of 2020 Virginia's Most Endangered Historic Places. The group called these roads "a living museum of 300 miles of gravel roadways that traverse the Loudoun Valley."
Much of Loudoun County retains a pastoral, country charm in spite of it being the fastest-growing county in Virginia. And Loudoun County still has more unpaved roads than any county in Virginia. Now is the time to explore the farm roads of Loudoun County before they are paved and more farmland is developed.
Turn-by-turn Directions: Loudoun County Unpaved Roads
Here is a list of the roads and turns on our scenic drive on the unpaved roads near Leesburg VA:
From Leesburg, drive north on Old Waterford Road (route 698).

Optional stop at Morven Park
Optional stop at Waterford Cemetery

Left on Loyalty (665), left on Butcher's Row, right on Main Street (785 + 662).
Follow Main Street through Waterford.
Right onto Clover Hill Road (662), just after the Waterford Mill building.
Left on Loyalty Road (665).

Optional stop at Creek's Edge Winery

Left on Taylorstown Road, cross over Catoctin Creek, then first left onto Downey Mill Road (663).

Optional side trip to downtown Lovettsville (left on 672, Lovettsville Road)

Continue across Lovettsville Road onto Quarter Branch Road (still 663).
Follow 663 left and then straight (now Wenner Road).
Cross Berlin Turnpike onto Tollhouse Road (663).
Left on Dutchmans Creek (674).
Right on Irish Corner Road (673).
Side trip: explore Georges Mill Road (852) and Stevens Road (758).

Optional stop at George's Mill Farm Store and goat petting

Continue on 673 then straight on Mountain Road (690).

Optional stop at Hiddencroft Vineyards

Left on Axline Road (680).
Right on Picnic Woods Road (850).
Left on Morrisonville Road (693) and drive through tiny Morrisonville.
Right on Berlin Turnpike (287).
Left on John Wolford Road (694).

Optional stop at Wheatland Spring Farm Brewery and Corcoran Vineyard.

Right on Milltown Road (681) back to Waterford.
Drive through Waterford and continue on Clarke's Gap Road (662) to Paeonian Springs.

Optional stop at Washington and Old Dominion Bike Trail in Paeonian Springs

Left on Charles Town Pike (9) and left on Harry Byrd Highway (7) back to Leesburg.
Follow us on Facebook, Twitter, Pinterest, and Instagram for more fun travel in and from Northern Virginia.
Pin it for later: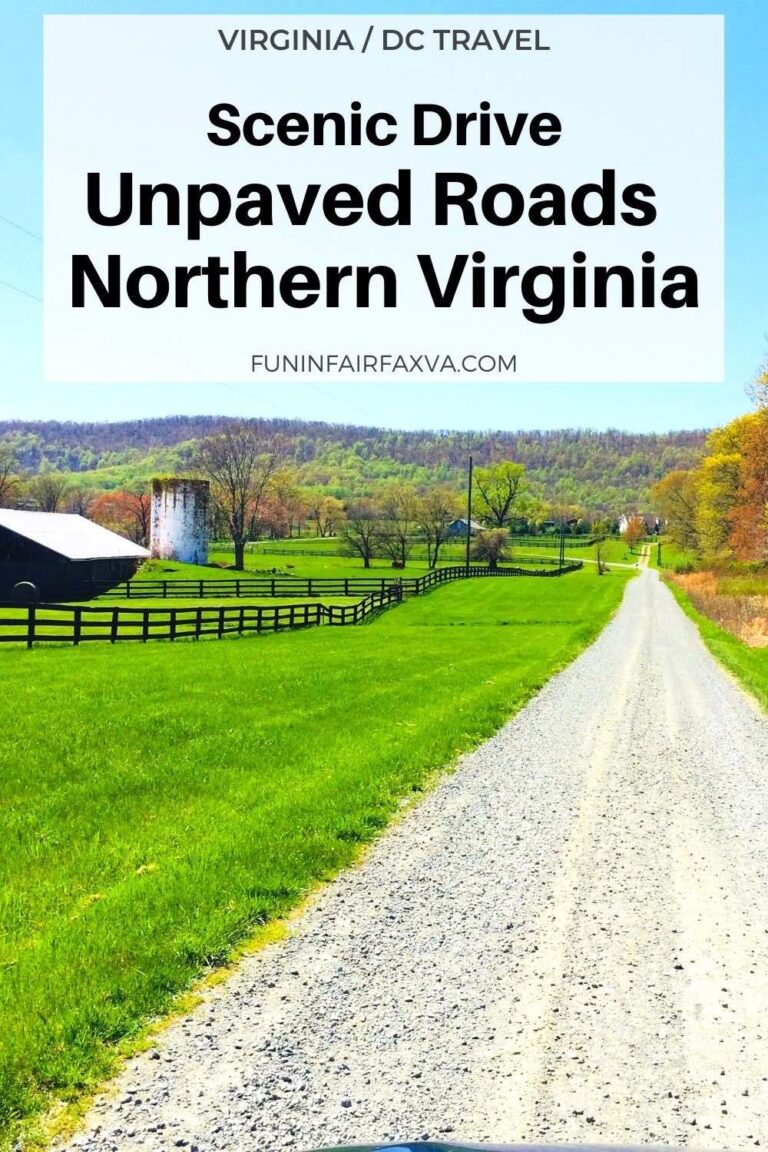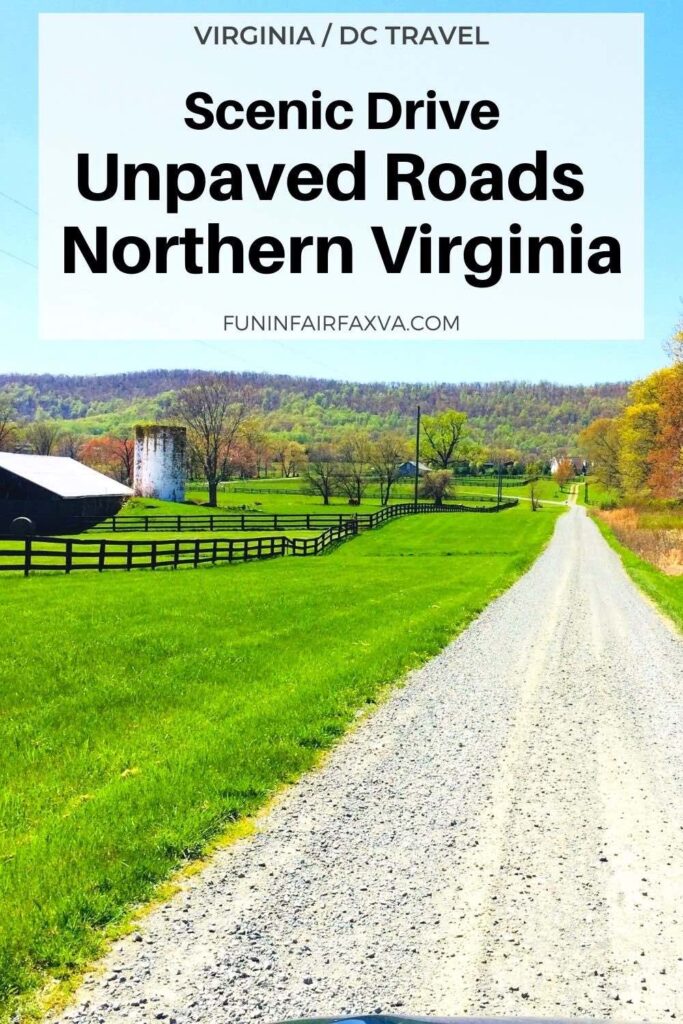 This article originally appeared on our sister site, McCoolTravel.com, and has been updated in collaboration with author Charles McCool. Explore the Unpaved Roads of Loudoun County Virginia was published on McCool Travel in April 28, 2015. We researched, expanded, and updated the route for this article in 2022.