Updated on November 7, 2023 by Julie McCool
Caboose Brewing Company, next to the W&OD bike trail in Vienna, combines wonderful craft beer with delicious, locally-sourced food in an inviting new space.
The original site was so successful that Caboose has expanded to two locations. The Vienna location is now called Caboose Brewing Tavern. Caboose has a second, larger location—Caboose Commons—in the Mosaic District.
Disclosure: This article may contain affiliate links. We will make a small commission from these links if you order something, at no additional cost to you.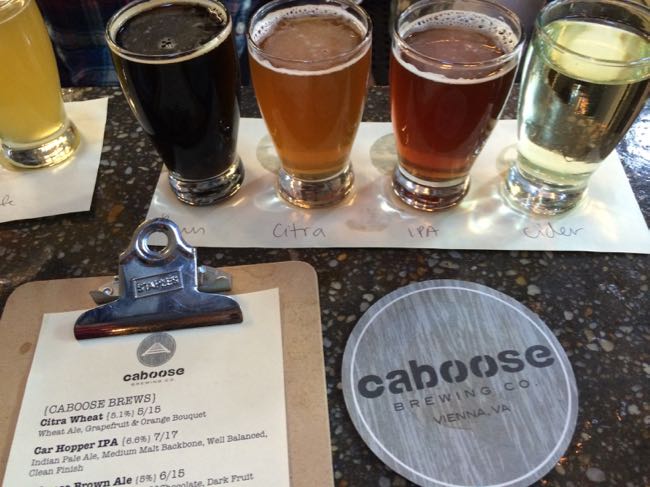 Caboose Brewing is fortunate to have tasty brews and food under one roof, and the location next to the bike trail in downtown Vienna draws a steady crowd on two wheels, by car, and on foot. They have been very busy on our visits, but we've always scored a nice spot at the bar, a table, or the patio.
"Our goal is to provide the small-town pub atmosphere in a modern environment with a wide variety of beers and foods." – Caboose Brewing Company
The Beer at Caboose Brewing Company
Beer is brewed in steel tanks that are visible throughout the space. Brewmaster Chris Mallon generally has 8 – 10 beers on offer in a wide variety of styles.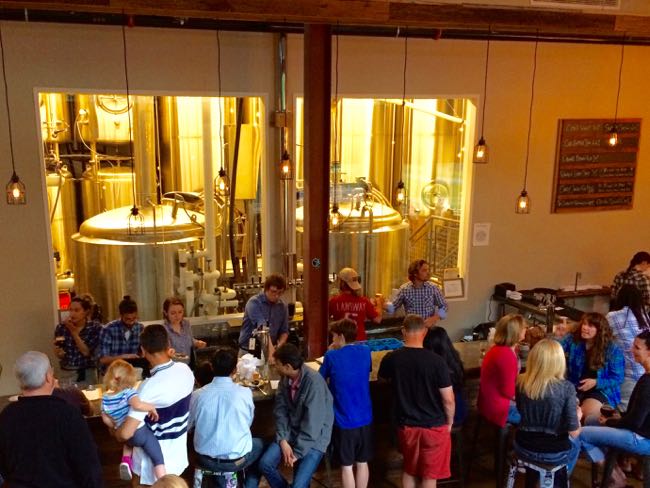 There were eight beers on the menu during our first visit, so we ordered two flights to get a taste of them all. You can also choose a 4-beer Flight of Malts ($11) or the 3-beer Flight of Hops ($8).
We especially liked the Vanilla Bean Hobo Stout, Car Hopper IPA, and Sidetrack Saison. Our friend found the Hefeweizen a little too "banana-y", and we are not cider fans, but both seem popular based on the crowds around us.
In addition to flights and pints, you can fill a growler to take home and many of the beers are available in kegs (order online).
If you have kids or a designated driver along (and we were surprised by how many kids were there), order one of the house-made sodas. Sparkling blueberry sounds yummy.
A Locally-Sourced, Farm-to-Table Menu
Chef Brandon McDermott offers an interesting menu that stretches from comfort food to fine dining items. Our limited sampling favors the comfort end of the menu, but everything we've tried was tasty and we look forward to exploring more of the menu on every visit.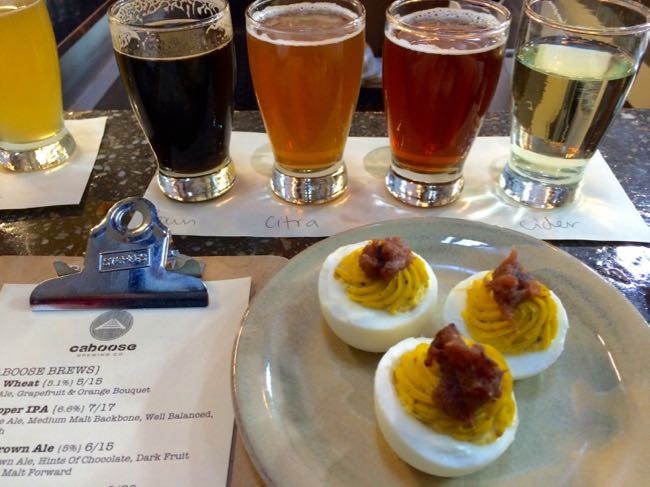 Three deviled eggs topped with bacon, an order of the Virginia Bratwurst with sauerkraut and mustard, and a mug of frites, hit the spot on our first visit. The brat's flavor was helped by the delicious house ale mustard and the fries are excellent. For $6, you get a large mug full of thin fries that perfectly compliment the beer.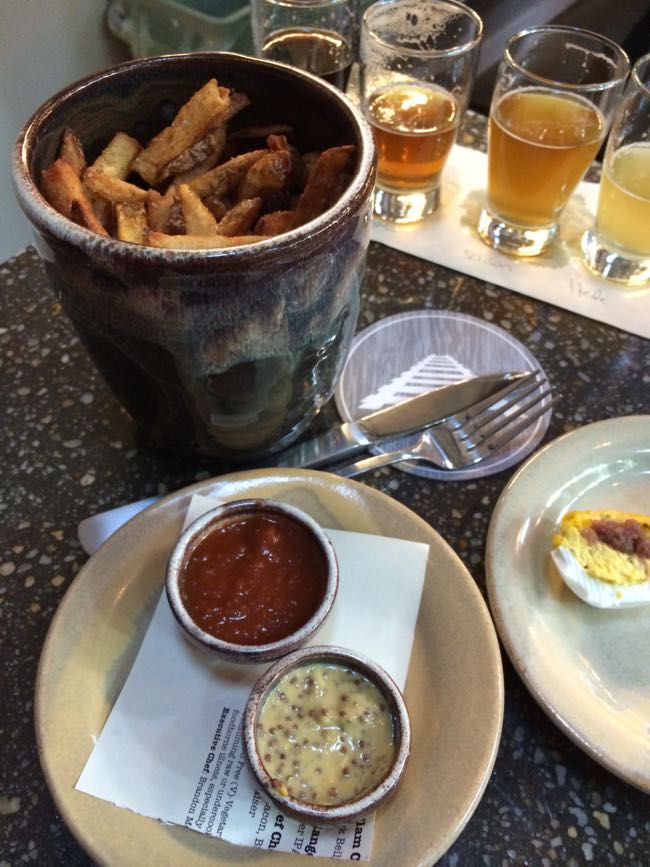 On another visit we indulged in the Crispy Pork Belly, a house special of scallops over pea puree, and another order of those fries. The pork belly, delicately decorated with brussel sprout leaves, was so delicious it was hard to share. The scallops were also good, but we're too cheap to pay $15 for two (large) scallops, and they seem a little too fine dining for the beer.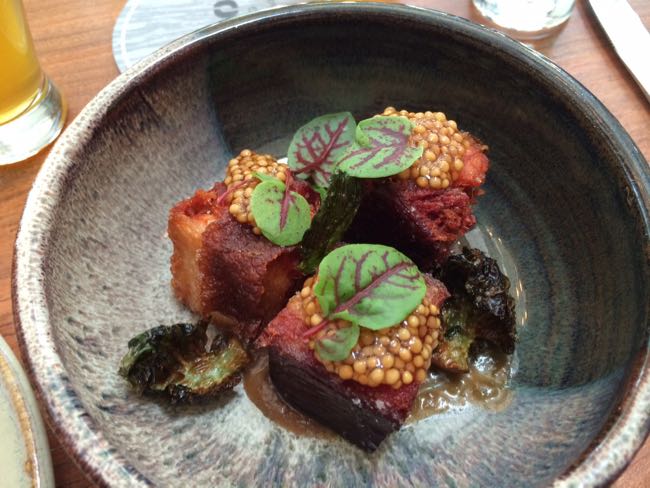 Next we'll be trying the cheeseburger, mac and cheese, and crispy brussel sprouts, which were heading to tables all around us. It's easy to rack up your tab with so many tasty options to choose from.
A Welcoming Space, Inside and Out
Outside, Caboose offers a narrow but comfortable patio area with several picnic tables, a grassy area popular with kids, and a fence that's usually populated with bikes. The paved patio was originally twice as large, but part had to be removed because it encroached on town property.
The outdoor space is just steps from the W&OD so it's easy to walk or bike from town. Parking is a little limited; if you can't find a spot you could park in the lot near the real caboose and walk over.
Inside, Caboose is both sleek and rustic, with simple tables, a bar and rail, and views of the steel tanks from every seat. They have a great logo, rendered in wood and steel, decorating one end of the dining area. An empty balcony at the other end begs for more tables, if the owners can get permission to add more seating.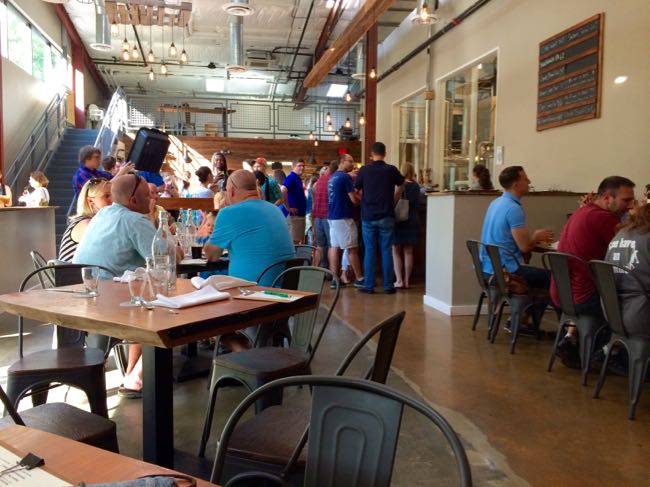 Steady crowds and limited seating can lead to waits if you're looking for a table, but the vibrant space has plenty of standing room, and the delicious food is worth the wait.
Downtown Vienna has always been a nice place to visit, and Caboose Brewing Company is a wonderful addition that will encourage people to return more often.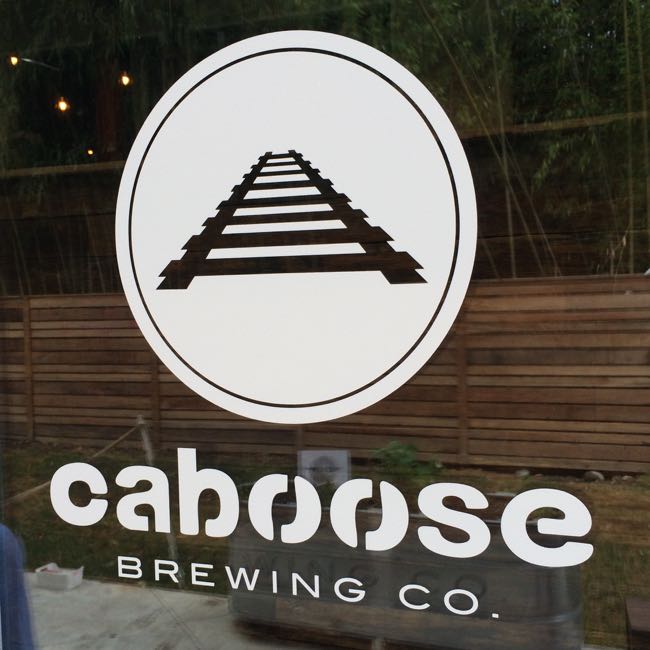 There are new, local breweries popping up all over Northern Virginia, and we couldn't be happier. If you're looking for options in Loudoun County, you'll find lots of wonderful brews on the LoCo Ale Trail.
We love the unique and creative flavors of craft beer, and we're always happy to support local small businesses. With warm summer weather ahead, a cold pint of craft brew sounds fantastic.
Caboose Brewing Company is at 520 Mill Street, NE in Vienna, Virginia. Check the brewery website for the latest brews, menu, and special events.
Follow us on Facebook, Twitter, Pinterest, and Instagram for more fun travel in and from Northern Virginia.