Visitors to the northern end of Virginia's Blue Ridge will find a rich collection of museums, delicious local food and drink, and many fun things to do in Roanoke, Virginia. It's an excellent jumping off point for a trip on the Blue Ridge Parkway or a drive north through Shenandoah Valley. The compact downtown makes it easy to explore major Roanoke VA attractions and offers visitors plenty of local fun, food, and drink.
1. Plan Things to Do in Roanoke at the Visitor Center
Roanoke Valley Visitor Center is located in an historic train station, so it offers helpful information on things to do in the area and more. Once you pick up advice, maps, and brochures, take time to visit the Loewy Gallery.
Raymond Loewy is known as the Father of Industrial Design, and the gallery collection highlights his beautiful and functional designs. Sharing the Visitor Center building, the O. Winston Link Museum displays "the audio and video works of photographer Winston Link and his project to document the last days of steam along the Norfolk and Western Railway." The Visitor Center also has a wonderful view of the art museum, and the trains passing by out back.
The Virginia Museum of Transportation preserves and presents a truly impressive collection, showcasing full size and model trains, bus memorabilia, antique cars, and aviation. The scale of the indoor exhibits is modest, but wait until you step out back to the Rail Yard. The museum is home to an awesome collection of historic steam and diesel engines, cabooses, and other rail equipment. The size of the locomotives looming above as you stand beside them is dizzying. If you are short on time, the Museum of Transportation should be high on your list of things to do in Roanoke Virginia.
The Taubman Museum of Art is another impressive museum in Roanoke's collection (the city boasts several in the downtown area). The building's dramatic exterior evokes the unique attributes of Roanoke's valley and mountain setting. Inside, a bright three-story atrium displays changing sculptures floating above the ticket desk. Changing and permanent exhibits fill the museum's three floors, along with a cafe and educational space.
4. Discover What Pinball, Aquariums, Science, and History Have in Common
Families looking for kid-friendly things to do in Roanoke will find plenty of fun at the Center in the Square, in the downtown market area. The Center houses an eclectic collection of small museums. Here you can visit the Roanoke Pinball Museum, Harrison Museum of African-American Culture, and the History and Western Museums of Western Virginia. The Pinball Museum houses a cool collection of more than 50 pinball games, from the 1948's Screwball to modern games. You can check out the collection for free, or enjoy a day of play for $12.98 (less for kids).
A visit to Black Dog Salvage is one of the top things to do in Roanoke for fans of the popular TV show Salvage Dawgs. Even if you don't watch the show, you'll find a lot to love at this popular attraction. The architectural salvage business mixes building components and unique home decor. Shop for everything from full-size fire surrounds and restored furniture to art and gift items in a sprawling space near Memorial Bridge.
Devotees can even stay on the property at the newly renovated Stone House, featured on Salvage Dawgs. The 1911 house is a unique event space that can host up to 30 guests for special gatherings.
6. Eat and Drink Local at Grandin Village and Around Town
The Grandin neighborhood features a few compact blocks of delicious eateries on Grandin Road and Memorial Ave. Dinner at Local Roots Restaurant offers a tight menu of locally sourced and lovingly prepared dishes. In the morning, visit Scratch Biscuit for made-from-scratch breakfast biscuits, and Pop's Ice Cream is the place to go for a classic soda bar experience.
Closer to downtown, we loved the selection of standard and seasonal craft brews at Big Lick Brewing, Soaring Ridge Craft Brewers, Starr Hill Pilot Brewery, and the Deschutes Tasting Room . Check our complete guide to Virginia's Blue Ridge Beerway for more area breweries.
The downtown Market Street area is another location that packs many dining spots in a small walkable space.
The Roanoke Star has been shining over the city since it was constructed in 1949, the largest, free-standing, man-made, illuminated star in the world. It is a fun destination both for a closer look at the 88.5-foot metal star towering over you and for the beautiful views of the downtown and the Blue Ridge Mountains beyond. You can reach the star overlook via a paved road, or by hiking and biking trails. There is also a zoo and Discovery Center on Mill Mountain.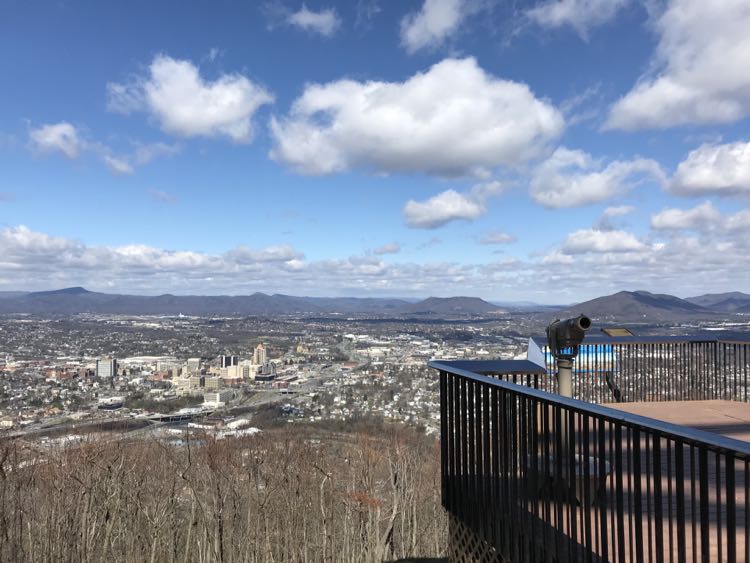 Mill Mountain also has a network of mountain biking trails that connect to the paved Roanoke Valley Greenway. In fact, Virginia's Blue Ridge has some of the best mountain biking in the Eastern U.S. Find more places to visit with our complete guide to outdoor activities in Roanoke and the surrounding Blue Ridge region including excellent hiking, biking, and paddling trails.
8. Explore the Blue Ridge Region on a Roanoke Getaway
Roanoke is a wonderful base for exploring the Blue Ridge region. It sits along Virginia's Blue Ridge Parkway, less than an hour from Virginia Tech and the Blacksburg area. The Roanoke Hyatt Place makes a good home base, with spacious, nicely decorated rooms that include a comfortable living room area.
You can't beat the relaxed elegance and central downtown location of the historic Hotel Roanoke and Conference Center.
A covered pedestrian bridge over the railroad tracks leads to the downtown core, and rooms in the front have a wonderful view of Mill Mountain and the Star.
Roanoke is about a 4-hour drive from Washington DC if you stick to the highway. Amtrak offers train service right to the downtown, a fun and relaxing way to travel from Washington DC, Baltimore, and New York City.
There are so many things to do nearby. We recommend staying a few nights when you visit the Blue Ridge region. Roanoke can anchor the southern end of a road trip through Northern Shenandoah Valley and Southern Shenandoah Valley. Or stay in the city at the start of a road trip through Southwest Virginia.
Learn more at Visit Virginia's Blue Ridge: web | Facebook | Twitter | Instagram | Pinterest
Follow us on Facebook, Twitter, Pinterest, and Instagram for more fun travel in and from Northern Virginia.
Portions of our trips to Roanoke were hosted by Visit Virginia's Blue Ridge tourism.