These 10 tasty Reston restaurants feature local spots to eat, drink, and relax while supporting a Virginia business. In a suburban landscape dominated by national chain dining, we welcome unique experiences. Fortunately, these local restaurants in Reston deliver on the town's mission to "Live Work and Play" in town.
This is not meant to be a comprehensive list of every local eatery. Instead, it includes our favorite local Reston restaurants based on personal experience. We have lived in Reston for more than 25 years and return to these favorites again and again.
Local Reston restaurants are listed below in alphabetical order.
Disclosure: This article may contain affiliate links. We will make a small commission from these links if you order something, at no additional cost to you.
Ariake Japanese Restaurant
We love a tasty bento lunch and pleasant outdoor seating, and Ariake Japanese Restaurant delivers both. Ariake's lunch menu features bento box and sushi lunch specials as well as an extensive a la carte sushi list.
Our favorite Ariake dishes include the Tempura and Salmon Teriyaki, Sushi Roll Combo, and the Deluxe Sushi Lunch. Lunchtime is usually bustling and is a popular dinner spot as well. When the weather is warm diners can choose a table on the outdoor patio.
Ariake is located at 12184 Glade Drive. Work up an appetite before your meal with a walk on the Glade Stream Valley Trail.
Cafesano
Tucked in a corner of the South Lakes Shopping Center, Cafesano turns out delicious pizza, panini, salads, and Mediterranean dishes in a casual spot by Lake Thoreau. Start off with the Dip Sampler with housemade red pepper hummus and tzatziki served with warm pita. Pizzas are a solid choice and the salads are generous and fresh.
Wine and beer are available, and there's a small deck for enjoying an outdoor meal on warm days. You could also order takeout and eat lunch on one of the picnic tables by the lake. Cafesano is close to our home and is our most frequent stop at the Reston restaurants listed here.
Combine your visit with a stroll on the path around Lake Thoreau, or watch the sunset over the lake before dinner.
Cafesano is located in the South Lakes Village Center, 11130 South Lakes Drive. They also have a location in Dulles.
Founding Farmers
Since opening their first location in Washington DC, Founding Farmers has expanded to 5 locations, including one next to the Reston-Weihle Metro Stop.
The menu offers a wide selection of farm-to-table dishes featuring seasonal ingredients and breads made onsite. We're big fans of the Shrimp and Crab Fettucine and the Southern Fried Chicken has a devoted following.
With a spacious interior and hopping bar, Founding Farmers Reston is a popular spot for group meals, after-work dinners, and a couple's night out. They are located at 1904 Reston Metro Plaza Drive.
Kalypso's Sports Tavern
Tasty Greek dishes dominate the menu at Kalypso's Sports Tavern on Lake Anne. The outdoor tables are a lovely spot to enjoy a meal and cocktails with pretty views of Lake Anne and the Plaza.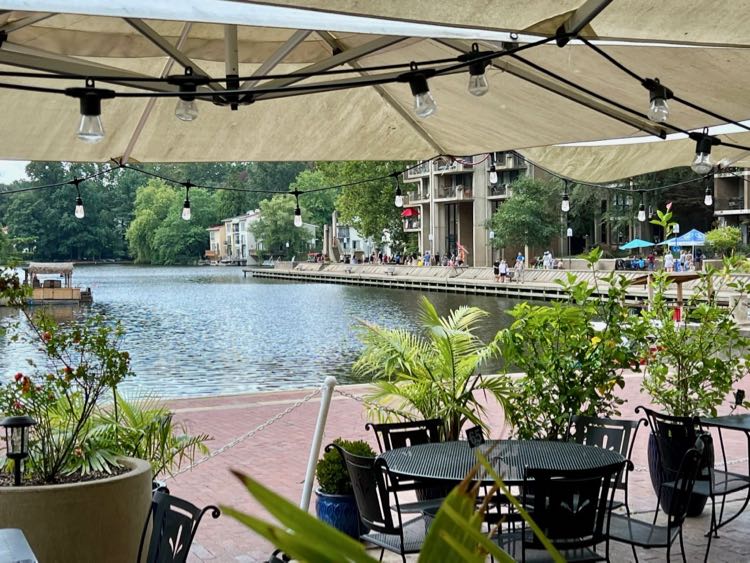 The restaurant features live music on summer weekends and is a popular spot to celebrate St. Patrick's Day and other holidays. Head inside to watch sports on multiple TVs.
Kalypso is in the Lake Anne Village Center, 1617 Washington Plaza North. We highly recommend a walk on the Lake Anne Trail to see Reston's first fascinating neighborhoods.
Lake Anne Coffee House and Wine Bar
A transformed Lake Anne Coffee Shop opened in late 2016 as the Lake Anne Coffee House and Wine Bar. The updated restaurant features rich coffee, a fresh seasonal menu, a welcoming upstairs wine bar, and a large patio for warm weather.
Try one of the breakfasts or special sandwiches with tasty fries. Upstairs, a small fireplace and plaza view seating create a nice space for sipping wine with friends. Visit during Happy Hour (4:00 – 7:00) to enjoy select $5 wines or on Monday when bottles are half-priced.
Lake Anne Coffee House is in the Lake Anne Village Center, 1612 Washington Plaza North.
Lake Anne Brew House
A nano brew taproom with beautiful lakeside views from the deck, Lake Anne Brew House brings the Virginia craft beer scene to Reston. The space is small, elegant, and comfortable, and the deck is one of our favorite local spots on a warm afternoon.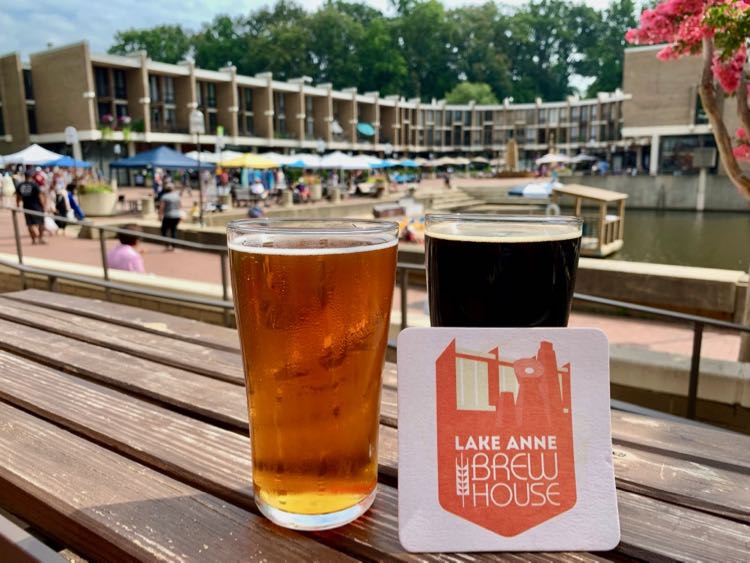 Flagship, Reston-inspired beers like Reston Red and Simon's Stout share the taps with seasonal and special releases. While there is no menu, you'll find delicious pretzels and other bar snacks on offer.
The Lake Anne Brew House is in the Lake Anne Village Center, 11424 Washington Plaza West.
Pica Deli
Update: Pica Deli is closed but may reopen in a new location.
Small delis are sprinkled throughout Reston's office buildings, serving daily specials and sandwiches to the working crowd. We like Pica Deli for their excellent sandwiches, which we generally get to go and enjoy at home or a local park. Two favorites are the Marco Polo, white meat chicken salad flavored with curry and grapes, and the Thursday special Meatball Sub.
Red's Table
Red's Table overlooks Lake Thoreau in the South Lakes Plaza, right next door to Cafesano. Stop by in the early afternoon for a Happy Hour drink, or visit for lunch, dinner, or Sunday brunch to enjoy the locally sourced, seasonal menu.
The restaurant's design is rustic, relaxed, and sophisticated, with a sleek bar and varied eating spaces. Red's has a lovely patio overlooking the lake, perfect for a special occasion meal on a warm summer night. The prices are on the higher side for Reston's village centers, but the food is delicious and creative.
Check out our 2015 pre-opening look at Red's Table. You'll find Red's Table in a corner of the South Lakes Village Center, 11150 South Lakes Drive.
Senor Ramon Tacqueria
In 2019, one of our favorite Northern Virginia taco restaurants, Senor Ramon Tacqueria, took over a spot near the Home Depot in Reston. Choose from an excellent selection of delicious fresh tacos and other Mexican favorites.
The outdoor patio is a good option for a quieter meal when the weather is warm. The Reston location is at 11790 Baron Cameron Avenue.
Read our complete guide to Favorite Places to Eat Tasty Tacos in Northern Virginia.
Taco Zocalo
Tucked into an office building off Sunset Hills Drive, Taco Zocalo offers a nice selection of delicious tacos, burritos, and chimichangas. Chef Basir opened the restaurant after building a loyal following to his Chef on Wheels food truck. All of the tacos are solid choices, but we favor the grilled fish and the shrimp.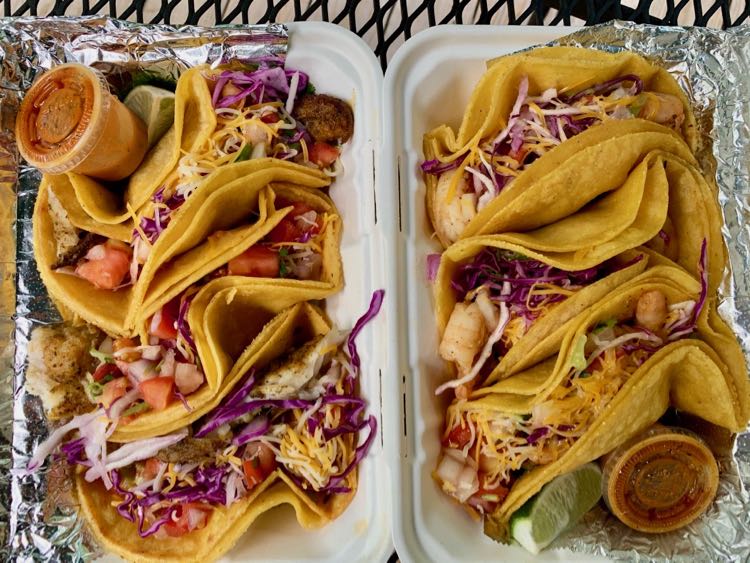 The restaurant has indoor seating dotted with colorful chairs and a few more tables outside. But we suggest you order your meal to go then head across the street to Bike Lane Brewing. Their fresh craft brews are the perfect accompaniment to those tasty tacos.
Taco Zocalo is located at 1810 Michael Farraday Drive in Reston. They also have locations in Ashburn and Chantilly.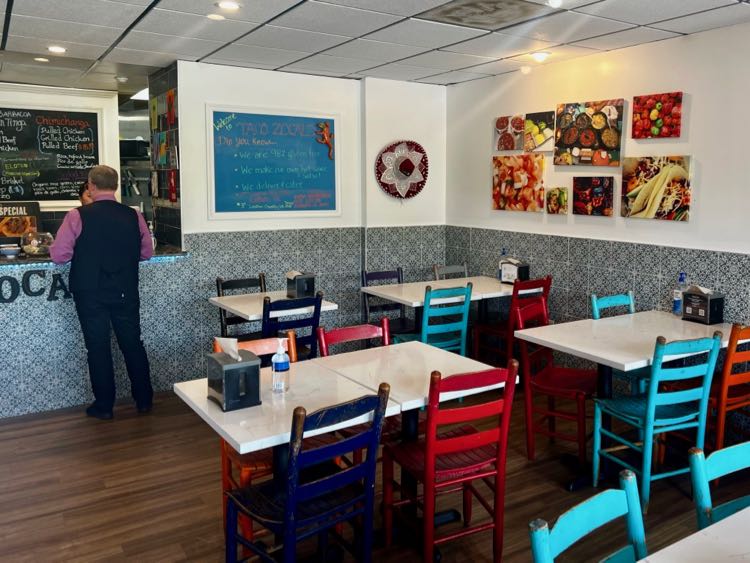 Willard's Real Pit BBQ
We fell in love with Willard's Real Pit BBQ at their Chantilly outlet, so we cheered when they opened in Reston in 2019. The menu is just what you would expect, hearty servings of pulled pork, beef brisket, chicken, and ribs. There's a big green salad with cornbread for the non-meat members of your group.
Willard's is right next door to Senor Ramon, in the Home Depot plaza at 11790 Baron Cameron Avenue.
More Reston Restaurants to Try
Looking back at our list of favorite Reston restaurants it appears we have a special fondness for outdoor patios. Luckily, the weather cooperates for much of the year in Virginia.
Find more great places to eat: 25 Tasty Options for Northern Virginia Outdoor Dining. Or pick up some takeout and head to one of the best Picnic Spots in Northern Virginia.
Happy dining!